Clover POS Review 2022
Clover POS is good for newer businesses that want an attractive, easy-to-use, all-in-one system with simple flat-rate processing.
Expert Analyst & Reviewer

UPDATED
Advertiser Disclosure: Our unbiased reviews and content are supported in part by
affiliate partnerships
, and we adhere to strict
guidelines
to preserve editorial integrity.
Clover POS

Pros
Easy to set up
Large app store and a wealth of integrations
Aesthetic appeal
Loyalty program
Cons
Can't separate POS from payment processing
High upfront costs
Inconsistent customer support
Clover POS Overview
Despite Clover POS reviews being a mixed bag at times, Clover point of sale is a major player in its industry for a number of good reasons. On the surface, Clover POS systems do some things better than virtually any of Clover's competitors. The system is incredibly intuitive and a breeze to set up and learn. If I was a small business owner who was just getting started, it's the exact kind of interface I would be looking for. Fiserv-owned Clover also offers a variety of POS software and hardware options for any type of business and gives you the ability to upgrade if your business expands.
On its own, this POS has only basic functionality, but that's a bit of a misnomer. When supplemented with apps from Clover's App Marketplace, the Clover POS system becomes a powerful tool. The system enables you to manage employees and customers, track inventory, create and view reports, and monitor your revenue stream. Most of these apps are free or can be purchased for a small fee.
Clover also now offers a free plan with no monthly software fee for businesses that want no-frills payment processing using the pint-sized countertop POS Clover Mini, the portable Clover Flex smart terminal, or a mobile Clover Go reader for taking payments on a smartphone. Alternatively, you can use Clover to take payments entirely online using the Clover virtual terminal, without any hardware at all.
At first glance, Clover seems like an ideal POS solution, as it's flexible, feature-rich, and functional. However, the processing and customer service issues that have historically plagued the company continue to persist, and Clover has dragged its feet on addressing them. You'll start to notice a negative pattern regarding customer service when sifting through Clover POS reviews. Unfortunately, customer feedback hasn't significantly improved over the years, primarily due to Fiserv's (formerly First Data) unsavory reputation. Clover is also not a cheap product, generally requiring some spendy initial hardware costs.
Is Clover worth the risk? Read on to find out!
Don't have time to read an entire review? Take a look at our top-rated point of sale solutions for a few quick recommendations. Every option we present here offers excellent customer support, detailed user interfaces, and easy-to-use software, all for a reasonable price.
What Is Clover POS?
The Clover POS system is easy to use, making it one of the easiest point of sale systems to train employees. Clover POS offers several software and hardware options, providing versatility for retail, restaurants, and mobile environments.
Clover POS Features
Clover software is so adaptable (and can be customized with such a wide variety of apps) that it is difficult to discuss features in general. That said, I will cover some of the most popular available features that come with Clover's varying plans and are likely to be useful to any type of business.
Why We Recommend Clover
Payments Plan
Clover's most basic plan for accepting in-person payments and a good entry point if you're looking to try it out. This free Clover plan is only available on Clover Flex, Clover Go, and Clover Mini, and it includes:
In-person payment processing (contactless and traditional)
Integrate with barcode scanners, weight scales, and other accessories
Send paperless receipts
Generate sales reports
Essentials Plan
Clover Essentials starts at $9.95/month and is also only available on Clover Go, Flex, and Mini. It comes with everything the Payments Plus plan offers, along with the following:
Virtual terminal for online payments
Email invoices to customers
Online ordering module
Employee management (clocking in and out)
Customer management (storing customer information and spending histories)
Open tabs
Rewards in the form of discounts
Limited order management
Item assignments including notes for tracking
Limited access to Clover App Market
Standard inventory management with item tracking
Tax calculations
Register Plan
This plan starts at $39.95/month. To take full advantage of the Register plan, you'll want to use a Clover Mini or Clover Station (rather than just a portable Clover device). Register comes with everything you get from the Essentials plan, along with:
Advanced inventory, including modifiers and tracking
Built-in item exchanges
Combine multiple orders and tickets
Kitchen printing
Full access to Clover App Market
Counter Service Plan
For $39.95/month, restaurants and quick-service food industries get these additional features:
Menu and order management
Fire orders directly to kitchen or prep stations
Online ordering module for restaurants
Apply discounts at item and order level
Apply service charges for large parties
Run reports per revenue class (food, wine, etc.)
Table Service Plan
For full-service restaurants featuring servers and larger table layouts, the $69.95/month table service plan includes everything in the Counter Service plan, plus the following:
Multiple check splitting options
Pre-authorized bar tabs
Table mapping
Tableside ordering
Scan to pay
No Hardware Plan
For merchants who want to take payments entirely online by entering credit card numbers into a virtual terminal (or having customers enter their credit card info), this $9.95/month plan includes:
Virtual terminal with customer-facing online payments portal
Email invoices to customers
Generate sales reports
Send paperless receipts
Advanced Features
You really get the most out of Clover by downloading many of its apps and customizing your own Clover POS system. These are just a few of the advanced features you can expect.
Inventory: Clover has updated its inventory features. Items can be described with variants (such as color) and options (such as size) and organized into categories or labeled for quicker access. Those of you in food service can create modifiers for each item. New items can be created with or without variants and sold at a fixed or variable price or priced per unit (oz, g, kg, lb).
Reports: Clover comes with a basic but solid array of reports. The Clover app provides decent reporting tools, including a "By Payments" report (see below), which shows you a summary of completed transactions made during a specified time. There are also reports for net payment statistics, cash reports, payments by card type, employee statistics and activities, discounts, taxes, orders, and more. All reports can be sorted according to date/time and filtered for specific requirements; once created, reports may be exported and/or printed for further analysis.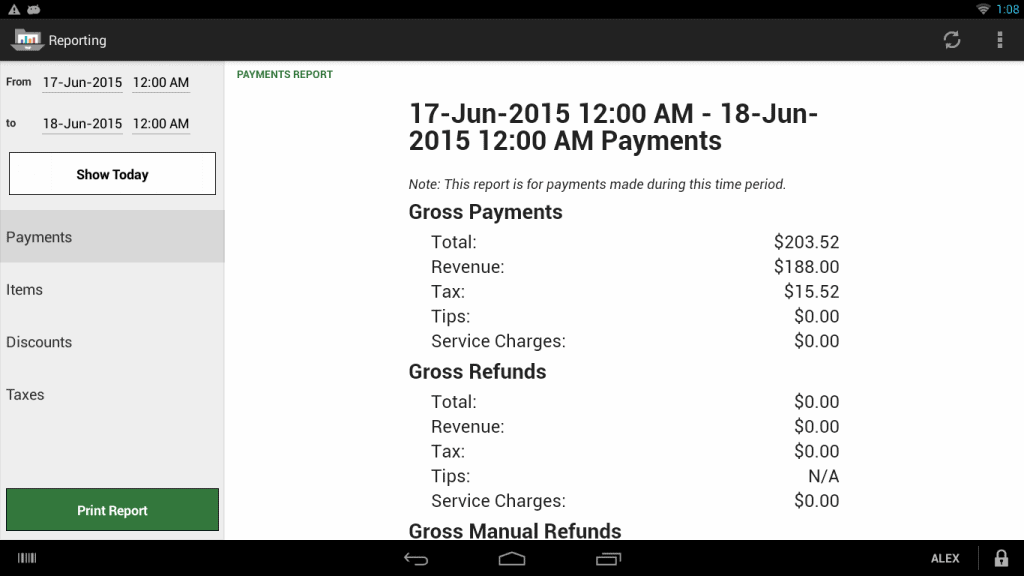 Customer Management: Clover gives you the ability to collect customer information at the time of sale. Later, you can search for customers by name and date or look up a customer's order history.
Gift Cards: Clover is on top of its game when it comes to customized gift cards. Both digital and physical cards can be branded to suit your company. Customers can access and use their cards on their mobile devices. The cards are all tracked digitally, taking away the need for messy receipts or yet another card taking up valuable wallet real estate. There is also a report that allows you to track and analyze all gift card sales.
Loyalty: Clover's loyalty functionality comes included with Clover Mini, Flex, and Station, which is a nice perk. You can customize your program, allowing customers to accrue loyalty benefits in several different ways. Store and quickly look up customer information and track their spending habits. You can send out real-time promotions through text or email campaigns, and you can receive customer feedback directly. Another nice feature is that, with a mobile app, you can find Clover businesses and track your reward points.
Clover POS Pricing
| Plan | Price | Processing Fees | Includes |
| --- | --- | --- | --- |
| Clover Payments | $0/month | 2.6% + $0.10 for in-person transactions, 3.5% + $0.10 for keyed-in transactions | In-person payment processing with reporting, paperless receipts |
| Clover Essentials | $9.95/month | 2.6% + $0.10 for in-person transactions, 3.5% + $0.10 for keyed-in transactions | POS with item assignments, tax calculations, basic inventory management |
| Clover Register | $39.95/month | 2.3% + $0.10 for in-person transactions, 3.5% + $0.10 for keyed-in transactions | POS with advanced inventory, combine multiple orders, full access to the app market |
| Counter Service | $39.95/month | 2.3% + $0.10 for in-person transactions, 3.5% + $0.10 for keyed-in transactions | POS with menu management, pre-authorized bar tabs |
| Table Service | $69.95/month | 2.3% + $0.10 for in-person transactions, 3.5% + $0.10 for keyed-in transactions | POS with table mapping, tableside ordering |
| No Hardware | $9.95/month | 3.5% + $0.10 for keyed-in transactions | Virtual terminal with invoicing, online payments, and business management features |
Clover differs from other POS systems in how it's marketed and sold: It must be sold with a merchant account. So instead of being available from one location for one set price, you can buy Clover from thousands of banks, business suppliers, and merchant services providers, each one offering different swipe fees and hardware costs.
Getting the actual equipment is the easy part, and for this review, we'll focus on the Clover pricing you can get by buying from Clover.com directly. Through Clover's site, you can choose from five plans:
Clover Payments: Best for very small businesses that only need payment processing (available with Go, Flex, and Mini only)
$0/month
2.6% + $0.10 for in-person transactions
3.5% + $0.10 for keyed-in transactions
Clover Essentials Plan: Best for small businesses with card sales of less than $50,000 a year
$9.95/month for first device; $9.95/month for each additional device
2.6% + $0.10 for in-person transactions
3.5% + $0.10 for keyed-in transactions
Clover Register Plan: Best for growing businesses with a higher number of card sales
$39.95/month for the first device; $9.95/month for each additional device
2.3% + $0.10 for in-person transactions
3.5% + $0.10 for keyed-in transactions
Counter Service Restaurant Plan: Best for quick-serve restaurants (available with Mini and Station Duo only)
Bear in mind that credit card processing rates and swipe fees at other banks are another matter entirely and can range from 0.30% + $0.05 to 2.5% + $0.15 or higher, depending on the bank. Some locations may offer flat-rate processing fees. The rate you receive will probably depend a lot on your credit rating and your business's sales volume.
Pricing For Clover Devices
You also have your choice when it comes to hardware, and you can purchase everything from small card readers for processing payments with your phone to a full-service station that can run an entire store or restaurant. Interest-free financing options are available for all devices. Here's a quick look at your options:
Clover Go: $49
Clover Go is a mobile device that syncs with all other Clover products. Clover Go works on iOS or Android devices, and it allows you to take multiple types of payments on the go. Clover Go provides a bird's-eye view of transactions and is fully customizable. Go can be used with the Payments, Essentials, or Register plan, but by itself, Go cannot take advantage of all features available with the Register plan.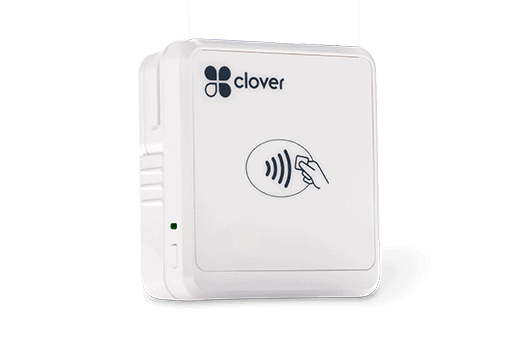 Clover Flex: $499
Clover Flex accepts multiple payment types and comes with Rapid Deposit, getting you your cash quickly. Flex is an all-in-one POS system that you can operate from the palm of your hand, featuring advanced inventory, a loyalty program, and customization options. The Flex can also be used as an add-on to a Station Solo or Station Duo setup.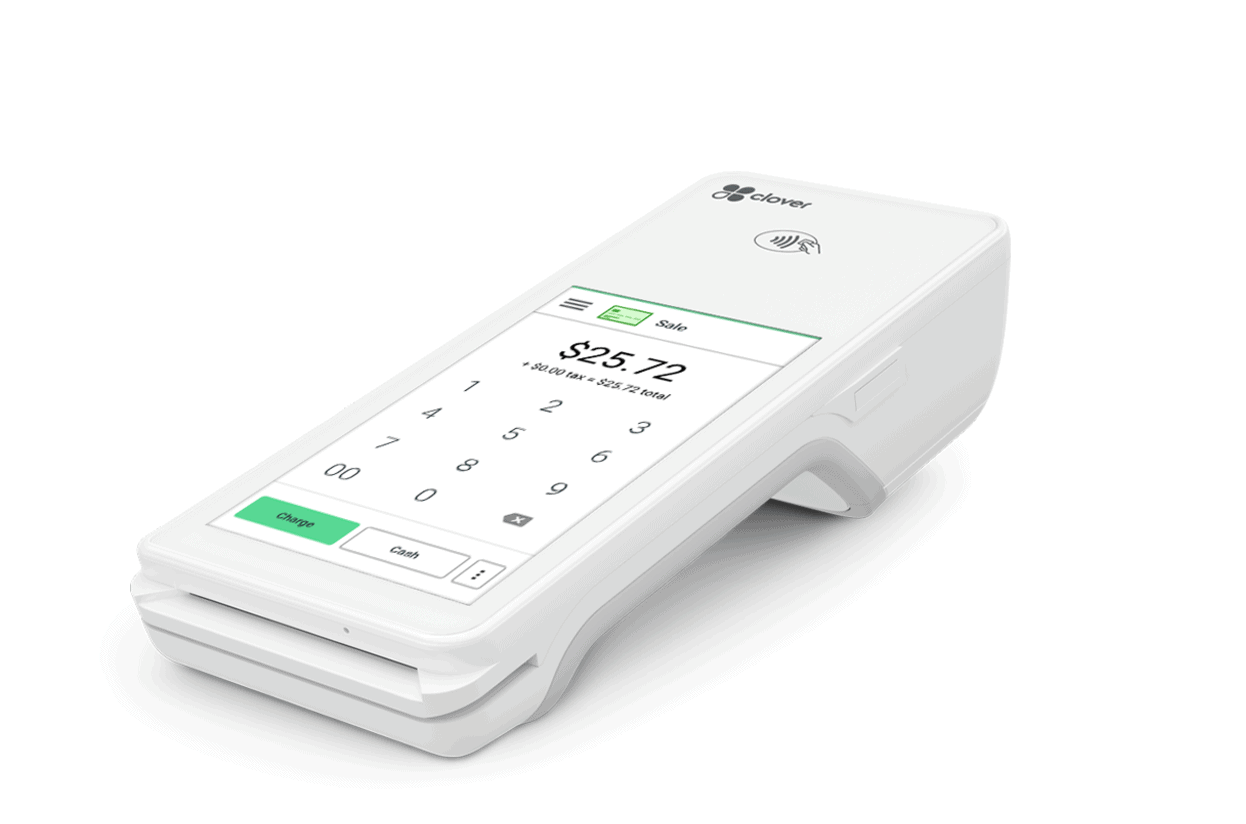 Clover Mini: $749
Clover Mini is made to run your entire business from the front to the back of the house. The Mini features a simple interface and the ability to take a wide variety of payments. The all-in-one POS comes with advanced inventory, a wide array of reports, excellent employee management, and many other features. Don't let its small footprint fool you — the Mini can be used for any type of business, from retail to QSR to full-service restaurants.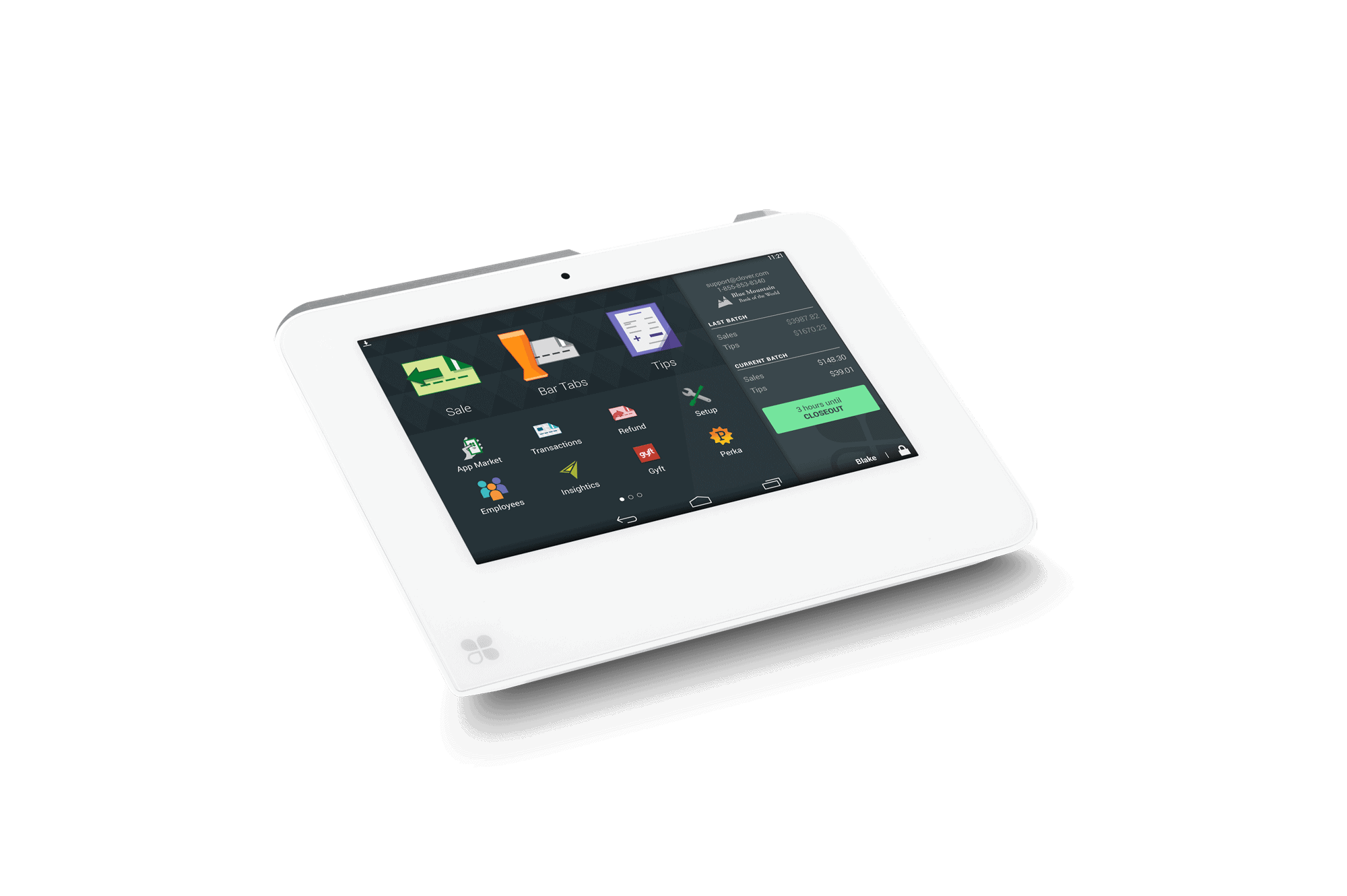 Station Solo: $1,349 or $1,399
Clover Station Solo is Clover's classic offering. It's designed to run larger businesses, including full-service restaurants. Station Solo comes with a 14″ high-definition screen, receipt printer, and a cash drawer (not pictured), and it has a simple and sleek interface. You can build restaurant floor plans with ease and take mobile orders, and there's a large number of back-end features to help you keep your business running at peak efficiency.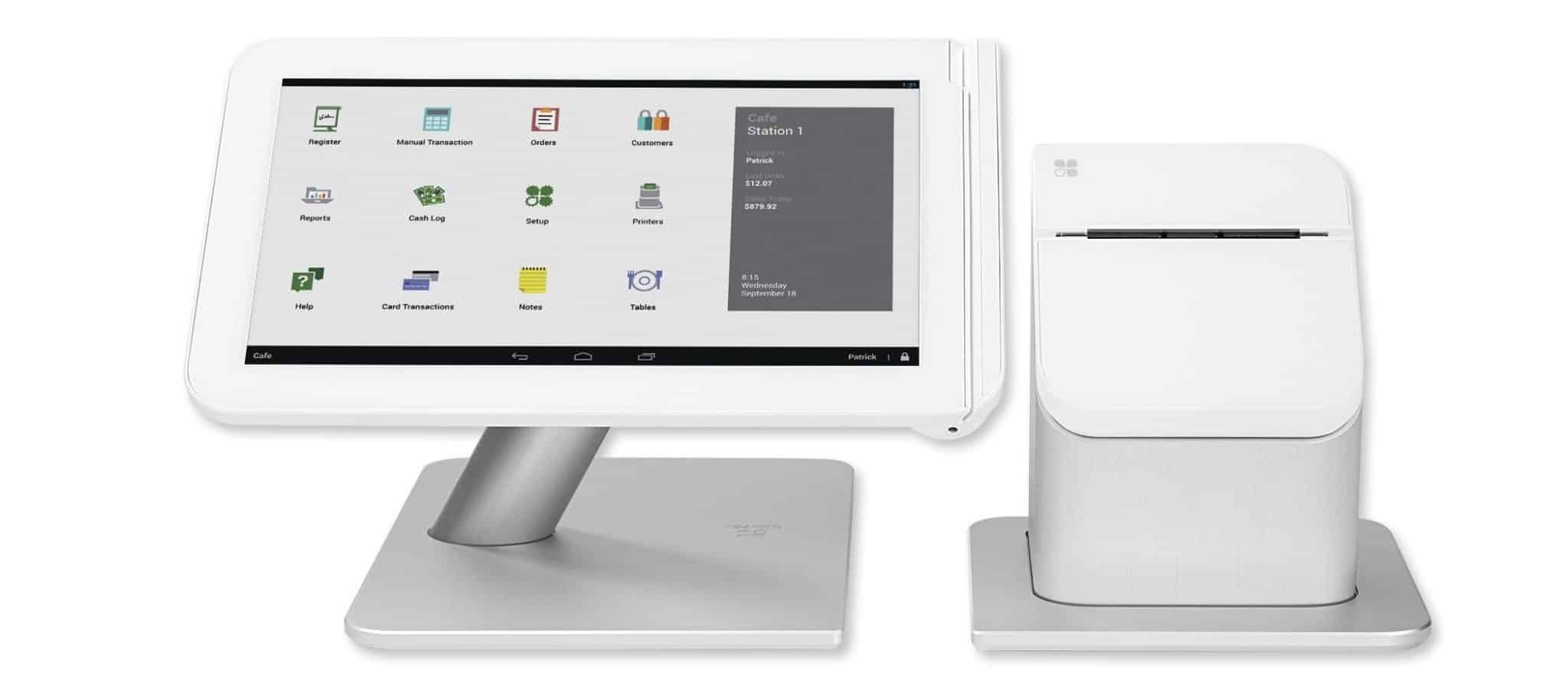 You can purchase Station Solo "for any business" for $1,399 or a version specifically for full-service restaurants for $1,349. The restaurant version has a regular receipt printer, while the more expensive version comes with an NFC-enabled receipt printer that has a basic customer-facing display.
Station Duo: $1,649
Clover Station Duo is Clover's newest hardware offering. The main difference between the Station Duo and the Station Solo is that the Duo adds a customer-facing touch screen, which appears to be a pared-down version of the Clover Mini. The merchant-facing screen is slightly different from the Station Solo screen (though both are 14 inches), and the receipt printer is advertised as "high speed."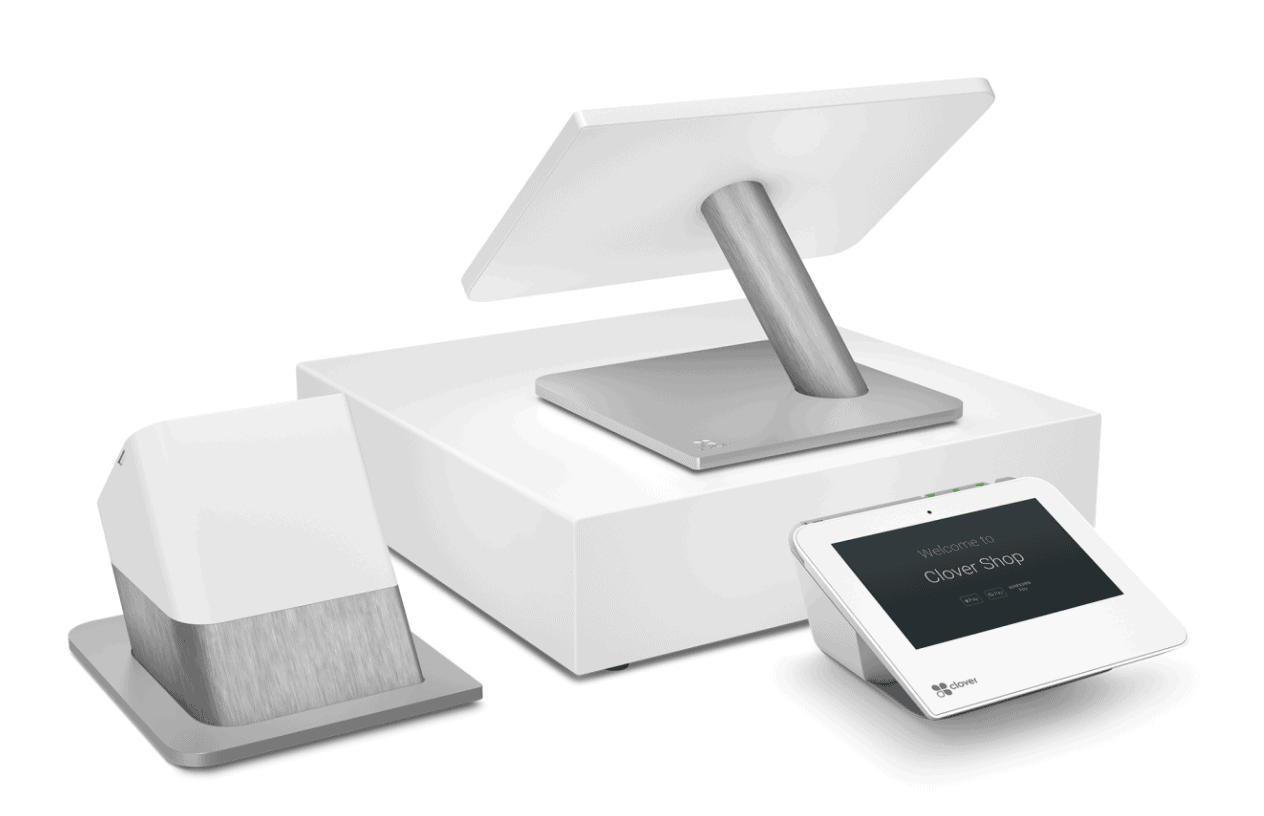 With the Clover Station Duo, you have the option to choose the Counter Service Restaurant plan or the Register plan for any business.
Cloud-Based Or Locally-Installed
Clover is cloud-based and stores your information online. If online services are down, the software can continue to function for a time, queuing up transactions until the internet is restored. This includes the ability to take card payments during an outage, the data of which is encrypted and stored to be processed once service is restored.
Is Clover POS Easy To Use?
Clover POS reviews show it is very easy to use:
No-Hassle Setup: Clover prides itself on being user-friendly, which is a huge factor in its popularity. It arrives nearly ready to go (with a preloaded menu if that appeals to you), and there are only a few pieces to assemble.
Short Learning Curve: Employees should be able to pick up everything they need to know about Clover after 15-20 minutes of basic training. Most of the Clover POS apps (at least the most common — reporting, inventory, customers, etc.) are self-explanatory and clearly labeled. The nice thing about a truly all-in-one POS solution such as Clover is that all of the hardware works together naturally. For many business owners, Clover takes the guesswork out of things. It's one of the most visually appealing interfaces you'll find, and system navigation can be mastered in a matter of minutes. Depending on what functions you want, there are various apps on the screen that you can open with a touch of your finger.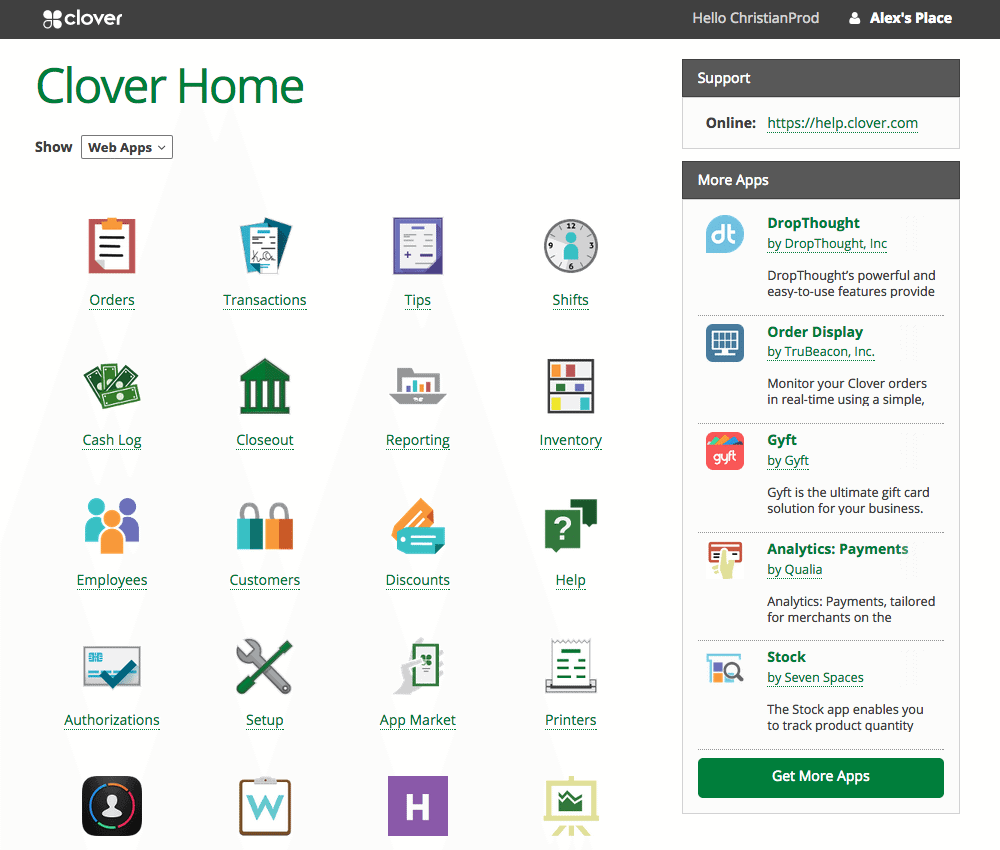 Hardware & Operating System Requirements
There are essentially no operating system requirements for Clover. Everything you do gets stored in the cloud. As long as you have a viable internet connection, you should be good to go. Updates are automatic and apply to all of your Clover devices. Additionally, you can use a web browser on any device to process keyed-in card payments using Clover's virtual terminal.
As for hardware, you can use the following:
Clover Go with iPhone, iPad, Android phone, or tablet
Clover Flex
Clover Mini
Clover Station Solo
Clover Station Duo
Your phone, tablet, or laptop — to access the virtual terminal
You can check out the details regarding Clover's various hardware options on the company's website.
Customer Service & Support
Customer service for payments and merchant account issues will likely come from whichever merchant services provider you end up going through (unless you sign up directly with Fiserv). For this reason, it's important to be careful about the bank/provider you choose to buy from. On the other hand, technical support for the software and hardware will come directly from Clover (or, more accurately, Fiserv), which is where you start running into problems.
Fiserv has historically had problems on the merchant services side of the business (excessive fees, account terminations, withheld funds), so you're rolling the dice when it comes to software and hardware support. Customers cite rude customer service representatives, dodgy responses (if any), and general dissatisfaction.
Clover POS customer service also provides a self-help center with guides, FAQs, and troubleshooting tips. This material is helpful for the most part, especially when supplemented with videos on the website and YouTube. The app providers themselves manage assistance with individual third-party apps.
Clover also has Facebook, Twitter, Instagram, and GitHub accounts that all appear to be somewhat active.
Compatible Credit Card Processors With Clover
Clover is always sold in conjunction with a Fiserv merchant account, but these merchant accounts are sold by numerous different merchant services companies and banks. That means there are hundreds of places where you can purchase the Clover system and an accompanying credit card processing account. However, since Fiserv and many other Clover providers are not highly rated, we strongly recommend using one of only a handful of reputable Clover merchant services providers rather than getting your Clover account directly through Fiserv or another low-quality provider.
As a general rule, the safest option is to go through Clover.com for your purchases. There you can talk with someone directly from the company if you have any questions, and you can be guaranteed that you're going to get competitive pricing and avoid any potential scams. While you may find vendors out there with slightly lower prices on equipment that are completely on the level, sometimes it's worth passing on a potential deal to save some peace of mind.
Also, when it comes to hardware, we strongly recommend that you buy your Clover equipment outright instead of leasing it from your credit card processor, something that will save you money and headaches down the road.
Clover Systems Credit Card Processing
If you do your research and are happy with Fiserv's processing options, this might not be an issue. Fiserv's rates are very competitive if you compare them with other companies. However, if being locked into a large processor with some of the problems (primarily with customer service) that plague Fiserv gives you pause, this may be a deal-breaker, and you'll want to look elsewhere.
The Clover system is vertically integrated with credit card processing. It is always sold together with a merchant account from Bank of America, Citibank, Restaurant Depot, and any other Fiserv Independent Sales Organization (ISO).
Integrations & Add-Ons
Clover's App Market is truly one of the system's biggest draws. It allows you to pick and choose the features and/or tools your business requires, such as coupon processing, virtual PIN pads, gift card management, employee management, and advanced reporting. Most of the apps are completely free, though some cost a small fee.
Also, the app store is constantly updating and improving to meet customers' needs. If you can dream up something your business could use, there's a decent chance the app store has it, and it can be available at your fingertips in seconds. Furthermore, if you have particular needs and want to design your own application, the Clover API is available to developers.
Clover POS Reviews, Complaints, & Testimonials
Clover POS reviews are very mixed. The negative Clover reviews can be concerning since many of them allege a lack of transparency from the company and from Clover merchant services in particular.
Since Fiserv/First Data owns Clover, it does not have its own BBB profile. First Data rates 3.38/5 stars on the BBB, with 180 complaints closed in the last 12 months. Clover does have a presence on Trustpilot, but its rating is abysmal — only 1.2/5 stars. However, in Apple's App Store, Clover does much better, with a score of 4.9/5. The reason for this discrepancy seems to be that customers generally like the Clover software and hardware, but not the cost, customer service, or merchant services.
Negative Clover POS Reviews & Complaints
Clover merchant reviews bring up a few major red flags, including:
Cost: The biggest complaint I've heard (from customers and reviewers alike) is that the upfront costs can be prohibitive. If your business needs more than one terminal, for example, it could run you upwards of $2-3K right off the bat. While leasing options are available, this cancels out one of the advantages tablet-based software generally holds over locally-installed terminal systems. All of the best cloud-based POS software will run on an iPad and/or Android tablet, meaning that if you test out one system and it doesn't work for you, you can transition to another system without having to invest in new hardware. Clover, on the other hand, is run exclusively on Fiserv's proprietary hardware, meaning that you can't even test the system without investing around $1,000 upfront — and forget about an inexpensive switch if it doesn't work out. If you're leaning toward Clover, it's best not to be on the fence about your decision.
Purchasing Market: Another Clover negative is that there is no one place to buy it, yet you are restricted to a single merchant services provider. You're going to get different rates, prices, and customer service options at each location. However, no matter which reseller you go through, you're still limited to Fiserv as the processor. I'd be wary around any POS that only integrates with one processor, but this is a notorious problem with Fiserv because of its increasingly poor reputation. Though some resellers have maintained a great reputation, they can only help on the payments/merchant account side. For technical support, you're still at the mercy of Fiserv's hit-or-miss service.
Customer Service: Customer service (or the lack thereof) is a major complaint among many Clover customers. Doing your research on which provider you choose can save you lots of heartache in the long run.
Lack Of Transparency: Feedback about non-negotiable contracts, hidden fees, and other surprises are also extremely common. Along these lines, a few customers complained about being told they could download apps that would help with specific issues later, only to find out that the apps did not do what was promised. The word "scam" has been used in quite a few of these comments. On that note, you should also be aware of some actual Clover Station scams on eBay.
Positive Clover POS Reviews & Testimonials
We found several positive themes in Clover POS reviews, including:
Ease Of Use: This is Clover's hallmark. The interface is exceptionally intuitive and modern. Users appreciated that it doesn't bog you down with too many buttons, and the back end is accessible and well laid out.
Exceptionally Fast Setup: Along the same line, multiple users liked that they could get their system up and running in minutes, and the time it takes to train new employees is minimal.
Wide Variety Of Apps To Adapt To Nearly Any Industry: While a few users complained about having to download apps to get certain functions, the overwhelming majority of reviews I saw about the app store were positive. They appreciated how many options there were and how easily they synced to the POS software.
All-In-One Design: Many users were happy that they could purchase all of the necessary hardware in one place and liked that Clover came with everything they needed for their business included.
Clover POS FAQs
Final Review Of Clover POS System
There's so much that Clover does exceptionally well. During a trial run, I encountered very few red flags with the software itself, and it truly is one of the most intuitive programs I've dealt with. I love the simplicity of the interface, and it's hard to beat the visual appeal and practical design of the hardware. Clover is easy to use, adaptable, and able to integrate with many useful third-party applications.
There's a lot to like about an all-in-one POS that you can pull from the box and have up and running within minutes. Clover's newest "Clover Payments" plan also makes Clover more competitive with Square, which offers the same processing rate (2.6% + $0.10) and no monthly software fee.
However…
One of my primary concerns about Clover is that thousands of different banks, merchant services providers, and small business suppliers sell it. In general, I applaud a system that is set up for competitive pricing/rates, but there is something lost when a company stops providing support for its product. I'm troubled by the inherent disconnect between Clover, as a company, and the people who use the product. Worse still, we've continued to see multiple complaints about Fiserv regarding negligent customer service and sketchy interactions that leave customers feeling scammed.
These issues hold Clover back from being one of the truly elite products on the market, which is unfortunate. I generally don't have a problem recommending Clover to customers because the software won't leave you wanting. One of the best things about the system is that, unlike some Clover competitors, you can easily add on features or upgrade systems if you like what it offers and find that your needs have changed.
That said, those of you who want a simple, attractive POS solution — and don't mind taking a risk on customer service and payment processing — could do a lot worse than Clover and its many different offerings. Just be sure to work with a vendor you trust (our favorite is Payment Depot) and research their support/technical assistance policies beforehand.
---
The Merchant Maverick Seal of Approval 🏆
Clover POS


---



After hours of in-depth research and evaluation, we can confidently recommend this brand to our readers. Get started today and see Clover POS for yourself.
The Merchant Maverick Seal of Approval 🏆
Clover POS


---



After hours of in-depth research and evaluation, we can confidently recommend this brand to our readers. Get started today and see Clover POS for yourself.
To learn more about how we score our reviews, see our
Point Of Sale (POS) Software Rating Criteria
.