6 Best POS Systems For Rental Businesses In 2023
The best POS systems for rental business have features like rental inventory management, rental tickets and quotes, and online rental bookings.
Expert Analyst & Reviewer

UPDATED
Advertiser Disclosure: Our unbiased reviews and content are supported in part by
affiliate partnerships
, and we adhere to strict
guidelines
to preserve editorial integrity.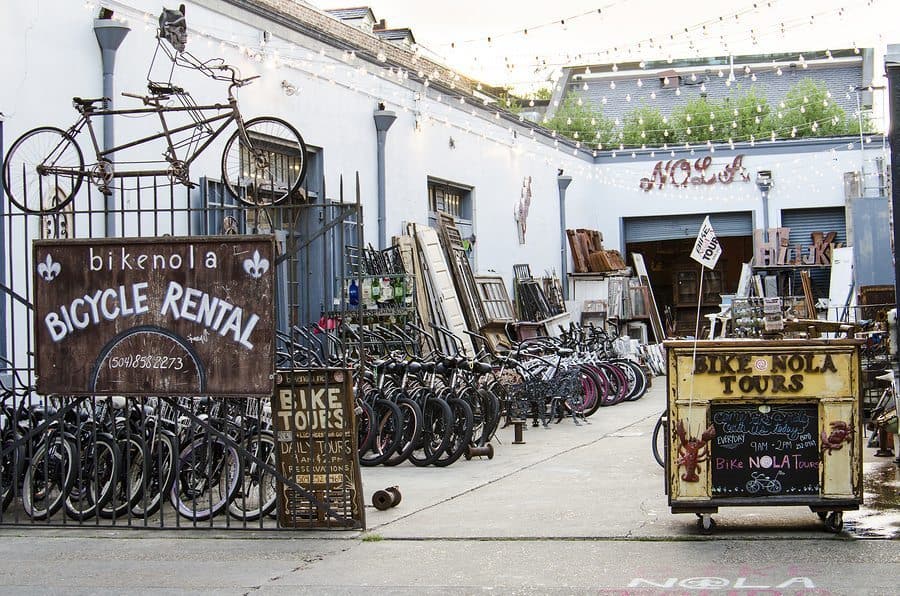 A POS system for rental business helps with moving inventory, fluctuating reservation dates, and building a customer base. Whether you're just dreaming up a wedding venue rental startup or you're ready to move your rental tool inventory away from pencil and paper ledgers, a point of sale system for your rental business might be the organizational tool you are missing.
But which point of sale system is the right fit? Read on for the best POS systems for rental businesses of all types, sizes, and budgets.
Learn More About Our Top Picks
Company
Best For
Next StepsBest For
Lightspeed Retail POS
Best for small to mid-size businesses looking to expand.

Best for small to mid-size businesses looking to expand.

Clover POS
Best for small to mid-sized businesses that could use intuitive hardware and a variety of apps.

Best for small to mid-sized businesses that could use intuitive hardware and a variety of apps.

Square For Retail
Best for businesses looking for an extremely affordable all-in-one POS solution.

Best for businesses looking for an extremely affordable all-in-one POS solution.

Shopify POS
Best for small to mid-sized businesses looking to build a strong online and offline presence.

Best for small to mid-sized businesses looking to build a strong online and offline presence.

EZRentOut
Best for rental companies with a B2B business model.

Best for rental companies with a B2B business model.

Show More Options
Paradise POS
Best for smaller businesses that don't want to rely on WiFi to operate.

Best for smaller businesses that don't want to rely on WiFi to operate.

Show Fewer Options
Read more below to learn why we chose these options.
Top POS For Rental Business Software
The best rental business software depends on your business size and needs, but in general, these following pos systems are the top options we researched.
1. Lightspeed Retail: Best Scalable Option
Lightspeed Retail POS


---
Limited time offer. Sign up to Lightspeed by March 31st and get up to $1,500 in complimentary hardware. Claim this offer today.
Pros
Rental Shop Manager software integration
Excellent eCommerce features
Built for growth
Cons
Expensive for smaller businesses
Third-party payment processor costs extra
Early termination fee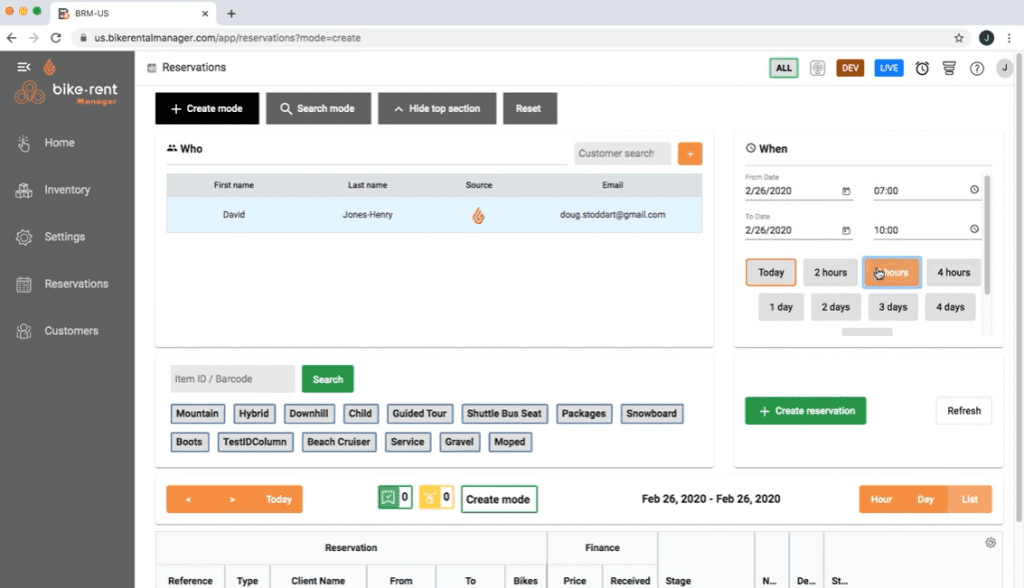 Lightspeed Retail Features
While Lightspeed Retail has a number of retail-focused features, these are the most noteworthy for rental businesses:
Integration with Rental Shop Manager, a

software program that handles all aspects of running a rental business

Rental quotes
Item holds and layaways
Work and purchase order management
Multilocation management
Employee management
Online reservations for items, venues, etc.
Gift cards, discounts, and loyalty program setup
Lightspeed Retail Pricing
Lean Plan: $89/month, or $69/month if billed annually
Standard Plan: $149/month, or $119/month if billed annually
Advanced Plan: $269/month, or $199/month if billed annually
These plans are for one register and rental business owners who agree to use Lightspeed Payments, Lightspeed's in-house payment processor.
Each additional register costs $59/month. Integrating a third-party payment processor, such as TSYS or Worldpay, costs an extra $50/month.
Hardware Cost
Lightspeed Retail works on iPads and computers, although iPads are ideal for moving around stores, events, or outdoor locations. Hardware such as printers and barcode scanners are quote-based.
Payment Processing
Lightspeed offers its own payment processing at a rate of 2.6% plus $0.10 per tap, swipe, or chip payment and 2.6% plus $0.30 per manual card entry. You must purchase a terminal from Lightspeed to use the company's payment processing.
Contract Requirements/Warnings
You can sign up for a monthly plan (which is recommended unless and until you are certain you have found the right POS software) or a yearly one. There is an early termination fee if you cancel your plan early.
You have to contact Lightspeed's billing department at least 30 days before your next payment cycle to avoid being charged for an additional payment term.
If you purchase POS hardware from Lightspeed, you must confirm that you have received your purchase within five business days of receiving it. If you don't, the hardware will not qualify for Lightspeed's 30-day hardware warranty (14 days for Apple products).
There is a $50/month fee to use a payment processor other than Lightspeed Payments.
Where Lightspeed Retail Really Shines
Lightspeed Retail is one of the best POS systems for retail businesses and has many features that can be specifically tailored toward several types of rental businesses. In most cases, rental business owners can get away with running an entire rental business without paying for any additional software.
Since the POS software is so easy to use, more employees can get trained without any hassle, customers can rent items faster, and moving inventory is easier to track.
Get Started With Lightspeed Retail POS
2. Clover: Easiest Setup
Clover POS


---
Pros
Streamlined setup
Highly intuitive
Excellent app store
Discounted device add-on
Cons
High upfront cost
Complicated pricing
Some features require paid add-on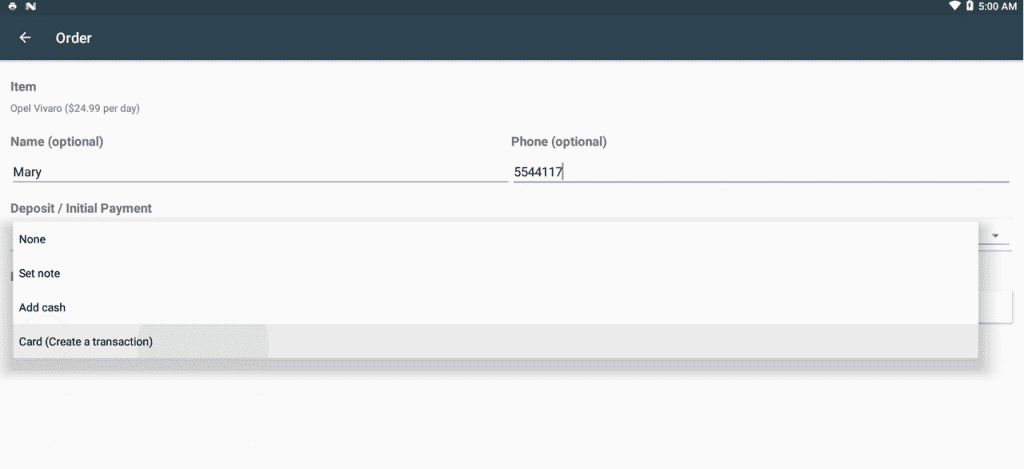 Clover Features
Clover on its own may not seem worth the research and hardware purchasing upfront, its app marketplace is where you'll find the true value of this POS provider. Some of the best rental-focused features include:
Rental timer for charging minute, hourly, or daily rental rates
Employee clock in and out
Pre-authorization
Online ordering and payments
Item returns and history
Customer loyalty program setup
Digital and physical gift cards
Rental agreement form builders and digital form signatures
Integrations with software such as Gusto Payroll and BigCommerce website builder
Access to 450+ Clover apps (limited access on Essentials plan; full access on Register plan)
Clover Pricing
Clover has two different pricing structures available. You can buy your hardware outright and pay a monthly subscription fee of $14.95 to $94.85. If you don't want to purchase your equipment outright, you can use Clover's leasing option. With this option, you can pay for your Clover hardware and POS software with a single subscription. Monthly payments with this option range from $50 to $290 per month.
Hardware Cost
You can buy Clover hardware from the POS provider itself ($49 to $1,799, depending on the device) or from any one of the thousands of Clover resellers. Hardware and payment processing costs vary depending on where you purchase from.
You also cannot mix and match hardware from other POS companies if you use Clover, so do your research before buying. Read this full breakdown of Clover POS pricing so you can make an informed POS purchase.
Payment Processing
If you buy hardware from Clover, you must also use Clover's merchant service provider, Fiserv. You can expect to pay a transaction fee of 2.3% or 2.6%, plus a $0.10 flat fee, per in-person transaction.
However, Fiserv has a poor reputation as a merchant service provider and it may be best to purchase a Clover system from one of these best Clover resellers.
Contract Requirements/Warnings
Your contract requirements will vary depending on where you get your Clover hardware and corresponding merchant account. If you purchase hardware from Clover.com, you can return it within 60 days of purchase.
On the Clover software side, plans are month-to-month, and you can cancel at any time with no termination fees.
Where Clover Really Shines
Since Clover hardware is always sold along with a merchant service provider, getting your POS set up becomes as simple as making a purchase and putting the hardware together. The system is so intuitive that it should only take you (and any employees) less than an hour to start taking orders.
Clover was also designed as a customizable POS with an app store that acts almost like the Google Play store. Rental business owners can easily search for and install well-tested apps that fit their business needs.
3. Square For Retail: Best All-In-One Solution
Square For Retail


---
Pros
Very low barrier to entry
Highly intuitive
Scaleable, convenient hardware
Online and offline selling options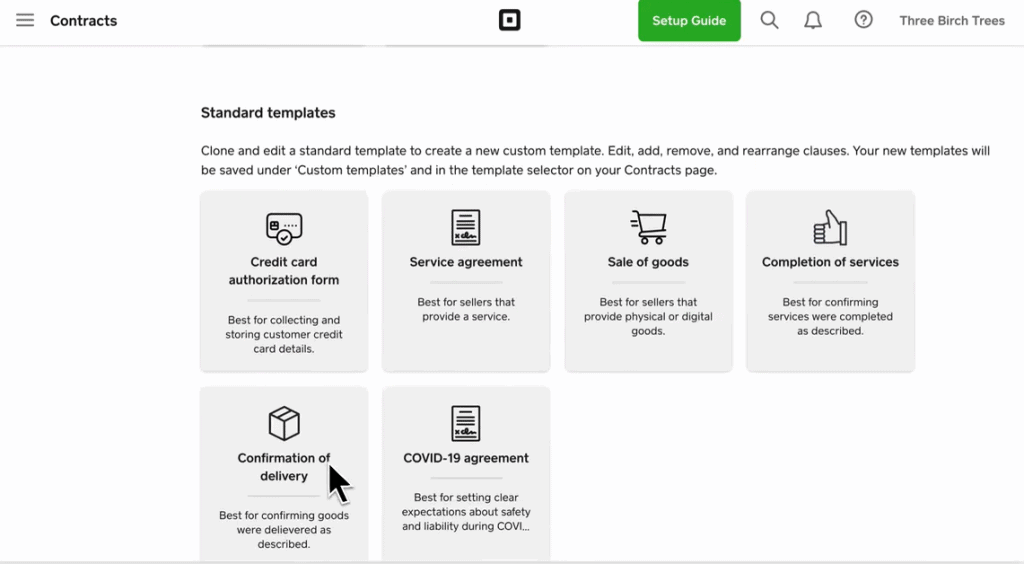 Square For Retail Features
Square is one of the best free POS options and has taken the small business world by storm, for good reasons. Rental business owners will appreciate these features:
Rental-specific POS app
Free online appointment booking and reservations
Team management, including time clock and payroll reporting
Pre-authorization
Free or low-cost Square-hosted website
Multilocation inventory management (starting at Plus plan)
Automated purchase orders and vendor tracking (starting at Plus plan)
Rental contract builder and digital signature capture
Square For Retail Pricing
Free: $0/month
Plus: $60/month per location (not per register)
Premium: Custom pricing
You can use one Square account on several devices in one location. However, if you are taking orders on devices in two different shops, then you need to pay for two locations.
Hardware Cost
Rental business owners, if they choose to purchase Square hardware, will pay between $0 (Square magstripe reader) and $1,329 (Square Register kit.) If you have a very low budget, consider a free Square reader or $49 Square Contactless + Chip Reader.
Read our full guide to Square hardware to figure out what your rental business needs.
Payment Processing
Square charges a payment processing fee of 2.6% plus $0.10 per card-present transaction on the Free plan. The fee reduces to 2.5% plus $0.10 on the Plus plan.
Regardless of your plan, you are charged a 3.5% plus $0.15 fee for card-not-present transactions. Also, the fee for online transactions and invoices is 2.9% plus $0.30 per transaction.
Contract Requirements/Warnings
Square charges merchants on a month-to-month basis (if they're on a paid plan). It's free and easy to cancel if you decide that Square isn't the right POS for you.
Square also has a limited-time hardware warranty. If you damage your Square hardware within that time period, you can submit a warranty claim, and Square will send you new equipment, even if you didn't purchase directly from Square. You must send the old pieces back to Square within 14 days of receiving your new hardware, or your account will be charged.
Where Square For Retail Really Shines
Square has broken many of the sales barriers for small business owners. This POS provider has made it fast, simple, and affordable for anyone to start taking payments online and in person.
Square's hardware is inexpensive compared to competitors, and monthly subscription fees are reasonably priced (there's even a free plan). Square is also special in that you can use multiple devices as registers without having to pay for each device, which is not common among POS solutions.
Get Started With Square For Retail
4. Shopify: Best Onmichannel Selling Option
Shopify POS


---
Pros
eCommerce integration
Huge app store
Gift card functionality
Cons
No offline mode functionality
Confusing pricing

Shopify Features
While Shopify plans on their own do a lot of the heavy lifting, Shopify's app store (filled with free and paid add-ons) is an excellent way to add on rental-specific features.
Here are some of the best features from both Shopify and the Shopify app store:
Selling on your own Shopify-managed website (starting at Basic plan)
Social media advertising and in-app selling
Buy online, pick up in-store
Real-time inventory management across rental locations
Rental returns at any of your locations
ID verification (add-on app)
Appointment booking (add-on app)
Product reservations and calendar syncing (add-on app)
Discounts, gift cards, returns, and store credit
Product booking forms and custom booking rules (add-on app)
Automated return reminders (add-on app)
Employee roles and user permissions (POS Pro subscription plan only)
In-store QR codes that can link to product descriptions
Shopify Pricing
Shopify Starter: $5/month
Basic: $29/month
Shopify: $79/month
Advanced: $299/month
Shopify Plus: $2000+/month
Shopify offers a 10% discount on annual plans and a 20% discount on biannual plans when you pay upfront.
Note: Shopify offers a POS Pro subscription that costs an additional $89/month/location. This plan offers an unlimited number of employees and staff roles, local delivery and pickup, and other advanced POS features.
Hardware Cost
Shopify hardware ranges from $29 (Shopify Chip & Swipe Reader) to $569 (Star® mPOP™ With Scanner, Shopify's all-in-one customizable retail hardware package.)
Read our guide on Shopify Hardware options and pricing to get a sense of what Shopify can offer your rental business.
Payment Processing
Shopify offers its own payment processor, Shopify Payments, to qualifying business owners. With it, business owners do not have to pay Shopify's transaction fees.
In-person payment processing fees range from 2.4% to 2.7% per in-person transaction. Online payment processing fees range from 2.4% to 2.9% plus a $0.30 flat fee per purchase.
Contract Requirements/Warnings
You must buy a card reader from Shopify if you want to use Shopify's payment processor. If you want to use the Shopify Lite plan, you can only use Shopify Payments. If you use a Shopify-supported third-party payment processor, you must use a card reader from that processor.
There are no early termination fees.
Where Shopify Really Shines
Shopify was first built for business owners looking to take their sales online with completely Shopify-managed websites (starting at the Basic plan) or by simply adding online selling capabilities anywhere online or in-person (Shopify Lite plan).
The Shopify app store will also let you add just about any rental-specific functionality you're looking for. If you're looking to take any aspect of your business online, Shopify is a strong choice.
5. EZRentOut: Best For B2B Rental Businesses
EZRentOut


---
Pros
Excellent B2B customer management
Highly customizable rental options
Flexible POS hardware and payment processing options
Mobile app available
Cons
POS functions are not available on lowest-tier plan
Moderate learning curve

EZRentOut Features
EZRentOut is designed for midsize B2B rental businesses, which is why the software includes the following features:
Customizable orders and invoicing
B2B customer management system
Rental pricing rules such as seasonal pricing and customer category price adjustments
Electronic signatures (on-site and online)
Bookings, reservations, and availability calendar
Recurring orders (starting at Plus plan)
Sub rental management (starting at Plus plan)
Late return fees (starting at Plus plan)
Bundles and promotions
Item services and maintenance management
Depreciation of equipment
Purchase orders (starting at Plus plan)
Work orders (starting at Premium plan)
Customer portal (starting at Plus plan)
Online rental store (starting at Premium plan)
Integration with web builders such as WordPress, Wix, and Squarespace (starting at Premium plan)
QuickBooks integration (starting at Plus plan)
Online and offline payments (starting at Plus plan)
Location tracking
QR codes and barcode labels, scannable with the EZRentOut mobile app
Handheld scanner integration (starting at Plus plan)
EZRentOut Pricing
Standard: $49.98/month for up to two users
Plus: $134.97/month for up to three users
Premium: $224.95/month for up to five users
EZRentOut offers a 10% discount when you purchase a yearly plan and pay upfront.
You must pay an additional $20/month/user if you choose to add additional users to your account.
Hardware Cost
EZRentOut does not offer its own hardware. Instead, the company has partnered with Stripe to offer users a secure swipe, chip, and tap card reader, which costs $249. You can also use a basic magnetic card reader, but those readers don't have the same level of security standards.
EZRentOut lists hardware recommendations for barcode and QR code printers, scanners, and electronic signature pads. In general, the company allows you to be flexible in terms of hardware, so you can find the best deals out there.
Payment Processing
EZRentOutdoes not offer its own payment processing but works with several popular payment processors, including Stripe, PayPal, Square, Authorize.net, and Braintree.
Contract Requirements/Warnings
There is no early termination fee for canceling your account.
There are also no refunds if you cancel your account before your subscription is up. Use EZRentOut's 15-day trial (no credit card required) before subscribing to a paid plan. If you're still not totally sold, subscribe on a month-to-month basis.
Where EZRentOut Really Shines
EZRentOut is not first and foremost a POS provider, but a large-scale rental management software. Any business that rents its products out to other businesses, such as realty agencies, party planning companies, universities, medical equipment lenders, or construction companies, will find the customer and vendor management functionalities they need with EZRentOut.
EZRentOut does make POS hardware connection and payment processing extremely flexible, so don't think you'll miss out on any in-person transactions with this highly tailored rental solution.
6. Paradise POS: Best For Remote Rental Locations
Paradise POS


---
Pros
Offline mode
Specific rental features
Simple interface
Customizable
Cons
Lack of pricing transparency
Other features not overly deep

Paradise POS Features
Paradise POS is designed for rental business owners who may not always have a steady WiFi connection. All the following features are included in every Paradise POS plan without the need for any add-ons, free or otherwise:
Offline payment processing
Employee scheduling and time tracking
Customizable gift cards
Hourly, daily, and by-the-minute rental timeframes
Rental deposits
Customer account management
ID scanning and age verification
Rental pickup and dropoff at any of your locations
Product costing and vendor management
Intuitive upselling
Paradise POS Pricing
Paradise POS pricing is quote-based, but you can expect to pay roughly $50/month to use this rental-focused software.
Hardware Cost
While Paradise POS does not explicitly state hardware costs on their website, you may pay around a one-time $1,300 fee for an iPad, iPad stand, printer, cash drawer, credit card terminal, router, and ethernet cords.
All of this allows you to set up a local connection between your different POS systems so you can take offline payments and manage your rental business without relying on an internet connection.
Payment Processing
Paradise POS does not offer its own payment processing but works with several popular payment processors.
Contract Requirements/Warnings
Since Paradise POS is quote-based and varies depending on individual circumstances, be sure to discuss your options with a Paradise POS representative and carefully read over your contract before making any commitments.
Where Paradise POS Really Shines
All Paradise POS features are designed specifically for rental businesses, so there's no need to "find the perfect integration" to make a POS for your rental business perfect. It's also designed to work as a smartphone does, so it's easy for everyone, including customers, to use.
Equally, or even more importantly, Paradise POS systems continue to process payments even if your internet connection is down or out of range. For businesses in locations with spotty WiFi (like remote Alaskan boat rental places), this feature will save hundreds of dollars that would otherwise be lost to a bad internet connection.
11 Features To Look For In A POS System For Rental Companies
Rental companies have a very unique set of needs. For example, since inventory is moving back and forth more often than inventory in traditional retail stores, you need much more flexible inventory management features.
Here are the most important features your POS system should have.
1. Strong Inventory Management
The best point of sale systems for inventory management will either have built-in advanced inventory management or an upgrade that's not overly expensive. The ability to track a wide variety of products and keep tabs on what's in stock in real time is crucial in most rental establishments.
2. Scheduling Functionalities
Rental agreements are, by nature, time-sensitive. It's a little tedious for a potential renter to have to call you, then you look in your rental bookings, call them back, and try to work out a rental time, all the while trying to track what will be available and when.
Instead, find a POS that shows you (as well as customers) when a certain piece of equipment or a location is available. Include a calendar online so that customers already have an idea of when they can rent.
Since your POS should also have real-time inventory/scheduling updates, your booking availability should update as soon as your inventory levels or expected location occupancy changes.
3. Reservation Time Tracking
If you rent out a boat for six hours and don't track whether six hours have passed, then you won't know if you're supposed to collect overdue fines. Also, if you don't enforce your rental periods, customers could take advantage of you.
A POS system that tracks rental time from the minute a customer checks out takes out the extra step it takes to write down (or worse, try to remember) when a piece of equipment leaves your facility and when it comes back.
4. ID Verification
If you rent out equipment that requires some level of skill, such as tools, or if a customer has to be a certain age to rent something out, which is the case for many car rental places, you'll need to check and store your customer's ID beforehand.
Even if you don't have those specific kinds of rental businesses, you should know exactly who you're renting out to. It's also important that the person who signs the rental agreement is the same person who returns your rental products.
Many POS systems allow you to scan an individual's ID, driver's license, or passport.
5. Pre-Authorizations
You wouldn't want to loan something out to someone without knowing if they can pay for it. If you have a POS system that pre-authorizes a buyer's payment method, then you won't have to worry about collecting your dues later on.
6. Rental Deposits
Many rental businesses charge a downpayment or a deposit on high-ticket rentals. Your POS system should allow you to charge either a refundable deposit or a deposit that can be used as partial payment later on.
7. Card-On-File
If a piece of lighting equipment is broken or someone shatters a window in your rental property, you are within your rights to charge the renter (as long as you included it in a signed rental agreement, of course.)
Storing a customer's card information guarantees you will be able to collect payment for damages, even if a renter will not acknowledge their mistake.
8. Website Integration
People want to trust the business they're renting from. The easiest way to build that trust is to build a reputable website. Ideally, people should also be able to complete bookings and checkout online with an added eCommerce functionality.
Some POS systems, including Square For Retail and Shopify, come with eCommerce functionalities, depending on your payment plan. Other systems, such as Lightspeed Retail and Clover, integrate with most eCommerce website builders.
9. Loyalty Programs
Loyalty programs are an excellent way to retain your customer base, especially if they are likely to use your rental services often.
10. Automated Billing
If a renter takes something out for an unspecified amount of time, or they decide to add on an extra day, hour, etc., to their rental period, an automated billing system will allow you to automatically bill for that extra time.
11. Mobility
Most POS systems can run on an iPad or tablet these days. Some providers have even built smartphone apps to increase mobile transaction capabilities.
Rental business owners will find mobile POS systems very useful, as they can take payment on-location, at events, or just around their store.
Top Features For Car Rental Business Software
Car rental business software will have the following features to help your business succeed:
Location mapping
Online bookings and cancellations
Reservation management
ID scanner
Deposit/partial payment
Digital form signage and storage
Card-on-file
Split payments
Multicurrency support (for international travelers booking online)
Maintenance schedule tracking
Vehicle inventory management
Return reminders
Special discounts and loyalty programs
Anti-theft alerts
Top Features For Party Rental Software For A Small Business
Party rental software should have these features:
Online ordering forms
Customizable pricing
Vendor management
Item rental deposits
Special occasion/clearance offers
Card-on-file
Item damage billing
Automated late fee billing
Bulk or bundled discounts
Location tracking
Customer management system
Related item recommendations
Product catalog/categorizations
Barcode management
Multilocation management
Which POS With Rental Software Features Is Best For You?
A POS for your rental business has to be flexible, intuitive, and in the right price range. It also has to be prepared for growth, if you're going to scale up your company.
If you're looking for a low-cost, high-quality POS system for rental businesses, consider Square For Retail. Shopify is another relatively inexpensive option, and if online marketing and sales are a high priority, then it's the right POS for you.
For a scalable solution, Lightspeed might be the POS system for you, especially if you're looking for car rental business software. This POS has excellent multilocation and work-order management capabilities.
If you're looking for ease of use, Clover is a flexible but straightforward option.
If you're looking for software that focuses only on rentals, you've got options. Consider Paradise POS if you own a physical establishment or make sales in places without constant WiFi connectivity. EZRentOut has excellent customer and vendor management capabilities, so use EZRentOut if you focus on B2B rentals.
FAQs: POS System For Rental Company
In Summary: Top POS For Rental Business Software