PaymentCloud Review
What's the biggest draw for PaymentCloud? For us, it's the hands-on advocacy and guidance provided for merchants both during and after onboarding.
Expert Analyst & Reviewer

UPDATED
Advertiser Disclosure: Our unbiased reviews and content are supported in part by
affiliate partnerships
, and we adhere to strict
guidelines
to preserve editorial integrity.
PaymentCloud

Exclusive Promo: PaymentCloud will give you $200 if they can't beat your current rate. Get Your Quote
PaymentCloud At A Glance
Offers full-service merchant accounts
High-risk specialist
Variable contract length
---
Pros
No account setup fee
Reasonable rates and fees
No monthly minimum for low-risk merchants
Free credit card terminal available
Few public complaints
Cons
No publicly disclosed pricing
What Is PaymentCloud?
PaymentCloud Inc. is a merchant services provider that serves lower-risk and brick-and-mortar businesses but really shines at providing merchant accounts to mid and high-risk businesses. PaymentCloud's merchants are mostly based in the US.
The company offers fair pricing and contract terms, as well as a minimum of additional recurring fees, and has built an excellent reputation within the payments industry. In fact, other providers, such as Stripe and Dharma Merchant Services, now refer businesses that have been turned down for an account to PaymentCloud.
PaymentCloud earns an enviable score of 4.5 out of 5 stars, qualifying it as one of our top recommendations for high-risk credit card processing.
Why We Recommend PaymentCloud
Products & Services
Like most high-risk merchant account providers, PaymentCloud is not a direct processor. Instead, PaymentCloud partners with numerous banks and processors to maximize your odds for initial approval and ongoing account stability. PaymentCloud is a registered ISO/MSP of BMO Harris Bank, Chesapeake Bank, Esquire Bank, Merrick Bank, and several others. Partnered processors include EMS (Electronic Merchant Services), Elavon, EVO Payments, Global Payments, PaySafe, and more.
Determining the best combination of bank and processor for your specific industry and business situation is one of the primary services PaymentCloud provides. Let's take a closer look at more of the products and services PaymentCloud offers.
Card-Not-Present
Payment Gateway: For online processing, PaymentCloud prefers the popular Authorize.Net payment gateway. USAePay is typically PaymentCloud's second-in-line option, but you can also use most other well-known providers or your current gateway. The Authorize.Net gateway includes a developer toolbox with open API if you need to customize your site's integration. While gateway setup is free with PaymentCloud, look for a monthly subscription fee that the gateway provider itself charges.
Virtual Terminal: This feature is useful for mail-order and telephone-order (MOTO) merchants. You can manually enter transactions or even email invoices to clients through this system. Virtual terminals can also process card-present transactions with the addition of an optional USB-connected card reader. A virtual terminal comes with the gateway you've already selected with PaymentCloud.
Shopping Cart Integration: For eCommerce merchants, PaymentCloud integrates with a wide variety of online shopping carts. Popular carts that PaymentCloud supports include Shopify, BigCommerce, and Shift4Shop.
eCheck & ACH Processing: ACH processing allows you to process direct debit payment methods from your website. PaymentCloud sets up processing for ACH and echeck much less frequently than for cards, but it's worth noting that extremely high-risk merchants may start with echeck acceptance if credit card processing is not possible.
Card-Present
Credit Card Terminals: You'll receive one "free" terminal per merchant account, and you won't be directly charged for using it. Think of this terminal as on-loan for as long as you maintain your account. If you close your account, you must ship the terminal back to PaymentCloud immediately to avoid the company charging you the full cost of the machine. PaymentCloud offers a host of terminals from major manufacturers, including Verifone, Ingenico, Dejavoo, Poynt, PAX, Clover, and others. These machines are all EMV-compliant, and most also support NFC-based payment methods, such as Apple Pay and Google Pay. These contactless payment methods have been growing in popularity recently due in part to pandemic-related safety concerns. Wireless models are available as well. (Note: PaymentCloud no longer offers equipment leases, and we encourage you to buy your equipment outright whenever possible.)
Point Of Sale (POS) Systems: These systems are provided through PaymentCloud's back-end processors and now include Clover devices such as the Clover Station Duo. Many other options are also available; you can usually choose between tablet-based systems and dedicated registers.
Mobile Payments: Similar to the other equipment offered through PaymentCloud, you'll have several options for mobile hardware. These include Bluetooth and audio-jack readers compatible with iOS and Android that incorporate EMV and contactless payments. This equipment and any associated payment app will depend on your back-end processor. The website has little specific information on this topic, so consult a sales representative for more details. If you'd prefer a free mobile reader instead of a full credit card terminal with your account, this is also an option.
Additional Services
High-Risk Industries: PaymentCloud serves a number of high-risk industries, including adult websites, nutraceuticals and supplements, credit repair businesses, electronic cigarette vendors, debt consolidators, CBD vendors, and many others. While the company doesn't post a list of prohibited activities, it's important to note that the processing landscape for high-risk industries is constantly shifting. Your best bet is to ask PaymentCloud about the current prospects for your industry.
Customized Application Guidance: PaymentCloud calls this process "scrubbing." To maximize your chances for account approval and to secure the best deal possible, PaymentCloud will scrub your supporting documents, your website and social media presence, and all other components of your application, looking for any red flags that could hinder your prospects. The team will then guide you toward specific changes you can make and additional or alternative supporting documents you can supply to improve your situation in the eyes of your underwriters.
Cryptocurrency Processing: PaymentCloud now offers cryptocurrency processing for businesses that want to use it. While this is becoming an increasingly popular way to avoid the expensive interchange fees associated with credit card payments, note that there is still a transaction processing fee that applies when accepting Bitcoin or any other form of cryptocurrency.
Contactless Payment Requests: PaymentCloud recently acquired contactless payment startup Paysley. Offered under the unintentionally funny tagline "Where every customer's phone is a POS," PaymentCloud now offers Paysley's contactless payment service, which allows you to send customers a QR code for secure payments. Customers can pay online by inputting their card information or by using their Apple Pay or Samsung Pay accounts without having to download an app or register with the service.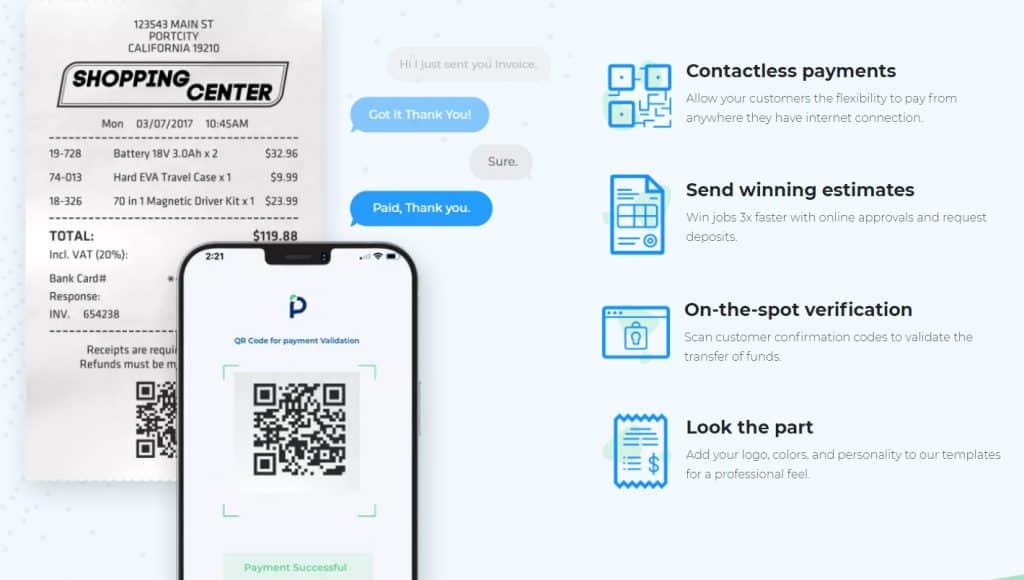 PCI Compliance: Once you've set up your account, you have 90 days to become PCI compliant, and PaymentCloud will guide you in the necessary steps — all without charging a PCI compliance fee.
Data Migration: This is often a huge headache and usually requires developer assistance. PaymentCloud specializes in data migration for your recurring billing customers over to Authorize.Net from platforms such as Stripe. Generally speaking, PaymentCloud excels in the recurring billing space and not just for high-risk clients.
Personalized Deployment: PaymentCloud ensures your system is working correctly by setting up test transactions and providing detailed guidance in operating your payment gateway. The same goes for setting up processing hardware.
Chargeback & Fraud Prevention: Chargebacks are a major concern in high-risk industries, and PaymentCloud will help you protect yourself as much as possible. Along with giving advice on choosing a chargeback management service and setting up fraud mitigation services (such as 3D Secure), PaymentCloud takes you step-by-step through customer support techniques and systems that will help keep your customers satisfied. Happy customers are less likely to initiate chargebacks in the first place!
Ongoing Negotiation & Advocacy: Your dedicated account manager acts as your advocate in dealing with your bank and processor for the lifetime of your account. Perhaps your funds have been held, or your account is under threat of closure. Or things are looking up, and you're ready for a lower reserve or higher processing limits. Either way, PaymentCloud works on your behalf to negotiate what you need.
Merchant Cash Advances: PaymentCloud offers merchant cash advances (MCAs) to qualified businesses through a partnership with Wisco Capital. Businesses having trouble qualifying for a traditional business loan may be more likely to qualify for an MCA. Maximum borrowing amounts, repayment terms, and fees are not disclosed on PaymentCloud's site, so you'll have to contact the company for further details. If you're thinking of applying for an MCA, we recommend checking out our how-to article on getting a good deal on a cash advance to get a sense of the potential hazards.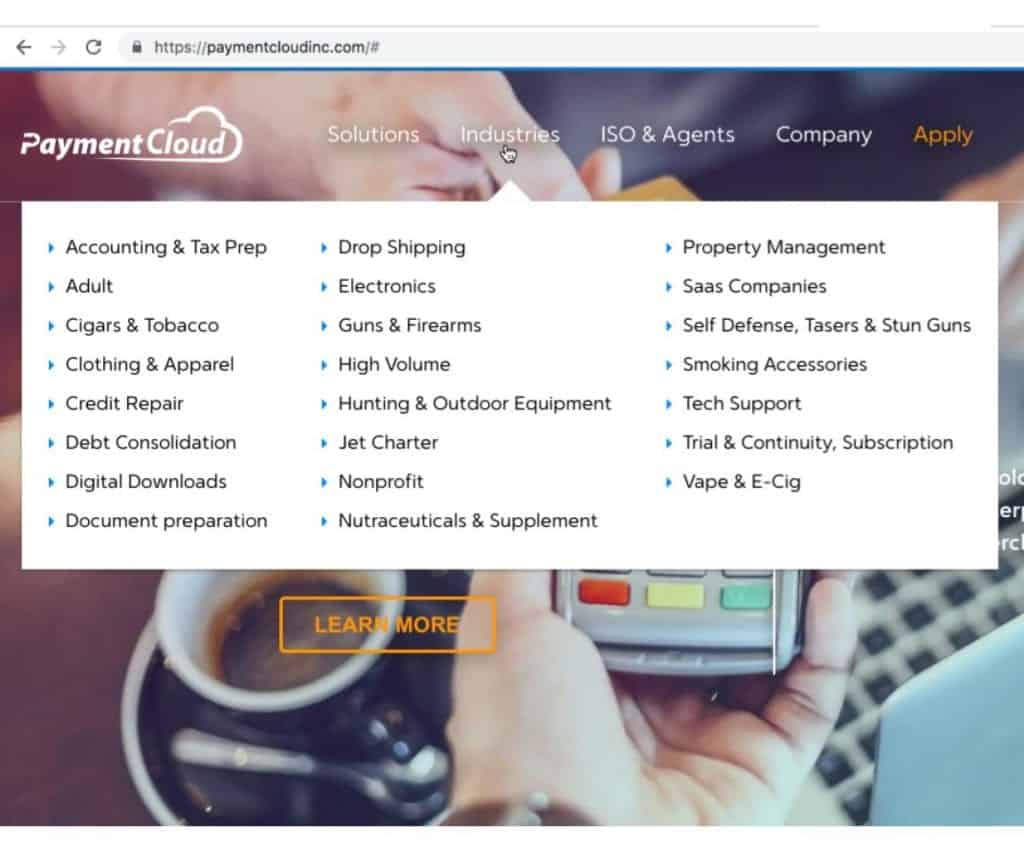 PaymentCloud Fees, Rates & Pricing
No pricing information can currently be found on PaymentCloud's website. This practice is common among many merchant account providers, especially those serving high-risk sectors. Prices are highly variable and will differ from one merchant to the next. The processing rates and account fees you'll incur will depend on your business's type, processing history, sales volume, credit history, and other factors.
Although specific rates are not disclosed, PaymentCloud offers both tiered pricing and interchange-plus pricing models. Regardless of what you're initially offered, we strongly encourage you to obtain an interchange-plus quote, if possible. Most merchants will save money in the long run with interchange-plus, and you'll also have a better idea of how much your provider charges you over the interchange costs that are part of any credit or debit card transaction.
With PaymentCloud, rates and fees are negotiable. Below, we've gathered some sample pricing you might encounter, including a few costs that are simply ranges or averages. Use our information as a jumping-off point for understanding how pricing works with PaymentCloud. Also, keep in mind that interchange-plus rates are the amount you pay per transaction on top of the raw wholesale cost.
Low-Risk Pricing
Card-Not-Present (eCommerce & MOTO)
Interchange-Plus Rate: Interchange + 0.10%-0.50% + $0.15-$0.25 per transaction
Monthly Fee: $15
Gateway Fee: Variable, depends on the gateway
Address Verification Service (AVS): $0.05 per online transaction
Card-Present (In-Person Retail & Restaurant)
Interchange-Plus Rate: Interchange + 0.05%-0.30% + $0.08-$0.10 per transaction
Monthly Fee: $15
Other Fees
PCI Non-Compliance (If Applicable): $10 per month
Retrieval: $8 per instance
Chargebacks: $25 per instance
Voice Authorization: $1 per instance
Batch Processing: $0.30 per batch
Data Breach Coverage (Optional): $0-$10 per month
Fees Not Charged
Application fee
Account setup fee
Gateway setup fee
Annual fee
Monthly minimum
PCI compliance fee
Statement fee
Mid-To-High-Risk Pricing
Whatever the reason you are high-risk, expect your processing rate to be higher and much more variable than the rates above, depending on several factors. Additionally, the higher your risk, the higher the probability you'll need to accept a tiered plan. You may still be eligible for interchange-plus pricing with PaymentCloud, so we strongly suggest investigating this option.
You're also likely to have a monthly minimum processing charge of around $25 with PaymentCloud, a strict processing limit, and a rolling reserve account established with the acquiring bank to help mitigate your risk. Beyond this, you still won't be charged a PCI compliance fee, annual fee, application fee, or other junk fees. High-risk merchant accounts require a more extensive underwriting and onboarding process than other businesses, so it's particularly commendable that PaymentCloud doesn't charge an application fee for these clients.
With the extreme rate variation that you'll encounter in high-risk processing, a good final piece of advice is to get a handle on your effective rate. This rate includes your monthly fee, monthly minimum, and any other costs besides your main processing rate.
Sales & Advertising Transparency
Your first impression of PaymentCloud will likely come from its website, which has a professional appearance and is easy to navigate. Unfortunately, you won't find specific pricing disclosures. However, you'll find more information about credit card terminals and POS systems than was previously available. You'll also find detailed explanations of accepted industries and why those particular business types are classified as high-risk. PaymentCloud's social media presence has gradually been increasing as well.
In speaking with PaymentCloud about some issues with the website, I learned that a complete redesign is on the horizon, so we'll keep an eye out. However, what we'd like to see is more pricing transparency. While we're slightly more lenient in this regard for high-risk providers due to the inevitable rate variation, we're still looking for good educational materials about pricing structures, the types of fees you'll encounter — anything that publicly indicates PaymentCloud is open and honest about costs, even for high-risk merchants.
Like many other merchant service providers, PaymentCloud relies heavily on independent sales agents. Independent agents in the processing industry have a well-deserved poor reputation for high-pressure sales tactics and deception regarding contract terms and fees.
That said, there are currently no patterns of complaints about the company's sales practices to be found in online PaymentCloud reviews posted by users. That indicates that PaymentCloud provides good supervision and tracking of independent agents.
Contract Length & Early Termination Fee
PaymentCloud doesn't publicly disclose its Merchant Application or Terms and Conditions sections of its contracts. Different contracts are likely used depending on which processor and bank you're set up with, so expect some variation in contract terms. High-risk merchants need to carefully read and understand every word of the contract, including the fine print!
Low-risk accounts are set up on month-to-month plans with PaymentCloud. You should also receive a copy of a signed waiver of any early termination fee (ETF) that comes with the standard contract from your back-end processor. The ETF is a fee (usually about $300-$600) that you'd have to pay if you breach your agreement by closing your account before the end of the contract term.
High-risk merchants are typically required to sign long-term contracts with any merchant account provider. Apparently, some high-risk merchants are eligible for month-to-month plans with certain processors in PaymentCloud's network, so it doesn't hurt to ask if this is possible. Otherwise, the standard term for a high-risk account with PaymentCloud is two years (lower than the three-year industry standard). You can expect an automatic renewal clause that extends the contract for successive one-year periods.
We don't like ETFs, but as a high-risk merchant, you'll probably have this fee in your contract. However, you may still be able to get the ETF waived or lowered with PaymentCloud. Just be sure you understand the conditions of implementing this waiver, as some other portion of your deal may be sacrificed in return. If the ETF remains in place, follow the instructions for closing your account to the letter to avoid this penalty if you need to cancel.
Customer Service & Technical Support
| PaymentCloud Support | Availability |
| --- | --- |
| Phone Support | |
| Email Support | |
| Support Tickets | |
| Live Chat | |
| Dedicated Support Representative | |
| Knowledge Base or Help Center | |
| Videos & Tutorials | |
| Company Blog | |
| Social Media | |
Your dedicated account manager is your main point of contact with PaymentCloud. This person acts as your ongoing advocate and negotiator. Having a single point of contact within the company is particularly useful for high-risk merchants, as they often experience a higher rate of technical problems, chargebacks, and other issues than low-risk merchants.
If your account manager isn't available, you can also reach either the West Coast or East Coast office between 7 AM and 6 PM Pacific Time. For after-hours problems or issues with your bank, processor, gateway, etc., you can use the direct 24/7 tech support lines for those parties. Authorize.Net, in particular, is known for good-quality tech support, which is a big reason PaymentCloud prefers this gateway for its merchants. PaymentCloud itself also provides a general tech support email address that can be used to raise support issues, but you may not hear back until the next business day.
By way of self-help resources, PaymentCloud has recently added an FAQ to the website. The descriptions of individual industries and their common high-risk issues are also helpful. However, we'd still like to see these resources greatly expanded in the future. With a wealth of specialized knowledge and experience in the high-risk and eCommerce sectors, the PaymentCloud website could easily become an invaluable information hub for these merchants.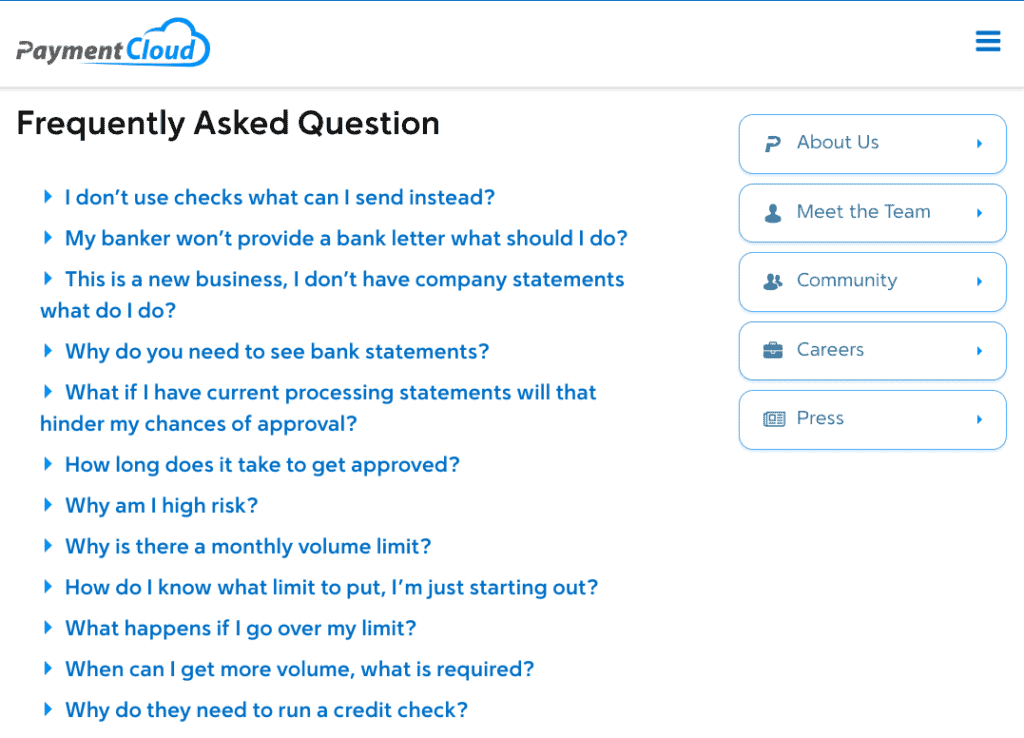 PaymentCloud Merchant Services Reviews & Complaints
Negative PaymentCloud Reviews & Complaints
PaymentCloud is not accredited by the BBB but nonetheless has an A- rating. The company has received four complaints, all of which were filed within the last twelve months. Unfortunately, all four complaints erroneously accuse the company of withholding funds from transactions. PaymentCloud has responded in good faith to all of these complaints but was unable to resolve them due to the complaining merchants' stubborn refusal to accept that the company doesn't have control over this situation.
Let's be clear: PaymentCloud doesn't have your money. In fact, it doesn't get paid either while your transaction is being held. Your back-end processor (in this case, Total Merchant Services) has your money, and you'll have to contact that company directly to resolve the issue. Please read our article on account holds, freezes, and terminations to learn how this process works.
On Trustpilot, PaymentCloud has an average rating of 4.4 out of 5 stars based on 325 reviews. While there are a fair number of low reviews, fully 80% of the merchants who responded gave the company a 5-star rating.
Overall, PaymentCloud has much less negative feedback than the average merchant services provider, and we found no sign of common problems to watch out for. Scattered complaints with the company's pricing appear to result from merchants not understanding that high-risk payment processing is inherently much more expensive than it is for low-risk businesses, regardless of which provider you sign up with.
Positive PaymentCloud Reviews & Testimonials
We've received a steady stream of (mostly) positive feedback about PaymentCloud from our readers since this review was first published. One commenter praised the company even though it couldn't place his business, which is almost unheard of in the credit card processing world. While it's apparent that the company actively solicits testimonials from its merchants, the endorsements we've received have all been thoughtful and well-written.
PaymentCloud reviews from merchants typically mention the company's expertise, transparency, and persistence in assisting high-risk merchants. Customer support is described as prompt, thorough, and easy to work with.
Final Verdict
PaymentCloud qualifies as one of the "good guys" in the high-risk payment processing field, offering dependable service at a reasonable price. With glowing praise from customers and strong recommendations from Dharma Merchant Services and Stripe, we have no problem recommending PaymentCloud for your high-risk business.
In our opinion, the company's main strength is its hands-on advocacy and guidance provided for merchants both during and after onboarding. We appreciate that PaymentCloud works tirelessly to present high-risk businesses in the best possible light to underwriters while maintaining a sense of transparency that keeps merchants in touch with the reality of their situations. Assigning a dedicated account manager to your case from the get-go helps ensure a quality experience. And since PaymentCloud works closely with so many banks and back-end processors, you'll already have a better chance of approval than with many competing merchant account providers.
For these reasons and more, PaymentCloud continues to score a solid 4.5 out of 5 stars. We'd still like to see some of the information we've provided in this review (pricing, contract terms, services, educational materials, etc.) more clearly outlined on the PaymentCloud website. As a high-risk provider, the company may never publish any exact figures, but there is still room for improvement in this area.
PaymentCloud is an excellent provider for high-risk and eCommerce merchants, but we always recommend that you shop around and compare quotes from several providers before making a decision. Check out more of our favorite high-risk providers for additional recommendations. Also, check out our favorite offshore merchant account providers if you're unable to land a domestic high-risk merchant account.
Common Questions About PaymentCloud
---
The Merchant Maverick Seal of Approval 🏆
PaymentCloud


---
After hours of in-depth research and evaluation, we can confidently recommend this brand to our readers. Get started today and see PaymentCloud for yourself.
The Merchant Maverick Seal of Approval 🏆
PaymentCloud


---
After hours of in-depth research and evaluation, we can confidently recommend this brand to our readers. Get started today and see PaymentCloud for yourself.
To learn more about how we score our reviews, see our
Credit Card Processor Rating Criteria
.