The Complete Guide To Accepting Apple Pay For Business: Merchant Fees, Security, & More
Apple Pay is a popular option for accepting alternative and contactless payments.
Expert Analyst & Reviewer

UPDATED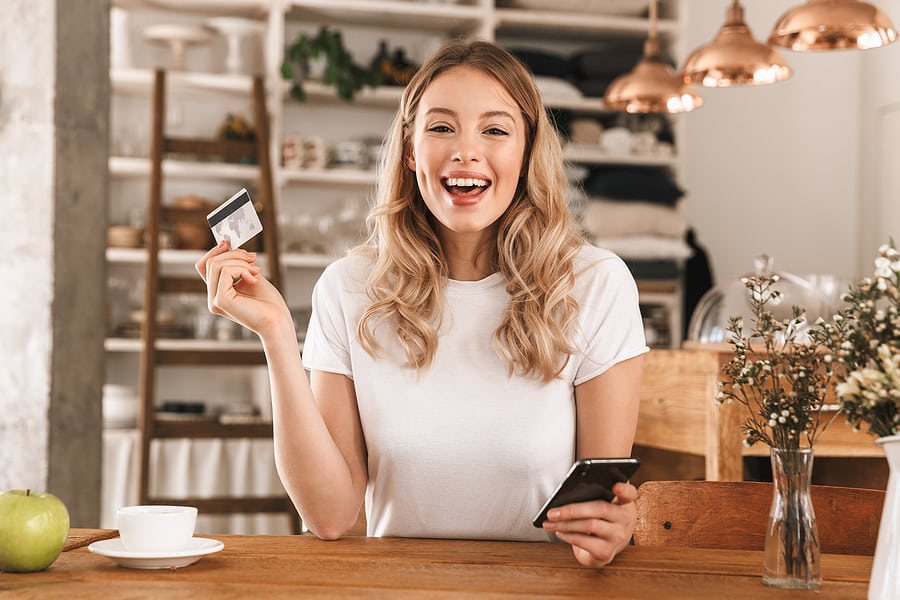 Small business owners who are navigating the largely remote post-COVID business landscape need payment systems that can keep up with the times. If you've done any delving into mobile or alternative payment systems for small businesses, there's a good chance that you've heard of the payment method known as Apple Pay. Apple Pay is a mobile payment system that's convenient for customers and easy to start using quickly, and it should be among your considerations for alternative payment methods if you're thinking of upgrading the way you process purchases.
Despite Apple Pay's reputation as a reliable and safe alternative payment method, though, plenty of merchants have no idea about accepting Apple Pay purchases from their customers, how much it costs to accept those purchases, and the hardware they need to start accepting them. Do you find yourself in a similar boat, asking the same questions about accepting Apple Pay but to no avail? It's time to stop asking and start reading! Let's look at the biggest reasons your business needs to use Apple Pay as well as what you need to know to start using it to its fullest potential.
Why Your Small Business Needs To Accept Apple Pay
As a small business owner, you've probably heard that businesses of all sizes need to embrace mobile and alternative payment methods to provide customers with options for contactless transactions. You've definitely heard right, considering that more than half of US consumers were using contactless payments as of July 2020; 30% of those consumers reported that contactless card payments had become their payment processing method of choice as of the same month.
Here's why it's so important that your business starts using Apple Pay and contactless technologies as soon as possible:
Convenience: If the world of remote work and transactions has shown us anything, it's that customers value convenience more heavily than ever. Contactless, mobile payments process purchases way faster than magnetic-stripe card and chip card payments do, which means greater convenience for busy customers on the go. Merchants also enjoy greater convenience with contactless payment methods such as Apple Pay, which helps ring up more customers faster. As you well know, more customers served translates into more money in your pocket.
Security: Even more important than greater convenience is the level of security that Apple Pay offers. Apple Pay terminals encrypt and change a customer's card data during a transaction, which makes it much harder for would-be cybercriminals to intercept bank and card info. Merchants and customers can enjoy even greater peace of mind when making payments with Apple Pay in light of a new data security standard issued by the PCI Security Standards Council, which allows vendors to give merchants tap-and-go payment solutions developed and vetted in the lab for the sake of payment data protection.
3 Benefits To Accepting Apple Pay As A Merchant
As a merchant who's interested in learning how to accept Apple Pay, the biggest benefits that come with using Apple Pay for business are likely on your mind. You'll be pleased to know that multiple benefits can immediately improve your customers' purchasing experience as well as your business's bottom line. Here are three of the biggest benefits that come with using Apple Pay:
Apple Pay promotes a faster checkout process since you no longer need to wait for card readers to process card and chip card payments.
Contactless payment methods such as Apple Pay give merchants a competitive edge over businesses that don't have Apple Pay enabled — if your customers decide they like it and want to keep using it, they'll keep coming back to you rather than going to the competition.
Last but certainly not least is greater security from Apple Pay, which keeps payments encrypted and prevents their transmission to a merchant's servers in a way that's simply not possible with outdated credit card technology.
How To Accept Apple Pay For Business
Ready to learn how to actually accept Apple Pay payments? Getting started is simple and requires just a few easy steps, depending on whether you're accepting Apple Pay in person or online.
Apple Pay, like other digital wallets, uses tap-to-pay technology to let customers complete their cashless and cardless payments. Remember to encourage your customers to set up an Apple account that's linked to their payment card of choice so that they can complete transactions using an iOS device.
Accepting Apple Pay In Person
Accepting Apple Pay at your business starts with getting the right hardware. You'll need an Apple Pay-compatible terminal that's near-field communication (NFC)-enabled to accept contactless payments. Apple Pay-supported hardware is viable for use at practically any physical location from retail shops to restaurants so long as your customers have already linked their Apple accounts and credit/debit cards to communicate with your pay-at-table or counter-located readers.
You'll need to configure your Apple Pay reader once you receive it and test it to make sure it accepts payments from Apple devices. Make sure that compatible iOS devices (such as iPhones or iPads) can wirelessly detect and connect to your new terminal. Don't forget to keep your new mobile hardware close to your customers to encourage them to use Apple Pay, too.
Accepting Apple Pay Online
Contactless payments were, until recently, constrained to in-person transactions. With Apple Pay online, merchants can offer their customers a new avenue to use Apple Pay accounts for purchases.
Apple Pay on a website requires that a merchant's customers use an iOS-enabled device such as an iPhone or iPad to access Apple's Safari web browser. You'll need to remind customers to set up fingerprint scanning on their devices so that they can authorize the purchases they make from their Apple Pay-enabled credit/debit cards. Customers can access the option to use Apple Pay on your payments page, where you'll display an Apple Pay icon that then prompts users to use a Touch ID fingerprint on their iOS device.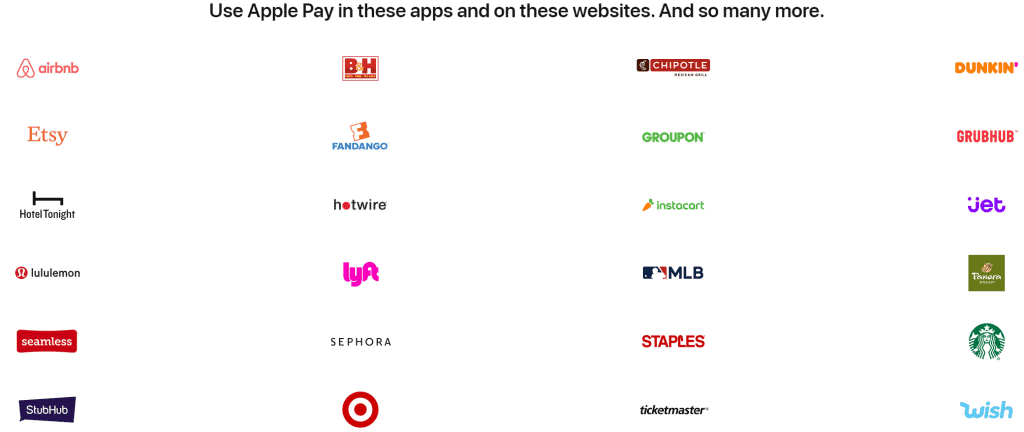 Using Gift Cards & Loyalty Cards With Apple Pay
Merchants need to ensure that their loyalty cards and gift cards are Apple Pay-compatible before they begin using them with Apple Pay. Apple Pay has increased the number of prepaid card providers that it supports, but there's still some time left before the majority of providers hop onto the Apple Pay wagon.
To start, visit Apple's site to see which of its banking partners support Apple Pay transactions. Apple maintains a list of its supporting partners in the Asia-Pacific, Europe, Middle East, Canada, Latin America, and US geographic regions. Apple Pay, generally speaking, supports Visa and Mastercard gift cards and loyalty cards; its support for American Express prepaid cards is much rarer.
In the event you can't track down which of your prepaid cards work with Apple Pay, you can contact an online support representative with your card's providing bank for further assistance. These customer support representatives do their best to verify whether your prepaid card supports Apple Pay. If all else fails, try adding your gift card or loyalty card to Apple Pay to see whether it's compatible with Apple's payment service.
How Much Are Apple Pay Merchant Fees?
Apple Pay, as of this article's publication in 2021, charges absolutely zero additional fees for merchants to start using it. Merchants will need to set aside funds, though, for the cost of their Apple Pay-compatible terminal if they need to set one up in-store.
Remember that even once you start to accept Apple Pay payments, you'll still need to contend with your credit card provider's standard processing rates and fees. Credit card processors consider Apple Pay payments as card-present transactions that are subject to your current rates and fees.
Here's a quick breakdown of Apple Pay implementation costs:
Purchase or rental costs of an Apple Pay-compatible terminal
Standard transaction processing fees and rates from your card provider
Payments for required software updates to your Apple Pay Reader
Are Apple Pay Transactions Secure?
Some customers may feel iffy about linking their card data with Apple Pay and question the overall security of the payment service. Apple has luckily put measures in place to maintain secure Apple Pay payments and prevent users from exchanging their card and bank info with a merchant's payment system.
Even though you can accept a transaction via Apple Pay after a customer authenticates their purchase, you never actually process your customer's card info through your system. Merchants never run the risk of data theft mid-transmission of a customer's payment because no transmission of information ever happens. Apple Pay uses tokenization to encrypt sensitive information along with NFC-enabled terminals as an alternative to storing customer bank and card information on a merchant's physical servers.
Keep in mind that on top of tokenization encryption methods, Apple Pay benefits from the fact that encrypted data associated with your customers' payment cards is constantly changing. On the off chance that a customer's iOS device is stolen, the data that's stored on that device and linked to a credit card is useless in the hands of malicious parties.
How To Get Apple Pay Terminals & Readers
You may as well invest in a high-quality Apple Pay reader since you already know that you need to purchase new hardware. Good providers of compatible Apple Pay terminals are essential to accepting Apple Pay payments from your customers, and there are a few things to keep in mind as you search for a provider that's right for you.
First things first: avoid equipment leasing at all costs. Equipment leasing has been around for a long time, but it's simply not practical or cost-effective for small businesses navigating a post-COVID business landscape. Look instead for providers of Apple Pay-compatible terminals that provide plans for either paying out of pocket or that allow 0% financing. Long-term agreements such as contracts almost always include hard-to-spot clauses that punish businesses with heavy fees and penalties in the event of premature agreement termination.
Your current provider may not currently offer a reasonable way to accept Apple Pay, but it's more providers will offer ways to accept Apple Pay as customer interest in alternative payment methods and eCommerce grows in the future. If you're seriously considering switching to a provider that makes it easy to get started with NFC payment methods such as Apple Pay, it's worth getting to know the best credit card processors that already offer Apple Pay-compatible hardware. Cover the ballpark costs of each provider's options to narrow down your decision on the best piece of hardware.
3 Ways To Improve Adoption Of Apple Pay At Your Business
The convenience, speed, and security of your new Apple Pay payment method are only as useful as the exposure it gets. If you want customers to start using Apple Pay for their purchases, you need to let them know that you offer it.
Ease your transition toward the adoption of Apple Pay at your business by:
Guiding your employees through Apple Pay payment methods for both in-store and online purchases. Your employees can better assist customers with and answer questions about accepting Apple Pay transactions if they understand how it works and the benefits it provides.
Alerting customers that you now accept Apple Pay. Apple Pay and Apple Pay-compatible terminal providers offer stickers that let merchants advertise their new payment method to customers. Stickers and signage materials reduce the number of times customers need to inquire as to whether or not you offer Apple Pay and can incidentally increase your in-store checkout rates.
Setting up rewards and loyalty programs centered around Apple Pay purchases. Incentivize customers to use Apple Pay by offering discounts or membership bonuses that kick in once they meet a certain number of payments made with Apple Pay.
Do You Really Need To Accept Apple Pay At Your Business?
Mobile wallet payment systems that use NFC technology to process purchases are here to stay in a location-distributed ecosystem of post-pandemic business transactions. Apple Pay is both a mobile wallet system and a method that promotes the use of NFC. We think it's safe to say that Apple Pay, too, is here for the long haul.
Its outlook for success may be bright, but is Apple Pay essential for your business to begin using? It depends. Ask yourself these questions to decide whether you need to accept Apple Pay:
Do you already use or are interested in using NFC-compatible hardware? If not, consider alternatives for secure and hygienic mobile payment methods.
How much interest have your customers shown in contactless payments? Apple Pay uses tokenization that makes for highly secure transactions relative to traditional card and cash payments.
Are you having problems with ringing up customers quickly? Apple Pay reduces times spent at checkout with touch-to-pay convenience that's faster than magnetic stripe transactions.
What level of eCommerce presence do you maintain? Apple Pay emphasizes secure payments for both in-store and online purchases and makes the most sense for businesses that maintain a digital presence.
Does your budget allow for additional fees paid toward a new alternative payment method? Consider Apple Pay if you don't have much wiggle room, as there are no additional costs to start using it.
Apple Pay is just one name among many popular options for accepting alternative payments. Get to know more about the biggest names in mobile and contactless payment methods that are best for small businesses that need to modernize the ways they process purchases.
Apple Pay FAQs