KORONA CLOUD POS Review (formerly KORONA.pos Cloud)
Updated on:
Advertiser Disclosure: Our unbiased reviews and content are supported in part by
affiliate partnerships
, and we adhere to strict
guidelines
to preserve editorial integrity.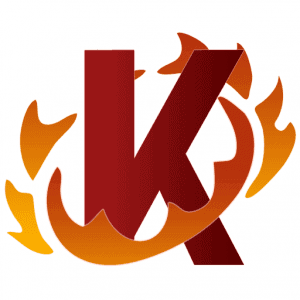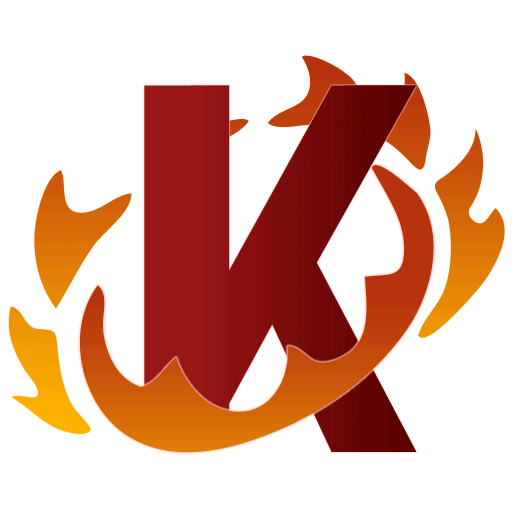 Looking for a free POS solution? Try Square POS
Date Established

2011

Location

Las Vegas, Nevada
Pros
Customized to fit your business
Flexible pricing
Excellent free trail
Strong customer support
Cons
Lack of integrations
Features missing from lower packages
KORONA CLOUD POS Overview
KORONA CLOUD POS is, as its name would suggest, a cloud-based point of sale solution built with speed and customizability in mind.
KORONA has only been around since 2011, but its roots go back much further than that. KORONA is a product of COMBASE, a German company that CEO Thomas Freier began in 1994. COMBASE USA is (obviously) the American branch of the company; it manages US-based KORONA and serves all American customers.
KORONA has a few noteworthy bright spots. Namely, I love that it is built to fit into your business. You can choose from a selection of modules (at various price points) to expand your POS's functionality. You get to pick and choose what you want to pay for.
That said, there are still some unfortunate holes in its offering that keep it from being an elite system. KORONA's inventory features are lacking and brand new business owners may find its interface slightly less than intuitive. It also is pretty bare bones when it comes to integrations (though with an open API, you can create your own).
KORONA is an option worth exploring for many merchants. Keep reading for a full review of KORONA's pricing, features, and customer service.
Note: As you can see on KORONA's main web page, KORONA works well for a variety of different industries. It has options for retail stores, as well as bakeries, coffee shops, and wineries. In this review, we'll be focusing specifically on the retail features.
Don't have time to read an entire review? Take a look at our top-rated Point of Sale solutions for a few quick recommendations. Every option we present here offers excellent customer support, detailed user interfaces, and easy-to-use software, all for a reasonable price.
Pricing
KORONA makes it easy to get started with very low commitment, offering an unlimited free trial of both the back office and POS software. This allows you to get everything set up just the way you want before laying down a single cent of your own money. Additionally, if you decide within the first 60 days of your plan that KORONA isn't for you, they guarantee a full refund on your investment.
KORONA attempts to make pricing simple. All plans are subscription-based and are billed on a monthly basis, with no contracts necessary (although you can receive a discounted rate if you purchase a full year at a time).
All KORONA plans begin at the base price of $49/month. This basic plan includes one terminal license and all the basic features. All plans include 24/7 support and automatic updates.
In order to make KORONA fit your business model, you can add on additional terminals or modules (for an added price, of course). I'm including a brief summary of pricing below:
Starting price: $49/month
Add an additional POS terminal

Add each terminal for $49/month

Add-on modules: $10-$50/terminal/month

These modules can be added on at any time. They include modules for retail, restaurants, and ticketing. They also have a module for franchises and a module with added management functionality called "KORONA.plus."
I know this pricing model is a bit confusing. I recommend that you contact KORONA CLOUD POS to get a better idea of what pricing will look like for your business.
See more information on the features that are included in each module.
Cloud-Based Or Locally-Installed
KORONA is cloud-based software. Your back office is hosted by KORONA, and your POS (while it is downloaded locally onto your devices) works by syncing to that online platform.
Specific Industry
In this review, we are dealing specifically with KORONA's retail option. However, KORONA also provides solutions for bakeries, wineries, coffee shops, and museums (or other entertainment businesses which require ticketing).
Because KORONA is missing a few inventory management features (mainly the ability to list products by their variables–sizes, colors, etc.) I would not recommend it to a store that sells apparel. However, other retail businesses should do just fine with the software.
Specific Size Of Business
KORONA states on their website that the system is "designed to adapt to retailers with ambitions." They recommend their solution specifically to businesses with five locations or more (though in my opinion, KORONA would work just fine for businesses with fewer stores as well).
Hardware & Operating System Requirements
A nice feature about KORONA is that it's available for both Mac or PC devices and works well with most existing software. KORONA also functions on Linux computers and Windows tablets. Additionally, you can access your back office from a smartphone, but you will not be able to run the POS software. KORONA also offers their own operating system that can be used on any hardware purchased from KORONA. You can view those system requirements below:
4 GB RAM
1.7 Ghz processing
Windows 7 or greater/Mac OS 10+/Linux
Ease Of Use
KORONA is extraordinarily generous with their free trial. You can sign up to try KORONA for an indefinite period of time. You don't even need to provide a credit card number to do so. I highly recommend taking advantage of the trial, as it will give you plenty of time to get the hang of the system and customize your settings (and there are many!) before you make the switch to a paid plan.
I signed up for my own free trial and received a welcome email within minutes. The email provided me with a link to log in, and I immediately began touring my new back office.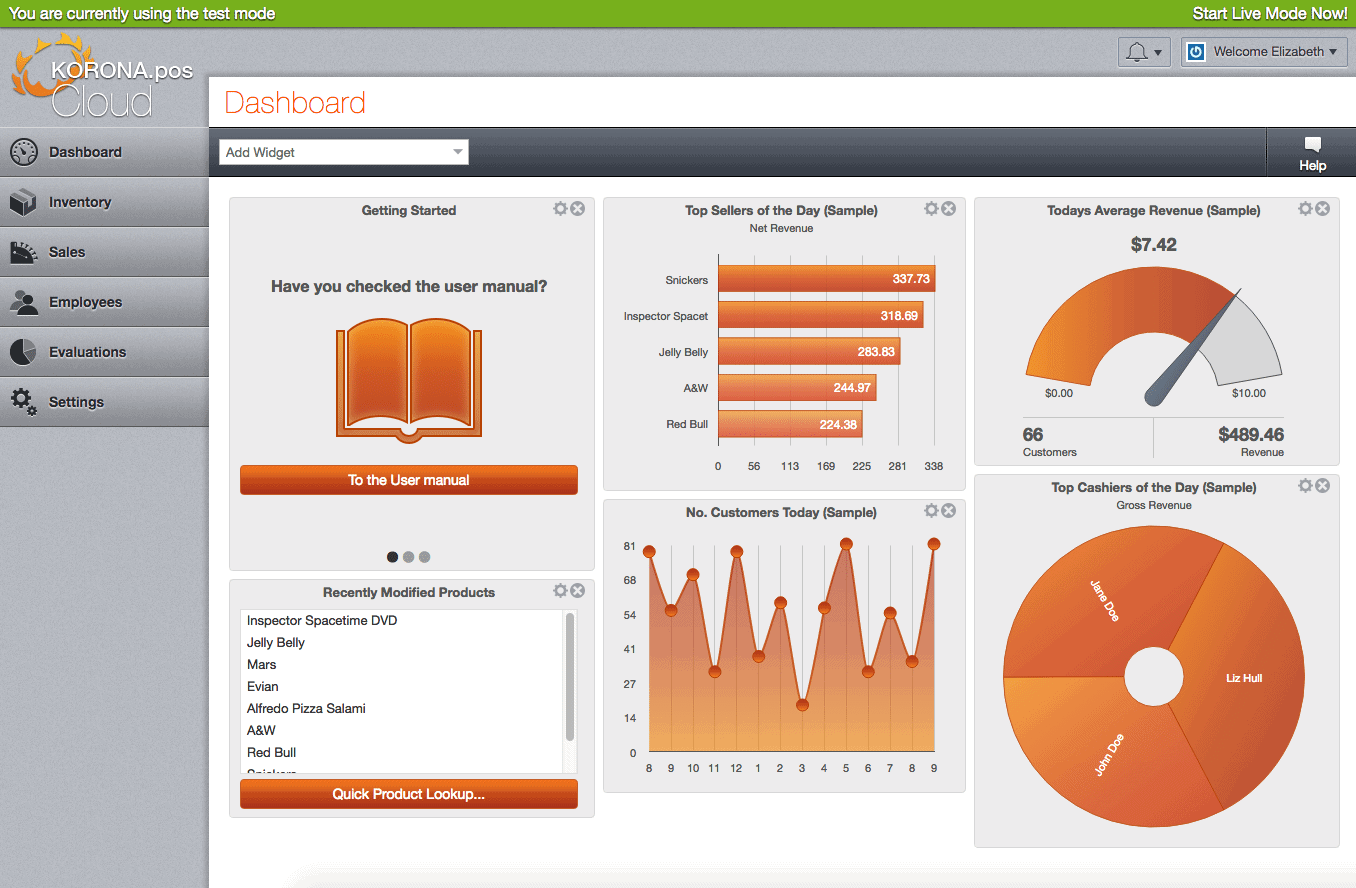 It's fairly common for a back-end to be a little daunting at first glance. That's the case with KORONA, but with a little tinkering, it started to become more intuitive. If you have previous experience with reports or inventory tracking in POS systems, it shouldn't take you very long to master this format.
KORONA also has a few training videos which are pretty convenient. KORONA has recently updated their videos and, combined with its free trial, it's unlikely that you're going to need much hand-holding to get your system up and running.
There is also an online manual that should answer the vast majority of your basic questions. The Getting Started Guide walked me through downloading and installing the POS platform on my desktop.
After digging through the manual for a while and clicking around in the back office, I started to get a feel for the software. The software is entirely customizable and, again, if you have a little bit of experience, it shouldn't take long creating a page that is easy for you to use and understand.
After I felt mostly comfortable with the back office, I transitioned to testing out KORONA's storefront POS software. The POS's main screen is highly customizable. You can list different features (discounts, customer groups, etc.) in the sidebar, and you can rearrange and select the quick keys that appear front and center on your POS. All of those changes must be made in the back office.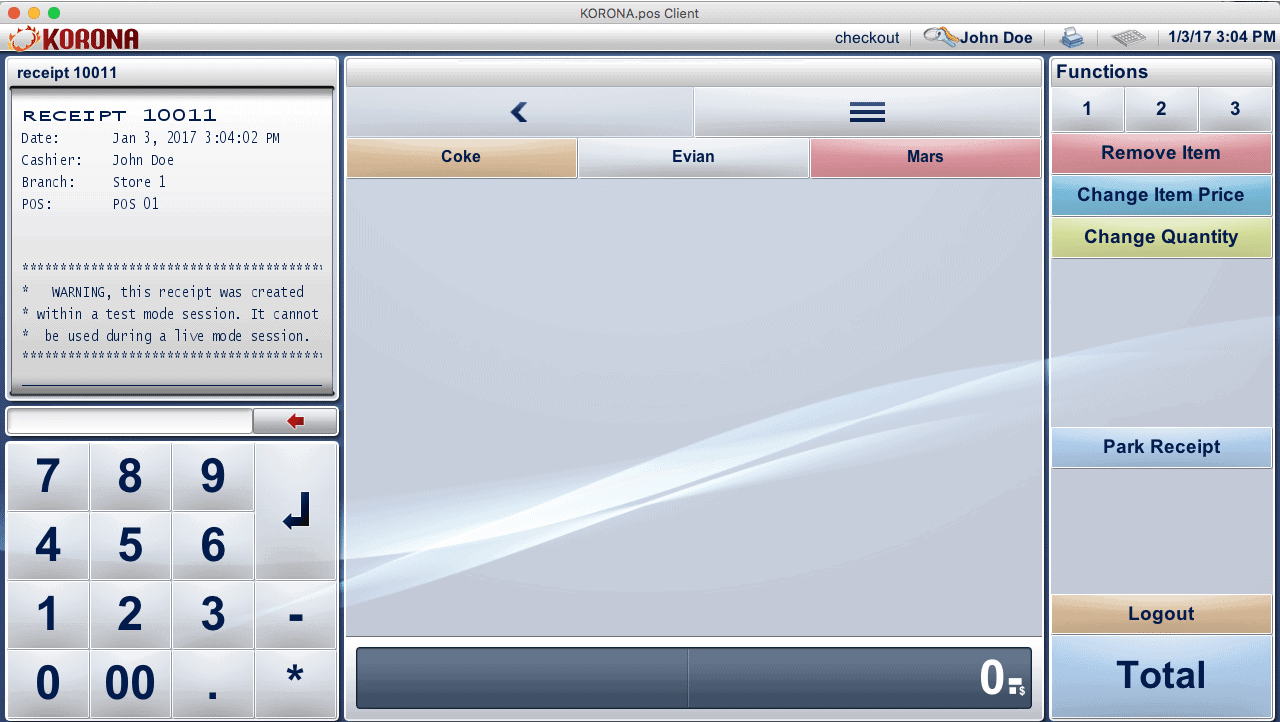 I was able to find a short video (intended for new cashiers and managers) that showed me how to use KORONA's downloaded POS software. When I tried it out for myself, I was pleased with the speed of the system. When you complete one transaction, KORONA's system automatically prepares for the next transaction.
You can view every added product on the real-time receipt to the left, and you can change quantities by selecting products on that receipt.
Overall, I like KORONA's user interface and only noticed a few issues. For example, I was disappointed by the available inventory management features. I couldn't figure out on my own how to update inventory from the back office (you have to either create Stock Orders or pay for the Retail module). What's more, there aren't any features for including and tracking product variables. This immediately handicaps KORONA a bit for businesses that have more complex inventory needs, but it is also an area where the company could expand in the future to serve larger clients.
Features
KORONA lists their basic features on their website. Any additional features can be added on via modules.
Here are a few of the features that come with every KORONA POS system.
Storefront POS
Customizable UI: You can change and rearrange your user interface to best fit your daily business operations. You can also include item images to reduce human error in entering products.
Record All Money Movements: Create accounts to record transactions that don't affect revenue, i.e. cash back, tips, and making change.
Hardware Peripherals: Connect to barcode scanners, keyboards and displays, ticket or receipt printers, card readers, and cash drawers.
Finalizing Transactions: Cashiers can split payments across payment types, adjust payments, and calculate tips.
Receipt Display: View a virtual receipt in real time as your conduct a transaction. Choose to bind or split identical items on the receipt.
Product Search: Search for items by name in your POS. You can find these items by entering partial keywords. For example, entering "Oran," would pull up results like "Oranges" and "Orange Juice."
Pause Transactions: KORONA calls this "parking receipts." Pause a transaction and move on to other new transactions. Come back to the parked receipt later.
Offline Mode: When your system goes offline, you can keep selling. Cash transactions will be stored on your POS terminal until the internet connection returns. The data will then sync up to your back office records again. Unfortunately, KORONA will not be able to queue up credit card transactions during downtime. In order to process those transactions, you'll need a phoneline-based internet backup.
Back Office
Bulk Import/Export: Add customers and products in bulk using CSV files (like Excel spreadsheets).
Built-In Reports: View daily, weekly, and monthly reports. You can also view each individual cashier's sales to monitor employee behavior.
Coupons: Create coupons and apply them to specific stores. Watch this brief tutorial video to learn more.
Gift Cards: KORONA features its own gift card and loyalty package that is completely customizable.
Permissions: Easily give employees various levels of access to certain features directly from the POS
Gift Cards: KORONA features its own gift card and loyalty package that is completely customizable.
Receipt Archive: View all transactions from the day.
Security: Grant different level permissions to your cashiers and managers. View a log of all POS transactions by each user.
Integrations & Add-Ons
KORONA currently only provides a couple of direct integrations for their POS software. One of the main integrations is with bLoyal, a loyalty program, subscription service solution, and eCommerce platform. I've been told that bLoyal is particularly popular among wineries that offer wine-of-the-month clubs.
KORONA also integrates with the popular accounting software, Quickbooks Online.
If you want to integrate any additional third-party software, you'll have to design your own connection. Fortunately, KORONA provides a REST API to make that possible.
Payment Processing
This software partners with Merchant Warehouse and Merchant Payment Systems for payment processing, but that doesn't mean that you have to choose solely from these two processors. KORONA connects with Genius Software and PAX hardware to make more payment options available.
Genius Software currently supports two EMV certified processors: First Data Omaha and Cayan.
PAX provides the following EMV certified options:
TSYS
Heartland Portico
Heartland Exchange
Elavon
EVO
Clearent
First Data Nashville
First Data RapidConnect
First Data Omaha
First Data BuyPass
Direct Connect (PMN)
Payment Logistics
Global East
Zeamster
JetPay XML
Apriva
Sterling
PAX supports several additional payment processors, though these options do not yet support EMV transactions. (Note: We HIGHLY recommend that you choose an EMV compliant payment processor.)
Chase Paymentech
Element
BridgePay
Fidelity/FC NEast
KORONA CLOUD POS also supports other processors that use First Data or TSYS for their back-end.
Customer Service & Support
KORONA supplies users with a few different ways to receive support. You can use any of the following methods:
Contact KORONA

Email

KORONA representatives are available by email at support@koronapos.com. You'll receive a response that same day if you email before 5:00 pm PT.

Phone

833-200-0213 (Toll-Free)
702-997-7672
I received ready responses to all of my questions. I didn't ever have to wait on hold. You can also request phone support from your back office.

Live Chat

You can access live chat from the KORONA website but, like many companies, it's rare to get in touch with someone immediately through this function and you generally have to leave a message.

Support Form

You can also submit a support form to COMBASE USA and wait for their response.

User Manual

The user manual guides you through basic store setup and answers the most common questions customers have. The information isn't as organized as I would like, but the manual is more robust than it was a year ago.

Active Remote Support

When you permit remote support, you allow a KORONA team member to access your POS system and make any changes necessary. Find KORONA's instructions on setting up active remote support.

Video Tutorials

There are a number of tutorial videos currently available on KORONA's YouTube page.
Negative Reviews & Complaints
I spent a considerable chunk of time combing the web for reviews of KORONA CLOUD POS and COMBASE USA. I was only able to pull up four separate customer comments and all of them were fairly positive in their assessment of KORONA. So, I've come up with my own lists of pros and cons.
Here are some negatives I notice about KORONA:
Basic Platform Is Missing Some Features: This is a result of KORONA's Core+Modules model. The basic package is lacking in some areas. The inability to add product variations comes to mind as one major culprit. Additionally, in order to add product counts without any additional steps, you'll have to pay for the KORONA CLOUD POS retail module (actually, you should probably do that anyway).
Few Integrations: KORONA currently offers two built-in integrations. If you want to sync any other applications, you'll have to hire a developer to create a connection for you using KORONA's API.
Knowledge Base Still In Development: Over the past year, KORONA has done a lot to beef us their knowledge base. They have added more support articles with higher quality images and more tutorial videos. I'd like to see KORONA continue along this path. In particular, I'd like to see improvements in organization. I still have a difficult time locating information.
High Learning Curve: A few reviews mentioned that it wasn't the easiest system to use. I can see how this might be the case, especially compared with some of the incredibly intuitive systems out there. However, KORONA is customizable and gives you enough start-up tools to make the process easier.
Positive Reviews & Testimonials
As I said before, there is very little online customer interaction with KORONA or COMBASE USA. Just take a look at the company's Facebook and Twitter pages. It's crickets over there.
The following is a mix of the (very few) positive comments I've seen from real customers and my own opinion.
Regular Updates: KORONA CLOUD POS automatically updates monthly. It doesn't just "check for updates"; it automatically implements the product improvements KORONA has been working on all month. Take a look at a few of these update videos to get a better idea of the company's regular product changes.
Particularly Good For Wineries: Wineries seem to be particularly happy with KORONA. They also tend to use the integrated bLoyal loyalty program for their wine-of-the-month clubs.
Ease Of Use: Once you get the hang of the software, KORONA is reportedly easy to use. Personally, I never overcame the steep learning curve with the back office. However, I did find the storefront POS to be very easy to use. Cashiers shouldn't have too much trouble mastering the basic operations.
Good Customer Service: Customers report that KORONA offers friendly and responsive customer service. I can attest to this. I received responses to all of my questions within the day, and I never had to wait on hold when I called in.
Customization: Multiple reviews mentioned that they liked how easy it was to make the software their own. Within a matter of hours, you can fine-tune the settings to your exact specifications.
Final Verdict
KORONA CLOUD POS is a good POS solution, though I still see room for growth. In the future, I'd particularly like to see continued improvement in their knowledge base and additional inventory management features. It would also be nice to see a wider selection of pre-built integrations.
However, that doesn't mean that KORONA is without its perks. The software comes with decent built-in functionality and the reporting options are excellent. Best of all, KORONA's customer service team is readily available and is quick to respond to concerns. If you check out the software and find that you can work around the areas where KORONA lags behind, the software might very well be a bargain for you. There is certainly a solid foundation with its high level of customization and strong customer service.
If KORONA sounds like a good solution for your company, I recommend you try the software out for yourself. There's no commitment required, and your trial lasts as long as you please.
---
We've done in-depth testing of each and confidently recommend them.
We've done in-depth testing of each and confidently recommend them.
To learn more about how we score our reviews, see our
Point Of Sale (POS) Software Rating Criteria
.
Read Next