Heartland Payment Systems Review
Expert Analyst & Reviewer

Updated on:
Advertiser Disclosure: Our unbiased reviews and content are supported in part by
affiliate partnerships
, and we adhere to strict
guidelines
to preserve editorial integrity.
Heartland Payment Systems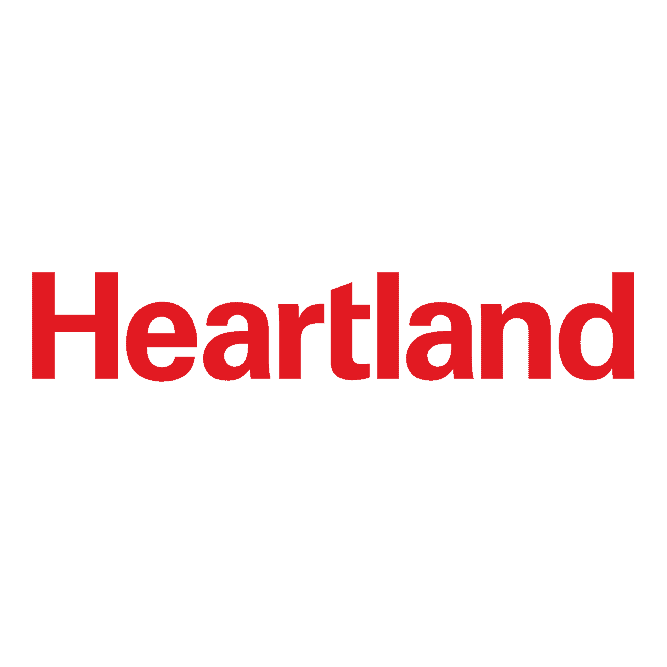 Pros
Full range of products and services
Uses transparent interchange-plus pricing
Excellent network security features
No misleading sales gimmicks
Cons
Requires three-year contract
The early termination fee (ETF) is $295 per location
Important contract terms frequently not disclosed
Numerous reports of steep price increases
Heartland Payment Systems Overview
Heartland Payment Systems isn't as well-known as some of the other top payment processors, but it's bigger than you might think. In fact, it's currently the fifth largest merchant services provider in the United States, processing a total of $80 billion in credit and debit card transactions annually. In this review, we'll sort out why — or why not — a large provider such as Heartland might be a good choice for your business.
Headquartered in Edmond, Oklahoma, Heartland has been in business since 1997. Global Payments (an even bigger processor) acquired the company in 2016, but it continues to operate under the Heartland Payments name. While these kinds of mergers and acquisitions frequently result in the smaller company seeing its business name disappear into the ether, it appears that the powers that be decided that Heartland's down-home, folksy name was worth keeping.
The company's reputation was put to the test in 2008 when it suffered a massive data breach that resulted in millions of credit card accounts being compromised. Unlike many companies, Heartland acknowledged the breach very quickly and implemented procedures to repair the damage and prevent it from happening again. Today, it's considered an industry leader in data security — an important consideration as data breaches become more and more common.
Of course, being good at data security is only one measure of a company's overall service. Most merchants, especially small business owners, will want to know more about how much that service actually costs and what they'll get for their money. It's in these areas where Heartland comes up a little short. On the positive side, the company offers a full range of products and services that will meet the needs of practically any business. Likewise, a transparent interchange-plus pricing plan is available to all users.
At the same time, all accounts come with a three-year contract and a rather expensive $295 early termination fee (ETF) if you close your account early. These terms are bad enough in themselves, but the company isn't very forthright about disclosing them to new merchants. Although Heartland claims to employ only full-time, salaried sales agents, we've found many complaints from merchants alleging that the long-term commitment and cancellation penalty were never disclosed to them during the sales process.
Overall, the company receives a slightly better-than-average score of 3.5 out of 5 stars. While there are many things to like about Heartland Payments, the company's continued use of long-term contracts and early termination fees prevents us from awarding it a higher score at this time.
Products & Services
Heartland's biggest strength is providing a full range of products and services to suit nearly any industry or business type. Here's a breakdown of the major features available to Heartland customers:
Heartland Merchant Services
Merchant Accounts: Merchants who sign up with Heartland's merchant services get their own fully underwritten merchant accounts. The company is a direct processor, which in theory should simplify resolving any transaction holds. It does not appear to accept high-risk merchants, however.
ACH & eCheck Processing: In addition to debit and credit card processing, the company can set you up with an ACH payment processing service. Note that a separate underwriting process is required for this feature.
Industry-Specific Programs: Heartland has some interesting offerings for restaurants, educational institutions, the hospitality industry, and other types of businesses (even custom beer and wine retail solutions). It shines in specialized niches, but it also offers strong features for standard retail or eCommerce businesses.
Payment Security: Heartland provides secure payment processing to reduce your PCI scope and help you remain compliant. The company does this through Heartland E3 end-to-end encryption, EMV, and tokenization technologies, which reduce both card-present fraud and data breaches.
Nonprofit Tools & Discounts: Registered 501(c)(3) nonprofits can get a range of tools to accept donations and even sell products online, among other services. Plus, Heartland promises to offer special rates, though it doesn't disclose the specifics of any discounts.
Heartland Portico Payment Gateway: This proprietary payment gateway includes Heartland's primary payments API to enable a broad set of transactions and features to suit a variety of industries. Security features include tokenization and end-to-end encryption of card data.
Virtual Terminal: For mail-order and telephone payments, you can securely process credit cards using Heartland's virtual terminal. Keep in mind that higher processing rates apply for keyed-in transactions.
eCommerce Shopping Cart: Integration is meant to be easy with prebuilt plugins for more than 550 platforms and 80% of popular shopping carts. Heartland's developer portal gives you access to a sandbox with full API access, so you can customize what you need and test it before going live on your site.
Subscription Billing: Heartland's tools also include support for billing and recurring charges. This can consist of installment payments or subscription management. You can adjust for discounts and trials as well as send notifications to your subscription holders.
Phone Payment: A unique feature of Heartland is the ability to accept payment via an automated toll-free interactive voice recognition system, with the option of live agent support if needed.
Heartland POS Systems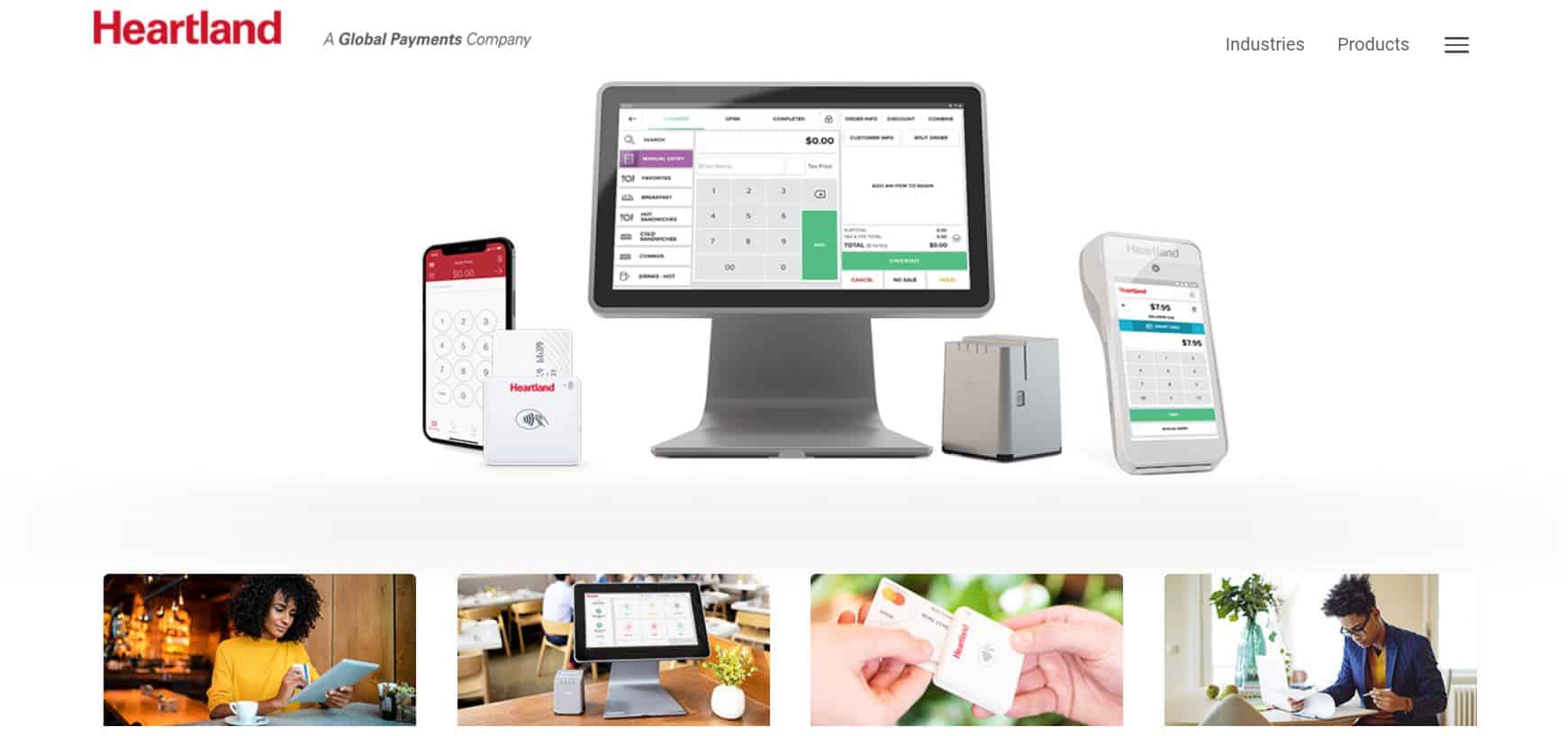 Screenshot of Heartland Site
Credit Card Terminals: Heartland Payments offers various traditional countertop and wireless terminals with the latest payment processing technology. All payment methods are supported, including EMV, NFC-based (e.g., Apple Pay, Google Pay, etc.), and magstripe. The company now also features Terminal+, its entry into the emerging "smart" terminal category. Terminal+ features a color touchscreen, Wi-Fi connectivity, and pre-installed apps for inventory management, gift card tracking, and cloud-based reporting. It also looks suspiciously like a Clover Flex.
Point Of Sale (POS) System: The company offers its own Heartland-branded POS systems for retailers and restaurants. However, you can also integrate the company's terminals with various other third-party POS options if they're more to your liking.
Heartland Mobile Pay: In addition to its full-fledged POS systems, merchants also get access to Heartland's own mobile POS app, called Heartland Mobile Pay. This option will let you accept payments in the field, whether at a charity event or a trade show. You'll need Heartland's all-in-one mobile card reader in addition to the app. EMV, NFC-based, and magstripe payment methods are all supported. While these capabilities are all that you could ask for in an mPOS system, we've found numerous user reports complaining about technical difficulties in getting the app and card reader to communicate with Heartland's payment processing network.
Other Heartland Services
Delivery Service Integration: For restaurants, Heartland offers additional features to support delivery and carry-out orders. You can integrate with an online delivery service such as DoorDash or Uber Eats or set up your own in-house delivery service (which can save you money on fees).
Payroll Processing: Heartland offers payroll software that integrates directly with the company's other products. This includes the proprietary Heartland POS system, which comes with employee timekeeping functionality. You also get access to a dedicated payroll specialist at the company.
Online Reporting & Analytics: The other major components of customer engagement tools are data and analytics services. Heartland offers analytics to handle this sales data and a separate "customer intelligence" service that allows you to understand who your customers are in more detail through analytics and insights.
Lending: Heartland works with several lenders to deliver financing options for businesses of all sizes. However, we don't typically recommend merchant cash advances because their terms aren't as competitive as other financing options. You should check out our merchant cash advance calculator to explore some actual numbers if you're interested in this option.
Customer Engagement Tools: You'll find several services bundled under the auspices of "customer engagement," but here, we are primarily focused on the two customer-facing products: gift cards and a rewards/loyalty program. There's also an email marketing option for outreach.
Note that the products and services discussed above represent Heartland's primary offerings. There are additional features described on the company's website, most of which are designed for very specific industries.
Heartland Credit Card Processing Fees & Rates
Like most traditional merchant services providers, Heartland doesn't disclose any specific pricing information on its website. Instead, it uses a quote-based system that requires you to contact the company's sales department and provide enough information about your business for them to generate a customized pricing quote tailored to you and your needs. While we understand that there is simply too much variability in processing rates from one business to another to post them on a website, we're nonetheless disappointed that standardized fees are also not disclosed. This includes items such as chargeback fees, PCI compliance fees, annual fees, and many others.
The one pricing disclosure that Heartland does offer is that it now uses interchange-plus pricing exclusively. Most traditional providers will initially offer you a pricey tiered pricing plan — even though interchange-plus is available — in the hopes that you'll accept it without trying to negotiate a better deal. We're big fans of interchange-plus pricing, as it transparently separates the interchange fees that get passed on to the issuing banks and credit card associations from the markup that your processor keeps for itself. However, it won't save you money if that markup is unusually high. We've found complaints from merchants indicating that Heartland charged them as much as interchange + 0.70%, which is more than twice the industry average for a processor's markup.
Heartland has recently added a policy that it calls a "Merchant Bill of Rights" to its website. Taken together, these ten "rights" offer a claim of complete transparency on every fee you're charged for using your account. This includes both what the fee is for and where the money is going to. If you're as cynical as we are, you might question why a company claiming complete and total transparency on its pricing doesn't disclose any specific fee information on its website. What Heartland is really saying here is that you'll enjoy complete transparency after you've obtained a pricing quote and signed up for an account, not before. Overall, the Merchant Bill of Rights appears to be little more than an attempt by the company to address the high number of complaints it's received about its sales practices.
You should also note that Heartland's extensive account security features are offered as a standard feature at no additional charge. This doesn't make them entirely "free," as at least part of your monthly account fee will go to maintaining those services. Nonetheless, providers such as Heartland have just as much of a vested interest in keeping your account secure as you do, so they're not going to offer industry-standard security features, such as tokenization and encryption, as an optional add-on.
Contract Length & Early Termination Fee
Heartland's standard contract includes an initial term of three years, with an automatic renewal clause that extends the commitment for one-year periods after that. If you close your account early, you'll have to pay an early termination fee (ETF) of $295 per location.
While the ETF isn't the highest that we've ever seen, the fact that it's applied to each business location means that it can add up very quickly if you operate out of multiple locations. It's also a pretty good indication that Heartland will set you up with a separate merchant account for each operating location — complete with duplicate monthly and annual fees for each account.
There's no reason to accept any of this if you don't have to. Since more and more providers now offer month-to-month contracts with no long-term commitment as a standard feature, you should insist on a waiver of the ETF before agreeing to open an account. Be sure to get it in writing, and keep a copy for your records. Most importantly, be sure to review your entire contract thoroughly before you sign anything.
If you do find yourself stuck in a long-term contract, be aware that you'll need to notify Heartland at least 60 days before the end of your contract term to prevent it from automatically renewing. If you follow this and all other instructions in your contract for closing your account to the letter, you should be able to avoid paying the ETF.
If you operate out of multiple locations, we also highly recommend that you ask for a single merchant account rather than maintain separate accounts at each location. This will save you a significant amount of money in fees and headaches with PCI compliance requirements. If a payment service provider (PSP) such as Square can aggregate thousands of merchants across the country into a single merchant account, there's no reason for you to have to juggle multiple accounts just because you have more than one retail location.
Sales & Advertising Transparency
Heartland's website is well-organized and easy to navigate. It includes a fair amount of information about the numerous specialized products and services that the company offers but doesn't go into very much detail. As we've noted above, there are also no pricing disclosures, despite the so-called Merchant's Bill of Rights stating that you have a right to this information.
Heartland's sales process is also problematic. The lack of pricing information forces merchants to obtain a quote before they can evaluate whether the company will be a good fit for them. You should understand clearly that this quote is merely an initial offer, and you absolutely should try to negotiate a better deal rather than just accepting it blindly.
Also, be aware that most of the complaints about Heartland relate to disclosure (or, rather, lack of disclosure) issues during the sales process. The company claims that all of its in-house sales team members are salaried, W-2 employees, but no company is going to pay sales representatives for merely trying to sell accounts. There's most likely a quota that representatives must meet to avoid being fired.
Because of this pressure to perform, it's unfortunately very common for company representatives to fail to disclose important contract terms. We continue to see numerous recent complaints from merchants alleging that they were never informed about the three-year commitment or the ETF during the sales process. Your best defense against these kinds of problems is to read your contract very carefully and insist on getting a waiver of both the long-term commitment and the ETF before you agree to sign up.
Customer Service & Technical Support
Heartland offers both email and 24/7 telephone support from a US-based, in-house team. The support page on the website lists multiple phone numbers for different categories, which theoretically means you'll be transferred less and get the help you need faster. Again, this is a good thing to take note of when considering a merchant account. Additionally, you'll find extensive documentation for developers, plus dedicated support channels for them. (The documentation is also helpful for providing more information about some of Heartland's services and features.)
When we look at customer service as a whole, however, we need to look at the entire life cycle of care, including that first sales call. What I've found is a disproportionate number of complaints on consumer review sites, and they tell a sad tale of broken promises, misrepresentation, and what we call in the industry the "runaround." To be fair, we may be looking at a few customers who have had an unfortunate and uniquely bad experience, but when we start to see patterns of complaints, the warning bells sound.
If you have experience with Heartland's customer support, please leave us a comment and let us know what you think! Your comments help us better assess each company we review.
User Reviews
Negative Reviews & Complaints
Heartland Payment Systems is not accredited by the BBB but still currently has an A+ rating. This high rating for a non-accredited company appears to be based on the fact that Heartland responds to every complaint, not the volume of complaints themselves. The company has received 52 complaints within the last three years, with 24 of those complaints being filed within the last twelve months. Additionally, five merchants have left 1-star reviews of Heartland on its BBB profile.
Heartland credit card processing reviews on Yelp are similarly negative, with the company earning an average rating of 2 out of 5 stars, based on 29 reviews. Most of these are 1-star reviews, counterbalanced by a few 5-star reviews that were clearly solicited by a sales agent shortly after the merchant signed up for an account. In analyzing all these complaints, the following issues consistently came up:
Misleading Or Dishonest Sales Practices: Merchants frequently complained about being surprised by the company's standard three-year contract and $295 early termination fee. Many stated that their sales representative either didn't mention the long-term contract at all or lied about its length. While this conduct is never acceptable, we feel compelled to point out that merchants are also at fault if they fail to read their contract documents thoroughly before signing up for an account.
Excessive Price Increases: We found many recent complaints from merchants who experienced sudden and dramatic increases in their rates and fees after being with the company for about a year. These fee increases were often more than twice what the merchant had previously been paying, suggesting that Heartland might be using "teaser" rate quotes that only apply for a short portion of the merchant's three-year commitment. Your best defense against this practice — which is common in the processing industry — is negotiating a waiver to the early termination fee before you sign your contract. This will give you much more flexibility to switch to a different provider if Heartland raises your rates.
Poor Customer Service: There were also a lot of complaints alleging poor, unhelpful customer service and long waits on hold to reach a company representative. Although Heartland appears to be making good-faith efforts to address this issue, it's apparent that the company hasn't yet devoted the proper resources to this area of its business operation.
Failure To Accommodate Merchants Adversely Impacted By COVID-19: Unfortunately, Heartland was among a large number of providers across the industry that continued to charge merchants the full amount of their monthly and annual account fees throughout the COVD-19 pandemic, even if they were forced to close their businesses and didn't process a single transaction for months due to state-imposed lockdowns.
Positive Reviews & Testimonials
The likelihood of people who are unhappy with a company or service being vocal about their displeasure is greater than a happy customer speaking out about their great experience. We call this negativity bias, and it's very common when dealing with merchant services. When the number of complaints is small, the number of positive Heartland Payment Systems reviews also tends to be small.
However, you can find some positive reviews for Heartland online. These reviews tend to be written soon after the merchant has signed up, and many were clearly solicited by the sales representative who set up their account. By itself, this isn't a problem. We're all constantly being bombarded by requests for a review from companies that we've done business with, and you've probably received a request like this recently yourself. However, when coupled with Heartland's reputation for raising its rates six months or a year down the road, it's clear that many merchants lose their enthusiasm for the company over time.
Final Verdict
On a positive note, Heartland offers a truly comprehensive suite of products and services that will meet the needs of any business. The company's exclusive use of interchange-plus pricing and commitment to data security (a lesson it learned the hard way) are also commendable. Quite frankly, these are features that are worth paying a little extra for if they meet the needs of your business.
At the same time, the company's continued use of a long-term contract with an expensive early termination fee is troublesome, particularly for businesses that operate out of multiple locations. Compounding this problem is Heartland's reputation for frequently failing to disclose these critically important terms during the sales process.
While we can't offer a strong endorsement of the company due to these and other issues, it can be an acceptable choice for seasoned merchants who have the leverage and negotiation skills to get competitive rates and a month-to-month contract. For small or newly established businesses, however, it's a poor choice.
Heartland's payment services earn an overall score of 3.5 out of 5 stars, based mainly on the strength of its product lineup and exclusive use of interchange-plus pricing. Poor sales practices and steep price increases, however, keep it from scoring any higher. If you've read this far and decided that Heartland processing isn't for you, check out our roundup of the cheapest processors in the industry for some recommendations that will save you money.
---
We've done in-depth research on each and confidently recommend them.
We've done in-depth research on each and confidently recommend them.
To learn more about how we score our reviews, see our
Credit Card Processor Rating Criteria
.
Read Next