Harbortouch POS Review
Harbortouch POS is easy to use and accepts multiple forms of payment, but they are guilty of using deceptive sales tactics and require longterm commitments to hardware.
Expert Analyst & Reviewer

UPDATED
Advertiser Disclosure: Our unbiased reviews and content are supported in part by
affiliate partnerships
, and we adhere to strict
guidelines
to preserve editorial integrity.
Harbortouch POS
Pros
Advanced reporting tools
Accepts multiple forms of payment
Cons
Early termination fee
Untransparent tiered pricing
Deceptive sales tactics
Numerous public complaints
Harbortouch Overview
On the surface, Harbortouch POS looks like a terrific point of sale system with a decent interface and a feature-set that, while not overwhelmingly robust, checks the majority of boxes you would expect from a solid POS offering.
Harbortouch point of sale also has two very affordable pricing plans and offers free hardware to get started. However, in order to take advantage of this offer, you have to sign up for a one-year contract. With a little digging, we discovered that Shift4 Payments is the parent company behind Harbortouch credit card processing. And Shift4Payments appears to use every tactic we hate to see, right down to independent sales reps running wild.
Harbortouch's customer service reputation is appalling, with scores of customers complaining about representatives never getting back to them. There are hundreds of complaints referring to hidden upfront Harbortouch fees, hidden transaction fees, penalties for breaking contracts, and dozens of nearly identical complaints about repeated software bugs and freezes. Many current and former customers throw around the dreaded "scam" word as well.
I will say that I found the software itself to be entirely satisfactory. Particularly at the price that it advertises, Harbortouch could be a solid low-cost option for small business owners. You can send the company a request for a Harbortouch POS demo to give it a trial run if you'd like to continue to do your research and are willing to take the risk.
What Is Harbortouch?
Harbortouch is an all-in-one point of sale system for restaurants, retail establishments, and salons with affordable pricing plans and hardware options, but it has a poor reputation for its customer service and payment processing service.
Harbortouch Pricing
| Plan | Price | When To Use |
| --- | --- | --- |
| Free | $0/month | If you have a very small business with basic processing needs |
| Echo | $29/month | If you have a small business with basic back end needs |
| Elite | $39/month | If you have a retail business or restaurant needing an all-in-one system |
| Salon & Spa | $39/month | If you have a salon or spa |
Let's get down to brass tacks: How much does Harbortouch cost in terms of monthly fees and processing? Harbortouch pricing looks good at the outset but less so once you factor in various added fees.
There are two main pricing options for Harbortouch. You can purchase the Harbortouch Echo POS, which is primarily for smaller establishments, such as food carts, cafes, or small retail establishments. That runs for $29 a month on the company's website.
The Harbortouch Elite POS system comes in at $39 a month and is best suited for larger retailers and full-service restaurants, as it gives you access to a broader feature-set. These prices include Harbortouch technical support and a lifetime hardware warranty.
Harbortouch offers free equipment, but you have to agree to a one-year service agreement and the Merchant Transaction Processing Agreement to get this deal. Harbortouch also has a plan that comes with just a cash register and card reader for taking payments. That plan is technically "free" but also requires a service agreement.
Lastly, the company offers a POS system specifically for salons that retails for $39 a month.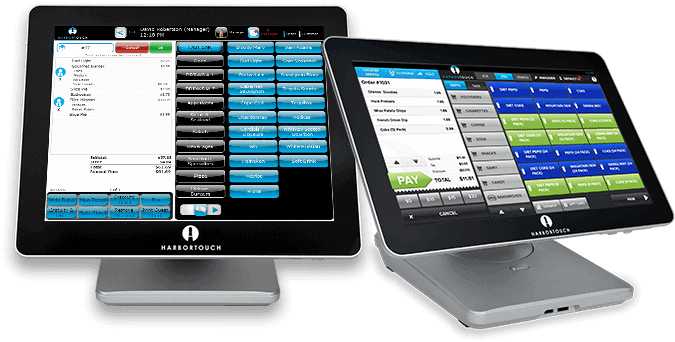 Harbortouch POS Features
Harbortouch's feature offerings are pretty robust, and the website does a good job laying out what you get for both restaurants and retail establishments. The company also caters to multiple industries.
Here are a few areas where Harbortouch stands out:
Tableside Ordering: Using its iPad app, servers in the food industry can walk around and take orders remotely, sending tickets directly to the kitchen from the table, a feature more and more POS systems are implementing.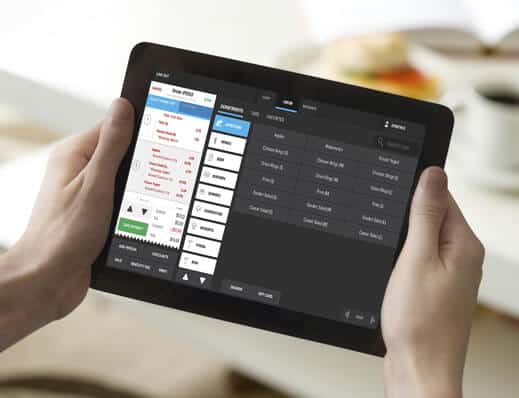 Table Tracking: Managing tables is easy, allowing servers and hosts to see how many customers are at each table and where there are openings in the restaurant.
Reservations: This is a great feature that Harbortouch throws in for no additional cost. It's easy for employees to make reservations directly into the POS, or you can be provided with your own URL so that customers can make their reservations from home. You can view the waitlist at any time, and customers can receive text messages when their table is ready.
Employee Management: Harbortouch makes it easy to evaluate sales performances. You can easily see how many hours employees have put in and who has been a top seller. You can also edit timesheets and set up permissions with just a few clicks.
Inventory Management: It's not extremely robust, but it handles the basics well. You can track raw goods in the back office and make purchase orders across multiple locations from one POS. Harbortouch POS also pairs with two inventory management integrations if you need more in that department.
Online Ordering: Another handy feature that Harbortouch includes is the ability for customers to place orders online for convenient pickup or delivery.
Loyalty: Harbortouch has a fairly advanced loyalty system, allowing you to set up gift cards. You can also set up promotions and search customer information quickly; a Mailchimp integration makes marketing campaigns simple.
Harbortouch Lighthouse Reporting: This is probably Harbortouch's bread and butter. The reporting packages are extensive, giving you multiple sales and labor reports to ensure that you're functioning at peak efficiency. You can also run reports on your menus or individual products, allowing you to track various things, such as when particular specials sold better during the month. You can also manage your social media and your online reputation. The POS Marketplace provides a simple spot to download apps and integrate software into your system. There's a lot to sort through, and Harbortouch Lighthouse does offer a 60-day free trial as well.
Installation: Harbortouch offers on-site installation, or you can have a representative talk and train you through the process remotely.
Gift Registries: On the retail side, Harbortouch POS makes it easy to set up registries if someone is interested in items from your establishment.
Layaway: Always a nice feature to have included, customers can reserve items for later pickup, and you can manage those items in your inventory.
Handheld Pay-At-Table Devices: Optional SkyTab pay-at-table handheld devices allow customers to place orders and make payments from their table.
Delivery Features: The Harbortouch POS system has some nice options for delivery services, including a dashboard to display current orders and monitor how long they are taking to complete. It also features directions, mapping, and integration with caller ID.
Is Harbortouch User Friendly?
Harbortouch's interface is relatively straightforward. The look isn't as modern as some of the new offerings on the market. Plus, I found the layout of its buttons a little confusing, especially when there were lots of options to choose from. While certain functions are customizable, the system isn't the most adaptable I've seen, either. You have to sort through a lot of screens manually, and if you're dealing with items that may have a lot of modifiers, it can be a somewhat tedious process.
Other functions, such as check splitting, are fairly intuitive, and the ticket or tickets are well displayed on the side of the screen to ensure accuracy. That said, it's not software that you can expect to master over a single shift. The back end is also pretty standard.
Again, though, it takes some getting used to, even just to sort out all of the features. If you have experience with POS systems, you'll probably pick it up pretty quickly. However, if you're just getting started, be prepared to either watch a lot of videos or spend some time with a representative.
Customer Service & Support
There is 24/7 customer support available, although it can occasionally take a little while to get someone on the phone. Harbortouch also has a live chat function, which generally responds within 24 hours. Because Harbortouch charges an added fee for customer support, the responsiveness level is not really up to snuff.
On its website, Harbortouch at least provides some short and helpful how-to videos, walking clients through many of the software's basic functions, and there are loads of articles with more in-depth information as well.
Payment Processing With Harbortouch
Harbortouch operates as its own processing company under its parent Shift4, and you are forced to use Harbortouch's systems for payment processing — which always rings alarm bells at Merchant Maverick. While other processors can offer Harbortouch for use with their services, you must use Shift4 to take advantage of its hardware offer.
Harbortouch accepts most forms of payments, including EMV chip cards and NFC mobile. Another recent improvement for Harbortouch is that its processing fees are now upfront, something which had been the subject of numerous complaints. Harbortouch merchant services charge $1.79% plus $0.10 per transaction and a batch fee of $25.
Contract Length & Early Termination Fees
Harbortouch had dialed back its hefty early termination fees recently, but the fact that they exist at all is still not great. Now you are only charged if you don't return your equipment within 15 days of terminating your contract. The fines are $200 per credit card reader, $300 per contactless terminal, and $500 per POS system.
Additionally, Elite POS users will pay a $20/month support fee, while Echo POS users will pay an annual $79 fee. There's also a $99 PCI Compliance Fee and, of course, transaction fees according to a tiered or interchange-plus pricing schedule. Keep in mind that, in order to take them up on their free hardware offerings, you do have to sign up for at least one full year as well.
Harbortouch Integrations & Add-Ons
Harbortouch has kept developers in mind with an open API. The number of third-party integrations on offer isn't overly impressive, but there are a few convenient options:
FiveStars: For help with loyalty and marketing
Sarbari & Orca: For inventory management
Sling: For employee scheduling
Mailchimp: For marketing and communications
Clearbanc: For alternative lending
UberEats, DoorDash, & TakeOut7: For food delivery
Menufy: For food ordering
Fisherman: For custom website building
ORCA: For inventory management
Harbortouch Reviews & Complaints
Negative Harbortouch POS Reviews & Complaints
Where to start? Harbortouch POS has received complaints across the board, and the majority of them touch on very similar and somewhat troubling issues. While the company has touched on some of these, recent Harbortouch merchant services reviews still have similar complaints:
Software Freezes: Multiple Harbortouch POS reviews mentioned that the system often freezes up, usually when an employee is running a card for a purchase. The system also runs updates automatically, which can slow down the software at inconvenient times.
Bait & Switch: More than a handful of Harbortouch reviews mentioned that the credit card rates they were quoted were much lower than what they were charged and that these issues went unresolved for months. The company also gloats about having no upfront costs, but most reviewers mentioned multiple fees that were never initially disclosed, making the product far less affordable than promised.
Long-Term Contracts: Reviewers who were upset with Harbortouch lamented having to sign a contract, although the company has recently reduced its terms from three years to one year. However, there are still complaints that contracts are extremely difficult to break.
Poor Customer Service: Customers often had to sit through 30-90 minute hold times to speak to a representative, and problems were still not resolved. Emails and other inquiries were reported to take months to receive answers. A few reviewers said the company was nearly impossible to get in touch with after going through the initial signup period.
Positive Harbortouch POS Reviews & Testimonials
The handful of positive Harbortouch POS system reviews available mentioned a few things repeatedly:
Ease Of Use: Even people who were upset with fees or had other issues liked the software and the interface overall, and many found the interface to be intuitive.
Reporting: Multiple reviews appreciated Harbortouch and Harbtouch Lighthouse's robust reporting offerings.
Final Verdict
If it's not clear by now, Harbortouch is not my favorite point of sale option. The company bills itself as affordable and convenient for small business owners, but it's pretty easy to see through those claims. To be fair, the company has taken steps to rectify some issues in the past year, but it remains to be seen if this will fix its reputation with customers.
What keeps me from saying that Harbortouch is anything other than a total wreck is that the software itself is pretty good. You get strong reporting and solid inventory management, and I appreciate some of the functions carved out for specific businesses. If you can find a way to make sure that you're getting the processing rate you're promised and can negotiate out of some of the hidden fees, you might end up with a strong and affordable system. But that's not something you should have to do with your POS. In a competitive market, there are plenty of better options.
Harbortouch FAQs
---
We've done in-depth research on each and confidently recommend them.
We've done in-depth research on each and confidently recommend them.
To learn more about how we score our reviews, see our
Point Of Sale (POS) Software Rating Criteria
.