SumUp App & Card Reader Review: Is SumUp The Best Mobile POS For Small Business?
Expert Analyst & Reviewer

Updated on:
Advertiser Disclosure: Our unbiased reviews and content are supported in part by
affiliate partnerships
, and we adhere to strict
guidelines
to preserve editorial integrity.
SumUp

Pros
Predictable flat-rate pricing
No monthly minimums
Inexpensive hardware
Ideal for low-volume merchants
Free virtual terminal for qualifying businesses
Cons
Limited features
Account stability issues
No eCommerce
SumUp Overview
SumUp is a UK-based payment service provider that offers in-person payment processing through its SumUp app and mobile SumUp card reader. The SumUp app is similar to those of its closest competitors, Square and PayPal Here (or iZettle in the UK), making SumUp a good option for low-volume and mobile sales. Besides SumUp fees being lower than Square's for small tickets, SumUp's pocket-sized credit card reader has features the Square mobile reader doesn't have, giving SumUp a slight leg up on its competition. SumUp's quality as a mobile processing solution is reflected in the many positive SumUp reviews, at least from international merchants.
However, while the company is already well-established as a top option in Europe — SumUp merchants span 31 countries on three continents — SumUp has been a little slow to catch on in the US.
Given SumUp's international stature, do the company's offerings meet our expectations? SumUp Payments has all of the essentials you need for mobile processing, even if it doesn't have a ton of (or any) bells and whistles, at least not for US users. For UK SumUp merchants, the feature set is far more expansive and includes an omnichannel option for sellers to start making sales in person and online. But for small-ticket US merchants without complex inventory, or businesses that travel to trade shows, conventions, and other events, SumUp could be a suitable Square alternative.
Read this full SumUp review for a full breakdown of SumUp fees and services and SumUp card reader options. Have experience with the company, especially in the US? Leave us a comment and give us an idea of the SumUp user experience!
Products & Services
The core offering for SumUp is mobile credit card processing. The SumUp app is free to download, available for both Android and iOS, and must be connected to the internet to work. In the UK, you'll find a few additional features that don't seem to be available in the US.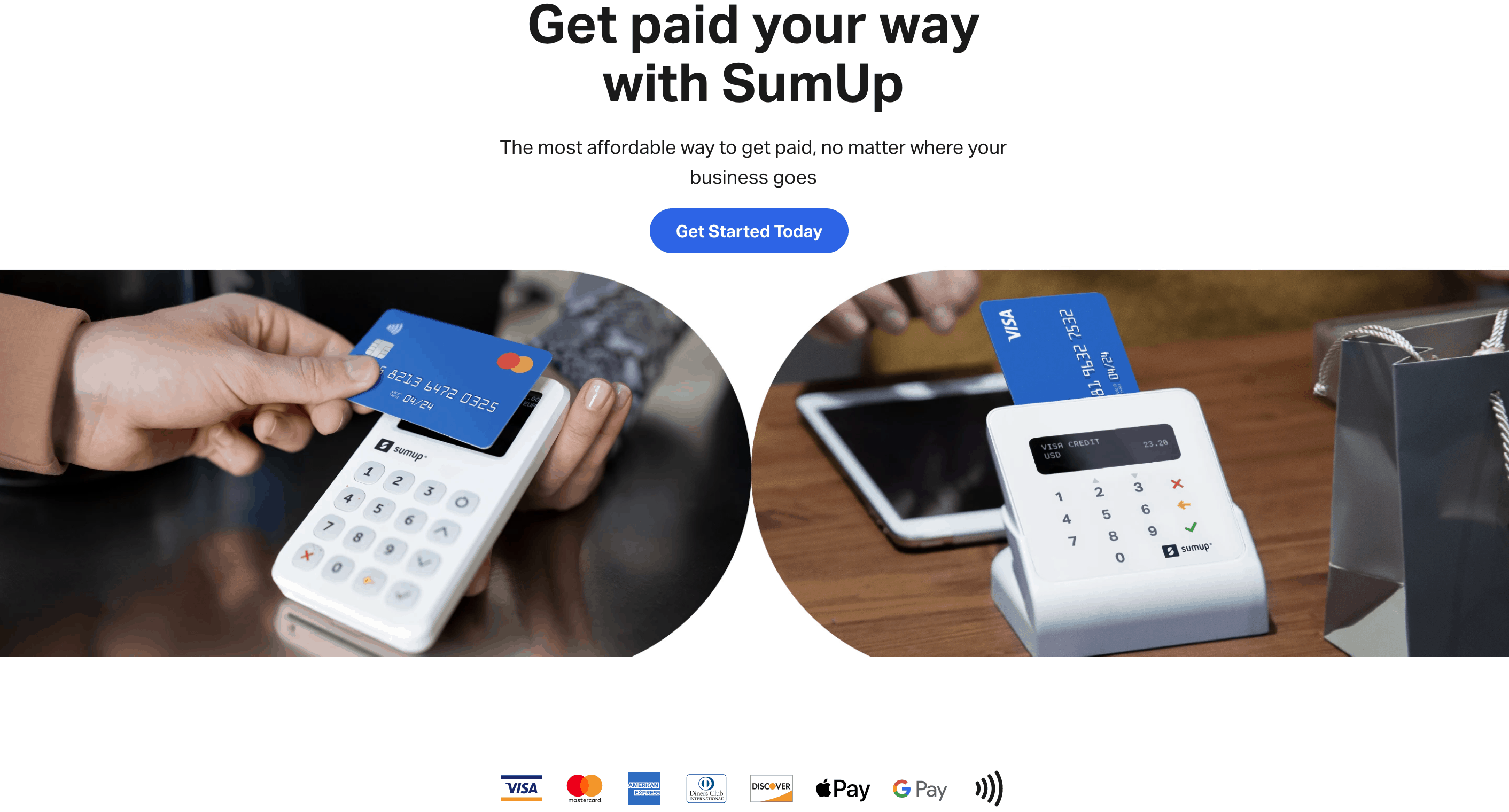 SumUp App Features
The SumUp app features all of the standard mobile POS features, including:
Item library
Item variants
Quick-sale mode
Tipping
Cash recording
Basic analytics
Multiple tax rates
Email/SMS receipts
Receipt printer connectivity
Remote payments (including payment links and virtual gift cards)
The remote payments features, even if basic, are nice to have. SumUp lets you send customers a payment link allowing them to pay you on their phone or computer. You can also share a digital gift card link on your social media, website, or with customers directly. Just keep in mind that you'll pay the higher card-not-present fee for those types of transactions.
If you've looked at any of our other mobile POS reviews, however, you'll probably notice a lack of certain features not present in the SumUp app, namely:
Discounts (only available in UK)
eCommerce (only available in UK)
Inventory counts
Bulk product import/export
Subscription/recurring invoicing
We take issue with the lack of discounts. The rest of the features make the wish list only because Square has raised the bar pretty high. However, they aren't essential to an mPOS and certainly aren't ubiquitous among its competitors.
Virtual Terminal & Mobile Payments
Another SumUp feature is its virtual terminal, which allows merchants to process card-not-present transactions in the absence of a card reader. This allows you to take payments over the phone, for example. Unfortunately, you have to apply for approval to use the Virtual Terminal and not everybody will be approved. Established SumUp users (or established businesses in general) would appear to stand a better shot at getting permission to use the Virtual Terminal.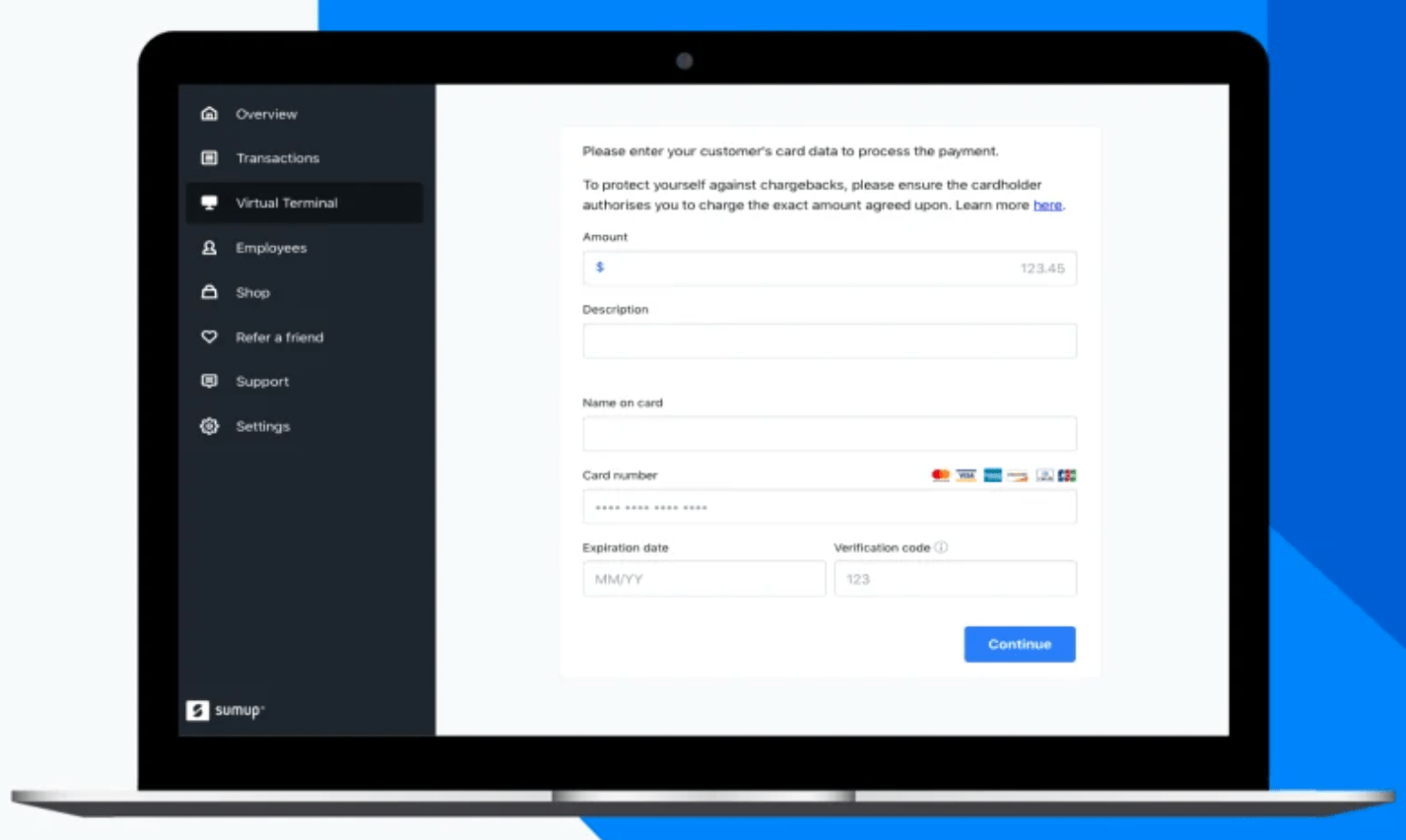 The virtual terminal is accessible from your online dashboard or within your SumUp mobile app.
As mentioned, you can also accept mobile SumUp payments using a payment link that you can text, email, or send over social media. You can accept payments from a customer who is not physically present; it's also a socially distanced selling option for customers who want to stay distanced during a transaction.
Mobile Invoicing
SumUp merchants can email customers invoices on their smartphone, tablet, or computer. There is no cost to use the SumUp invoicing service—you only pay a processing fee when the customer pays their invoice through the payment link attached to the invoice.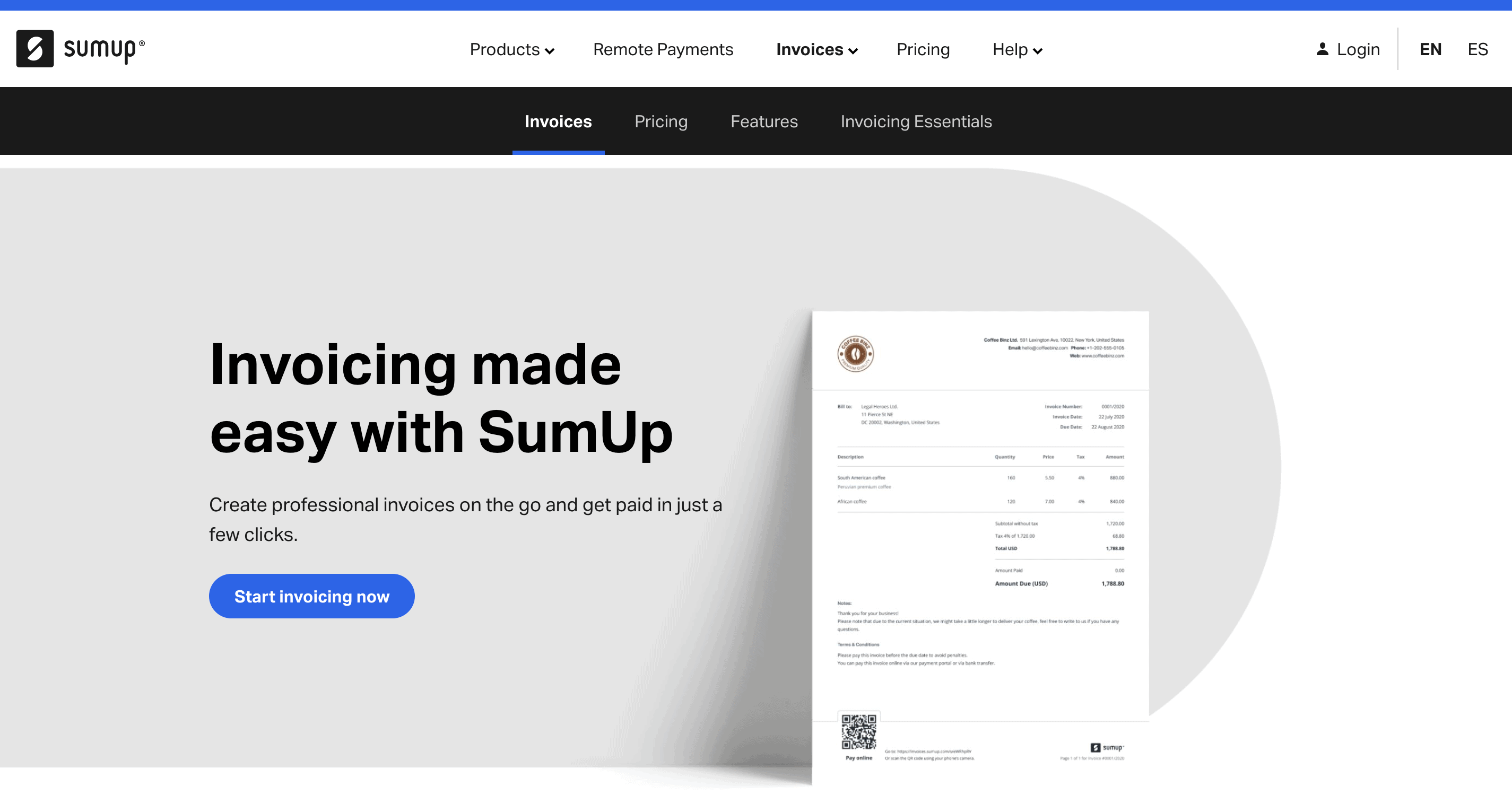 SumUp does not charge a fee for invoices paid via cash or check. You can also check the payment status of invoices from your SumUp app or online dashboard.
International Sales
There is one thing that will set SumUp apart from the rest of the mPOS providers, especially for companies that sometimes handle international business: It's available in 31 countries at the time of writing this. The list of supported regions includes most of Europe, the US, Brazil, and Chile.
Since you can use SumUp to accept payments internationally, if you're a US merchant who does trade shows, conventions, farmer's markets, or other events abroad, SumUp starts to look like an appropriate choice. Just note that your fees will vary, depending on the country in which you are doing business.
SumUp Credit Card Readers
SumUp's card readers work with most Android phones, tablets, iPhones, and iPads. There's a handy tool within the app that can check whether your device is compatible with the card reader. Speaking of which, the SumUp card reader reminds me of Square's. It's sleek, sexy, and minimalist.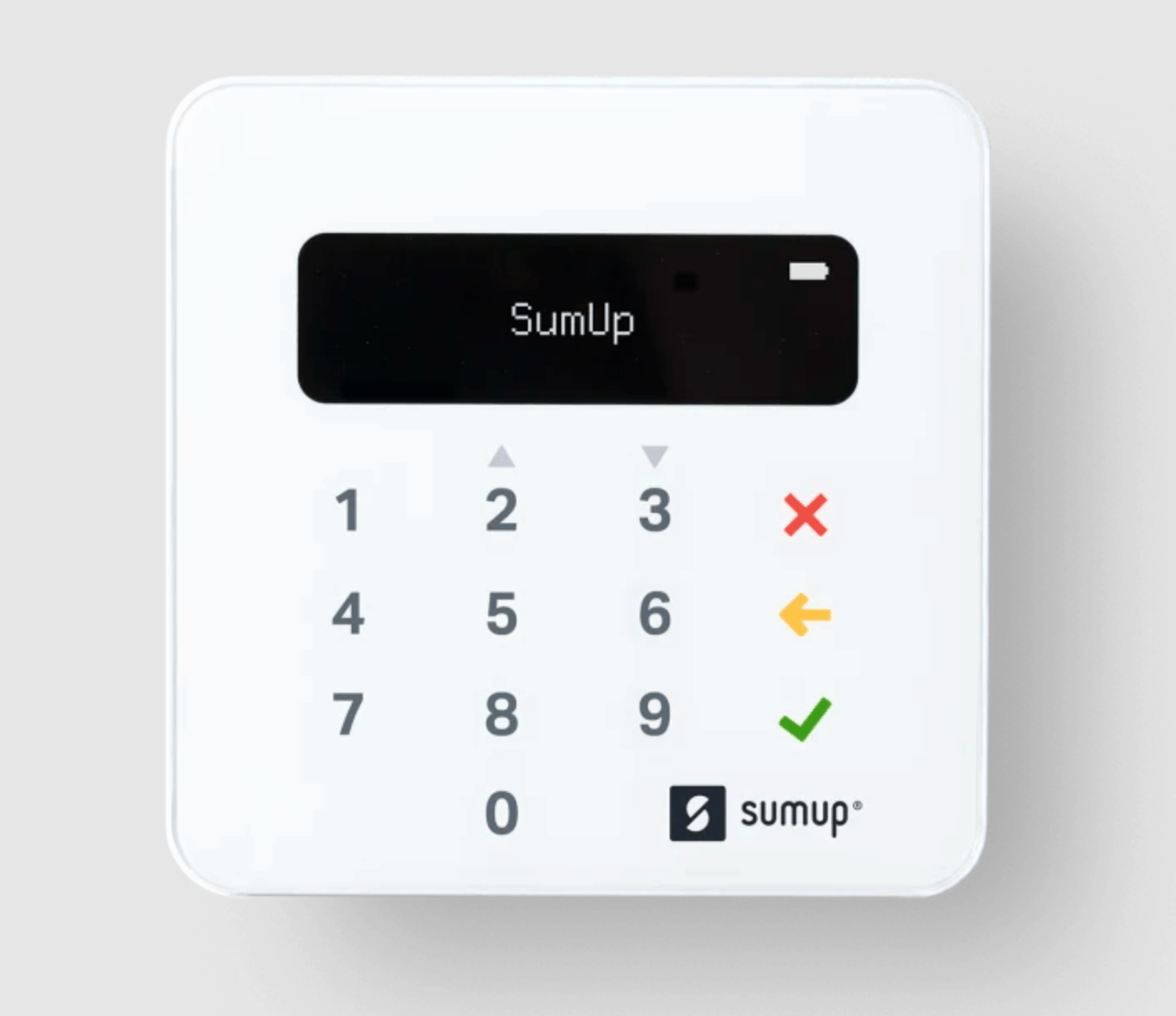 The SumUp Plus credit card reader works similarly to how a lot of other EMV card readers work these days, including Clover Go and PayPal Here. It connects to your phone or tablet via Bluetooth and supports magstripe, EMV/chip cards, and contactless NFC payments (including Apple Pay and Google Pay), all in one. Notably, the reader has an integrated magstripe reader, which is something that sets it apart from Square's Contactless + Chip Reader.
Another thing that makes the SumUp Plus reader superior to Square's is that it has an OLED display and a PIN pad, allowing businesses to accept debit and PIN cards. (SumUp has phased out the original SumUp reader, which didn't have these features.)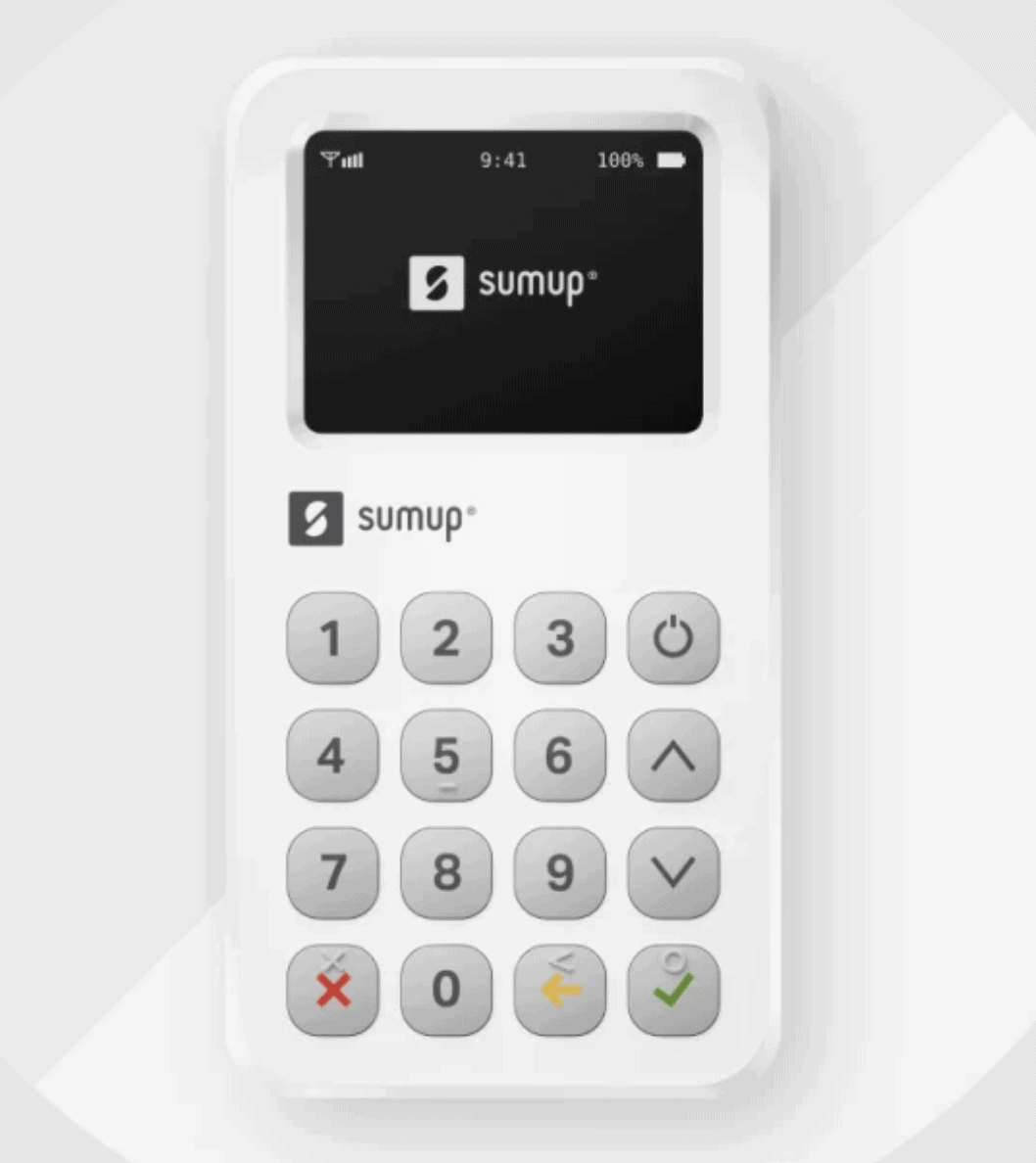 SumUp also recently introduced the SumUp Pro, pictured above. SumUp Pro is a standalone reader that lets you take payments without a smartphone or tablet—or even without WiFi. The device has a larger screen than the Plus and also includes a built-in SIM card with free unlimited mobile data. Though the device is only about as tall and wide as a smartphone, you can actually manage your sales history, taxes, tips, employee accounts, and refunds on the SumUp Pro, as well as take swiped, dipped, and tapped payments. Optionally, you can purchase a charging dock that has a built-in receipt printer.
SumUp Fees & Rates
| | SumUp US Fees | SumUp UK Fees |
| --- | --- | --- |
| Card-present transactions (swiped, tapped, dipped) | 2.75% | 1.69% |
| Remote transactions (virtual terminal or payment link) | 3.25% + $0.15 | 2.50% |
| Invoiced payments | 2.90% + $0.15 | 2.50% |
SumUp's flat-rate payment scheme isn't anything new, but it's a good model that works. Pricing differs depending on region, though.
SumUp fees for in-person payments— 2.75% in the US—are 0.1% higher compared to last year, but stack up decently well with Square (2.6% + $0.10) and PayPal Here (2.7%). With Square's 2019 rate change (from 2.75% to 2.6% + $0.10) negatively impacting small-ticket merchants — particularly those doing a decent volume — SumUp may warrant consideration from Square merchants disadvantaged by Square's changes. However, unless you're processing huge volumes, your savings are going to be quite small. For this reason, price shouldn't be your sole determining factor.
Like Square, SumUp has no monthly minimums, no setup fees, no cancellation fees, and no ETFs.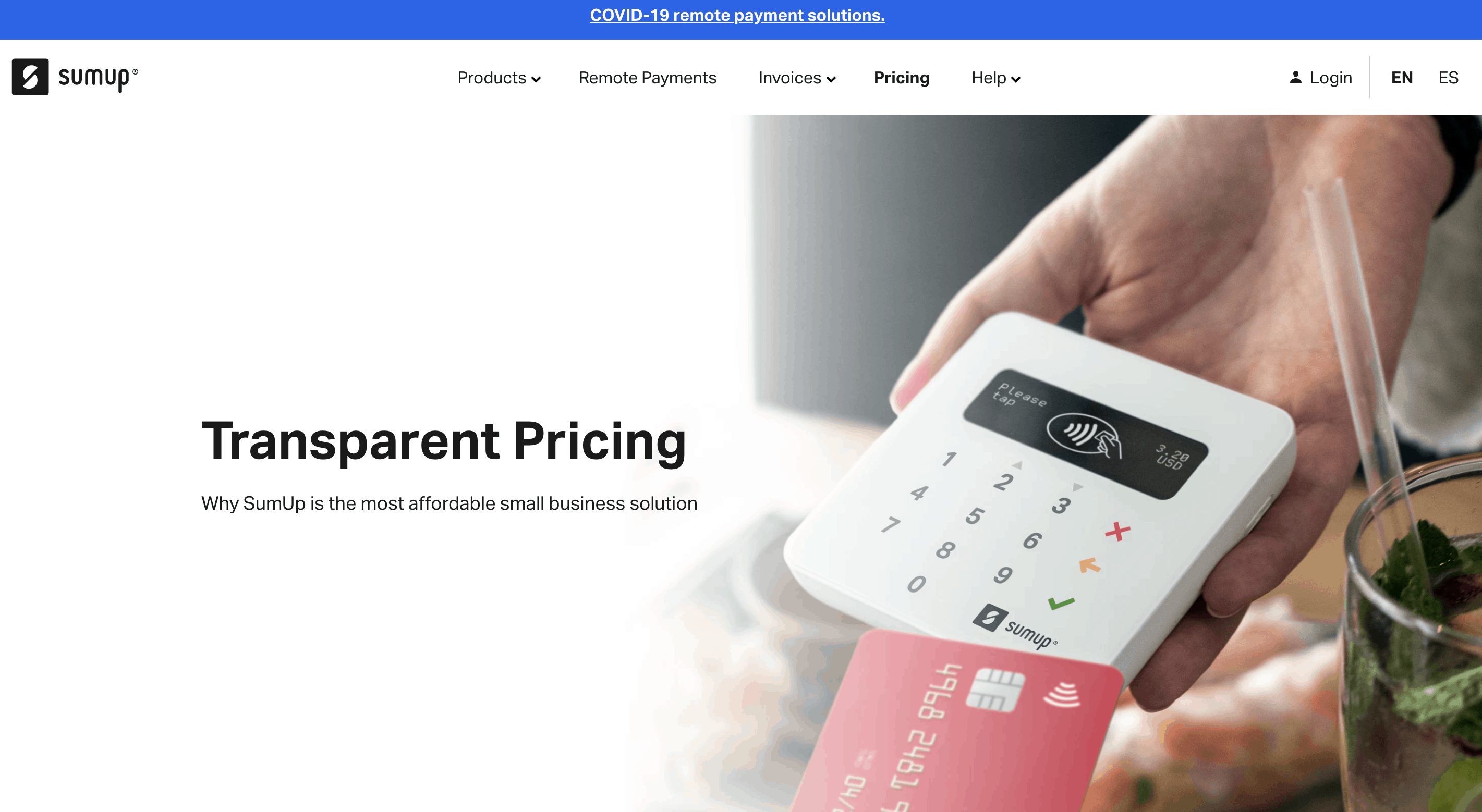 If you read the terms of use (and yes, I do, for every single mPOS review I write), you'll see there's a chargeback fee assessed. SumUp's terms of use do not disclose how much this fee is. In a blog post, though, SumUp reveals that the chargeback fee is $10, whether or not the chargeback gets decided in your favor. But don't worry — you won't have to deal with chargebacks for card-present transactions very often, if at all. It applies mostly to online transactions.
It's also worth noting that in the UK, SumUp fees are 1.69%. Generally, credit card processing costs a lot less in Europe than it does in the US, a fact that I am sure many small business owners lament.
SumUp will deliver your funds (minus its fees) to your bank in one to two business days (two to three business days in the UK). There's no instant deposit option, but this timeframe is pretty standard for any kind of card processing.
SumUp Card Reader Pricing
SumUp Plus will run you $19 (£29 in the UK). That's an awesome deal for a device that can process magstripe, chip, and NFC transactions.
I'm also happy to see that SumUp has recently added an affordably priced charging dock for the reader. You can get both for $39, which is significantly less than the Square Contactless + Chip Reader and the PayPal Chip & Tap Reader and their respective docks.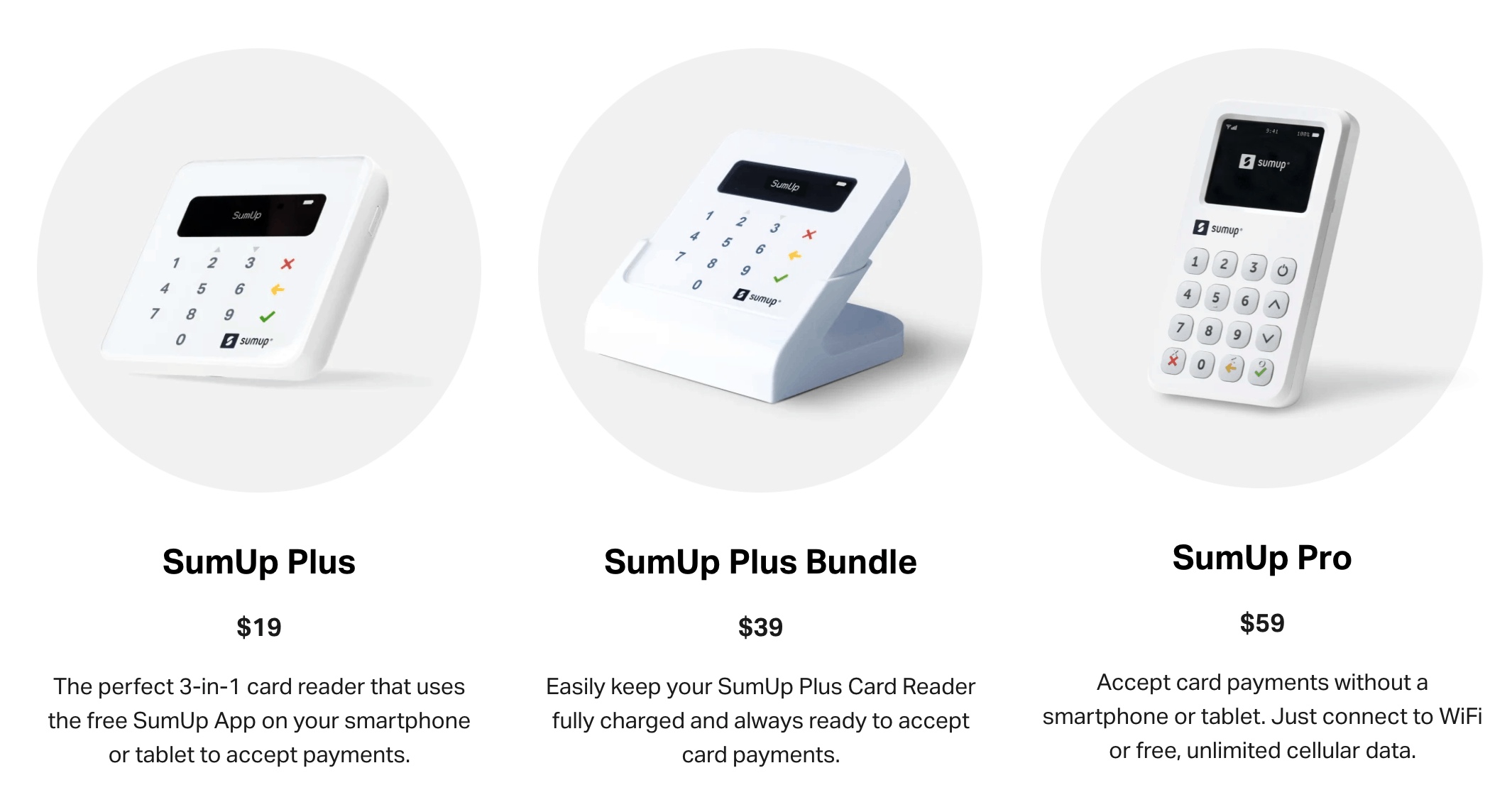 The new SumUp Pro is offered at just $59, a pretty excellent price considering it's a standalone terminal and even includes free mobile data to take payments without WiFi.
Sales & Advertising Transparency
Overall, SumUp is straightforward and transparent in its operations. The pricing is clearly laid out. Contract terms are clear and fair. There are no gimmicky offers on the site and no undeliverable promises. The complaints against SumUp are the standard fare. They're not unique or even uncommon, which are the sort of problems that are typically indicative of more significant issues.
Like most other mPOS providers, SumUp mostly relies on word of mouth and online advertising. You're not going to encounter a sales team in the field offering demos. I really like this approach because independent resellers and sales reps tend to promise the world to merchants — but they rarely deliver.
Take note that if you are a high-risk merchant, SumUp will not do business with you. (Examples of businesses considered "high risk" by payment processors include pawn shops, adult entertainment, and debt service businesses.) Instead, you'll need to find a high-risk merchant account. SumUp is also very clear that certain business types are not supported, so make sure you take a look at the restricted businesses list. Generally speaking, if Square, Stripe, and PayPal don't support your business, there's a very good chance that SumUp won't either.
Contract Length & Cancellation
SumUp is, as I've said, a pay-as-you-go third-party processor. You can sign up or terminate your account at pretty much any time. There are no termination fees. That said, if your account is inactive for two years, SumUp will terminate it and follow the standard procedure in your state for the disposal of any funds in the account, if there are any (there probably won't be).
The terms of use are pretty standard for a mobile processor. You'll want to note that, like Square and PayPal Here, SumUp's terms of use include the right to implement a reserve fund on your account and the right to hold funds if it notices something suspicious.
I know most of you probably scroll on past the terms of use when you sign an agreement (I'm usually guilty where software is concerned), but when it's your money on the line, be diligent. Read the agreement. Understand what you're getting into. That goes for any payment processor you sign with.
Customer Service & Technical Support
SumUp offers email/ticket-based support. You can access it through the SumUp app as well as through the website. In the past, the FAQ was a bit rudimentary, but SumUp has stepped it up with a US-based support center site that has answers to lots of commonly asked questions. It's also searchable, and the search works. It's still not as extensive as Square's, but Square also has a boatload of features that SumUp lacks.
You can also get hold of SumUp via phone on weekdays from 8AM – 8PM EST. SumUp reviews concerning the quality of phone support are not 100% glowing but are largely positive.
SumUp App & Credit Card Reviews
SumUp app reviews are mostly positive, though there are more international reviews compared to US reviews (and more Andriod than Apple users, it would seem). SumUp has an entry on the BBB website with an A+ rating, though it isn't accredited. The company does have nine complaints over the past three years, but that's a small number for any payment processor.
On the Google Play store, SumUp has 3.4/5 stars, out of 40,335 reviews. I'm surprised by the fact that there are only 265 reviews for SumUp in the Apple App Store (at the time of writing, at least), though the average App Store is the same as on the Google Play store, 3.4/5. Clearly, this is an app favored by Android users.
Negative SumUp Reviews & Complaints
Here are some of the biggest complaints customers have about SumUp, including from US-based SumUp merchants.
Account Holds & Freezes: The biggest number of complaints I see about SumUp relate to account terminations because SumUp doesn't support a merchant's business model. But as a third-party processor, SumUp is always going to have to assess risk carefully. Square and PayPal Here are the same way. Before you buy the SumUp card reader, you should make an account and get it verified, just be sure SumUp will work with you.
Unreliable Customer Support: I didn't find a lot of complaints about this and none were very specific. Some merchants had trouble finding the phone numbers, and others say the reps were unhelpful. Some were annoyed at the verification process. A few users reported extensive delays when applying to use the Virtual Terminal/Mobile Payments feature.
Hardware Glitches: Again, this isn't something that I see a lot of complaints about, but a few people have mentioned that they've had hardware that failed or glitched out. The SumUp reader does come with a one-year warranty, and I've seen reports from merchants who were able to replace their readers with minimal fuss.
There is one curious trend of complaints about the credit card reader on Amazon, of all places: people who have bought the reader expecting it to work with Square or PayPal. Generally speaking, mobile card readers will only work with one particular processing app, and you shouldn't expect compatibility with SumUp's competitors.
Positive SumUp Reviews & Testimonials
Here's what I've seen from merchants who praise the service:
Easy To Use: The SumUp app is very intuitive. While the features are basic, that does play into the simplicity of things. Apart from creating an inventory library (if you want to), the only other settings you need to play with are the tax rates and maybe tipping. That adds to the simplicity.
Low Fees: SumUp's pricing is straightforward and competitive, both in the US and the UK, and that always goes over well. For very small-ticket merchants, SumUp's 2.75% rate is marginally more competitive than Square's 2.6% + $0.10 because that $0.10 transaction fee adds up for purchases under about $10.
Good Customer Support: To balance out the complaints: Plenty of merchants say that support is answering their questions accurately and quickly.
SumUp has also landed an assortment of partners, from retail businesses to financial institutions and more. You can see the list of names on the Partners page, but I am sad to say the testimonials that used to be on that page are now gone, and there aren't any others on the US site.
Final Verdict
Despite some minor shortcomings, I'm still excited about SumUp. It's an app that you can use (almost) right away — once you've got your account set up and verified and the card reader arrives, you're all set! It's far from the fanciest system out there, but if you're a small business that is just getting started or you only process infrequently, this is a good fit. (And if it isn't to your liking, remember that you won't be bound to any contract). While US merchants can't access all of the features UK merchants can, it's a solid mobile processing system. For UK businesses, it's an exciting omnichannel solution.
What remains to be seen is how SumUp will carve out a niche in an industry that is simultaneously growing and consolidating while also weeding out any inferior competitors. I think it's taking all the right steps. Though SumUp doesn't have as many features as Square, the SumUp card readers are arguably superior to Square's. And there's certainly no shortage of merchants who may be drawn to SumUp's simplicity after feeling slighted by Square or PayPal.
Also, again, remember that SumUp is a payment service provider, or third-party payment processor. That means that every user account has an inherent amount of risk and instability to it. This is universally one of the biggest complaints against third-party processors, including PayPal and Square. Before you sign up with any processor, you need to understand what you are agreeing to. Be informed, be willing to accept the risk, or look for a traditional merchant account instead.
For now, we're happy to award SumUp 4 stars. It's an imperfect solution, but it's got a lot going for it right now. For more on how SumUp stacks up against Square, read Square vs. SumUp to compare the two, and if you're still not sure where you're going to land, check out our article on the Top 7 Square Alternatives.
Are you using SumUp to process payments? Leave us a comment and let us know about your experiences!
---
We've done in-depth research on each and confidently recommend them.
We've done in-depth research on each and confidently recommend them.
To learn more about how we score our reviews, see our
Mobile Credit Card Processing Rating Criteria
.
Read Next