PayPal Zettle Review (US): Formerly PayPal Here
This PayPal POS offers ease of use, predictable pricing, and a PayPal card reader, making it a great choice for most merchants who want a simple way to accept payments.
Expert Analyst & Reviewer

UPDATED
Advertiser Disclosure: Our unbiased reviews and content are supported in part by
affiliate partnerships
, and we adhere to strict
guidelines
to preserve editorial integrity.
PayPal Zettle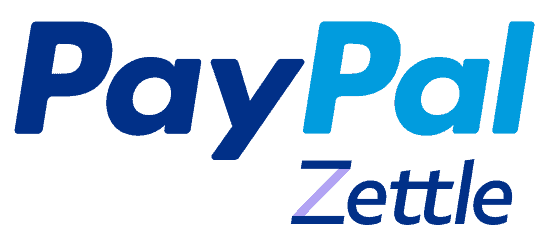 PayPal Zettle At A Glance
PayPal Zettle allows PayPal merchants to take payments in person while seamlessly connecting with PayPal's merchant services ecosystem
PayPal Zettle offers two card readers: the chip + NFC + PIN Zettle Reader ($29) and the all-in-one Zettle Terminal ($199), a mobile touchscreen device that comes with Zettle POS pre-installed
PayPal Zettle lets you accept QR code payments, offers in-app invoicing, syncs with your online store, integrates with QuickBooks Online, and much more
---
Pros
Easy-to-use interface
In-app invoicing available
Free sub-user accounts
Competitive flat-rate pricing
Ideal for lower-volume merchants
Contactless + chip + PIN card reader
New all-in-one touchscreen terminal
Cons
Account stability issues
Inconsistent customer support
Not suitable for high-risk industries
Not ideal for higher-volume merchants
What Is PayPal Zettle?
PayPal Here is no longer available for new merchants, having been superseded by PayPal Zettle. However, existing PayPal Here users can continue using PayPal Here, use and purchase PPH hardware, and retain their current processing rates.
PayPal Zettle, PayPal's mobile POS solution, combines a free mobile app with two mobile card reader options. It's part of PayPal's comprehensive merchant services ecosystem, which encompasses online card processing, business financing, POS partnerships, and much more.
PayPal Zettle offers well-designed and up-to-date card readers, an intuitive, capable app backed by the PayPal name, and a wide array of merchant services. PayPal is not without its drawbacks, though — its customer service is inconsistent, and it has less stability than you'd get with a dedicated merchant account. Despite these potential drawbacks, we still give PayPal Zettle a 4.5-star score and our recommendation as a solid mobile processing contender.
PayPal Zettle Pricing
Here is what you can expect to pay when using PayPal Zettle:
Card-Present Transactions: 2.29% + $0.09 per transaction
Manually Entered Or Scanned Transactions: 3.49% + $0.09 per transaction
QR Code Transactions: 2.29% + $0.09 per transaction
High-volume merchants may be able to negotiate better rates — contact PayPal for a custom pricing plan.
Note that merchants currently using PayPal Here (PayPal's legacy POS system) who opt to stick with it will continue to pay PayPal Here fees and rates, which are:
Swiped Transactions: 2.7% per transaction
Manually Entered Or Scanned Transactions: 3.5% + $0.15 per transaction
International Fees: You can accept non-US cards for the standard 2.7% per swipe plus a 1.5% cross-border fee and/or 2.5% currency conversion
Whether you sign up with PayPal Zettle or you're still using PayPal Here, you won't pay any:
Monthly/annual fees
PCI compliance fees
Setup fees
Equipment fees
Note that if you process a lot of American Express transactions, you could potentially save money with PayPal because of its flat-rate pricing. You'll pay less for Amex transactions with PayPal, but you might pay a little bit more for some kinds of Visa and Mastercard transactions than you would with a different merchant account.
PayPal Zettle's in-person transaction rates are more competitive than PayPal's online transaction rates, making PayPal a good choice for merchants who have an online presence but do the bulk of their sales in person. To learn more about pricing for credit card processing and how PayPal Zettle fees compare to other options, check out our guide to credit card processing rates and fees.
You should also be aware of the $20 chargeback fee. That's pretty standard in the industry because dealing with chargebacks is a headache for any payment processor. Check out our article on how to avoid merchant account holds, freezes, and terminations to learn more about how to protect your account and minimize chargebacks.
Because PayPal Zettle offers low POS processing rates and doesn't charge hidden fees, the company has earned an excellent score in this category.
We'll discuss Zettle's card readers further in the Features section, but here's how much these readers will set you back:
Zettle Reader: $29 for the first device, $79 for all subsequent devices
Zettle Terminal: $199 when purchased on a standalone basis, $239 when purchased with a built-in barcode scanner, and $269+ when bundled with a printer and dock
Paypal Zettle Transaction Limits
PayPal Zettle's transaction limits are as follows.
Chip & PIN (Includes Contactless)
$500,000 limit per 24 hours
$10,000 limit per card and payment
Chip & Signature
$200,000 limit per 24 hours
$10,000 limit per card and payment
The minimum amount for a single payment is $1.
PayPal Business Debit Card
If you want to make purchases directly from your PayPal business account, the PayPal Business Debit Mastercard lets you do so while earning an unlimited 1% cash back on all purchases. The card also lets you instantly transfer funds between your bank account and your PayPal account without paying any fees. Read our PayPal Business Debit Card review for more information.
PayPal Business Cashback Mastercard
The PayPal Business Cashback Mastercard is PayPal's new credit card, offering an unlimited 2% cash back on all purchases. There's no annual fee and no foreign transaction fee, and you can get free cards for your employees.
PayPal Zettle Features
PayPal Zettle makes for quite an attractive mobile POS package. It's easy to get started, and if you use PayPal for anything else, your information gets consolidated in one place. And along with the mobile card reader, you'll get the option to have a full countertop register.
Let's go through the features you'll get with Paypal Zettle:
Zettle App Features
PayPal & Venmo QR Codes: As offering contactless payment options become ever more important, Zettle enables you to accept both PayPal and Venmo QR code payments. Just have your customer scan your QR code using their phone.
Manual Card Entry: Need to accept payment over the phone quickly? Just enter the customer's card information into the app and the amount to be charged. The transaction is recorded, but no items are added to your sales reports.
Cash Payments: With the ability to log cash payments, you'll be able to manage more of your payments in one place. Sadly, the app doesn't currently allow you to log check payments the way PayPal Here did. However, you can still accept checks using the regular PayPal app if you have a PayPal Cash Plus account.
Item Library: PayPal Zettle lets you build an inventory of products through the dashboard or within the app. Add product images and prices (both the cost price and selling price), sort your products into categories, add up to three item variants for each item, manually adjust your tax rates, enable inventory tracking, bulk import products from a spreadsheet, and more. Stock levels will now update automatically, a feature PayPal Here lacks.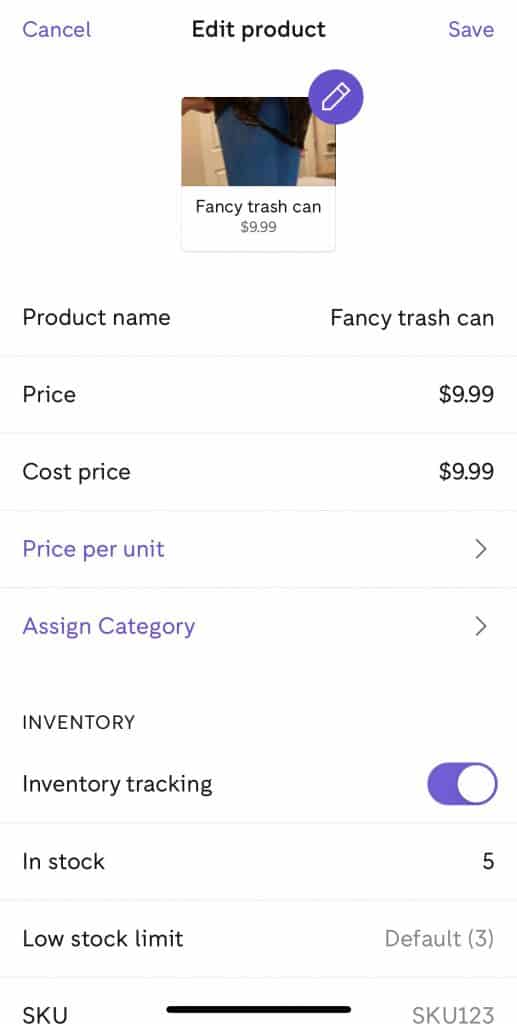 Reports: View sales reports, customize time periods, and export Excel files and PDFs from my.zettle.com. You can access your sales reports by time, specific products, and each employee. You can also see a table that shows your ten best-selling products for the selected day, week, or month.
Discounts: PayPal Zettle supports the option to add discounts at checkout if you're having a sale.
Custom Gift Cards: With Zettle, you can offer gift cards to your customers, either in physical form or via email.
Support For Register Setup: You can build an entire register setup with Zettle, with support for cash drawers, tablet stands, receipt printers, and barcode scanners. I'll give you some examples of what you can get in an upcoming section.
Refunds & Partial Refunds: You can issue full and partial refunds from the Zettle app and the online dashboard.
Integrations With Other PayPal Features
Invoicing: Invoicing features come with your PayPal business account. You can send invoices to customers through the web or directly in the PayPal Zettle app. The invoice itself is free to send, but when you get paid, Paypal takes out 3.49% + $0.49. Being able to send invoices within the app is a major plus.
Same-Day Funding: Funds go to your PayPal account almost immediately. Sign up for a PayPal merchant debit card and get access to the cash right away, even when you're not spending it online. As a bonus, it'll make your bookkeeping easier if you only use it for business expenses.
Recurring Billing: PayPal lets you set up recurring billing options, but this add-on service costs an additional $10/month. Recurring billing requires saving a customer's information on file. It makes sense you'd pay a little extra for a service that includes secure data storage and the additional risk involved with a card-not-present sale.
Sub-User Accounts: PayPal gives merchants a generous 1,000 additional sub-account users with unique permissions (at no extra charge), which is admittedly impressive. As a comparison, Square charges a monthly fee for this feature, as it's bundled with the premium employee management suite of tools.
Third-Party Integrations
eCommerce: PayPal Zettle integrates with Shopify, BigCommerce, and WooCommerce. You can sync all product and inventory changes between both platforms once you integrate with one of the above.
Accounting: Zettle integrates with QuickBooks Online, so you can import your daily sales and payments data into your QuickBooks Online account. PayPal Zettle automatically imports data to QuickBooks Online once every night in your configured time zone.
While there's nothing particularly new or innovative about the PayPal Zettle app itself, its well-designed, easy-to-navigate features fit the bill for almost any need you'd encounter on the go. As a bonus, most of the features are also easily managed right from within the app, making it a truly mobile option. Plus, connecting to a PayPal POS device is a cinch. However, it's missing a few key features that may be a deal-breaker for some merchants.
One thing that I'd like to see PayPal add is an offline mode. This would let you securely add all of your customer's credit card information into the app without an internet connection. Whether you're offline temporarily due to an outage or you're offsite, you shouldn't have to stop business due to a bad connection. Square is a processor that lets you swipe cards and then stores that information for up to 72 hours until you get connected.
Card Readers
With PayPal Zettle, you can choose between two different card readers.
PayPal Zettle Reader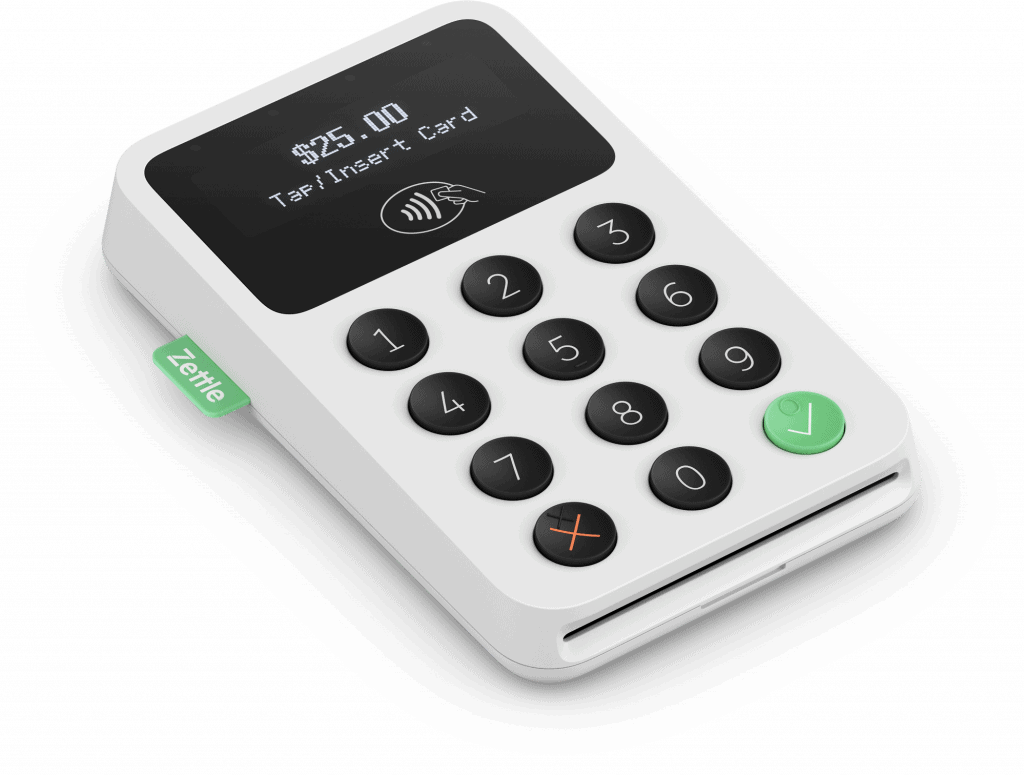 PayPal's Zettle Reader is a Bluetooth-enabled contactless + chip + PIN card reader that requires an internet connection. It connects to all Apple (iOS 10+ required) and Android (Android 5+ required) smartphones and tablets. Along with credit and debit cards, the Zettle Reader accepts Apple Pay, Google Pay, and Samsung Pay contactless payments.
PayPal states that its battery should last about eight hours or 100 transactions and that it takes one to two hours to charge via USB cable, but if you don't want to worry about charging, you can order the Zettle Dock 2 for $49 to ensure that your reader stays charged throughout your sales day. The reader also supports register setups with tablet stands, receipt printers, and barcode scanners.
Zettle Terminal
PayPal's newly-introduced Zettle Terminal is an all-in-one device — it sports a touchscreen and does not need to be paired with your smartphone or tablet, as it runs the POS app natively. The terminal comes with an activated SIM card. The cost of the terminal covers mobile data usage.
You can get the terminal for $199, while a version with a built-in barcode scanner sells for $239.
PayPal Zettle POS Systems
If it's a full POS system you want, Zettle offers four different options (referred to as Store Kits). These Store Kits range in price from $249 to $699. Each Kit comes with a Zettle Reader and can include (depending on the Kit you get) a dock, an iPad stand, a Smart Printer, thermal rolls for the printer, and a barcode scanner. Each of these accessories is available separately as well, along with a cash drawer. See the Zettle Shop for details and pricing.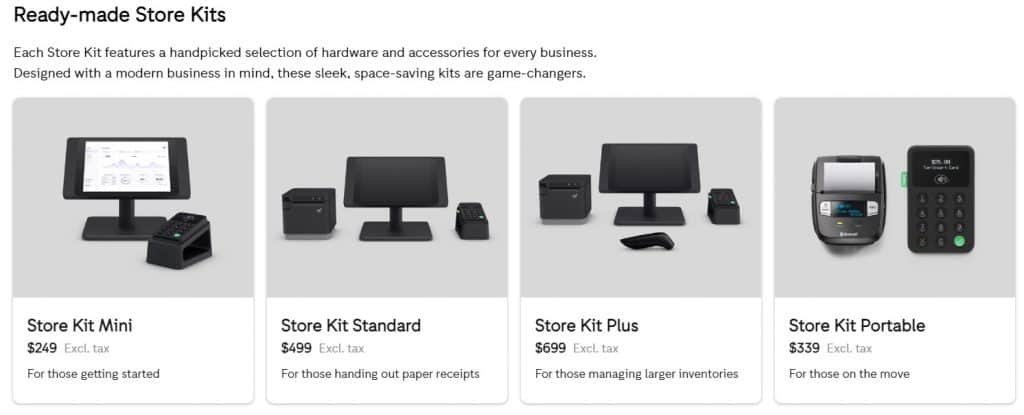 PayPal offers two great mobile readers as well as some handy add-on accessories. PayPal Zettle earns a good rating in the products and services category, but that could be bumped up to excellent if the readers had an offline mode. There isn't much to complain about here!
Customer Service & Technical Support
| PayPal Zettle Support | Availability |
| --- | --- |
| Phone Support | |
| Email Support | |
| Support Tickets | |
| Live Chat | |
| Dedicated Support Representative | |
| Knowledge Base or Help Center | |
| Videos & Tutorials | |
| Company Blog | |
| Social Media | |
For PayPal Zettle, you'll be using PayPal's main support system. PayPal has a bunch of different customer service and support options, including:
Community Forum: The PayPal Community has over 5 million members with over 2 million posts and over a thousand people online at any time. You can ask any question and likely get a quick response. However, keep in mind that PayPal doesn't guarantee the answers here. You'll find a dedicated spot for business owners called the PayPal Merchant Community, with subsections on merchant products and services, business tools, reporting, managing risk and fraud, and more. It also features a searchable knowledgebase.
Help Center: You can search and find answers for issues, including password and account access, account setup, payments-specific matters, such as holds and declines, as well as other how-tos.
Phone/Email: Sadly, PayPal's phone support is notoriously inconsistent. If you have an account-related issue, you'll have to call. For most other questions, concerns, or problems, you can find help through one of PayPal's other support channels.
Social Media: Besides the primary Twitter account and Facebook, there's a support Twitter account where PayPal will field your service and support questions.
The biggest mark against PayPal is the shoddy customer service via phone. When you need help, you probably don't have time to worry about inconsistent phone service. While we love all of the ancillary support options, a company as large as PayPal could do better, so it gets a fair rating in this category.
Contract Length & Early Termination Fee
PayPal is a third-party payment processor, which means it aggregates accounts instead of creating individual merchant accounts for each business. This model makes signing up more accessible since approval is also a simpler process with fewer hoops to jump through. Most merchants can sign up and start processing on the same day. As far as additional fees, you won't face any added monthly costs or early termination fees with PayPal Zettle.
If you already have a PayPal business account, it's fairly easy to start using PayPal Zettle — though you're not automatically guaranteed access. You'll have to apply and wait for approval.
While you won't need to sign a three-year contract, you will be signing a contract, so take the time to understand what you're signing. All in all, we're happy to give PayPal an excellent rating in this category because of the freedom it gives you to change your mind or scale when needed.
PayPal Zettle Integrations & Add-Ons
With PayPal Zettle, you have the option of connecting your card reader with the POS system you're already using. On the whole, a vast array of eCommerce, POS, and accounting integrations are available, including the following:
Adobe
Shopify
BigCommerce
Lightspeed
SalesVu
Revel
QuickBooks Online
Xero
PayPal Zettle Reviews
PayPal Zettle-specific reviews can be hard to find amidst the avalanche of PayPal reviews posted by both consumers and merchants. However, PayPal Zettle currently gets an average rating of 3.3 out of 5 at the Apple store based on 327 ratings and an average rating of 3.9 out of 5 at the Google Play store based on over 41,000 reviews.
Negative PayPal Zettle Reviews & Complaints
There aren't too many PayPal Zettle reviews, as the service doesn't typically get specific attention from review sites. PayPal doesn't have a separate BBB account for PayPal Zettle. However, Zettle's Apple and Android app stores reveal some Zettle-specific complaints:
Connectivity issues
Software glitching
Can't set permissions for staff members
Regarding PayPal in general, the one concern that you should take to heart is this:
Withheld Funds, Freezing Of Accounts, & Termination Of Accounts: As a third-party processor, PayPal is an aggregator, which means there's an inherent amount of account instability. You can get set up almost right away, but PayPal analyzes your processing habits to make sure you're not too much of a risk. Upticks in processing volume and other red flags may trigger an account review, followed by a hold/reserve, a freeze, or even an account termination. But that's the risk of using an aggregator — you'll find these issues with Square and Stripe, too.
Other consistent complaints about PayPal include the following:
Inconsistent customer service
Glitches and syncing issues
Positive PayPal Zettle Reviews & Testimonials
Zettle receives praise from users regarding the following:
Easy-to-use app
Quality card reader
Fair pricing
Seamless integration with PayPal business account
Overall, PayPal Zettle earns a good rating in the user review category.
Final Verdict On PayPal Zettle
PayPal Zettle has everything most new and mid-sized businesses need to take payments on the go. We can wholeheartedly recommend PayPal Zettle to anyone interested in standalone, pay-as-you-go processing. PayPal Zettle gets a robust 4.5 stars for its ease of use, great hardware, transparency, and overall dependability. It's not perfect by any means, but it's among the top mPOS apps on the market today.
If you already have an online store or want to start one, PayPal has a lot to offer in this area. Check out our full PayPal review for a thorough rundown of the company's online credit card processing and the other myriad tools in PayPal's payments arsenal.
Before making a final decision, however, check out some of your other options to compare features and decide what's best for your particular business type. To that end, our payment processing reviews are a great place to start. You may also want to check out our list of top-rated merchant account providers and mobile processors. And if you prefer to avoid PayPal, look at the top PayPal alternatives for businesses.
PayPal Zettle FAQs
---
The Merchant Maverick Seal of Approval 🏆
PayPal Zettle


---
After hours of in-depth research and evaluation, we can confidently recommend this brand to our readers. Get started today and see PayPal Zettle for yourself.
The Merchant Maverick Seal of Approval 🏆
PayPal Zettle


---
After hours of in-depth research and evaluation, we can confidently recommend this brand to our readers. Get started today and see PayPal Zettle for yourself.
To learn more about how we score our reviews, see our
Mobile Credit Card Processing Rating Criteria
.