Updated on:
Advertiser Disclosure: Our unbiased reviews and content are supported in part by
affiliate partnerships
, and we adhere to strict
guidelines
to preserve editorial integrity.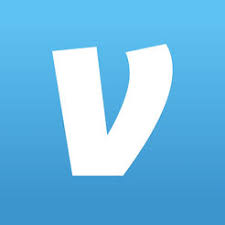 Looking for a free POS solution? Try Square POS
Date Established

2009

Location

San Jose, CA
Pros
Higher starting limit than Square Cash
Free to use
Live phone support available
Instant transfers available
Cons
Social element may not appeal to everyone
Only available in the US
Venmo Overview
My mobile wallet of choice is PayPal, and has been for years. To be honest, Venmo has only appeared on my radar in the past year or so. That said, it's time for me to take a closer look — after all, Venmo might not have the 250 million users that PayPal has, but best estimates put the user base around 10 million people, which is not an insignificant number. Square Cash has more than 7 million users by the most recent published numbers — so it's not far behind. And we've talked about Square Cash previously, so it seems fair to give Venmo a moment to shine, too.
Like PayPal and Square Cash, Venmo is a P2P mobile wallet and payments app. Its primary function is to transfer money between consumer users, though merchants can also accept payments via Venmo. What makes Venmo unique, though, is the social aspect: Venmo publishes transactions (though not the amounts) in a feed with names and comments attached to them.
It's also important to know that Venmo is owned by PayPal. Venmo was originally bought by Braintree Payments, which was eventually bought out by PayPal. Access to PayPal's resources has definitely benefited Venmo, and the company has grown up significantly in the past few years, becoming a more reliable and trustworthy financial product.
That's not to say Venmo is perfect. It's currently only available in the US, for starters. The social nature of the product may not appeal to everyone, and it isn't chock full of the kind of features you get with PayPal. Still, if you want an easy way to move money, get reimbursed by friends, and pay people back, Venmo ticks a lot of boxes. Plus, PayPal's backing certainly lends the app a degree of reliability and trustworthiness. For these reasons, I am happy to award Venmo a 5-star rating! The app is fairly easy to use and Venmo provides a lot of guidance if you're unsure of what's what. Overall, the current userbase seems genuinely and overwhelmingly happy with Venmo.
Read on for my review of Venmo, and feel free to leave us a comment!
Getting Started with Venmo
Creating an account with Venmo is very easy. You can sign up online or download the app and create your account when you fire it up. Venmo asks for your name, email address, phone number, and a password. (Or, you can sign up using Facebook.)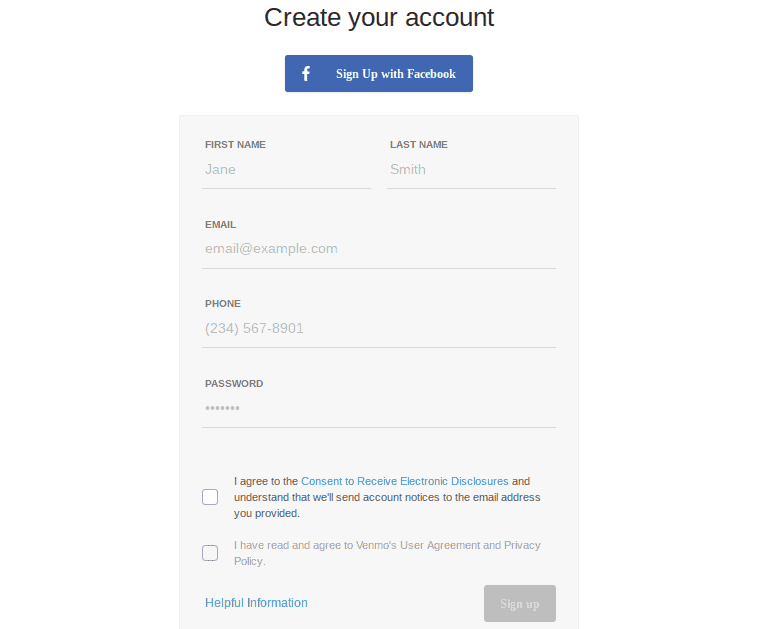 You don't have to set a username, or even link a bank account or card right away — you can do both of these things after you create the account. But obviously, you'll need to link your bank account or card at some point in order to send or receive any kind of payment, since your Venmo balance will be $0 when you sign up. (You'll have to verify your bank account, which you can do the manual way by entering your routing number and account number and waiting up to 3 days, or instantly by logging into your online banking account.)
One mistake that new Venmo users make is to create an account and then immediately send a sum of $500 or more. That's a big no-no. Venmo imposes limits on how much money new accounts can move around. A new, unverified account is limited to $299.99 in transactions in a rolling week.
However, if you take a moment to provide a few more pieces of information, Venmo will increase the limits on your account to $2,999.99 for in-app transfers to other consumer users, with a combined limit of $4,999.99 for in-app transfers, payments made to merchants, and payments using the soon-to-be-launched Venmo Mastercard.
To verify your account, you need to provide three important pieces of information:
The last four digits of your SSN
Your zip code
Your birth date
It really is fairly simple, and these guidelines are to comply with federal regulations that govern money transfer services.
Two other important considerations when setting up your Venmo account are your privacy settings and your contacts. Venmo finds contacts using your Facebook account or your phone's address book, though you can control which names it can access. These are your friends on Venmo's social network, and this is actually fairly important to the experience. (For example, Venmo looks at whether two parties in a transaction have any mutual friends to help identify whether it might be legitimate or fraudulent.)
When you send money, Venmo prompts you to include a note of some sort. This can be an explanation of what the transaction is for (pizza with Sarah), or as simple as an emoji.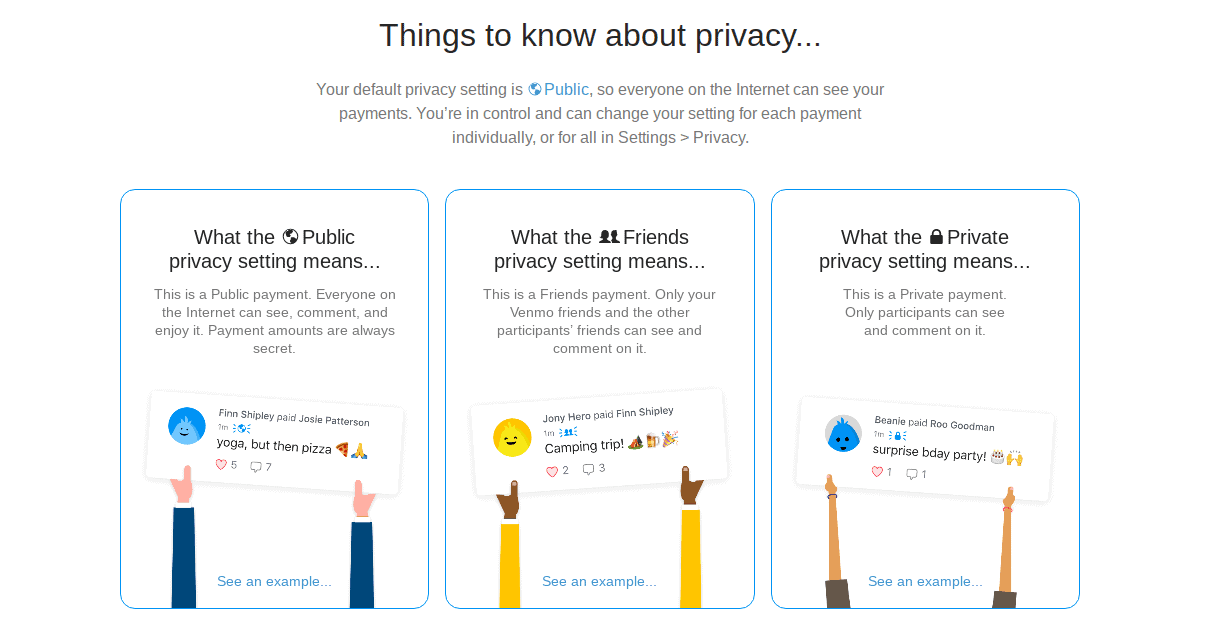 Venmo will prompt you to choose your privacy settings when you sign up. You can opt to make all transactions private (visible only to the parties involved), friends-only (visible to friends of all parties involved), or public. However, bear in mind that Venmo does make "Public" the default setting.
Finally, here's one important fact to know: Venmo's website serves basically as a dashboard for the app. You can sign up and log in to review your transactions in a browser, but unlike with PayPal, you will not be able to send or request funds on the web. All transactions are handled in the mobile app.
Venmo Features
Venmo includes everything you would expect to find in a basic P2P payments app, though it doesn't have all the bells and whistles that you get with PayPal. However, it has other features that make it more than just "Not Quite PayPal" — which it's time we talk about!
Here's what you can expect as far as Venmo's capabilities:
Send Or Request Payments: Send money to friends to cover your share of dinner or remind your roommate that they owe you their share of utilities with the send/request features.
Pay With Siri Or iMessage: iOS users can also tell Siri to send a payment or send one via iMessage. Sadly, there's no equivalent option for Android users.
Scan Codes: Sending a friend of a friend a payment? To eliminate some of the guesswork and make sure you've got the right Alexander Hamilton, Venmo has introduced scan codes — QR codes that you can scan from one device to make sure that A.ham1776 really is their username and that the funds will go to the right person.
Venmo Card: The Venmo Card is new, and technically it's not launched yet — but when it does launch you'll be able to spend your Venmo balance anywhere that accepts Mastercard. You can sign up for the waitlist if you're interested, but there isn't much information available beyond that.
Social Feeds: Curious about who's paying who on Venmo? Personally, I don't care in the slightest but if you want to know, you can always check Venmo's transaction feeds, which can be sorted by your transaction, your friend's transactions, or public transactions. Personally, I have zero interest in the social aspect of Venmo and I honestly feel that it's borderline irresponsible.
What you won't see are any money pools, Venmo.me sites, or random discounts for paying with Venmo. Venmo had a beta of a group payments account back in 2o15, but it opted to not continue the option. For the most part, the app hasn't updated its features significantly in recent years.
However, what Venmo has implemented more recently is the ability to pay in apps or in select stores using Venmo. Using this feature, you can also split purchases and request a share of the total purchase amount from one or more of your friends. (This makes splitting a restaurant bill a whole lot easier.)
This is not yet a widespread capability, but you might start to see more options to pay with Venmo in apps in the near future. That's because PayPal has revamped its Checkout feature (formerly Express Checkout) to include a "Pay with Venmo" button. Merchants who use PayPal Checkout basically allow PayPal to display contextual checkout options based on what PayPal knows of the user — for example, if PayPal can tell that you have a Venmo account, it'll show you a button that will let you pay with Venmo instead of PayPal. Is that a tiny bit invasive? Probably, but it's the kind of experience we've all signed on for by using mobile apps.
Costs To Use Venmo
The good news is that there are no costs to use Venmo. The app is free and sending payments or requesting payments from friends is free. Funding your Venmo wallet from your bank account is free, too.
There are just two situations in which you, as a consumer user, might encounter some additional costs:
Funding Balances From A Credit Card: 3% fee
Instant transfers To a Bank Account/Debit Card: 1% fee ($0.25 minimum, $10 maximum)
Again, you can fund your Venmo wallet from a bank account without incurring any costs. You can also transfer funds to your bank account for free with standard processing times — 1-3 business days, generally.
Obviously, merchants who accept Venmo as a payment option will incur fees — but that's a different discussion! For now, if you are using Venmo just to move money around and pay back your friends (or get paid by your friends), you won't have to pay anything to use the app. The only costs are optional ones, which is nice to see.
Venmo Security
I'm reasonably impressed with Venmo's app security, which is likely a side effect of being owned by PayPal (often a target of phishing scams). You have multiple ways of keeping your account secure at your fingertips, and I suggest that you take the time to familiarize yourself with the options and enable any security features you prefer.
Here's a quick run-down of Venmo's security features:
Multifactor Authentication: When you sign into your Venmo account from a new device, the app will ask you to verify the login by sending a code to your registered mobile device. Some users have the alternative of entering their banking information to prove their identity, but this isn't a universal feature. Plus, Venmo will keep a list of recognized devices, and if you ever lose your phone, you can log into the web portal and remove your phone's access to the app.
PIN Authorization: Another security feature Venmo offers is the ability to require a PIN every time you open the app. For iOS users with TouchID or Android users with fingerprint scanners, you can enable fingerprint identification, but obviously, you need to have biometric authentication already set up on your device before you can enable it in Venmo. You also need to enable the PIN security feature as well.
Transaction Privacy Settings: When you first sign up for Venmo, you'll be asked to set your preferences for transaction privacy levels. You can modify these at any time, of course. Plus, you can retroactively apply privacy settings to all of your transactions or manage them at the individual transaction level. This is pretty similar to Facebook's settings about post privacy — if you're familiar with those, understanding Venmo's settings will be fairly easy.
Block Users: Because Venmo combines a social aspect with P2P payments, a block feature is a necessity. Venmo lets you block a phone number, email, or username so that the individual cannot send you requests or see your transaction on Venmo at all. You can unblock users at any time by going into the settings menu.
All of this is good, and I encourage you to be smart and review your security settings — take advantage of the tools Venmo provides to protect yourself.
Customer Support
Venmo does surprisingly well on the customer service front. You can call in for phone support from 9 AM to 5 PM Central Time, Monday through Friday. However, Venmo also allows you to access live chat or email support from within the app. These support options are available 24 hours/day, Monday through Friday, and from 8 AM to 10 PM Central Time on Saturdays and Sundays. This is pretty awesome, considering that Square Cash doesn't offer live chat or phone support at all.
While you can handle some security-related tasks yourself, you can also reach out to support to report suspicious transactions on your account or to get help with a lost phone. Venmo's help center has plenty of information to explain what you need to do in these circumstances, and it's easy to find that information, which is even better. It also has tons of helpful information about all of the other aspects of using Venmo, too. In fact, Venmo's help center is actually more functional than PayPal's comparable knowledgebase.
User Reviews
One important thing to understand about any P2P payments app is that it's not a banking product. It's a digital wallet, which does mean to some extent that you're taking a risk by holding your money there. If something were to happen to PayPal, Venmo, or Square Cash, and your funds were lost, you wouldn't be able to take advantage of any FDIC protections. This is altogether a small risk — Square and PayPal aren't about to go bankrupt any soon.
But these apps don't operate under the same stringent requirements or guidelines that govern banks, and that does occasionally lead to some headaches for consumers. Venmo, PayPal, and Square Cash all receive the same sort of complaints from customers — mostly, money getting lost in limbo. In the case of Venmo, some of this may be users not verifying their accounts before they send large sums, or not being aware of the limits. Venmo does have disclaimers in its terms of use that specify that transactions are reviewed and may be subject to holds or even outright reversals (the latter usually happens in cases where someone purchased unauthorized goods and Venmo finds out).
Overall, though, Venmo has a great rating in the app stores — 4.7 stars over more than 170,000 reviews in Google Play and 4.9 stars on more than 4.4 million reviews in iTunes. Customers who have had bad experiences tend to be very loud and those complaints are generally easy to find on the Internet. But those few hundred horror stories are definitely few and far between when you consider Venmo's estimated userbase of 10 million people. Overall, the vast majority of users seem to be really happy with Venmo.
Final Verdict
I don't think Venmo is going to become my default P2P wallet any time soon, but that has nothing to do with the quality of the product. Most of my social network relies on PayPal, and moving away from that would be tedious. However, I was genuinely surprised by how many things I like about Venmo. I'm wary of the social element, and I encourage you to check your privacy settings if you use Venmo. But the app is easy to use, requirements and account limits are clearly spelled out, and Venmo is surprisingly good at disclosures. Combined with the glut of positive customer reviews in the app stores, I have to admit that Venmo is the real deal — it's a great P2P wallets app, and definitely worth its status as "the" mobile wallet for certain demographics.
For that reason, I am happy to award Venmo 5 out of 5 stars. I still think the social aspect of Venmo is, well, weird. If you sign up with Venmo, you should absolutely make sure that the privacy settings are adjusted to a level you feel comfortable with. I would love to see a few more features, too. But in light of everything else this app has to offer, I see no reason not to give Venmo a top rating and our whole-hearted endorsement.
---
The Merchant Maverick Seal of Approval 🏆
Venmo


---



After hours of in-depth research and evaluation, we can confidently recommend this brand to our readers. Get started today and see Venmo for yourself.
The Merchant Maverick Seal of Approval 🏆
Venmo


---



After hours of in-depth research and evaluation, we can confidently recommend this brand to our readers. Get started today and see Venmo for yourself.
Read Next