Venmo Review
P2P apps such as Venmo will be more of a fixture as we move toward a cashless society, and it's increasingly becoming a more trustworthy financial product.
Expert Analyst & Reviewer

UPDATED
Advertiser Disclosure: Our unbiased reviews and content are supported in part by
affiliate partnerships
, and we adhere to strict
guidelines
to preserve editorial integrity.
Venmo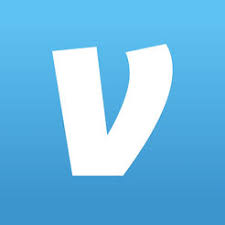 Pros
No charge for debit card and bank account transfers
No annual fee for the Venmo Credit Card
Live phone support is available
Instant transfers available
Cons
Transactions are publicly viewable under default privacy settings
3% charge for credit card transfers
Higher than average risk of account holds and freezes
Only available in the US
Venmo Overview
Venmo is a peer-to-peer (P2P) mobile wallet and payments app that allows money transfers between consumers. Payments to merchants are also supported using Venmo For Business, but this article will primarily focus on the consumer-to-consumer side of the company's business. Unlike similar apps, Venmo has a social aspect: Venmo publishes transactions (though not the amounts) in a feed with names and comments attached to them.
PayPal owns Venmo, and access to PayPal's resources has definitely benefited Venmo. The company has grown up significantly in the past few years, becoming a more reliable and trustworthy financial product.
However, it's not perfect. The social nature of the product may not appeal to everyone, and it lacks the wide variety of additional features found in PayPal. It's also currently only available in the US. Nonetheless, it's an easy way to move money, get reimbursed by friends, and pay people back. Plus, PayPal's backing certainly lends the app a degree of reliability and trustworthiness.
Overall, Venmo earns a score of 4.5 out of 5 stars.
Read on for more information on using Venmo as a customer. Also, feel free to leave us a comment!
Getting Started With Venmo
Creating an account with Venmo is very easy. You can sign up online or download the app and create your account when you fire it up. Venmo asks for your name, email address, phone number, and password. (Or you can sign up using Facebook.)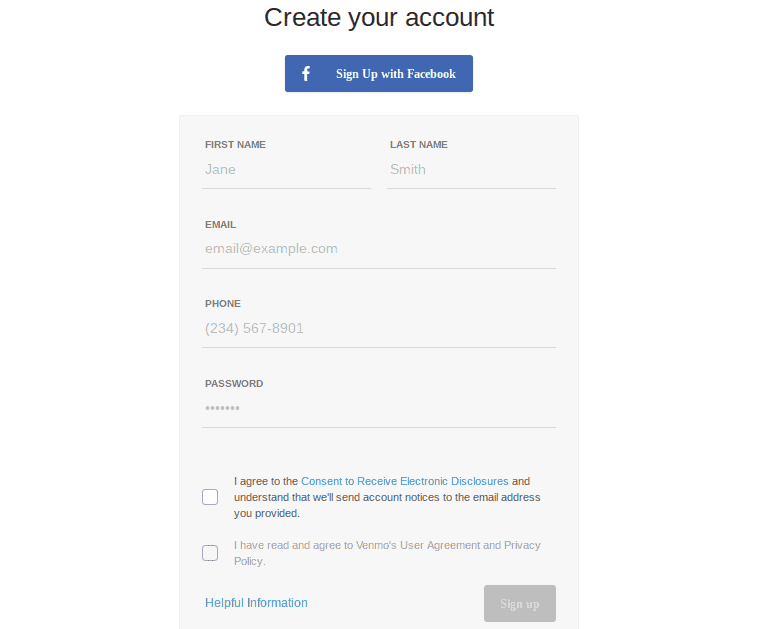 You don't have to set a username or even link a bank account or card right away — you can do both of these things after creating your account. But you'll need to link your bank account or card at some point to send or receive any kind of payment since your Venmo balance will be $0 when you sign up. (You'll have to verify your bank account, which you can do the manual way by entering your routing number and account number and waiting up to three days or instantly by logging into your online banking account.)
Completing the account verification process is very important, as, without it, you'll be limited to sending no more than $999.99 per week from your bank account. Once your account is verified, this limit increases to $19,999.99 per week, with a single transaction being limited to no more than $2,999.99. Identity verification is simple and can be completed in a few minutes using the Venmo app.
To verify your account, you need to provide three important pieces of information:
The last four digits of your SSN
Your zip code
Your birth date
Two other important considerations when setting up your Venmo account are your privacy settings and contacts. Venmo finds contacts using your Facebook account or your phone's address book, though you can control which names it can access. These are your friends on Venmo's social network, which is actually fairly important to the experience. (For example, Venmo looks at whether two parties in a transaction have any mutual friends to help identify whether it might be legitimate or fraudulent.)
When you send money, Venmo prompts you to include a note. The note can explain what the transaction is for (e.g., pizza with Sarah) or as simple as an emoji.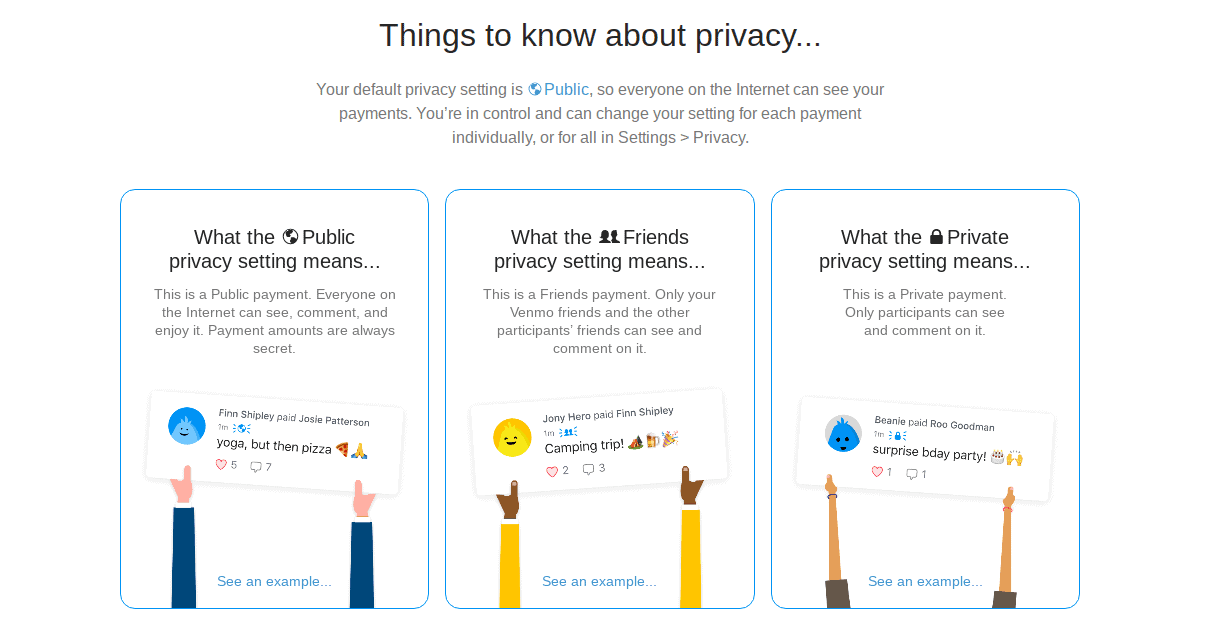 Venmo will prompt you to choose your privacy settings when you sign up. You can opt to make all transactions private (visible only to the parties involved), friends-only (visible to friends of all parties involved), or public. However, bear in mind that Venmo does make "Public" the default setting.
Finally, one important fact to know is that Venmo's website serves as a dashboard for the app. You can sign up and log in to review your transactions in a browser, but unlike PayPal, you will not be able to send or request funds on the web. All transactions are handled in the mobile app.
Venmo App Features
In recent years, Venmo has evolved beyond just a basic P2P payments app, adding features that expand its range of financial services and make it more like a bank. However, it's not a bank, and because of that, you should approach some of these new features with caution.
Here's a summary of Venmo's major features:
Send & Receive Payments: Venmo's core feature allows you to send money to other Venmo users or request payments from them using just the app on your phone. iPhone users can also make payments using Siri or iMessage.
Personal QR Codes: To further ensure that you're sending money to the right person, the Venmo app includes a QR code feature that will generate a personal QR code for you to verify your identity. You can send this code to anyone who wants to send you money via Venmo by text, email, or any other sharing options supported by your smartphone.
Direct Deposit: If your employer uses Direct Deposit, you can have your paycheck deposited directly into your Venmo account. Unlike funds from other sources, these funds will be eligible for FDIC protection (up to $250,000). The main attraction of this feature is that you can receive your paycheck up to two days earlier than usual.
Venmo Debit Card: If you're a Venmo power user, you can now sign up for a Mastercard-branded Venmo Debit Card that links to your Venmo account and comes complete with an EMV chip and NFC-based tap-to-pay functionality. The Venmo Debit Card supports cash back offers at participating merchants. One nice feature is that you can easily disable your card from the Venmo app if it's lost or stolen.
Venmo Credit Card: For full immersion into the Venmo ecosystem, you can apply for and obtain a Visa-branded Venmo Credit Card. In addition to EMV and tap-to-pay functionality, your card also includes an imprint of your personal Venmo QR Code and integrates directly with the Venmo app. There's no annual fee, and cash back rewards from participating merchants are available. Other than that, however, it's a pretty vanilla credit card in terms of additional perks.
Social Feeds: A somewhat controversial feature, Venmo includes a social feed that shows you both your payments and those made by other people to your friends. While amounts aren't displayed, many people will understandably not be comfortable with this feature. Luckily, you can easily shut it off in your privacy settings.
Buy & Sell Cryptocurrency: Venmo has recently jumped on the crypto bandwagon and now supports buying, selling, and holding four of the major cryptocurrencies on the market (Bitcoin, Ethereum, Bitcoin Cash, and Litecoin). Crypto held in your Venmo account is FDIC-insured, and the Venmo app can automatically send you a notification if the price increases or decreases by more than 5% or 10% in a day. (Expect to receive a lot of these notifications due to the high volatility of the crypto market).
With all of these new features, it's clear that Venmo is trying to offer the same financial services as your bank does but without actually being a bank (and thus subject to heavy government regulation). While many of these services are provided through third-party agreements with actual banks, at the moment, they're all pretty basic in comparison to what a bank can offer you.
Most importantly, except for crypto holdings and Direct Deposit, funds in your Venmo account are not FDIC-insured. You also cannot earn interest on funds in your Venmo account.
For these reasons, we think it's best to use Venmo as a temporary place to park your money and a convenient way to make payments to friends, co-workers, and businesses that accept Venmo.
Costs To Use Venmo
There are generally no costs to use Venmo. The app is free, and sending payments or requesting payments from friends is free. Funding your Venmo wallet from your bank account is free, too. However, Venmo has to make money somehow, and as its feature set has expanded, it's introduced some fees that apply in specific situations.
Here's a rundown of the Venmo services that will cost you money:
Funding Balances/Payments From A Credit Card: 3% processing fee
Transfer Funds To/From Bank Account: No fee (standard processing times — one to three business days)
Instant Transfers To/From Bank Account: 1.5% fee ($0.25 minimum, $15 maximum)
Note: Effective May 23, 2022, the cost for Instant Transfers will increase to 1.75%, with a minimum charge of $0.25 and a maximum capped at $25.
Venmo Debit Card Fees
Venmo Debit Card users should be aware of the following fees:
No application fee
No fee to use for a purchase
No fee for cash withdrawals at MoneyPass ATMs
$2.50 ATM Domestic Withdrawal Fee for Mastercard, PULSE, or Cirrus ATMs
$3.00 Over The Counter cash withdrawal fee to withdraw at a bank or other financial institution
Note that withdrawals are limited to the funds in your Venmo balance, and a $400 daily withdrawal limit applies.
Venmo Credit Card Fees
Use of the Venmo Credit Card is governed by the applicable Cardholder Agreement, which includes the following provisions:
No application fee
No annual fee
No foreign transaction fees
15.24%-24.24% APR, based on account type ($2.00 minimum interest charge, if applicable)
$10.00 or 5% (whichever is greater) fee for cash advances
Up to $40.00 per late payment
Up to $29.00 per returned payment
Cryptocurrency Fees
If you buy or sell cryptocurrencies on Venmo, you will be charged a fee that varies based on the size of the transaction:
$0.49 fee ($1.00-$4.99)
$0.99 fee ($5.00-$24.99)
$1.99 fee ($25.00-$74.99)
$2.49 fee ($75.00-$200.00)
1.80% fee ($200.01-$1,000.00)
1.50% fee (Over $1,000.00)
Venmo App Security
The Venmo app is very secure, likely due to parent company PayPal's extensive efforts to protect customers from phishing scams and other forms of online fraud over the years. Multiple security features are available — either by default or as user-selected options.
We strongly encourage you to set up and use all available security features, especially if you're a frequent Venmo user.
Here's a quick run-down of what's available:
Multifactor Authentication: When you sign in to your Venmo account from a new device, the app will ask you to verify the login by sending a code to your registered mobile device. Some users have the alternative of entering their banking information to prove their identity, but this isn't a universal feature. Venmo keeps a list of recognized devices, so you can log into the web portal and remove your phone's access to the app if you ever lose your phone.
PIN Authorization & Biometric Authentication: Another security feature Venmo offers is the ability to require a PIN every time you open the app. Biometric authentication features such as Face ID and Touch ID (and their Android equivalents) can also be enabled.
Transaction Privacy Settings: When you first sign up for Venmo, you'll be asked to set your preferences for transaction privacy levels. You can modify these at any time, of course. Plus, you can retroactively apply privacy settings to all of your transactions or manage them at the individual transaction level. This is pretty similar to Facebook's settings about post privacy — if you're familiar with those, understanding Venmo's settings will be fairly easy.
Block Users: Because Venmo combines a social aspect with P2P payments, a block feature is a necessity. Venmo lets you block a phone number, email, or username so that the individual cannot send you requests or see your transactions on Venmo. You can unblock users at any time by going into the settings menu.
Customer Support
| Venmo Support | Availability |
| --- | --- |
| Phone Support | |
| Email Support | |
| Support Tickets | |
| Live Chat | |
| Dedicated Support Representative | |
| Knowledge Base or Help Center | |
| Videos & Tutorials | |
| Company Blog | |
| Social Media | |
Venmo does surprisingly well on the customer service front. You can call in for phone support from 9 AM to 5 PM Central Time, Monday through Friday. However, Venmo also allows you to access live chat or email support within the app. These support options are available 24 hours/day, Monday through Friday, and from 8 AM to 10 PM Central Time on Saturdays and Sundays. This is pretty awesome, considering that Square's competing product, Cash App, doesn't offer live chat or phone support.
While you can handle some security-related tasks yourself, you can also reach out to support to report suspicious transactions on your account or to get help with a lost phone. Venmo's online help center has plenty of information to explain what you need to do in these circumstances, and it's easy to find that information. It also has tons of helpful information about all of the other aspects of using Venmo. In fact, Venmo's help center is more functional than PayPal's knowledgebase.
Venmo Reviews, Complaints, & Common Problems
Venmo has been accredited by the BBB since 2016 and currently has an A rating. The company has received 2,819 complaints over the last three years, with 1,384 of those complaints coming in within the previous twelve months. While this may seem like a very high complaint level, it's actually relatively low considering that the company has a user base of over 83 million people. Representatives from Venmo respond to every complaint, offering remarkably extensive explanations for what went wrong.
We should note that the vast majority of complaints involve held or frozen transactions, something the company is well within its rights to do if fraud is suspected or a violation of its User Agreement has occurred. Many of these complaints involve customers who didn't validate their accounts before attempting to send large amounts of money, often exceeding transaction limits that are clearly spelled out on Venmo's website. While Venmo has disclaimers in its terms of use that specify that transactions are reviewed and may be subject to holds or even outright reversals, very few customers will read the fine print before using the service.
Venmo has a great rating in the app stores — 4.2 out of 5 stars over more than 592,000 reviews in Google Play and 4.9 out of 5 stars on more than 13.7 million reviews in Apple's App Store. Customers who have had bad experiences tend to be very loud, and those complaints are generally easy to find on the internet. However, most users seem to be really happy with Venmo.
Final Verdict on Venmo
As we increasingly move toward a cashless society, P2P apps such as Venmo will become more of a fixture of everyday life. The company offers a high-quality product, and for users who just want to send or receive the occasional payment, it's possible to use Venmo without paying a dime for it.
Of course, companies don't make money by giving things away for free. That's why Venmo and its competitors are increasingly offering additional products and services, such as debit cards, credit cards, and other "optional" features that you will possibly have to pay for.
While features such as the Venmo Debit Card may be useful if you use Venmo daily, it probably lacks the kind of additional features that your bank can offer you. We're also wary of Venmo's social feed, as it has the potential to be misused and leaves it up to individual customers to protect their privacy.
We'd also note that the IRS is cracking down on Venmo and other P2P payments platforms, as they've become an easy and convenient way for some users to avoid required tax reporting on business transactions. The company has responded by offering its Venmo For Business service, which will keep freelancers, independent contractors, and other small business owners from unknowingly (or intentionally) violating the law. It's not free, of course, but its costs are competitive with what other payment service providers (PSPs) such as Square can offer you.
Overall, Venmo earns an enviable score of 4.5 out of 5 stars. As long as you verify your identity when setting up your account, properly lock down your privacy settings, and read through the fine print on the Venmo website for a better understanding of the service's limitations, it should be a useful tool for any consumer who wants a more convenient way to send and receive payments.
---
The Merchant Maverick Seal of Approval 🏆
Venmo


---
After hours of in-depth research and evaluation, we can confidently recommend this brand to our readers. Get started today and see Venmo for yourself.
The Merchant Maverick Seal of Approval 🏆
Venmo


---
After hours of in-depth research and evaluation, we can confidently recommend this brand to our readers. Get started today and see Venmo for yourself.