Toast POS Review 2023
Toast POS is all-in-one point of sale and payment processor that offers advanced features for quick-serve and full-service restaurants and runs on Android instead of iOS.
Expert Analyst & Reviewer

UPDATED
Advertiser Disclosure: Our unbiased reviews and content are supported in part by
affiliate partnerships
, and we adhere to strict
guidelines
to preserve editorial integrity.
Toast POS
Toast POS At A Glance
Restaurant-specific hardware and software for all sizes of business
Excellent mobile ordering functionality
All-in-one software with processing and eCommerce options
---
Pros
All-in-one POS
Android-based
Advanced reporting tools
Advanced employee management
eCommerce integration
Cons
Limited pricing disclosed online
Early termination fee
What Is Toast?
Toast is an all-in-one Android-based POS system built specifically for the restaurant industry with an excellent feature set, strong tableside ordering, and terrific customer service.
Toast is different from many iOS-based competitors in the POS world because it runs on Android operating systems, making the tablets that use it cheaper and more versatile. There are a number of add-ons and third-party integrations available. Toast Go, a mobile POS device created specifically for the platform, makes Toast an appealing option for restaurants.
Toast is sold as an all-in-one POS package, including software, hardware, and payment processing. Unfortunately, it also comes with an iron-clad credit card processing contract. So, as with any POS company, it's important to read and understand your agreement with Toast before signing up.
Toast POS Pricing
Toast has recently restructured its pricing plans. The best part of Toast's new pricing structure is that a free plan is now available that may be a good option for smaller restaurants. Toast offers three pricing tiers:
Starter
Toast's Starter plan is priced at $0/month and includes the following:
Cloud-based POS
Payment processing
Customer care
Real-time fraud monitoring
Point Of Sale
This plan starts at $69/month and is for smaller to mid-sized restaurants. It includes:
Custom configuration
Choose your own hardware
Optional mobile order add-on
Essentials
The Essentials plan starts at $165/month and includes everything from the Starter plan, plus:
Online ordering and delivery
Toast TakeOut app
Custom hardware configuration
Custom
The Custom plan is quote-based and can include everything from the Essentials plan, plus:
Gift cards
Loyalty
Marketing
Access to integrations
Toast is also running a promotional deal for new restaurants for $110/month that includes cloud-based point of sale, lite payroll, lite scheduling, and basic employee management tools.
Add-ons are available for your plan for an extra cost. Add-on software modules include Toast Payroll & Team Management, Toast Online Ordering, Toast Marketing, Toast Loyalty, Kitchen Display System, Kiosk, Toast Inventory, Multi-Location Management, etc.
Extra Toast Costs & Fees
Unfortunately, Toast does not give pricing for most of its add-ons on its website, except for its new "Toast Now" add-ons, which are all digital ordering solutions designed to get your restaurant up and running online ASAP. Pricing for Toast Now's digital add-ons is as follows:
Toast Now: Starts at $75/month and includes Online Ordering, Toast TakeOut, contactless delivery, and delivery services.
Toast Now Plus: Starts at $100/month and includes Online Ordering, Toast TakeOut, contactless delivery, delivery services, and eGift cards.
Toast Now Premium: Starts at $175/month and includes Online Ordering, Toast TakeOut, contactless delivery, delivery services, eGift cards, and email marketing.
Interestingly, you can purchase Toast Now digital ordering options even if you are not a Toast point of sale user. So even if you use a different POS for in-person transactions, you can use Toast Now to sell online.
Toast POS Features
| Toast POS Features | Availability |
| --- | --- |
| Multi-Store Support | |
| Contactless Payments | |
| Multi-Channel Selling | |
| Gift Cards | |
| Customer Loyalty | |
| Marketing Tools | |
| Online Ordering | |
| Inventory Management | |
| Reporting | |
| Menu Management | |
| Delivery Management | |
| EBT Acceptance | |
| Employee Management | |
| Text Messaging | |
As simple as it is to use, Toast packs quite a punch in the sheer number and variety of feature options. Toast's new digital ordering options and features for a socially-distanced guest experience are especially relevant right now.
As follows are some of Toast's most notable software features.
Ordering: With Toast, your staff can take orders using handheld tablets or with counter-top terminals that swivel to become customer-facing. Toast's handheld tablets can access the whole application (including reports). Directly from a tablet, your wait staff can take orders, send orders and firing instructions to the kitchen, and manage their customers' tabs and payment options from anywhere in the restaurant.
Tips: Toast offers customized tip percentage options. This method promotes tipping and enables you to save time at the end of the day by automatically calculating tips, distributing them, and conducting server payouts. Toast's newest update also allows for servers to declare negative tips. Another update includes the ability to calculate tip percentages based on multiple sales categories.
Menu Creation: The POS menu will generally correspond to any physical menus you use in your restaurant and can be divided just like your normal menu would be into Breakfast, Lunch, Dinner, Cocktails, Dessert, etc.
Pricing Menu Items: Toast allows you to strategize when costing your menu items and create pricing rules that can be applied to entire groups, different item sizes, or items that need special pricing based on the menu they are located in.
Restaurant-Based Reporting: Internal reporting is one of Toast's most compelling offerings, and there are a wide variety of reports available, from simple sales reports to labor reports, product mix reports, tip reports, and more. Reports update in real-time and can be accessed anywhere, anytime. The summary report is especially robust and shows net sales, gratuity, tips, total guests, table turn time, and a breakdown of all service types and payment methods.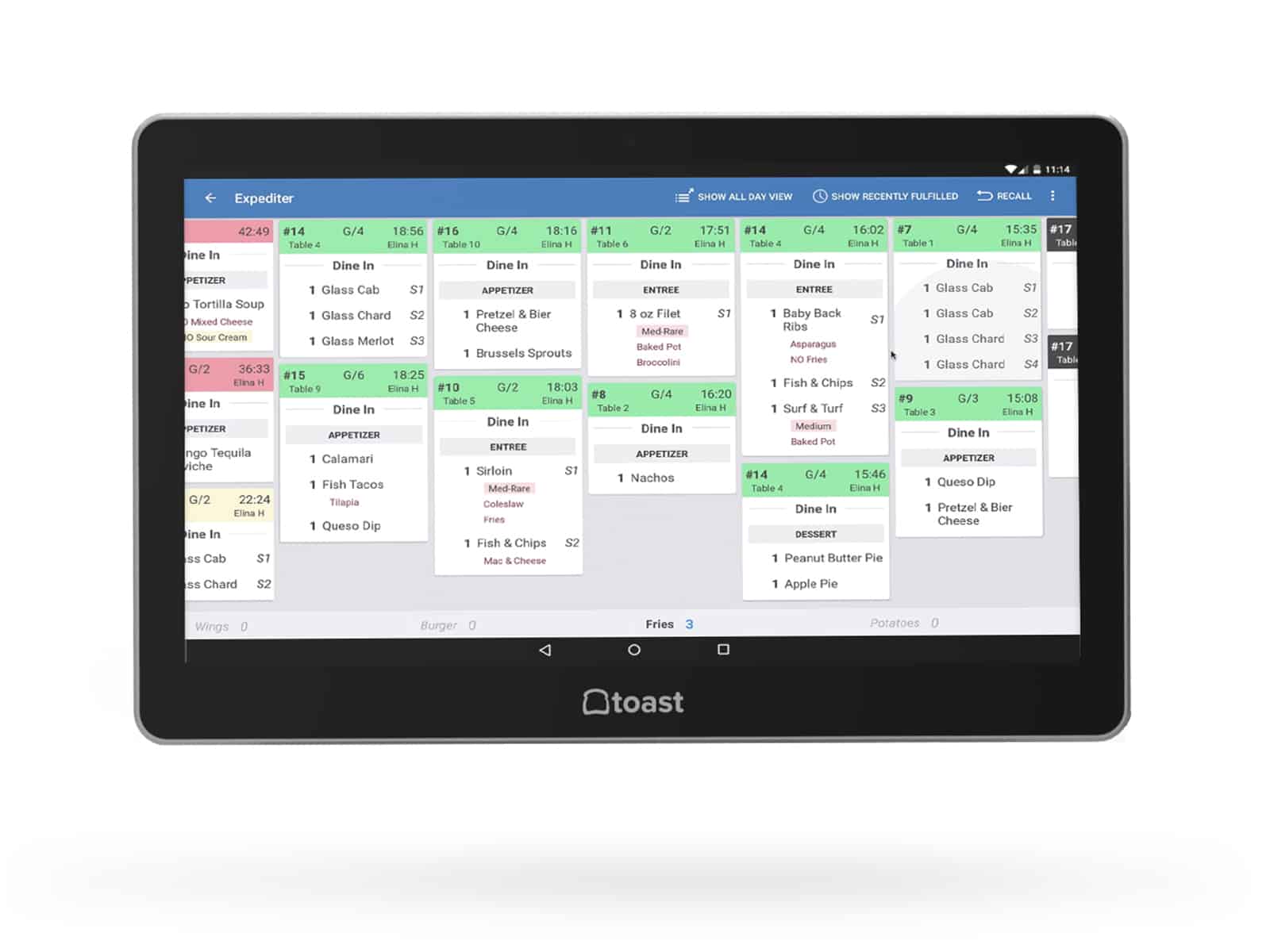 Customer Data Collection & Customer-Based Reporting: The Toast system has great internal reporting. It also features an integrated customer relationship management (CRM) system that collects customers' contact information and order history. Using the customer report, you can see which customers have visited your restaurant the most or spent the most money in any time frame you choose. You can then drill down further by selecting individual customers and viewing detailed information about the person's average checks, days since their last visit, and most frequently ordered items.
Labor Management: User-based permissions allow you to control what information your employees can see and who has access to what. You can see the efficiency of your kitchen and quickly assess servers' sales, comparing them with expectations. You can also see if managers are doling out a larger number of voids than expected. Additionally, you can customize your Toast account to create different services/roles for your staff and designate specific hours of operation.
Time Tracking: Time tracking is a feature that few POS companies dare to tackle, but with Toast, you can assign each of your employees a unique 4-digit PIN (used to clock in and clock out on the Toast tablets). This simple method allows you to track labor, and managers can see a quick overview of everyone currently clocked in and out whenever they need to.
Inventory Management: Toast also includes an inventory management system. Specifically, this new feature provides inventory control, inventory reporting, a recipe costing tool, a food cost calculator, an inventory variance report, and a menu engineering chart that helps you analyze your best-selling and most profitable menu items.
Kitchen Display System: Toast's KDS system is very intuitive and helpful to cooks. The system is color-coded and can feature times on each ticket. On the other end, servers can be notified when an order is ready through a flash or a sound on the system to help improve turnover.
Toast Go: Toast is at the forefront of the game when it comes to tableside ordering. Toast Go is a completely optimized and integrated handheld device that is simple for servers to use and can help get orders to the kitchen quickly and accurately. It also allows servers better communication with your customers and the ability to make changes instantly from the palm of their hand. In terms of health and safety, the device also minimizes touchpoints; since each server has a portable POS, they don't all need to use the main POS register.
Kiosk Mode: Toast's kiosk mode makes things easy on its customers, allowing users to order on their own, cutting down on errors, and minimizing human contact points. A new feature added to kiosk mode ups the level of convenience, as Toast also has a quick re-order function for repeat customers who often have the same order. They can swipe their card, and it will immediately pull up their previous order, which they can select with the touch of a button.
Digital Receipts: Offered through Toast Go, this is a genius feature that allows customers to give an experience rating while still at the restaurant. If the customer has a negative experience for some reason, the restaurant will receive this information, and a manager may have the opportunity to rectify the situation before the customer leaves to give the dreaded negative Yelp review.
Pay At Table: The Pay at Table feature, available to all Toast customers, allows guests to pay for their meal using their own device. This socially-distanced dining feature lets guests scan a QR code on their receipt and pay on their phone without handing over their credit card. Additionally, a mobile app that enables customers to order from their phones has recently been introduced.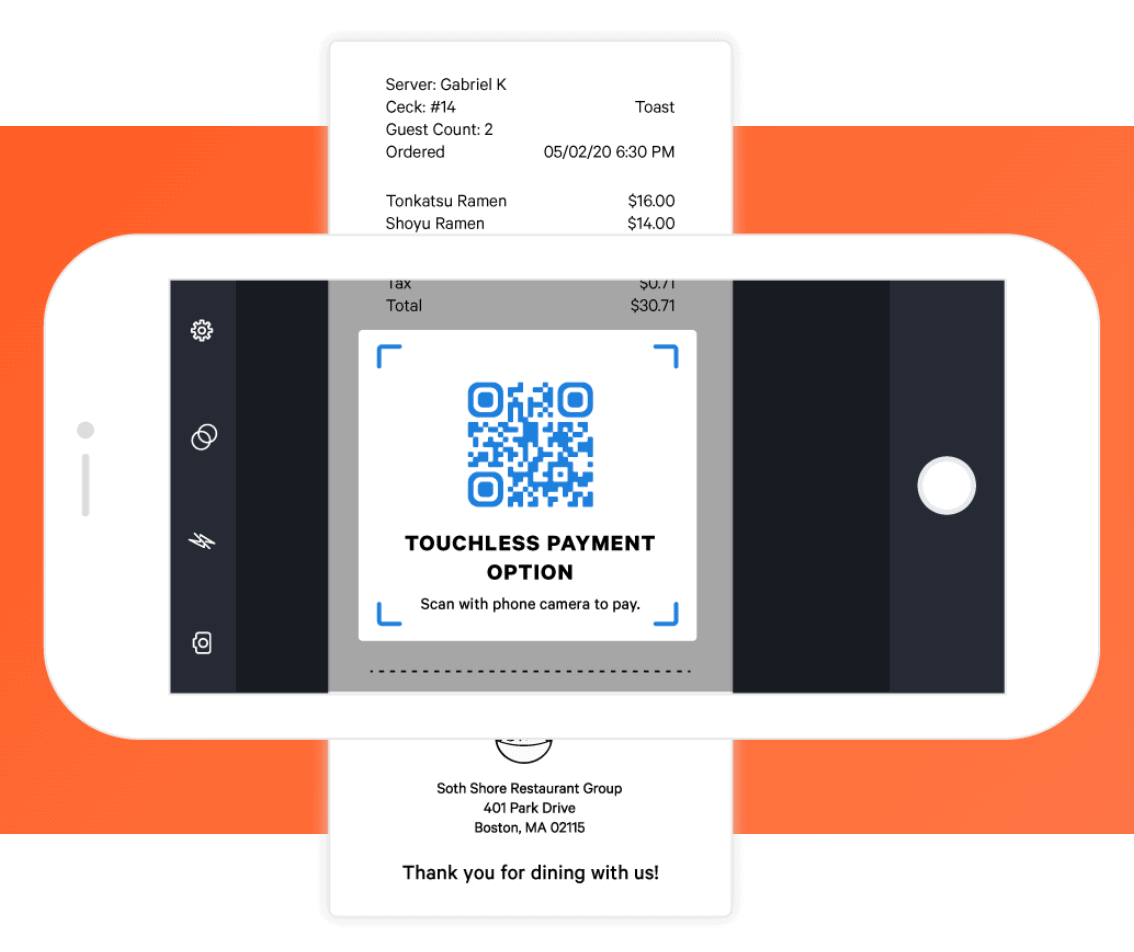 Loyalty Program: The Toast loyalty program is fully integrated with the rest of your POS system and any data therein. It is set up so that customers can opt-in at the table or counter. Once they've signed up, your customers will get a unique code via email as well as a rewards account number, which they can use to check their rewards balance any time they want. As the restaurant owner, you can choose how you want to customize the loyalty program.
Toast Online Ordering: Integrated online ordering (available as an add-on) is one of Toast's most popular features. It can help you start your website for ordering if needed. If your restaurant already has a website, all you would need to do is add a link that would take visitors to your online ordering page.
Toast TakeOut: Toast TakeOut is a mobile ordering app for consumers that lets them place orders at local restaurants (including yours) for pickup or contactless delivery. TakeOut integrates with your online ordering module, and unlike third-party apps, it does not charge commission fees. Furthermore, customers seem to love it — the app is highly rated in both the App Store and Google Play store.
Toast Delivery Services: With the Toast Delivery Services add-on, you can completely customize your delivery system and sync it nicely with online ordering and the Toast TakeOut app. Delivery Services now syncs with DoorDash. Restaurants pay a flat fee per order and can choose how much of this fee is to pass on to customers.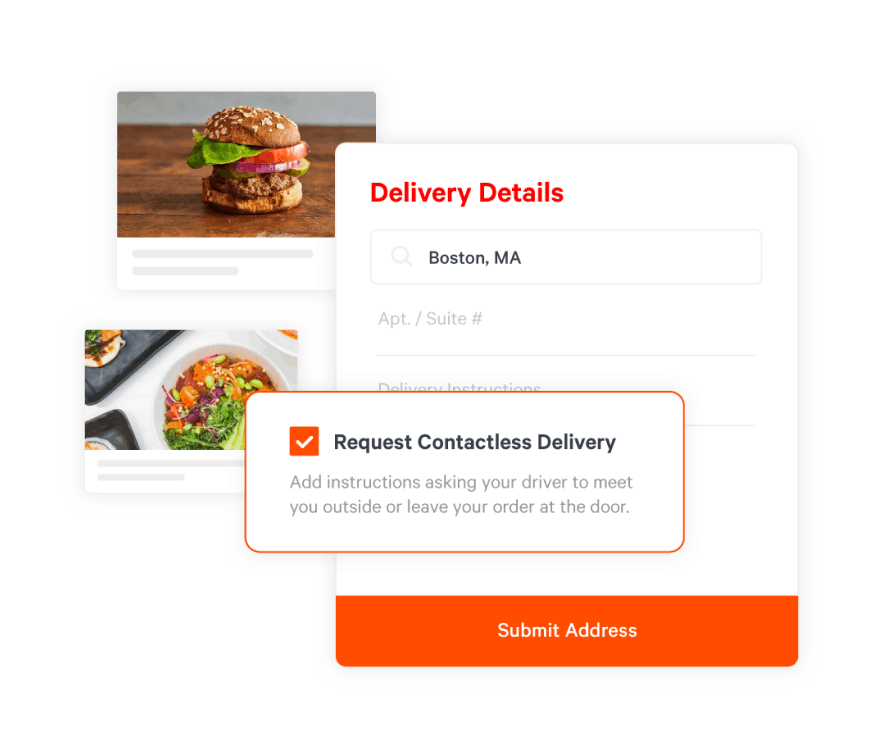 Gift Cards: The ability to create and process digital and physical branded gift cards is another valuable add-on. Because the gift cards are directly associated with the POS system, it becomes very easy for you to sell, track, and complete transactions using both physical and digital restaurant gift cards.
Toast For Restaurant Hotels: Toast has also released Toast For Restaurant Hotels, a product specifically for hospitality businesses. Hotel owners can now use Toast POS to search for a guest by name or room number and directly apply charges to their account. Toast expects this to be an enormous time-saver for hotels, giving them real-time access to guests' totals.
Is Toast User-Friendly?
Toast is one of the few point of sale platforms that can rival competitors, such as Clover and Square. Designed specifically for restaurant use, Toast gets high praise for its user-friendliness among servers and small business owners. Everything is laid out simply and elegantly on the interface, and its mobile ordering devices are simple to operate. The back end is also simple to navigate, with reports and other management tools easily accessible.
Customer Service & Support
| Toast POS Support | Availability |
| --- | --- |
| Phone Support | |
| Email Support | |
| Support Tickets | |
| Live Chat | |
| Dedicated Support Representative | |
| Knowledge Base or Help Center | |
| Videos & Tutorials | |
| Company Blog | |
| Social Media | |
Toast has invested in a level of support rarely seen in other POS companies. Many of these services are free, 100% included in the monthly service fee.
Toast provides the following tools and services for customer support:
Platform Configuration: After you pull the trigger and buy a subscription, a Toast expert will start collaborating with you to customize your entire platform. They will also "advise you on ways to optimize your menu and streamline processes at your location." In most instances, you will be able to pull your system out of the box with all your preferences preprogrammed and ready to go upon installation.
Installation: Toast offers on-site and remote POS installation for every customer. Depending on the size and scale of your restaurant, one or more experts will come to your physical location and set up the entire system for you. If you want to set things up yourself, Toast will ship you everything you need with detailed instructions and 24/7 phone support.
24/7 Support: The monthly fee includes 24/7 support from a US-based technical support team via call, email, or live chat. Each time I called, I spoke to a representative in mere moments.
Support Tickets: Support tickets are easy to create and can be submitted quickly without leaving the app.
Training Material: Toast has invested in a considerable amount of training material, some of the best I've ever seen. There are full programs complete with training videos for staff, managers, and admins. In addition to the video tutorials, there are innovative hands-on training demos that allow you to push buttons, complete orders, take payments, etc., just like you would on a Toast terminal.
Knowledgebase: If you don't get the answers you need from the training material, Toast provides a comprehensive (searchable) online knowledgebase with FAQs, troubleshooting tips, and information about anything from menu management to close-out training.
The only caveat is that some (but not all) customers feel that support quality has deteriorated in recent years or that Toast's support team is not as responsive and helpful as the sales team was during the signup process.
Payment Processing With Toast POS
The general Toast package includes secure, flat-rate credit card processing — in fact, it is mandatory. If you want to use Toast software as your POS solution, you must also use Toast as your payment processor. Toast does offer to match the rates you're receiving from your current payment processor. That sounds great — in theory — but appearances can often be deceiving.
The bad news is that, per Toast's merchant contract, Toast reserves the right to increase its credit card processing fees at any time during the contract (with 30 days advance written notice), and some customers have reported this happening. The contracts can be as long as three years and renew automatically after the initial term for another year. If you want to get out of your contract at any time, you'll have to pay an early termination fee (ETF). This fee equals the remaining software fees for your term, plus "any applicable processing fee related to software financing."
One more thing to note is that with Toast's online ordering options, restaurants will pay card-not-present processing fees, which are as follows: 3.5% + $0.15 for Visa, Mastercard, and Discover, and 3.89% + $0.15 for AMEX. These are also the rates you'll pay for any keyed-in credit card transaction and are definitely on the high side.
Contract Length & Early Termination Fees
As mentioned, Toast charges every month, but one of the biggest complaints people have about the product is that you can be locked into long-term contracts if you don't read your service agreement closely. Some contracts can be for as long as three years with your merchant account, which can be brutal in the highly volatile restaurant industry.
Integrations & Add-Ons
Toast offers a solid variety of integrations and is quite competitive in this area. The list of available integrations expands frequently, and while Toast offers an impressive number of in-house add-ons, it's nice to have third-party options too. Integrations include but are not limited to:
7shifts
Appfront
Avero
Bevager
Bevspot
BrewLogix
Chowly
Compeat
Craftable
CrunchTime
Grubhub
Harri
Homebase
ItsaCheckmate
KitchenSync
LevelUp
Marketman
OpenTable
PayTronix
PeachWorks
Punchh
Restaurant365
Shogo
TapMango
Toast also has an open API (which allows you to develop integrations).
Toast POS Reviews
Negative Toast POS Reviews & Complaints
Payment Processing Contract: Most Toast point of sale complaints have to do with the payment processing contract. If you use Toast, then Toast will be your payment processor. The lack of options and lengthy contracts (two to three years) understandably gets people's ire up. Many customers feel stuck in contracts they're not happy with, or the terms are different from how they were presented to them by Toast's sales team. For example, some customers say they didn't understand that processing fees could increase over the contract's life.
Bugs: A couple of Toast users reported issues with bugs in the software. One client has had problems with the system not sending complete tickets to the kitchen and messing up customer orders.
Hit-Or-Miss Customer Support: Some customers are unhappy with Toast's customer support and find the solutions generic or unhelpful. Others report that the support is "hit or miss."
Aggressive Sales People: Some users said they thought the sales team was pushy or misleading, or the sales rep talked them into a decision they later regretted, such as financing their POS hardware.
Positive Toast POS Reviews & Testimonials
Android-Based: Not everyone in the world is an Apple aficionado, and many people like the relative freedom and flexibility that come with reliance on Android devices.
User-Friendly: Most users generally agree that Toast is user-friendly, easy to learn, and easy to train others on.
Loyalty Cards: Toast's integrated loyalty card program is simple and easy to access and manage, and many restaurateurs use Toast just for this feature.
Online Ordering: Like integrated loyalty programs, integrated online ordering is rare in restaurant management software — a POS Holy Grail. Toast's online ordering system is very good, and it is the sole reason that some people use the system at all.
Good Customer Support: Though some customers are unhappy with Toast's customer support, others praise the level of support.
You can see more positive reviews or read about case studies from various kinds of restaurants (cafés, bakeries, pizzerias, fine dining restaurants, etc.) that use Toast on the company website.
Final Verdict Of Toast POS
Toast POS Review Summary
Equipment Cost
$0-$799
Pricing
$0-$165 plus custom plan
Choose If You Need

You need restaurant-specific software
You need intuitive hardware with tableside ordering
You need extensive customer support
Toast software is close to an ideal solution for restaurants in terms of its total features set. Its add-ons can make the product a little pricey. However, those functions are generally well worth the cost, as they are both robust and extremely easy to use.
Toast's recent addition of a free plan is a welcome surprise, although most restaurants will need to upgrade and/or purchase add-ons to get the most functionality. Restaurants and businesses may want to research other top-notch free POS software before making the jump.
However, other additions, such as the switch to a quote-based custom plan and quote-based processing fees, raise a few alarm bells. While most reviews seem to find Toast's fees competitive with other companies, reports that Toast has raised these fees without notice and locked customers into long-term contracts are worrisome. While the product is still excellent overall, you'll want to make sure that you've read your contract closely and know exactly what you're getting into.
Toast Software FAQs
---
The Merchant Maverick Seal of Approval 🏆
Toast POS


---
After hours of in-depth research and evaluation, we can confidently recommend this brand to our readers. Get started today and see Toast POS for yourself.
The Merchant Maverick Seal of Approval 🏆
Toast POS


---
After hours of in-depth research and evaluation, we can confidently recommend this brand to our readers. Get started today and see Toast POS for yourself.
To learn more about how we score our reviews, see our
Point Of Sale (POS) Software Rating Criteria
.