6 Food Inventory Software Tools To Simplify Running Your Restaurant
Is your current food inventory system not making the grade? Try one of these top restaurant inventory management apps to save time and money.
Expert Analyst & Reviewer

UPDATED
Advertiser Disclosure: Our unbiased reviews and content are supported in part by
affiliate partnerships
, and we adhere to strict
guidelines
to preserve editorial integrity.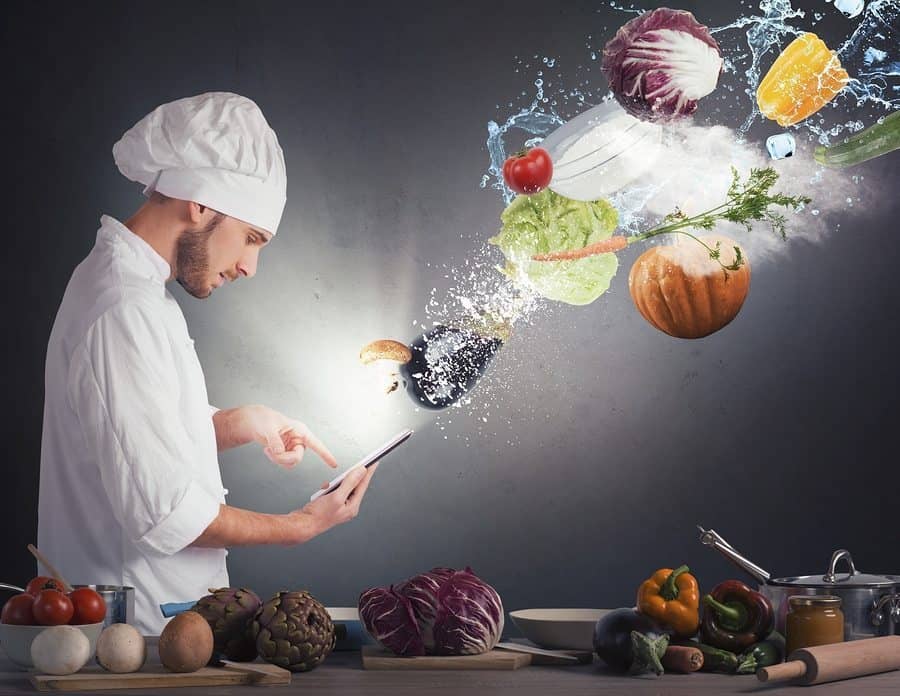 Effective inventory management is a hallmark of all successful restaurants, bars, cafes, bakeries, pizzerias, quick-serve restaurants (QSRs), and other businesses that sell food or drink items. But many restaurants struggle to implement a good food tracking system.
As a restaurant owner or manager, you're probably looking for software solutions that can help manage inventory. This may include restaurant POS systems with inventory, stand-alone inventory software for restaurants, or add-on restaurant inventory apps. Fortunately, it's not too difficult to find a cloud point of sale (POS) system that includes inventory as one of its built-in functions or offers integrations for restaurants needing inventory systems through a third-party add-on.
But why do you need food inventory software for your restaurant? Well, what brought you here? Is it because the way you've been doing inventory up to this point is not too effective? Are you looking for something smarter and with a bit more automation to increase accuracy, save time, or lessen the stress? I thought so! So read on to learn how to revamp your restaurant inventory management systems with these top restaurant inventory apps.
Learn More About Our Top Picks
Company
Best For
Next StepsBest For
Toast POS
Best for casual dining.

Best for casual dining.

Upserve POS
Best for mobile capabilities.

Best for mobile capabilities.

TouchBistro
Best for basic inventory needs.

Best for basic inventory needs.

Lightspeed Restaurant POS
Best for inventory integrations.

Best for inventory integrations.

Square For Restaurants POS
Best for a free POS option.

Best for a free POS option.

Show More Options
Shopventory
Best for an advanced restaurant inventory management system.

Best for an advanced restaurant inventory management system.

Show Fewer Options
Read more below to learn why we chose these options.
The 6 Best Restaurant Inventory Management Systems
Inventory software for restaurants can include ingredient tracking, vendor management, low-stock notifications, and recipe costing. A good restaurant inventory management system saves time and money by preventing food waste. Learn about the best restaurant inventory management software, including Toast, Upserve, TouchBistro, and more.
1. Toast
Toast POS


---
Pros
Excellent built-in inventory management
Free plan
Custom-built restaurant POS hardware
Strong online ordering and takeout features
Cons
Requires multi-year payment processing agreement
Can get expensive, depending on feature selection and hardware options
Best for casual dining.
Toast is a popular Android POS system built specifically for restaurants. With hardware options such as tableside ordering tablets, self-ordering kiosks, and a customer-facing checkout screen, Toast works great for casual dining environments ranging from fast-casual to sit-down. Toast also has excellent online ordering, takeout, and delivery functionality, making this system a hit for restaurants that do a lot of takeout orders.
Toast includes a built-in restaurant inventory management system that automatically syncs and updates your inventory as dishes and drinks are sold. The system provides you with actionable inventory reports, such as inventory value reports, COGS and variance reports, and waste tracking reports. Toast also has a menu engineering feature to improve the profitability of your inventory and a shelf layout feature that maps your inventory count based on your kitchen setup. To expand your inventory management capabilities even further, Toast integrates with a number of inventory software for restaurants, including BevSpot, BrewLogix, Craftable, Marketman, and others.
Toast packages start at $0/month for one terminal and core features but can rise north of $300/month depending on how many features, terminals, or hardware add-ons you want. Toast requires that you use Toast Payments for credit card processing.
2. Upserve
Upserve POS


---
Pros
Built-in and third-party inventory management options
Dedicated mobile inventory app
Built specifically for restaurant employees
One-click purchasing
Cons
Requires multi-year payment processing agreement
Not the cheapest inventory management solution
Best for mobile capabilities.
Upserve is another cloud-based restaurant POS and restaurant inventory management system, and it is similar to Toast in a lot of ways. Upserve is available on Android and iOS, and it has modern POS features, such as tableside ordering tablets and online ordering. Upserve also has built-in inventory management as well as third-party restaurant inventory software integrations, such as ORCA, BeerSAVER, Craftable, BevSpot, MarketMan, Compeat, and others.
Some Upserve inventory features include automatic inventory deductions as menu items are sold, automatic replenishments when you receive inventory, and one-click purchasing when inventories are low. The system also has vendor management and recipe costing. One especially notable inventory feature of this mobile-friendly POS is its in-app mobile barcode scanner. This feature allows you to scan inventory using the Upserve Inventory app on your iPhone or Android. Receiving inventory in Upserve is as simple as scanning receipts using your phone's camera.
Upserve pricing starts at $59/month, but the cheapest package that includes inventory is $199/month (for one terminal). Alternatively, you could buy Upserve's base package and then add a third-party inventory software integration such as ORCA for an additional $129/month (plus one-time fees). Like Toast, Upserve requires that you use its in-house processor as your merchant account.
3. TouchBistro
TouchBistro


---
Pros
Competitive monthly cost
Numerous inventory integrations
Choice of a payment processor
Cons
Basic built-in inventory functionality
Best for basic inventory needs.
TouchBistro is one of the most popular iPad POS systems for restaurants, and it is also among the most affordable restaurant inventory management systems. While TouchBistro lands on the more basic side in many respects, it has a decent inventory management system and third-party inventory software integrations.
With TouchBistro, you can create and manage your restaurant inventory by manually entering each ingredient along with its unit of measure, wholesale cost, retail price, and associated recipe(s). From there, the system automatically tracks ingredients as menu items are sold, and it provides staff with in-service low-stock alerts. There are also some basic inventory reports. That's about it. Like, I said: basic. But for some restaurants, basic might be all you need. It's easy to connect your favorite inventory software if you need more.
TouchBistro's $69/month starter package includes basic inventory management and free integration with third-party inventory software apps, such as Bevcheck, MarketMan, Craftable, Wisk, FreePour, Optimum Control, and MarginEdge. In addition to being able to integrate with numerous software apps, TouchBistro is also flexible in terms of what payment processor you can use. Some processing options include Square, TSYS, and Worldpay, as well as TouchBistro's in-house processor, TouchBistro Payments powered by Chase.
4. Lightspeed Restaurant
Lightspeed Restaurant POS


---
Limited time offer. Sign up to Lightspeed by March 31st and get up to $1,500 in complimentary hardware. Claim this offer today.
Pros
Free BevSpot account for inventory management
Inventory matrixing
Choice of payment processors
Cons
Basic in-house inventory capabilities
Best for inventory integrations.
Lightspeed is becoming a force to be reckoned with in the iPad POS world. Besides having specialized POS systems for restaurants, retail, eCommerce, and golf courses, Lightspeed also recently acquired fellow iPad POS companies Upserve and ShopKeep. When it comes to Lightspeed Restaurant, in particular, Lightspeed has created a high-quality, affordable restaurant inventory management system and POS with raw ingredient tracking.
Though its built-in inventory capabilities are rather basic, Lightspeed Restaurant shines when it comes to its third-party restaurant food inventory software integrations. Lightspeed customers also receive a free version of BevSpot, allowing restaurants to track variance and product loss by item. In addition to BevSpot, Lightspeed Restaurant also integrates with Craftable, Growzer, MarketMan, ORCA, RapidBar, Restaurant365, RESTOCK, BeerSAVER, Whistle, WISK, and other food inventory apps.
Lightspeed Restaurant pricing starts at $90/month ($69/month billed annually) for all the essential functions. Lightspeed integrates with several payment processors and has its own Lightspeed Payments, which offers flat-rate processing at 2.6% + $0.10 or (for users on the highest-level plan) a custom payment processing fee.
Get Started With Lightspeed Restaurant POS
5. Square For Restaurants
Square For Restaurants POS


---
Pros
Free and affordable plans available
Numerous integration options
Works on Square Register or iPad
Cons
Not an advanced inventory management system (without integrations)
Best for a free POS option.
Square POS is a great basic, free POS for quick-service and mobile food businesses, such as food trucks. In 2018, Square introduced Square for Restaurants, which has enhanced restaurant features, including restaurant inventory management. Square for Restaurants, available on iPad and Square Register, even has a free plan.
The free version of Square for Restaurants has basic inventory capabilities, but they can be enhanced with inventory integrations, including MarketMan ($149/month), Peachworks ($137/month), and Yellow Dog Inventory ($99/month). If you opt for the paid version, "Square for Restaurants Plus," for $60/month, you'll get more advanced inventory features, such as auto-86ing and menu reports. However, I wouldn't consider Square for Restaurants' inventory capabilities to be advanced compared to systems like Toast or even industry-agnostic Revel.
Yet another option is to use the free version of regular Square ("Square Point of Sale") with a third-party restaurant inventory management system, such as BevSpot (which also offers a freemium account to Square users) or Shopventory. As mentioned, Square also integrates with TouchBistro. Whether you use Square Point of Sale, Square for Restaurants Free, or Square for Restaurants Plus, you'll get Square's same flat processing rate of 2.6% + $0.10.
Get Started With Square For Restaurants POS
6. Shopventory
Shopventory


---
Pros
Reasonably priced
Advanced food inventory management
Integrates seamlessly with Square, Clover, QuickBooks, and more
Cons
Only integrates with a few POS systems
Best for an advanced restaurant inventory management system.
Shopventory is an advanced restaurant inventory management app that works in both retail and restaurant environments. It's the only food inventory app on this list that's not a POS — but that's OK because it is designed to integrate seamlessly with your POS. Specifically, Shopventory integrates with Square, Clover, PayPal Here, and Shopify, turning any of those basic POS systems into an advanced restaurant inventory solution. Shopventory will also sync your daily restaurant sales and values with QuickBooks.
Shopventory has an extensive list of features, and I don't have room to list all of them. Some of its notable functions include its PO and vendor management, modifier inventory tracking, mobile barcode scanning, expiration date notifications, par-level email alerts, lot COGS management (and many, many more).
Shopventory's Standard plan is reasonably priced at $79/month for up to two locations. If you have more locations or need a few more advanced features (such as daily QuickBooks syncing), you may be better served by the $199/month Professional plan. Especially when you consider that Shopventory can turn a free POS like Square into a food inventory management powerhouse, Shopventory provides a whole lot of bang for your buck.
Looking For One Of These Restaurant Inventory Apps?
The following are dedicated restaurant inventory management systems that integrate with a variety of restaurant POS systems, including the POS software discussed above. We haven't thoroughly reviewed these apps, but you may want to test them out, especially if they integrate with your POS.
Orderly
Orderly is a restaurant inventory management app with a focus on COGS to help you get a handle on your food costs. Orderly's easy-to-use food cost dashboard includes categories such as Food Spend, Sales, Purchases, and your Cost of Goods Sold. The software also lets you snap photos of invoices to enter inventory, sync all your food suppliers to eliminate manual data entry, and set and maintain a food budget.
Orderly integrates with Upserve, NCR Aloha, MobileBytes, and more. Pricing is $195/month, per site.
BevSpot
BevSpot is a smart restaurant inventory management software choice if you run a bar/restaurant, as it has features to manage inventories of both food and beverages. BevSpot has intelligent features, such as the Price Tracker report to see price fluctuations over time, Bottle Slider for quick inventory counting, streamlined ordering with Smart Pars, and tools to reduce sitting inventory.
BevSpot integrates with most of the POS systems on our list and even offers a free version of its product to certain POS users. BevSpot has free integration and "freemium" accounts for its preferred POS partners — Lightspeed, Square, Toast, and Upserve — and a $25/month integration fee for non-preferred POS systems, such as Lavu. Paid plans start at $89/month.
Craftable
Craftable is restaurant management software designed for the hospitality industry. This intelligent software syncs sales, inventory, and recipes to lower food and pour costs. Bar and restaurant owners can use Craftable to enter invoices, sync vendors, re-engineer their menus, and more. The software also has labor management features. Note that Craftable has restaurant-specific and bar-specific products called Foodager and Bevager, respectively.
Craftable integrates with a long list of POS systems, including all of the ones on our list (Toast, Upserve, Lightspeed, TouchBistro, and Square) as well as Clover, Revel, Lavu, HungerRush, Aloha, and others. Pricing starts at $99/month.
MarketMan
MarketMan is one of the most popular cloud-based food inventory counting apps, and it integrates with most restaurant POS systems. MarketMan both automates your inventory processes and provides analytics to help you save money on food costs. Its core features include inventory receiving, invoice scanning, purchase orders, supplier management, food costing, low-inventory alerts, and waste and theft tracking.
MarketMan pricing is $149/month or $1,499 for the whole year. MarketMan integrates with all of the POS vendors previously mentioned and others, such as iKentoo, TRAY, GASTROFIX, and EZ Dine.
5 Best Practices To Make The Most Of Your Restaurant Inventory Management Software
While software can automate a lot of the inventory process, there are certain actions you must take to make your software really work for you. Here are some things you should do with your inventory software to make your restaurant inventory management system more effective.
Take Your Setup Seriously
Your inventory system's initial setup can be tedious, but it's important you do it properly to ensure your system works correctly and delivers the correct data. Make sure to be exact and consistent when entering your quantities, units of measure, etc. If the system lets you sync your food suppliers, you can automatically import your invoices after the initial sync. Once you're all set up, many of your inventory tasks will start managing themselves. Of course, you'll need to train your staff on the system as well.
Check Your Reports Regularly
Your POS data contains valuable inventory information, especially when coupled with inventory management software. Make sure you familiarize yourself with all of your inventory reports so that you can use the data to your advantage. If you check your reports regularly, you will gain a better understanding of your overall inventory situation as well as notice any significant changes or discrepancies.
Find Your COGS
When it comes to improving your restaurant's inventory management, finding your COGS, or Cost of Goods, is an important first step. After setting up your inventory software and letting it do its magic, you may start to notice that your true COGS for a certain item is actually different from what you thought it was. Once you know your real COGS, you can consider ways to lower them, such as finding a different supplier for a certain ingredient.
Identify Problem Areas
Your software will start to show you patterns that point to problem areas in your inventory system. For example, you may be able to identify your top sources, or spillage or spoilage, or even which employees waste the most food (provided that your software also includes employee management). You can then use this information to make necessary changes in your inventory processes. In particular, variance reports can show discrepancies in your inventory due to waste, theft, or user error.
Rethink Your Menu
Most food inventory software products have a feature that helps you re-engineer your menu to make it more profitable. For example, the software can help you identify slow-moving menu items that cause ingredients to go bad before you get a chance to use them. Even if the program doesn't have a specific feature that makes menu suggestions, standard inventory data collected by your software (for example, COGS) can still help guide your menu decisions.
Which Food Inventory System Is Best For Me?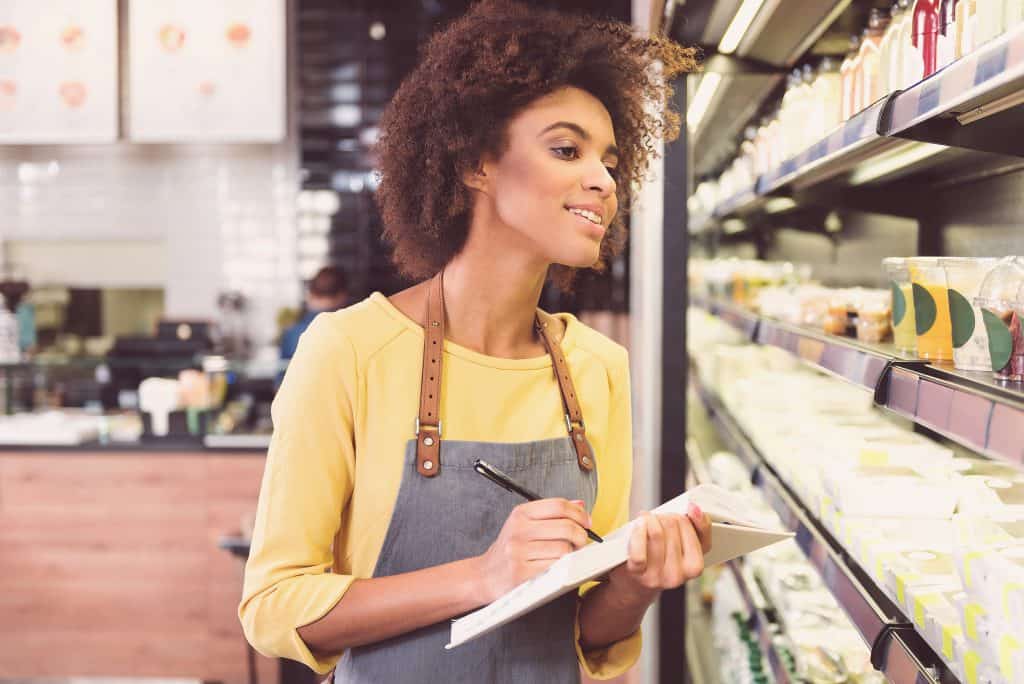 Life's too short to manage your restaurant with an inefficient system, so we think it's high time you invested in quality restaurant inventory management software. The best restaurant inventory software depends on whether you want inventory software that integrates with the POS system you use or if you'd rather switch to a POS with built-in inventory features. If you need more help choosing a POS for your food or drink business, we're happy to help you out! We can also help you find inventory management software that integrates with your existing POS or vice versa.
If you're not too familiar with restaurant inventory management and want to increase your general knowledge on the subject, I recommend reading the guide I wrote on this subject: Your Complete Guide To Restaurant Inventory Management: How To Control Costs, Reduce Waste, & More.
In Summary: The 6 Best Restaurant Inventory Management Systems