Lightspeed Restaurant POS Review 2023
Lightspeed Restuarant is a cloud-based iPad POS system built solely for the foodservice industry and can be a one-stop-shop for your POS needs.
Expert Analyst & Reviewer

UPDATED
Advertiser Disclosure: Our unbiased reviews and content are supported in part by
affiliate partnerships
, and we adhere to strict
guidelines
to preserve editorial integrity.
Lightspeed Restaurant POS

Lightspeed Restaurant POS At A Glance
Pricing starts at $90/month ($69/month when billed annually)
It is scalable from small restaurants with one location that only need basic features to those with multiple locations that need advanced features
It comes with the integrated, in-house payments processor Lightspeed Payments, but you can opt to use a third-party processor
---
Pros
Well-designed UI
Highly customizable
Raw ingredient tracking
Loyalty program
Cons
Limited inventory management
Moderate learning curve
What Is Lightspeed Restaurant POS
Lightspeed Restaurant POS is loaded with features, including mobile and tableside ordering, delivery, eCommerce, and analytics. Add an integrated payment platform and an easy-to-use interface, and it's easy to see why Lightspeed Restaurant is a top contender in the POS space.
Lightspeed Restaurant POS isn't without its drawbacks. The system's offline mode isn't as well-developed as Lightspeed's other features. And while the Essentials plan is fairly inexpensive, costs can add up quickly for businesses that need a more advanced plan or multiple add-ons and integrations. Minor issues aside, Lightspeed Restaurant is ideal for many small- to medium-sized food establishments.
Keep reading to learn more about Lightspeed Restaurant POS and what it can offer your business.
Get Started with Lightspeed POS
What Is Lightspeed Restaurant POS?
Lightspeed Restaurant is a cloud-based iPad POS system built solely for the foodservice industry. It combines a complex, feature-rich POS back end with a deceptively simple structure and intuitive interface. Lightspeed Restaurant covers the basics, adds a range of custom options, and throws a good dollop of useful side functionality into the mix.
Lightspeed Restaurant POS Pricing
Lightspeed Restaurant Essentials
The Essentials plan is designed for new, single-location restaurants that only need one terminal. This plan is priced at $90/month ($69/month with annual billing) and includes the following:
One register
Menu manager
Mobile access
Takeout and delivery orders
Integrated payment processing
Reporting and analytics
Inventory
24/7 support
Dedicated account management
Table Mode
Lightspeed Restaurant Plus
The Plus plan best suits full-service restaurants, cafes, and bars. This plan costs $246/month ($189/month with annual billing) and includes everything from the Essentials plan, plus:
Loyalty program
Gift cards
Lightspeed Restaurant Pro
The Pro plan offers advanced features suitable for growing restaurants and hotels. This plan is priced at $516/month ($399/month with annual billing) and includes everything from the Plus plan, plus:
Advanced insights
Advanced inventory
If you have multiple stores or need more than the three standard plans offer, you can contact Lightspeed for a personalized quote. Merchants looking to use more than five registers can take advantage of Lightspeed's Enterprise plan by scheduling a call and requesting a quote.
Lightspeed Restaurant Add-Ons
You can further personalize your plan by purchasing add-ons. Options include:
Customer-facing displays
Kitchen Display Systems
Advanced reporting
Loyalty
Gift cards
Accounting
Delivery integration
Order ahead
Contact Lightspeed to learn more about these add-ons to personalize your POS system.
Get Started with Lightspeed POS
Lightspeed Restaurant POS Features
| Lightspeed Restaurant POS Features | Availability |
| --- | --- |
| Multi-Store Support | |
| Contactless Payments | |
| Multi-Channel Selling | |
| Gift Cards | |
| Customer Loyalty | |
| Marketing Tools | |
| Online Ordering | |
| Inventory Management | |
| Reporting | |
| Menu Management | |
| Delivery Management | |
| EBT Acceptance | |
| Employee Management | |
| Text Messaging | |
Lightspeed Restaurant features all the basic functions you would expect from a POS, so I'll just cover the elements that separate Lightspeed from the pack:
Employee Management: Lightspeed Restaurant's employee management feature has extensive permission-setting capabilities. Employees can be broken down into categories (waitstaff, cashiers, cooks, etc.). There is also an option to change employee "visibility" for seasonal and part-time staff.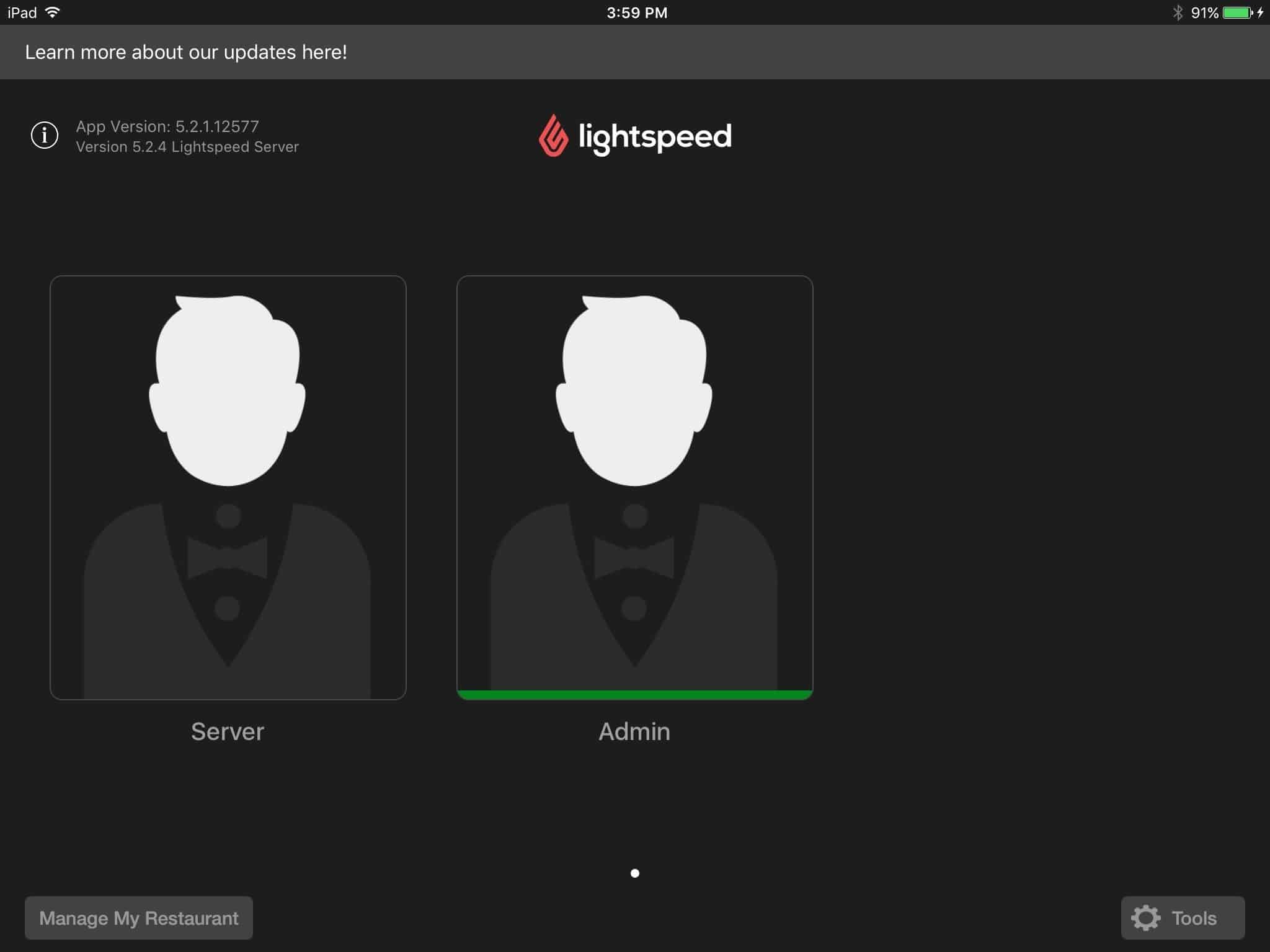 Product Management: This feature makes it easy to set up your menu. Products can be added and associated with unique kitchen names, IDs, or pictures. You can also quickly add discounts, service fees, and combos using this feature.

Raw Ingredient Tracking: With Lightspeed Restaurant's raw ingredient tracking, you can automatically keep track of all your raw ingredients based on specific dishes sold. If you've run out of an ingredient for a menu item, a notification will be sent to the waitstaff. Lightspeed Restaurant's integration with MarketMan enables users to track their raw ingredients and allows for purchase order management capabilities.
Mobile Ordering: With mobile ordering, orders can be sent directly from the table or bar. Customers can also place their orders directly from an iPad at their table. Another option is QR code ordering, allowing customers to place orders and pay from their phones.
Modifiers: This function works seamlessly, as you can punch in special requests directly into the system. Whether it's forced modifiers or important changes, such as allergy restrictions, a simple click of the button sends custom orders to the kitchen that are easy to read.
Timed Events: Timed Events allow you to set promotions and offers to run for a specific time or on certain days; it works great for "20%-Off Tuesdays" and "Half-Price Fridays." If that's not enough, you can also set multiple offers to run simultaneously, setting which one has priority.
Kitchen Name Printing: With this feature, you can input the order as it appears on the menu, and when you send it to the kitchen, it will print in the language of your choice. This feature is also beneficial if your restaurant has different names for menu items. If, for instance, you have a menu item called "the Senior Breakfast Special," you can have the order printed out in the kitchen as "two eggs and a side of bacon."
Loyalty: Easily add customer information into your system, allowing you to track their purchase orders and add credit to their account. See when reservations have been made and assign customers to their preferred tables.
Delivery: Lightspeed offers delivery integration in a simple, consolidated format that makes large numbers of orders easy to sort. It partners with Uber Eats, SkipTheDishes, and DoorDash. It also allows you to create promo codes and delivery-specific menus while providing a simple interface for customers.
Menu Building: With Lightspeed Restaurant's menu-building feature, you can create a simple menu in minutes and on any device. It's also simple to make changes to items and immediately inform servers of changes.
Reporting: Lightspeed Restaurant offers a substantial number of reports. You can view revenue and receipts by the hour, day, week, and month. There are tailored product and product category information and specific cash register monitoring (so you can see which employees are earning the most money). There's also in-depth user tracking (so you can see your staff's activities and performance over a set period). Advanced reporting is available on select plans or as an add-on.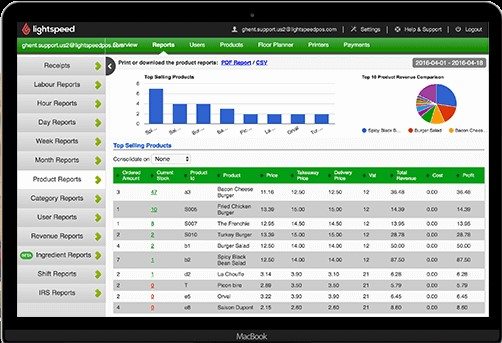 Floor Planner: This feature makes adding tables and floors, modifying their sizes, and adding specific printers for each effortless. You can add cars for take-away management. There is also a feature that helps you better keep track of things when your business is swamped. As you can see below, the tables are different colors; green means that the table is busy, and red means that the bill has been printed, but the patrons are still waiting to pay.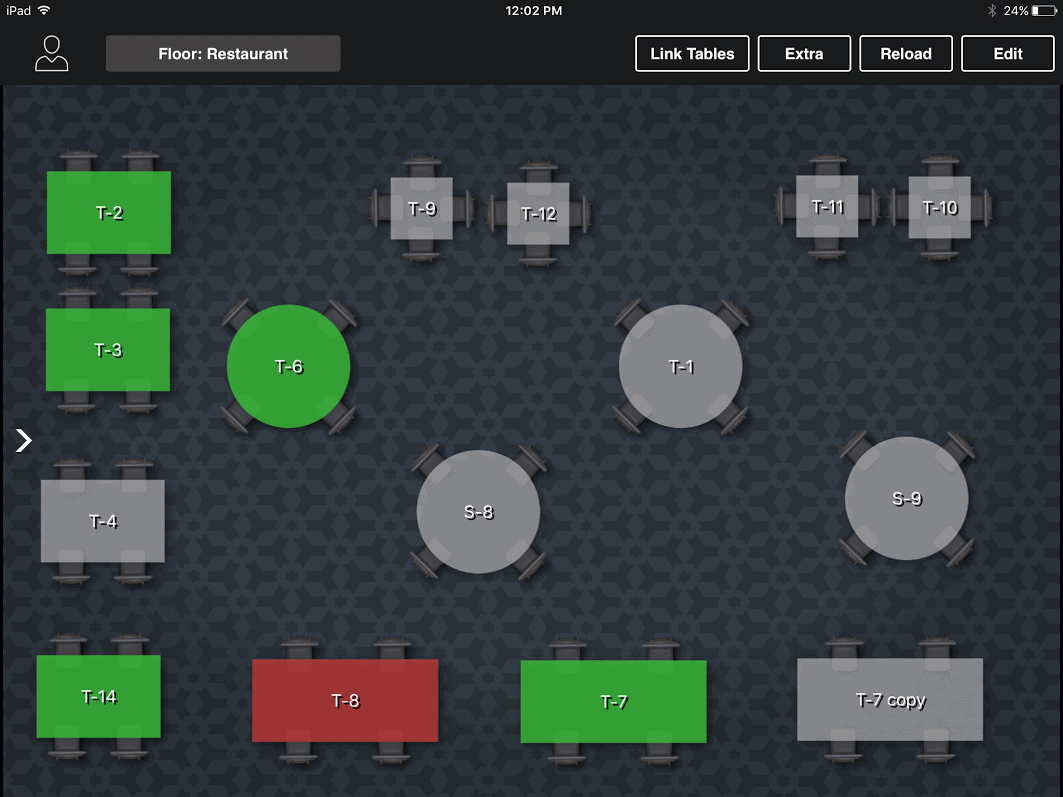 eCommerce: If you want to take your business online, you can add eCom for Restaurant to your plan. This eCommerce platform helps you boost your online presence with website themes, an online store for selling your merchandise, and an online reservation system that's easy for both you and your customers.
Is LightSpeed Restaurant POS User-Friendly?
Lightspeed Restaurant has a simple interface that is both visually and practically pleasing. Set up is easy, starting with the customization of your overview page with your choice of widgets. Lightspeed Restaurant also provides a variety of training videos to help you get your system up and running, as well as offering descriptions of some of the system's key features.
There is a design consistency among the different platforms. The fact that the desktop, iPad, iPod touch, and iPhone interfaces look the same helps alleviate the learning curve enormously.
Some users have criticized Lightspeed's approach as "too minimal." However, for many others, the combination of good functionality and a minimal, easy-to-use interface is another positive aspect of this POS system.
Customer Service & Support
| Lightspeed Restaurant POS Support | Availability |
| --- | --- |
| Phone Support | |
| Email Support | |
| Support Tickets | |
| Live Chat | |
| Dedicated Support Representative | |
| Knowledge Base or Help Center | |
| Videos & Tutorials | |
| Company Blog | |
| Social Media | |
The monthly subscription price includes Lightspeed's customer care. You can contact Lightspeed Restaurant through the following outlets:
Phone: Lightspeed offers 24/7 phone support, excluding holidays. There are dedicated country-specific numbers for the US, Canada, Belgium, the United Kingdom, Australia, the Netherlands, and Singapore.
Email: Lightspeed Restaurant has a dedicated email address. There is a one-day turnaround time for emails.
Live Chat: Live chat is offered from 9 AM to 6 PM EST.
Help Center: Lightspeed offers a help center for its products, including Lightspeed Restaurant. This help center provides various articles and tutorials to help you get the most out of your POS system.
Social Media: Lightspeed has profiles on Facebook, YouTube, Instagram, Pinterest, LinkedIn, and Twitter.
Blog: Lightspeed Restaurant has a blog that is updated regularly. Posts generally revolve around company news and business-related topics.
Community Forum: There is also an active forum through Lightspeed's website for customers to ask questions and help each other or get advice from professionals.
Payment Processing With Lightspeed Restaurant POS
There are several payment processing options available with Lightspeed Restaurant. You can opt for integrated payment processing with Lightspeed Payments. Rates are competitive at 2.6% + $0.10 for card-present transactions and 2.6% + $0.30 per keyed-in transaction for individuals on the Essentials and Plus plans. Those on the Pro plan will get a custom payment processing rate that should be lower than the rate for lower-level plans.
You can also use a third-party payment processor. Lightspeed Restaurant is compatible with Dejavoo with Worldpay (formerly Vantiv), Cayan, and Bridgepay.
Contract Length & Early Termination Fees
Lightspeed Restaurant offers month-to-month and annual pricing, as well as custom-length contracts.
While you get the best pricing with annual and long-term contracts, Lightspeed charges an early termination fee if you cancel your contract early. That fee can get very steep depending on your subscription length and how early you're terminating your contract.
You must send notice of cancellation prior to the next billing period to avoid being charged.
Lightspeed does not accept hardware returns after 30 days (14 days for Apple products.) You must validate that you have received your Lightspeed hardware within five business days of receiving it, or your hardware will not be covered under the warranty.
Lightspeed Restaurant POS Integrations & Add-Ons
Lightspeed Restaurant has over 70 integrations listed on its website. If you need some niche functionality, you'll likely find what you're looking for in that list, although probably not for free.
Employee Management: Lightspeed integrates with Push Operations, which helps streamline labor management.
Online Ordering: Lightspeed Restaurant integrates with several online ordering services, such as BPL and Chowly. Mobi2Go and Zuppler offer online ordering as well as mobile ordering.
Hotel-Specific Integrations: These include MEWS and StayNTouch.
Accounting: Lightspeed Restaurant integrates with QuickBooks, QuickBooks Desktop, and Xero through Lightspeed Accounting.
Reservations: Lightspeed Restaurant integrates with Resengo for your reservation needs.
Financing: Lightspeed Restaurant integrates with Econolease Financial Services.
Online Scheduling: For online scheduling, use CoverManager.
Loyalty: You can integrate with services, including GourmetMiles and Incentivio.
Inventory Management: You can integrate with MarketMan or Growzer.
Tech Support: With Boomtown!, businesses can get 24/7 tech support.
Get Started with Lightspeed POS
Lightspeed Restaurant POS Reviews
Overall, Lightspeed Restaurant POS has a very good public reputation, earning numerous five-star reviews across the internet. However, there have been a handful of complaints from unsatisfied customers.
Negative Lightspeed Restaurant Reviews & Complaints
Lightspeed POS has a B+ rating with the Better Business Bureau and a total of 12 complaints closed in the last three years. There are also some negative reviews online pointing out Lightspeed Restaurant's flaws, most notably:
Bugs: Occasional glitches, such as freezing, have been noted when navigating the front end.
Outages: Multiple reviewers mentioned frequent interruptions in service, particularly during peak times.
Lightspeed Payments: Some customers weren't happy with Lightspeed Payments fees, claiming other companies were cheaper. Lightspeed Restaurant integrates with other payment processors, but you have to research to figure out what makes the most sense for you.
Positive Lightspeed Restaurant Reviews & Testimonials
Lightspeed Restaurant POS has a number of glowing reviews. It receives a rating of 4.5/5 (based on 45 reviews) on G2 and 4.5/5 (based on 69 reviews) on Software Advice. Users most liked:
Ease Of Use: Customers like that Lightspeed is easy to use and doesn't have a high learning curve.
Great Customer Service: Many find Lightspeed's customer service very friendly, helpful, and happy to resolve your issues.
Simplicity: Some customers praise the simplicity of Lightspeed Restaurant's front and back ends.
Customization: Users appreciated that they could easily tailor the system to fit their specific restaurant's needs.
Robust Features: Many reviewers were impressed by how much was offered by Lightspeed Restaurant and were pleased with the product's value.
Final Verdict Of Lightspeed Restaurant POS
Lightspeed Restaurant POS Review Summary
Equipment Cost
Contact Lightspeed to receive a quote
Pricing
$90-$519/month
Choose If You Need

Easy-To-Use POS For Restaurants
Customizable POS System
Excellent Customer Support
For small- and medium-sized businesses in the foodservice industry, Lightspeed Restaurant should offer everything you need in a POS system. A well-designed, easy-to-use interface, numerous features, and multiple reports are what you can expect from this robust system. Throw in options such as eCom for Restaurants, contactless ordering and payments, a floor planner, and numerous integrations, and it's easy to see why Lightspeed Restaurant has an overwhelmingly positive reputation among its past and present users.
That said, no POS system is perfect, and Lightspeed Restaurant is no exception. A lack of CRM options, problems with the system's offline mode, and added costs from add-ons and integrations may deter some businesses.
Despite these flaws, Lightspeed Restaurant continues to expand its feature set, keeps up with current advances in both the restaurant and POS industries, and provides users with exceptional customer service. Its base pricing is also extremely competitive, and many users will find the additional costs of add-ons and integrations to be well worth the investment.
Lightspeed Restaurant FAQs
---
The Merchant Maverick Seal of Approval 🏆
Lightspeed Restaurant POS


---
After hours of in-depth research and evaluation, we can confidently recommend this brand to our readers. Get started today and see Lightspeed Restaurant POS for yourself.
The Merchant Maverick Seal of Approval 🏆
Lightspeed Restaurant POS


---
After hours of in-depth research and evaluation, we can confidently recommend this brand to our readers. Get started today and see Lightspeed Restaurant POS for yourself.
To learn more about how we score our reviews, see our
Point Of Sale (POS) Software Rating Criteria
.