Lightspeed Restaurant POS Review
Expert Analyst & Reviewer

Updated on:
Advertiser Disclosure: Our unbiased reviews and content are supported in part by
affiliate partnerships
, and we adhere to strict
guidelines
to preserve editorial integrity.
Lightspeed POS

Pros
Competitive monthly cost
Well-designed UI
Highly customizable
Raw ingredient tracking
Loyalty program
Cons
Limited inventory management
Moderate learning curve
Lightspeed Restaurant Overview
Looking for an all-in-one POS solution tailored to the food industry? You're in the right spot. Whether you're just opening a new restaurant or are looking to change POS systems, Lightspeed Restaurant may have just what you're looking for. In this Lightspeed Restaurant review, we'll break everything down — from features to pricing — to help you make the smartest decision in POS systems for your business.
Lightspeed Restaurant is a cloud-based iPad POS system built solely for the foodservice industry. It combines a complex, feature-rich POS backend with a deceptively simple structure and intuitive interface. Lightspeed Restaurant covers the basics, adds a range of custom options, and throws a good dollop of useful side functionality into the mix as well.
Factor in Lightspeed's own payment platform and updated features for mobile ordering, tableside ordering, and delivery, as well as eCommerce and improved analytics, and it's easy to see why Lightspeed Restaurant is a top contender in the POS space. If the price for all these features is a concern, don't worry. Pricing for the basic POS system is extremely competitive.
Lightspeed Restaurant POS isn't without its drawbacks. The system's offline mode isn't as well-developed as Lightspeed's other features. And while the basic plan is fairly inexpensive, costs can run up quickly for businesses that need multiple add-ons and integrations. Minor issues aside, though, Lightspeed Restaurant offers numerous features, integrations, and add-ons that are ideal for many small- to medium-sized food establishments, perhaps even yours.
Keep reading to learn more about Lightspeed Restaurant POS and what it can offer your business.
Get Started with Lightspeed POS
Lightspeed Restaurant POS Pricing
Lightspeed Restaurant Basic Plan
If you want to start off with the basics, you can get started for $59/month. This offer is valid for annual customers. If you opt to pay monthly, your price increased to $69/month. Additional registers can be added for $34/month. The basic plan includes:
One register
Up to two printers
Personalized onboarding
24/7 support
Free updates
Secure cloud backup
Basic reporting
A 14-day trial is available to try before you buy.
If you have multiple stores or need more than what the basic plan has to offer, you can contact Lightspeed for a personalized quote. Merchants looking to use more than five registers can take advantage of Lightspeed's Enterprise plan by scheduling a call and requesting a quote.
Lightspeed Restaurant Add-Ons
You can further personalize your plan by purchasing add-ons. Pricing starts at $12/month.
For $12 a month, you receive:
Customer-facing display
Kitchen Display System
Advanced reporting
Self-order table menu
Restaurant eCommerce
You can also explore Lightspeed's premium add-ons. Pricing starts at $39/month and options include:
Accounting
Loyalty plus loyalty app
Self-order kiosk
Delivery integration
Order ahead
Get Started with Lightspeed POS
Cloud-Based Or Locally-Installed
All of Lightspeed Restaurant's software is entirely web and app-based. You can access your back end through Lightspeed's website on any device that can connect to the internet. When it comes to using your terminal, you will need to purchase an iPad and install the Lightspeed app. Lightspeed Restaurant also gives you the option to add on a piece of hardware called Lite Server. This device allows users to continue using Lightspeed Restaurant in the event of an internet outage. It will maintain a local database that continuously backs your data up to the Lightspeed servers. This method is less than ideal, however, as you need to make this additional purchase to have an offline mode, and it still does not give you the ability to process credit card payments.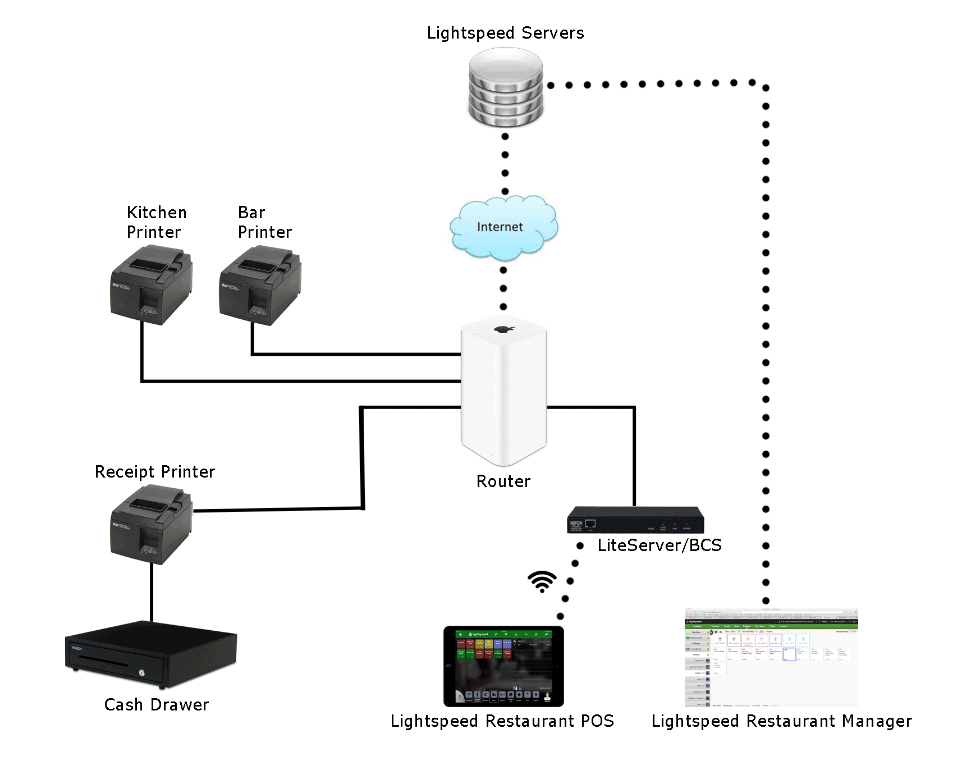 Specific Industry
Food retailers — from bar and coffee shop owners to restaurateurs — will be happy to know that Lightspeed Restaurant is more than capable of meeting their needs.
This POS is suitable for any restaurant setting, provided it satisfies the criteria outlined in the business-size section below. It has numerous features that make it ideal for restaurants, bars, cafes, bakeries, food trucks, food delivery businesses, and takeout restaurants.
Specific Size Of Business
Lightspeed Restaurant appeals to small to medium-sized businesses. Lightspeed best operates within the one to five register range, though it can handle more if necessary, including full-sized restaurants and franchises. If you have multiple locations, you can work with the company to create a custom plan tailored to your needs.
Ease Of Use
The first thing I was struck by in using Lightspeed Restaurant for the first time was the simplicity of the interface. It's both visually and practically pleasing. Upon logging into the back office, I was taken to an overview page and asked to add my choice of widgets to my dashboard. (Available widgets include pie charts and graphs with information about revenue, receipts, payment amounts, and daily reports.) I like the fact that you can choose what information you want to see when you first open up your screen and that it is easy to digest visually.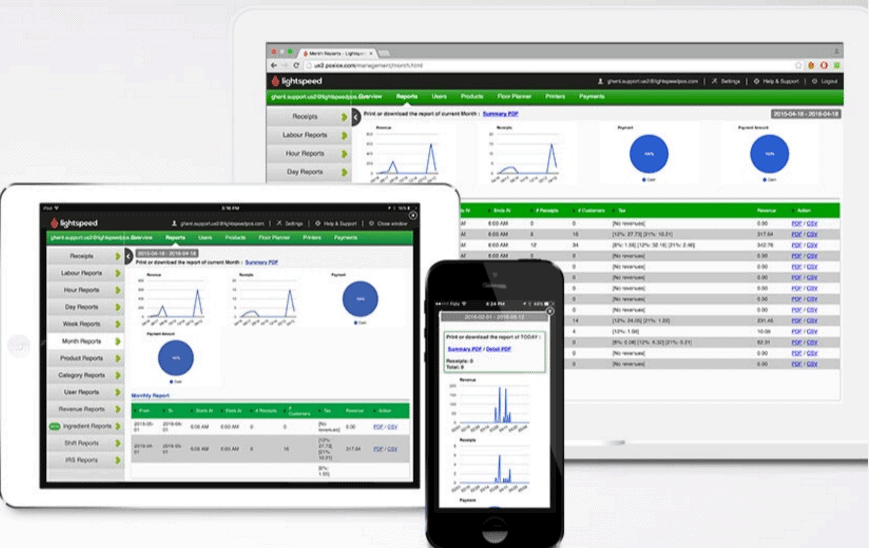 From the dashboard screen, you can view several training videos. These videos guide you through all the steps involved in getting your POS system operational as well as describing some of the features intended for occasional use. Along the top of the gray screen, you can select reports, users, products, floors, devices, printers, or payments. In the top right-hand corner of the screen, you will find a picture of a little bot that takes you to your account information. To the right is a button that will lead you to your settings. Finally, a question mark button to the right will take you to the support dashboard.

The front end of your Restaurant requires you and your staff to log in. You will then go to your customizable floor plan. At the top of the screen, users will see three buttons: "link tables," "extra," and "edit." The "extra" button gives the following options: "reload," "reservation," "open cash drawer," and "open receipt using ID."
Once you've set up your Restaurant and are ready to take an order, waitstaff will select the table they want to help. After they select the number of customers at the table, they are ready to take their order (see photo below). Your menu can be broken up into different sections (drinks, starters, and mains, for example). You can add discounts from this screen, select meal courses, send your order to the bar printer or the kitchen printer, and also go to the payments screen.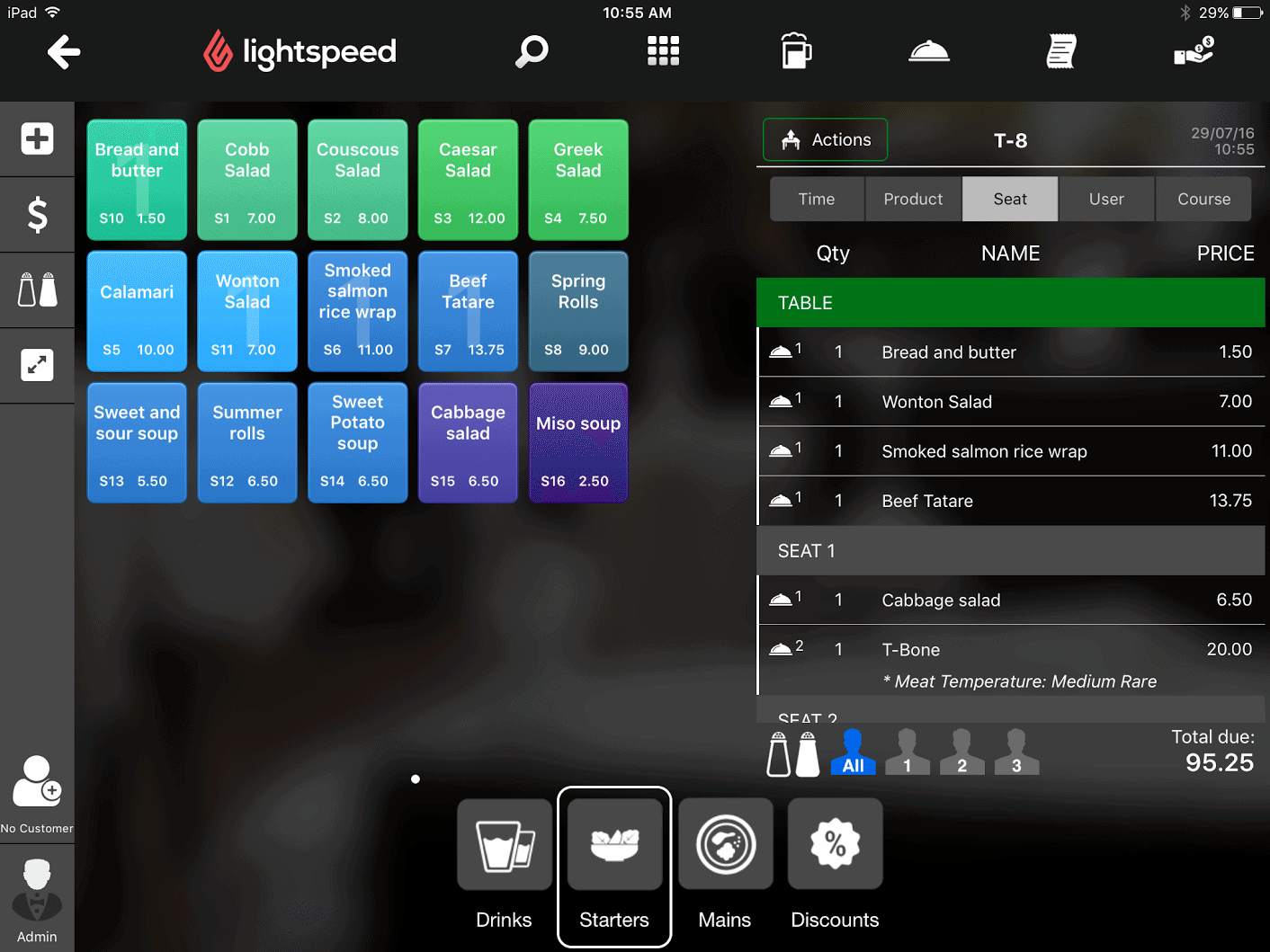 Payments can be split in a variety of ways, and waitstaff can email or print customer receipts as well.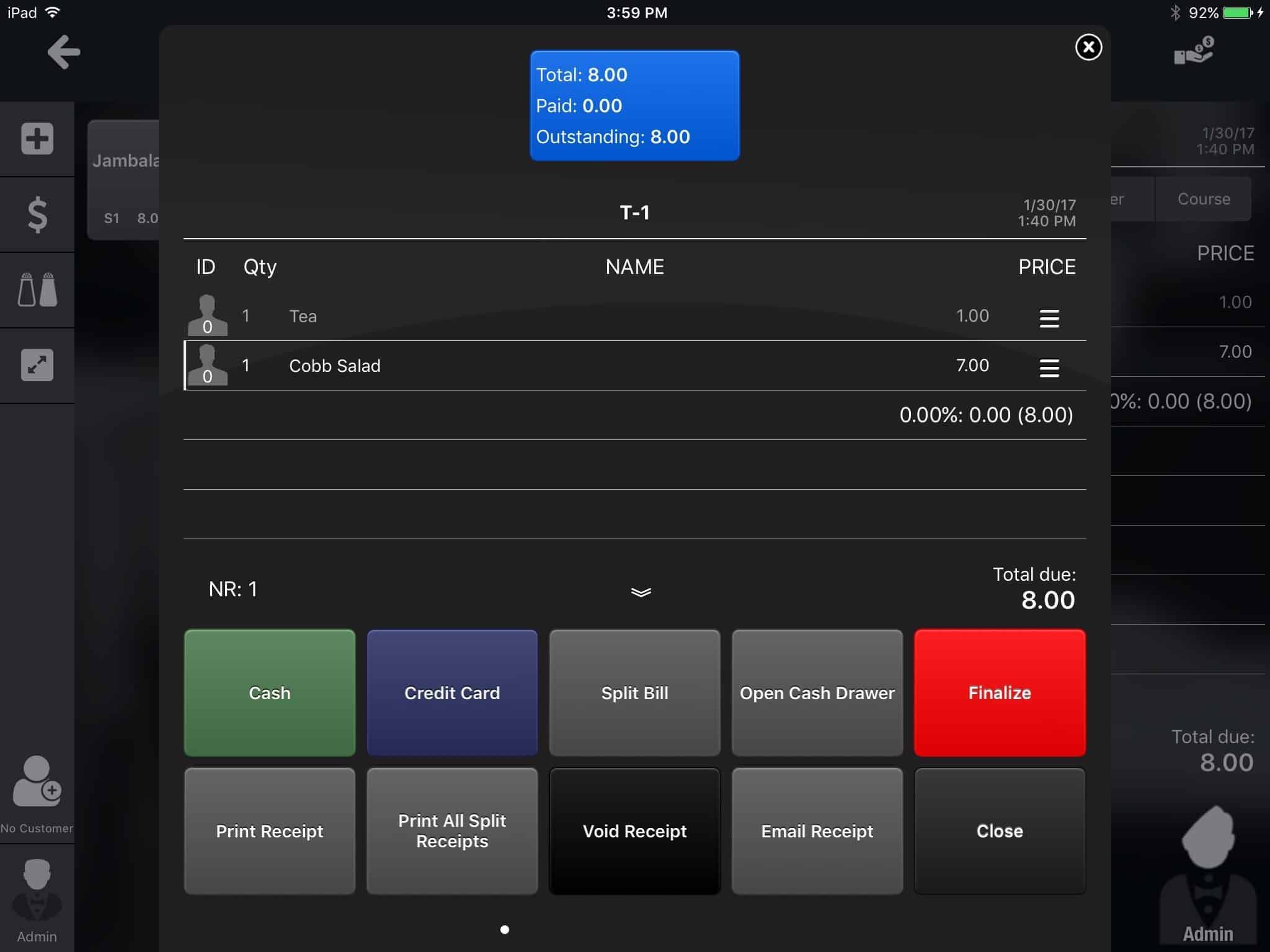 I did find it slightly annoying that any time I wanted to go from the front end of my system to the back end, I had to re-login, but that could be my inherent impatience showing. Requiring users to log in before they have access to the back end is a good thing and can help protect your more sensitive information.
Another plus when it comes to Lightspeed is that there is a design consistency amongst the different platforms. The fact that the desktop, iPad, iPod touch, and iPhone interfaces look the same helps alleviate the learning curve enormously. Some have criticized Lightspeed's approach as "too minimal," but that's not a concern to which I give much weight. If you can combine good functionality with a minimal, easy-to-use interface, then I fail to see the problem.
Get Started with Lightspeed POS
Hardware & Operating System Requirements
The Lightspeed Restaurant app requires iOS 12.2 or later to function, and the backend is accessible through any browser with an internet connection. It is compatible with iPhones, iPads, and iPod touch, but it should be noted that using the app on an iPhone or iPod touch will leave you with limited features. I'm told that it is best to use those two devices for clocking in and fast table ordering.
Lightspeed offers a convenient iPad starter kit that features the following:
LAN receipt printer
Cash drawer
Lite Server
Lightspeed iPad stand
Kitchen printer
You can also purchase all sorts of items, from receipt printers to kitchen buzzers, à la carte from the company's website. For more information about the peripheral hardware brands and models with which Lightspeed Restaurant is compatible, you can visit the company's website. For pricing information, you will need to get in touch with Lightspeed directly.
Get Started with Lightspeed POS
Lightspeed Restaurant Features
Lightspeed Restaurant features all the basic functions you would expect from a POS, so instead of going on forever about the obvious stuff, I'll just cover the elements that separate Lightspeed from the pack:
Employee Management: You can change the "visibility" of employees, determining whether or not they will appear in your app, which is especially useful for seasonal or part-time staff. Staff can be assigned as either managers or employees, and Lightspeed takes an all-or-nothing approach when it comes to permissions. Managers have access to the entire front and back end, and all employees only have access to the front end of the app. Employees can be further broken down into categories (waitstaff, bartenders, cashiers, cooks, etc.). You can also assign your staff to specific floors and tables and variations thereof. There are extensive permission-setting capabilities linked to predefined groups. For example, not only can you add an employee to the "Bartender" group (or a custom group that you have created) by defining their role in the "User" section but also (and this is where Lightspeed really shines) comprehensively define the permissions associated with that group — access to registers, voiding orders, adding tips, etc. Another example is the ability to limit a staff role, so they only have access to one feature, such as the time clock.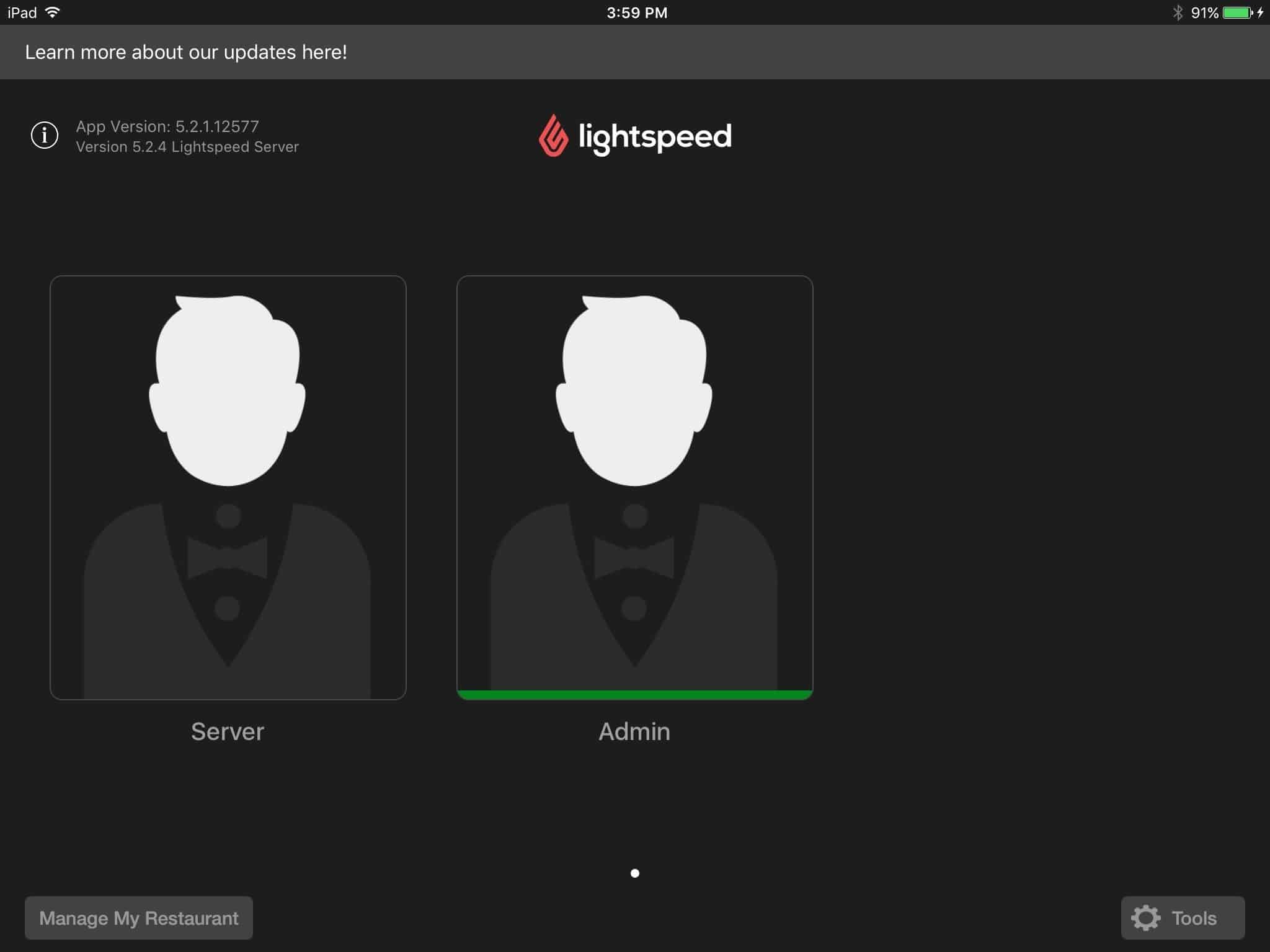 Product Management: Setting up your menu is effortless. In the "Product" section (which is initially subcategorized into "Aperitif," "Starters," and "Main" but fully customizable), you can easily add individual products and associate them with a unique kitchen name, an ID, and even a picture if you want to. One nice addition is the ability to set specific prices and tax rates for delivery and takeout dishes. Discounts, service fees, and combos can also be quickly added here. You can effortlessly create and change modifiers through the "Modifier section," where you can additionally set a max/min limit.
Raw Ingredient Tracking: You will be able to tie in your "Ingredients" tab, which allows you to create a record of all your raw ingredients (most unit measurements, such as grams and liters, included), with specific products in the "Products" area. What this means is that the software will automatically keep track of all your raw ingredients based on specific dishes sold. This function also comes in handy when waitstaff is taking an order, and you've run out of a particular ingredient. When they try to send their order through, they will be alerted that the menu item is no longer available and prompted to help the customer make another selection. Lightspeed Restaurant's integration with MarketMan allows users to track their raw ingredients and also allows for purchase order management capabilities.
Mobile Ordering: Lightspeed has added this functionality, which is one of the hottest trends in the POS world. Send orders to the kitchen directly from the table or bar while giving your customers flexibility in their payment options. You also have the option to allow customers to place orders directly on an iPad at their table to cut down on ticket times and reduce errors. You can cut down on time spent ordering using Lightspeed's QR code ordering options. Customers can place orders and pay directly from their phones for dine-in, delivery, and pickup. This contactless payment system is especially important during the COVID-19 pandemic but will continue to offer fast, convenient ordering and payment options even beyond the pandemic.
Modifiers: This function works seamlessly, as you can punch in special requests directly into the system. Whether it's forced modifiers or important changes, such as allergy restrictions, a simple click of the button sends custom orders to the kitchen that are easy to read.
Timed Events: With Lightspeed Restaurant, you also have the option to include what are called "Timed Events." (This feature is still in beta mode, but so far, it works like a dream.) Timed Events allow you to set promotions and offers to run for a specific time or on certain days; it works great for "20%-Off Tuesdays" and "Half-Price Fridays" (I'm sure you get the idea). If that's not enough, you can also set multiple offers to run at the same time, setting which one has priority. So you could have 20%-off on Tuesdays and adjust the discount to 30% if the customer buys between 4 and 5 o'clock.
Kitchen Name Printing: This feature is especially helpful if your kitchen staff happens to speak a different language than the one used in your menu. You can input the order as it appears on the menu, and when you send it to the kitchen, it will print in the language of your choice. This feature is also beneficial if your restaurant has a bunch of different names for menu items. If, for instance, you have a menu item called "the Senior Breakfast Special," you can have the order print out in the kitchen as "two eggs and a side of bacon."
Loyalty: Easily add customer information into your system, allowing you the ability to track their purchase orders and add credit to their account. See when reservations have been made and assign customers to their preferred tables.
Delivery: Lightspeed offers delivery integration with its advanced package in a simple, consolidated format that makes large numbers of orders easy to sort. It partners with UberEats, SkipTheDishes, and DoorDash. It also allows you to create promo codes and delivery-specific menus, all while providing a simple interface for customers.
Menu Building: Lightspeed's menu building functionality is one of the best I've seen. You can create a simple menu in minutes and on any device. It's also simple to make changes to items, immediately informing servers of changes. One of the great things about mobile iPad systems is the ability to work tableside. Lightspeed Restaurant allows servers to show images of menu items to customers.
Reporting: Lightspeed has built its reputation partly on the depth of reporting offered. Though Lightspeed Restaurant doesn't go as deep as some other products, there is still a substantial number of reports to work your way through. You can view revenue and receipts by the hour, day, week, and month. There are tailored product and product category information, specific cash register monitoring (so you can see which employees are earning the most money), and also in-depth user tracking (so you can see what your staff's activities and performance have been like over a set period). If you find Lightspeed's reporting lacking, you can tack on an advanced reporting option for $21/month. I usually am not a big fan of add-ons for expanded features, but in this case, Lightspeed's basic options are relatively generous, and the advanced settings let you create your reports and feature others that are pretty intuitive and in-depth.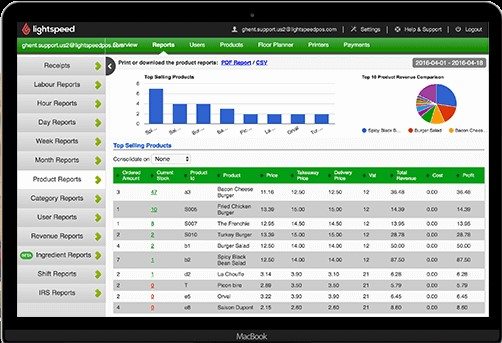 Floor Planner: It's possible to wrap your head around the floor planner in a matter of minutes. Adding tables and floors, modifying their sizes, and adding specific printers for each (to distinguish between food and drink-only tables, for example) is effortless. You can add cars for take-away management. There is also a feature that helps you better keep track of things when your business is swamped. As you can see below, the tables are different colors; green means that the table is busy, and red means that the bill has been printed, but the patrons are still waiting to pay.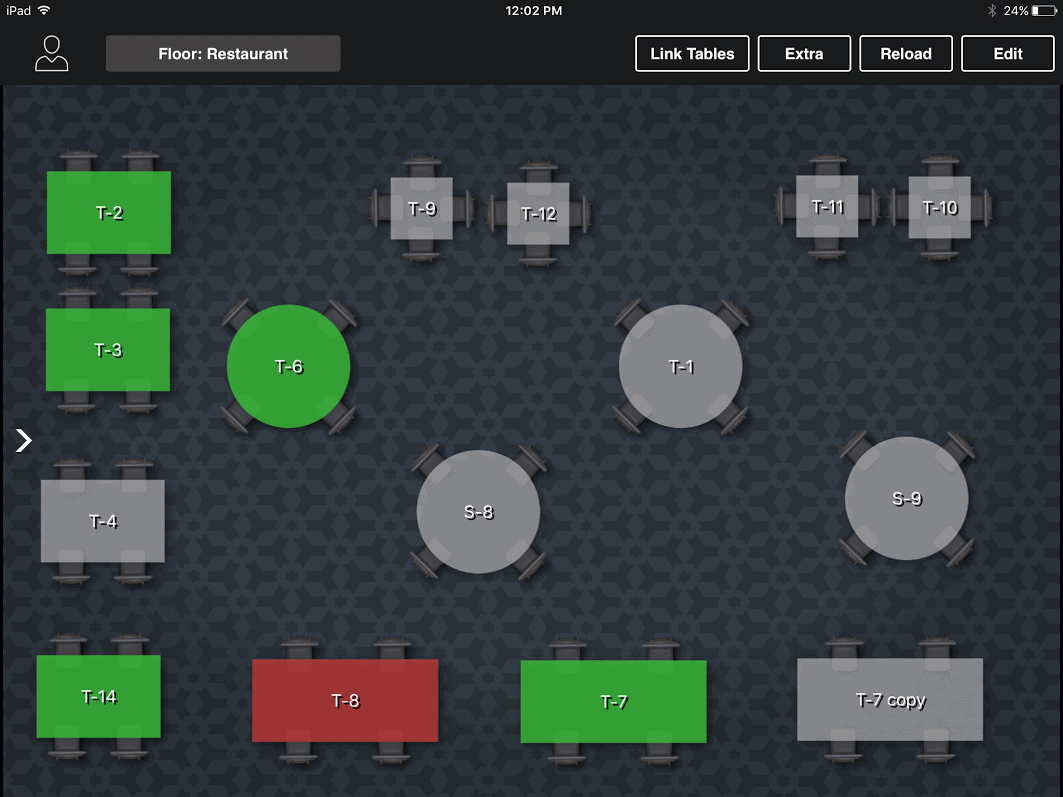 eCommerce: If you want to take your business online, you can add eCom for Restaurant to your plan. This eCommerce platform helps you boost your online presence with website themes, an online store for selling your merchandise, and an online reservation system that's easy for both you and your customers.
Customer Service & Support
The monthly subscription price includes Lightspeed's customer care. You can contact Lightspeed Restaurant through the following outlets:
Phone: Lightspeed offers 24/7 phone support, excluding holidays. There are dedicated country-specific numbers for the US, Canada, Belgium, United Kingdom, Australia, the Netherlands, and Singapore.
Email: Lightspeed Restaurant has a dedicated email address. There is a one-day turnaround time for emails.
Live Chat: Live chat is offered from 9 AM to 6 PM EST.
Social Media: Lightspeed has profiles on Facebook, YouTube, Instagram, Pinterest, LinkedIn, and Twitter.
Blog: Lightspeed Restaurant has a blog that is updated regularly. Posts generally revolve around company news and business-related topics.
Community Forum: There is also an active forum through Lightspeed's website for customers to ask questions and help each other or get advice from professionals.
I was pretty impressed with Lightspeed Restaurant's level of support. I found the customer support to be friendly, prompt, and very helpful. Clicking on the support button from the back-end management area takes you to a page listing all of the company's support phone numbers worldwide, gives you a link to email the support team, and directs you to the help center/live chat feature, written resources, release notes, and training videos.
Compatible Credit Card Processors
You have two options when it comes to credit card processing with Lightspeed Restaurant POS. The first option is to use a third-party processor. For the most seamless experience, you can choose one of the processors that integrate with Lightspeed Restaurant. Those options are:
2ACCEPT
TSYS
Vantiv (Now Worldpay)
You can also choose another third-party processor, which may be the best choice if you find a lower price or you don't want to change credit card processors. Be aware, though, that using a non-integrated processor means that your terminal isn't connected to your Lightspeed Restaurant account and you will have to manually input the transaction.
Lightspeed Payments
Your second option is to use Lightspeed Payments, Lightspeed's own processor. This option is convenient, and the rates are relatively affordable. For tapped, inserted, or swiped payments, the fee is 2.6% plus $0.10, and for manually keyed-in payments, the rate is 2.6% plus $0.30. High-volume businesses that process more than $250,000 can contact Lightspeed for a personalized quote. One drawback of using Lightspeed Payments is that you can't use your own hardware. The purchase of a terminal from Lightspeed is required to use Lightspeed Payments.
Which option is right for you? Check out different processors, noting contract lengths, rates, and hardware requirements to find the option that's best for your business.
Integrations & Add-Ons
Lightspeed has an impressive array of integrations listed on its website. If you need some niche functionality, you'll likely find what you're looking for in that list, although probably not for free.
Employee Management: Lightspeed integrates with Push Operations, which helps streamline labor management.
Online Ordering: Lightspeed Restaurant integrates with several online ordering services, such as BPL, Chowly, and Mobikon. Mobi2Go and Zuppler offer online ordering as well as mobile ordering.
Hotel-Specific Integrations: These include MEWS, Bookingplanner, and StayNTouch.
Accounting: Lightspeed Restaurant integrates with QuickBooks, QuickBooks Desktop, and Xero through Lightspeed Accounting. It also integrates with Exact for Resto by ESC.
Reservations: Lightspeed Restaurant integrates with Resengo for your reservation needs.
Delivery: With Orderlord, you can track orders and drivers, creating a transparent delivery service.
Financing: Lightspeed Restaurant integrates with Bizfi, Econolease Financial Services, and Evolocity Financial Group.
Online Scheduling: For online scheduling, use CoverManager.
Loyalty: You can integrate with AppCard, Chronogolf, GourmetMiles, and Loyal2.
Inventory Management: You can integrate with MarketMan, Growzer, or Nobal Technologies.
Tech Support: With Boomtown!, businesses can get 24/7 tech support.
Get Started with Lightspeed POS
Lightspeed Restaurant POS Reviews & Complaints
Negative Lightspeed Restaurant Reviews & Complaints
Overall, Lightspeed Restaurant POS has a very good public reputation, earning numerous five-star reviews across the internet. However, there have been some complaints from unsatisfied customers. Lightspeed POS has a B+ rating with the Better Business Bureau and a total of nine complaints closed in the last three years. There are also some negative reviews online pointing out Lightspeed Restaurant's flaws, most notably:
Bugs: I noticed a few times when I was exploring the front end that the screen would freeze for a few seconds.
Outages: Multiple reviewers mentioned frequent interruptions in service, particularly during peak times.
Lightspeed Payments: Some customers weren't happy with Lightspeed Payments fees, claiming other companies were cheaper. Lightspeed Restaurant does integrate with other payment processors, but you have to do your research to figure out what makes the most sense for you.
Price Point: While most customers were pleased with the basic features that Lightspeed offers, a few pointed out that the add-ons were expensive. These users felt that the cost did not justify what they were receiving with those add-ons.
Positive Lightspeed Restaurant Reviews & Testimonials
Lightspeed Restaurant POS has a number of glowing reviews. It receives a rating of 4.6/5 (based on 31 reviews) on G2 and a rating of 4.5/5 (based on 54 reviews) on Software Advice. Users most liked:
Ease Of Use: Customers like that Lightspeed is easy to use and doesn't have a high learning curve.
Great Customer Service: Many, myself included, find Lightspeed's customer service to be very friendly, helpful, and happy to resolve your issues.
Simplicity: Some customers praise the simplicity of Lightspeed Restaurant's front and back ends.
Customization: Users appreciated that they could easily tailor the system to fit their specific restaurant's needs.
Robust Features: Many reviewers were impressed by how much was offered from Lightspeed Restaurant and pleased with the value of the product.
Final Verdict
For small- and medium-sized businesses in the food services industry, Lightspeed Restaurant should offer everything you need in a POS system. A well-designed, easy-to-use interface, numerous features, and multiple reports are what you can expect from this robust system. Throw in options like eCom for Restaurants, contactless ordering and payments, a floor planner, and numerous integrations, and it's easy to see why Lightspeed Restaurant has an overwhelmingly positive reputation among its users, both past and present.
With that being said, no POS system is perfect, and Lightspeed Restaurant is no exception. A lack of CRM options, problems with the system's offline mode, and added costs from add-ons and integrations may be deterrents for some businesses.
Despite these flaws, though, Lightspeed Restaurant continues to expand its feature set, keeps up with current advances in both the restaurant and POS industries, and provides users with exceptional customer service. Its base pricing is also extremely competitive, and many users will find the additional costs of add-ons and integrations to be well worth the investment.
Lightspeed Restaurant POS is certainly worth a try, and you can take it for a test run with a 14-day free trial. After all, there's nothing to lose, and you may just find the POS that's the right fit for your business. Good luck!
---
The Merchant Maverick Seal of Approval 🏆
Lightspeed POS


---



After hours of in-depth research and evaluation, we can confidently recommend this brand to our readers. Get started today and see Lightspeed POS for yourself.
The Merchant Maverick Seal of Approval 🏆
Lightspeed POS


---



After hours of in-depth research and evaluation, we can confidently recommend this brand to our readers. Get started today and see Lightspeed POS for yourself.
To learn more about how we score our reviews, see our
Point Of Sale (POS) Software Rating Criteria
.
Read Next