TouchBistro Review 2022
TouchBistro is extremely cost-effective for smaller foodservice businesses that don't need many terminals or devices and enough features to pack quite a punch.
Expert Analyst & Reviewer

Updated on:
Advertiser Disclosure: Our unbiased reviews and content are supported in part by
affiliate partnerships
, and we adhere to strict
guidelines
to preserve editorial integrity.
TouchBistro

Pros
Well-designed UI
iOS-based
Easy to use
Competitive monthly cost
Numerous integrations
Cons
Inconsistent customer support
Not all-in-one
Add-ons can get pricey
TouchBistro POS Overview
TouchBistro boasts some of the most customer-friendly software in the point of sale industry. TouchBistro's innovative software and intuitive design remain highlights for this POS. The company has also bulked up in the past year, adding better in-house inventory and reporting features to make it an even more attractive product. In the POS world, TouchBistro has rapidly climbed to the top of the market and has received multiple industry awards and honors.
Designed for any business with a menu (restaurants, cafes, bars, etc.), TouchBistro is a successful point of sale application that runs solely on mobile iPads synchronized through a local network. The TouchBistro hardware setup is low cost and simple, and the licensing fees are also cheap compared to the gigantic POS systems of yore.
Better yet, customers love the modern look and feel of the tablet-based checkout system that can handle seating and table assignments, menu selections, order taking, wireless transfer of orders to the kitchen, split tickets, split tabs, and daily sales reports. Even payments can be completed tableside, with the option of quickly emailing receipts to customers. The mobility allows restaurants to complete every task with greater ease and speed. Staff can spend more time on the floor attending to customers and creating a positive dining experience.
TouchBistro continues to update its product with the times. In the wake of COVID-19, in particular, TouchBistro has introduced several add-ons to help restaurants set up online ordering for socially distanced takeout and accept online reservations to limit their dine-in capacity. TouchBistro also recently introduced TouchBistro Payments for in-house payment processing.
Keep reading our full TouchBistro review for all the details. And if you've used TouchBistro and want to share your experience with it, leave us a comment!
TouchBistro Pricing
With one or two register setups starting at $69/month, TouchBistro's pricing makes it one of the more affordable restaurant POS systems out there. If you need more than one license, TouchBistro encourages you to request a quote. Get started with TouchBistro now.
All plans include 24/7 customer service, menu management, table management, cloud reporting and analytics, unlimited integrations, and unlimited users (staff members who are not licensed). You can book a free demonstration of TouchBistro to see how it works before committing to a plan.
TouchBistro add-on pricing is as follows:
Gift Cards: $25/month
Online Ordering: $50/month (first 12 months free during COVID-19)
Reservations: $229/month
Loyalty: $99/month
Cloud-Based Or Locally-Installed
TouchBistro is a hybrid system. This locally-installed software does not require Wi-Fi or internet to operate outside of the initial download and software updates.
For a one-register setup, all you need is the one iPad — you can run and manage your whole restaurant directly from that device. For two or more iPads, you must run the Pro Server Application on a Mac Mini, which acts as the central database for your restaurant. All iPads will communicate with it to stay in sync with one another.
TouchBistro also offers cloud-based services for viewing reports and other important restaurant data as well as an online ordering module. You will also need an internet connection for credit card payment processing.
Specific Industry
TouchBistro is intended for the restaurant industry and is ideal for food trucks, cafes, bistros, bars, pubs, and casual or fine dining — any business that serves edible products.
Specific Size Of Business
TouchBistro matches up well for businesses that fall in the small-to-medium range (it's great for food trucks). It has also become more and more capable of handling large-scale restaurants; it's even the POS of choice for a few big-name eateries in the US.
TouchBistro Ease Of Use
The TouchBistro iPad interface is well done. It's simple to navigate and attractively designed with a fresh color palette. The simplicity and aesthetics are important since the app is designed to act as both a POS and a digital menu with full-color, high-res photos of each menu item. Anything your customers are directly interacting with needs to look sleek.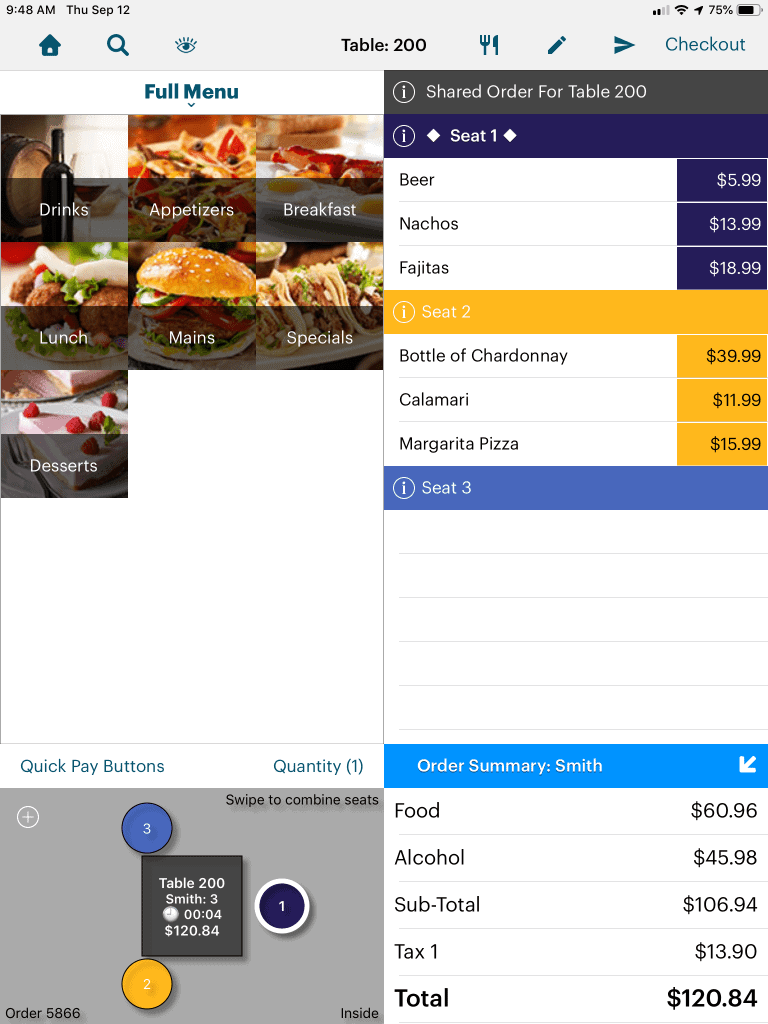 You can also import your menu from a TouchBistro server, an upgrade that was previously unavailable and is now a significant time-saver.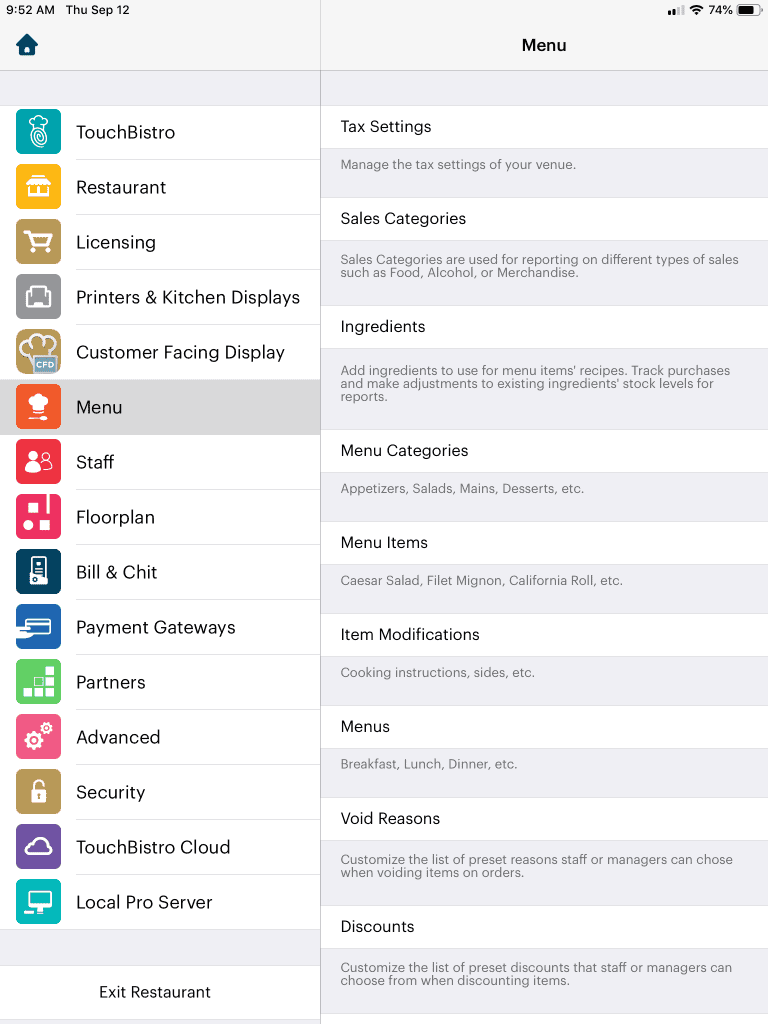 TouchBistro created its product with servers in mind, and it shows. The check-splitting function is simple, taking just a few clicks to sort out items by an individual customer or by various groups of customers.
Everything is also highly customizable, from the look of your menus to button placement on the screen. TouchBistro allows for custom modifiers, and its forced modifiers pop up automatically, making order taking easy for servers and customers.
Additionally, TouchBistro allows the app to be used in Spanish. If your iPad's default language is English or Spanish, TouchBistro will automatically switch to that language once it is installed.
Hardware & Operating System Requirements
TouchBistro partners with Apple; the app runs on either the iPad or the iPad Mini (except for the first-generation iPad, iPad 2, iPad Mini 1, and iPad 3rd/4th generation). If you have more than one iPad device and are using TouchBistro Pro (multilocation plan), you'll need a local server, which a Mac Mini or iMac computer can house.
Many POS apps only deal with the software side of things, with clients directed to outside dealers for hardware. TouchBistro is a little different in this respect, as it offers custom hardware packages. If you don't want to go with a package, you're also free to purchase the various hardware elements on your own. See below for hardware compatible with the TouchBistro app.
iPad: TouchBistro recommends using the iPad 9.7″ (2018, 6th generation), iPad Mini 5 (2019), or the iPad Air (2019, 3rd generation). These range from $249 to $499.
Mac Mini: Using one is required for multi-iPad setups, and it stores all your TouchBistro data. The recommended model: 3.6GHz quad-core eighth-generation Intel Core i3 processor 8GB 2666MHz DDR4 memory PCI-E-based SSD Storage (128GB Minimum). This model currently costs $799. Note that you must use a Mac computer with a PCIe-based Flash Storage drive, not an ATA drive or Fusion drive.
Routers: You can use the AmpliFi™ HD Mesh Router ($149), which pairs with the AmpliFi™ MeshPoint HD ($119) to expand network coverage, if necessary.
Cash Drawers: TouchBistro leaves the decision on cash drawers up to you. TouchBistro does require that the drawer use an RJ12 connection and is a printer model. Since there is not a huge variation in hardware, most drawers should be compatible. Depending on the model, cash drawers generally run from $100-$130.
Printers: TouchBistro supports Star Micronics Impact TSP100, TSP100III, and TSP650 II series thermal receipt printers. These printers range from approximately $200-$300. TouchBistro does not work with parallel or USB printers.
TouchBistro POS Features
If you visit the TouchBistro website, you can find information on app features and descriptions of the various industries the software is suited for. Below is a list of current features. Keep in mind that while these features are mostly accurate, things change quickly. If you have specific POS requirements, you'll want to directly confirm with TouchBistro whether the app can meet your needs.
Taking Orders

Staff can take customer orders tableside with the TouchBistro app. The app can double as both a menu and a POS system.
If you're taking an order at a counter (rather than at a table), you have the option to set up and view the iPad screen with a landscape orientation.
Quickly scroll through different menu categories and customer parties with touch tabs.
Pop-up modifiers prompt servers to upsell on the spot.
Send the order to any printer in the business.
Take orders in table view or tab view.
Send orders to the kitchen all at once or by course, depending on the type of venue.
Create tabs appropriate for a bar or pub setting.
Items can be shared by the whole table, moved from one guest to another, or edited.
Take notes or make special accommodations for each order.
Move an order from the cash register to a table or tab.
View all current orders at once.
Lock the register, so you can serve multiple customers without being locked out.
It gives the ability to print or email receipts.
Customize order taking for right- or left-handed employees.
Table Management

Design the table layout with the floor plan function. Use templates or start from scratch. Move or edit the floor plan at any time. Combine tables for large parties.
Manage multiple tables at once with one iPad, or manage one table with multiple synchronized iPads.
Choose a table to seat a party and then name the party and record the number of guests. Each table is color-coded according to the server section it's in.
Quickly assign seats to each customer and pair orders with seat assignments.
Managers can directly assign waiters when opening a table on their behalf. You can also reassign a waiter to a closed bill or check.
Convert an open table order to a bar tab.
If you have TouchBistro Pro, you can take advantage of the "Reservations" function, which allows you to associate tables with a reservation.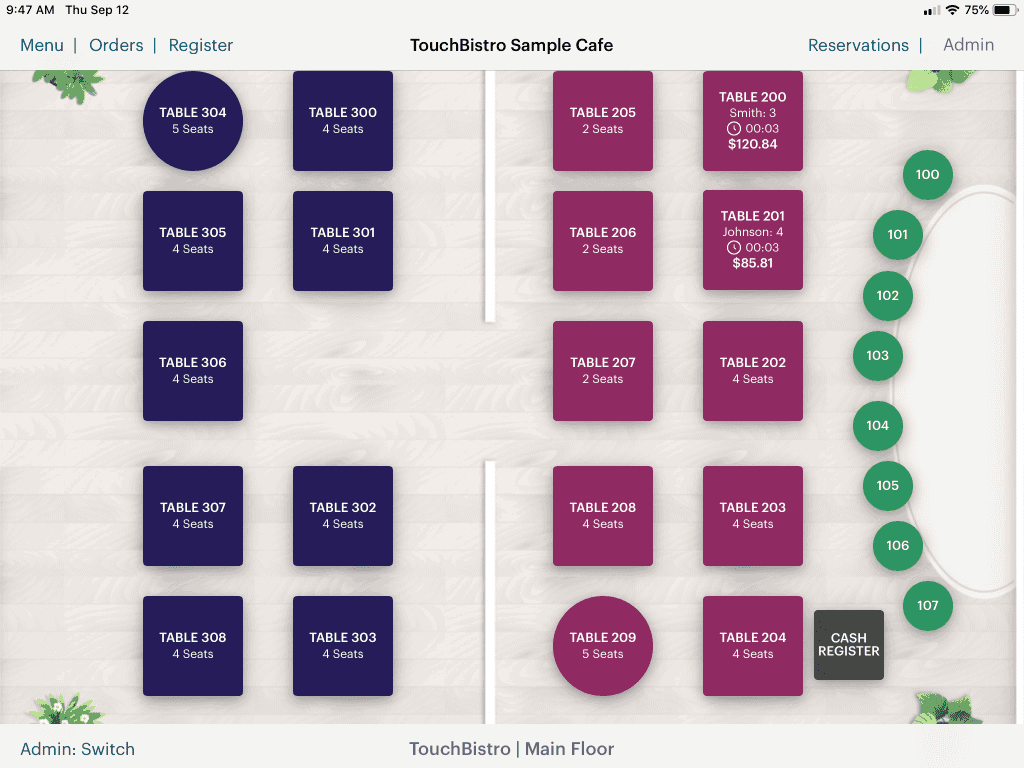 Course/Menu Management
Design a custom menu with separate categories (e.g., appetizers, entrées, desserts, etc.). Each menu item features a full-screen photo that can be uploaded or taken directly with the iPad camera feature. The full-screen shot pairs with a short description of the item that can be shown to customers.
Add or edit modifier groups. Assign a UPS code for basic inventory purposes.
Assign additional costs to special items or order additions.
Use the "duplicate feature" function to build your menu more quickly.
Switch between breakfast, lunch, and dinner menus.
Create up to eight different courses.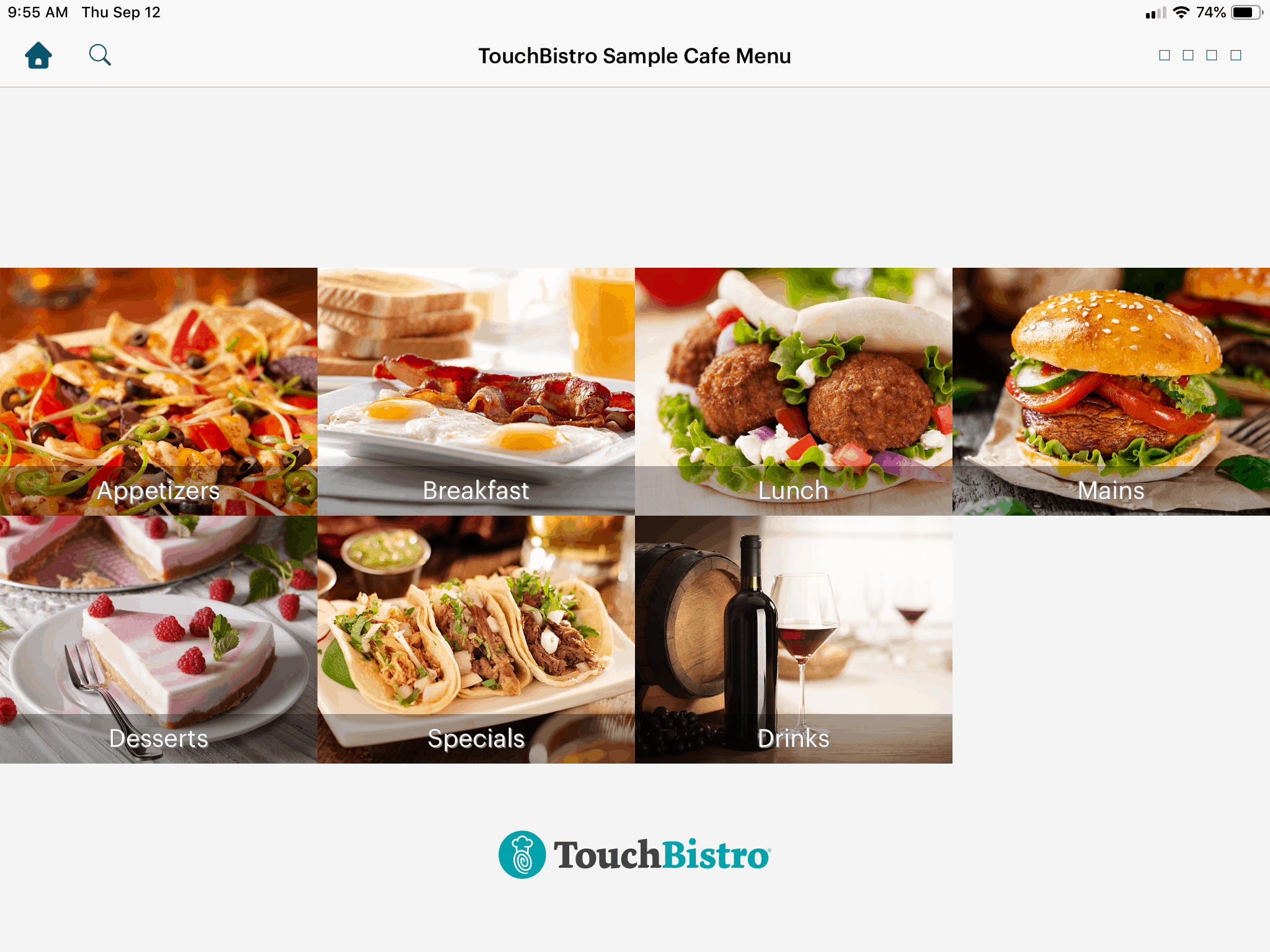 Kiosk Option
The easy-to-use layout has simple tabs along the top, allowing customers to view the full menu or items under a variety of categories (e.g., breakfast, lunch, appetizers, etc.).
Customers are walked through add-ons, taking upselling out of an employee's hands.
Customizable menus give information about pairings, portions sizes, or nutritional information.
Checkout can be done with two simple clicks.
It takes cash or card payments.
It pairs with the original TouchBistro POS.
Digital Menu
Project your menu to a TV or monitor using TouchBistro's Digital Menu Board app and an Apple TV.
Kitchen Display System
Works in tandem with kitchen impact printers.
Tickets instantly appear when sent from the POS with an accompanying chime.
Sort and track individual item cook times, ticket history, ticket priority, and more.
It can run on any iPad that can run iOS 6.
Pricing varies based on the existing subscription package (call for quote).
Reporting
View sales history for any given date or time by moving rotating dials and refreshing the page. Print receipts or email sales history from this point.
View sales statistics for section totals, category totals, waiter totals, food totals, alcohol totals, tax, menus, and discount totals.
Create sales reports for various line items of your choice. Save your preferences as a template.
Print or email the end-of-day report.
Sales Totals iPad report breaks out sales as gross and net sales.
Menu List Report lets you view/export a list of your menu items, food costs, and menu price.
You can export data as a CSV file.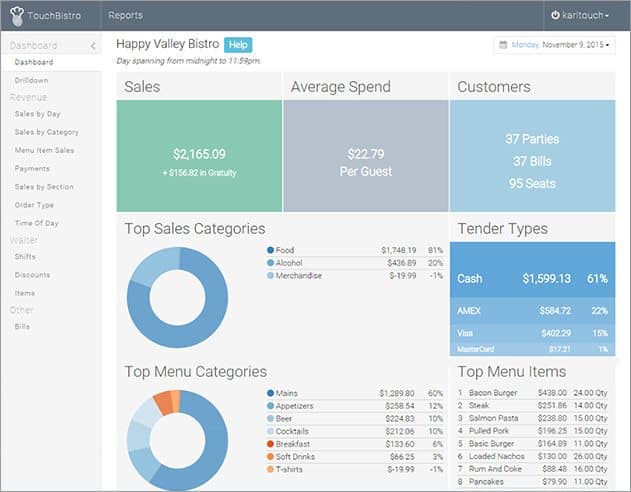 Employee Management
Staff members can log in and out for each shift. Some basic scheduling capabilities are also available.
Assign titles according to employee status (e.g., hostess, bartender, manager).
You can set permissions and passcodes for each employee.
Assign security settings (low/medium/high) to help monitor activity.
Assign specific sections of the restaurant or bar to each employee.
Track which employees are regularly deleting items or using the "No Sale" button more frequently than necessary.
Employees can track breaks without clocking out using paid or unpaid break options.
Taking Payment
Split payments across any combination of guests. Assign different forms of payment to each guest.
Process multitender payments: cash, card, check, gift card, and hotel room.
Easily email bills and receipts to customers with one tap.
Customize the bill and guest checks to your liking. Add your logo.
If desired, add a Tip Guide to the bottom of bills and guest checks.
Void multiple items at once and print voided items on a separate chit.
Use the "Fast Bar" feature to complete payments and close orders quickly.
The system includes gift card capabilities.
Split and close by the seat or by a group of seats/tables.
Guests' checks can now have multiple tax amounts printed on them.
The system has on-screen options for signing and tipping.
Loyalty
The TouchBistro Loyalty basic package starts at $50 a month. The Plus plan runs $99 a month, and the Premium plan $189 a month, with each giving access to more features.
Customers can add on to or pay for gift cards on which they can also collect and redeem points.
Store customer information and preferences.
Use knowledge to create customized messages and discounts.
Incentivize customers to make more purchases.
In-venue signage promotes the loyalty program.
Inventory Management
Track the costs of various recipes to see what menu items are profitable.
Engineer your menus to maximize the efficiency of ingredients.
Allow staff to easily access ingredient levels to see if any items are out of stock or running low.
You can update menus with a simple click.
TouchBistro's feature set is frequently updated to improve and add features. You have the option to let updates install automatically, but you can also opt to turn off automatic updates so that your POS doesn't update during a shift.
TouchBistro Integrations & Add-Ons
TouchBistro offers many useful integrations to extend the system's functionality, including the following software partners:
Accounting: QuickBooks, Xero, Sage, Shogo, MarginEdge
Business Insights & Analytics: Avero
Inventory Management: Bevcheck, WISK.ai, MarketMan, Craftable, Wisk, FreePour, Optimum Control, MarginEdge
Mobile Payments & Loyalty: SmoothPay
Staff Scheduling: 7shifts, Push Operations
Online Ordering & Delivery (To Connect Third-Party Online Ordering Apps): Checkmate, Deliverect, Ordermark
TouchBistro also offers the following in-house add-ons:
Gift Cards: This $25/month add-on lets you sell branded, customized gift cards from your restaurant. These cards can be tracked using your POS and redeemed at any of your store locations.
Online Ordering: Available for $50/month, this add-on is easy to set up; all you need is your TouchBistro Cloud credentials to sync your POS with an online menu where customers can place orders. Note that while this app sends online orders to your POS, integrated online payments are currently unavailable, so you'll have to take payment using your POS upon pickup or delivery. As an alternative to TouchBistro's in-house online ordering system, you can integrate a partnered software service (such as Checkmate or Ordermark) to connect third-party food delivery apps (e.g., Uber Eats, DoorDash, Postmates, etc.).
Reservations: This $229/month add-on is a complete reservation and guest-management system. It allows you to accept reservations through your website, TouchBistro's web and mobile discovery apps, or Google Reservations. The add-on also includes guest records (an important tool for small business contact tracing), floor plans, and SMS and email reservation alerts.
Compatible Credit Card Processors
TouchBistro is compatible with several popular gateways, in addition to its TouchBistro Payments (powered by Chase), which is available in the US only. Chase Merchant Services generally has positive reviews, so I would expect that TouchBistro Payments is a quality processor as well.
If you want to use an outside payment processor, here are your options:
Notably, Square is also a basic POS system as well as a payment processor. If you already use Square payment processing at your establishment but need a POS with more restaurant-centric features, TouchBistro might be a good addition. You can call TouchBistro to schedule a demo to see how TouchBistro works with Square.
Keep in mind that, although your TouchBistro wireless network does not require Wi-Fi or an internet connection to operate, your payment gateway does require a wireless connection. If your internet goes down, you will not be able to process credit card payments.
TouchBistro Customer Service & Support
TouchBistro offers 24/7 customer service for all subscribers. You can call the company, or if you have a simple query, you can email the company directly.
Access to 24/7 support through multiple channels is a great thing to have with any POS. Some TouchBistro users, though, have mentioned that customer support can take an unacceptably long time to return calls and resolve issues. However, the company has listened to this criticism and made strides to improve customer service over the past couple of years. TouchBistro also makes efforts to engage with customers who complain about the POS on review sites.
The TouchBistro Facebook account does have some client/staff dialogue and information about updated features and new TouchBistro developments. You can also watch short YouTube videos that give overviews on various TouchBistro functions, from setting up your wireless network to configuring your menu. I found the videos well done and helpful. TouchBistro has a Twitter feed too.
The TouchBistro website features a comprehensive support section, complete with set-up guides, written instructions, and tutorial videos.
TouchBistro Reviews, Complaints & Testimonials
While TouchBistro has both negative and positive reviews, overall, the positive things customers mention outweigh the bad.
Negative TouchBistro Reviews & Complaints
After scouring the internet, a few negative complaints repeatedly showed up in TouchBistro POS reviews:
Customer Service: There were many complaints about long wait times and customer service representatives taking a couple of days to respond.
Reporting: There were several complaints about reports having glitches.
Lack Of Features: A few customers asked for more extensive inventory and reporting features.
Not An All-In-One POS: TouchBistro has put most of its development energy into the POS system itself. This is an area where TouchBistro has steadily shown improvement, but customers still may find things (such as inventory and reporting) lacking. This means that you can end up with excellent software and a great interface, but you may have to pay for add-ons. The reporting and accounting features are fairly basic, although the app now integrates with Shogo and Xero. Employee management has become easier, thanks to a recent integration with 7Shifts, and, fortunately, receiving and storing customer data has become a simpler process as well.
Positive TouchBistro Reviews & Testimonials
Here are several of the more common points of praise when it comes to TouchBistro:
Popularity: TouchBistro has been the top-grossing POS app on iTunes several times in the past couple of years. That's something to pay attention to. TouchBistro has a lot of clients that have modified their app to work for them. While the fact that the app is undergoing so much development is a little unnerving, it also indicates that the company is growing and thriving. Many customers don't seem to mind that there are constant updates, and a few even see it as a positive.
Solid, Easy Design: There are quite a few customers who rave over TouchBistro's ease of use and the fact that it has a sleek interface. The design is modern and attractive, and, for the most part, it's intuitive and straightforward to navigate and use. You're not going to be spending much time training new employees on how to use it like you would have to do with more complicated POS systems. The initial setup is also going to be minimal. Anyone with a small amount of technical know-how will be able to set up the entire system quickly, which also helps reduce costs.
Low Cost: TouchBistro is cost-effective in the grand scheme of POS options. The hardware costs are minimal compared to those of large, hardware-intensive POS systems. If you have a very small business with only one terminal, the price is especially feasible.
TouchBistro FAQs
Final Verdict Of TouchBistro POS
I have mostly positive feelings about TouchBistro. I love the app and how it seamlessly takes you through each step of the restaurant experience (while looking great to boot!). As POS software, it's a solid, well-developed product.
I feel somewhat limited by the lack of additional services in the TouchBistro app (there is little in the way of inventory, employee, and customer management). I also have to admit that TouchBistro is significantly cheaper than some other POS tablet apps specifically designed for the hospitality industry. It might be worth it to you to use supplemental software in exchange for the low cost.
TouchBistro is extremely cost-effective for smaller businesses that don't need many terminals or devices. Larger businesses that have more than 10 iPads may want to shop around for an app with a more expensive licensing fee that allows for unlimited devices. Check out our article on the best restaurant POS systems to see if any of our picks fits your needs.
Overall, TouchBistro is an elegant, successful POS system with lots of potential for future development. The changes and features they have added recently have predominantly been positive, and TouchBistro still has room to grow into a truly elite system.
---
The Merchant Maverick Seal of Approval 🏆
TouchBistro


---



After hours of in-depth research and evaluation, we can confidently recommend this brand to our readers. Get started today and see TouchBistro for yourself.
The Merchant Maverick Seal of Approval 🏆
TouchBistro


---



After hours of in-depth research and evaluation, we can confidently recommend this brand to our readers. Get started today and see TouchBistro for yourself.
To learn more about how we score our reviews, see our
Point Of Sale (POS) Software Rating Criteria
.
Read Next