6 Best Coffee POS Systems To Buy In 2023
Coffee shops are busy places, and you need a POS that can keep up. These point of sale software options have all the features you need for your cafe or coffee shop.
Expert Analyst & Reviewer

UPDATED
Advertiser Disclosure: Our unbiased reviews and content are supported in part by
affiliate partnerships
, and we adhere to strict
guidelines
to preserve editorial integrity.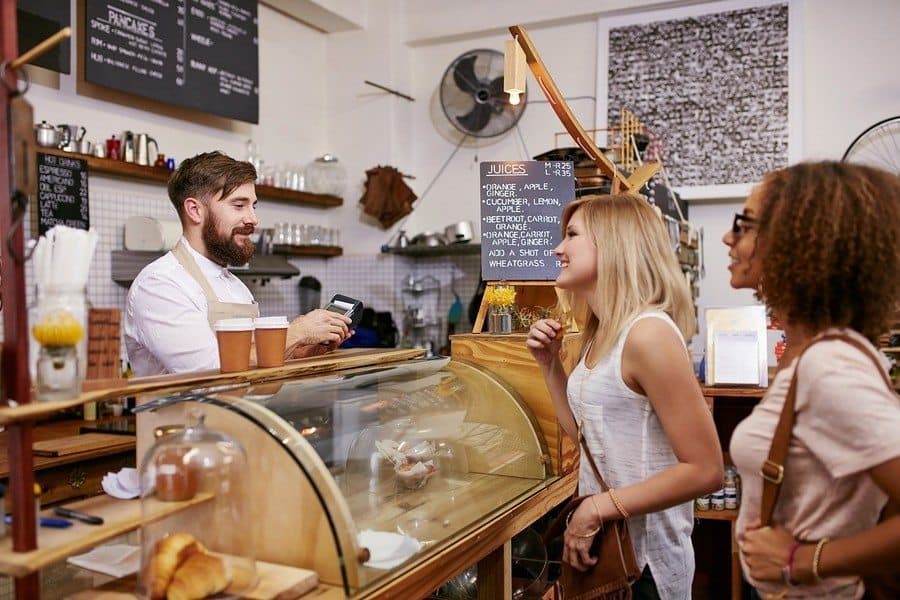 Coffee POS systems help shop owners take in-store and online orders, manage inventory, and provide business reports to improve café profits. A good coffee POS system allows coffee shop owners to sell coffee ground subscriptions, food, event tickets, merch, and even wholesale items.
We evaluated over twenty retail and restaurant POS systems to find the best POS system for coffee shops and cafes of all sizes. Keep reading to find the best coffee POS for your shop based on your business's number of locations, menu size, retail offerings, and budget.
Learn More About Our Top Picks
Company
Highlights
Next StepsHighlights

Free POS, free online ordering site, retail and restaurant item sales, affordable POS hardware
$0+/month
Payment processing at 2.6%-2.9%

Free POS, free online ordering site, retail and restaurant item sales, affordable POS hardware
$0+/month
Payment processing at 2.6%-2.9%

Best for online ordering and event sales
Order With Google integration, online ordering page, built-in loyalty program, good POS hardware options
$44.95+/month
Simple to use and set up

Best for online ordering and event sales
Order With Google integration, online ordering page, built-in loyalty program, good POS hardware options
$44.95+/month
Simple to use and set up

Best for large inventory management
Raw ingredient tracking, easy purchase ordering, custom loyalty program
$90-$519+/month ($69-$399+/month with annual billing)

Best for large inventory management
Raw ingredient tracking, easy purchase ordering, custom loyalty program
$90-$519+/month ($69-$399+/month with annual billing)

$0+ a month
Digital ordering suite
Tableside ordering devices
Strong customer service

$0+ a month
Digital ordering suite
Tableside ordering devices
Strong customer service

Best for wholesalers, drive-throughs, and franchises
B2B and B2C retail sales, drive-through integrations, multilocation hierarchy/grouping for franchises
$198+/month

Best for wholesalers, drive-throughs, and franchises
B2B and B2C retail sales, drive-through integrations, multilocation hierarchy/grouping for franchises
$198+/month

Show More Options

Best loyalty program and catering
Upselling features, custom loyalty program, catering quotes and delivery, house accounts
$69+/month

Best loyalty program and catering
Upselling features, custom loyalty program, catering quotes and delivery, house accounts
$69+/month

Show Fewer Options
Read more below to learn why we chose these options.
6 Best Coffee POS Systems
A coffee shop pos system includes various features to help you run your cafe. Look for a system that's easy to use and train new staff, has online ordering options, loyalty, insightful reporting, inventory management, tipping options, and even marketing tools.
1. Square: Best For Small Coffee Shops
Square For Restaurants POS


---
Pros
Free POS system
Free online ordering website
Affordable POS hardware
Numerous app integrations
Cons
Occasional fund holds
No ingredient-level inventory management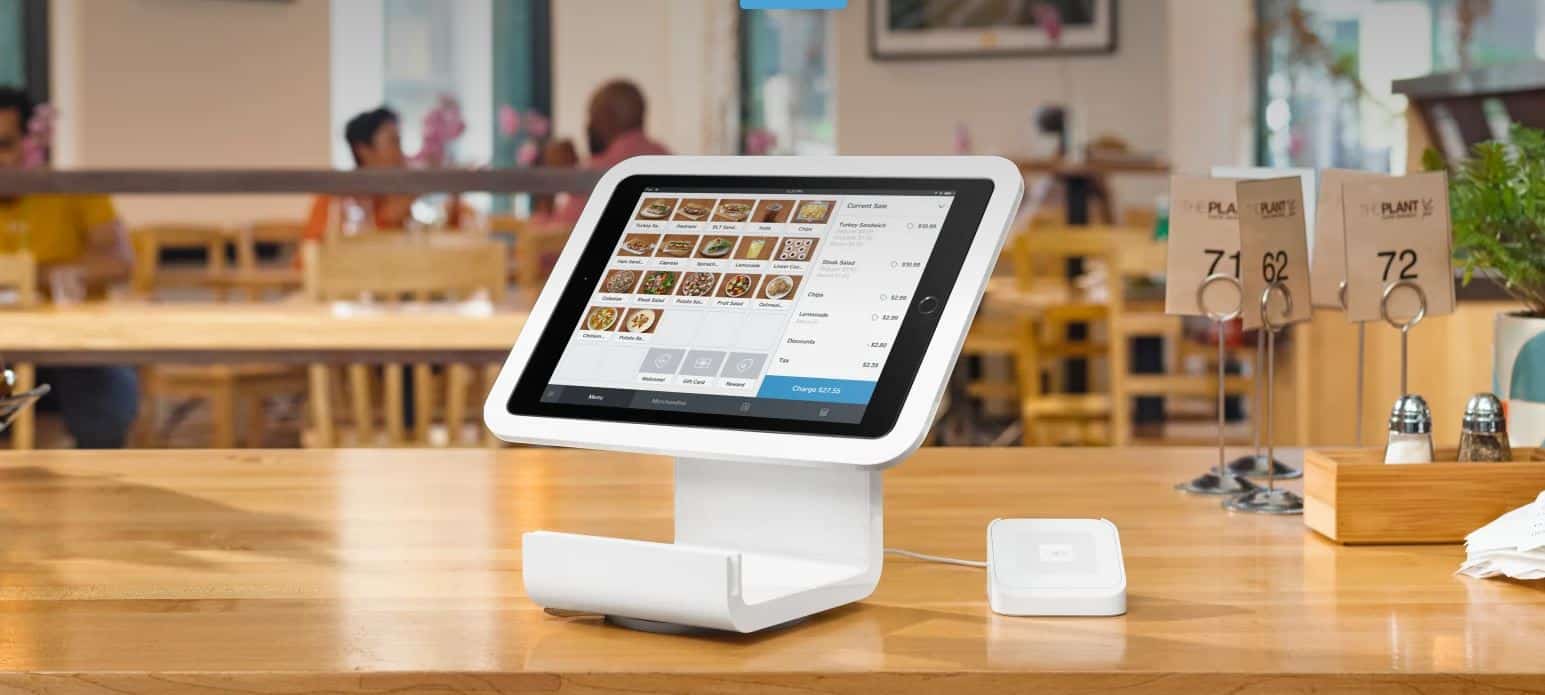 Why We Chose Square Coffee POS System For Small Business
Square is one of the best free POS systems available. Square has completely free in-person and online sales platforms, plus extremely affordable POS hardware. It's also quick and easy to get signed up with Square, order your equipment, and start selling. This is why we recommend Square to small cafes and new coffee shops that are just starting up.
Square allows you to sell retail and food items, offer bundles and special deals, and even sell subscriptions if you want to start a monthly coffee bag delivery service, all for free. There are modest inventory and vendor management features, but smaller single-location coffee shops should be fine with what Square offers.
Plus, you can add the Square POS app to any device and include an unlimited number of POS devices on the free plan (single-location businesses only). This is a unique feature among POS providers.
Square Coffee Shop POS System Pricing
Square plans start at $0. Single-location businesses can use Square's free retail and restaurant apps on an unlimited number of POS systems.
If you have multiple locations or want to add on advanced inventory or employee management, you'll pay $60/location/month.
On the free plan, the Square KDS (kitchen display screen) app, installed on an iPad, costs $20/device/month. On the paid plan, you get an unlimited number of KDS for no extra cost.
Square also offers these popular add-ons:
Loyalty: Starts at $45/month
Email Marketing: Starts at $15/month
Payroll: Starts at $35/month plus $5/employee
Square Coffee POS Features
Square's best features are completely free for all users, which positions Square as a uniquely affordable POS provider. These features include:
In-Person Sales: Create a custom, intuitive ordering flow so baristas can serve customers fast; save cards on file so customers can checkout even faster when they're in a rush
Online Sales: With a free Square online ordering website, you can sell online for in-store pickup, local delivery, and shipping; Square is also synced with your Google Business profile so customers can find and order from your business when they search for local coffee shops
Coupons & Discounts: Manually generate coupon codes and discounts for customer groups (or general codes for all customers) to use in-store or online
Event & Subscription Sales: Sell appointments as event tickets; sell subscriptions with limited subscription settings and saved cards
While Square lacks built-in perishable ingredient tracking, Plus plan features have good inventory tracking. Once an item runs out, Square's inventory tracker will auto-86 that menu item so that no customer tries to buy something you no longer have in stock. You'll also get low-stock alerts to minimize instances where you run out of a customer's favorite pastry or flavor shot.
Hardware Cost
At the very least, you'll need an iPad or smartphone to take orders and the $49 Square card reader to take card and mobile wallet payments.
However, we recommend the all-in-one Square Register with a POS screen and customer-facing screen and built-in card reader for $799. The customer-facing display can help customers verify their orders and minimize server mistakes, customer dissatisfaction, and lost revenue.
Read our guide to Square hardware to find out more on what Square registers and accessories are available and what you may pay for your coffee shop POS setup.
Payment Processing
Square's built-in payment processing is included at a flat rate of 2.6% + $0.10 for all in-person transactions and 2.9% + $0.30 on all online orders.
You cannot integrate Square with any other payment processor.
Contract Requirements/Warnings
Square has a month-to-month contract that you can cancel at any time with no penalty. The company also has a great hardware warranty that applies whether you buy your hardware from Square or from a third-party seller.
Get Started With Square For Restaurants POS
2. Clover: Best For Online Ordering & Event Ticket Sales
Clover POS


---
Pros
Attractive hardware
Affordable monthly pricing
Free online ordering module
Customer engagement features
Cons
Can't purchase hardware separate from merchant account
Hardware is expensive

Why We Chose Clover Coffee POS System For Small Business
We love that Clover is an all-in-one POS system with your software plan, hardware, and payment processing services all bundled into one package. This setup also allows coffee shops to find the best payment processing rates and save on fees, especially as their monthly sales volume grows.
Clover also offers a built-in online ordering site that easily integrates with Order With Google. This means that people searching for coffee near them will find your Google Business profile and be able to order directly from your business profile.
We also like that Clover provides a special loyalty app that acts as a mobile app without having to pay for someone to develop your app or pay a cloud-based software provider to manage it.
Clover offers excellent proprietary POS hardware and equipment that is pre-loaded with easy-to-use software. Combined, the two are as easy to operate as a smartphone. Additionally, Clover offers a marketplace full of apps to add to your built-in feature set. You can add apps for kitchen display systems, third-party delivery platform ordering, and email marketing.
Clover Coffee Shop POS System Pricing
Clover offers these restaurant software plans for coffee shop owners that pay for their Clover hardware upfront:
Counter Service Restaurant: $44.95/month-$54.90/month
Table Service Restaurant: $74.95/month-$94.85/month
If you decide to pay for your Clover hardware over time, you'll be charged one monthly fee for your Clover hardware/software package. Monthly pricing for both your software and hardware is the following:
Counter Service Restaurant: $90/month-$175/month
Table Service Restaurant: $150/month-$290/month
Unless your coffee shop includes a sit-down restaurant component, the counter service restaurant plan should have all the features you need.
Clover Coffee POS Features
Clover's built-in feature set includes a free online ordering site and an easy connection to your Google Business profile. Since many people find coffee shops by searching "coffee shops near me," people near you will find your shop and menu. Then, they can order directly through Google, which eliminates the number of steps people have to take to get a good cup of coffee.
Clover also offers a unique restaurant loyalty rewards program that essentially works as your custom-branded mobile app, without the huge price tag involved with creating and maintaining one.
With your custom app, you can also create custom loyalty points settings. You can decide which items customers get points on, whether you want points to be redeemed on certain items or a certain dollar/percentage discount, and schedule special limited-time loyalty offerings.
On the customer side of the app, customers who order ahead online can set up their order preferences, easily reorder past items, and set up a linked payment method so they can autopay at checkout. Customers get reminders on their app and at the register about redeeming loyalty points.
Clover also has a great app store with hundreds of apps that are compatible with your Clover hardware and online ordering suite. Business owners who want to teach coffee roasting or latte art classes, collaborate with local artists to host a class at your shop (such as a candle-making workshop), or rent out their venue can install one of several Clover ticketing apps.
If you want to offer free events to draw potential customers to your shop, such as an open mic night, you can "sell" free tickets for people to RSVP. Those who RSVP in advance could even get a discount on their purchase, which may encourage them to definitely show up on the day of the event.
Hardware Cost
Individuals who purchase their POS hardware upfront from Clover.com will pay the following prices:
We recommend the Clover Go for small businesses and the Clover Mini for coffee shops with a small counter. The Clover Station paired with a customer-facing display, will help reduce barista (and customer) errors, as customers can verify their order before paying.
Clover offers a variety of hardware accessories, such as kitchen printers, barcode scanners, and cash drawers. Pricing for these things will vary depending on what hardware you already have and your software plan.
If you purchase your Clover hardware, software, and merchant services from a Clover reseller, your hardware costs may vary from the pricing listed above.
Payment Processing
If you purchase your Clover hardware and software plan upfront from Clover.com, you'll get the following flat-rate payment processing:
Card-Present Transactions: 2.3% + $0.10 per transaction
Card-Not-Present Transactions: 3.5% + $0.10 per transaction
Card-not-present transactions include any phone order, third-party ordering platform order (such as Grubhub or Order With Google), online order on your own website, manually-keyed-in card payment, and any form of payment that is not a swipe/chip/tap card payment, cash, or check.
If substantial sales at your coffee shop come from online orders, choose a different payment processing provider. Also, if you generate high sales volumes every month, consider a payment processor with an interchange-plus pricing model, which is much more affordable for high-volume businesses.
Contract Requirements/Warnings
Individuals who purchase their Clover hardware and software from Clover.com will have to choose between 36-month and 48-month contracts, with early termination fees if you cancel your Clover subscription early.
Check out our list of the best Clover resellers to find a Clover hardware provider with the best contract terms and payment processing rates.
You can't use your Clover hardware with any other POS software, sell your Clover hardware, or transfer ownership of your hardware in any way, making your Clover devices useless if you want to stop using Clover POS software.
3. Lightspeed Restaurant: Best For Large Inventory Management
Lightspeed Restaurant POS


---
Limited time offer. Sign up to Lightspeed by March 31st and get up to $1,500 in complimentary hardware. Claim this offer today.
Pros
Strong core functionality
Excellent loyalty features
Built-in employee and inventory management
Online and mobile ordering options
Cons
Offline mode lacking
It can get pricey with add-ons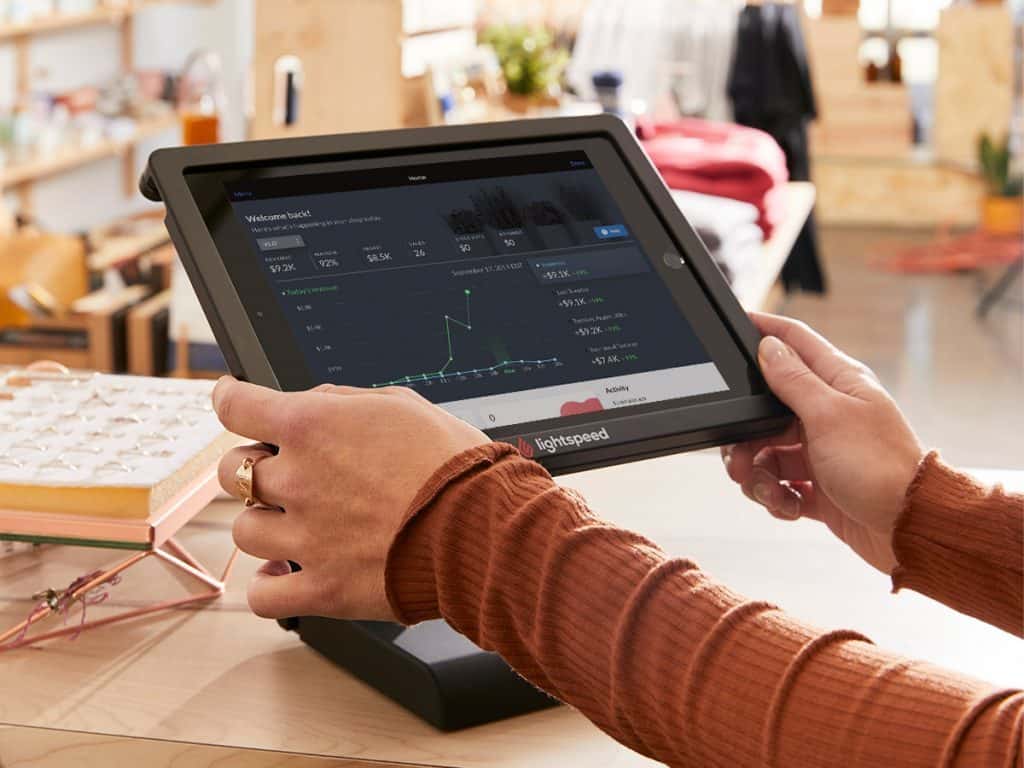 Why We Chose Lightspeed Restaurant Coffee POS System For Small Business
We love that Lightspeed Restaurant has the best POS inventory management and purchase ordering capabilities. You can easily track inventory on an ingredient level rather than a completed item level, track inventory wastage, set up vendors and quick purchase ordering, and get in-depth reports on inventory performance. There are also multilocation inventory, menu, and performance report features built into Lightspeed.
The POS user interface is capable of switching from quick-serve mode (great for employees taking countertop orders) to tableside ordering mode (great for taking restaurant orders.) Plus, you can convert a barista POS system to a self-serve kiosk to get lines moving even faster.
Finally, we like Lightspeed's optional integrated eCommerce site builder, which allows you to sell merchandise and coffee bean subscriptions, take reservations, and connect to all major third-party delivery platforms.
Lightspeed Restaurant Coffee Shop POS System Pricing
Most coffee shops will only need one of these two plans:
Starter: $90/month ($69/month with annual billing); includes core checkout functions and ordering for takeout/delivery
Essentials: $246/month ($189/month with annual billing); includes a loyalty program, multilocation management, floor planning, and tableside ordering
You'll need to get a custom quote for kitchen display systems and customer-facing displays, as well as add-ons like Lightspeed Loyalty and Lightspeed Delivery, Lightspeed's built-in customizable delivery service software.
Lightspeed Restaurant Coffee POS Features
Lightspeed's most unique inventory management features include the ability to:
Ingredient-Level Tracking: Build products out of individual ingredients with ingredient-level inventory tracking and auto-86ing included, so you never sell an item you don't have the ingredients for.
Suppliers: Add suppliers and associate them with certain products. Add purchase order emails for suppliers that accept emails and links to supplier ordering websites if email purchase orders are not accepted.
Automated Purchase Orders: Set up and automate recurring purchase orders and automated single purchase orders when stock falls below a certain level. Update all stock automatically when you mark an order as received.
Stock Rules: Create stock rules that send low-stock notifications, purchase order emails to vendors who take email purchase orders, and links to supplier ordering pages in notifications for vendors that do not accept email purchase orders.
Stock Movements: Monitor stock movements within single or multiple locations. Monitor product expiration dates, damaged items, stock counts, stock transfers between locations, and more to get an idea of where you're losing money and how to optimize your menu.
For the front of house, Lightspeed Restaurant's quick-serve POS interface includes a streamlined menu and allows baristas to take orders and payments at the same time, attaching the order to a customer's name to be called out when their coffee is ready. You can also convert a quick-serve POS to a self-serve kiosk when you're short-staffed.
Another one of Lightspeed's unique features is its integration with Lightspeed eCommerce, a self-contained restaurant/retail online ordering website builder. The website builder includes a beautiful customizable template, integrations with your online menu and third-party delivery platforms, and a reservation app. You can also sell retail items and subscriptions for pickup, local delivery, and shipping.
The reservation app could be a great tool for renting out your venue for special events.
Hardware Cost
Lightspeed Restaurant is iPad-based, and you may use your own devices or purchase them from Lightspeed.
The company also sells POS hardware bundles and accessories, but you must get a custom quote, since you won't find hardware pricing on the Lightspeed website.
You may also purchase Lightspeed-compatible hardware on your own.
Payment Processing
Lightspeed has its own processing program, Lightspeed Payments. Its fees are 2.6% + $0.10 for card-present transactions and 2.6% + $0.30 for card-not-present transactions for business owners on the Essentials and Plus plans.
If you sign up for the Pro plan, you'll get a custom payment processing rate, which should be lower than the rate offered on lower-level plans.
Contract Requirements/Warnings
Lightspeed Restaurant has monthly and annual plans. Monthly plans are much more expensive, but Lightspeed also charges an early termination fee if you cancel your contract early. Consider this when you're signing up for a Lightspeed subscription.
If you purchase your POS hardware from Lightspeed, you must verify that you have received it within five business days or you won't qualify for the hardware warranty. The warranty is 14 days for Apple products and 30 days for all other products.
Get Started With Lightspeed Restaurant POS
4. Toast: Best For Selling Food & Alcoholic Beverages
Toast POS


---
Pros
Full-service restaurant POS
Excellent customer service
Advanced digital ordering options
Cons
Somewhat confusing pricing
Long-term processing contract

Why We Chose Toast Coffee POS System For Small Business
We love that Toast is a self-contained restaurant POS system with both the software and hardware busy foodservice establishments need to grow. From inventory and menu management, to employee scheduling and payroll, to loyalty programs and marketing, Toast has it all. With Toast, coffee shop owners spend way less time on tedious software configuration and more time thinking of new revenue streams.
We believe that Toast is an especially great choice for coffee shop owners that currently or want to start selling food. This is because Toast's kitchen display system is excellent at navigating dine-in, takeout, and delivery (both in-house and third-party delivery platform) orders. Toast's server tipping, bill splitting, and table management features are hard to beat.
This coffee POS system is also good for serving caffeinated cocktails since there's a card pre-authorization function for taking payments at a bar setting. You can also designate your bar as a different section with a different menu and payment rules.
Last, we love Toast's unique proprietary Android-based hardware. It tends to be more durable than iPad-based POS systems (which is every system on this list except for Clover) and can handle spills and drops with no problems.
Toast Coffee Shop POS System Pricing
Toast offers a $0 down, pay-as-you-go Starter plan. While you pay no $0/month in subscription fees, you will pay a lot in payment processing fees. You can also only have one or two POS terminals on this plan.
We recommend starting with at least the $69/month Standard plan, which does require you to pay for your Android-based hardware upfront but will save you a lot of money in payment processing fees.
Coffee shop owners should consider getting one of these best small business loans to get your Toast hardware now and pay for it over time so that you can save on payment processing fees.
Toast offers a Restaurant Basics plan, which we recommend for coffee shops with a sizable number of full-time staff members. This plan includes employee scheduling, payroll, 401(k)s, and business insurance. This plan costs $110/month plus $4/employee/month.
The $165/month Essentials plan includes the Toast digital ordering and delivery platform (you can get this as a paid add-on if you're on the Standard plan). Most coffee shop owners don't deliver fresh coffee, but you could use it to deliver retail items like coffee beans or pastries.
Toast Coffee POS Features
Toast offers many ways for customers to get their orders in, including countertop orders, self-serve orders, tableside QR code ordering, online ordering for takeout/delivery, and integrations with all major third-party ordering platforms. Toast recently updated its QR code ordering software so that customers can order and pay at a table, meaning that customers don't have to wait for a check to pay their bill and get going.
You can decide where menus show up and even create custom menus for certain ordering types. For example, you may want to exclude your alcoholic drink menu from your online ordering menu.
You can also create different menus based on the time of the day, section of the establishment, and the POS system used to take orders. It's easy to create seasonal menus, archive them, and reuse them the next year. Plus, you can create timed discounts on certain combos or an entire bill to entice people to stop in at your shop.
Toast's kitchen display screen can handle all these ordering types. The POS system can designate which stations to send items to so that you can have baristas focusing solely on making coffee while cooks focus only on food orders. The kitchen display software can be customized to show ordering types, change the user interface, and reopen closed orders.
You'll also find alcoholic liquid inventory tracking software among Toast's third-party integrations. With liquid-specific ingredient tracking, you can get a better idea of how much servers are pouring per beverage, where liquid inventory is being wasted, and monitor for instances like theft and inventory damage.
Multilocation business owners can manage stock, menu item offerings and prices, employee schedules and permissions, payroll, and accounting across individual or all locations or a defined group of locations. Choose who has access to which establishments so that managers can run their individual locations while you get an overall picture of your business.
Hardware Cost
You can purchase a Toast Starter Kit that includes the basics you need to get up and selling for $799 or add a guest display for another $200. Under the pay-as-you-go plan, the Starter Kit is free (minus the guest display), but you'll pay a higher processing fee.
You'll get a custom quote with any other hardware setup. You can only purchase a Starter Kit if you're on the Starter or Standard plan.
Payment Processing
Payment processing is included at a flat rate of 2.49% + $0.15 for all in-person transactions on the Standard plan or 2.99% + $0.15 on the pay-as-you-go Starter plan.
If you add online ordering to your Starter plan, you'll pay 3.49% plus $0.15 per transaction, whether it's online or in-person.
You'll get a custom payment processing rate on New Restaurants, Essentials, and custom plans.
There is no option to integrate another payment processor to use with Toast.
Contract Requirements/Warnings
Toast requires a two-year contract and processing agreement. If you want to terminate your contract before the two years are up, you'll pay a hefty early termination fee to do so.
5. Revel: Best For Wholesalers, Drive-Throughs, & Franchises
Revel POS Systems


---
Pros
Capable of handling multiple locations/franchises
Retail and restaurant sales
Drive-through POS integrations
Excellent inventory management
Cons
High cost
Long-term contract with early termination fee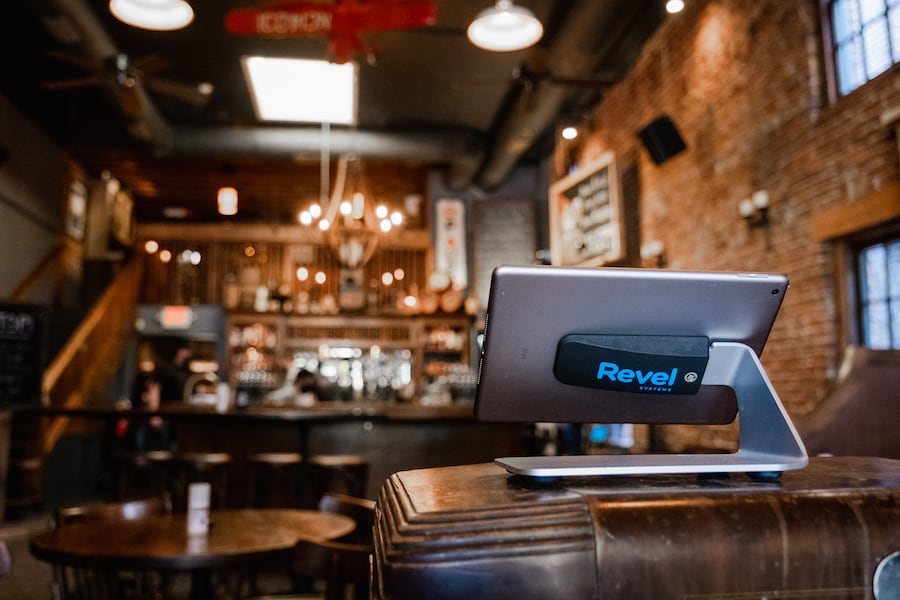 Why We Chose Revel Coffee POS System For Small Business
We love that Revel provides a POS with both retail and restaurant features, so you don't have to get a separate add-on or try to configure your restaurant POS software to sell retail items. This is especially great for coffee shops interested in selling subscriptions to customer accounts and taking wholesale orders.
This system is extremely customizable and even includes drive-through features for coffee shops that want to build a drive-through into an existing coffee shop or start a small drive-through coffee kiosk. Kiosks are gaining popularity because of the relatively low startup costs.
Revel also offers excellent multilocation settings and permissions, plus royalty payment settings, making this coffee POS system a great choice for coffee shop owners interested in franchising their businesses.
In general, Revel is a highly customizable POS system that can be used for any retail sale, restaurant offering, or even niche offerings like private coffee tasting appointments and mobile coffee food trucks.
Revel Coffee Shop POS System Pricing
Revel's only advertised plan costs $99/month with a two-terminal minimum and a three-year contract with Revel, making the starting price of this POS $198/month.
Large and drive-through coffee shop owners will most likely need more than two terminals, so they'll will need to get a custom quote from a Revel representative.
Revel Coffee POS Features
Revel's unique in-person and online ordering wholesale features include the ability to:
Create both retail and wholesale customer groups
Create wholesale discounts on items and automatically apply them to wholesaler customer groups
Create house accounts for customers like offices and cafes so they can receive goods when needed and charge them later on with a linked payment method
Send invoices as emails with due dates and customer notifications; Revel saves invoice items as layaway items until the invoice is paid so you don't sell more items than you have
Show retail and wholesale pricing as different price tiers on products; show dynamic pricing as customers add more to their cart
Make sales at places like trade shows or restaurant tastings with Revel's fully offline mode
For drive-through establishments, Revel has an integration with Delphi Display Systems, which offers drive-through hardware and software such as server headsets and digital menu boards. Revel's kitchen display systems can also be customized to manage drive-through orders. Servers at the window check to make sure all order items are complete and correct before handing them off to customers, and then that server closes out the order.
Revel's franchising features include enterprise-level multilocation inventory, employee, and menu management from one master dashboard. Also, you can see monthly sales data as percentages, which will tell you how much to charge a franchisee in royalty fees for that month.
Hardware Cost
Revel's iPad POS hardware is quote-based. You also have the option to source your hardware yourself, but you have to get written permission from Revel before you make you do. This is to make sure you only purchase Revel-compatible hardware.
Payment Processing
Revel offers its own in-house payment processing system, Revel Advantage, which you'll get a custom payment processing quote for.
You also have the choice to integrate your POS with third-party payment processors such as Adyen or FreedomPay. You may have to pay an extra monthly fee if you choose a third-party provider over Revel Advantage.
Contract Requirements/Warnings
You need to sign up for a three-year deal, agree to use Revel Advantage, and purchase your POS hardware from Revel to get the best rates.
However, there is a substantial early termination fee, so consider negotiating a short-term plan over a longer contract until you're sure Revel is the right POS for your business.
Get Started With Revel POS Systems
6. TouchBistro: Best Loyalty Program & Catering
TouchBistro


---
Pros
Built for restaurants
Many features included in the base price
Multiple payment processing options
This locally-installed system doesn't require Wi-Fi
Cons
Features not overly deep
Requires one+ year contract
No self-serve kiosks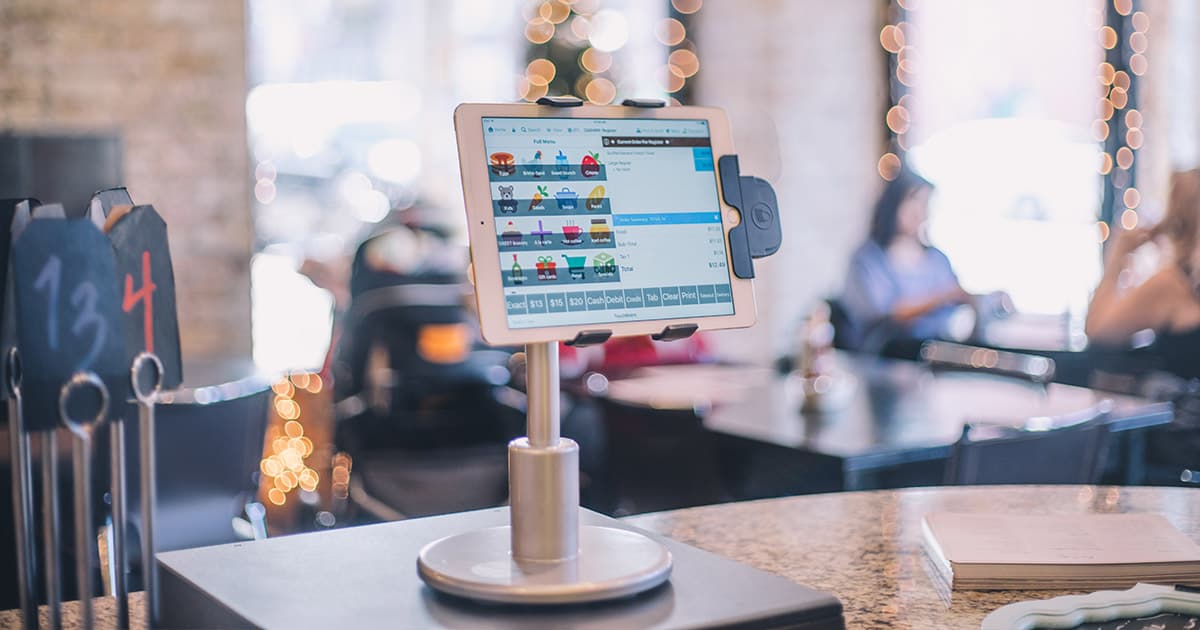 Why We Chose TouchBistro Coffee POS System For Small Business
We love that TouchBistro has created a POS system with excellent on-location and off-location server features. This is one of the best POS systems for small business that has a unique hybrid "online/offline" setup, meaning that TouchBistro works completely offline, which is one great reason that TouchBistro is great for catering, or other businesses looking for a more mobile POS system.
TouchBistro is also great for catering because of its customizable service and delivery fee settings, plus its built-in quoting system and the ability to use your online ordering page to a catering order page. You can create custom catering menus and house accounts to charge repeat customers.
We believe that TouchBistro has one of the best online ordering and loyalty programs, as you get your own custom browser-based app with everything included: online orders, location information, guest feedback portal, reservation capabilities, and personal loyalty account. TouchBistro's loyalty program is detailed yet easy for customers and baristas to use.
Last, we love TouchBistro's comprehensive upselling features, which definitely increase overall order totals.
TouchBistro Coffee Shop POS System Pricing
TouchBistro pricing starts at $69/month, although you're prompted to get a quote, which usually indicates that plans are tailored to your restaurant's needs.
TouchBistro pricing is mostly for the POS core feature set. TouchBistro add-ons include:
Online Ordering: $50/month
Reservations: $229/month
Gift Cards: $25/month
Loyalty: $99/month
Marketing: $99/month
Note: While TouchBistro's reservation system may seem pricey, you only have to pay one flat monthly fee to take reservations. Other reservation software providers charge a monthly and a per-transaction fee, so you'd likely spend at least the same amount, if not more, for a poorer-quality reservation system.
TouchBistro Coffee POS Features
TouchBistro has an excellent online ordering and loyalty program, giving coffee store owners the ability to create their own custom-branded web app that looks just like a mobile app.
TouchBistro's loyalty program allows you to create milestones for dollar discounts, percentage discounts, and free items so that customers can decide whether to save or use their points. Plus, customers can get birthday gifts.
Your patrons can sign up for your loyalty program on their own through your web app or while they're ordering in-store and redeem points on in-person and online orders. You can apply your loyalty program across all your locations if you end up branching out.
Coffee shops that provide one-time or repeat coffee supplies or catering for events like community meetings or business conferences will appreciate these unique TouchBistro features:
Customer Accounts: Companies can consistently get their coffee and pay all at once or add credits to their account before your shop provides ingredients/services
Catering Setup & Details: Your online ordering page can double as a catering quote system and order scheduler. You decide how far in advance someone should request catering and enter order notes.
Delivery Management: Set different delivery zones and delivery service fees based on how far an area is from your coffee shop.
Partial Payments: Require a deposit before committing to one-time or repeat catering.
On-Location Sales: With TouchBistro's hybrid online-offline capabilities, you can sell bags of coffee, pastries, and merch during events. That way, your catering menu can also work as a sampling menu!
Back at your coffee house, baristas get upselling reminders in real time as customers add to their orders. If you purchase a POS with a customer-facing display, customers can see upsells on their end as well.
Hardware Cost
TouchBistro offers a wide variety of Apple products through its website, including custom bundles and individual pieces of equipment. Hardware prices are not listed, and the company encourages you to call for a quote.
Payment Processing
TouchBistro offers integrated payment processing through TouchBistro Payments (powered by Chase) with cost-plus pricing. TouchBistro integrates with multiple other payment processors and gateways, including EVO, Moneris, Square, Worldpay, TSYS, etc.
Contract Requirements/Warnings
TouchBistro gives you monthly and annual contract options. The company does charge an early termination fee if you cancel your plan early, so consider a shorter plan until you're sure TouchBistro is the right POS option for your café.
If you do end up canceling your plan, you must send a written notice to TouchBistro at least 30 days before the end of your subscription term, or you'll automatically be charged for another term.
Why We Don't Recommend These Coffee POS System Options
Vend
Vend is a retail POS system that was acquired by Lightspeed in 2021. Vend software is more aligned with Lightspeed in terms of pricing and features, but does not have the built-in online ordering capabilities or restaurant management features that Lightspeed offers. For this reason, we recommend Lightspeed as a coffee POS alternative to Vend.
How To Use Your Coffee POS System To Manage Your Cafe
Having a coffee POS with inventory management is incredibly important in an industry that thrives on getting people in and out and selling large quantities of your product. If you have a busy establishment with multiple employees working rapidly and going through stock, it's difficult to keep tabs on everything you have, and the amounts used from day to day can be unpredictable.
Having a point of sale system with real-time inventory tracking can be extremely important in ensuring you don't run out of a crucial ingredient during a rush. Good coffee shop inventory systems will also provide analysis, tracking (e.g., item cost efficiency), and sales patterns.
Here are a few other things that many POS inventory management systems have that could really help out your café or coffee shop:
Easy CSV spreadsheets
Downloadable reports
Daily stock alerts
Barcode labels
Item categories
Vendor management
Purchase orders
Multilocation inventory management (for stores with more than one location)
Multichannel inventory management (for stores that also sell online)
Read our post on restaurant inventory management if you want to cut down on costs and reduce wastage at your coffee shop.
Which Coffee POS System Is Best For You?
There are many coffee POS systems for cafes to choose from, and the one that's right for you depends on your vision for your coffee shop.
Do you want to stay small or expand your business into something like multiple locations, franchises, a mobile coffee cart, or catering? Do you want to sell coffee bean subscriptions or wholesale to grocery stores and restaurants? Do you want to add a restaurant component to your coffee shop or even a little bar for caffeinated cocktails?
Your answers to these questions will help you determine exactly which coffee POS system is best for you.
While you decide on your POS, check out our post on loans for coffee shops if you need help financing your software or other aspects of your coffee shop business.
FAQs: Best Coffee POS Systems
Methodology: How We Chose The Best Café POS Systems
To find the best coffee POS systems, we at Merchant Maverick reviewed over 20 industry-leading and newer POS systems based on pricing, hardware costs, user-friendliness, inventory management capabilities, and whether they had the retail and restaurant capabilities that coffee shop owners should have to grow their shop offering.
We read the fine print of POS provider contracts to find which POS software features cost extra, how long standard POS software contracts are for each provider, whether providers offer POS hardware warranties, and whether providers charge an early termination fee. We also found recent unincentivized reviews from actual customers on review platforms including G2, Software Advice, and Capterra, and included these reviews as a ranking factor when rating coffee POS systems.
Learn more about how we rate POS software at Merchant Maverick.
In Summary: 6 Best Coffee POS Systems