Square For Restaurants POS Review
Expert Analyst & Reviewer

Updated on:
Advertiser Disclosure: Our unbiased reviews and content are supported in part by
affiliate partnerships
, and we adhere to strict
guidelines
to preserve editorial integrity.
Square For Restaurants POS

Pros
Cost-efficient
Extremely easy-to-use interface
Delivery options included
Square App Marketplace
Cons
Reports feature somewhat lacking
Occasional fund holds
Inconsistent live customer support
Square For Restaurants POS Overview
Well, it was only a matter of time. After coming out with Square for Retail and the game-changing Square Register, it seemed imminent that the wildly popular company would break out with restaurant-specific software. Voila! Now we have Square for Restaurants.
Square has very much stayed on brand here with an exceptionally simple and functional program. Anyone who has even a passing familiarity with Square will be able to master it with very little training. Of course, you get Square's affordable and simple-to-understand processing fees, along with access to the Square App Marketplace. The Square for Restaurants system itself has a solid reporting suite and has basic, but comprehensive, inventory and employee management.
Square's appeal is always going to be its simplicity and affordability. It's not a system you're going to have to spend a lot of time thinking about. Are there other POS systems for restaurants with more bells and whistles for only slightly more money? Absolutely. Square for Restaurants has areas where it can improve — and I suspect it will soon. But in terms of ease of use and functionality, Square has another success on its hands.
Square For Restaurants POS Pricing
Square for Restaurants' pricing platform is clearly laid out and separated by three tiers.
Square for Restaurants Free Version includes:
M-F 6 AM to 6 PM PT customer support
Fast-order entry
Table management
Menu management
Order management
Remote device management
Multilocation management
Open checks
Repeat items
Dining preferences
Dark mode
Auto gratuity
Advanced discounts
Square Team Management
Square for Restaurants Plus is $60/month; additional stations are $40/month per location and include everything in the free version, plus:
24/7 customer support
Auto 86ing and item counts
Shared device settings
Seat management
Course management
Live sales
Advanced reporting
Reopen closed checks
Shift reports
Close-of-day reports
Auto gratuity, including party size thresholds
Closing procedures
Section sales reports
Square Team Plus
Square for Restaurants Premium starts at $299 per location and includes everything in previous plans, plus customized bundled discount pricing on:
Square Payroll
Square Marketing
Square Loyalty
Square Online Store
For processing on all plans, Square charges 2.6% plus $0.10 per tap, dip, or swipe. You can also try and use the product free for the first 30 days. There are custom processing rates available if you are processing more than $250,000 per year with an average ticket size of $15 or more.
Get Started With Square For Restaurants
Cloud-Based Or Locally-Installed
As with all of Square's software, Square for Restaurants is cloud-based, and your account and data are accessible from anywhere with an internet connection. Square's restaurant POS currently only runs on an iPad, but the company plans to make it available for Android devices running 5.0 or later in the near future.
Square Restaurant also features an offline mode which allows you to continue to take payments even without an internet connection. You do have to activate it manually and payments are stored for 72 hours before expiring. Note that, in offline mode, you will only be able to take swipe payments and Square is clear that you're on the hook for expired, declined, or disputed payments in offline mode.
Specific Industry
You can probably piece this one together yourself, but I get paid to answer the tough questions. Square for Restaurants is designed to be used…in restaurants. You can certainly use this software for your quick-service cafe or bar, but if you're not planning on using many of its specialized features for full-service restaurants, you may still be better off with the free Square POS app and some of its add-ons especially since it has expanded its offerings on the free app to include its table management.
Most standard full-service restaurants could benefit from the Square Restaurants POS paid plan, however. With it, you get seat management, course management, and floor plan customization. You also get the benefit of all of its kitchen features like ticket routing and real-time order updates.
Specific Size Of Business
Square for Restaurants works for pretty much any type of foodservice industry and the features that it now includes in its free plan are excellent, allowing some small sit-down restaurants to potentially get by without having to upgrade. I would also hesitate to recommend Square for Restaurants for very large or high-volume full-service restaurants, as there are better products on the market specifically geared to handle that type of establishment although Square is certainly making inroads towards being able to compete on that front as well.
If you do have a small franchise with a handful of locations, Square for Restaurants could definitely suit your needs as its ability to track inventory over multiple stores is excellent and, if you're planning on giving your servers tools to take orders remotely, Square has excellent hardware options.
Square's processing fees can add up quickly if you're making a ton of sales from day-to-day. If you are a high-volume restaurant and love what you see from Square for Restaurants, you'll want to call for a custom processing quote. However, Square's wheelhouse continues to be the small to mid-sized market, which this product serves to a tee.
Hardware & Operating System Requirements
Square for Restaurants only runs on an iPad and is not currently available on Android devices. The good news is that Square for Restaurants is available on Square Register. Square Terminal, which also runs the free Square POS app, does also has some features that are compatible with Square for Restaurants, so you could use Terminal devices in your restaurant without incurring the cost of additional registers.
Square sells iPad stands (with the Contactless + Chip card reader included) on its website. If you're starting from scratch, you can purchase equipment (such as printers and cash drawers) in a variety of hardware bundles from the company, all of which will pair seamlessly with the software. The website recommends an internet speed of at least 25 Mbps for optimum performance. It also suggests running on iOS 10.0.2 to make sure all other hardware will run effectively.
Ease Of Use
It's Square, so it's easy to use. It's truly impressive how well Square has been able to flow in its simplistic and functional interface and make it work in a much more complex setting such as the restaurant industry. Square for Restaurants offers a generous free trial, allowing you to tinker before locking into a purchase. Setting up your account is simple, and if you have existing data with a Square account, it transfers automatically.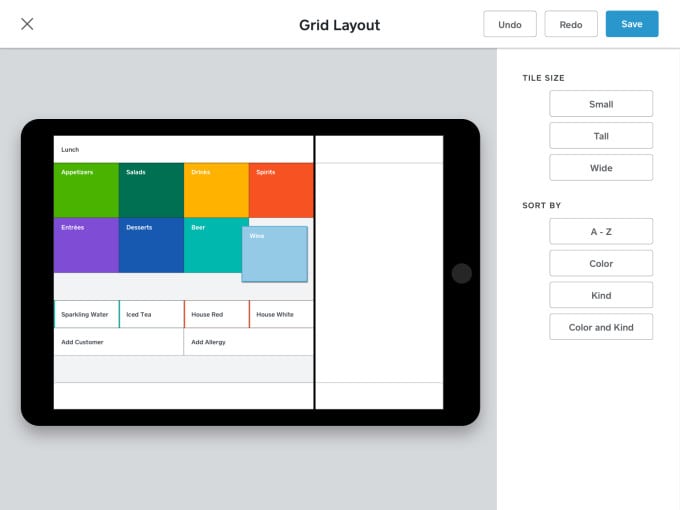 Table mapping is a function that POS systems are consistently making more and more intuitive, but Square POS for Restaurants takes it up a notch. You can lay your entire restaurant out in a matter of minutes and make changes with a simple tap. As is consistent with the Square brand, the interface isn't overly flashy, utilizing a standard color-coding system. Everything is customizable as well, even down to your screen's brightness (depending on the ambiance you're going for).
You can click on a table and split checks easily, dragging items to individual seats. Menu creation is also a breeze and fully customizable. Add photos and descriptions of products and change the menu from lunch to dinner with one touch. Square has one of the most intuitive systems for modifiers I've seen as well, guiding servers through forced-choice items or optional selections with minimal touches or swipes.
Square POS for Restaurants Features
Square for Restaurants doesn't have many holes; it features everything you would expect from a top-rated restaurant POS. Again, you have options between the free and the Plus plan. Here's a breakdown of what you can expect:
Square For Restaurants Free App:
Open Checks
Menu Management: Organize your menu from any location with an easy color-coded system and add purchasing and payment options on the interface.
Table Management: Lay out your tables according to your specifications and easily move them with a simple click and a drag.
Cash Management
Auto Gratuity: A Square standard, allowing you to automatically add a gratuity although the free plan does not include party size thresholds
Order Manager: Easily sort your orders by in-store, delivery, or pick-up and track them throughout the day.
Advanced Discounts: This allows you to easily set discount prices by item or by category for promotions or specials.
Basic Reporting: The free plan does come with a solid but basic reporting suite that gives you information on top-selling products and key metrics that you can navigate from your dashboard.
Square For Restaurants Plus:
Floor Plan Customization: Set up your entire restaurant in a matter of minutes. Customize your layout with an easy-to-digest color-coding system. Assign checks either per table or per customer with a simple tap.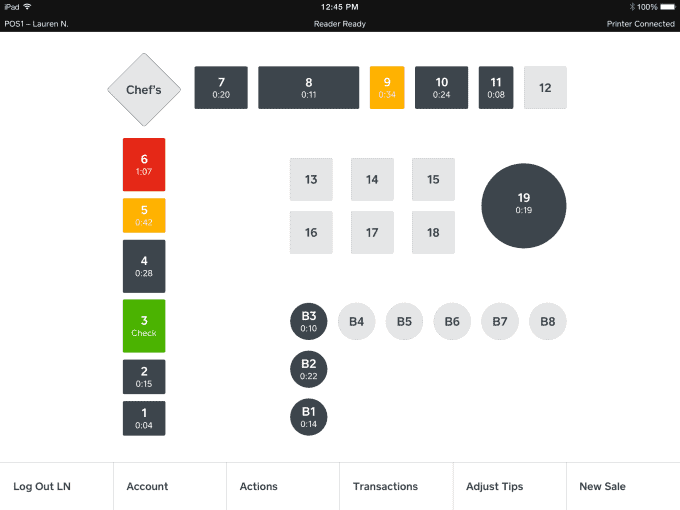 Customizable Ticket Layouts: Items can be individually assigned to customers. Quick splits are also done with a single tap, cutting the bill into halves, thirds, or quarters. You also have the ability to re-open closed checks
Table Management: For higher-end restaurants, you can plot out coursing, switching items between courses before sending them to the kitchen. You can also track how long customers have been at the table and check on the status of their meal.
Automatic Gratuity: Another Square specialty. You can create automatic gratuity prompts for customers to increase profits or add specific percentages for large groups with party-size thresholds.
Tableside Ordering: Cut down on errors from tables to the kitchen by allowing servers to enter orders directly from the table while giving them more opportunities to interact with and serve customers.
Delivery Integration: Square has paired with Caviar to help restaurants set up delivery or pickup options, which can all be managed directly from the POS. Customize orders for various dining options: for here, to go, delivery, or pickup. There are also integrations with Doordash, Postmates, and other online ordering businesses that will send orders directly to your POS, managing them in one convenient location.
Catering: Create invoices specifically for catering orders. You can also set up easy online estimates and recurring orders for customers.
Advanced Reporting: Among other standard reports for managing your business, Square lets you check exactly what type of discounts are being given to customers and the amounts. You can review sales by floor plan and by bulk or individual modifier sets. Review labor costs quickly in a simple-to-process layout. You can also set up a variety of customized reports for your unique needs. You also get shift reports and close of day reports and live sales.
Employee Management: You can track voids and discounts to cut down on fraud. Check employee sales reports to review per-labor-hour reports and reward your top-selling employees. The system also records cash drawer openings and can detect suspicious activity. Employees can sign in at the register, and their hours can be managed from anywhere and transferred to Square Payroll. Assign permissions to give different employees access to varying items. Give employees their own login passcodes.
Customer Management: Create an extensive directory of customers with their information on-hand and easily accessible with the ability to track each purchase. Store credit cards in the system for future use. Assign VIP or loyalty status to repeat customers to reward future business. Import existing customer lists seamlessly.
KDS Features: This is one of the big differences between Square For Restaurants' Plus Plan. Here you get ticket routing and timers plus real-time order updates. You also get the ability to sync to multiple devices and kitchen performance reports.
Get Started With Square For Restaurants
Integrations & Add-Ons
With your free account, you get access to the Square App Marketplace, which comes with a wealth of integrations. For accounting, Square integrates with Xero and QuickBooks, plus many others. For eCommerce, you have access to Square's free online store, but you can also set up a plug-and-play integration with Wix, WooCommerce, BigCommerce, and more.
It's worth checking out the website for a complete listing, as it adds new integrations practically every week. Square also has an open API if you're feeling enterprising and want to create an app specifically for your business.
But the most exciting integration for Square for Restaurants is its partnership with Caviar for delivery. Each account comes with Caviar included, giving your restaurant the option to add delivery and pickup options immediately. It also pairs with nearly every major delivery service to give you plenty of options if take-out and delivery is part of your restaurant plan. You can check and manage your outside orders directly from your POS station, helping you increase your profits for no extra charge.
Square's Most Popular Services
Compatible Credit Card Processors
Here is another area where Square is a trendsetter: Square acts as a processor and is compatible with almost any form of payment available. Square accepts Apple Pay and Android Pay, plus all major credit cards. With the right equipment, you can accept swipe, dip, and tap payments. The fees are upfront and competitive for small to mid-sized businesses but can add-up for high inventory establishments. If you're one of these you'll want to call Square directly for information about their custom rates.
Customer Service & Support
Square offers 24/7 technical support with its Plus plan but only 6 am to 6 pm Pacific time. This can be a slight hassle if you have an emergency that needs immediate assistance but is one of the bigger benefits of the Plus plan. Fortunately, email support is also available. Plus, Square has an impressive customer support page where you can troubleshoot some basic questions. There are dozens of articles on various topics if you have time to do some research. Square also has one of the best community forums I've seen where you can look up various topics.
Once you do get in touch with a live person, Square's support is friendly and very knowledgeable. They are happy to walk you through any issues you're having and are committed to making sure that your problems are completely resolved. Square keeps up a current blog and is relatively active on its various social media accounts, such as Facebook, Twitter, and Instagram. Its YouTube channel also has some valuable information, plus walkthroughs and tutorials.
Square For Restaurants User Reviews & Complaints
Negative Reviews & Complaints
Square for Restaurants is still new to the market, but there are a handful of complaints and a few of the standard issues with Square that have cropped up.
Glitchy Software: Multiple users complained that there were times when the system would unexpectedly lose its connection or that readers had trouble syncing to new equipment.
Fund Holds: A large number of complaints to the Better Business Bureau revolve around Square placing immediate holds on funds when it deems a suspicious transaction has occurred. These holds often come without notice and can take a while to resolve, causing understandable frustration for vendors. Check out our article on how to avoid merchant account holds, freezes, and terminations to learn more about how to prevent trouble with accessing your funds.
Live Customer Service Lacking: This has been something of a recurring theme for Square. While you can now get a live technical support agent 24/7 with a customer code, a few customers haven't been overly impressed with the support they received. However, more than one customer said that through Square's troubleshooting resources online, they were able to fix the problem themselves.
Reports Aren't Robust: A few minor complaints wished that the software came with a more complete set of reports, and some mentioned that the reports were often difficult to read.
Positive Reviews & Testimonials:
Ease Of Use: There aren't a ton of reviews in yet, but, by far, the number one aspect that users are raving about is how easy the system is to use. Multiple restaurant managers were amazed at how simple it was to train even brand new employees, saving countless hours in the process.
Cost: Many people who have already purchased Square for Restaurants appreciated what you get for such an affordable cost. A few customers mentioned shopping around and finding that Square met every one of their basic needs at a significantly lower price than its competitors.
Integrations: People seem to particularly love that Square's integration with Caviar makes it hassle-free to set up delivery and pickup and to create a delivery option for some businesses that may not have otherwise considered it.
Final Verdict
Square For Restaurants POS


---



In short, Square has done it again. It seems to be rolling out new products by the month, unleashing both Square for Retail and Square Register to rave reviews. There were concerns early on that Square might be rushing its products to keep up or stay ahead in an extremely competitive industry. However, Square for Restaurants is pretty much as good as advertised and has already patched up a few of its previous minor issues.
Square has managed to stay true to its brand of being highly intuitive and easy to learn while incorporating some complex elements. Square's table mapping, check-splitting, and menu creation functions are exceptionally easy to use, if not particularly flashy. There are a few areas where the software could be bulked up. Its reporting is probably fine for most standard restaurants, but if you need in-depth analysis, you may find it slightly lacking.
Whenever any company has a free option, and especially one that's as generous as Square's the temptation might exist to skimp and see if you can make that product work. Definitely take advantage of the free trial here to explore the services yourself. My take is that, if you're running a full-scale establishment and are set on Square, it's definitely worth upgrading to the Plus plan. The added kitchen and ticket features, along with access to 24/7 support and the advanced reports and inventory are definitely worth the monthly fee.
For all that you get, it's going to be tough to beat Square for Restaurants' pricing (now that it has a free version), not to mention the convenience of its built-in processing, the app marketplace, and delivery integration.
---
The Merchant Maverick Seal of Approval 🏆
Square For Restaurants POS


---



After hours of in-depth research and evaluation, we can confidently recommend this brand to our readers. Get started today and see Square For Restaurants POS for yourself.
The Merchant Maverick Seal of Approval 🏆
Square For Restaurants POS


---



After hours of in-depth research and evaluation, we can confidently recommend this brand to our readers. Get started today and see Square For Restaurants POS for yourself.
To learn more about how we score our reviews, see our
Point Of Sale (POS) Software Rating Criteria
.
Read Next