iZettle Review UK (Now Zettle By PayPal)
In the UK, Zettle by PayPal has no monthly minimum fees, no binding contracts or cancellation fees, and a growing number of features.
Expert Analyst & Reviewer

UPDATED
Advertiser Disclosure: Our unbiased reviews and content are supported in part by
affiliate partnerships
, and we adhere to strict
guidelines
to preserve editorial integrity.
iZettle (Now Zettle by PayPal)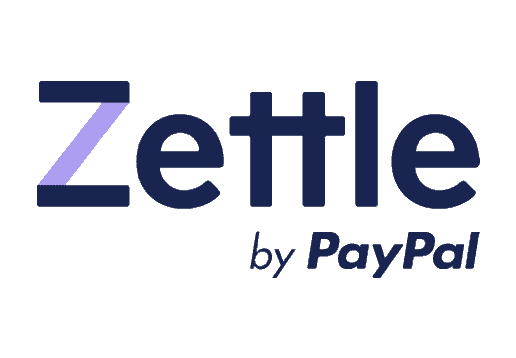 iZettle (Now Zettle by PayPal) At A Glance
Mobile processing with affordable card readers
Mobile POS app with inventory features, discounts, invoicing, and more
Inexpensive payment processing (1.75% for most transactions)
---
Pros
No monthly fee
Predictable flat-rate pricing
Inexpensive hardware
PCI-compliant solution
Supports PayPal payments
Good for low-volume merchants
Cons
Account stability issues
No offline mode
No built-in eCommerce
What Is iZettle (Now Zettle by PayPal)?
iZettle — recently rebranded as Zettle by PayPal— is a popular mobile processing system that has gained a considerable user base in Europe and the US. With no monthly minimum fees, no binding contracts or cancellation fees, and a growing number of feature options, iZettle has a lot to offer merchants on the go.
Though iZettle now serves a dozen countries, we'll be focusing on the company's UK services in this review. Specific iZettle pricing may differ slightly from iZettle fees in the UK, as may the availability of specific POS devices, but the services and features remain largely the same regardless of region. And while iZettle is now "PayPal Zettle," for this review, we'll keep using the old "iZettle" name that people are more familiar with.
Note: To learn more about PayPal Zettle's mobile POS services for US businesses, read our PayPal Zettle review (the US version).
iZettle Products & Services
iZettle offers merchants a solid, modern mobile POS, a high-quality Bluetooth reader, a new all-in-one touch screen terminal, and some nice extras, such as SMS payment links, in-person PayPal acceptance, and gift cards. You can also opt for add-ons, such as restaurant features, full POS integration, and business financing.
One of iZettle's few shortcomings is its lack of built-in eCommerce. However, you can integrate your iZettle inventory with an existing online store.
iZettle App
iZettle's mobile app, formerly known as Zettle Go but now called PayPal Zettle: Point Of Sale, offers some noteworthy features, including:
Inventory Library: You can organize items into folders and include different variants (such as small, medium, and large) for each item and upload photos of products to serve as icons. Bulk import and export via Excel to speed things up.
Discounts: You can issue discounts by a percentage or a fixed amount.
Text Payments: This feature, useful for socially distant and remote payments that don't necessarily involve your website — for example, taking an order over the phone — lets you text customers a link prompting them to pay on their device.
In-Person PayPal Payments: Select "PayPal" as the payment method during checkout, and the app will display a QR code that your customer can scan to pay with the PayPal app on their phone.
In-App Invoicing: Send an invoice for 2.5% of the transaction.
VAT: Business accounts can set VAT rates for items.
Analytics: iZettle's analytics are pretty standard stuff, but it covers all the important data — card and cash sales, plus the items and quantities sold, for starters.
Order Tickets: Print up receipts as well as tickets for the kitchen.
Multiple Staff Accounts: Each staff member will have their own unique login information, and they do not have access to reports or sensitive account info. This is a nice feature and is available at no extra charge.
Gratuity: iZettle now has a tipping function, so your customers can add an extra amount right at the reader. Tips are included in sales reports and receipts. If you've got an older iZettle card reader, make sure it's updated with the latest software for the tipping screen.
Customer Database: When customers enter their email addresses for receipts, iZettle stores them. You can then import that list into an email service, such as Mailchimp.
Gift Cards: You can sell gift cards to your customers in two ways. You can order plastic gift cards or deliver gift codes through email with seamless gift card bookkeeping.
One absent feature is eCommerce. iZettle used to have an in-house eCommerce add-on but now recommends that customers who want eCommerce integrate with BigCommerce. Users of Shopify and other supported shopping cart software can also integrate iZettle into their existing store.
The app also lacks an offline mode; you'll need a data or Wi-Fi connection to process payments.
iZettle Credit Card Reader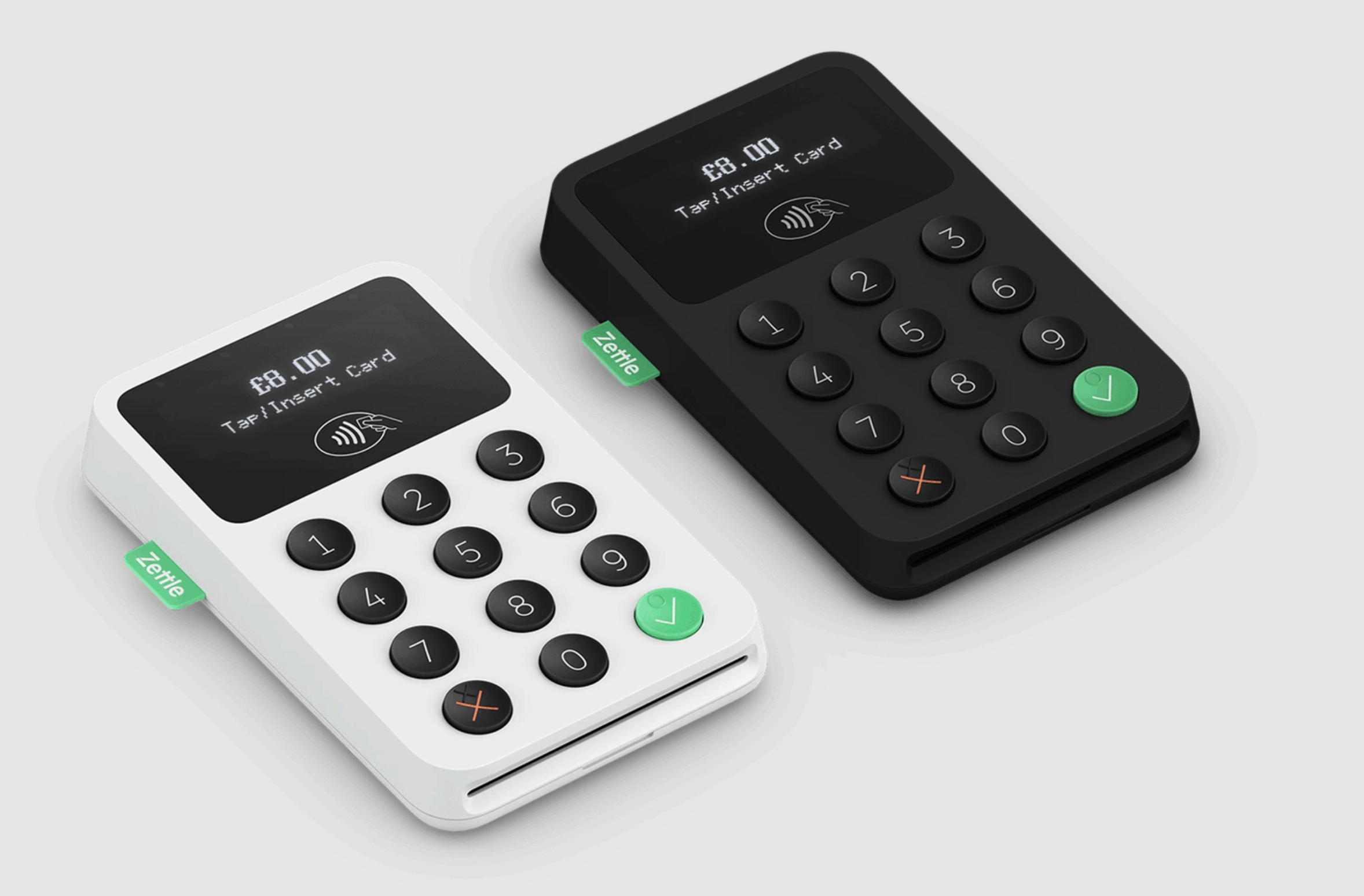 iZettle's latest card reader is the iZettle Reader 2, which supports chip cards and contactless NFC payments. The £59 Bluetooth reader (£70.80 including VAT) works on all Apple devices running iOS 10 and higher and most Android devices running Android 5.0 and higher.
Here are the stats on the iZettle card reader:
Low-energy Bluetooth connectivity supports an eight-hour battery life
It takes card payments 25% faster than other mobile card readers (according to iZettle) and processes contactless payments in just five seconds
PIN pad to accept PIN card and debit card transactions
Accepts all major credit cards and digital wallets, including Apple Pay, Samsung, Google Pay, PayPal QR payments, and payment links, with five-second processing speeds
Deposits withdrawals to your bank account in one to two business days
12-month warranty on all card readers
Optional charging dock for countertop use
Three color options include white, black, and ocean ("Ocean" is a limited edition option made of recycled plastic)
Compared to similar mobile processing readers, the iZettle card reader offers great value, is competitively priced, and because of the updates, offers merchants better protection from fraud overall. About the only thing it lacks is magstripe capabilities, but this is becoming less of an issue with time as consumers and merchants leave magstripe technology behind.
Zettle Terminal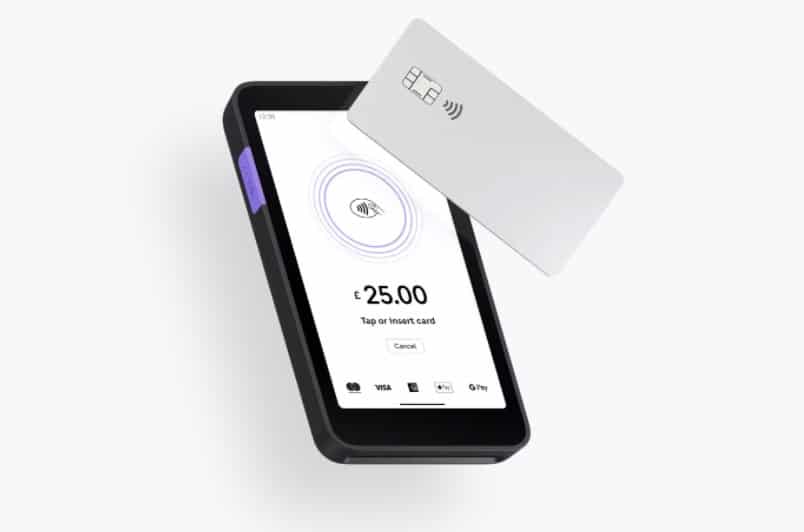 PayPal's new standalone POS solution, the Zettle Terminal, is now available in the UK. This £149 touch screen terminal (£178.80 including VAT) runs the Zettle Go app and does not need to be paired with any other device. It comes with a preloaded SIM card for immediate connectivity — the device runs on either Wi-Fi or 4G but requires a Wi-Fi connection during the initial setup.
Here are the Zettle Terminal's specifications:
Battery life with "average" use is about 12 hours, while battery life with "intensive" use is about four to six hours
PIN pad functionality to accept PIN card and debit card transactions
Accepts all major credit cards and digital wallets, including Apple Pay, Samsung Pay, Google Pay, PayPal QR payments, and payment links, with five-second processing speeds
Deposits withdrawals to your bank account in one to two business days
12-month warranty on all card readers
Optional Printer & Dock (£50) for countertop charging and receipt printing
You can now get the Zettle Terminal with a barcode scanner, which costs £199
Other Zettle Services
Restaurant POS: Zettle Food and Drink was a separate restaurant POS offering developed with the hospitality industry in mind. However, it is no longer available for purchase (though existing Food and Drink users can continue to use it). Instead, iZettle now highlights the foodservice-friendly features of the standard app on its website and suggests that users looking for further restaurant functionality integrate with a partner POS system.
Software Integrations: iZettle integrates popular business software, such as QuickBooks, Xero, Shopify, BigCommerce, WooCommerce, Prestashop, and others. iZettle can also integrate with POS systems, allowing you to use iZettle processing with your preferred POS, such as Vend, Lightspeed, Revel, or Loyverse.
iZettle Fees & Rates
The PayPal Zettle app carries no monthly fees. As for transaction fees, here's what iZettle charges:
Card-Present Transactions: 1.75%
Invoiced Transactions: 2.5%
Payment Link Transactions: 2.5%
Keyed-In Transactions: 3.4% + 20p
QR Code PayPal Payments: 1.75%
The iZettle Reader retails for £59, excluding VAT, while the Zettle Terminal sells for £149 (excluding VAT). iZettle also sells POS hardware kits that include peripherals, such as iPad stands, card reader docks, cash drawers, receipt printers, and barcode scanners. These kits range from £189 to £692 (excluding VAT).
For the average user on the free plan taking in-person card payments, 1.75% is a terrific rate. If your business takes over £10,000 in card payments every month, you may qualify for custom iZettle pricing that's even lower.
Sales & Advertising Transparency
iZettle does a fantastic job of clearly describing its system's capabilities and making known all of the important contract stipulations; very few would be deal-breakers for anyone. iZettle has worked out a lot of kinks in its system, from the old method of processing Visa cards to the clunky old card reader. You know what your limits are and what your rates are. There are no hidden surprises.
The company also sports a blog with helpful tips, a Facebook page, a Twitter feed, an Instagram profile, and a LinkedIn profile. There's also a support-focused Twitter account.
Get Started with iZettle for the UK
Contract Length & Early Termination Fee
As you might expect from a pay-as-you-go processor, there's no early termination fee from iZettle and no monthly fees. Good deal!
Beyond that, iZettle's contract terms are pretty standard for a mobile processor. There's nothing problematic or sneaky in the agreement. I like the transparency here.
Customer Service & Technical Support
| iZettle (Now Zettle by PayPal) Support | Availability |
| --- | --- |
| Phone Support | |
| Email Support | |
| Support Tickets | |
| Live Chat | |
| Dedicated Support Representative | |
| Knowledge Base or Help Center | |
| Videos & Tutorials | |
| Company Blog | |
| Social Media | |
iZettle offers free customer support (including phone and email support) for Zettle Go from 9 AM to 5 PM GMT on weekdays, while users on the paid Zettle Food and Drink plan (unavailable for new signups) can access support seven days a week. This is pretty good, but as we all know, payment issues occur on nights and weekends too. It would be nice if all Zettle merchants could access 24/7 support.
The site has a solid knowledgebase, though, which means that for most problems, you can probably find the answer for yourself instead of wasting your time with customer support. There's also a chat widget, which may help you resolve simple issues faster.
iZettle Card Reader & App Reviews
iZettle is quite well-received online. The main Zettle app has an average of 4.7/5 stars (out of 10K reviews) on the Apple App Store and 4/5 stars (out of 41,000+ reviews) in the Google Play Store. Clearly, merchants like the app overall. iZettle is also good about responding to negative reviews to resolve issues.
Negative iZettle Reviews & Complaints
iZettle doesn't have many complaints floating around, which is a very good sign. However, I did find a few out there. These were the most common complaints in iZettle reviews:
Connectivity Issues: This is a fairly common complaint against ANY mPOS service that favors iOS over Android and is by far the most common thread in recent complaints. The Android ecosystem is so fractured that it's difficult to support every device, and glitches can happen. Related to this, some Android users have complained about their card readers failing after app updates.
Sudden Account Terminations/Suspensions: Almost all services that provide fast, easy access to payment processing have complaints of early account instability. That's because companies such as iZettle tend to approve accounts without substantive underwriting, leading them to abruptly cancel services if they later feel that an account is a higher risk than they'd like. It may also cause iZettle to suspend your account pending further verification and investigation. I have not seen many complaints about this against iZettle, but some are popping up. I suggest checking out section 2.2 of the iZettle terms for a list of prohibited business types, as falling into one of those banned categories will get you shut down pretty quickly.
Get Started with iZettle for the UK
Positive iZettle Reviews & Testimonials
Here are some common compliments customers have for iZettle across various review sites:
Easy-To-Use App: Most positive reviews praise the app's ease of use. Particularly for quick-serve and small mobile retail businesses, the app does everything business owners want it to do without being unnecessarily complicated.
Quality Card Reader: Despite some iZettle reviews that describe connection problems with Android phones, a greater number of users praise how quickly and reliably the iZettle card reader connects. They also like that the reader has a good battery life and supports contactless payments. One iZettle card reader review stated that the battery life is sufficient to last her the entire weekend when she uses it for mobile payments at fairs and events. (As the Zettle Terminal was just recently released, I haven't seen much feedback on how it performs.)
Fair Pricing: Most merchants seem to enjoy iZettle's flat-rate pricing, which is lower than most other mobile processing services provide and better than what many traditional merchant account providers can offer low-volume businesses. And, of course, everyone on the Zettle Go plan likes that there is no monthly fee or cancellation fee — which means you can get the app and card reader just for occasional mobile use.
Helpful Customer Service: Though there are some negative reviews of iZettle customer support, many iZettle merchants, including those on the free Zettle Go plan, praise the quality of the company's customer service and their ability to resolve problems.
Final Verdict On Zettle by PayPal
Though my experience in UK mobile payment options is limited, I can still confidently recommend Zettle by PayPal in this review. Zettle offers high-quality service, honest marketing, and a capable mobile app.
There are a couple of shortcomings with iZettle's service worth mentioning. Unlike Square, Zettle doesn't allow offline processing or set you up with a free eCommerce website. However, Zettle's payment flow works a little better for chip-and-pin payments than Square's. With some other recent optional add-ons, the gap between Square and Zettle Go is narrowing.
Zettle certainly has everything you absolutely need to run a business and accept credit cards. I'm perfectly comfortable recommending that you check out the service, and Zettle by PayPal keeps a solid 5-stars.
Curious about your other mobile POS options? Read our post on the best mobile POS systems for small businesses.
---
The Merchant Maverick Seal of Approval 🏆
iZettle (Now Zettle by PayPal)


---
After hours of in-depth research and evaluation, we can confidently recommend this brand to our readers. Get started today and see iZettle (Now Zettle by PayPal) for yourself.
The Merchant Maverick Seal of Approval 🏆
iZettle (Now Zettle by PayPal)


---
After hours of in-depth research and evaluation, we can confidently recommend this brand to our readers. Get started today and see iZettle (Now Zettle by PayPal) for yourself.
To learn more about how we score our reviews, see our
Mobile Credit Card Processing Rating Criteria
.