Expert Analyst & Reviewer

Updated on:
Advertiser Disclosure: Our unbiased reviews and content are supported in part by
affiliate partnerships
, and we adhere to strict
guidelines
to preserve editorial integrity.
Loyverse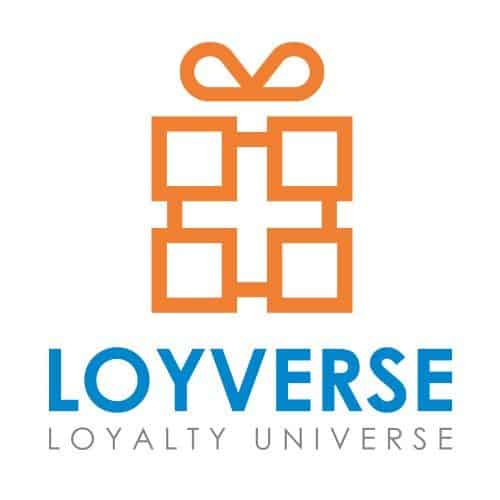 Pros
Free
Strong customer service
Simple to learn
Excellent built-in loyalty
Cons
No integrations
Limited functionality
Loyverse Overview
Loyverse is an easy-to-use POS application designed for small businesses. It allows you to process transactions, keep a record of inventory and sales, and establish a customer loyalty program. And the best part is Loyverse is free!
The name "Loyverse" is an amalgamation of the words "Loyalty" and "Universe." "Loyalty," of course, refers to the software's signature built-in customer loyalty program, which really is unique among similar products. And while Loyverse does not state its reason for including the word "Universe," it is almost certainly a reference to the company's global focus.
Loyverse POS is used all around the world and comes with multilingual capabilities and support. Part of the reason Loyverse offers its software free of charge is to support small merchants in developing countries who cannot afford to pay monthly subscriptions for a POS system.
In many ways, Loyverse is excellent POS software. The UI is easy to use and easy to teach, and Loyverse's customer support is generally well praised on review boards across the internet. As you would probably expect from free software, you're not going to get a robust offering of services. There are some limitations in its inventory and a few bugs within its ticketing process that I would like to see ironed out, but for a free system, it's excellent.
Loyverse is designed for small businesses who are merely looking to upgrade from pen and paper or Excel spreadsheets. And for those merchants, this software is wonderful. For those who like what they see and want to tap into some more advanced features, you can upgrade with advanced inventory and employee management. Loyverse's reasonably-priced add-ons make the POS very competitive with others in its class.
If you own a small salon, cafe, boutique, or pay-at-the-counter restaurant, keep reading to see if Loyverse POS is the solution you're looking for.
Don't have time to read an entire review? Take a look at our top-rated point of sale solutions for a few quick recommendations. Every option we present here offers excellent customer support, detailed user interfaces, and easy-to-use software, all for a reasonable price.
Pricing
The Loyverse pricing structure is simple: The basic features can be downloaded and implemented completely free of charge. These free products include Loyverse POS, Loyverse Dashboard, Loyverse KDS, and Loyverse CDS.
Out of curiosity, I asked one of Loyverse's representatives how the company makes money. The answer was simple. Right now, it doesn't. Loyverse is part of the Give First Initiative. It seeks to build good customer relations (and help other entrepreneurs) by providing its software completely free. It's a risky venture but one that's also becoming increasingly common.
Loyverse also now offers add-ons for-purchase. These add-ons are entirely optional and are available under a subscription model.
Employee Management
$5 per employee per month
Two months free with an annual subscription
Advanced features

Add employees
Restrict access rights
Clock-in and clock-out
Sales reports by employee
Download reports with CSV files
Identify cash discrepancies
Advanced Inventory
$25 per store per month
Two months free with an annual subscription
Special offer available for more than three stores
Advanced inventory features

Add suppliers
Purchase orders
Transfer orders
Stock adjustments
Inventory valuation report
Inventory history
Integrations
$9 per month
Accounting apps, including QuickBooks and Xero
eCommerce apps, including WooCommerce
Marketing
Connectors
All add-ons also come with 24/7 premium support via online chat.
Cloud-Based Or Locally-Installed
Loyverse is cloud-based, which means your data is stored off-site in the cloud, and you can access your back office remotely.
Specific Industry
Loyverse POS has features, especially if you purchase its add-ons, to help small businesses in both the retail and restaurant industries, with the product being somewhat catered to smaller-end restaurants.
Specific Size Of Business
Most of the Loyverse reviews I've seen come from businesses of 10 or fewer employees. Loyverse works best as a baby step to business automation. It's probably best for a business with no more than three locations. While it's capable of handling a small full-service restaurant, the lack of table mapping would make Loyverse tough to recommend for an establishment with a large or complicated layout.
Ease Of Use
Usability is the focus here. Because Loyverse POS is a free app, it's easy to sign up for an account and start trying out the product.
When I signed up, I immediately received access to my Loyverse back office.
Here's what I found: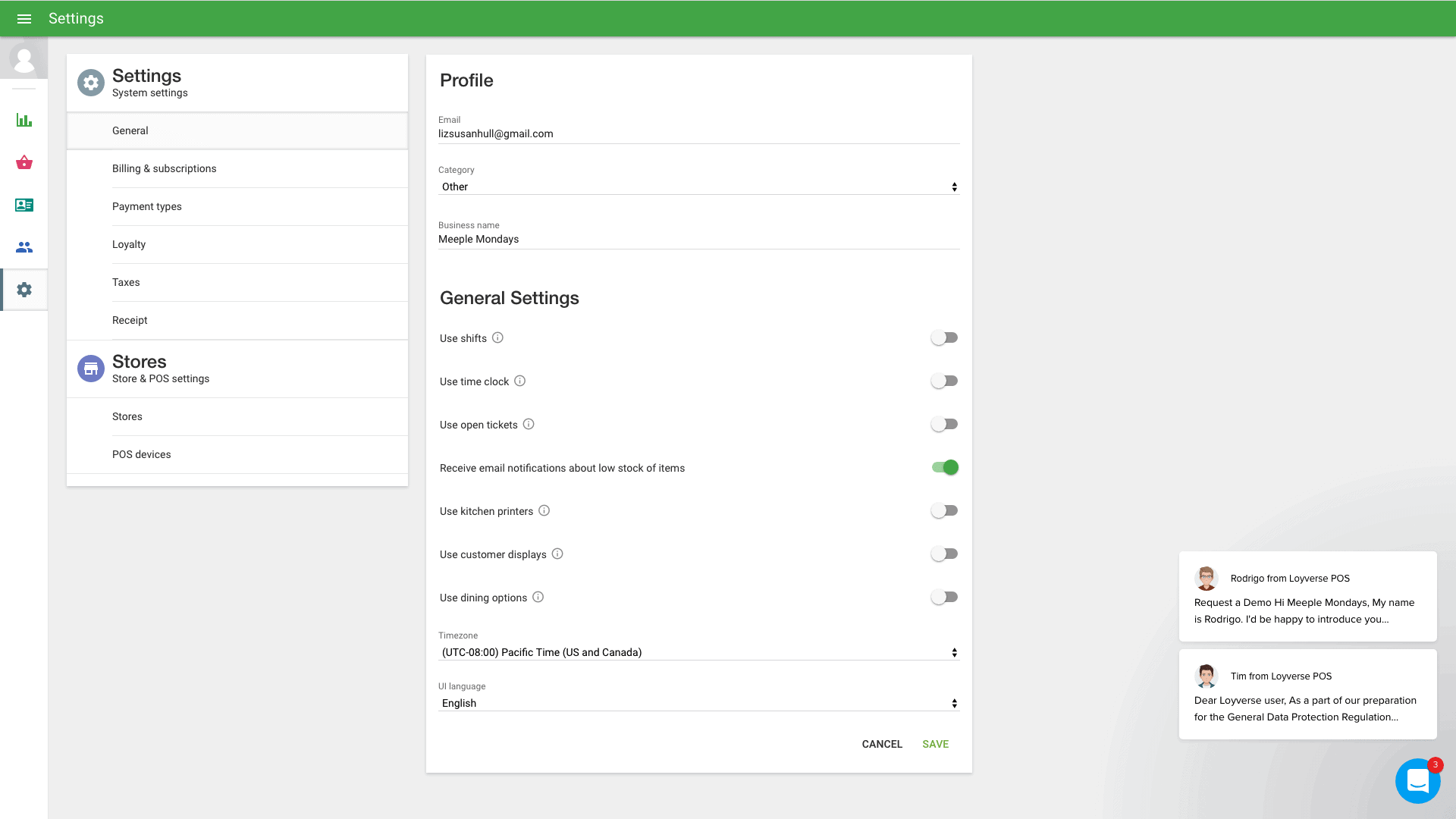 I was then directed to the Google Play Store or the Apple App Store, where I was given the option to download the app for my actual storefront POS software.
While I was in the back office, I took the opportunity to add a couple of products.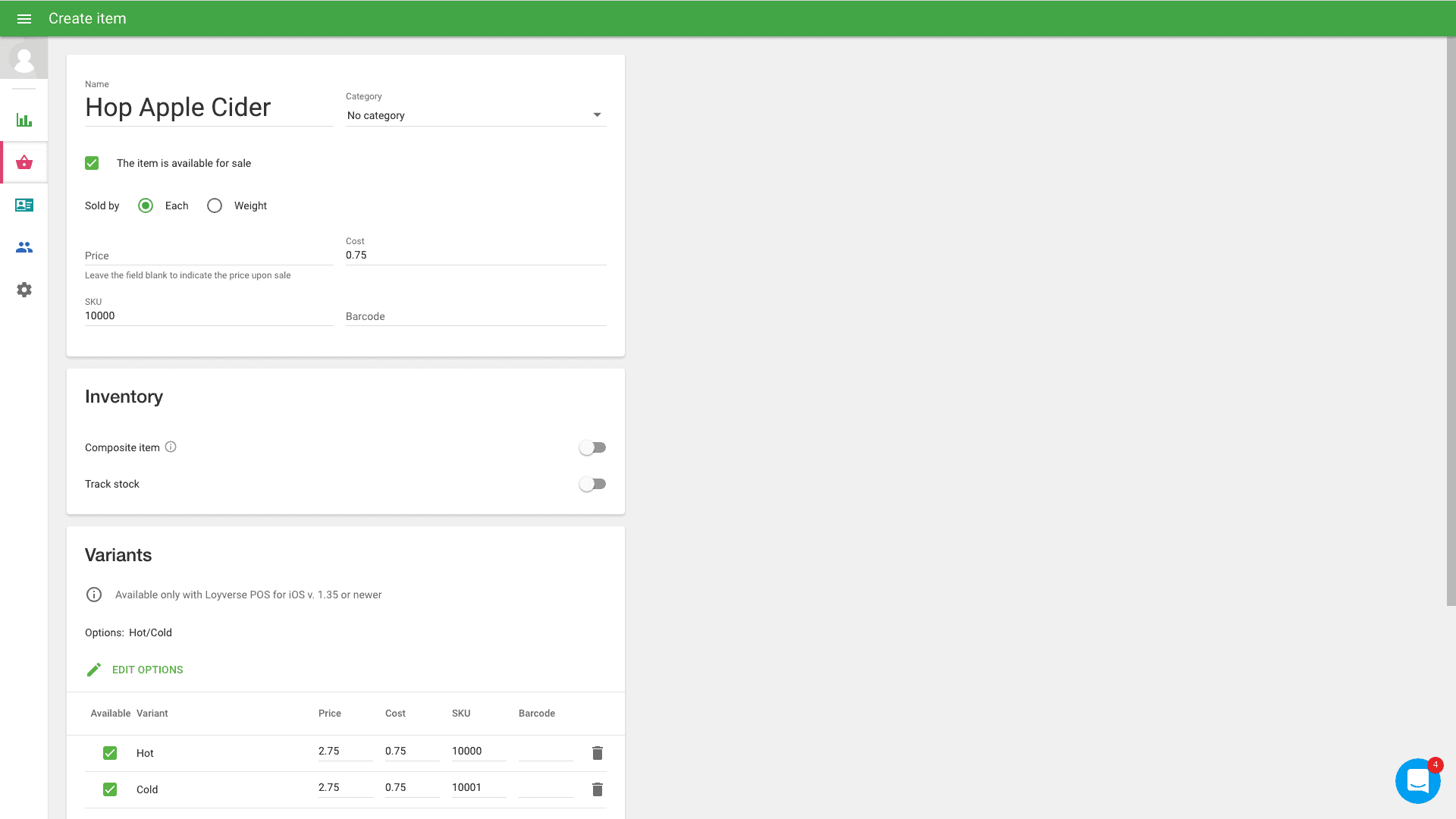 I was able to select symbols and colors that would identify those products in my Loyverse POS app. I was also able to add product modifiers (say, an extra shot in an espresso drink) along with price variants for those modifiers.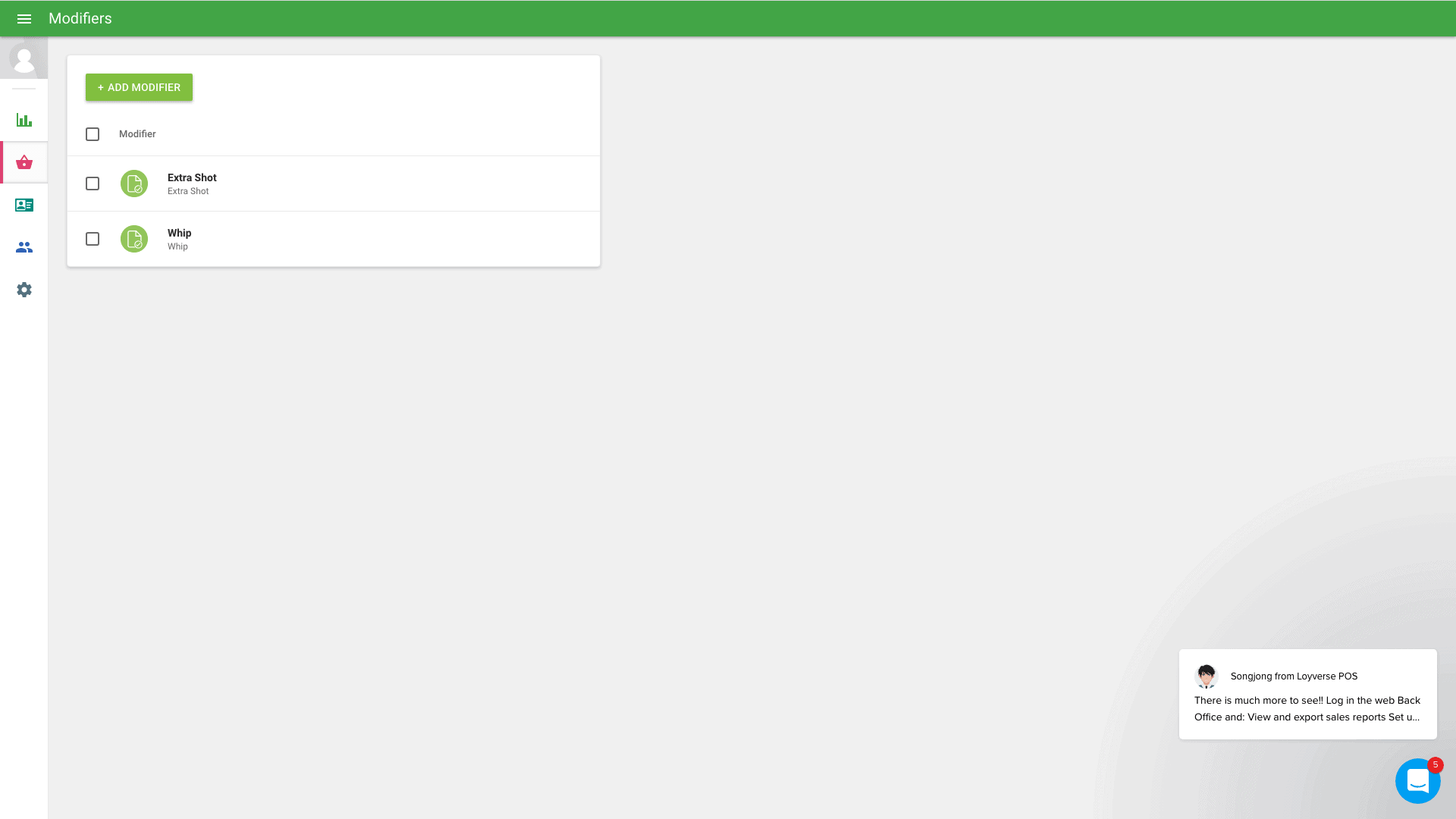 The process of adding products, product modifiers, and discounts is all very straightforward; you just point and click. If you ever need any help, there are video tutorials to guide you along.
When you log into your app on your tablet or smartphone, you'll see all of your information already loaded and ready to go. It'll look something like this: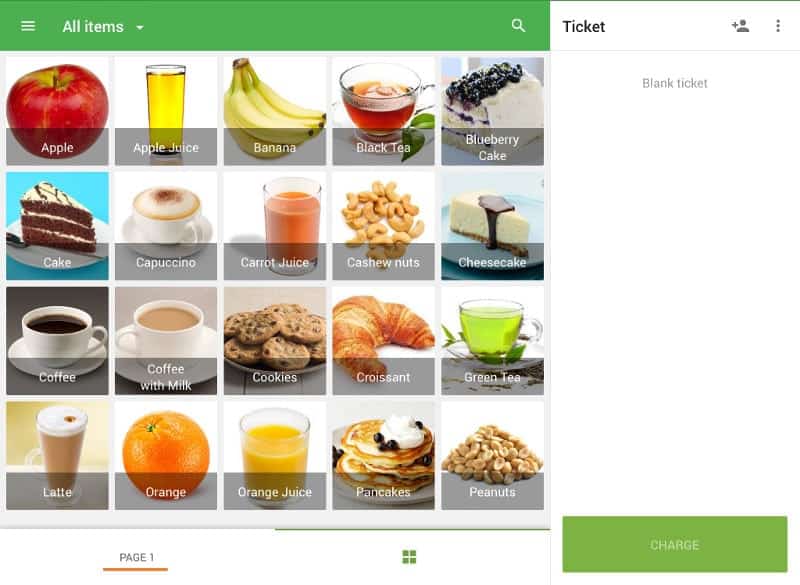 You can add products to a customer's order by simply dragging items over to the right side of the screen. Use the same process to apply discounts.
Features for iOS let you organize and rearrange the products on your screen so that you can simplify your ordering process. Loyverse POS also lets you print receipts or send them via email. You can email customers to request a customer satisfaction review.
One of the best parts of Loyverse is its loyalty program. When customers download your loyalty app, they can receive points based on their purchases. These points translate into discounts on future services. You can also use this application to send messages out to your loyal customers. If you want to learn more about making a loyalty program work for your business, we have a post for that: Customer Loyalty Programs For Small Business: How To Create A Rewards Program That Works.
All in all, Loyverse is an incredibly simple POS application. You and your team should be able to get the hang of it in no time at all.
Hardware & Operating System Requirements
To run Loyverse's app, you'll need an iPhone, iPad, Android smartphone, or tablet, and it's nice that the app is available for both. Loyverse also supports a wide variety of receipt printers, kitchen printers, barcode scanners, and cash drawers. Find out which hardware Loyverse POS supports more specifically on the company's website.
Loyverse POS Features
Loyverse POS essentially provides you with the features you need to keep a record of transactions and maintain contact with your customers.
I'm calling Loyverse "a step up from pen and paper," but I don't mean that negatively. If you've been keeping track of transactions on paper or an Excel spreadsheet, you'll be amazed by what Loyverse can do. While the free app isn't quite as generous as Square, for example, its affordable add-ons make this a pretty impressive system overall for the price.
Here are some of the highlights of what Loyverse has to offer:
In-Store Features
Printed Or Electronic Receipts: Attach a receipt printer or send receipts via email.
Return Management: Easily process customers' returns and refunds.
Cash Management: Make sure that the amount in your till lines up with your sales.
Discounts: Set discounts to apply to either one product or the full order.
Open Tickets: Create and save orders. Edit and finish those orders later.
Item Modifiers: List product add-ons as item modifiers. Include any additional costs.
Work Offline: Store information while your connection is down. Information syncs to your server when the internet is back.
Multiple Locations: Manage multiple store locations from one account.
Inventory Management
Bulk Import/Export: Use CSV files (such as Excel spreadsheets) to upload and download product information for faster bulk editing.
Track Inventory: Monitor your inventory based on products and product components (such as ingredients). Receive low stock notifications.
Purchase Orders: Plan purchases and export records while also tracking stock receipts.
Low Stock Notifications: Get daily notifications on when inventory is running low to help with ordering.
Transfer Orders: Seamlessly move and track stock across multiple stores.
Inventory Valuation: See analytics on how various items are performing, plus their potential profitability.
Stock Adjustments: Manually change your stock levels based on things such as loss or damages.
Employee Management
Sales By Employee: Keep track of employee performance.
Workload Per Hour: Find out what times your business is at its busiest, so you can minimize being overstaffed or understaffed.
Access Rights: Grant different permissions to different employees to guarantee your information's security.
Time Clock: Let employees punch in and out to calculate total hours automatically.
Sales Analytics
Reports: View reports of sales trends, popular items, and tax reports. Export those reports via CSV files.
Receipts History: You can view all of your receipts to monitor individual transactions.
Shifts: Track employees' transactions to find any inaccuracies that may have resulted in an unbalanced till.
Tax Reports: Automatically calculate the cost of various taxes.
Sales Trends: Track the performance of an item or items over days, weeks, or months.
Loyalty Program
Customers Database: Keep a record of your customers' information, such as email addresses and preferences.
Points Reward Program: Keep customers coming back with points that translate into discounts.
Feedback: Email customers to ask for their feedback. Track that input in the back office.
Message Marketing: Send messages to your customers (as long as those customers have downloaded your rewards app).
Notes: Write specific notes for future use about individual customers.
Restaurant Features
Create Predefined Tickets: While Loyverse does not include table management features, you use predefined tickets to handle table management in a more general way. Set a list of tables in your Loyverse admin to apply tickets to each table.
Print Bills Or Pre-Receipts: Print bills for your customers before the bill is charged (great for sit-down restaurants).
Dining Options: New features for iOS let you specify if customers are dining in, taking out, or requesting delivery.
Print Kitchen Orders: Send new orders to your kitchen printer.
Display Kitchen Orders: Use the Loyverse KDS (Kitchen Display System) app to display new orders digitally on a screen in your kitchen.
Retail Features
Barcode Support: Use the camera in your business's tablet or smartphone to scan barcodes (currently available for iOS only). If you subscribe to the Advanced Inventory Management plan, you can also create new barcodes and print them with a label printer.
Product Variants: Add multiple product options, such as size, color, and materials.
Customer Display System App: Display orders to your customers on a separate tablet. Allow customers to view pricing information and reward points as you ring them up. This app works online and lets customers enter their email addresses to receive an e-receipt.
Loyverse is continually working on adding more functionality to its software. The company has significantly bulked up its inventory and its ability to coordinate across multiple locations, which substantially improves the viability of the product. The built-in loyalty is also one of the best I've seen included in a free app.
Integrations & Add-Ons
Loyverse now has the option to subscribe to its integrations for $9 a month, and it includes a decent array of choices in a number of different categories. It also has an open API, allowing developers to make apps that sync with Loyverse software, which is always a nice option. Here is what Loyverse currently offers:
Accounting
QuickBooks
Xero
Sage Accounting
eCommerce
WooCommerce
SKUPlugs
Kosmos eSync
Octopus
Sqquid Multichannel
Marketing
Connectors
Dataddo
Zoho Flow
Inegromat
Appy Pie Connect
Compatible Credit Card Processors
Loyverse now connects to a few credit card processors. US merchants can choose between Worldpay, SumUp, and CardConnect. European merchants can connect with SumUp or iZettle. In Australia, you can choose between Smartpay and Tyro, while in Japan, you have the option of Coiney, PAYGATE, Softbank, or CPayPro.
That should give you some competitive options, and you'll want to compare rates on your own, depending on how much you plan on selling.
Customer Service & Support
Loyverse's customer support is generally well-praised. I probed the live chat and had all of my questions answered promptly and fully. Many companies claiming to offer live chat often leave you waiting or have you submit an email with questions. Loyverse connects with you quickly, and the staff is knowledgeable and helpful.
Here are the support tools available to Loyverse's clients:
Help Center: Dig through this knowledgebase for "How To" guides and general information about the application.
Videos: These short tutorial videos show you the basics of using Loyverse POS.
Community Forum: Get help from other Loyverse users.
Email: You can email the support team directly.
Live Chat: You can access live chat in your back office.
It would be wonderful to be able to call in with questions, especially in an emergency, but that option is not yet available. However, as long as Loyverse keeps providing such high-quality live chat support, I won't complain too much.
Loyverse POS Reviews, Complaints & Testimonials
Negative Reviews & Complaints
As I checked customers' Loyverse reviews and Facebook and Twitter pages, I saw that clients are generally pleased with Loyverse's software. It appears that Loyverse is exactly the solution many merchants were looking for. I noticed that many reviewers who had complaints still often rated Loyverse quite well, which speaks volumes.
Limited Functionality: Some basic features are missing from Loyverse's free app, which has left a few users frustrated.
Updates Released First On iOS: Android users are unhappy that new features are released first for Apple products. Android users have to wait to access those features.
Cannot Track Inventory By Volume: You can only track inventory by item and weight, not by volume. Some merchants who sell drinks by the glass would like to see this feature added.
Lack Of Features: A few reviews were disappointed with things that weren't included with Loyverse (such as online ordering) or were upset that they had to purchase the add-ons for other features.
Positive Reviews & Testimonials
Online Loyverse POS reviews are overwhelmingly positive. Keep in mind that most of these reviews come from businesses of one to ten employees, and most of the users appear to be primarily interested in the free version. Here's what they love about the software:
Free: Free is the best price. Loyverse doesn't have any additional expenses attached to it. You won't need to pay a fee for customer service or to maintain your software. It's just free.
Easy To Use: Clients love how easy it is to learn Loyverse. It's also easy to teach to less tech-savvy workers.
Customer Support: Loyverse's customer support is friendly, multilingual, and quick to respond. Every review I read only had positive things to say about the customer support team.
Loyalty Program: Users love that Loyverse includes its own loyalty program.
Final Verdict
In short, Loyverse POS is an excellent solution for small businesses that may have limited cash upfront or for customers just dipping their feet into the world of POS systems. The software provides resources to keep track of transactions, analyze that data, and interact with customers. Some merchants may find that's all they need! If you're in that boat, go ahead and download the software. It's totally free (no strings attached), and you can test it for yourself to make sure it's what you're looking for.
However, many merchants will find that Loyverse's features are not extensive enough to suit their current business model. If that's the case, you can look into Loyverse's add-ons or browse similar systems for small businesses. If you want to look into other POS systems that include loyalty programs, check out our post, 5 POS Systems With The Best Loyalty Programs. And if free is your thing, our post, The Best Free Point Of Sale Software For Small Business: 6 Free POS Systems With Everything You Need, will interest you.
Regardless, you're not likely to find many other POS systems that can do what Loyverse does for absolutely no money down.
---
We've done in-depth testing of each and confidently recommend them.
We've done in-depth testing of each and confidently recommend them.
To learn more about how we score our reviews, see our
Point Of Sale (POS) Software Rating Criteria
.
Read Next