Expert Analyst & Reviewer

UPDATED
Advertiser Disclosure: Our unbiased reviews and content are supported in part by
affiliate partnerships
, and we adhere to strict
guidelines
to preserve editorial integrity.
CardConnect

Pros
Powerful CardPointe integrated payments platform
Interchange-plus pricing available
Cons
Contract length as long as five years
Early termination fee as high as $750
Extensive use of independent sales agents
Reputation for poor customer service
CardConnect Overview
CardConnect is a Pennsylvania-based merchant services provider offering merchant accounts, payment gateways, and other tech-focused business products. Having launched in 2006 as Financial Transaction Services and re-branded as CardConnect in 2013, the company now wants you to think of it as a tech company rather than a financial services business. However, it's still much more focused on the latter.
CardConnect is an independent subsidiary of direct processing giant First Data (which itself was acquired by Fiserv) and is the largest of the company's many independent sales networks. But enough background — let's get down to brass tacks. CardConnect's primary offering is CardPointe, its payment processor and payment gateway. Additionally, the company offers a full range of impressive, high-quality products and services, including real-time reporting, point of sale systems, and a wide range of third-party business integrations.
However, as other CardConnect reviews have noted, the company's lengthy contracts, high termination fees, and inadequate pricing transparency are less than impressive. Although the business-unfriendly contract terms don't apply to everyone who signs up for CardConnect, the fact that they're imposed at all results in the company receiving an overall score of 3 out of 5 stars.
Despite this score, CardConnect's business products are top-notch offerings that we have no problem recommending. If you can negotiate a contract that includes interchange-plus pricing, month-to-month billing, and no early termination fee, CardConnect can offer you solid, high-quality service. If you can't get these terms, however, you may want to look elsewhere. See our Merchant Account Comparison Chart for a side-by-side comparison of our top-rated providers.
Products & Services
Like most medium-sized merchant services providers, CardConnect merchant services include a full range of products that enable your business to accept just about any kind of payment, whether you're in retail, eCommerce, or both. Offerings include the following:
Merchant Accounts: CardConnect is not a direct processor. However, its extremely close relationship with Fiserv should help smooth out the kinds of problems that happen when merchants unexpectedly experience an account hold, freeze, or termination.
Credit Card Terminals: CardConnect now offers the Ingenico Tetra Desk/3500 ($220) and Desk/5000 ($350) models for merchants needing a traditional countertop terminal. Both models feature a color display (the Desk/5000 has a color touchscreen) and support for EMV and NFC-based payment methods, such as Apple Pay. Built-in support for PIN debit transactions is coming soon. With COVID-19 highlighting the need for contactless payment acceptance in the retail sector, we recommend upgrading to an NFC-capable terminal ASAP.
Point Of Sale (POS) Systems: CardConnect doesn't sell POS hardware directly, but its system is compatible with Fiserv's Clover line of products, including the Clover Station, Clover Mini, Clover Flex, and Clover Go models. We suggest comparing CardConnect to our five favorite Clover resellers if you're interested in using Clover's POS system.
eCheck (ACH) Processing: CardConnect's gateway can process ACH payments, but it's not clear whether this is a baked-in feature or an option you'll have to pay extra for if you need it.
Hosted Payment Pages: CardPointe HPP allows you to set up a secure, hosted page for online payments or donations. It's customizable and doesn't require any programming to configure. It's also free to CardPointe users.
Third-Party Integrations: The CardPointe platform can integrate with hundreds of third-party business services, including online shopping carts, point of sale (POS) systems, and accounting software.
CoPilot: This is CardConnect's web-based, paperless account application service. The company's sales agents use it to set customers up with new merchant accounts faster and with less hassle than the old, paper-based system. While it's certainly convenient, it also makes it much easier to sign merchants up before they've had a chance to review their contract documents thoroughly. Don't allow yourself to be pressured into signing up for an account until you've taken the time to read your entire contract!
CardPointe Platform
CardConnect's primary product is CardPointe, a cloud-based payment processing and reporting system that combines the functions of a payment gateway and virtual terminal. CardPointe also integrates with traditional countertop terminals and mobile processing systems, so it's not just for eCommerce merchants.
With CardPointe, you can accept credit and debit card transactions and echeck (ACH) payments. CardPointe gives you 24/7 access to your account and features detailed transaction information, real-time reporting, PCI compliance features, support for recurring billing, product catalogs, and a customer database.
Payment Gateway: The CardPointe gateway enables you to accept card payments online and in-store while offering omnichannel processing, interchange optimization, detailed transaction reporting, and customizable bill plans that offer automated recurring billing.
Virtual Terminal: While the CardPointe software can turn your laptop or desktop computer into a credit card processing machine, you'll still need a compatible card reader for accepting card-present transactions. The IDTech SecuRED ($150) and IDTech SREDKey 2 ($200) are your simplest and cheapest options. However, since they are both magstripe-only, we highly recommend spending a bit more on an EMV-capable card reader to avoid possible liability for fraudulent transactions. The cheaper EMV-capable options include the Ingenico iPP 320 ($324) and Ingenico iPP 350 ($351), but for $536, the Ingenico iSC Touch 250 includes a color touchscreen and digital signature capture capabilities. These options (and others) are available online in the CardPointe Shop.
Mobile Payments: CardConnect's mobile payment system uses the free CardPointe Mobile app (available for iOS and Android) and a compatible mobile card reader. The company now offers the IDTech VP3300 as the CardPointe Mobile Device ($110), and it accepts both magstripe and EMV payments (with support for NFC payments promised in the near future) and connects to your smartphone or tablet via BlueTooth. Note that all transactions processed with the CardPointe Mobile system will automatically sync with your CardPointe desktop software.
Bolt Platform & Developer Tools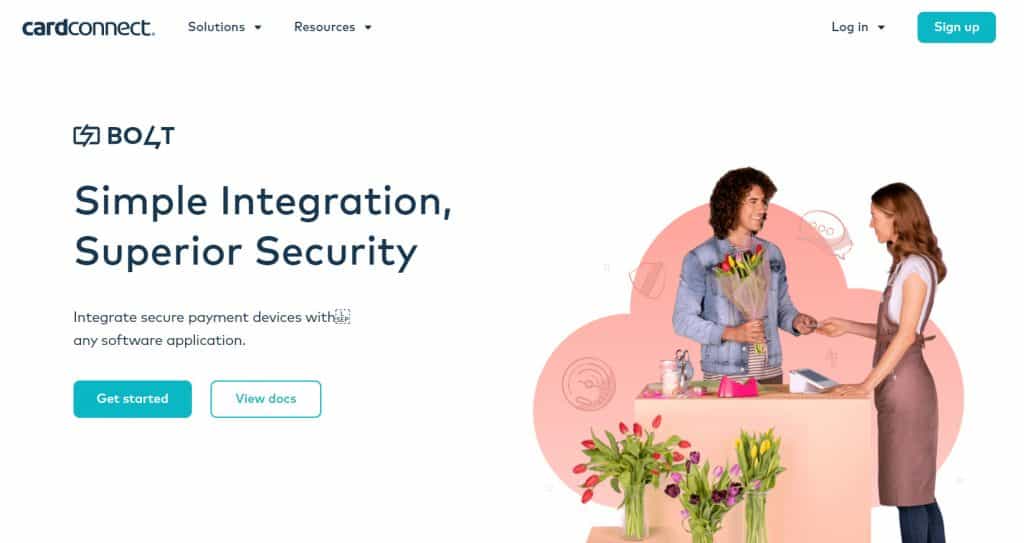 CardConnect has recently introduced Bolt, a proprietary software-based suite of security features. Bolt utilizes point-to-point encryption (P2PE) and tokenization to secure transactions. It also includes data breach protection and other features to reduce the scope of your PCI-DSS compliance requirements.
CardConnect also offers several APIs and developer tools that allow you to customize the integration between your website and the company's gateway. You can also integrate third-party applications using these tools.
CardConnect Pricing, Rates, & Fees
CardConnect's website doesn't disclose any information about processing rates, account fees, or contract terms. For that matter, it barely discusses merchant accounts at all. This means that its pricing is highly variable and will differ from one merchant to another. The only guarantee is that your account will be underwritten by Fiserv.
The company offers a variety of both tiered and interchange-plus pricing plans. Ask for an interchange-plus pricing plan, as your overall costs will usually be lower, and you'll have complete transparency on the markup you're paying to CardConnect. Be aware that you may not be offered interchange-plus pricing if your business is a startup or in the high-risk category. Also, know that most sales agents will try to put you into a pricey tiered plan if you don't specifically ask for interchange-plus.
Like processing rates, CardConnect's fee structure is also highly variable. You won't be charged an account set-up fee, which is a good thing, as we consider this to be a "junk" fee in most cases. There's also no annual fee or reprogramming fee if you already have a terminal. Beyond that, it depends on your needs and what your sales agent includes in your contract. Here are the most common fees you'll probably have to pay:
$9.95 monthly account fee
$10.00 monthly wireless data fee (this only applies if you have a wireless terminal)
$8.25 monthly PCI compliance fee
$19.95 monthly PCI non-compliance fee
$10.00 monthly gateway fee
$5.00 monthly statement fee
$20.00 monthly minimum
$25.00 per occurrence chargeback fee
Most of these fees are in line with industry averages. I'm happy that PCI compliance is billed monthly, rather than charging you the full $99 once a year with no proration the way most processors do (though many processors charge nothing for PCI compliance). The PCI non-compliance fee is something of a "junk" fee as well, as it's just a penalty imposed if your account is out of compliance due to inaction on your part. The company isn't providing any service to get you back into compliance with this fee. And yes, you will be charged both PCI compliance and PCI non-compliance fees at the same time if your account is out of compliance!
Remember, these are only the most common and most significant fees. You can also expect to pay for such things as voice authorizations, use of the Address Verification Service (AVS), batch fees, and other items.
Contract Length & Early Termination Fee
Much like its rates and fees, CardConnect's contract terms are all over the map. Depending on the nature of your business and your processing history, you might have a contract term of anywhere from two to five years. Alternatively, you might not have a fixed-length term at all, with month-to-month billing and no penalty for closing your account.
It's good that CardConnect is willing to offer month-to-month contracts for at least some of its merchants, but I'd like to see the company extend these terms to everyone. If your contract has a fixed length, you'll also have to deal with an early termination fee (ETF) if you close your account before the term expires. Merchant reports indicate that CardConnect's ETF is as high as $750 — well above the industry average of $300-$500.
Now, CardConnect will waive the fixed-length term and ETF for merchants who qualify. Sadly, we've seen several complaints where the merchant was assured by their sales agent that they were on a month-to-month contract, only to be charged an expensive ETF when they tried to close their account. If you are offered these terms, get them in writing and keep copies of documentation in case you need proof.
CardConnect also occasionally offers new merchants free processing equipment when they sign up. However, if you accept this, you'll be locked into a long-term contract. You can have a month-to-month contract or a free terminal — not both. If you're given this choice, take the month-to-month contract and buy a terminal. Being stuck in a five-year contract (not to mention the costly ETF) will cost you much more in the long run than the purchase of a terminal.
Sales & Advertising Transparency
While CardConnect's site now offers more information about the company's products and services than it once did, you still won't find any disclosures regarding processing rates, account fees, or contract terms. What's more, there's still no comprehensive knowledgebase for customers trying to diagnose a problem with their merchant account.
On the plus side, developers will be impressed with the CardConnect Developer Center, which contains a robust library of APIs for integrating CardConnect's services with your website. The site now includes links to documentation for both the CardPointe integrated payments platform and supported hardware.
CardConnect relies on a combination of in-house sales staff and independent sales agents to market its products and set up accounts. While still common in the processing industry, the use of independent agents can often be disadvantageous for merchants. If possible, work with the in-house sales team when negotiating a contract for a merchant account.
The company also has a very active presence on social media, with accounts on Twitter, Facebook, LinkedIn, and even Instagram. CardConnect's YouTube channel contains marketing videos and very cursory tutorials but no testimonials from happy clients.
Customer Service & Technical Support
CardConnect offers 24/7 telephone support and appears to handle this function in-house. You can also contact the company via email.
While having 24/7 customer support is highly desirable, the quality of that support has generated both praise and criticism from merchants online. Some users are very happy with the quality and professionalism of the company's staff, while others have encountered rude and unhelpful support representatives. This inconsistent support quality means your experience will depend on who happens to pick up the phone when you call in.
The company now has a CardConnect Support Center on its website that functions as a rudimentary knowledgebase. It's a handy resource for new customers who want a little extra help in setting up their equipment and software services. However, except for the API Gateway documentation, it doesn't go very deep into most subjects and will probably be of little use if you encounter a technical problem.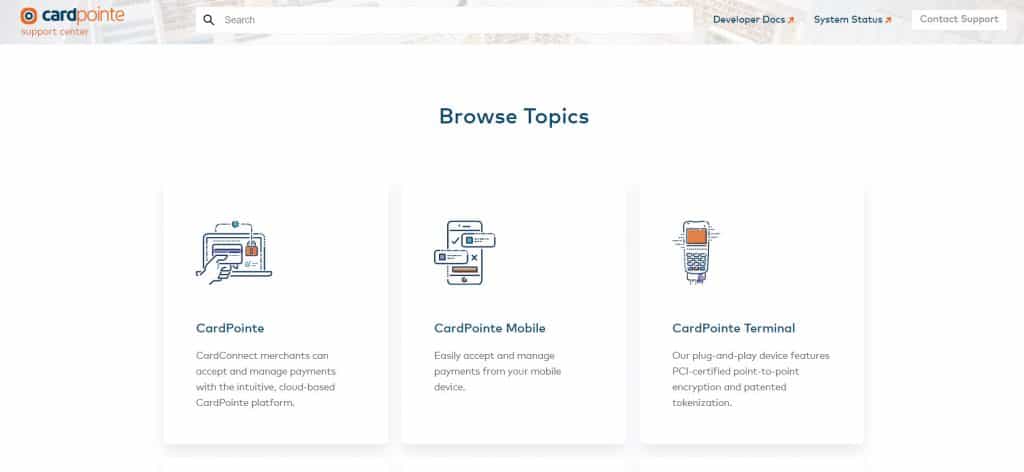 CardConnect Merchant Services Reviews & Complaints
Negative CardConnect Reviews & Complaints
Despite being in business for 15 years, CardConnect only became accredited by the BBB in February 2019. The company has an A- rating, with 70 complaints within the last three years and 25 complaints within the previous 12 months. These numbers have increased with each of our last two review updates, possibly indicating that some systemic problems are occurring with the company's services and customer support.
CardConnect's complaint volume has notably surged upward since the company's acquisition by Fiserv and its merger with Ignite Payments. We attribute this to the fact that merchant account issues tend to generate more complaints than the kinds of technical problems the company would have encountered when it was mostly focused on providing business software services. There are no complaints against CardConnect on Ripoff Report, and user reviews are not allowed on the company's Facebook page.
Examination of the complaints filed against CardConnect reveals several consistent trends, including the following issues:
Difficulty Canceling Account: This was, far and away, the most common complaint found in CardConnect reviews from merchants. Most providers make it as difficult as possible to close your account, with lengthy notice periods, written forms to fill out, and automatic renewal clauses that renew your account for another year (or longer) if you don't complete the process in time. However, some merchants don't read their contracts to understand what's required to close their accounts. If you decide to cancel your account, study your contract carefully, follow the instructions to the letter, and get everything in writing. It also helps to provide more notice than the minimum required.
Expensive Early Termination Fee (ETF): Unless you're billed month-to-month, CardConnect will charge you an ETF of up to $750 for breaching your contract. This often catches merchants by surprise, especially if their sales agent falsely reassured them that they wouldn't have an ETF in their contract. Fortunately, CardConnect seems to be willing to waive the ETF in many cases.
Dishonest Independent Sales Agents: There are a lot of complaints from merchants about independent sales agents who failed to disclose important terms of their contracts or outright lied about those terms. Unfortunately, it's never a good idea to trust any sales agent at their word. Read your contract and confirm all important terms before you sign up.
Poor Customer Service: Most of the complaints about rude or unhelpful customer service representatives came from merchants trying to close their accounts. At the same time, merchants had many more positive things to say about customer service when they were just trying to solve technical issues. To me, this indicates a problematic corporate culture that only values its customers as long as they're still on the hook every month for fees and processing charges.
Positive CardConnect Reviews & Testimonials
CardConnect likes to name-drop some of its larger Fortune 500 clients on its website but doesn't provide any testimonials from them. For that matter, it doesn't offer testimonials from any of its clients, either on its website or social media accounts. This isn't necessarily such a bad thing, as company-produced testimonials tend to be scripted and are less than convincing in many cases. Nonetheless, the total lack of positive testimonials is a bit curious.
Looking through CardConnect reviews found in Google Reviews, you will find some users praising CardConnect, mainly concerning good customer service experiences and the quality of the company's products. However, CardConnect's average Google rating is still a mediocre 2.2 out of 5 (based on 77 reviews).
If you've used the company's services, please tell us about your experience (good or bad) in the Comments section below.
Final Verdict On CardConnect
It's easy to see why CardConnect seeks to project an image as an innovative, tech-focused company rather than one of being just another traditional financial services firm. Its CardPointe integrated payment processing platform is a strong, reliable product for both eCommerce merchants and retailers. However, you can't use these services without a merchant account through Fiserv, and the terms of its merchant account contracts can be pretty onerous.
There are some things to like about CardConnect. The company sells credit card terminals for a fair price rather than leasing them to unsuspecting merchants for far more money than they're worth. I also like the CardPointe integrated payments platform, although it's not as unique as it once was now that most major merchant services providers are rolling out their own similar platforms. The CardPointe gateway is a solid product with all the essential security features you need. The availability of interchange-plus pricing is also a very good feature.
That said, CardConnect clearly isn't a good deal for everyone. Five years is a significantly longer time to be stuck in a contract than most providers require, and having a $750 early termination fee hanging over your head makes it even worse. These terms alone are reason enough to skip them in favor of a more reasonable provider.
All things considered, CardConnect only scores a mediocre 3 out of 5 stars overall. With so much variation in its contract terms, however, this is just an averaged-out rating between the best and worst possible terms. If you can negotiate a month-to-month contract with no early termination fee and interchange-plus pricing, the company performs on par with a 4-star provider. But if you're stuck with a five-year contract, a $750 early termination fee, and a tiered pricing plan, it's a 2-star provider at best.
As always, we recommend that you negotiate aggressively for the best terms you can get. At the same time, you'll need to be realistic. A brand-new business with no processing history is not going to get the most favorable terms from CardConnect. If you'd prefer to see what the best processors in the industry have to offer instead, take a look at our merchant account reviews.
---
Our Top Pick To Save On Payment Processing 💰
PaymentCloud


---
PaymentCloud has an excellent track record for service quality, support, and fair pricing. Learn more from PaymentCloud.
Our Top Pick To Save On Payment Processing 💰
PaymentCloud


---
PaymentCloud has an excellent track record for service quality, support, and fair pricing. Learn more from PaymentCloud.
To learn more about how we score our reviews, see our
Credit Card Processor Rating Criteria
.