Epos Now Review
This UK and cloud-based software is easy to use for small businesses in the retail or hospitality industry.
Expert Analyst & Reviewer

UPDATED
Advertiser Disclosure: Our unbiased reviews and content are supported in part by
affiliate partnerships
, and we adhere to strict
guidelines
to preserve editorial integrity.
Epos Now

Pros
Free trial available
Easy to use

Predictable flat-rate pricing

Can be used in multiple industries
Cons
Long-term contract
No free customer support
Expensive hardware leases
Epos Now Overview
Epos Now is a UK-based point of sale solution for retail and hospitality that specializes in ease of use. You can operate this versatile, cloud-based POS system on just about any device — iPad, Android, PC, or Mac. With Epos Now, you can do things like manage and track inventory, set up customer promotions, integrate with your eCommerce site, accept reservations, and manage a customer loyalty program. However, the system definitely has its drawbacks, which include long-term service contracts, multi-year hardware leases, and an extra charge for customer support.
What Is Epos Now?
Epos Now is a cloud-based POS system that's suitable for small to mid-sized businesses that need between one and four terminals. The system is easy to use and advertises POS packages geared toward multiple different industries, including bars, cafes, pharmacies, fashion boutiques, tanning salons, and more.
Epos Now Pricing
Epos Now pricing is a little unclear from looking at the website. Merchants are encouraged to purchase the hardware and software together; it's not clear if there's an option to use your own hardware and only pay a monthly software fee.
Epos Now currently advertises a one-time price of $449, which includes hardware and software, but no updates or support. In the fine-print, Epos Now says this price requires a 3-year service contract, a 1-5 year hardware lease, and the purchase of a $59/month "payments, care, and support subscription."
Epos Now does offer a free 30-day trial you can take advantage of to test the software before purchasing.
Epos Now Features
Epos Now comes with enough built-in features to support some, but not all, merchants. The company's website includes a brief features list.
Reporting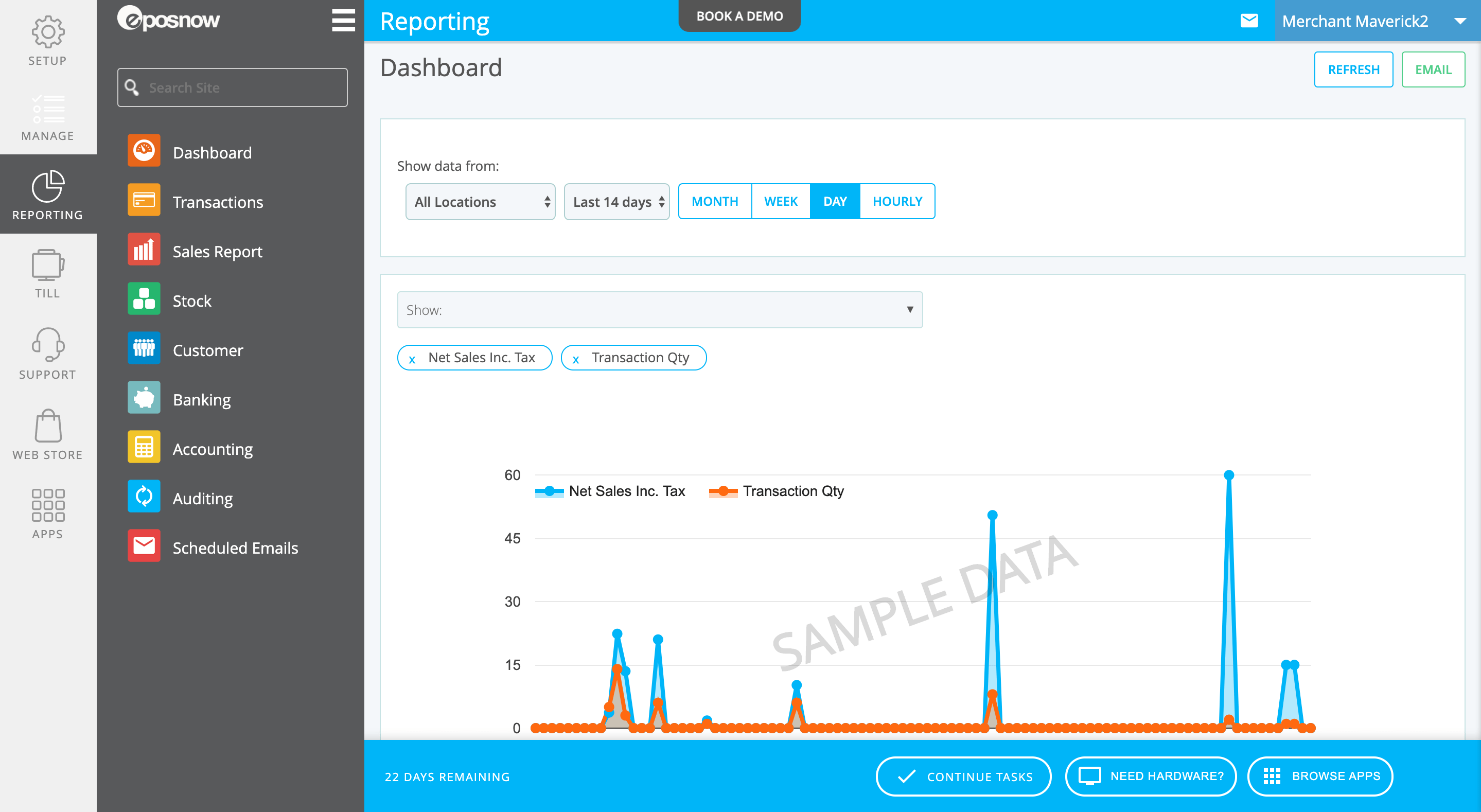 Customizable Dashboard: Change your dashboard so that your most commonly used features are front and center.
Overview Of All Devices & Locations: Find out about sales at each terminal in every store.
Real-Time Reports: View various reports on products, sales, and employee performance.
Back Office
Access From Any Device Anywhere: Take advantage of cloud-based technology. You can manage your back office from any device that runs Google Chrome or Safari.
Bulk Export: Export your data in CSV files to make bulk edits easier. Note: Some customers say this feature is problematic.
Security
Authorization Levels: Permit different employees to access different parts of your back office. Allow managers to access inventory control features, and restrict cashiers from accessing anything but the till.
Inventory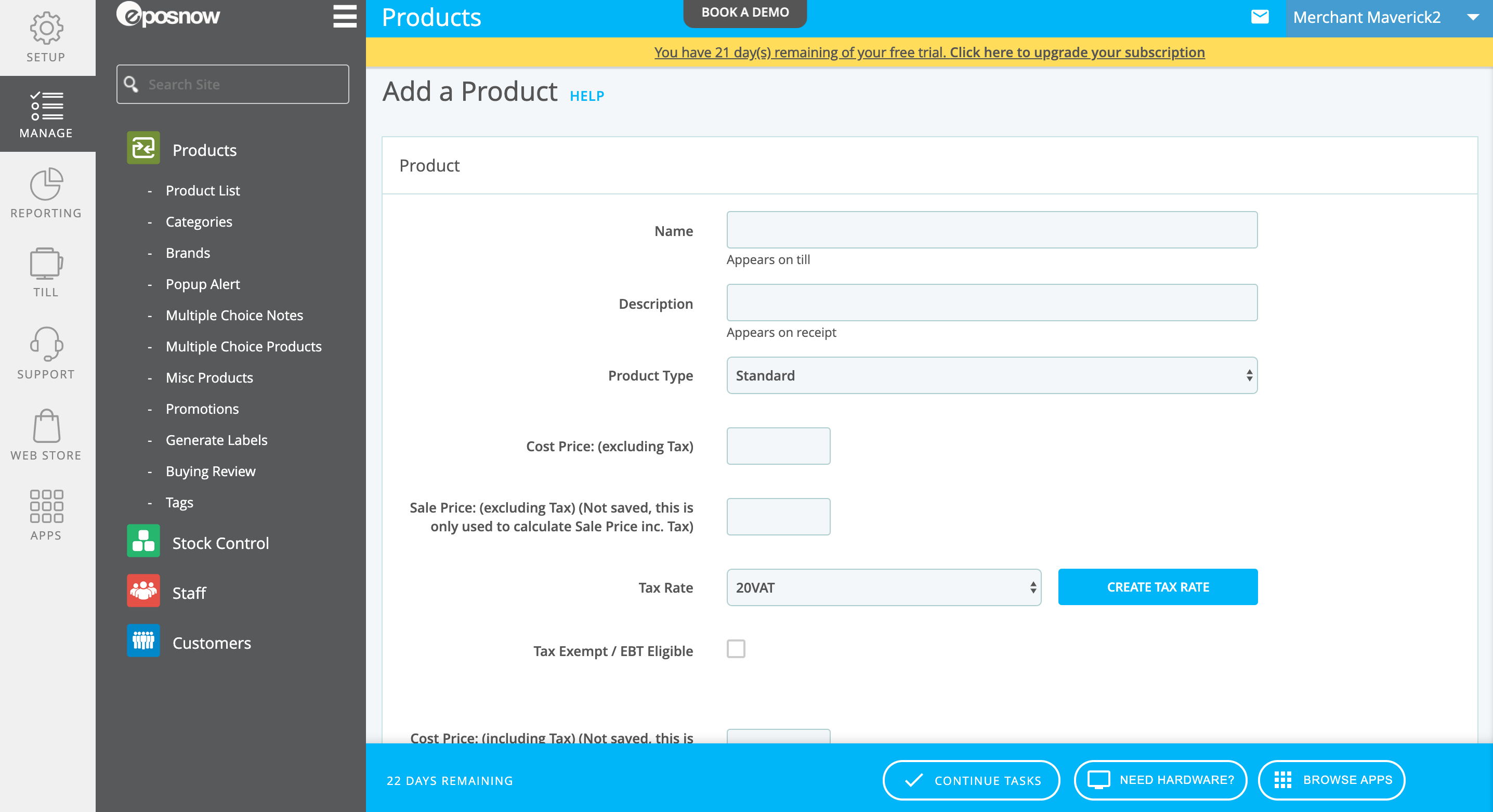 Stock Control: Manage and update stock levels in all your locations.
Automatically Create Purchase Orders: Set your back office to create POs automatically when your stock is running low.
Stock Transfers: Send stock between your stores. Manage those transfers.
Retail
Barcoding: Create, customize, and print barcodes for your products.
Promotions: Set flexible promotions that run on specific dates at specific locations.
Pay On Account: Assign credit limits to regular customers.
Online Store Integration: Sync with your eCommerce platform (via an integration) to keep your inventory up to date and accurate.
Hospitality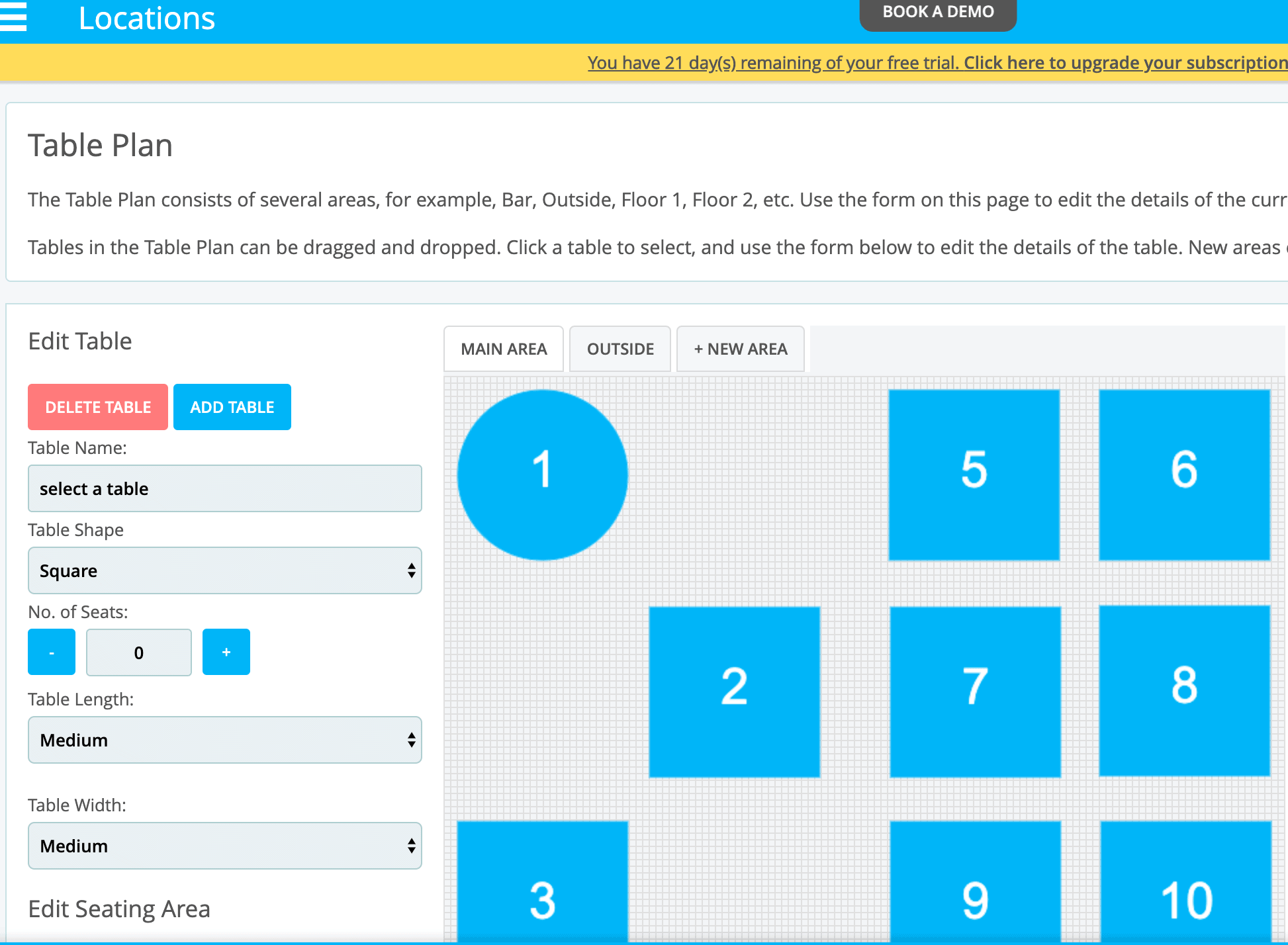 Table Management: Create a table plan that matches your restaurant. View charges and covers for each table.
Quick Login: Let employees log in using PINs or cards.
Split Bills: Customers at one table can pay at different times. Note: Some reviewers complain that when customers split a tab, they are unable to add tips.
Online Ordering & Delivery: Epos Now integrates with third-party delivery services such as DoorDash, Grubhub, and Uber Eats, via an integration with Deliverect.
Order & Pay: Customers scan a QR code or type in a URL to order and pay with their mobile device.
Online Booking: Guests can create reservations online — via an integration.
Master Products: Also known as "raw ingredient management." Track inventory for every ingredient that goes into each dish.
Loyalty System: Distribute branded cards to your guests that grant them rewards points for their loyalty.
Generally, while easy to use, I found the feature-set to be a little basic, particularly for food service. Their POS would be more suited for a smoothie cart or small grocery store rather than a full-fledged restaurant. Epos Now also doesn't offer native eCommerce, though this feature is available via third-party software integrations. The CRM and employee management features are pretty light as well. There is no kiosk mode, either. With all that said, the features Epos Now does offer are useful and functional. I didn't have any issues with lagging or errors as I have with other budget POS systems I've tested.
Is Epos Now User Friendly?
Epos Now features a friendly interface with a guided walkthrough on how to perform basic operations to help you get started. Most features are straightforward, whether you're using the browser version or the iPad app version. The till is equally easy to operate. It's possible to find and enter products using the large buttons on the front screen, the search bar, or by using a barcode scanner. It's easy to hold orders, apply discounts, split orders into multiple forms of payment, and split bills by item.
If you still need additional guidance, you can access Epos Now support (live chat, call, raise a ticket) via the admin sidebar. Overall, I imagine that learning the system and training new employees in the system would be a relatively quick and painless process.
Customer Service & Support
Epos Now customer service and technical support is not free, and new customers may be encouraged or required to sign up for a paid support package.
Besides personalized support costing extra, some dissatisfied customers also report issues with customer support quality and availability.
Some of Epos Now's customer support channels include:
1-on-1 onboarding
Phone support
Email support
Live chat support
Support tickets
Written support guides
YouTube videos
Community support, including community forum
Of all the written support resources Epos Now provides, I think the user community forum is probably the most useful.
Payment Processing With Epos Now
Epos Now includes integrated payment processing via Epos Now Payments. According to its website, Epos Now Payments charges a flat fee of 2.6% + $0.10 for all transactions, though "additional hardware fees apply." Epos Now also offers custom pricing options for larger businesses.
Epos Now additionally partners with International Bancard, Worldpay (formerly Vantiv), and EVO Payments as payment processing options.
Contract Length & Early Termination Fees
Depending on your contract, Epos Now may require that you commit to use the service for multiple years. The all-in-one hardware and software package advertised on Epos Now's website states that this package comes with a 3-year term and 1-5 year hardware lease. It is not clear whether Epos Now charges an ETF but this is definitely something you'll want to ask about before committing.
Epos Now Integrations & Add-Ons
Epos Now offers a few third-party software integrations through its Epos Now App Store. The list includes the basics, such as QuickBooks and Shopify, but is not extensive by any means.
These integrations are (like everything else) billed monthly. If you're integrating with a third-party service, you will also have to pay for their service.
Here are some of the integrations you'll find in the app store:
Epos Now Reviews, Complaints, & Testimonials
Epos Now has received thousands of online reviews. These reviews are quite mixed, but trend positive on the whole. Epos Now has a B rating with the BBB and 54 complaints closed in the last 12 months. Epos Now responded politely to all of these complaints, but in most cases, the dissatisfied customer did not accept the company's response. Most of Epos Now's positive reviews come from its Trustpilot page, where the software has earned a score 4.5/5 (based on 11,300+ reviews).
Negative Epos Now Reviews & Complaints
The following complaints are common occurrences in Epos Now customer reviews:
Poor Customer Service: Many merchants are frustrated by delayed responses and the unavailability of 24/7 phone support in the US. There have also been a few reports of false charges.
Overly-Basic Features: Some dissatisfied Epos Now customers signed up for the POS, only to find out that many of the features it advertised were not actually included and only offered via third-party integrations. Several restaurant owners, particularly US-based customers, complain that Epos Now does not provide sufficient industry-specific features, despite representing itself as a restaurant POS.
Pushy Sales People: Some reviewers say that Epos Now seemed overly eager to get their business but then neglected them once they signed up for the service. These customers said the sales reps promised features, such as a kitchen display system, that the company never was able to deliver on.
Equipment Or Software (Or Both) Doesn't Work As Expected: Many customers who reviewed the company on the BBB website said that the equipment and/or software was faulty or did not function as expected. Many of those same customers were struggling to receive a discount from Epos Now.
Can't Return Equipment: Several customers on the BBB website said they have been unable to return or receive a refund for POS equipment that they did not end up using, including one customer who had to close their business because of COVID-19.
Positive Epos Now Reviews & Testimonials
Here's what happy reviewers talk about most often:
Excellent Customer Service: For every customer bashing Epos Now's customer service, there is one singing its praises. Your guess is as good as mine. It could be that the majority of the positive reviews are from customers who pay for support. In contrast, the negative ones may be from customers who do not pay extra for support. In any case, the positive reviewers on Trustpilot — the vast majority of which are UK-based — say the support reps they've dealt with are friendly, patient, and able to resolve most issues.
Ease Of Use: Everyone likes software that's easy to learn and easy to teach. Epos Now is just that. The step-by-step training material and user-friendly UX make Epos Now a headache-free solution for many merchants.
Affordable Solution: Many reviewers feel that Epos Now offers a lot of bang for their buck.
Epos Now FAQs
Final Verdict Of Epos Now
If you're looking for an easy-to-learn, all-in-one solution, Epos Now may be the way to go. In-depth tutorials and a friendly, intuitive UX make this POS an accessible solution for some merchants, particularly if you want a POS that includes hardware, software, and processing. UK-based merchants, in particular, seem to like this POS.
However, if you're looking for robust functionality and the flexibility of a month-to-month POS, you may come away disappointed. Epos seems to be an all-in-one POS system, similar to Clover. However, in trying to be everything to everyone, the result is an overly basic system lacking in industry-specific features for restaurants or larger retailers. Epos Now also involves a long-term contract and hardware lease, making it difficult and expensive to switch POS systems if you find that this one doesn't meet your needs.
It's also difficult to recommend this POS to users outside of the UK when Epos Now does not seem to be very US-centric, especially if there are issues with tipping. Most of the team is located in the UK as well.
If you're looking for a more robust, pay-as-you-go POS option with no contract, I recommend checking out a top-rated POS provider like Square or Lightspeed. Or if you own a restaurant or bar, I recommend purchasing a POS system that's designed specifically for the restaurant industry.
---
We've done in-depth research on each and confidently recommend them.
We've done in-depth research on each and confidently recommend them.
To learn more about how we score our reviews, see our
Point Of Sale (POS) Software Rating Criteria
.