Expert Analyst & Reviewer

Updated on:
Advertiser Disclosure: Our unbiased reviews and content are supported in part by
affiliate partnerships
, and we adhere to strict
guidelines
to preserve editorial integrity.
Epos Now

Pros
Competitive pricing
Free trial
Easy to use
Inexpensive hardware options
Cons
Limited features
No free customer support
Epos Now Overview
Epos Now is a UK-based point of sale solution for retail and hospitality that specializes in ease of use. You can operate this affordable, user-friendly POS system on just about any device — iPad, Android, PC, or Mac. The system is easy and offers several great features at a competitive price. With Epos Now, you can manage and track inventory, set up customer promotions, integrate with your eCommerce site, accept reservations, and manage a customer loyalty program. One downside is that some features — like online reservations — aren't built-in but can be managed through third-party integrations.
Despite being UK-based, Epos Now also serves US-based clients. However, some US customers claim they don't receive quite the same level of customer support as their British counterparts. Also note that while the system claims to support restaurants, restaurant-centric features are limited. Additionally, the system is best suited for small- to mid-sized businesses.
Don't have time to read an entire review? Take a look at our top-rated point of sale solutions for a few quick recommendations. Every option we present here offers excellent customer support, detailed user interfaces, and easy-to-use software, all for a reasonable price.
Keep reading for a complete analysis of Epos Now.
Epos Now Pricing
Epos Now is a subscription-based service. Merchants pay a monthly rate to use the software and receive product updates. The cheapest rate is $39/month. However, the subscription packages do not include technical support; instead, it is offered at an extra price.
Here's a short breakdown of Epos Now's pricing model.
Standard — $39/month
$24/additional register
Unlimited products
Email support
Help with setup
Premium — $69/month
$45/additional register
Unlimited products
Cloud reporting
24/7 phone support
Account management
Enterprise
Contact Epos Now for a custom quote
Unlimited products
Enterprise reporting
Onsite support
Enterprise account management
You also have the option to pay for the whole year upfront at a slight discount. At the month-to-month level, there is no contract, so you can cancel anytime.
Note that the subscription prices do not include technical support. Merchants have to pay an additional amount ($39 or $54) monthly to opt-in to personalized support. (Read more on this in Customer Service & Support below.) So even though Epos may look very affordable at the outset, if technical support is important to you, then the price point is comparable to or even higher than that of other similar systems.
It's a little confusing because the "Premium" package at $69/month does include 24/7 phone support and account management. However, you won't get all of the benefits of a paid tech support package, such as the replacement of faulty POS equipment. Still, the $69/month package is well priced and would be sufficient for most users.
Epos Now also offers a free 30-day trial (no credit card required), so you can try out the software for yourself before you decide to purchase a plan. This is a more generous free trial than what's offered by a lot of POS systems.
Plus, if you want to see a further demonstration of any features not included in the free trial, Epos sales reps will be happy to show you. Keep in mind, though, that they will follow up with a lot of phone calls to try to close the sale.
Cloud-Based Or Locally-Installed
Epos Now is cloud-based. All of your information gets stored in Epos Now's servers. That means you can access your back office at any time from anywhere. Epos Now also has an offline mode, which allows you to continue accepting sales if your internet connection goes down.
Specific Industry
Epos Now advertises retail, hospitality, and restaurant industry features. Most of the testimonials on the Epos Now website are from small retail boutiques, quick-serve restaurants, salons, gyms, and hotels in the UK. Epos has testimonials on its website from some big-name brands, such as Best Western — though I don't think the entire franchise uses this POS. Epos Now also claims to support bars/nightclubs and full-service restaurants. However, users say the restaurant features are limited (more about features below), so I would not recommend it in a restaurant setting, aside from maybe quick service. With that said, there are comparable (and perhaps even better) QSR systems available at a similar price point.
Specific Size Of Business
Although Epos Now works with a few big-name clients, its focus is on small businesses. I would recommend Epos Now only to small and mid-sized merchants who need between one and four terminals.
Ease Of Use
Epos Now makes it easy to sign up for a 30-day trial of its product. You just need to enter a bit of basic contact information, and it will send you a link to your new back office.
Here's what I found when I signed up for the software.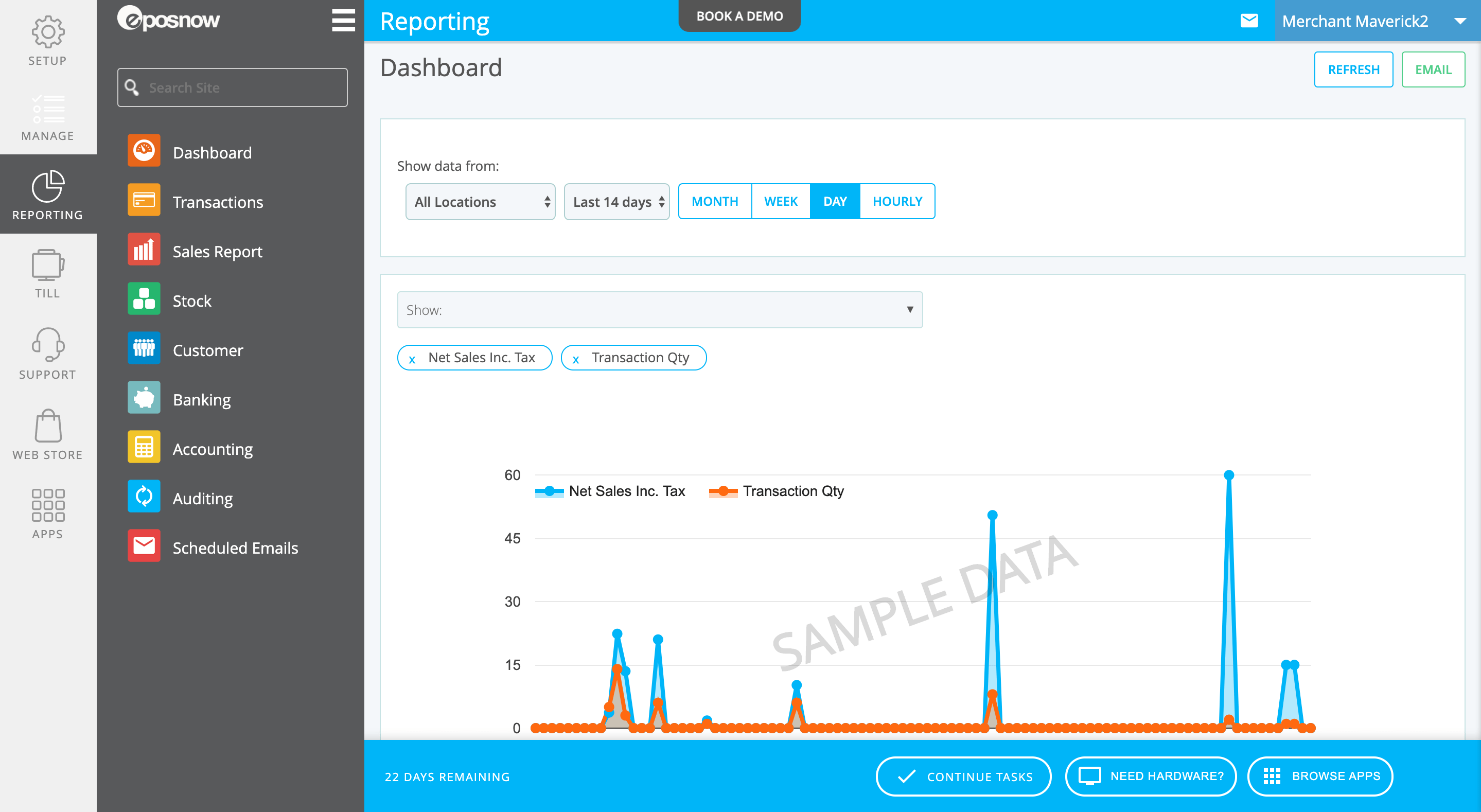 Right away, a guided walk-through on how to perform basic operations popped up.
To turn the walk-through on and off, you can toggle the "Explore" option at the bottom of the screen. There is also a somewhat basic but searchable guide that you can access on the left-hand sidebar. The automatic currency setting is British pounds instead of dollars, but that was quick and easy to change.
Many software systems dump you into a new dashboard without a lot of additional help, so I always appreciate a screen overlay that shows you where some of the basic functions are and what they do. And if you still need additional guidance, you can access Epos Now support (live chat, call, raise a ticket) via the admin sidebar.
Adding products is relatively painless as well. Here's what I found when I went to add a product: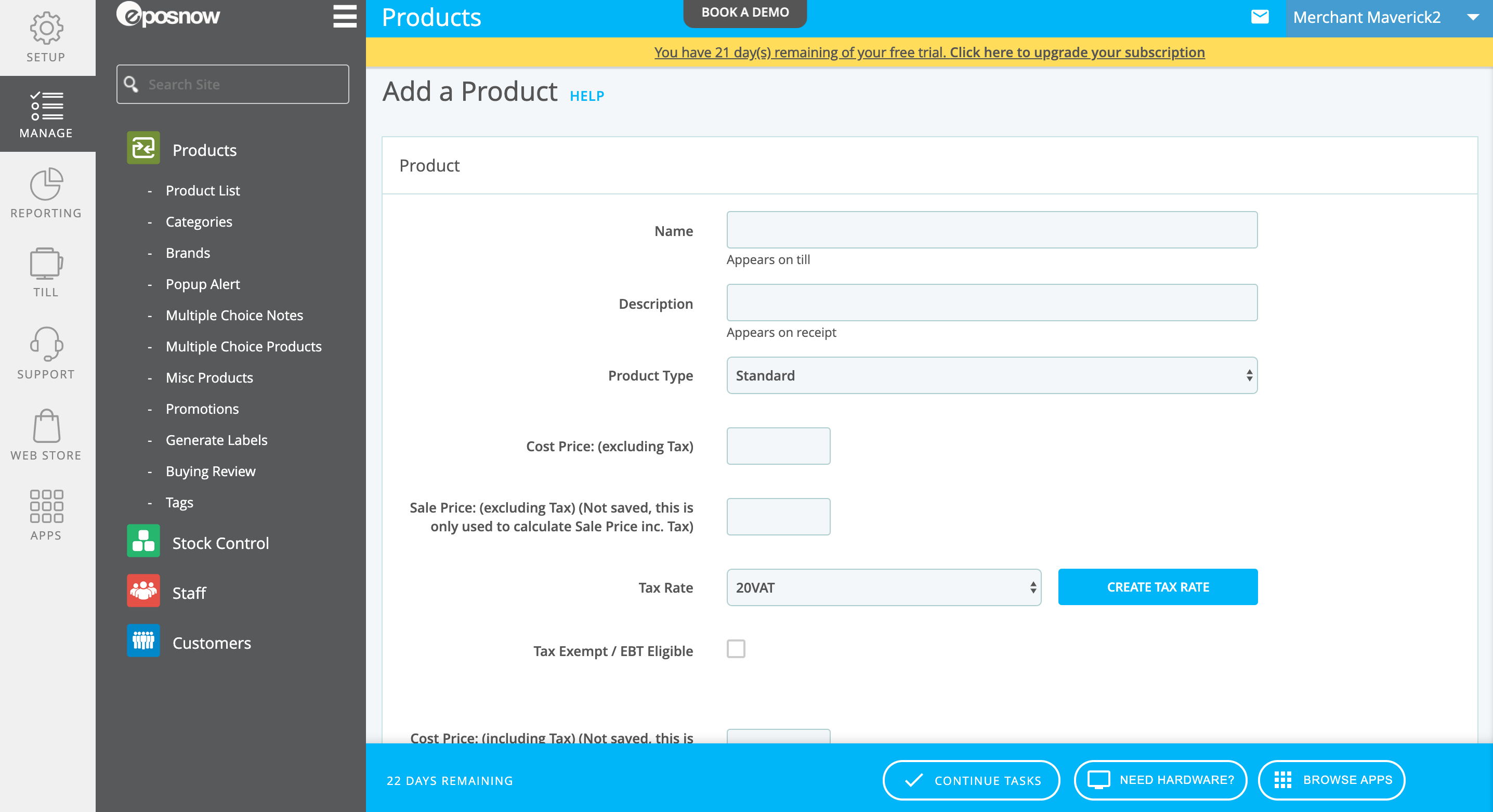 I also tried out Epos Now's storefront. You can access the till from the sidebar of your back office.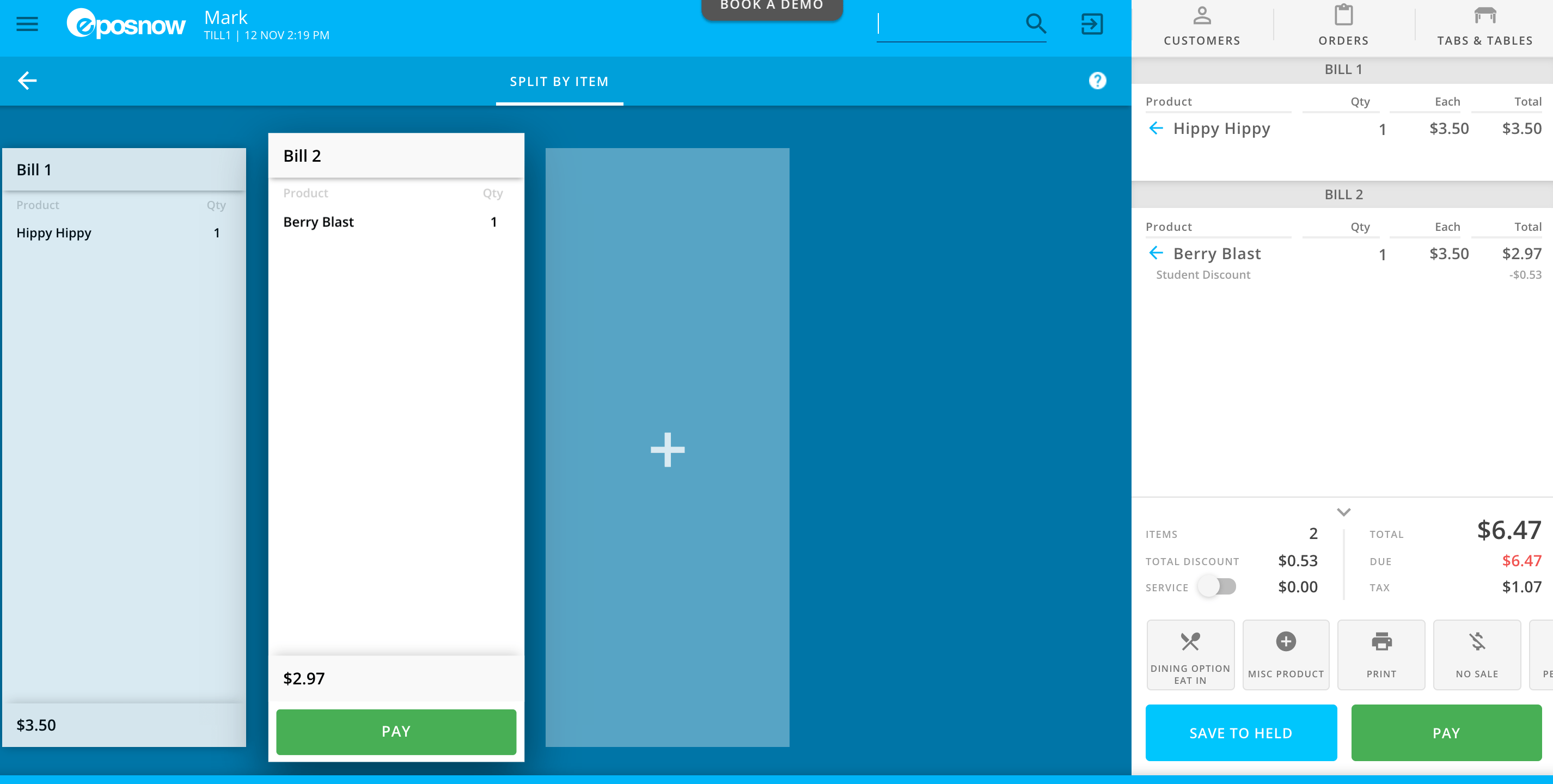 I was pleased to find that the till is equally easy to operate. It's possible to find and enter products using the large buttons on the front screen, the search bar above, or by using a barcode scanner. I processed a few transactions in my demo. I was able to hold orders, apply discounts, split orders into multiple forms of payment, and split bills by item.
Here are a few issues, however:
I was surprised and disappointed by the fact that my laptop screen somehow didn't scale correctly to the till screen. No matter how I adjusted my screen size, the Petty Cash and Adjust Float features on the far right were always cut off. It's possible to scroll to the right to see more features (on both the browser-based version and the iPad app), but it would be nice if all of the main features scaled to fit the screen automatically.
Another issue is that I couldn't figure out how to add a tip. I could add a preset "service charge" that I could toggle on and off, but I could not find an option to let the customer add a tip. Maybe because tipping in the UK is not a big thing?
I eventually found out that the tipping feature isn't active on free trials. Still, it seemed kinda weird that there was no dedicated tip button and that I could find no information about how to add a tip in any of the guided help documentation. If this feature is important for your business — and I'm sure it is if you own a restaurant! — you can ask Epos Now to do a demo for you.
I also checked out Epos Now's table management. I was able to create a table layout that matched the floorplan of my (imaginary) café.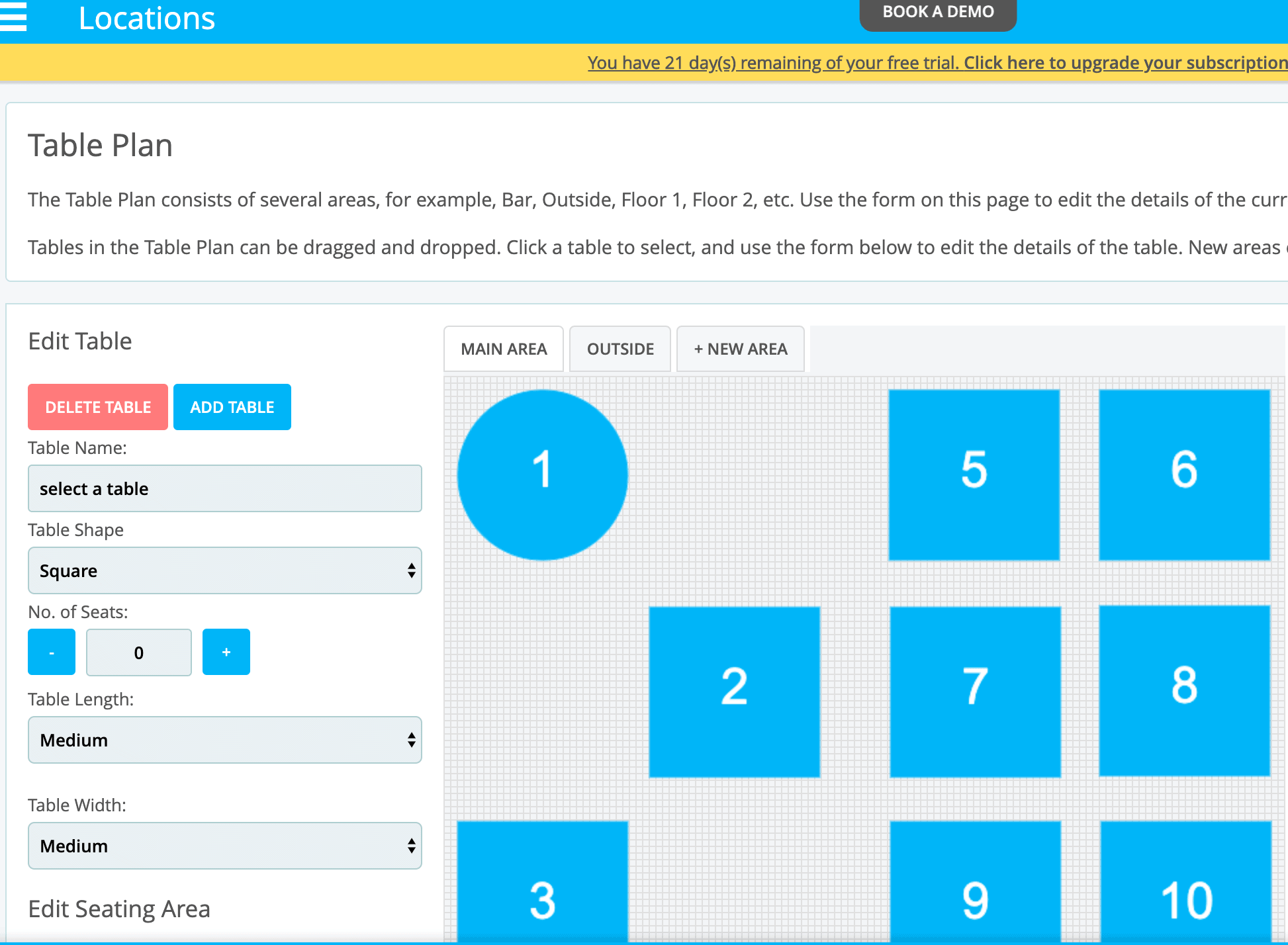 I could then access that floor plan from my till and place orders by the table. Easy-peasy.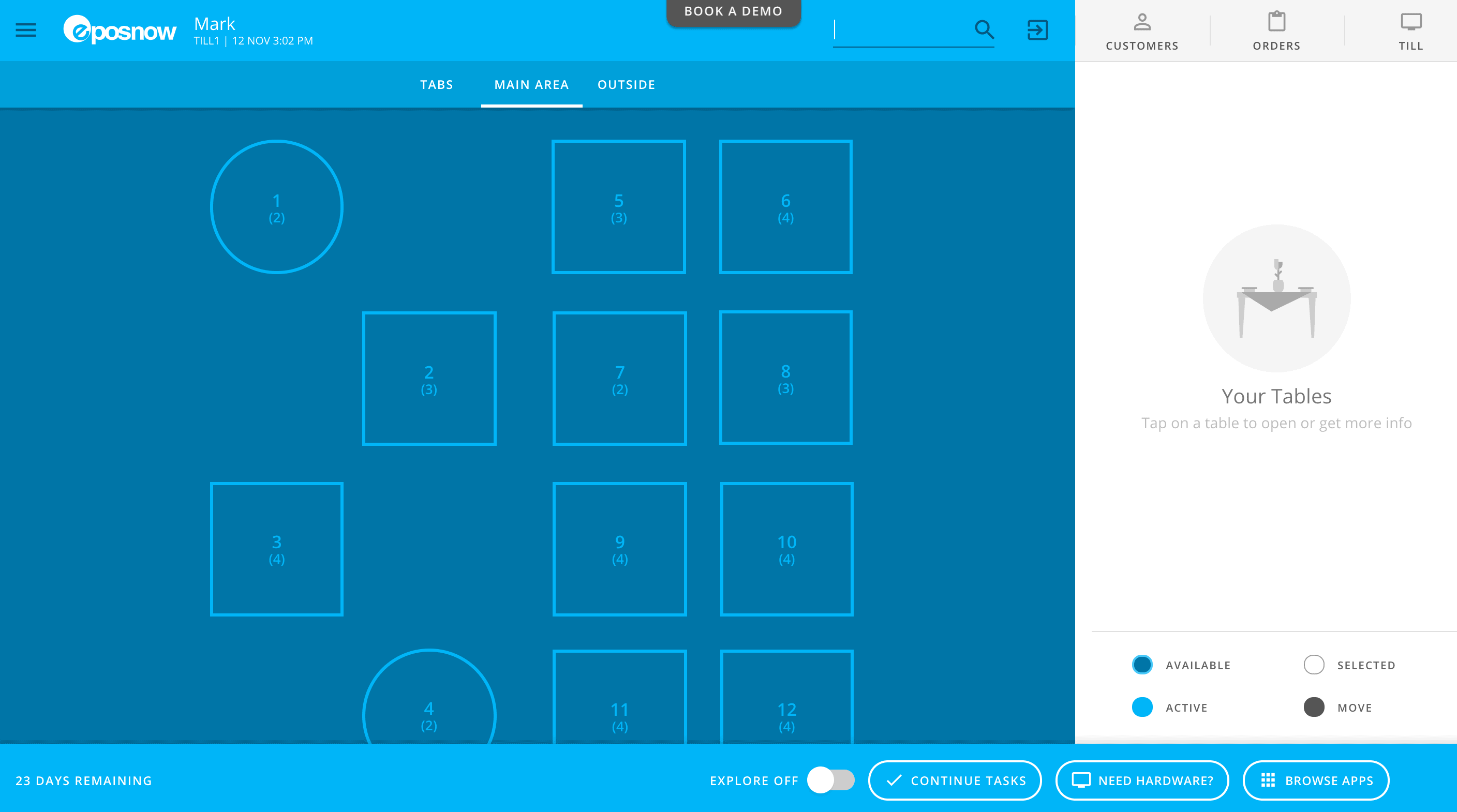 Despite the couple of issues that I had, I appreciate Epos Now's overall friendly interface and usability. I imagine that training new employees in the system would be a relatively quick and straightforward process.
I also tested the iPad app and found it to be equally functional and just as easy to use as the browser-based version. Note that the version I tested was the "hospitality" version; when setting up your free trial account, you have to specify whether your business is in retail or hospitality, then you will receive access to that version of the POS.
Hardware & Operating System Requirements
Epos Now is a cloud-based system with very few hardware requirements. The POS is compatible with Google Chrome and Safari web browsers and can run on any device that supports those browsers. There is also an iPad app you can use as the POS terminal interface and for some back-office functions.
If you don't have existing POS hardware, you can source the hardware on your own or buy from the Epos Now website. On its website, Epos sells complete hardware systems with both Windows-based touchscreen terminals and iPad terminal options. These hardware packages seem fairly priced and include installation, configuration, and training, in addition to the hardware itself. However, you will want to make sure you understand whether your hardware purchase includes a service contract that commits you to Epos Now for a set amount of time. If you're purchasing Epos equipment, it's also a good idea to buy directly from Epos rather than from a reseller.
We have nothing against Epos resellers in particular, but POS resellers generally have kind of a shady reputation. You can read more about that in our article 10 Things You Need To Know About Buying A POS System Through A Reseller.
Features
Epos Now comes with enough built-in features to support some, but not all, merchants. The company's website includes a brief features list.
Reporting
Customizable Dashboard: Change your dashboard so that your most commonly used features are front and center.
Overview Of All Devices & Locations: Find out about sales at each terminal in every store.
Real-Time Reports: View various reports on products, sales, and employee performance.
Back Office
Access From Any Device Anywhere: Take advantage of cloud-based technology. You can manage your back office from any device that runs Google Chrome or Safari.
Bulk Export: Export your data in CSV files to make bulk edits easier. Note: Some customers say this feature is problematic.
Security
Authorization Levels: Permit different employees to access different parts of your back office. Allow managers to access inventory control features, and restrict cashiers from accessing anything but the till.
Inventory
Stock Control: Manage and update stock levels in all your locations.
Automatically Create Purchase Orders: Set your back office to create POs automatically when your stock is running low.
Stock Transfers: Send stock between your stores. Manage those transfers.
Retail
Barcoding: Create, customize, and print barcodes for your products.
Promotions: Set flexible promotions that run on specific dates at specific locations.
Pay On Account: Assign credit limits to regular customers.
Online Store Integration: Sync with your eCommerce platform (via an integration) to keep your inventory up to date and accurate.
Hospitality
Table Management: Create a table plan that matches your restaurant. View charges and covers for each table.
Quick Login: Let employees log in using PINs or cards.
Split Bills: Customers at one table can pay at different times. Note: Some reviewers complain that when customers split a tab, they are unable to add tips.
Online Booking: Guests can create reservations online — via an integration.
Master Products: Also known as "raw ingredient management." Track inventory for every ingredient that goes into each dish.
Loyalty System: Distribute branded cards to your guests that grant them rewards points for their loyalty.
Generally, while easy to use, I found the feature-set to be a little basic, particularly for foodservice. Their POS would be more suited for a smoothie cart or small grocery store rather than a full-fledged restaurant. Epos Now also doesn't offer native online ordering or eCommerce, though these features are available via third-party software integrations. The CRM and employee management features are pretty light as well. There is no kiosk mode, either. With all that said, the features Epos Now does offer are useful and functional. I didn't have any issues with lagging or errors as I have with other budget POS systems I've tested.
Customer Service & Support
As mentioned in the pricing section, to receive personalized support, you must sign up for a Support Package. There are two pricing tiers to choose from (both plans require a 12-month contract). More on what those packages include below.
Besides support costing extra, some dissatisfied customers also report issues with customer support quality and availability. In dealing with them personally, I found that with their team being located in the UK, they could be difficult to reach during US working hours.
I realize, though, that paid support users likely have a different/more responsive support experience than "reviewer-testing-a-free-trial" users. Here's what comes in each paid support package:
Standard Support — $39/month
Next-day replacement of faulty equipment
US tech support providing unlimited training and support
Online backup and financial grade encryption
Continuous software updates
No software license fees
Premium Support — $54/month
All of the above PLUS 24/7 phone support
While Epos Now does not require you to purchase a support plan, it does strongly encourage doing so. However, if you choose to go it alone, there are still a few support options available to you.
Getting started "Show Me?" guide in dashboard
Live chat support in dashboard
Submit a support ticket
Epos Now Community forum
YouTube videos
General FAQs
Contact forms for sales and technical support
Of all the written support resources Epos Now provides, I think the user community forum is probably the most useful.
Epos Now Compatible Credit Card Processors
Epos Now is fully integrated with two payment processors for US merchants: Worldpay (formerly Vantiv) and EVO Payments. If you choose to use another payment gateway, you'll have to carry out all card transactions separately and enter the amounts from each transaction manually into the Epos Now system.
Integrations & Add-Ons
Epos Now offers 20+ integrations through its Epos Now App Store. You can also find these applications available in your back office. At the time of our last review, there were more integrations.
However, this time around, it seems that many that were previously on our list are no longer supported.
These integrations are (like everything else) billed monthly. They are typically available from between £15 to £25 a month. If you're integrating with a third-party service, you will also have to pay for their service.
One of those integrated third-party services is Zapier. By including Zapier in its list of integrations, Epos Now has opened up its integration pool significantly. A subscription with Zapier allows you to integrate with hundreds of other third-party services.
That said, here are some of Epos Now's direct integrations.
Accounting Software
QuickBooks: Accounting
Mailchimp: Email marketing
EVO Payments: Payment processor
Deputy: Tool for scheduling employees
Zapier: Connect to hundreds of different applications
Shopify: eCommerce
Epos Now Reviews, Complaints, & Testimonials
Most of the time, when I go looking for customer reviews, I really have to go digging to bring up any comments at all. A well-reviewed software usually has around thirty comments in total. Epos Now blows that number out of the water.
I found THOUSANDS of customer reviews online discussing Epos Now (many positive, many negative). While I can't claim to have read them all, I did read enough to identify a few trends.
Negative Epos Now Reviews & Complaints
You can find negative reviews of this POS in various places around the web. Epos Now has been BBB-accredited since April 2019, and the company has a B rating and 64 complaints closed in the last 12 months. Epos Now responded politely to all of these complaints, but in most cases, the dissatisfied customer did not accept the company's response.
So here's what Epos Now customers dislike:
Poor Customer Service: I've seen very mixed reviews on customer service. Customers on Trustpilot love Epos Now's customer service. However, customers tweeting to Epos Now's Twitter page, on the BBB website, and elsewhere online, say otherwise. Merchants are particularly frustrated by delayed responses and the unavailability of 24/7 support in the US. There have also been a few reports of false charges.
Overly-Basic Features: Some dissatisfied Epos Now customers signed up for the POS, only to find out that many of the features it advertised — such as online ordering — were not actually included and only offered via third-party integrations. Several restaurant owners, particularly US-based customers, complain that Epos Now does not provide sufficient industry-specific features, despite representing itself as a restaurant POS.
Pushy Sales People: Some reviewers say that Epos Now seemed overly eager to get their business but then neglected them once they signed up for the service. These customers said the sales reps promised features, such as a kitchen display system, that the company never was able to deliver on.
Issues With Tipping Function: Some Epos Now users complain of problems with missing tips and their restaurant patrons being unable to add tips when splitting a bill — a necessary feature in any US restaurant. These customers were told that the company was "working on it" and that the POS didn't include this feature out-of-the-box because tipping is not customary in the UK.
Limited Discount Features: While Epos Now offers a discount rules engine, that engine is far from complex. You can create a few discounts, but you cannot necessarily customize them to fit every business plan that you have in mind.
Trouble With Bulk Import: Bulk import is the easiest way to migrate your inventory to a new POS or run mass edits. Bulk import with Epos Now is only available through an application, and, according to customers, that application is flawed. Some say that it takes too long to complete an import.
Equipment Or Software (Or Both) Doesn't Work As Expected: Many customers who reviewed the company on the BBB website said that the equipment and/or software was faulty or did not function as expected. Many of those same customers were struggling to receive a discount from Epos Now.
Can't Return Equipment: Several customers on the BBB website said they have been unable to return or receive a refund for POS equipment that they did not end up using, including one customer who had to close their business because of COVID-19.
Positive Epos Now Reviews & Testimonials
Most of Epos Now's positive reviews (by far) come from its Trustpilot page. The software has earned 4.4/5 (based on 9,100+ reviews) on Trustpilot; in fact, multiple reviews each day praise Epos Now.
The company probably asks customers to leave these reviews on Trustpilot. While this is a little suspect, the reviews do seem to be genuine. Most reviews mention one of several support team members by name, so customers are likely prompted to leave a review of the person who directly helped them following a support phone call.
Here's what happy reviewers talk about most often:
Excellent Customer Service: For every customer bashing Epos Now's customer service, there is one singing its praises. Your guess is as good as mine. It could be that the majority of the positive reviews are from customers who pay for support. In contrast, the negative ones may be from customers who do not pay extra for support. In any case, the positive reviewers on Trustpilot — the vast majority of which are UK-based — say the support reps they've dealt with are friendly, patient, and able to resolve most issues.
Ease Of Use: Everyone likes software that's easy to learn and easy to teach. Epos Now is just that. The step-by-step training material and user-friendly UX make Epos Now a headache-free solution for many merchants.
Affordable Solution: Many reviewers feel that Epos Now offers a lot of bang for their buck.
Epos Now FAQs
Final Verdict Of Epos Now
If you're looking for an affordable, easy-to-learn solution, Epos Now may be the way to go. In-depth tutorials and a friendly, intuitive UX make this POS an accessible solution for some merchants, particularly if you want a POS you can use with your existing equipment. UK-based merchants, in particular, seem to like this POS. If you have basic POS needs and can get by with only email support, Epos can be an inexpensive yet capable solution.
However, if you're looking for robust functionality and a lot of payment processor options, you may come away disappointed. Epos' aim seems to be an all-in-one POS system, similar to Clover. However, in trying to be everything to everyone, the result is an overly basic system lacking in industry-specific features for restaurants or larger retailers. It's also difficult to recommend this POS to users outside of the UK when Epos Now does not seem to be very US-centric, especially if there are issues with tipping. Most of the team is located in the UK as well.
If you're looking for a more robust POS option, consider checking out a top-rated POS provider like Square or Vend. Or if pricing is a concern, there are a number of free options out there, so check out our top picks in free POS software.
If you're considering this POS as an easy-to-use budget option, you can give Epos Now a test run before you decide. The 30-day trial is free and painless to sign up for. The sale calls you'll receive afterward might be a little less painless, but as long as you test out the features during your free trial and don't agree to more than a month-to-month plan, there isn't too much risk involved in trying out this POS. Since you can use it on any iPad register (or pretty much any other hardware setup), you can use your equipment with another POS if this one doesn't work out.
---
We've done in-depth research on each and confidently recommend them.
We've done in-depth research on each and confidently recommend them.
To learn more about how we score our reviews, see our
Point Of Sale (POS) Software Rating Criteria
.
Read Next