6 Best Golf Course POS Systems In 2023
Golf point of sale system functions may include online tee time bookings, membership billing, restaurant management, retail sales, electronic scorecards, and more.
Expert Analyst & Reviewer

UPDATED
Advertiser Disclosure: Our unbiased reviews and content are supported in part by
affiliate partnerships
, and we adhere to strict
guidelines
to preserve editorial integrity.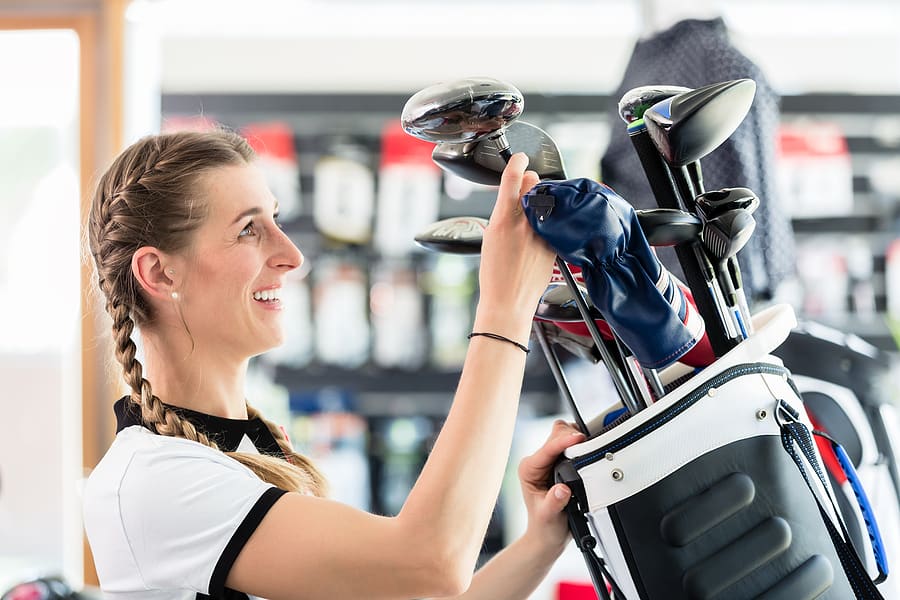 Golf course POS systems must be flexible and powerful enough to handle the range of services a golf course provides—tee times, memberships, restaurant sales, retail sales, eCommerce, lessons, and more. Whether you are a golf course owner looking to replace your current POS, or you need a system for your new course, the following golf course point of sale systems include all the necessary retail, restaurant, and scheduling functions, along with golf course-specific features or integrations.
Even better, these point of sale systems offer affordable monthly pricing, simple flat-rate processing, and a modern cloud-based design.
Learn More About Our Top Picks
Company
Best For
Next StepsBest For
Lightspeed Retail POS
Best overall.

Best overall.

Square POS
Best free golf POS.

Best free golf POS.

Clover POS
Easiest to set up.

Easiest to set up.

Revel POS Systems
Best for multilocation golf courses.

Best for multilocation golf courses.

Epos Now
Best for all-in-one system.

Best for all-in-one system.

Show More Options
foreUp
Best for advanced golf POS features.

Best for advanced golf POS features.

Show Fewer Options
Read more below to learn why we chose these options.
6 Best Golf Course POS Systems
We recommend choosing from the following golf course point of sale systems for their robust features and scalable options.
1. Lightspeed: Best Overall Golf POS
Lightspeed Retail POS


---
Pros
Complete golf course POS and golf course management system
No contract
No startup costs
Multiple payment processing options
Cons
Limited offline functionality
Early termination fee
Must use Lightspeed Payments for the best pricing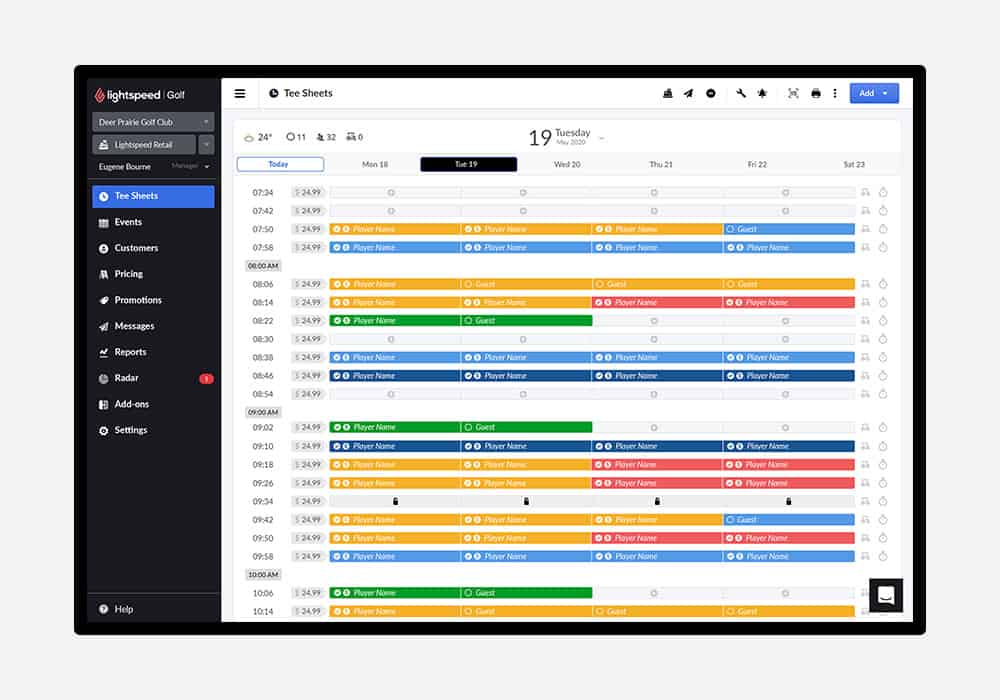 Lightspeed Golf Features
Here are some of the features you'll get with Lightspeed Golf:
Integrations with Find A Game, Golf Canada, Golf EMS, Golf Genius, GolfBack, GolfNow, PGA Tee Times, Tee Time Central, and TeeOff
Built-in tee sheet management
Pro shop retail management
Pro shop eCommerce
Restaurant management
Member management with house accounts
Online booking with a prepayment
Self-check-in kiosks
Electronic scorecards
Online marketing features
With its flexible and advanced features, we recommend Lightspeed for many other niche markets, too, including as a garden center pos system.
Lightspeed Pricing
You will need to contact Lightspeed for a pricing quote based on your setup and needs.
Hardware Cost
Lightspeed runs on an iPad app and a desktop PC via a web browser. Lightspeed sells POS hardware bundles as well as individual hardware components, but you will have to reach out for a pricing quote. You can also source your own hardware, so there is no obligation to buy or lease any hardware from Lightspeed.
Payment Processing
Lightspeed offers in-house payment processing via Lightspeed Payments, with an in-person transaction rate of 2.6% + $0.10. You also have the option to use an integrated payment provider such as Worldpay, but it will come with an extra monthly fee.
Contract Requirements/Warnings
Lightspeed offers monthly and annual plans, with better pricing on annual plans. However, Lightspeed charges an early termination fee on cancelled plans, so consider signing up for a monthly plan until you feel Lightspeed is the right choice for your golf course.
Where Lightspeed Really Shines
Lightspeed Golf combines the functionality of Lightspeed Restaurant and Lightspeed Retail with golf-course-specific features of Chronogolf, golf course management software that Lightspeed acquired in 2019. As a result, Lightspeed now offers a comprehensive golf course POS and golf course management system in Lightspeed Golf, complete with Lightspeed's signature ease of use and eCommerce capabilities.
Lightspeed also includes a number of golf-specific software integrations if you want to expand your system even further.
Truly, there is very little Lightspeed Golf can't do when it comes to golf course management and payments. Best of all, Lightspeed does not require a contract, making it the best overall golf POS system on this list.
Get Started With Lightspeed Retail POS
2. Square: Best Free Golf POS
Square POS


---
Pros
Free POS
Free online store
Easy to use
No contract
Cons
Occasional fund holds
Basic feature set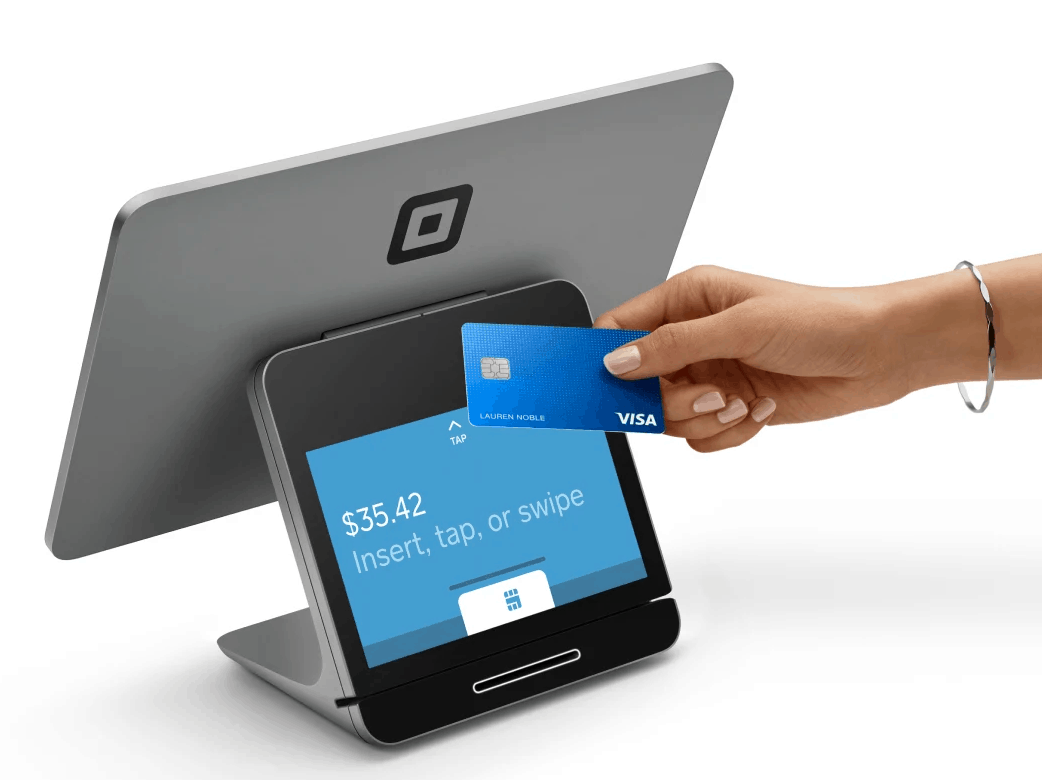 Square Features
Square POS offers the following features which may appeal to golf courses:
Integrations with Birrdi & Easy Tee
Basic retail/inventory management features
Basic restaurant/order management with Square KDS
Customer directory with integrated loyalty program
Can use iOS, Android, Square Terminal, or Square Register
Onscreen tipping with email receipts
Online ordering & online checkout links
Online booking with Square Appointments
Square Pricing
The basic Square POS app is free to use but Square offers various paid add-ons such as Square Marketing ($15+/month) as well as industry-specific POS systems, including Square for Restaurants ($60) and Square for Retail ($60).
Hardware Cost
Square offers a free mobile reader and also sells various POS hardware bundles and individual components for Apple and Android tablets, as well as the proprietary all-in-one Square Register ($799), and the mobile Square Terminal ($299). Hardware kits that include an iPad stand, card reader, cash register, and receipt printer start at $739.
Payment Processing
Square payment processing starts at 2.6% + $0.10, though businesses processing over $250K/year can get a volume discount. You cannot use an outside processor with Square POS.
Contract Requirements/Warnings
Square is pay-as-you-go with no contract or commitment required. All Square accounts come with Square Processing but there's no minimum processing obligation. A possible downside to Square Processing is that some Square merchants have experienced withheld funds or even sudden account terminations. Unfortunately, these kinds of issues are common with payment service providers.
Where Square Really Shines
Square is not the most advanced POS, but it is the best free POS that can be adapted to any business type. Square POS is not golf-specific but can handle restaurants, retail, eCommerce, and online bookings.
Square also has some excellent software integrations that essentially turn Square into a golf course POS. Birrdi ($199/month) is fully integrated with Square POS and includes online booking for tee times, member pricing, events, and golf lesson bookings via Square Appointments. Easy Tee ($200/month) is a similar service that also integrates fully with Square and includes online tee time booking, loyalty pricing, custom price sheets, and more.
If you don't want to spring for a $200/month integration, you can still use Square as a basic mobile POS for your golf course, as long as your needs are pretty simple.
3. Clover: Easiest To Set Up
Clover POS


---
Pros
Sleek hardware
Affordable monthly pricing
Can be customized for any business type
Super easy setup
Cons
Can't use hardware with any other system
Pricing & quality of service varies depending on provider

Clover Features
As follows are some of the Clover POS features that golf courses may find useful:
Quick18 TeeSheet integration
Retail & inventory features
Advanced inventory management, including modifiers & tracking
Built-in item exchanges
Combine multiple orders & tickets
Kitchen printing
Built-in discounts
Built-in loyalty program
Email invoices to customers
Online ordering module
Employee management with time clock
Customer management & spending histories
Add features with Clover App Market
Clover Pricing
Clover has numerous pricing plans available. You can purchase your hardware outright and pay a monthly subscription fee of $14.95 to $94.85. Or you can sign up for Clover's leasing program, which allows you to pay for your hardware and software with one monthly fee. Leasing options range from $50-$290/month. Other Clover providers may charge different pricing. To learn more about Clover pricing, read The Complete 2022 Clover Pricing Guide.
Hardware Cost
Clover hardware ranges from $499 for a Clover Flex smart terminal to a $1,799 Clover Station Duo. Other hardware options include the $799 Clover Mini or a $1,349 standard Clover Station. You can also mix and match hardware. (Again, this pricing is from Clover.com but other providers can charge different pricing.)
Payment Processing
If you purchase a POS plan through Clover.com, you'll pay rates starting at 2.3% + $0.10 for in-person transactions. However, various other Clover providers have different processing models, including tiered, interchange-plus, cash discount, and others.
Contract Requirements/Warnings
If you buy your hardware and software directly through Clover, your contract is month-to-month. However, if you buy Clover from a lower-quality provider or lease your equipment, you could be required to sign a multi-year contract. Read Looking For Clover Credit Card Processing? Here Are The 6 Best Clover Payments Providers to learn more about the best and worst companies to buy your Clover POS from.
Where Clover Really Shines
Clover is a true plug-and-play POS that provides everything you need to start selling out of the box. Using Clover is intuitive for anyone who has ever used a smartphone or tablet, and it's very possible to set up, learn, and start using your Clover POS within an hour of plugging it in. Like Square, Clover isn't made specifically for any particular industry, but you can expand its core functionality with paid apps to fit any niche, including golf.
In particular, Clover has an integration with Quick18 TeeSheet (pictured in the screenshot above). This integration allows Clover merchants to check in reservations from their Quick18 online tee sheet bookings. The app also lets Clover merchants provide charge accounts for event, wholesale, and member billing.
Quick18 TeeSheet is $49/month, and there is also a monthly Clover integration fee.
4. Revel Systems: Best For Multilocation Golf Courses
Revel POS Systems


---
Pros
Advanced iPad POS
Highly customizable
Enterprise-capable
Strong offline mode
Cons
Expensive for smaller businesses
Long-term commitment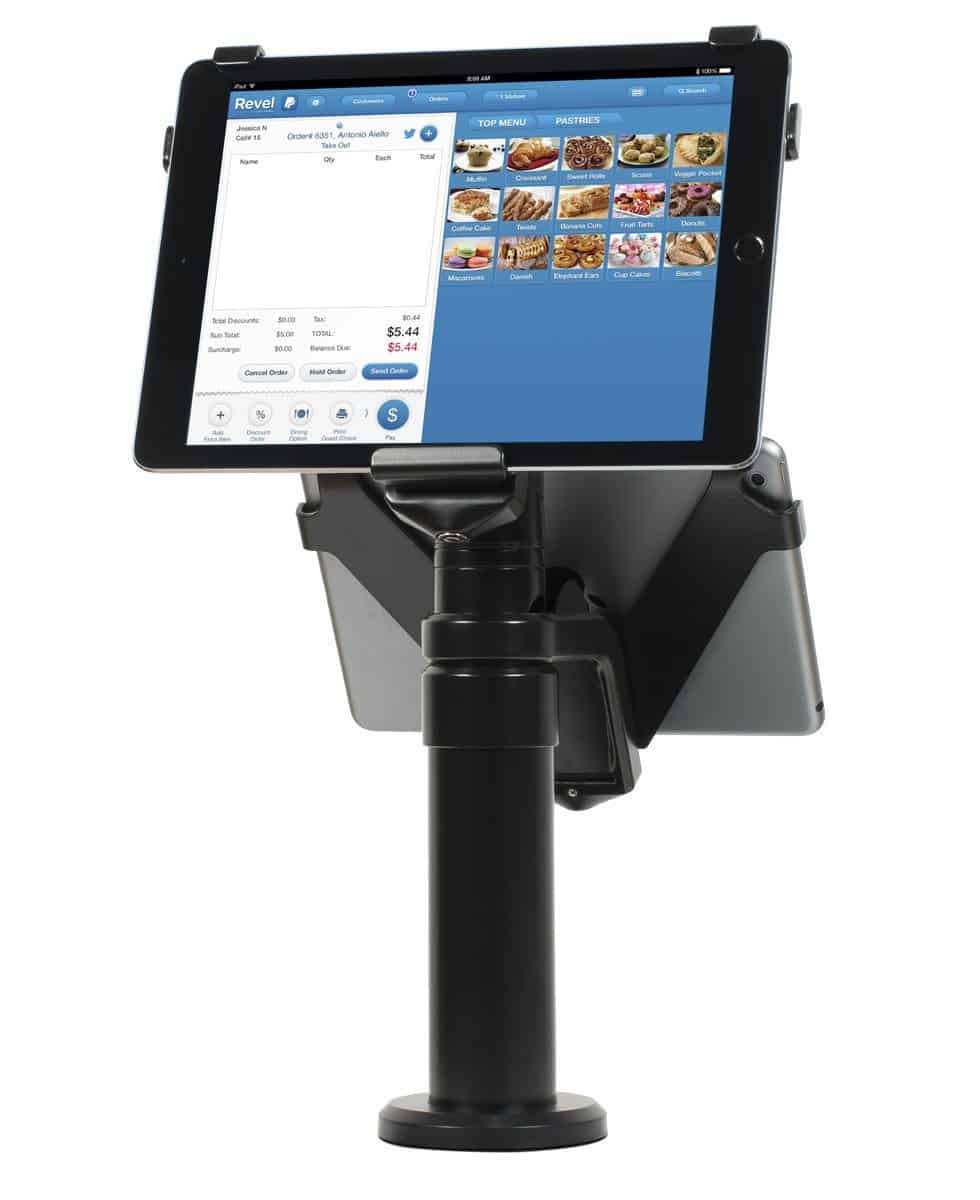 Revel Systems Features
Golf courses using Revel Systems will receive the following functionality:
Advanced restaurant & retail features
Multilocation management
House accounts
Full offline functionality
Open API
Built-in purchase ordering
Full QuickBooks integration
Intuitive interface
Advanced reporting
Personalized customer support
Employee management
CRM
Revel Systems Pricing
Revel starts at $99/month per terminal with a two-terminal minimum. So your minimum spend will be $198/month and you will be billed annually, at the start of your term. This price requires a three-year processing contract with Revel Advantage. Professional onboarding and implementation is a flat fee, which starts at $674.
Hardware Cost
Revel uses iPad POS hardware, which you can source yourself or purchase from Revel. You will have to reach out to Revel for a personalized hardware quote.
Payment Processing
Revel offers built-in payment processing with Revel Advantage. In-person transaction rates are 2.49% + $0.15. You also have the option to integrate an outside payment processor, but you will likely pay a higher monthly price if you don't use Revel Advantage.
Contract Requirements/Warnings
Revel Systems is a long-term commitment. As mentioned, you will need to commit to Revel POS (and Revel's processing service) for three years in order to get the best price. However, you may be able to get a shorter contract if you agree to a higher monthly price.
Where Revel Systems Really Shines
Revel Systems is arguably one of the most advanced iPad POS systems on the market. Revel has an open API architecture and is customizable to fit any type of business or niche software integration need. Revel combines ease of use with advanced features, including full offline functionality (a rarity in the cloud POS world) and is capable of multilocation management.
This scalable cloud POS is used by nationwide franchises and small businesses alike. Revel isn't the cheapest golf POS system, but it is still a lot more affordable than traditional Windows-based legacy POS systems.
A single- or multilocation golf course can use Revel, but the system is also capable of handling full-scale country clubs and golf resorts. In addition to hospitality needs, Revel can also handle retail and service-based enterprises. For example, in 2019, Revel partnered with GOLFTEC, a nationwide company that provides golf lessons and club fittings; Revel POS was deployed at 200 GOLFTEC locations in a single day.
Get Started With Revel POS Systems
5. Epos Now: Best All-In-One Golf POS
Epos Now


---
Pros
All-in-one golf POS system
Apple & Android hardware options
24/7 customer support
Easy to use
Cons
Customer support costs extra
Long-term contract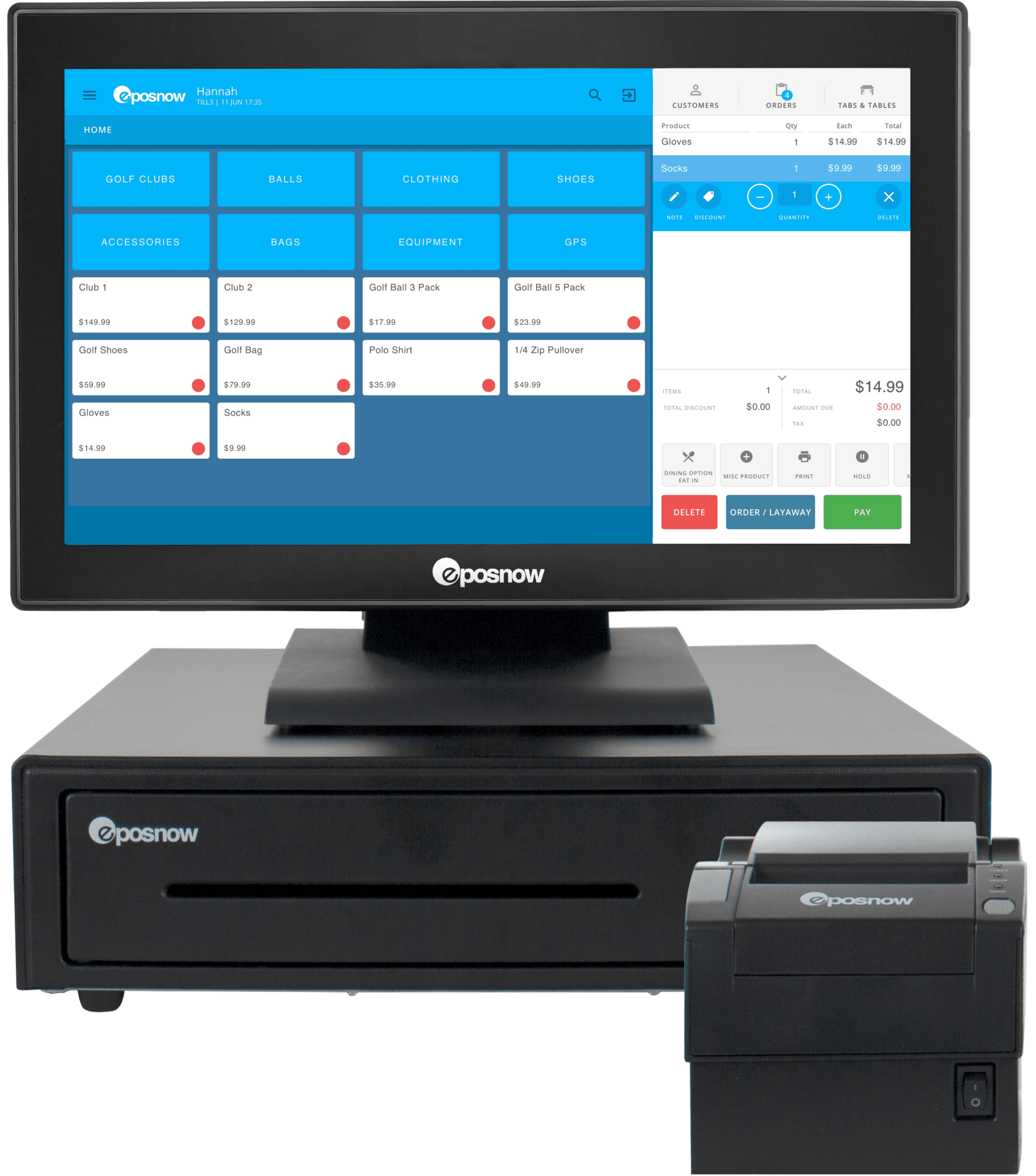 Epos Now Features
Epos Now includes the following features:
Retail & hospitality features
Simple refunds & exchanges
Loyalty cards
Store credit
Automated purchase ordering
Built-in product matrix
Quick, easy staff training
Capture customer information at point of sale
Handheld ordering devices
Mailchimp email marketing integration
eCommerce integrations, including BigCommerce & Shopify
Epos Now Pricing
Epos Now currently advertises its golf course POS system at a price of $449 or $39/month. This price seems to include both the hardware and software, though in the fine print, Epos says this price requires a 3-year service contract, 1-5 year hardware lease, and +$59/month customer support subscription.
Hardware Cost
The all-in-one golf POS system includes hardware and software for $449. Android and iPad options are available. If you want to add a handheld ordering device ("Epos Pocket"), Epos has two plans, including one where you pay $0 upfront and $44 monthly, and another where you pay $189 upfront and $24 monthly.
Payment Processing
Epos Now includes payment processing with Epos Now Payments, at a rate of 2.6% + $0.10 for in-person transactions. and also integrates with International Bancard, EVO, and Worldpay. Payment processing pricing is not listed.
Contract Requirements/Warnings
As mentioned, Epos Now may require a multi-year service contract and/or hardware lease, and customer support costs extra. However, it may be possible to get a month-to-month contract and purchase your POS hardware outright.
Also note that while Epos Now claims it can "manage your pro shop, bar, restaurant, and cafe," it does not mention golf-specific features like tee sheets. So, be sure to ask about specific features that are important to you.
Where Epos Now Really Shines
Epos Now advertises its system as an all-in-one golf POS that includes hardware, software, and payments for a single price and a single point of support. This makes this system convenient for a business that doesn't want to rely on several different companies for POS support depending on whether they are having issues with their hardware, their payments, or something else.
I would still be careful when signing the contract, however, since the fine terms of the pricing are a little opaque; I would also recommend against entering a hardware lease, if possible.
6. foreUp: Best For Advanced Golf POS Features
foreUp


---
Pros
POS system made specifically for golf courses
Built-in tee sheet management
Built-in membership management
Use on any device
Cons
Could be too expensive for smaller courses
Could have too many features for small courses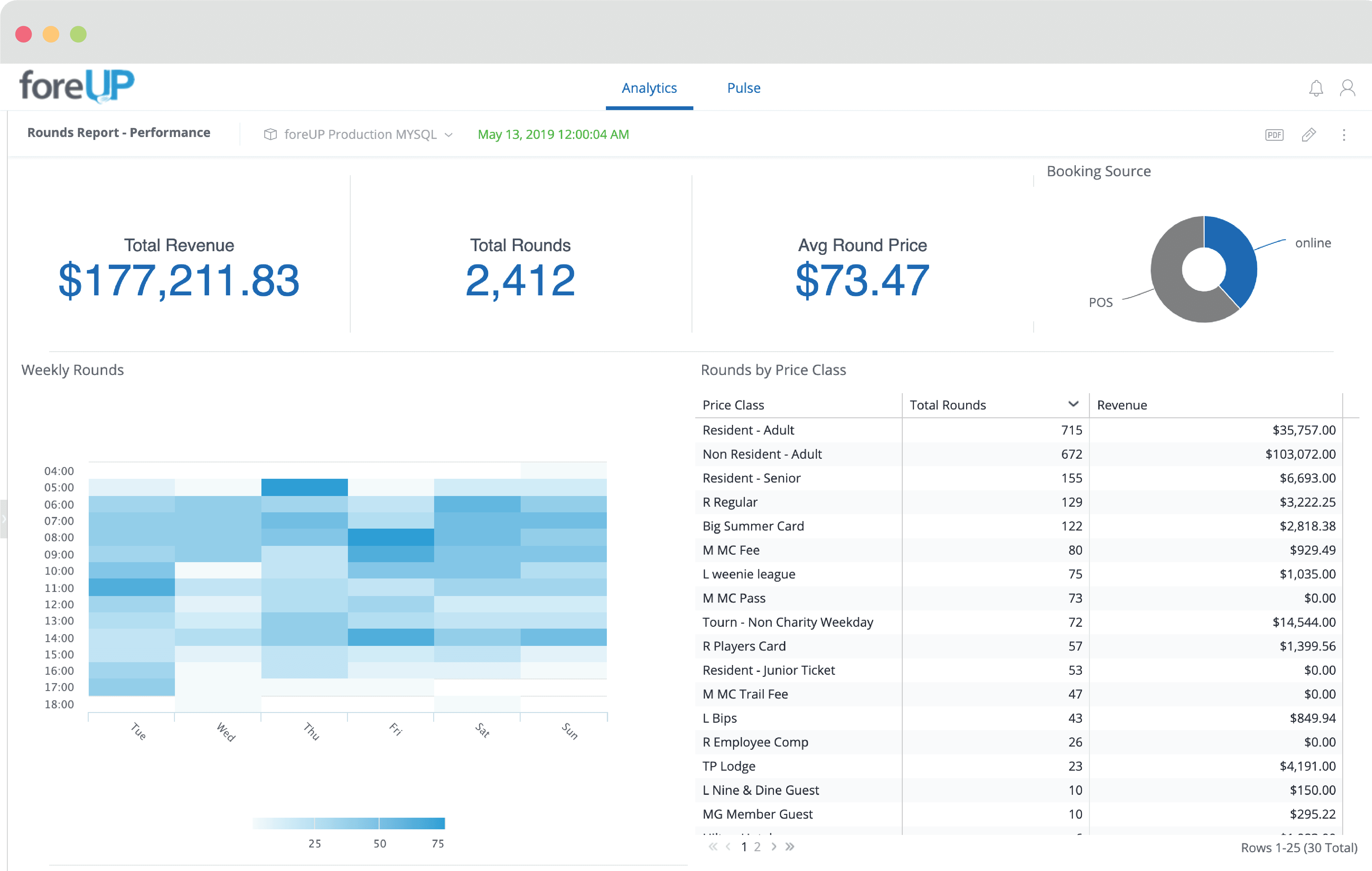 foreUp Features
foreUp includes these golf-specific POS features to golf courses:
Online tee time bookings with automated SMS reminders to decrease no-shows
Member billing with customer-facing portal
Detailed revenue reports (see above example)
Point-based loyalty program
Renewable passes to track memberships
Customer database shows loyalty points, passes, leagues, tournaments, & more
Employee management with individual shift reports, SwipeCard login, tip entry, & tip sharing
Customizable employee permissions to restrict your staff from double-booking, scheduling after daylight, & other data entry errors
Weather & sunrise/sunset schedule displayed each day
Custom mobile app & mobile payments
Golf websites & marketing services
Integrations with Supreme Golf, 18Birdies, eGull, Gallus Golf, 9-Eighteen, GolfBack, & more
foreUp Pricing
Pricing starts at $200/month, but it's not clear what features this base price includes, and further details are not listed on foreUp's website. So, you will have to reach out to the company for more pricing information.
Hardware Cost
On its website, foreUp sells all necessary hardware components, including desktop PCs ($800-$850), iPads ($608-$710), Stripe terminals ($320), Stripe mobile card readers ($75), Worldpay terminals ($369.99), Worldpay mobile card readers ($69.99-$315.99), and other POS accessories.
Payment Processing
For payment processing, foreUp users can use Worldpay or Stripe. Stripe offers affordable flat-rate processing at 2.7% + $0.05 for in-person transactions (and 2.9% + $0.30) for online payments.
Contract Requirements/Warnings
foreUp does not clearly list its contract length or terms on its website. Be sure to pay close attention when signing your contract to make sure you're not committing for longer than you would like.
Where foreUp Really Shines
foreUp is a strong choice if you want a modern cloud POS that's specifically designed for golf courses with lots of niche features. Your total spend will likely be more than if you were to use a general-purpose POS, but for many golf course owners, the extra cost will be worth it, especially if you need features like member billing and renewable passes.
Also, foreUp is not as pricey as many other specialty golf course POS systems (most of them being locally installed systems), and foreUp offers affordable hardware that you can buy outright—i.e., no expensive lease required. foreUp is highly rated on software review websites, and users say that while there are more advanced (and more expensive) golf course point of sale systems on the market, foreUp provides a good value and plenty of flexibility due to its cloud-based design.
Which Golf POS Is Right For Your Business?
The best golf POS system for your business is one that provides all the features you need (or at least integrates with a program that does), while also falling within your POS budget. If multiple golf course POS systems fit this description, then you may want to look closely at user reviews of these systems and also test drive the systems by taking advantage of their demo and/or free trial.
Want to look at some more POS options? Read 10 Best POS Systems For Small Business In 2022, which includes some point of sale options with beefed-up retail, restaurant, and eComm features.
FAQs: Golf Course POS Systems
In Summary: 6 Best Golf Course POS Systems