PayPal For Nonprofits: How To Easily Accept Donations Online & Other Helpful PayPal Features For Your Organization
Updated on:
Posted by: Jason Vissers
Advertiser Disclosure: Our unbiased reviews and content are supported in part by
affiliate partnerships
, and we adhere to strict
guidelines
to preserve editorial integrity.
Nonprofit organizations have never had as many tools at their disposal for raising money as they do today. With all the options out there, you might not think of PayPal as a natural fit for your nonprofit organization, given PayPal's close association with eCommerce and business enterprises such as eBay. Alternatively, while you might be aware that PayPal offers a Donate button, you may not know about the other PayPal features, policies, and third-party integrations that can facilitate nonprofit fundraising.
With this article, we've set out to highlight all aspects of PayPal that can benefit your nonprofit organization — and as it turns out, this encompasses quite a bit! We'll also detail the main alternatives to using PayPal for nonprofit fundraising.
Why Use PayPal For Nonprofits?
PayPal presents nonprofit organizations with plenty of reasons to use its services to raise money.
Setting up a donation button to accept online payments is a swift and easy process.
Accepting donations online — whether one-time or recurring — is incredibly easy once you have your Donate button set up.
Nonprofits can get a discounted payment processing fee applied to their online PayPal donations.
Want to accept donations offline or in-person? Maybe even sell nonprofit-related merchandise in-person? PayPal facilitates this as well.
Sell branded products online on your website using a customizable cart.
Integrate with countless third-party apps to facilitate charity events, such as auctions, fundraising galas, annual retreats, trivia tournaments — the options are endless!
Disadvantages To Using PayPal For Nonprofits
Of course, PayPal is an imperfect processor — both for nonprofits and everyone else.
Keep in mind that PayPal is a third-party processor (also known as a Payment Service Provider (PSP) or an aggregator). As such, PayPal carries with it an inherent risk of account instability. As opposed to a traditional merchant account wherein each organization or merchant has a separate account, third-party processors combine all their merchants and nonprofits as sub-users under a single umbrella merchant account.
This arrangement means that the sign-up and approval process is nearly instantaneous. It also means that because merchants (and nonprofits) are not vetted before signing up, every transaction gets scrutinized much more heavily than transactions processed by a traditional merchant account provider. This process increases the risk that a completely innocent transaction might trigger an account hold.
You'll want to review PayPal's prohibited products and services to make sure you're in the clear. (Most nonprofits should be perfectly fine, but we make no guarantees, and it's always important to understand what you are signing up for.) You should also check out our article, How to Avoid Merchant Account Holds, Freezes, and Terminations, to learn how you can minimize the chance of this kind of disruption.
Additionally, some of the PayPal tools you may want to make use of in the course of fundraising are either inadequate or don't exist. Luckily, there are legions of third-party integrations that can fill in any gaps left by PayPal's fundraising tools.
PayPal Fees For Nonprofits
One nice perk of using PayPal to accept online donations as a nonprofit is that you can pay a discounted payment processing fee when accepting online payments.
PayPal's standard processing fee is 2.9% + $0.30 per transaction. However, registered 501(c)(3) charities are eligible to pay just 2.2% + $0.30 per transaction. To do this, you'll need to do the following:
Verify your 501(c)(3) status by entering your EIN or providing official documentation
Provide a copy of a bank statement or a voided check for each bank account linked to your PayPal account
If your nonprofit organization does not yet have 501(c)(3) status, you'll have to pay the standard per-transaction processing fee.
Note that nonprofits do not pay a special discounted rate when accepting in-person donations via the PayPal Here mPOS app, which charges a 2.7% fee for all swiped transactions. More on PayPal Here later.
What's more, if your organization typically processes payments of less than $10, you may want to sign up for PayPal's micropayments plan. Under this plan, you will pay 5% + $0.05 per online transaction instead of PayPal's regular processing rate, which saves you money on each transaction if you primarily process low-value transactions from donors.
Make The Most Out Of Your PayPal Account With These Nonprofit-Friendly Features
Let's go through all the ways PayPal can be a boon to your nonprofit fundraising.
Accept Donations Online
Adding a Donate button to your organization's website and/or fundraising emails is quick and easy. To get the process started, here's what you do:
Sign up for a PayPal business account
Select Nonprofit Organization as your business type
Select Nonprofit as the category
Enter your organization's bank account information to link it to your PayPal account and transfer funds to your bank account
Note that 501(c)(3) organizations still have to follow the process outlined in the previous section to receive donations at the discounted rate.
To set up your Donate button, you'll need to follow the steps outlined here on PayPal's developer page. You'll be able to do the following:
Choose your button style
Display your organization's name and logo
Select the currency in which you receive donations
Choose whether donors can give any amount, an exact amount, or provide three set amounts
Choose whether to let donors make recurring monthly donations
Choose whether to collect donor mailing addresses
Choose whether to let donors send you optional notes with their donations
Add additional HTML button variables
Another way to solicit online donations is to use PayPal.Me — PayPal's peer-to-peer payment platform — to send personalized donation links to your donors. It's a great way to approach your biggest supporters to ask for individual gifts.
One other thing: If you process more than $100,000 in monthly volume, you'll need to call PayPal to make special arrangements.
Accept Donations In-Person
Nonprofit organizations can accept in-person payments via the PayPal Here mobile POS system. PayPal Here is not as fully-featured as a full POS, but for a mobile system, it certainly gets the job done.
With PayPal Here, you get your choice of three different mobile card readers, two of which are free until June 30th, 2020. With a mobile card reader, you can process in-person donations at big fundraising events, charity galas, trivia tournaments, or wherever else your organization's fundraising takes you. Do note that the basic mobile headphone-jack card reader is only suitable for organizations processing less than $500 a month.
All swiped transactions processed by PayPal Here are subject to a flat 2.7% fee. Unfortunately, nonprofits cannot pay a discounted processing fee when using PayPal Here. Keyed-in transactions will be subject to a higher 3.5% + $0.15 fee.
Additionally, you can send out invoices via the app. Invoices are free to send, but when you get paid, you'll be paying the standard 2.9% + $0.30 rate that PayPal charges for standard online transactions. What's nice about the ability to send invoices is the fact that for substantial purchases — we're talking four figures or more — you can just send an invoice, thereby creating a paper trail. That can come in handy later!
Additionally, payments from non-US credit cards are subject to an additional 1.5% transaction fee.
Other PayPal Here features include:
Cash and check recording (yes, you can accept cash and checks with PayPal Here)
Quick sale mode
Item library
Item add-ons
Item categories
Custom tax
Custom tip options
Discounts
Refunds and partial refunds
Recurring billing
Reporting
Sub-user accounts
Support for register setup
Same-day funding
Sell Merchandise
Whether your nonprofit organization is conducting a charity auction (if this is the case, here are some auction apps that integrate with PayPal) or is selling branded merchandise at a gift shop or other "meet space" location, PayPal Here is a solid option for processing your transactions. And if you need a POS system with more feature depth than that provided by PayPal Here, don't worry, as PayPal integrates with more robust POS systems as well, including:
The 2.7% PayPal rate for swiped transactions will apply regardless of your POS partner, but you will incur additional software fees for the POS system itself.
We've done in-depth testing of each and confidently recommend them.
I'll note that PayPal also offers a Virtual Terminal that you can use to process in-person payments (or accept donations over the phone). However, you'll need a PayPal Payments Pro account to use it, and Payments Pro costs $30/month. Because other platforms offer a virtual terminal for no monthly fee whatsoever, we don't recommend this as an in-person donation acceptance method. Also, the Virtual Terminal's 3.1% + $0.30 per-transaction processing fee is higher than PayPal's standard in-person transaction fee.
Sell Event Tickets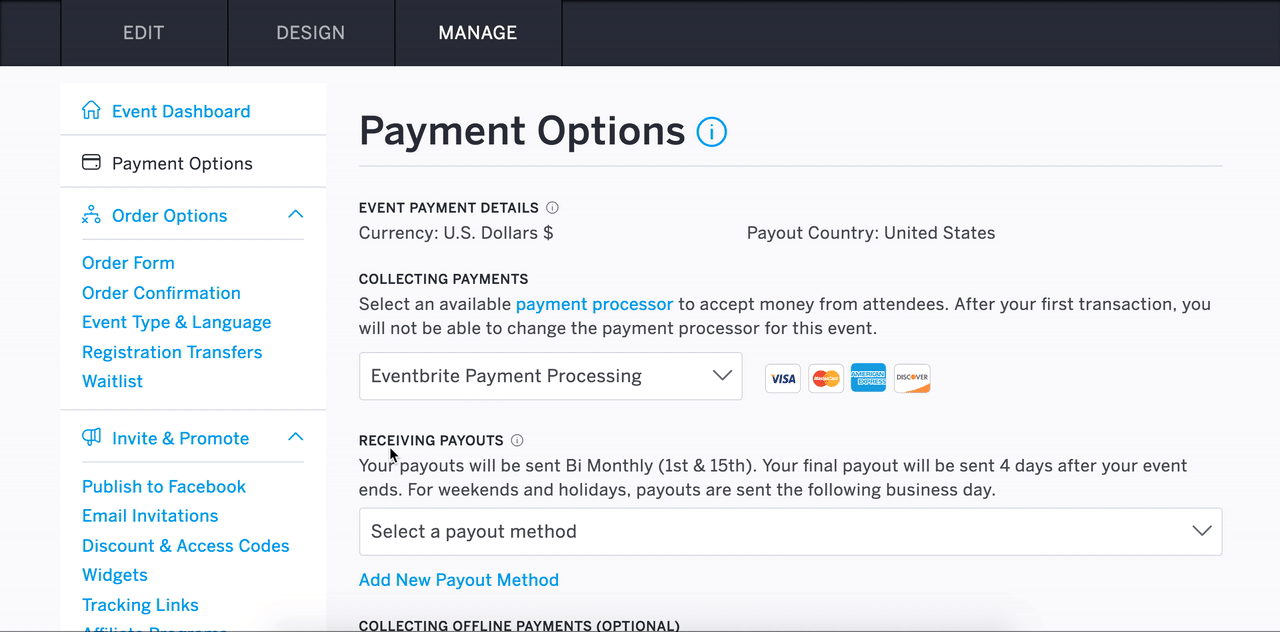 Perhaps your nonprofit holds events, such as annual retreats or charity galas, from time to time. Or maybe you've thought about holding a walkathon to motivate donors to give. If so, you're in luck, as PayPal integrates with Eventbrite for ticket sales. With PayPal's Eventbrite integration, not only will you be paying a lower processing rate than with a standard Eventbrite subscription, but you can also choose to pass Eventbrite's fees on to the customer and avoid paying them yourself. Alternatively, you can absorb the fees to keep your donors happy. Your choice!
Eventbrite offers three different subscription packages tailored for event organizers. All three packages include access to the Organizer app for both iOS and Android devices that, when paired with the rental equipment on offer, can transform your mobile device into a box office.
Track Your Income & Improve Your Bookkeeping
PayPal's reporting tools give you detailed information about the activity associated with your PayPal account and can assist your nonprofit with bookkeeping. Available reports include monthly and annual financial summaries, monthly sales reports, your chargeback/dispute history, transaction history, order fulfillment reports, money management reports, customer agreement details, Payflow gateway reports, and more.
Additionally, if your nonprofit organization processes $20,000 in gross payment volume from sales of goods or services in a single year and processes 200 payments for goods or services in the same year, PayPal will send Form 1099-K to both you and the IRS for that year early in the following year. Your 1099-K will be accessible from your PayPal account as of January 31st of the following year, and it will tally your payment transactions from the preceding year. You can see further details about PayPal's tax reporting here on its tax information page, including FAQs and a downloadable guide.
Furthermore, PayPal integrates with QuickBooks via the Connect to PayPal data integration app, available from your QuickBooks account.  With this app, you can transfer up to 18 months of PayPal transactions into QuickBooks. You can also import your discounts, taxes, customer data, transfers, and PayPal expenses. View detailed sales information, including your PayPal fees, in your sales transactions. The Connect to PayPal app is free for all QuickBooks users.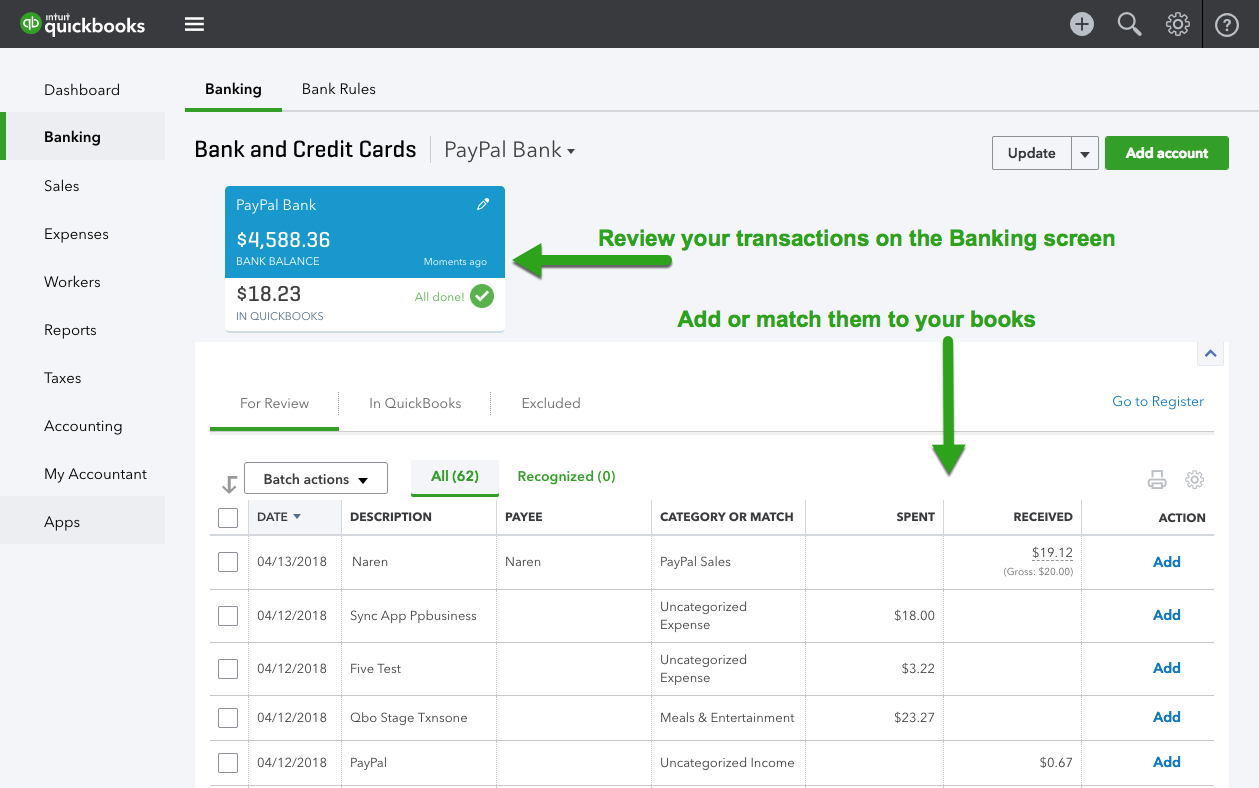 Check out this article to see how the services QuickBooks provides can benefit a nonprofit organization.
QuickBooks Online


---



Alternatives To PayPal For Nonprofits
Let's walk through the primary alternatives to using PayPal for nonprofits. Let's start with online fundraising software:
Fundly: Fundly is an online crowdfunding site with particular appeal for nonprofits as a PayPal alternative, as your fundraising page is completely customizable. You'll have easy social sharing integrations at your fingertips, intuitive management tools, and the ability to offer perks to donors, depending on their level of support. However, you'll have to contend with a 4.9% platform fee on top of the 2.9% + $0.30 fee charged to each transaction.
Qgiv: Qgiv's online fundraising platform is another PayPal alternative worth your consideration from a nonprofit standpoint. Qgiv's donation forms are fully customizable (much more so than PayPal's donation forms) and mobile-responsive. The platform allows for recurring gifts to encourage donors. Qgiv even provides an auction platform and event management capabilities from its app. Qgiv's pricing and fees both vary depending on the level of service you need.
GoFundMe: Most people think of GoFundMe as a platform for personal fundraisers, but did you know that GoFundMe supports nonprofit fundraising as well? With GoFundMe, you can launch an unlimited number of campaigns, access basic donor data, and set up team fundraising pages, all without paying a monthly fee or a platform fee (just a 2.9% + $0.30 processing fee). Alternatively, you can use GoFundMe's CrowdRise software to enhance your fundraising capabilities further. CrowdRise's Essential package offers more extensive donor data, ticketing and registration features, deductible email receipts, and more. While the Essential package does sport a platform fee of 5%, this package also lets you pass the fees — both the platform fee and the payment processing fee — on to the donor. Read our GoFundMe review to learn more about the platform.
When it comes to using third-party processors to process your donations, PayPal isn't the only game in town. Let's explore the other big third-party processor offering nonprofit-specific benefits:
Square: Square has a lot to offer nonprofits as a payment processor. While Square doesn't offer a discounted processing fee for nonprofits, its 2.6% + $0.10 per-transaction rate for swiped, dipped, and tapped payments through the Square point of sale app is extremely competitive and cheaper than PayPal's in-person processing fees (Square's online processing fee is 2.9% + $0.30). Capturing donor information is easily done right from the transaction screen of the Square POS app, automatically adding your donors to your Customer Directory. Team members can accept donations on your behalf via the POS app as well. And that's only the tip of the iceberg when it comes to Square's nonprofit-friendly tools. Read our Square review to get the full scoop, and check out our Square VS PayPal piece for a direct comparison of the two.
Square


---



Now, what if you don't like the idea of using a third-party processor and would rather use a traditional merchant account? While merchant accounts don't normally come with as many add-on software options as a third-party processor, their laser-focus on payment processing means that you're much less likely to experience an account hold or termination than with PayPal (or Square, for that matter).
Dharma Merchant Services: This merchant account provider is quite well-suited to nonprofits, provided your organization takes in more than $10,000 per month. Dharma features transparent interchange-plus pricing, which should see you saving money over a service such as PayPal. And unlike some other merchant account providers, Dharma doesn't charge account setup fees, annual fees, or early termination fees, nor are there any monthly minimums to worry about. Dharma also provides more comprehensive customer support than you're likely to get with PayPal. Read our full review of Dharma Merchant Services to see exactly why we like them so much.
Dharma Merchant Services


---



Is PayPal Right For Your Nonprofit?
We can't guarantee that PayPal is the right payment processing solution for every nonprofit. However, when it comes to accepting online donations, PayPal is the absolute simplest tool out there.
With support for in-person payments, invoicing, reporting, nonprofit-specific discounts, and the fact that PayPal's massive list of integrations with other platforms means you will almost certainly be able to fill any functionality gaps left by PayPal's in-house solutions, PayPal is more than capable of powering your nonprofit organization. Alternatively, PayPal makes for a great supplementary payment option if you primarily accept donations via other means.
Check out our article on saving money on payment processing as a nonprofit for more on how to keep your costs down. And if you have experience working with PayPal as part of a nonprofit organization, drop us a comment and let us know about it!