Square Online Review (Formerly Square Online Store)
This easy, cost-effective eCommerce solution makes payment processing easy by integrating directly with Square POS, but how does it stack up to the competition in terms of features?
Expert Analyst & Reviewer

UPDATED
Advertiser Disclosure: Our unbiased reviews and content are supported in part by
affiliate partnerships
, and we adhere to strict
guidelines
to preserve editorial integrity.
Square Online

Pros
Free plan available
Easy to use
Ideal for low-volume merchants
All-in-one eCommerce and payment processing solution
No coding knowledge required
Cons
Limited customization
Limited features
Limited payment options
Not suited for high-volume merchants
Square Online Store Overview
The Square online store is a fully functional online store that works perfectly within the Square ecosystem. A single Square account will let you set up and run a complete eCommerce site, using Square Online (formerly known as Square Online Store). If you prefer, you can use Square's new service, Square Online Checkout, to accept payments online, without even setting up an online store.
What Is A Square Online Store?
Square Online is a website builder within Square's platform of products with a free plan available that lets you create your own eCommerce site. It is intuitive with no coding experience necessary and offers scalable payment tiers with additional features.
Square Online Store Pricing
Square Online has a unique pricing structure. Many merchants can use the platform completely free of charge. If you only need 500MB of storage, and you don't mind processing your payments exclusively through Square, you can use the Free plan. You'll pay only the usual credit card processing fees.
All Square Online plans, including the Free plan, include free web hosting, SSL certificate, and unlimited bandwidth on your Square site. But if you need more storage, want to use a custom domain, or want to remove the Square advertisements from your site, you'll need a paid pricing plan. Each step up in pricing gives you access to more features. If you want to save a bit of cash, you can pay for a full year of service upfront and get discounted rates but is often very difficult or downright impossible to get refunds on annual subscriptions.
Here's a quick breakdown of pricing for Square Online.
Square Online Free Plan
Square Online's Free plan costs $0/month and includes:
2.9% + $0.30 per transaction (via Square)
Unlimited products
Digital or physical goods, services, tickets, donations
Instagram, Facebook, & Pinterest integrations
Curbside, delivery, or third-party courier
Free SSL security
500MB storage

Inventory management

Order status text alerts

In-store or curbside pickup plus delivery

Coupon codes

Square gift cards

Contact forms

SEO features

Order customization
Square Online Professional Plan
Square Online's Professional plan costs $16/month or $12/month if billed annually and includes everything in the Free plan, plus:
Unlimited storage
Remove Square ads
Add a custom domain
Square Online Performance Plan
Square Online's Performance plan costs $29/month or $26/month if billed annually and includes everything in the Professional plan, plus:
Accept payments through PayPal
Product reviews
Shipping calculator, labels, & tracking
Discounted shipping labels with UPS
Abandoned cart emails
Square Online Premium Plan
Square Online's Premium plan costs $79/month or $72/month if billed annually and includes everything in the Performance plan, plus:
2.6% + $0.30 per transaction (via Square)
Best shipping discounts
Real-time shipping calculator
Square Online Features
Square Online offers enough features to get the majority of small businesses moving. While features on the free plan may be too limiting for most merchants, offerings significantly improve on the paid plans. Without further ado, here are the main features you'll get with a Square site:
Accept Payments: Your options and rates for processing online payments through a Square Online store depend on your subscription level. Merchants on the Free and Professional plans can process payments only through Square at the typical rate of 2.9% + $0.30 per transaction. Merchants on the Performance plan can also process payments through Square at 2.9% + $0.30 per transaction, and they can accept payments through PayPal at 2.9% + $0.30 per transaction. Merchants on the Premium plan gain access to a discounted processing rate with Square. Premium plan rates are 2.6% + $0.30 per transaction whether through Square or PayPal. Merchants on the top plans can enable Google Pay, Apple Pay, and Square Payments to accept payments as well.
Multi-Channel Selling: Square Online syncs easily with your Square POS system to enable multi-channel selling. These two systems work together to track your inventory, even as you sell online and in person. You can also allow customers to pick up their online orders in-store, integrate with Instagram, and utilize targeted Facebook ads. Additionally, Square Online provides tools for creating password-protected pages. That means B2B sellers can make their wholesale products visible only to approved buyers.
Buy Buttons: Square Online offers customizable buy buttons at no extra cost. You can instantly add them to a new or existing website and accept secure payments right away. The buttons can be edited by shape and can include different wording. They are also compatible with multiple hosting platforms.
International Selling: Currently Square accepts payments from the United States, Canada, United Kingdom, Ireland, Australia, Japan, France, and Spain.
Marketing Features: Create and advertise basic coupon codes; you can take off a percentage or a flat rate, or you can offer free shipping. You can also allow customers to leave product reviews and you can sell and accept gift cards to encourage repeat purchases. There are also features for collecting information via contact forms.
Inventory Management: Track inventory across your online store and physical locations. Inventory totals update with each sale. Square Online also features low stock alerts and automatic reordering options for when inventory gets low.
Shipping Tools: The shipping features that you can access depend on your subscription level. All plans include the ability to choose shipping carriers, purchase and print labels, track shipments, and send order-status text alerts. The Free plan only lets you charge shipping rates based on a few factors. You can set rates based on weight, order total, or item quantity. You can also set a flat rate for shipping or just allow free shipping. On the Premium plan, however, you get access to much more accurate real-time shipping rates with FedEx, UPS, and USPS.
SEO Tools: Square Online comes with a number of SEO tools, including an optimized HTML format and mobile-friendly design. You can also add permalinks, SEO titles, and SEO descriptions to your products.
Blogging: The Stories function in Square Online is like a blog, allowing you to connect with shoppers in creative ways, such as highlighting a new product, suggesting a recipe, or offering personal updates. Your posts will appear on your site's Stories Overview page, and visitors can share your stories to their social media pages using built-in sharing buttons.
Square Hardware: Square has some unique and innovative hardware options for selling in person.

Magstrip Reader: The first magstrip reader is free and additional readers are $10.
Contactless & Chip Reader: The more versatile chip reader is $49 on Square's website.
Square Terminal: An all-in-one mobile card processing tool is $299.
Square Register: The complete point of sale system that works across all Square platforms is $799.
Is Square Online Easy To Use?
Like Square's other products, Square Online is designed with the user in mind. It is easy to create a store, import products, and adjust your site to fit your brand.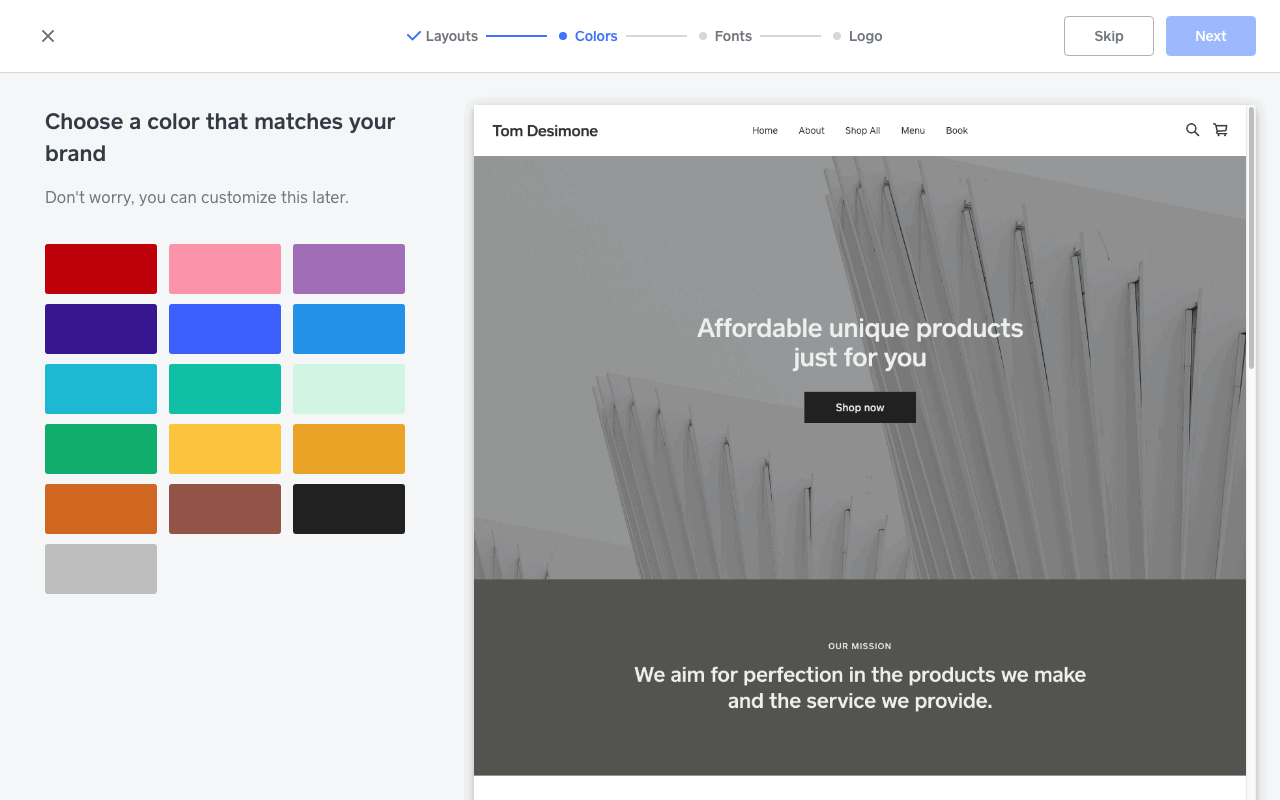 You can add items from your storefront view or your admin panel. You can also import products from your Square POS to make the setup process just a little bit easier.
It is also easy to fill out the product details. This is also where you can add variants, such as multiple colors or sizes, and select a category for your product. Scroll down a bit further, and you'll see some more of Square's advanced options, such as modifiers and SEO settings. You can also disable or enable an individual item's visibility in the store if you're not quite ready to launch a particular item.
Customer Service & Technical Support
Customer support is available to all users, whether you're on the Free plan or a paid plan. You can access this support primarily through phone, email, live chat, and the help center. Here's a full list of support options:
Phone: Phone support is available Mon-Fri 6 AM-6 PM PST. Wait times can be long, so try other options before phoning, if possible.
Email: You can get support via email 24/7. Responses may take up to two days in coming.
Live Chat: Live chat is available Mon-Fri 6 AM-6 PM PST and Sat-Sun 8 AM-5 PM PST.
In-Software Help: Within the Square Online dashboard, you'll find a link to the help center.
Community Forum: The community forum contains answers to commonly searched questions. Like the help center, the forum is organized into categories. The forum is also a place to give feedback and vote on features.
Videos: Square has a YouTube channel, which it uses to discuss all its products, including Square Online.
Help Center: Square Online's help center is organized into sections to make it easier to find answers to your questions. You can also use the search bar to search topics more specifically. Many support articles include up-to-date screenshots, which are particularly helpful.
Blog: Square's Town Square blog posts regular updates on payment processing and managing a business with Square.
Social Media: Square is active on Twitter, Facebook, YouTube, and Instagram.
Payment Processing With Square Online:
Square obviously comes with its own payment processing platform and its rates are 2.9% + $0.30 with a discount at the Premium plan level of 2.6% + $0.30. This is relatively competitive pricing when compared to similar services, however, those fees can add up if you are a high-volume seller to the point where Square Online might not be your best option.
Contract Length & Early Termination Fees:
Square Online does not require you to sign up for any long-term contracts, allowing you to pay for its services on a month-to-month basis. There is a price discount if you do sign up on a year-to-year contract, however.
Square Online Integrations & Add-Ons
Square Online integrates with 200+ add-ons and third-party software, listed in 16 searchable categories that include tax/accounting, delivery and orders, eCommerce, POS, loyalty and rewards, and more. While the Square App Marketplace doesn't house the largest integration collection we've ever seen, it's still respectably sized. Included within these integrations is a pretty cool integration with Instagram. When you integrate with Instagram, users who click on images of your products in your Instagram account are redirected to your Square Online to complete checkout. (Learn our top tips and trick for selling on Instagram.)
Additionally, Square integrates with many other eCommerce software apps, such as BigCommerce, Shift4Shop, Magento, and WooCommerce. That means you can choose to use different eCommerce software to build your website while still processing payments through Square.
Finally, Square offers a number of developer tools and APIs, including the new Shippets API, that developers can use to build custom connections and add-ons.
Square Online Reviews
Negative Square Website Reviews & Complaints
Square Online users raise a few negatives, including these:
Design Limitations: Template options are limited, and editing layouts can be challenging. The scope for customizing your website will be limited, especially considering the lack of HTML and CSS editing functionality.
Account Stability Issues: This is one of the huge complaints about Square in general. Like many other payment service providers (PSPs), Square can revoke your account if it considers you to be high-risk. When you're a high-risk merchant on Square Online, not only can it revoke your payment account, but it will also remove you from the online store platform.
Features Limited On Free Plan: While offering a free plan is generally an advantage, especially because it gives potential users a chance to test the software before committing to it, Square Online's free version is lacking some of the basic functionality you will want to run a full online store.
Limited Features: Square Online has enough features to satisfy the needs of many lower-volume sellers; however, merchants who have a lot of sales through their online portal may encounter some difficulty. There simply aren't as many options available as there are in other eCommerce software. For example, you are able to create only three types of coupons: a flat-rate discount, a percent discount, and free shipping. Other eCommerce options allow for more complex coupons, such as "buy one get one free" and discounts on specific products and categories. Further, shipping features are relatively limited on the lower-level plans. You need to be on the Premium plan to access real-time shipping rates.
Positive Square Website Reviews & Testimonials
The majority of user reviews had mostly positive things to say about Square Online. Here's what they mention:
Free Option: It's pretty great that you can build an entire online store for no more than the cost of processing payments. This isn't a very common offering, and it's a valuable option with Square.
Easy To Set Up: Though they may not offer enough flexibility for some sellers, Square Online's design tools make it easy to get for anyone to get a store online up and running quickly, even total beginners. Syncing your store with Square POS makes importing products quick as well.
Versatile: You can sell a variety of types of products through your online store. That includes physical and digital products and even carry-out orders and event tickets.
Final Verdict Of Square Online
For smaller sellers, and especially for those already using Square products, the Square website builder can provide an easy entrance into online selling, with some useful options, such as delivery capability, that aren't found in all eCommerce solutions. Overall, we think Square Online is an excellent solution for those types of merchants. A Square site will integrate seamlessly with Square's other products, and if you only need 500MB of storage, you can get the software, plus hosting and support, completely free of charge.
For merchants who are looking for a stand-alone eCommerce solution, we suggest looking beyond Square Online. While it's a solid eCommerce solution, Square Online is somewhat limited in its features and design options, and even the paid plans don't include enough functionality to justify the cost. So, while it bears repeating that Square Online store can be a good choice for certain types of merchants, if you are hoping to build your online platform into your primary sales channel, you should look elsewhere. Take a look at our top recommendations for eCommerce software to get started.
Square FAQs
---
The Merchant Maverick Seal of Approval 🏆
Square Online


---
After hours of in-depth research and evaluation, we can confidently recommend this brand to our readers. Get started today and see Square Online for yourself.
The Merchant Maverick Seal of Approval 🏆
Square Online


---
After hours of in-depth research and evaluation, we can confidently recommend this brand to our readers. Get started today and see Square Online for yourself.
To learn more about how we score our reviews, see our
eCommerce Software Rating Criteria
.