Square Credit Card Reader Review: Taking A Closer Look At Square Contactless & Chip and Magstripe Readers
The Square Reader is an affordable, entry-level choice that comes packed with value for small business credit card processing needs.
Expert Analyst & Reviewer

UPDATED
Advertiser Disclosure: Our unbiased reviews and content are supported in part by
affiliate partnerships
, and we adhere to strict
guidelines
to preserve editorial integrity.
Square Credit Card Readers

Pros
Supports EMV payments
Supports contactless (NFC-based) payment methods
All-day battery life
Works with mobile devices and Square Stand
Financing available
Cons
No integrated magstripe reader
Only works with Square account
Square Credit Card Readers Overview
For many small business owners, the Square Reader for contactless and chip (as it's officially called) is a great entry-level device that's compatible with EMV-enabled cards. Also, it supports NFC-based payment methods, such as Apple Pay and Google Pay. It's priced affordably at just $49 and even includes the old Square magstripe card reader that you can use as a backup if you encounter a card that still doesn't have an EMV chip. While more advanced models (such as the Square Terminal and Square Register) offer additional features, the basic Square Reader is all you need to take in-person credit or debit card payments.
The Square Reader differs from most competing devices in that it doesn't include magstripe swiping capability at all. This isn't so much a limitation as it is a means of future-proofing the device while still maintaining a small, portable form factor. EMV is now the standard method of accepting a credit or debit card in the US, Europe, and many other countries. Magstripe technology, on the other hand, is very out of date and hopelessly insecure by modern standards. Mastercard has already announced that it will cease issuing cards with a magstripe by 2030, and other card brands are sure to do likewise.
Keep reading our full Square Card Readers review for all the details!
Overall Design
Despite the awkwardness of its name, the Square Reader for contactless and chip excels in fundamental product design. Rounded edges and a smooth, slick surface allow it to pair well with the smartphones and tablets it's intended to work with. In fact, it's a little too slick sometimes, being slippery and easy to drop if you're not careful.
Businesses that operate from a fixed retail location will want to add the optional Square Dock to their processing setup. Solid and heavy (0.92 lbs., to be exact), it's made from the same glossy white plastic as the Square Reader but with a texturized, grippy rubber bottom to keep it from sliding around on a countertop.
The Square Dock comes in two pieces: the dock itself and a detachable lip to secure the reader in place. The lip pops up and out so that you can insert the reader. Then you simply press it back into place to secure it. One design quirk is that the power/pairing button on the Square Reader is on the bottom of the unit, rendering it inaccessible when the reader is mounted on the dock. However, this will only be an inconvenience if you need to re-pair the reader while processing a payment.
Like any good tech device these days, the Square Reader also has various optional accessories that you can add, such as cases, receipt printers, and cash drawers. Many of these are third-party products, but they can be conveniently ordered from the Square website.
Square Chip Card Reader Specs
The Square Reader for contactless and chip supports both EMV and NFC-based payment methods. NFC support includes Apple Pay, Google Pay, and NFC-enabled (i.e., tap-to-pay) credit/debit cards. Tap-to-pay cards with an embedded NFC chip have been common in Europe for many years and are finally beginning to roll out in the United States.
The reader does not support magstripe payments. However, Square throws in a free magstripe card reader for those (hopefully) rare situations where you need to accept a magstripe card. The reader is available with either a Lightning connector or a 3.5 mm headphone jack, depending on the type of smartphone/tablet you plan to use it with.
Depending on what kind of power-draw your wall port and charging cable are designed for, it should only take two to three hours to charge the Square Reader fully. There isn't much information about the Square Reader's battery life, but Square says it's designed for all-day use. The reader also goes to sleep after two hours of inactivity to help preserve the battery. However, as with just about any electronic device, your mileage may vary.
If you find that your reader is constantly running low on battery part way through the day, you can consider investing in the charging dock or simply keep it plugged into the charging cable.
Getting Started With The Square Contactless & Chip Reader
The easiest way to get your hands on a Square Reader is to order it directly from the Square website. It will usually arrive within five to seven business days. If you're eager to start processing with Square and can't afford to wait that long, the Square Reader is also available from many large retailers, including Amazon, Best Buy, and Walmart.
Unlike the traditional countertop terminals you get with a merchant account provider, the Square Reader doesn't need to be pre-programmed with a software load that connects your merchant account to your provider's payment processing network. That said, Square offers a warranty on products purchased directly from its website. If you get your reader from anywhere else, the same warranty doesn't apply. We also found that some third-party retailers were charging significantly more for the Square Reader than Square does.
You'll need a compatible mobile device to set up the reader. Be sure to download the free Square Point of Sale app and enter the login credentials for your Square account before you get started.
Square recommends that you charge your reader to 100% before your first use, but unless your reader arrives with a completely dead battery, you should be able to plug it in and charge it while going through the setup process. Start by enabling Bluetooth on your mobile device. You'll also need to activate a few permissions when you first log on (location services, access to the microphone (for magstripe transactions), and push notifications. And you'll need to set up all of the inventory, sales tax rates, and any of the other app features you plan to use before you can start selling with Square.
If you've done all of that ahead of time, good! If not, definitely make sure you've at least set up the sales tax feature before you make your first sale.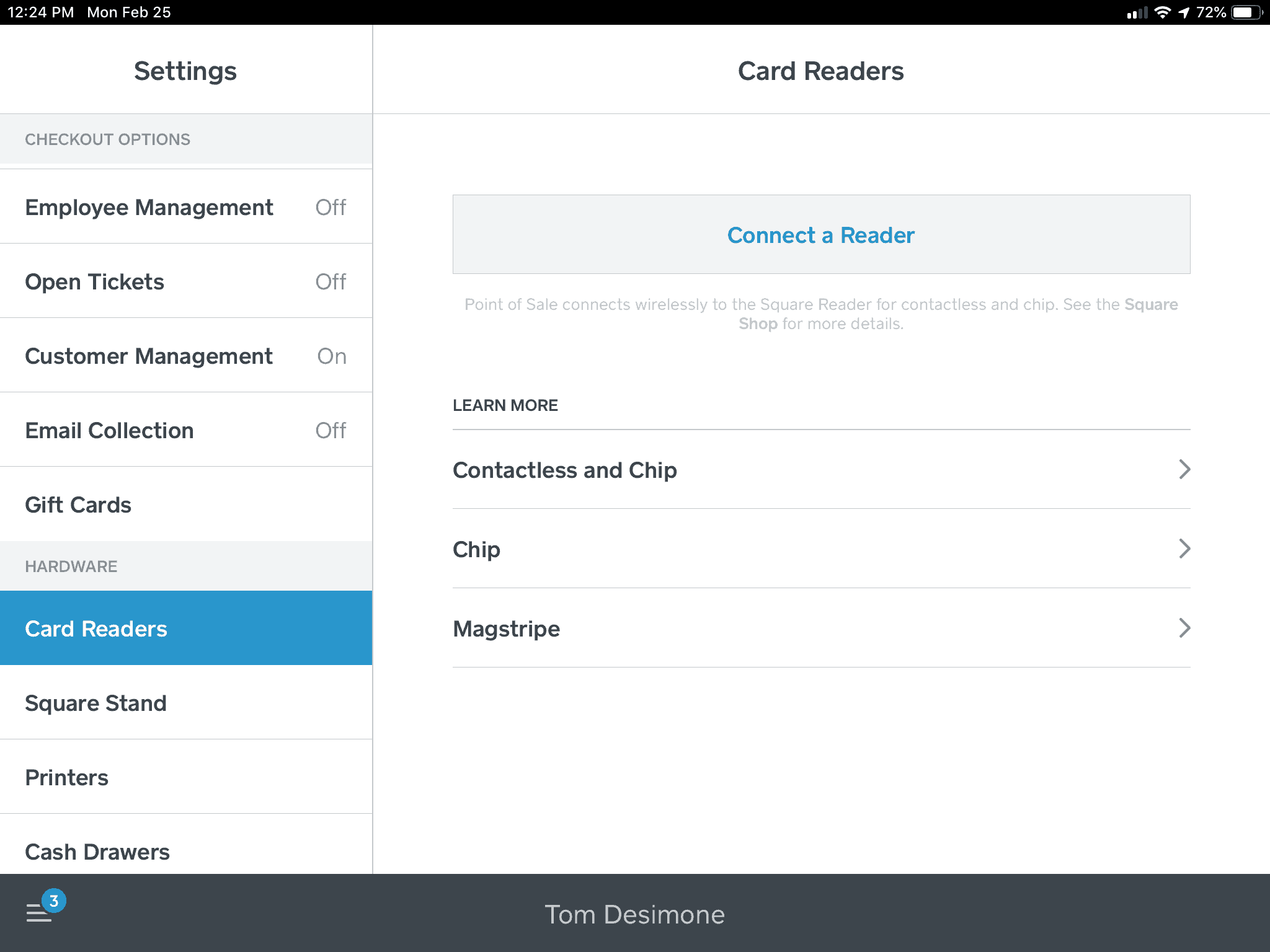 Once the Square Point of Sale app is open, go into the settings menu; scroll down to "Card Readers" and press "Connect a Card Reader." Square will ask you which kind of reader you're using. After selecting the Square Reader for contactless and chip, the Square app will give you on-screen instructions on how to pair the device. It's pretty simple:
Press and hold the power button at the bottom of the reader until you see four lights on the reader flash orange.
Follow the prompts on the screen (if any) to approve the pairing request.
After you're connected, the Square Point of Sale app will download any firmware updates for the reader, which can take a few minutes. It will then notify you that your new Square Reader is ready to use!
A few facts to note about the Square Reader for contactless and chip:
You can use the Square magstripe reader at the same time. You just need to plug it into the headphone jack (or the Lightning port of any recent iPhones). There shouldn't be any conflict in using the two at the same time.
The Square Reader for contactless and chip can only pair with one device at a time. Keep this limitation in mind if you have multiple devices and the reader might float between them. You'll need to unpair the current device before switching to a different one.
If you have a Square Stand, you can connect the Square Reader for contactless and chip to the Stand using the USB cable included with the reader or via the charging dock. This eliminates the need for Bluetooth pairing.
Also, note that if you pair the reader with an Apple device, you'll receive a notification that the Apple Pay feature on that device has been temporarily disabled. This is a precautionary measure to prevent you from accidentally paying for a customer's purchase using your account.
Square Software Design & Features
The free Square Point of Sale app is your gateway to unlocking the potential of Square's mobile processing system and associated services. It's available for Apple devices running iOS/iPadOS 12.0 or higher and Android (operating system requirements vary by device, so contact Square if you have an older model).
Square Point of Sale is a good, general app that works well for most small businesses. However, if you have more specialized needs, the Square Reader will also work with Square Appointments, Square for Retail, and Square for Restaurants. Square for Retail offers more advanced reporting features and a search-optimized POS interface. Full-service restaurants and bars will likely fare better with Square for Restaurants, which offers coursing and table mapping. Service businesses (such as salons) will appreciate Square Appointments, which combines Square POS features and seamless appointment booking and checkout.
For the most part, the Square Reader for contactless and chip works seamlessly with all of these POS systems. The only notable limitation is that the reader doesn't work with offline mode. To process transactions without the internet, you'll need to use the Square magstripe reader. You also won't be able to connect the reader without a solid internet signal for this reason — you'll need either a cellular data connection or Wi-Fi in addition to Bluetooth.
Here's a brief overview of some of the major features of the Square Point of Sale app:
Payment Acceptance
Square accepts Visa, Mastercard, Discover, and American Express. There's also support for gift and rewards cards, Apple Pay, and Google Pay. Support for alternative payment methods has expanded recently and now includes payments via invoice, QR codes, or payment links.
Payment Protection
The Square Point of Sale app encrypts all payment information submitted by your customers. Because your account is aggregated with other users into a single merchant account, Square automatically takes care of all PCI compliance requirements for you. Fraud protection services are also built-in.
Unlike most traditional merchant account providers, Square even takes care of chargebacks for you — at no additional cost. You can monitor the status of any disputed transactions on your Square Dashboard.
Checkout Customization
Square allows you to group inventory items into categories, customize your menus with item modifiers, and upload multiple items at once with the bulk importer tool. The app also supports itemized refunds.
Recently, the company has added an Order Manager feature that integrates with DoorDash, PostMates, Chowly, Caviar, and other delivery services.
Transactions
Customer receipts can be sent via email, text, or printed out using an optional receipt printer. The app also supports bill-splitting, customized tip amounts, and automatic discounts.
If you'd like more information about each of Square's POS apps, check out our reviews of each:
Ease Of Use
Square is one of the few merchant services providers in the industry specializing in meeting first-time business owners' needs. The company emphasizes both simplicity and affordability in its products and services, which applies to the Square Reader and Square POS app. If you can follow simple directions, you should be able to set up your reader and start accepting transactions without the need for hours of training.
While basic processing tasks are very simple, there's naturally going to be a bit more of a learning curve if you want to take full advantage of Square's more advanced features and customization options. At the same time, the company's offerings can sometimes be a bit too simple for more advanced users. Customization options are often limited, so don't expect to have the same level of granular control over your checkout interface that you would have with something like Stripe.
Square Card Reader Pricing
Square has done well at keeping its hardware affordable, and because it handles sales directly, pricing is also consistent. The Square Reader for contactless and chip sells for $49, while the dock sells for an additional $29. Unfortunately, there's no discount available for bundling these two items. Note that third-party sellers — particularly on Amazon — may charge a higher price for these items.
You can also get the Square Reader for contactless and chip bundled with the Square Stand, which sells for $199. This includes the tablet stand with a built-in magstripe reader, the Square Reader for contactless and chip, and the Square Dock. (You can also get an iPad from Square for $329, but it's not automatically included with the Square Stand.) Also, be aware that the Square Stand is not compatible with Android tablets.
Worried about cash flow with your new hardware setup? Square offers a financing program for its hardware, with eligible purchases starting at $49. If you opt for just the Square Reader, you'll pay $17/month for three months. A markup of just $2 on a $49 purchase is completely fair. However, for other purchases, payment terms depend on a credit check, the amount of the purchase, and the total length of the payment plan.
Square offers a 30-day money-back guarantee on all hardware purchases. You can return the device within that time frame for a refund, no questions asked. Because Square charges no monthly fees and has no contracts, you can simply stop using the app without worrying about a penalty.
Don't forget that you also have to pay the transaction costs, which will depend on the Square POS apps you choose:
Square POS: 2.6% + $0.10 per swipe, dip, or tap
Square Appointments: 2.6% + $0.10 per swipe, dip, or tap (3.5% + $0.15 for keyed-in or Card on File transactions)
Square For Retail (Free plan): 2.6% + $0.10 per swipe, dip, or tap (3.5% + $0.15 for keyed-in or Card on File transactions)
Square For Restaurants: 2.6% + $0.10 per swipe, dip, or tap
There are other fees and costs associated with some of the software features Square provides, such as invoices or the ability to store a card on file. For a more detailed look at Square fees and pricing, check out our article, The Complete Guide To Square Costs For Payment Processing & Software.
Customer Service & Support
Square has invested a lot in building its customer support resources. The support center is loaded with helpful informational articles, walk-throughs, and troubleshooting tips that cover every aspect of Square's services, including advice for dealing with all of Square's hardware.
In addition to the self-help knowledgebase, there are other support options:
Telephone Support: Square's phone lines are open from 6 AM to 6 PM PT, Monday through Friday. You'll need a customer code to use the phone support system, which you get by going through Square's website or the app.
Email Support: If your question isn't urgent, Square's email support tools will let you drop a message to the Square team, and they'll get back to you.
Social Media Support: You can tweet @SqSupport for help if you need, or reach out on Square's Facebook page. This is likely the best option if you've tried the self-support resources and can't find what you need, but it's not ideal for account-specific questions.
On the whole, Square offers good customer support. There are lots of options and exhaustive self-help resources. While the company originally provided very little in the way of customer support when it first launched, it's continued to add more options and features over the years. Today, Square ranks well ahead of most traditional merchant services providers in terms of the quality of its customer support services.
For more information on Square's customer support options, check out our full review of Square Payments.
Square Credit Card Reader User Reviews
Negative Square Reader Reviews & Complaints
While the Square Reader for contactless and chip isn't perfect, merchants generally seem happy with it. The bulk of complaints about Square pertain to funding holds and terminated accounts. No one wants to lose their credit card processing, especially with little to no warning, or have crucial cash tied up for days or weeks, even months.
Positive Square Reader Reviews & Testimonials
While Square's website offers far more information about its products, services, and pricing than just about any competing merchant services provider, it doesn't include any testimonials from actual business users. Nonetheless, positive Square Reader reviews are easily found, particularly from the numerous third-party sellers it partners with to sell its hardware.
Square Card Reader reviews are generally very positive, with reviewers most commonly citing the reader's easy setup, intuitive interface, and low cost compared to competing devices.
Final Verdict: Which Square Reader Should I Get?
With Square, the overall value is astounding — you get a free POS app, free software for invoicing, inventory management, a virtual terminal, and the ability to add loyalty programs, marketing tools, employee management, and payroll features. Considering the predictable, flat-rate pricing for payment processing, the total lack of commitment required to sign up, and the lack of mandatory monthly fees, it's a great deal, especially for new and low-volume businesses.
Nonetheless, the Square Reader for contactless and chip isn't perfect. The lack of an integrated magstripe reader won't be a problem in the future, but today it can put you in an awkward situation if you need to switch to the magstripe reader while trying to complete a transaction. The price point ($49, with a three-month financing plan available) is appealing, and it's one of the lowest-priced options for contactless payments around.
If you've had any hands-on experience with the Square Reader for contactless and chip, be sure to tell us about it in the Comments section below!
Square Credit Card Reader FAQs
---
The Merchant Maverick Seal of Approval 🏆
Square Credit Card Readers


---
After hours of in-depth research and evaluation, we can confidently recommend this brand to our readers. Get started today and see Square Credit Card Readers for yourself.
The Merchant Maverick Seal of Approval 🏆
Square Credit Card Readers


---
After hours of in-depth research and evaluation, we can confidently recommend this brand to our readers. Get started today and see Square Credit Card Readers for yourself.