5 Best Pharmacy POS Systems In 2023
Ideally, a pharmacy POS should include HSA and FSA payment acceptance and should also integrate with your medical billing and pharmacy management systems.
Expert Analyst & Reviewer

UPDATED
Advertiser Disclosure: Our unbiased reviews and content are supported in part by
affiliate partnerships
, and we adhere to strict
guidelines
to preserve editorial integrity.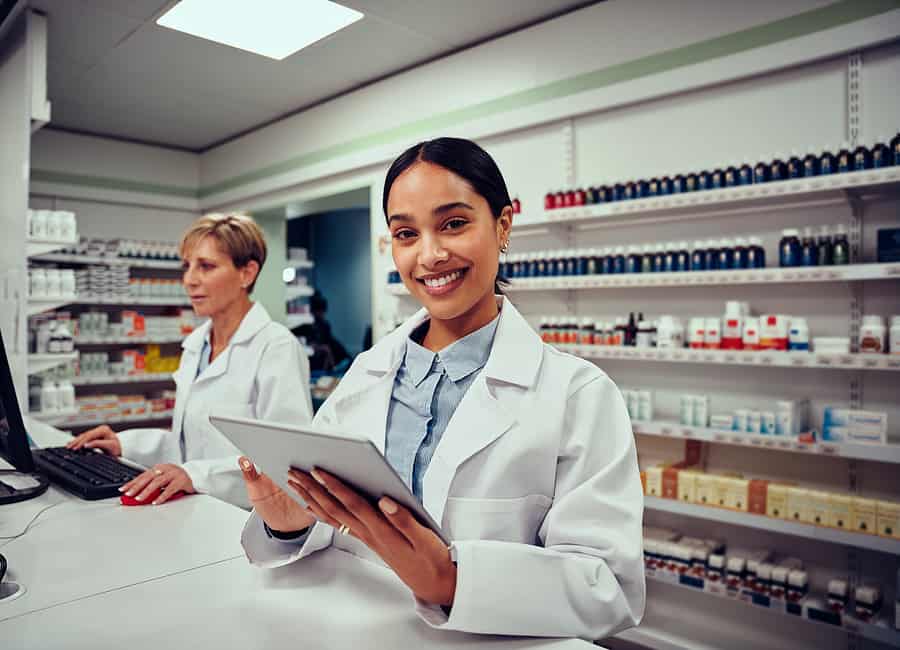 The best POS system for your pharmacy will process payments and manage your inventory, employees, and customers.
Ideally, your pharmacy point of sale software should also have pharmacy-specific features, such as Health Savings Account (HSA) and Flexible Spending Account (FSA) payment acceptance. It should also integrate with your medical billing and pharmacy management systems. A pharmacy POS can even include online ordering and prescription delivery.
Instead of expensive, Windows-based pharmacy point of sale systems, modern pharmacies are choosing cloud-based pharmacy POS software for its affordability, flexibility, and ease of use.
Read on to learn about the top tablet-based cloud POS software for pharmacy businesses.
Learn More About Our Top Picks
Company
Best For
Next StepsBest For
Lightspeed Retail POS
Best for advanced retail features.

Best for advanced retail features.

Shopify POS
Best for in-person + online orders.

Best for in-person + online orders.

Square POS
Best free pharmacy POS.

Best free pharmacy POS.

Cashier Live
Best for pharmacy software integrations.

Best for pharmacy software integrations.

Clover POS
Best for ease of use.

Best for ease of use.

Show Fewer Options
Read more below to learn why we chose these options.
Top Pharmacy POS Software
The best pharmacy POS systems are:
1. Lightspeed: Best For Advanced Retail Features
Lightspeed Retail POS


---
Limited time offer. Sign up to Lightspeed by March 31st and get up to $1,500 in complimentary hardware. Claim this offer today.
Pros
Integrates with TSYS (formerly Cayan) for FSA/HSA acceptance
Third-party delivery app integrations for local Rx delivery
Advanced inventory tracking and reporting
Vendor and supply chain management tools
Cons
It can get expensive if you want all the options
No out-of-the-box pharmacy software integrations
Early termination fee
Monthly Fees
Pricing ranges from $89 to $269/month ($69/month to $199/month with annual billing). Lightspeed also has quote-based enterprise pricing for large businesses.
All plans come with one POS register. To add extra registers, you'll pay $59/register/month.
Plans also come with Lightspeed Payments, Lightspeed's in-house payment processor. If you decide to use another payment processor, you'll pay an additional $50/month on top of your monthly subscription.
Hardware Cost
Lightspeed's POS hardware is iPad-based, and you'll have to contact the company for a personalized quote. You can also source your hardware yourself.
Payment Processing
Lightspeed provides flat-rate payment processing via Lightspeed Payments at a rate of 2.6% + $0.10.
Lightspeed also integrates with several other payment processing solutions, including TSYS, Vantiv, and 2Accept for cannabis pharmacies, but you'll pay an additional $50/month to use anything other than Lightspeed Payments.
Contract Requirements/Warnings
To get the best pricing for Lightspeed, you'll need to prepay for one year. However, we often advise readers to sign up for short-term monthly plans before dedicating themselves to the long term. This is because many POS providers (Lightspeed included) charge an early termination fee for canceling a plan early.
You also need to use Lightspeed Payments to get the best monthly subscription rate. If you use a different integrated payment processor, you will pay an extra $50/month to do so. This extra fee may be worth it for larger businesses that can offer better payment processing rates than Lightspeed.
If you purchase hardware from Lightspeed, you must confirm that you have received it within five business days. Otherwise, your hardware will not be covered under Lightspeed's hardware warranty (14 days for Apple products and 30 days for non-Apple products).
Where Lightspeed Really Shines
Lightspeed is a premium POS for retail businesses, including pharmacies. Primarily this is because Lightspeed is the leader as one of the best POS systems for inventory management. This pharmacy POS harnesses the power of the cloud to provide advanced retail features, including inventory management, vendor management, customer management, loyalty, accounting, and eCommerce.
Lightspeed is as flexible as it is powerful; its open API allows you to build your own third-party pharmacy software integrations to customize your perfect pharmacy POS.
Get Started With Lightspeed Retail POS
2. Shopify: Best For In-Person + Online Orders
Shopify POS


---
Pros
It makes it easy to add an online store to your brick-and-mortar pharmacy
FSA/HSA payment acceptance through Shopify Payments and other integrated processors
Multichannel inventory syncing
Used by several online pharmacy brands
Cons
Limited offline mode
No dedicated merchant account with Shopify Payments
Monthly Fees
Pricing for a basic Shopify POS + Shopify website ranges from $29 to $299/month (billed monthly) with unlimited devices on all plans. To add the full suite of POS features, including advanced inventory, you'll need to add Shopify Pro, which is an additional $89/month. Shopify also offers a Shopify Starter plan ($5/month) for mobile processing only and Shopify Plus plans for enterprise-level businesses.
Hardware Cost
Shopify sells hardware bundles and individual hardware components; you can also source your iPad or Android POS hardware yourself. Shopify's most affordable bundle, which includes a stand for a 9.7″ iPad and a card reader, is priced at $219.
Payment Processing
Shopify has an in-house payment processing service called Shopify Payments, which is powered by Stripe. Rates range from 2.3% to 2.7%, depending on which Shopify plan you're on. You can also integrate a payment processor of your choice for an additional transaction fee.
Contract Requirements/Warnings
All Shopify plans are month-to-month with no long-term commitment required. Note that Shopify Payments is a payment service provider similar to Square or PayPal, which means you will not have your own dedicated merchant account.
Where Shopify Really Shines
Shopify is a complete commerce solution for both online and brick-and-mortar businesses. However, Shopify especially shines in terms of its eCommerce features. If you work with a developer, there's nothing you can't do with a Shopify website. Notably, Shopify Plus powers multiple enterprise-level online pharmacies, including Meagher's Pharmacy and Lloyd's Pharmacy.
Even for a smaller pharmacy, Shopify has numerous eComm integrations that can be useful for pharmacies that want to sell in-person and online, including SnapRx, Retail Management Solutions, and various age verification apps.
3. Square: Best Free Pharmacy POS
Square POS


---
Pros
Accepts FSA/HSA cards
Integrates with EHR and medical billing software
Free POS app
Free business website
Cons
Must use Square for payment processing
Monthly Fees
Square POS has no monthly fee. Square also offers two versions of Square for Retail if you want advanced inventory features, including a free and paid ($60/month) version.
Hardware Cost
Square sells POS hardware for iPad as well as its proprietary Square Register ($799) and Square Terminal ($299); you can also source your POS hardware yourself. Square accounts come with a free card swiper, though most pharmacies will want a more secure $49 chip and tap reader, which you can use with an iPad or Android tablet.
Payment Processing
Square charges a flat rate of 2.6% + $0.10 for all in-person transactions. Square also offers custom pricing for enterprise businesses that process over $250K/month. You do not have the option to use a different payment processor with Square.
Contract Requirements/Warnings
All Square plans are month-to-month with no long-term commitment required. Square is a third-party payment processor/payment service provider rather than a merchant account provider, which can result in account stability problems for certain businesses.
Where Square Really Shines
For a free POS app, Square offers a ton of functionality. Not only is Square perfect for basic, easy-to-use payment processing, but this free POS also has a ton of extensions and app integrations that extend its functionality for any business type, including healthcare businesses such as pharmacies. Some examples include DrChrono EHR & RCM, Remedly, IntakeQ, and Reference Health Payments. Square also includes FSA and HSA payment acceptance out-of-the-box as long as you have an eligible MCC (merchant category code). Even enterprise-level companies such as QuigMeds have integrated Square technology into their pharmacy POS systems.
4. Cashier Live: Best For Pharmacy Software Integrations
Cashier Live


---
Pros
Dedicated plan for pharmacies
SIGIS-certified system to accept FSA cards
Integrates with pharmacy management systems
Prescription wholesaler purchase ordering
Cons
Limited offline mode
Expensive hardware
Monthly Fees
Cashier Live's pharmacy plan pricing is quote-based. However, the company says its software provides the best value in the industry, with no hidden fees. Though Cashier Live doesn't list its pharmacy plan pricing, the company's standard retail package is $75/month, which is quite reasonable.
Hardware Cost
Cashier Live can run on iOS, Android, or a computer, which gives you the option to source hardware components yourself. However, the company's hardware bundles are on the expensive side. For example, Cashier Live PayPoint POS hardware for pharmacies goes for $2,599.
Payment Processing
Cashier Live offers a flat rate of 2.7% on each transaction. The POS company does not integrate with other processors.
Contract Requirements/Warnings
Cashier Live contracts are billed month-to-month with no long-term contract required. However, you can receive a discount if you commit to a year or more.
Where Cashier Live Really Shines
The main benefit of using Cashier Live is that it has pharmacy POS features out of the box, including built-in integrations with other pharmacy software systems. In fact, Cashier Live was the first web-based SIGIS (Special Interest Group for IIAS Standards)-compliant POS system built for pharmacy needs. Other pharmacy-specific POS systems tend to be locally-installed and exorbitantly expensive, so Cashier Live is a great cloud-based alternative. Some industry-specific integrations included with Cashier Live are SpeedScript, HBS, Carepoint, RNA, and MethCheck (for pseudoephedrine sales).
5. Clover: Best For Ease Of Use
Clover POS


---
Pros
Plug-and-play POS system
Can accept FSA/HSA cards through Clover payments
It also integrates with healthcare-friendly payment processors, such as Dharma
Cons
Proprietary hardware can't be used with other systems
Sold by some low-quality MSPs
Monthly Fees
Clover's Register Plan (for any business type) starts at $44.95/month for one terminal if you purchase your equipment upfront. You can also opt to lease your equipment and receive the Register plan starting at $90/month. Clover also has an option that includes a virtual terminal to key in credit card payments online for $14.95/month.
Hardware Cost
Clover's flagship Clover Station POS is $1,349. If you want a customer-facing screen, you can upgrade to the $1,799 Clover Station Duo. Other hardware options include the $799 Clover Mini and the mobile $499 Clover Flex.
Payment Processing
If you purchase your system directly from Clover, payment processing fees range from 2.3% to 2.6%+ $0.10, depending on your monthly software plan. Various other entities also sell Clover with different (and often more expensive) payment processing structures.
Contract Requirements/Warnings
Hundreds of different merchant service providers sell Clover, and not all of them are top-notch. While software purchased from Clover directly are all month-to-month with the ability to cancel at any time, other providers may sell Clover with sneaky long-term contracts and hidden fees.
Where Clover Really Shines
Clover is an incredibly easy-to-use system that's a breeze to set up and train your employees on. Pretty much as soon as you receive your POS hardware, you can plug it in, activate it, and start taking payments. It's a good system for basic payment acceptance if you don't need a lot of pharmacy-specific features — although its REST API means you can integrate other REST-ful applications. Clover is not IIAS-compliant (which is required to accept HSA/FSA payments as a non-medical retailer), but as long as you have an eligible MCC code (MCC 5912 or 5122 for pharmacies), you can accept HSA and FSA cards with Clover.
Looking For One Of These Names?
The following are all highly rated retail POS systems that pharmacies might be interested in, but I couldn't find any pharmacy-specific information regarding these POS providers. While it is highly possible that you could use one or more of these POS systems at a pharmacy, you would need to verify with the provider that the system has any pharmacy-specific features your business requires.
Revel
Revel Systems is a retail and quick-serve POS for iPad. The POS is highly customizable and has an open API. Revel can also integrate with various payment processors, though you'll receive the best deal ($99/month) if you sign a three-year processing contract with Revel Advantage.
Vend
Vend by Lightspeed is a web-based retail POS that you can run from any device with a web browser or the dedicated Vend POS app for iPad. Vend has strong inventory, loyalty, and customer relationship management features. Vend integrates with Square, PayPal, and other processors, with pricing starting at $99/month.
Hike
Hike is an affordable retail POS that can be used on any iPad (via the Hike app) or any Mac or PC (through a web browser). Hike POS integrates with multiple processors, including iZettle and others. Pricing starts at just $59/month when paid yearly.
Epos Now
Epos Now does have a pharmacy-specific plan, but the company does not state any specifics about what pharmacy-related features its pharmacy point of sale software might include. Epos Now sells a hardware package at $249 or $39 per month, though this offer requires a three-year term and a support subscription at $59/month. Epos Now integrates with EVO, Worldpay, and International Bancard for payment processing.
Finding The Best Pharmacy Point Of Sale System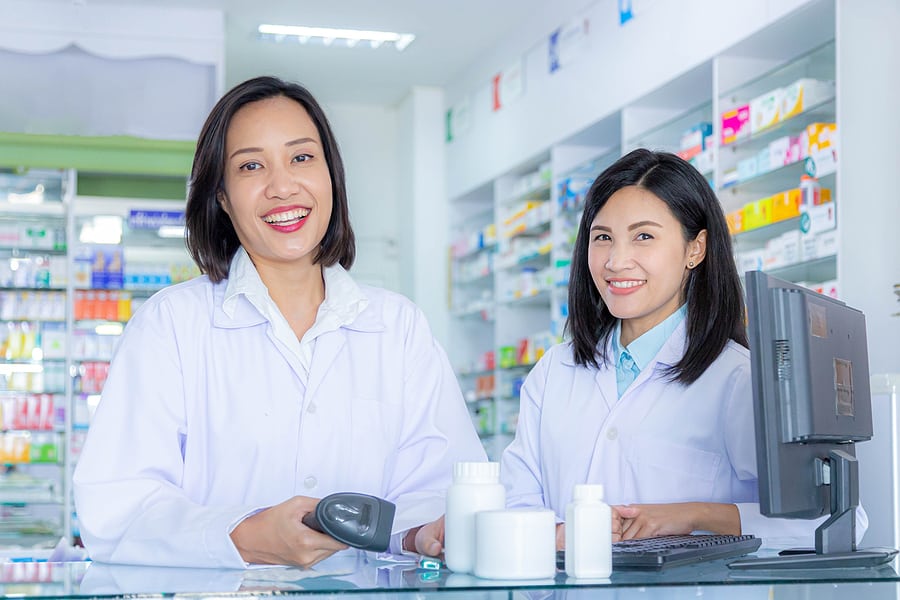 When it comes to choosing among the above pharmacy pos systems or any other of the best POS software for small businesses for pharmacy use, it's important to verify that the POS does everything you need it to. This is especially necessary for a highly regulated industry such as the pharmacy industry.
For example, you may need an IIAS-compliant system to accept FSA or HSA cards (the IRS requires this if less than 90% of your gross sales are from prescriptions and over-the-counter qualifying healthcare products). Or, if you run an online-only pharmacy that fulfills prescriptions based on telephone consults, you'll likely need a high-risk merchant account. Additionally, you will need to determine if a POS can integrate with your insurance billing and pharmacy management systems.
To learn more about healthcare payment processing, read The 7 Best Healthcare Credit Card Processing Companies For Medical Practices & 5 Important Concerns. Here are some more resources worth checking out:
In Summary: Top Pharmacy POS Software