Clover Go App & Card Reader Review
Clover Go has everything merchants need to take mobile credit card payments, but your pricing and experience can vary widely, depending on what reseller you buy from.
Expert Analyst & Reviewer

Updated on:
Advertiser Disclosure: Our unbiased reviews and content are supported in part by
affiliate partnerships
, and we adhere to strict
guidelines
to preserve editorial integrity.
Clover Go

Pros
Inexpensive hardware
Free mobile processing app
Good web dashboard
Numerous features
Cons
Pricing and terms vary
Expensive for low-volume merchants
Clover Go Overview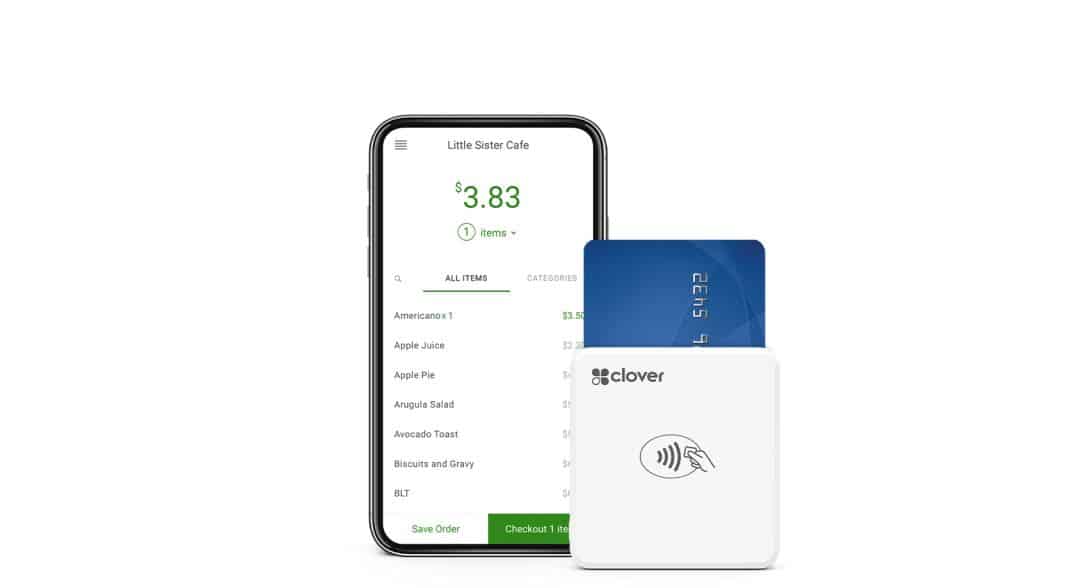 At first glance, it might be tempting to assume that Clover Go is pretty much like every other mobile POS (mPOS) app out there. It's even got integrations with a full-fledged POS system (Clover Station), making it sound, at least on paper, like a pretty viable competitor to Square. Bring your smartphone or tablet, install the free app, then connect a card reader. Pretty simple stuff, right?
Scratch the surface, though, and you'll discover there's a lot more to Clover Go. First, because Fiserv (formerly First Data) backs the entire Clover line, you get a proper merchant account. That will give you more account stability. However, because Clover Go is available through Fiserv's extensive network of resellers, prices and contract terms can vary from one seller to the next.
As with many mobile processing options, Clover Go isn't for everyone. If you're already using Clover products and need a mobile extension, it's the obvious choice. However, if you're a micro-merchant who only processes infrequently and in low volumes, I strongly encourage you to look elsewhere.
What Is Clover Go?
Clover Go is a mobile POS app and Bluetooth credit card reader. Clover Go integrates with your other Clover POS devices or can be used as a standalone mPOS. Clover Go comes with a Fiserv merchant account and flat-rate processing when purchased from Clover.com.
Clover Go Pricing
Clover Go pricing includes pricing for the device itself and your monthly Clover software plan. Generally, Clover Go is pretty affordable for small businesses — if you buy from Clover directly.
Clover Go Hardware Pricing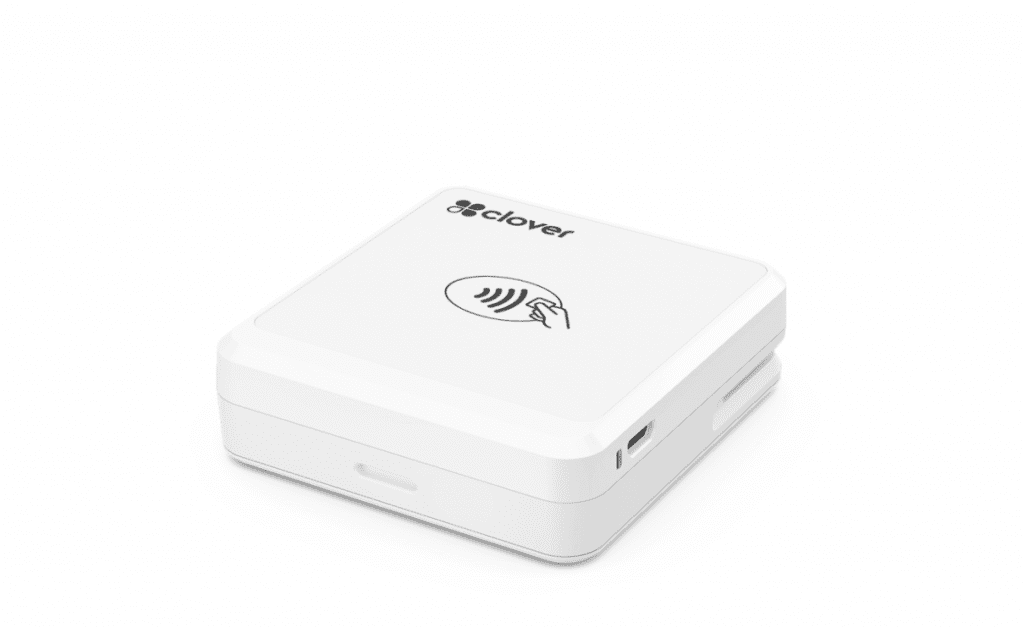 A Clover Go mobile payment reader is $49 if you buy from Clover.com (the price recently came down from $99). However, depending on where you buy your Clover system and associated merchant account, pricing can vary. Some merchant services providers may give you a free Clover Go if you sign up for a merchant account, while others charge more than $100 for the device.
Clover Go Software Pricing
Clover recommends the following plans for use with Clover Go:
| Clover Monthly Plan | Price | Features | Best For |
| --- | --- | --- | --- |
| Clover Payments | $0/month | Payment processing, paperless receipts, basic sales tracking | Low-volume mobile payment processing only |
| Clover Essentials | $9.95/month | Payments plan features, plus virtual terminal, basic inventory management, order management, refunds, discounts, taxes, employee permissions, item-level reporting, and offline mode | Low-volume mobile processing with some basic POS features |
Clover Payments Features
Payment processing (swipe, chip, or tap)
Paperless receipts
Basic sales tracking
24×7 support
Clover Essentials Features
Payments plan features
Virtual terminal for online processing
Offline mode
Basic inventory management
Order management
Refunds
Discounts
Charge tax at the item level
Employee permissions
Item-level reporting
Export basic reports
With either of these plans, you will pay a flat processing fee of 2.6% + $0.10 for all in-person transactions and 3.5% + $0.10 for all keyed-in transactions. Either of these plans is generally suitable for low-volume mobile businesses processing less than $50,000 a year. Then again, the $9.95/monthly fee on the Essentials plan can seem like a lot for a very low-volume business, especially when there are free mPOS available, such as Square and Zettle.
Alternatively, higher-volume businesses have the option to use Clover Go with a more advanced software plan, such as the Register plan or a restaurant-specific plan. However, you won't fully benefit from a higher-tier plan unless you are using the Go in addition to a complete Clover POS system, such as a Clover Station or Clover Mini. Learn more about Clover software plans and pricing by reading How Much Does Clover Cost? Your Ultimate Guide To Clover Fees.
Note that if you do not buy from Clover directly, your merchant services provider may also charge additional monthly fees to use Clover Go.
Clover Go Features
You get a full merchant account with Clover Go, which should deliver greater account stability than third-party processors (such as Square or PayPal). That also means it may take a few more days to get set up with Clover while Fiserv completes the required underwriting. So you shouldn't expect to be set up and able to process payments on the same day.
The Clover Go feature set is limited compared to Square's but functional, with some features tucked behind a paywall. Note that most of these features require the Clover Essentials plan or higher, and many features need to be enabled from within the browser setup and cannot be modified in the Clover Go app:
New Sale: Every mPOS out there has a quick-pay mode where you just punch in an amount and swipe a card. Clover Go is no different in that regard. Ring up items in the New Sale tab, either by selecting them from your inventory list or entering a custom item and price, and have customers sign for their purchase on your device's screen. This screen is optimized in landscape mode on the app's iPad version.
Card Scanner: If the card readers aren't working for some reason, you can use your device's camera to scan the card instead of manually entering it.
Dashboard: In your Clover Go mobile dashboard (as opposed to your Clover's web dashboard, which is a separate thing), you can update your business details, add employees, and view weekly sales data.

Inventory: What sets Clover Go apart is its inventory mode. Most mPOS systems allow you to punch in a mix of items and a custom amount if needed. Clover Go, on the other hand, has a separate, searchable inventory mode that lets you view and edit items as well as add new items. However, this feature isn't available on the free plan.
Item Descriptions: Pretty standard stuff here: You can see and edit an item's name, price, category, tax rate, etc. Previously, you could only create items from within the Clover dashboard. You can now ring up custom items in the app and add these new items to your inventory either from the New Sale screen or the Inventory screen. Previous versions of Clover Go also didn't support variable pricing or pricing per unit, so I was glad to see that Clover now supports these pricing options.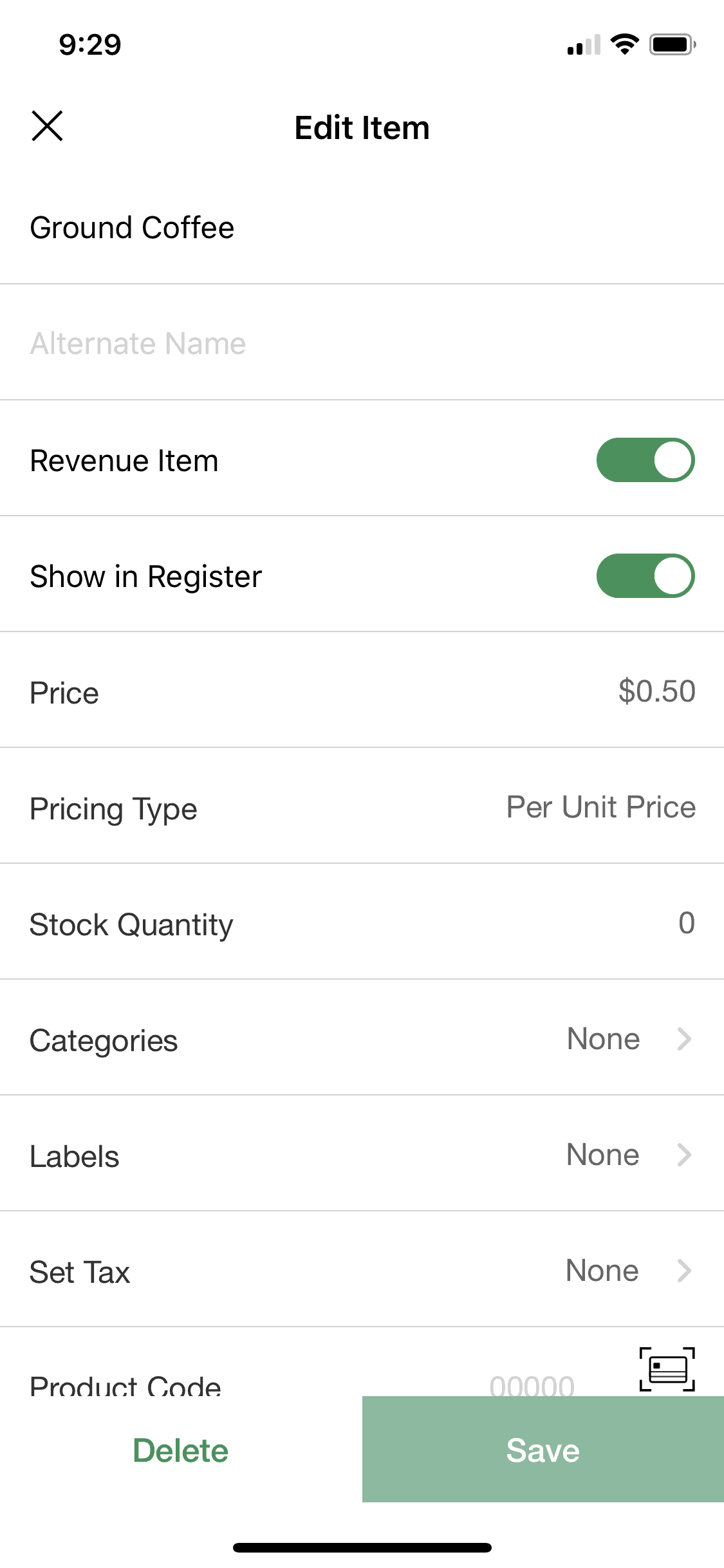 Item Counts: Clover Go doesn't have robust inventory counts. However, there is an integration with the dashboard where items sold in Clover Go will deduct from your inventory counts. Refunds will not restock items, however.
Customizable Tip: You can enable tipping within the web dashboard and set up to four preset tip amounts.
Customizable Tax: Clover Go's tax management tools aren't as robust as other options I've seen, but I'll give Clover credit for allowing the application of multiple taxes to items. You can choose from some preset tax rates for an item in the app, but the tax rate options need to be managed from the dashboard.
Refunds: You can issue full and partial refunds from within the app.
Email/SMS Receipts: You can send a text message or email receipts to customers when a transaction is complete.
Clover Suite Integration: Clover Go will sync back to the dashboard and work with other data if you're using additional Clover products. However, not all of the features the other devices support translate into Clover Go.
Unlimited Users: I was pleasantly surprised to learn that Clover allows you to create unlimited sub-user accounts for free. Clover also supports different permission levels so that you can control access to some features.
Open Orders: This surprising feature allows you to pull up orders started in any other Clover POS system in Clover Go and vice versa, which is a nice touch, though only available with "Register" level plans (vs. the cheaper "Register Lite" plan).
Barcode Scanning: iOS users can scan barcodes to find items instead of searching for them within the app.
Searchable Interface: You can find items by entering them in the search box instead of just scrolling through the list, which is another nice touch.
Discounts: The Clover Go app's major update added a much-needed discounting feature. This feature allows you to add preset percentage-based or value-based discounts and create new percentage- and value-based discounts on the fly. However, you can only add discounts to the entire order, not individual items.
Reports: The reporting suite includes the following (fairly basic) reports: Sales Overview, Sales Report, Tender Types, Card Types, Item Sales, Removed Items, Requested Reports, Order Types, Employees, Discounts, and Taxes. Recently, Clover improved the Export feature for the Sales Report and the Item Sales Reports, allowing you to be more flexible about the data you export.
Is Clover Go User-Friendly?
The Clover Go app is easy to use and navigate, though it will take a little time to configure most settings in a web dashboard rather than in the mobile app itself. Once you get the hang of the functions, Clover is just as user-friendly as any mobile POS app.
The device itself is also user-friendly if a bit clunky. Unlike Square's Bluetooth reader, Go can accept swiped transactions as well as EMV and NFC. Clover Go doesn't support a receipt printer or cash drawer, so if you want something that can also do register duty, you'll want to look at another Clover product or consider something such as PayPal Here or Square.
Customer Service & Support
Clover offers the following support channels:
24/7 phone support
Email support
Online knowledgebase
There is one dedicated 24/7 line for Clover Go support. You can also typically reach out to your processor for merchant account questions. However, for technical questions, you're certainly going to get referred back to Clover's support line. You can also email queries, but there's no information about response times.
Clover also has a pretty comprehensive self-service online knowledgebase for basic tech support. This will serve you well for the vast majority of questions about features and standard uses.
Payment Processing With Clover Go
As mentioned, all Clover Go accounts come with a Fiserv merchant account, but your rates and terms will depend on where you buy your system from.
When purchasing from Clover.com directly, you'll get flat-rate, month-to-month pricing with rates starting at 2.6% + $0.10. But other Clover resellers package their Fiserv accounts differently and may use various other processing schemes, such as interchange-plus or tiered pricing, with potentially long-term processing commitments.
Contract Length & Early Termination Fees
Your terms depend on your Clover vendor. Again, Clover.com accounts are month-to-month — meaning you can stop using the service at any time without incurring any early termination fee (ETF). But if you use Clover Go with another provider, your contract may potentially include a multi-year contract with an early termination fee. If you're using other Clover products already, Clover Go will most likely function as an add-on package with a potential monthly service fee on top of your contract and hardware lease.
For these reasons, it is imperative that you review your contract and pricing terms carefully when setting up a Clover Go account. You may even be able to negotiate a waiver for the ETF — just make sure you get everything in writing and signed. Verbal agreements aren't enforceable. We've read far too many complaints from merchants who were told by a sales rep (from many different companies) that their contract had no ETF, only to find out that's not the case.
Clover Go Integrations & Add-Ons
One of the major selling points for Clover's systems is the app marketplace, which can extend the functionality of your POS in all sorts of ways, from adding customer loyalty to CRM and engagement.
You'll find dozens of special-feature apps from Clover and third-party developers. Unfortunately, very few apps currently work with Clover Go aside from those that function only on the web. In theory, you could use some of them because Clover Go syncs to the web dashboard, but it probably wouldn't be worth the cost considering that you couldn't use that software with the Clover Go app.
And if you want a QuickBooks integration (or Xero), that'll cost you a minimum of $19.95/month. I've seen this come up several times in complaints about the Clover suite on the whole.
Clover Go Reviews
There is no separate BBB complaint page for the Clover software, and the First Data/Fiserv complaint page has too many entries to sort through effectively. It's unclear how many of these complaints relate to the Clover software. After looking over a sampling of recent BBB complaints, I found that few of them mention Clover in general, and almost none mention Clover Go.
A better source of information is mobile app reviews. On Google Play, the Clover Go app has a rating of 3.3/5 stars with 468 reviews. On the iTunes store, Clover Go has a more impressive 4.7/5 stars with 13,700 reviews.
Negative Clover Go Reviews & Complaints
Here's what I've seen overall as far as frequency of complaints in Clover Go reviews:
Card Reader Troubles: This is an especially common complaint among Android users. Specifically, users seem to have trouble connecting the standard headphone jack reader to their phones, forcing people to get new readers and manually key in transactions. You can get around this by opting for the all-in-one Bluetooth reader, which seems to solve most merchants' issues. If you have a new iPhone, this is your only option.
Lack Of Features: The Clover Go app is functional but very basic compared to a full-featured POS or even a system such as Square, which blurs the line between mobile and full-fledged POS. You can't manage a lot of settings from within the app, and the tablet versions of the app don't support a landscape view mode, which is at odds with a lot of tablet display stands.
Glitchy Software: App crashes and login problems are common and not surprising for complaints. It looks like a recent upgrade accidentally removed the entire custom tip feature from the app, which is the opposite of what you want to happen when you roll out an update. It took about a week to fix, judging from the dates on app reviews and Fiserv's responses. Generally, Android users complain about how the hardware glitches and crashes more frequently than iPhone and iPad users.
Poor Customer Service: Users report long hold times and unresolved issues upon contacting customer support. This echoes the reports we've heard regarding other Clover products and Fiserv in general. However, your experience will vary, depending on who does your onboarding.
Positive Clover Go Reviews & Testimonials
Amid the lackluster reviews and complaints, you'll still find some positive reviews of Clover Go. Here is what happy users praise the most:
Compatible With Other Clover Systems: For merchants already using other Clover products, using Clover Go as a simple mobile solution makes a lot of sense. Information syncs up with an existing Clover account, which is a big selling point.
Good Customer Service: I saw praise of Clover's customer service come up often enough to mention it here, even though there are far more merchants claiming the opposite. Again, your experience will vary. Some resellers do better than others at providing support, especially in the onboarding process. Once you're up and running, you'll deal with Clover directly, and that may not go as well.
Pricing: Again, this doesn't exactly come up a lot, but a handful of merchants say the pricing is comparable to other options. Your experience may vary, but I'm inclined to think the merchants that get the best deals are larger businesses or are using Clover Go as an extension of their existing Clover system.
Final Verdict Of Clover Go
Clover Go is well-rounded overall, and it has everything merchants need to take mobile credit card payments. The account stability you get with your included merchant account is also a big draw. But some aspects of Clover Go — such as needing to modify settings in the web dashboard, not the app — drive me bonkers! And you can certainly get better feature sets from other providers, including Square, which offers its superior suite of mobile POS features for free.
When it comes to pricing and transparency, your experience will vary quite a bit, depending on which reseller you sign up with. However, your terms and pricing should be pretty upfront as long as you sign up through Clover.com directly.
Clover Go generally works best for mid-volume Clover merchants using a countertop Clover Station or Mini as their main POS and want Clover Go for mobile sales. However, in the past few years, Clover has tried to rebrand Clover Go as a standalone mobile POS for casual and low-volume businesses — hence the emergence of the free Clover Payments plan in 2021.
While I would still recommend Square or another mobile card processing app for this type of user, Clover Go does offer the benefit of your own merchant account and can thus be a good alternative for businesses that have been burned by a payment service provider, such as Square, Shopify, or PayPal.
If you decide to go with Clover Go, make sure you purchase your system from Clover.com or one of our recommended Clover resellers.
Clover Go FAQs
---
We've done in-depth research on each and confidently recommend them.
We've done in-depth research on each and confidently recommend them.
To learn more about how we score our reviews, see our
Mobile Credit Card Processing Rating Criteria
.
Read Next