6 Best POS Systems For A Consignment Shop In 2022
The best consignment store POS system for your consignment shop will depend on your budget, feature needs, business size, and other considerations.
Expert Analyst & Reviewer

UPDATED
Advertiser Disclosure: Our unbiased reviews and content are supported in part by
affiliate partnerships
, and we adhere to strict
guidelines
to preserve editorial integrity.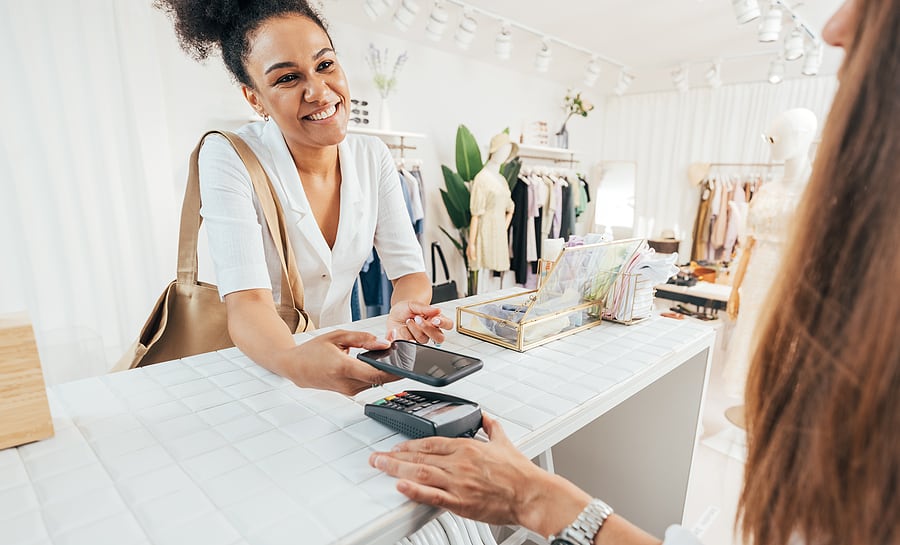 A POS system for consignment shop sales allows your retail business to sell on a consignment basis. Consignment POS features are important whether you own a secondhand store that sells on consignment, or you primarily sell new but also sell some items on consignment. Some POS systems have built-in consignment functionality, while others integrate with third-party consignment shop software.
The following consignment store POS system options will help you add consignment items to your inventory, control consignment payouts, track consignment sales, and more.
Learn More About Our Top Picks
Company
Best For
Next StepsBest For
Square POS
Best consignment integration.

Best consignment integration.

Lightspeed Retail POS
Best built-in consignment.

Best built-in consignment.

Clover POS
Best ease of use.

Best ease of use.

Shopify POS
Best for multichannel selling.

Best for multichannel selling.

talech POS
Best budget POS.

Best budget POS.

Show More Options
Ricochet
Best dedicated consignment software.

Best dedicated consignment software.

Show Fewer Options
Read more below to learn why we chose these options.
6 Best POS Systems For Consignment Shops
A POS system for consignment shops should have consignment management features, as well as a cloud-based design, mobile hardware options, monthly pricing, and affordable payment processing. Some of our favorite consignment store POS software are Square, Lightspeed, Clover, Shopify, talech, and Ricochet.
1. Square: Best Consignment Integration
Square POS


---
Pros
Free retail POS
Free online store
No contract
Integrates with Rose consignment software
Cons
Occasional fund holds
Somewhat basic inventory features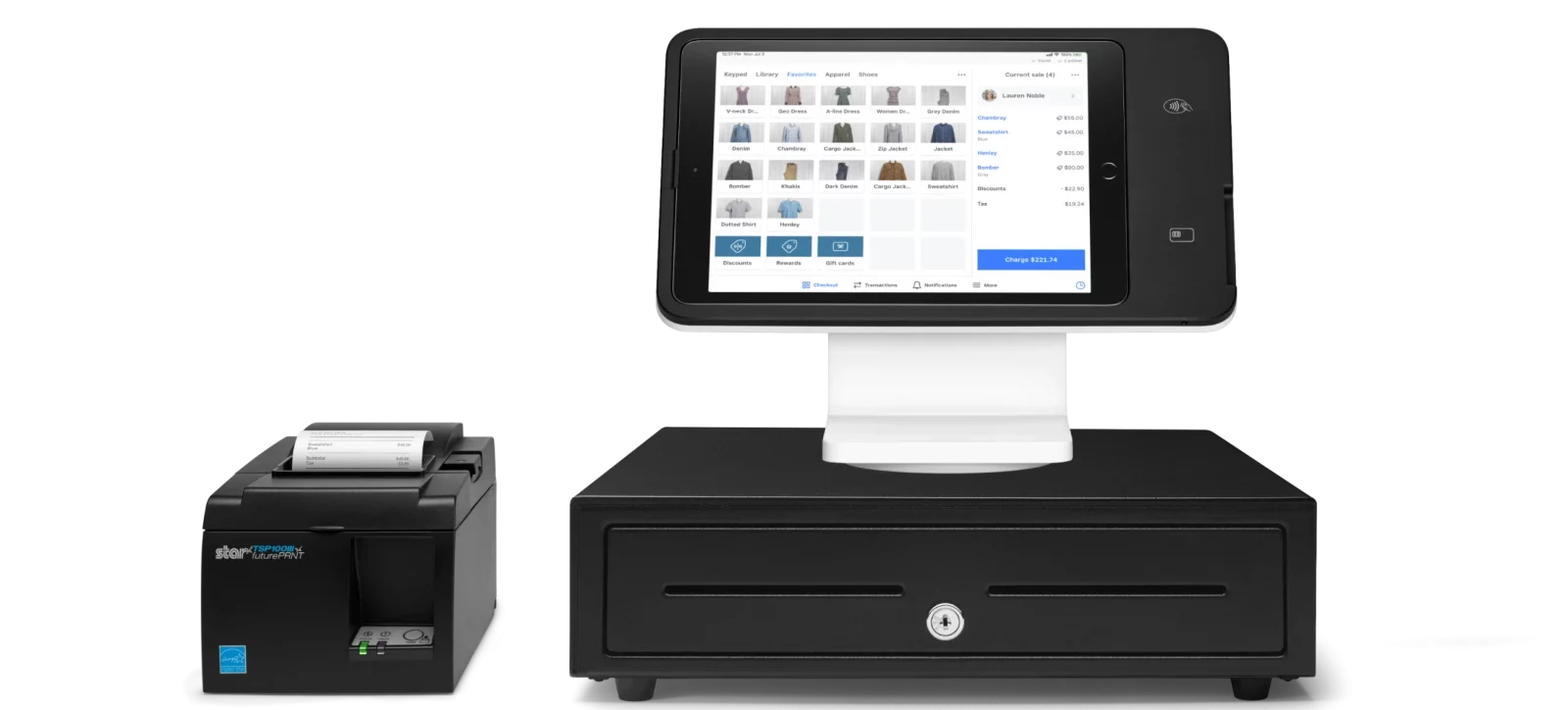 Square Consignment Software Features
Square offers the following consignment POS features:
Consignment sales tracking (via Rose integration)
Unlimited consignors/vendors (via Rose integration)
Split sales by consignor or item (via Rose integration)
Pass CC fees to consignors (via Rose integration)
Track stock
Import/export item library
Manage modifiers, categories, discounts, taxes, and units
GTIN and SKU bar codes (auto-generate SKUs)
Free Square Online store
Free gift cards
Basic team management
Accept numerous forms of payment
Buy online, pick up in-store/return in-store
Print barcodes (Square for Retail Plus version only)
Loyalty program (paid add-on)
Square Pricing
The Square POS app is free, though Square offers various paid add-ons, such as Team Management Plus ($35/month/location and Square for Retail Plus ($60/month/location). To add consignment functionality, you'll need the Rose integration, which starts at $65/month/location.
Hardware Cost
Square offers various hardware options for iOS and Android devices, as well as proprietary POS hardware options, such as Square Terminal and Square Register. Businesses can get one Square mobile credit card reader for free. A typical countertop set up with a Square Register kit includes an all-in-one Square Register (includes tablet and payment acceptance), cash drawer, receipt printer, and paper for $1,389.
Payment Processing
All Square accounts come with built-in payment processing. In-person rates are 2.6% + $0.10 on Square POS and Square for Retail Free plans, or 2.5% + $0.10 on Square for Retail Plus plans.
Contract Requirements/Warnings
Square plans are month-to-month with no contract. Note that Square doesn't come with your own merchant account. Instead, Square uses an aggregate merchant account, also called a payment service provider model, which can lead to account stability issues such as occasional fund holds.
Where Square Really Shines For Consignment Software
Square provides many easy-to-use POS features and is a great value, especially for small consignment shops and any business owner new to cloud POS. Square's only consignment app integration, Rose by Consignor Connect, is similarly affordable and easy to use. The Rose consignment app, designed specifically for use with Square, seamlessly integrates into your Square POS, allowing you to generate consignor contracts, control sales splits and commissions by consignor, and provide a consignor portal so that consignors can see their balances and create their own inventory.
Many retail POS systems provide one or more consignment app integrations, but Square's Rose app seems to be the most seamless consignment app integration available for a cloud POS.
2. Lightspeed: Best Built-In Consignment
Lightspeed Retail POS


---
Pros
Multichannel POS
Excellent inventory features
Built-in consignment functionality
Consignment app integrations
Cons
Advanced features (eComm, gift cards, loyalty) cost extra
It costs more if you use an outside processor or pay monthly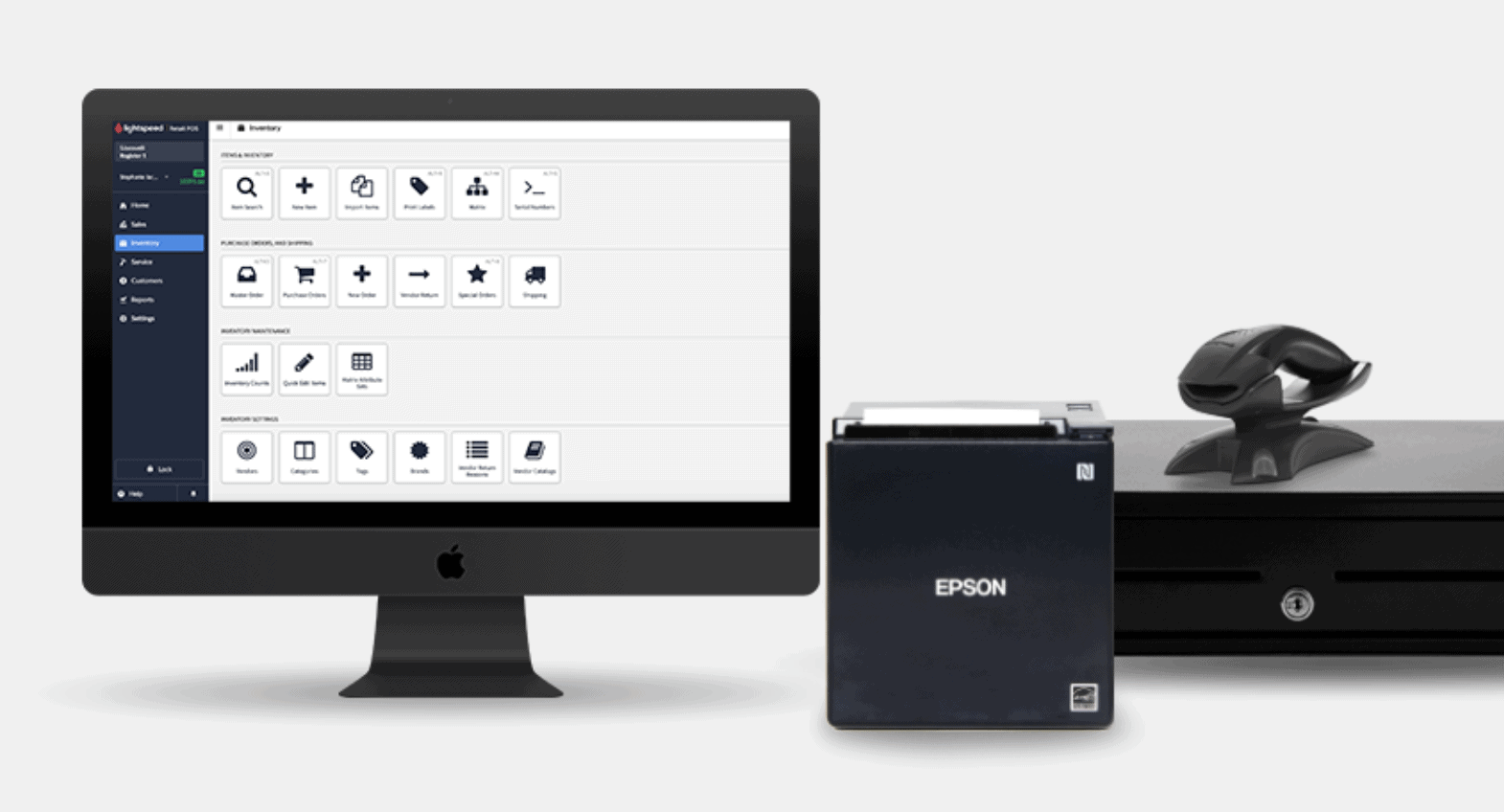 Lightspeed Retail Consignment Software Features
Lightspeed offers the following retail POS features for consignment shops:
Add consignment items to your inventory (manually or through purchase orders)
See what you owe consignors
Integrations with Aravenda Consignment Software and Hyperspace Consignment App
Create bundles with multiple products
Upload <10,000 items at once with item import
Make bulk pricing changes across inventory
BOGO discounts
Generate unlimited barcodes — free barcode tool compatible with all scanners
Holds and layaway
Price books
Basic employee management
Integrated in-house eCommerce (on higher plans)
Omnichannel gift cards (on higher plans)
Social media selling
Lightspeed Retail Pricing
Lightspeed pricing starts at $69/month per register, paid annually, and with Lightspeed Payments as the payment processor. If you prefer to pay monthly, plans start at $89/month. Pricing to add a dedicated consignment app integration varies.
Hardware Cost
You can use Lightspeed Retail with an iPad or Mac desktop setup. You can source your hardware yourself or buy a bundle from Lightspeed. Hardware pricing is quote-based.
Payment Processing
Lightspeed Payments is included on all accounts, with an in-person rate of 2.6% + $0.10. You also can integrate an outside processor, but if you opt to use another processor, you'll pay a higher monthly fee.
Contract Requirements/Warnings
Lightspeed has the option to pay monthly or annually. As mentioned, you'll pay a higher monthly price if you opt for the monthly plan. But with either plan, you can cancel at any time without incurring ETF or any other cancelation fees.
Where Lightspeed Retail Really Shines For Consignment Software
Lightspeed Retail is one of the few multichannel-retail POS systems with built-in consignment functionality. You can set up your shop for consignments using your Lightspeed dashboard, and once you do that, you can start adding consignment articles and seeing what you owe consignors. These consignment features aren't as advanced as you'd get with dedicated consignment shop software, so it might work well for hybrid stores that only sell some items on consignment.
If you need more advanced consignment features, such as consignor management and bulk consignment item import, not to worry. Lightspeed also integrates with third-party consignment software, such as Hyperspace Consignment App and Aravenda.
Get Started With Lightspeed Retail POS
3. Clover: Best Ease Of Use
Clover POS


---
Pros
Affordable monthly plans
Sleek, sturdy hardware
Fast, easy setup
Consignment software integration
Cons
Not all Clover sellers are trustworthy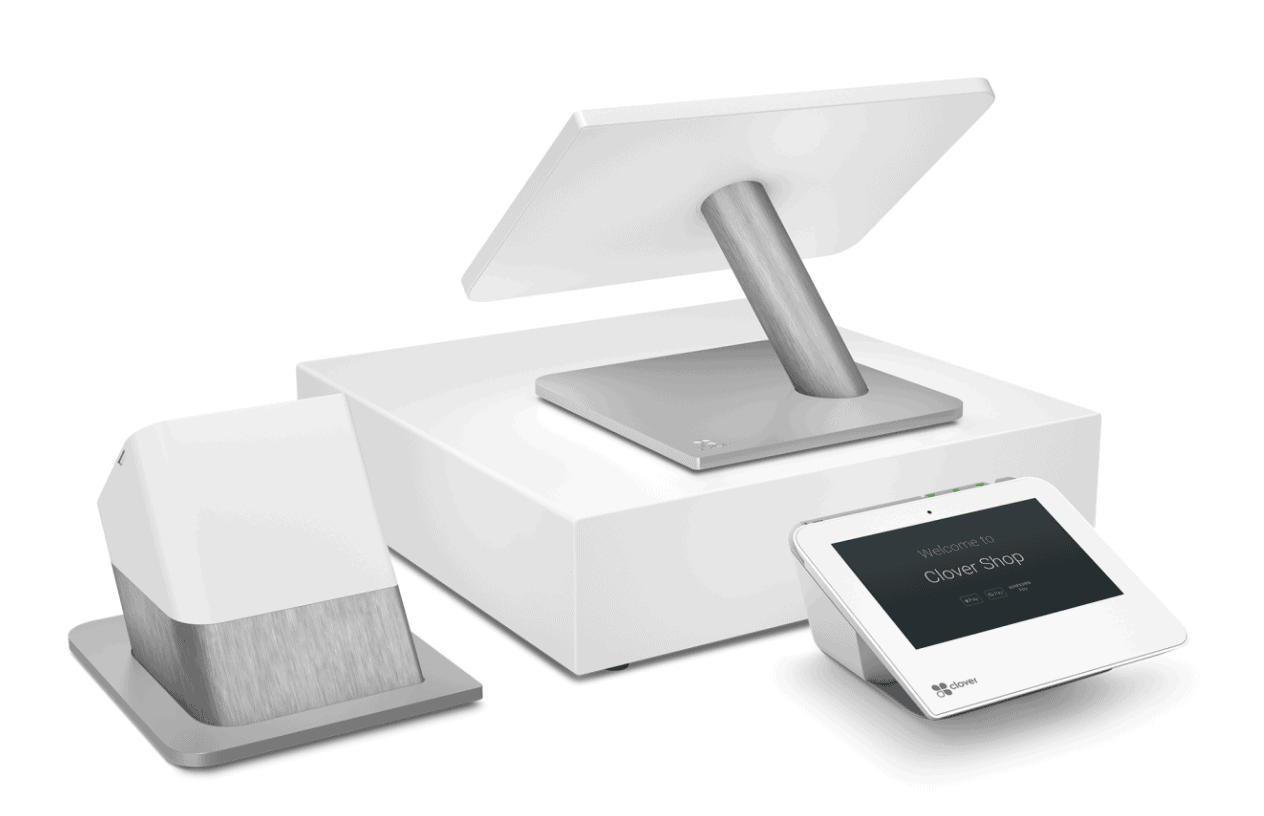 Clover Consignment Software Features
Clover includes these consignment POS features:
Integrates with ConsignAble app by Zoomifi
Track margins for consignors (with ConsignAble integration)
Notify consignors when items are sold (with ConsignAble integration)
Advanced inventory with variants
Sell by weight
Easy item exchanges
Item-level discounts
Built-in loyalty program
Customer tracking system
Generate and print sales reports on built-in receipt printer
Employee management (permissions and shift tracking)
Free Ecwid online store or integrate with an existing e-store
Mobile and traditional gift cards
Clover Pricing
Clover.com plan options include the $0/month Payments plan, $14.95/month Essentials plan, or $44.95/month Register plan. You will likely want the Register plan to get the most out of your system. Additional devices on any plan are +$9.95/month. To add consignment management features, you'll need to add the ConsignAble app, which is $14.95/month or $44.95/month, depending on the subscription level.
Hardware Cost
Clover hardware options include the $499 Clover Flex smart terminal, the $749 Clover Mini countertop POS, or the all-in-one Clover Station. The Clover Station is $1,349 for Station Solo or $1,649 for Station Duo, which has a customer-facing screen. (Hardware prices are MSRP from Clover.com.)
Payment Processing
Plans purchased through Clover.com offer flat-rate processing. Rates for in-person processing are 2.3% + $0.10 on the Register plan or 2.6%. + $0.10 on lower plans.
Contract Requirements/Warnings
Clover.com plans are month-to-month (meaning no contract), and you can cancel anytime. However, contract length and terms may vary if you buy your POS from a different Clover provider. Many merchant services providers sell Clover, and these providers have their own contracts, payment processing models, and unique pricing for hardware, software, and processing. Some providers don't offer very good deals, and some are downright predatory. So make sure you buy your system from Clover.com or another reputable provider.
Where Clover Really Shines For Consignment Software
A major reason why Clover is one of the most popular small business POS options is that it's incredibly easy to learn and start using. So easy, in fact, that you can plug it in and be up and selling within minutes. Accessing consignment selling tools on Clover is also simple and easy.
You can add additional functions to a basic Clover POS setup using apps. The Clover app that lets you add consignment features is called Consignable. To get started with this app, simply open your Clover web dashboard, install Consignable, start configuring settings (such as your margin value) and add your vendors. After initial setup, Consignable will sync your consignment sales data with all your Clover devices. It's as simple as that!
4. Shopify: Best For Multichannel Selling
Shopify POS


---
Pros
Extensive multichannel selling features
Month-to-month plans
Mobile POS module
Integrates with multiple consignment apps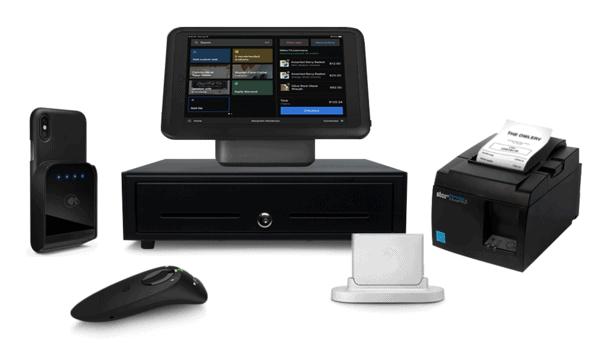 Shopify POS Consignment Software Features
Shopify POS has the following features for consignment stores:
Integrates with Vendor Consignment by Visceral Apps, Aravenda Consignment Software, and ConsignCloud
Multichannel consignment sales (via consignment app integration)
Generate and print barcodes
Manage inventory across in-person, online, and social media sales
Create custom sales and discounts at the register
Accept custom payment methods, partial payments, and deposits
Sell at events with your smartphone using Shopify Lite (included in all plans)
Categorize products in almost any way (by category, type, season, sale, etc.)
Multichannel selling options, such as BOPIS, BORIS, and local delivery
Domestic and international shipping options
Shopify POS Pricing
Shopify pricing starts at $9/month for a Shopify Lite plan with mobile and social media selling. If you sell at a brick-and-mortar store, you'll want at least the Basic plan for $29/month, which also gives you your own website to sell online. Adding the Shopify POS Pro package for an additional $89/month gives you access to even more features.
Integration with consignment apps, such as Vendor Consignment by Visceral Apps, starts at $24.99/month. Shopify's more advanced multichannel consignment software integration, Aravenda, starts at $159/month.
Hardware Cost
Shopify POS runs on iOS and Android devices, which connect to a $49 Shopify Bluetooth payment reader. For the best Shopify POS app experience, an iPad setup is recommended. On its website, Shopify sells hardware bundles such as a $639 Star Micronics mPOP bundle that includes a tablet stand, cash drawer, receipt printer, and hand scanner (iPad not included).
Payment Processing
Payment processing fees depend on your Shopify plan. Fees for in-person transactions range from 2.4% to 2.7% using Shopify Payments. For example, Shopify Lite and Basic plan users will pay 2.7%, while Shopify plan users will pay 2.5%. If you use a third-party processor such as PayPal, you'll be charged an additional transaction fee ranging from 0.5% to 2%.
Contract Requirements/Warnings
All Shopify plans are month to month with no contract or cancelation fees. However, you will save 10% if you pay annually instead of monthly. Shopify Payments is a PSP like Square or PayPal, which means you will not receive your own merchant account but rather an aggregate merchant account.
Where Shopify POS Really Shines For Consignment Software
Shopify is a multichannel retail system that allows stores to sell online, in-person, or some combination of the two. Affordable and completely scalable, Shopify is the ideal POS for consignment stores of any size that want in-person and online selling features. Being the premier eCommerce solution, Shopify also integrates with a ton of apps, including multiple consignment apps.
Shopify's consignment app integrations are all built for multichannel commerce, allowing you to provide consignors with a mobile-friendly vendor portal (ConsignCloud) and pay your consignors directly from PayPal (Visercal). Shopify's Aravenda app is the priciest option but is especially handy for a consignment store that wants to start selling online. This software will take your existing brick-and-mortar consignment store inventory and post it for sale across multiple online channels.
5. talech: Best Budget POS
talech POS


---
Pros
Affordable plans
Multiple hardware options
Multiple processing options
Built-in consignment reporting
Cons
Basic consignment feature
Limited integrations
talech Consignment Software Features
talech includes the following features:
Consignment reports to determine amounts owed to and revenue collected from consignors
Consignment supplier tracking
Appointment booking
Sell items by weight
Barcode label printing
Clock-in/out and timesheets
Multiple roles per employee
Automatic discounts
Exchanges
Store credit
Customer-facing display
Online ordering
Gift cards
Loyalty
Layaway
Inventory alerts
Purchase orders
Inventory log
Stocktake
BOGO discounts
talech Pricing
talech plans range from $0/month for mobile selling only (limited to 100 products) to $99/month for the "'Premium" plan that includes all features, including gift cards, online ordering, purchase orders, and more.
Hardware Cost
talech can operate on iPads and Android hardware, including Ingenico MOBY tablet POS solutions, ELO PayPoint Plus, and Poynt Smart Terminals. You can source the hardware on your own or purchase it directly from talech — you'll need to call talech for ordering information.
Payment Processing
talech partners with numerous banks and payment processing companies, including Elavon, Global Payments, Bank of America Merchant Services, Vantiv, Chase, and others. talech's USAePay gateway expands your processing options even further, allowing talech customers to connect to all major credit card processors in the US.
Contract Requirements/Warnings
talech plans are month-to-month with no contract.
Where talech Really Shines For Consignment Software
talech is a flexible, feature-packed budget POS for retail, restaurants, and other industries. talech provides an excellent value for smaller businesses that want a lot of features at a lower price point — it's not too common for a POS company to offer every single feature for just $99/month.
When it comes to consignment, talech's feature set is somewhat basic, as it allows tracking of and reporting on consignment sales from your web dashboard but doesn't display real-time consignment info on your talech register. So it's best for a business that only needs basic consignment functionality and/or businesses where consignment sales only make up a portion of their total sales. talech does include a lot of general retail features and the ability to take appointments, which can be a useful feature for consignment shops.
6. Ricochet: Best Dedicated Consignment Software
Ricochet


---
Pros
Consignment-specific POS
Multiple hardware options
Mobile POS
Integrated web store
Cons
Limited processing options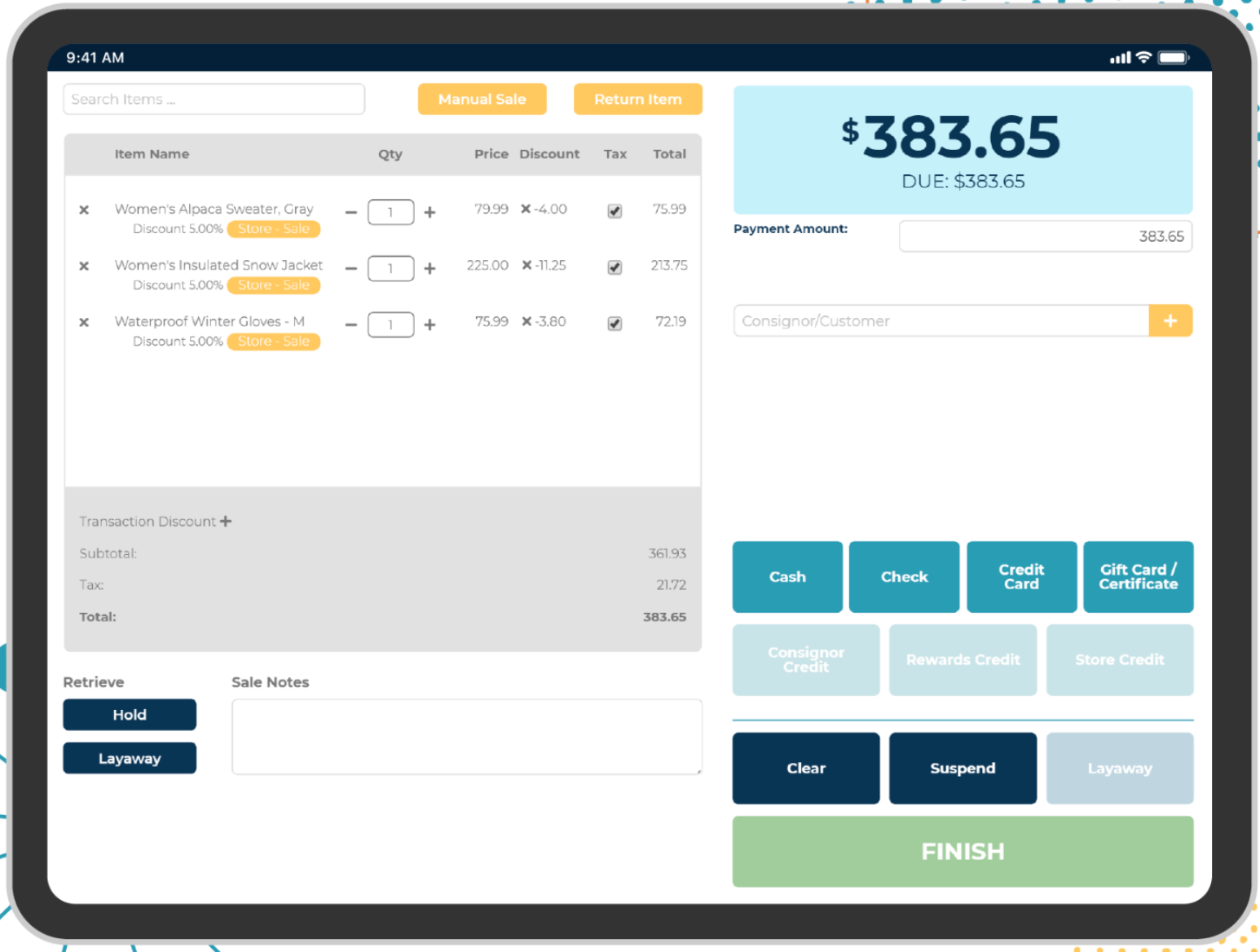 Ricochet Consignment Software Features
The Ricochet consignment store POS system includes the following features:
Consignor accounts and logins
Consignor payout management
Detailed consignment reporting
Online consignment sales
Consignor credit
Unlimited devices and users
Integrated label printing
Advanced inventory management
Custom categories and variants
Auto discounts and expiration
Employee roles and access restrictions
Loyalty rewards
Gift cards
Integrations with QuickBooks and Mailchimp
Ricochet Pricing
Ricochet software pricing is $129/month for all consignment features, regardless of how many devices/registers you use. If you want to pay ahead for a full year of service, you'll save $350. The only optional feature you'll pay extra for is an eCommerce store, which is another $59/month (or save $109/year by paying annually).
Hardware Cost
You can use Ricochet on almost any hardware setup, including iPad, Macs, Windows PCs, and more. Ricochet recommends most businesses use an iPad as the main register and an iPhone for mobile or floor sales. On its website, Ricochet sells iPad hardware kits for $1,168 (includes 10.2″ iPad) and PC/Mac kits (does not include computer) for $506.
Payment Processing
Ricochet uses Gravity Payments as its processor. Gravity is a decent processor that we rate 4/5 stars on Merchant Maverick. Specific rates and terms are not stated on Ricochet's website, but Gravity uses an interchange-plus processing model. Ricochet eCommerce stores also use Gravity Payments in combination with PayPal.
Contract Requirements/Warnings
Ricochet consignment POS plans are month-to-month with no contract. You can save a little by paying annually, but there are no cancelation fees should you stop using the service before the year is through.
Where Ricochet Really Shines For Consignment Software
Ricochet has the distinction of being the first consignment POS for iPad. You can now use Ricochet on other devices (even Android phones!), but it has maintained its user-friendly iPad aesthetic and affordable SaaS pricing model. Ricochet includes a full suite of consignment features with POS features, as it is a dedicated consignment POS — rather than a general retail POS with just a few consignment features or a POS that requires a paid integration with third-party consignment software.
All that said, Ricochet is a great choice for any size or type of consignment store — clothing, furniture, children's, luxury, etc. — that conducts most or all of its sales on a consignment basis. Perhaps the only downside of this software is that you are locked into using Gravity Payments as your processor.
Why We Don't Recommend These Consignment Store POS Systems
The following POS systems came up in our research as systems that consignment store owners are searching for. However, none of them are actually a good fit for consignment stores.
Vend
Vend is an excellent retail POS system that does include consignment features. However, Vend has been acquired by and absorbed into Lightspeed Retail. Vend is now Lightspeed Retail POS (X-Series). If you're interested, you can contact Lightspeed Retail to find out which version of the product will work best for your consignment store.
Shift4Shop
Shift4Shop is not a POS system but an online shopping cart that lets businesses sell online. It does integrate with a mobile POS module for iPad with a basic plug-in card reader, or you can integrate a more fully-featured POS such as Harbortouch (which we don't recommend). Shift4Shop's credit card processor is also problematic for many merchants. Since Shift4Shop doesn't have good in-person selling options or consignment-specific features, it wouldn't be a good fit for most consignment shops.
Korona POS
Korona POS is a great budget POS that can work for various types of retailers, including as a POS for some thrift shops. However, Korona does not include any consignment-specific functionality or integrations.
Loyverse
Similar to Korona, Loyverse is a strong budget option for retail POS. Unfortunately, the system does not have dedicated features to process or manage consignment sales, nor does it offer third-party app integrations with consignment software.
Which Consignment Shop Software Is Right For Your Business?
A POS for consignment shop sales requires some specialized retail features. Consignment shops need a system to track their consignors, the amounts owed to them, and the consignment inventory itself. Consignment shop software may also include eCommerce capabilities to sell consignment items online or a web portal that lets consignors manage their own inventories.
The best consignment store POS system for your consignment shop will depend on your budget, feature needs, business size, and other considerations. Generally, a POS such as Square or Clover is best for smaller, newer stores, while Lightspeed or Shopify will allow you to build an advanced consignment system for more complex needs.
Need capital to start or grow your consignment store? Check out these retail business loans and financing options.
FAQs: Consignment Store POS System
In Summary: 6 Best POS Systems For Consignment Shops