Expert Analyst & Reviewer

Updated on:
Advertiser Disclosure: Our unbiased reviews and content are supported in part by
affiliate partnerships
, and we adhere to strict
guidelines
to preserve editorial integrity.
talech POS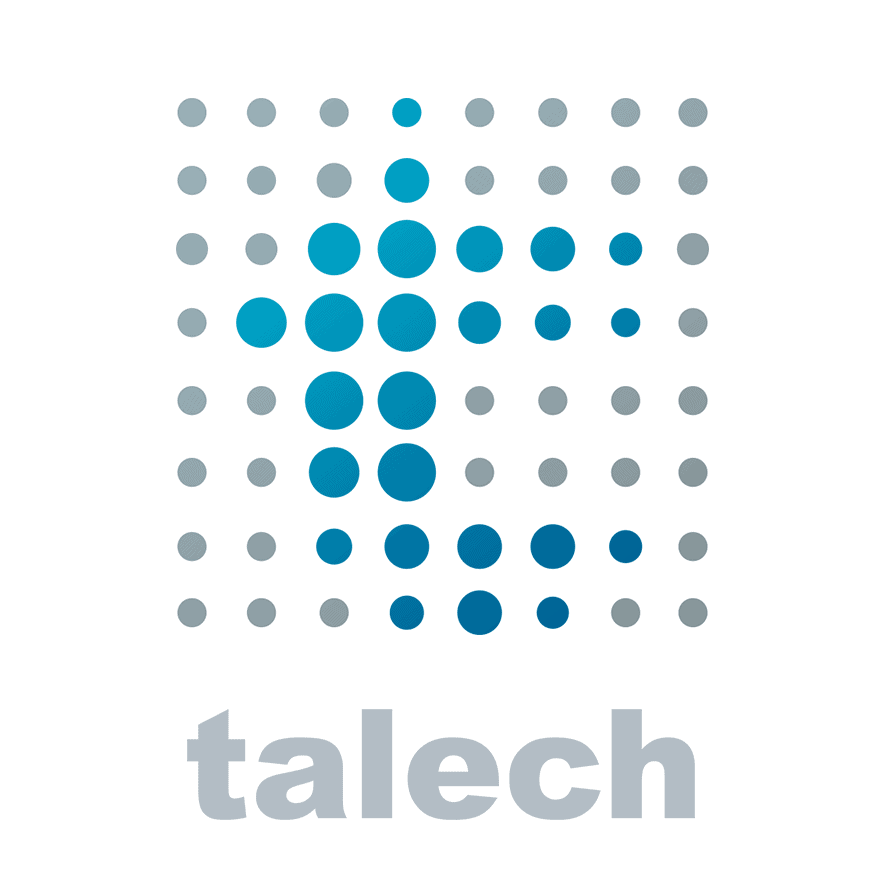 Pros
Competitive monthly pricing
Intuitive UI
Minimal learning curve
Loyalty program
Gift cards
Cons
Limited integrations
Basic reporting tools
talech POS Overview
For a long time now, talech has quietly offered one of the best tablet POS deals on the market. Established in 2012, talech has a robust feature-set and simple layout to put it on par, if not a step above, many of its competitors. Couple that with an affordable starter plan, and talech should be on the shortlist of most small to mid-sized restaurants or retail stores. When the biggest complaint you can make about a product is the gratuitous lowercase "t" in its name, you know you're working with a good system.
While talech is a strong option for both retail and foodservice businesses, you get a ton of bang for your buck in the restaurant industry. The talech register functionality and table mapping features are competitive with most of its major competitors and generally for a lower price. talech also has online ordering features for restaurants and retail and an impressive appointment schedule module for service-based businesses. A lot of software companies brag about how often they update, fix bugs, and release new features, but talech lives up to that claim, employing a large team of developers that are continually tinkering.
Built with advanced inventory features, in-house marketing capabilities, and the ability to integrate with virtually any payment processor, talech takes your standard POS to the next level. There are very few red flags here that would cause you to cross talech off your list automatically. talech's reporting, while improved, still lags somewhat with its offline functionality and eCommerce, and its software integration options also leave something to be desired. That said, this software is still on par with its top-ranking competitors, establishing talech as a formidable contender in the POS market.
Don't have time to read an entire review? Take a look at our top-rated point of sale solutions for a few quick recommendations. Every option we present here offers excellent customer support, detailed user interfaces, and easy-to-use software, all for a reasonable price.
talech POS Pricing
talech has some pretty competitive pricing, especially considering the level of functionality that comes with the software. You can schedule a 30-minute demo before choosing between pricing plans.
Starter: $29/month
Best suited for cafes and basic retail establishments, this plan includes:
Unlimited devices ($29/month for each additional device)
Five employees
100 products
Products with variations and modifiers
Inventory tracking
Employee permissions
Basic order management
Basic reports
Basic loyalty
Full and partial refunds
Basic reporting
Basic customer tracking

24/7 phone and email support
Standard: $69/month
The Standard plan is best suited for quick-service restaurants and mid-sized retailers, and it comes with everything the Starter plan includes, plus:
Unlimited products
Unlimited employees
Multistore support
Bundles
Time-based services
Sell items by weight
Barcode label printing
Clock-in/out and timesheets
Multiple roles per employee
Kitchen printing
Automatic discounts
Exchanges
Store credit
House accounts
Advanced reporting
Kiosk mode
Customer-facing display
External integrations
Premium: $99/month
Premium is best suited for full-service restaurants, multistore retailers, and service-based businesses, such as salons and spas. It includes everything in the Standard plan, along with:
Online ordering
Gift cards
Advanced loyalty
Appointment booking
Inventory alerts
Purchase orders
Inventory log
Stocktake
Table management
Pay by position
Split and merge orders
Coursing
Automatic gratuity
BOGO discounts
Regardless of which plan you're on, each additional device is $29/month.
talech's pricing is month-to-month, which means no long-term commitment. Yay!
You can also add gift cards to your Standard or Premium plan for an additional $19/month. Additionally, you can add online ordering to a Standard account for another $49/month (though it would probably make more sense to upgrade to the $99/month Premium account, which includes online ordering and gift cards).
Finally, talech recently unveiled a free talech Mobile plan, which allows you to use the system on your iPhone or Android phone with a mobile credit card reader and no monthly fee. talech doesn't include a detailed feature list for its mobile plan, but it seems to include most features on the Basic plan, with a 100 product limit. Businesses on paid talech plans will also have access to talech's mobile POS app.
Cloud-Based Or Locally-Installed
talech is entirely cloud-based, which means none of your data is housed locally on your devices but instead stored on external servers. These servers communicate with your device via the cloud and require an internet connection to do so. Its offline mode is also a bit behind the times, which means, unfortunately, that in the event of an outage, you'll only be able to accept cash transactions. You also won't be able to access most of your back office. Of course, you can set up backup options in case this happens by purchasing a specialized router or iPads with data plans.
Specific Industry
talech can handle pretty much any type of business, from day spas to nightclubs and everything in between. The plan you decide to invest in is largely going to be determined by the kind of business you have. The Standard version of the software is best for cafes, quick-service restaurants, food trucks, clothing stores, bookstores, thrift shops, and gift shops. The Premium version is best for full-service restaurants and bars, salons, spas, and more complex retail businesses.
Specific Size Of Business
talech is completely scalable. The pricing and functionality of both plans make it accessible to small single-location businesses, but it is also designed to suit businesses with over 25,000 SKUs and upward of 25 locations. Generally, though, talech caters to small-to-medium businesses.
Ease Of Use
Staying true to the DIY model of the 21st century, this POS is designed to be easy to set up and use. To me, talech's look is similar to Square's — which is to say, very sleek and user-friendly with an intuitive layout and large buttons. You can easily upload pictures of items to help your employees, and the look of the front end is very visually pleasing and easy to navigate.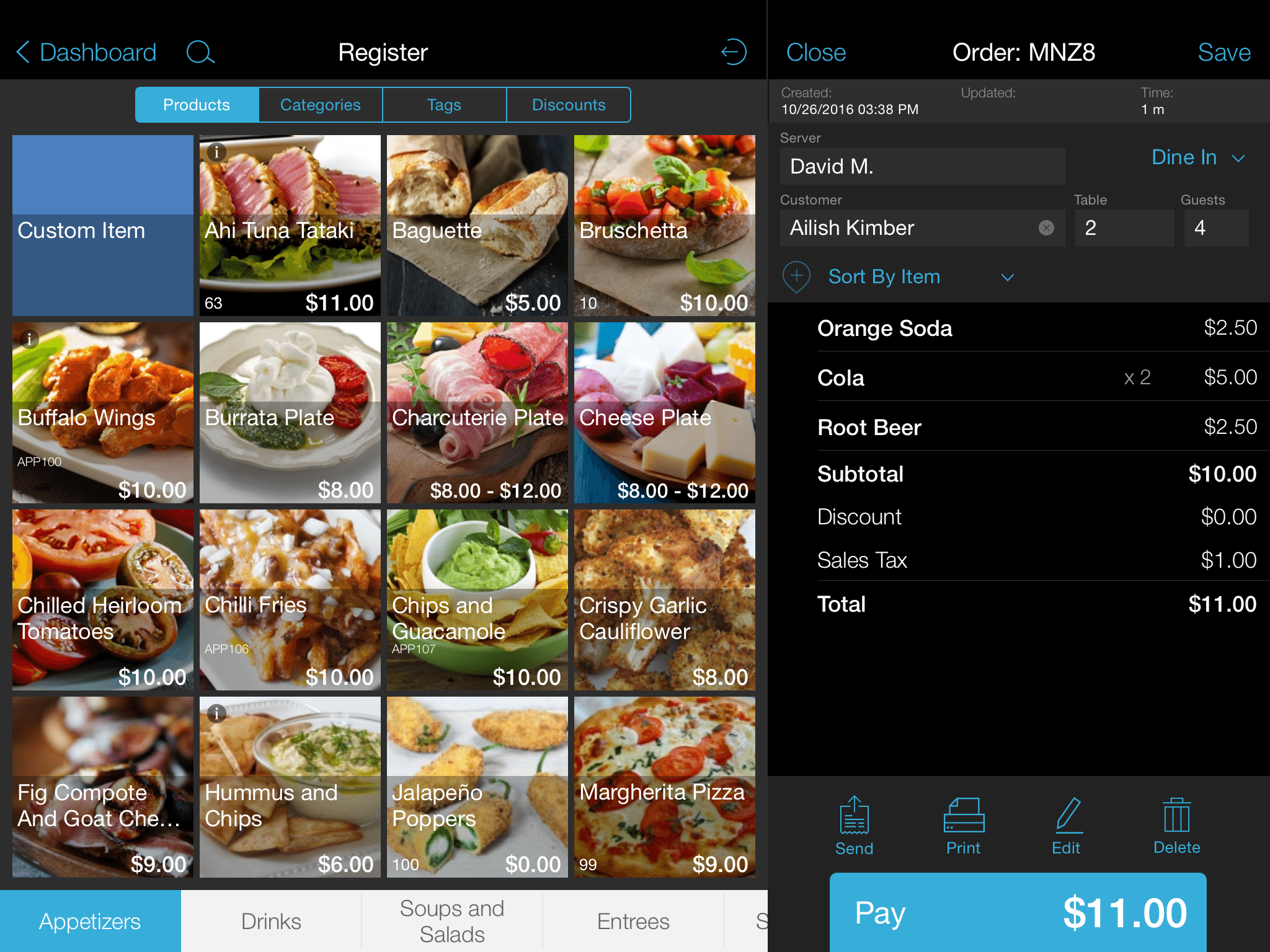 Honestly, your average merchant should be able to get essential functions up and running with little or no help from the how-to articles or technical support. You can watch support videos to get an idea of how the different parts of the system operate. The trend is that the basic functions (talech register layout, hotkey, and product creation, employee and customer profile creation, etc.) are pretty easily configured, while advanced functions may require more assistance. This is to be expected when you're creating product bundles, generating and tracking email campaigns, and customizing automatic discounts, but all that considered, it's still pretty easy to use.
Hardware & Operating System Requirements
talech operates on most iPad models, including iPad Air, iPad Air 2, iPad (2017 or later) iPad Pro, and iPad Mini 2, Mini 3, and Mini 4. talech can also run on Android hardware, including Ingenico MOBY tablet POS solutions and Poynt Smart Terminals.
As for your network requirements, you want to have a download speed greater than 3 Mbps and an upload speed of at least 1.5 Mbps.
To make peripheral shopping as simple as possible, talech sells most of its hardware options in bundles geared toward certain business types. For example, the Mobile & Outdoor Events bundle comes with a headphone jack magstripe swipe and a Bluetooth printer. Conversely, the Cafe bundle comes with an all-in-one Elo PayPoint register for iPad and a Poynt Smart Terminal. It's pretty convenient, especially if you're not overly tech-savvy and just want someone to take those types of decisions out of your hands.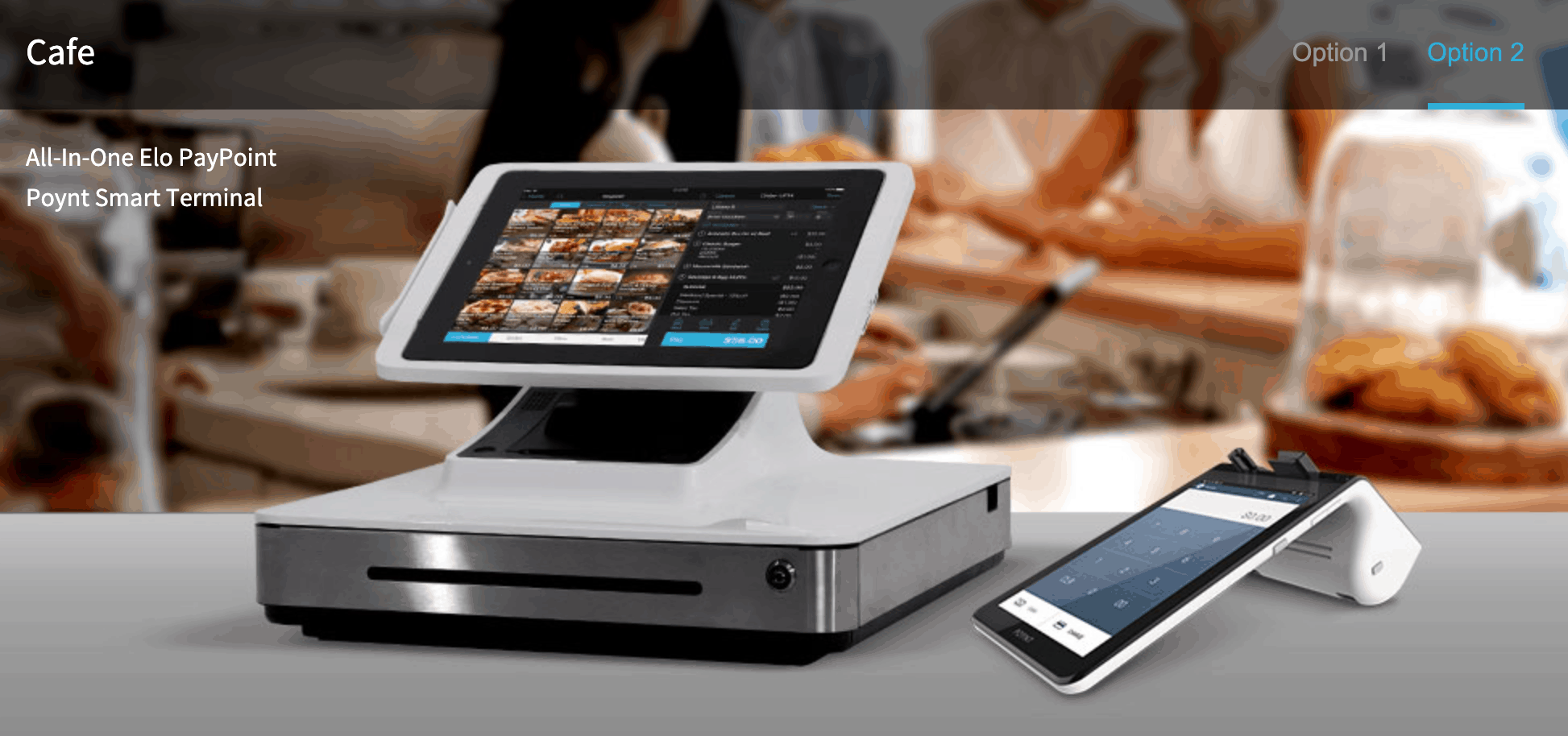 talech also sells individual items directly through its website. Most notably, it sells the Poynt terminal, which, if you're running a small cafe, for instance, might just be the only piece of hardware you need. They sell iPads and Ingenico terminals directly, along with Ingenico and Magtek iDynamo/uDynamo readers, iPad stands, Epson and Star receipt printers, Epson and Star kitchen printers, and a variety of cash drawers, plus scales and barcode scanners.
Though you don't have to source your hardware directly from talech, you will need to make sure that whatever equipment you end up purchasing integrates with the software. You'll want to take a look at talech's hardware page to make sure you're getting the correct model numbers.
Users on the mobile plan can use an iPhone or Android phone with a Link/2500 or Moby 5500 card reader.
talech POS Features
talech offers a robust list of features with very few gaps. Here are a few areas where talech stands out:
talech Register: Aside from basic functions, talech allows you to issue cash back on overpayments, split or make partial payments, capture customer signatures, and designate tips on your device. You can also create percentage and dollar-amount discounts and assign them as hotkeys for easy access. Additionally, you can customize automatic discounts, stack discounts, and offer loyalty-based discounts to customer groups.
Table Mapping: You can define table and position settings to ease the ordering process, and it's all customizable through a few clicks. This also simplifies ticket-splitting. Approve and track voids through the ordering process as well.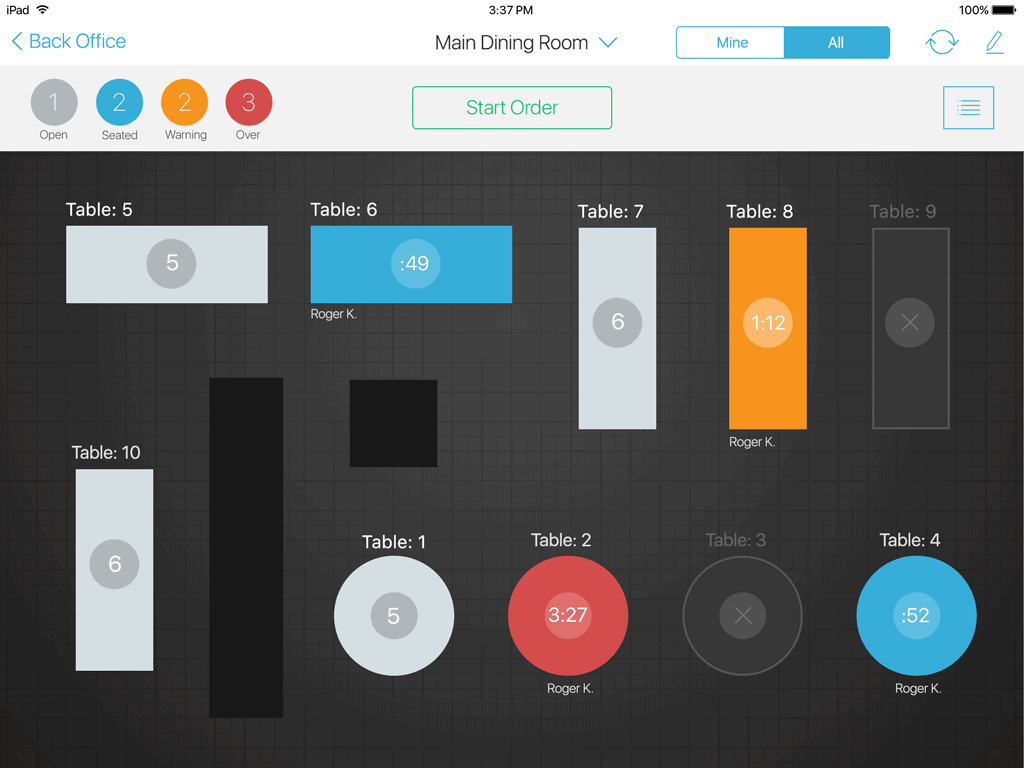 Cash Management: You can open your cash drawer with a starting till count and track voids, payouts, cash drops, and pay-ins throughout the rest of the day. When you make a payout, you can designate whether it's for tips, inventory, or some other expense, with the option to add a note at the bottom. There is also a "Quick Cash" feature that allows almost instant cash register payments, which is convenient for fast-paced businesses, such as bars or businesses that mostly deal with cash payments. Of course, all actions are tracked by time and employee.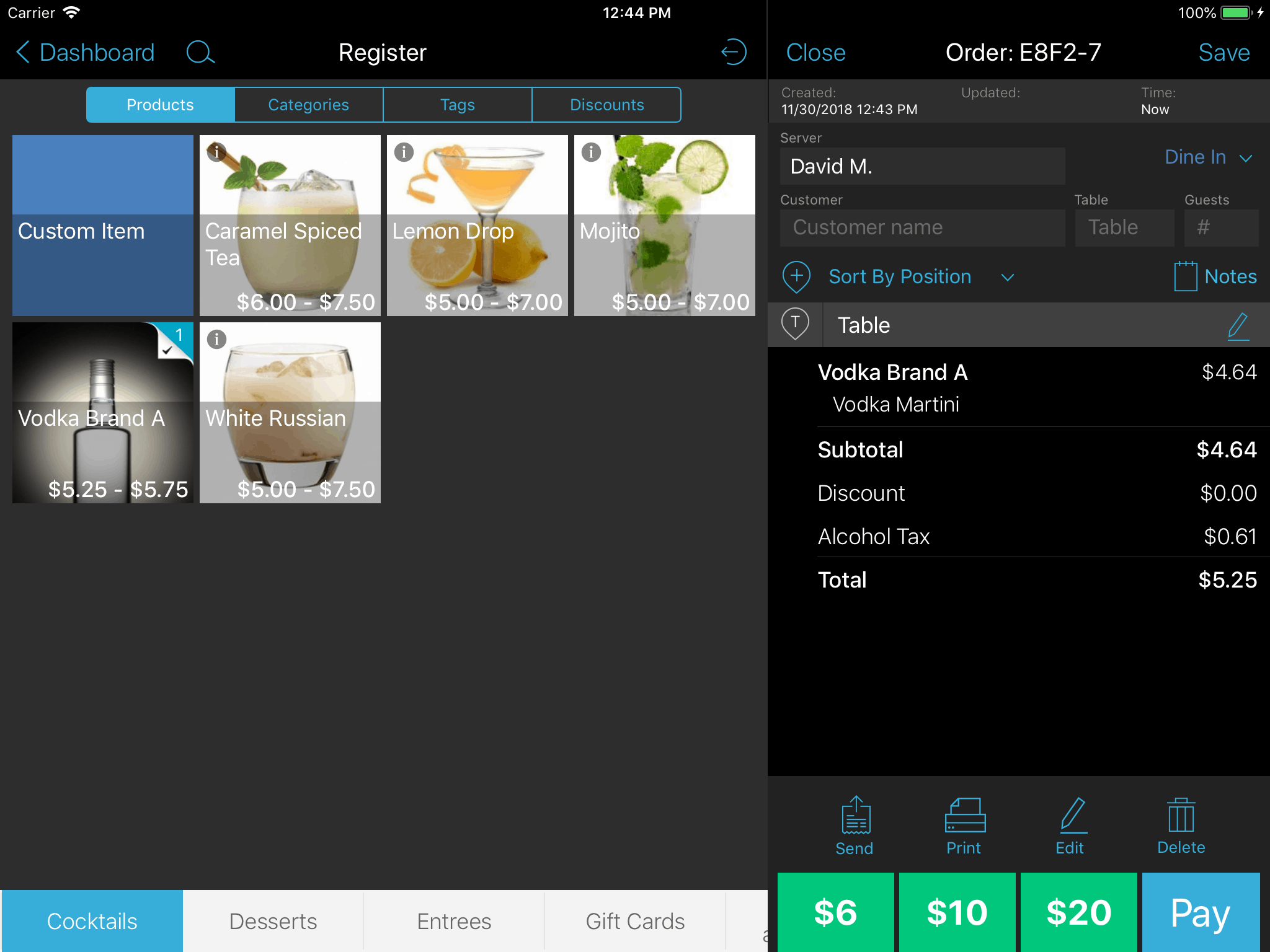 Customer Management: It's possible to import your customer list if you're moving to talech from another system, though you'll have to send your list to the company so it can be imported on talech's end. With these records, you can monitor past orders, view customer metrics (days since the last visit, number of visits, total and average spent), and track store credit by customer. Even more impressive is the ability to generate email campaigns that you can send to your entire database or specific customer groups. What's more, the system tracks how many customers have taken advantage of the offers in your emails so that you know how effective they are. Discounts and promos are also remarkably simple to set up. Create automatic times when Happy Hour prices can be applied.
Inventory Management: Inventory is certainly one of talech's greatest strengths, with the ability to create multilevel variations, batch-edit products, set fixed or variable prices, and generate product barcodes on a PDF that you can print from any device (meaning you don't need to invest in an expensive barcode printer). You can also track product history and performance with the inventory log and configure applied, inclusive, and flat-rate taxes on a per-item or per-category basis. talech gives users the ability to create complex products, such as bundles. This makes it possible to group certain items and sell them as one unit while still tracking the raw materials that make up a set. talech recently added the ability to sync products, categories, and even discounts across multiple locations.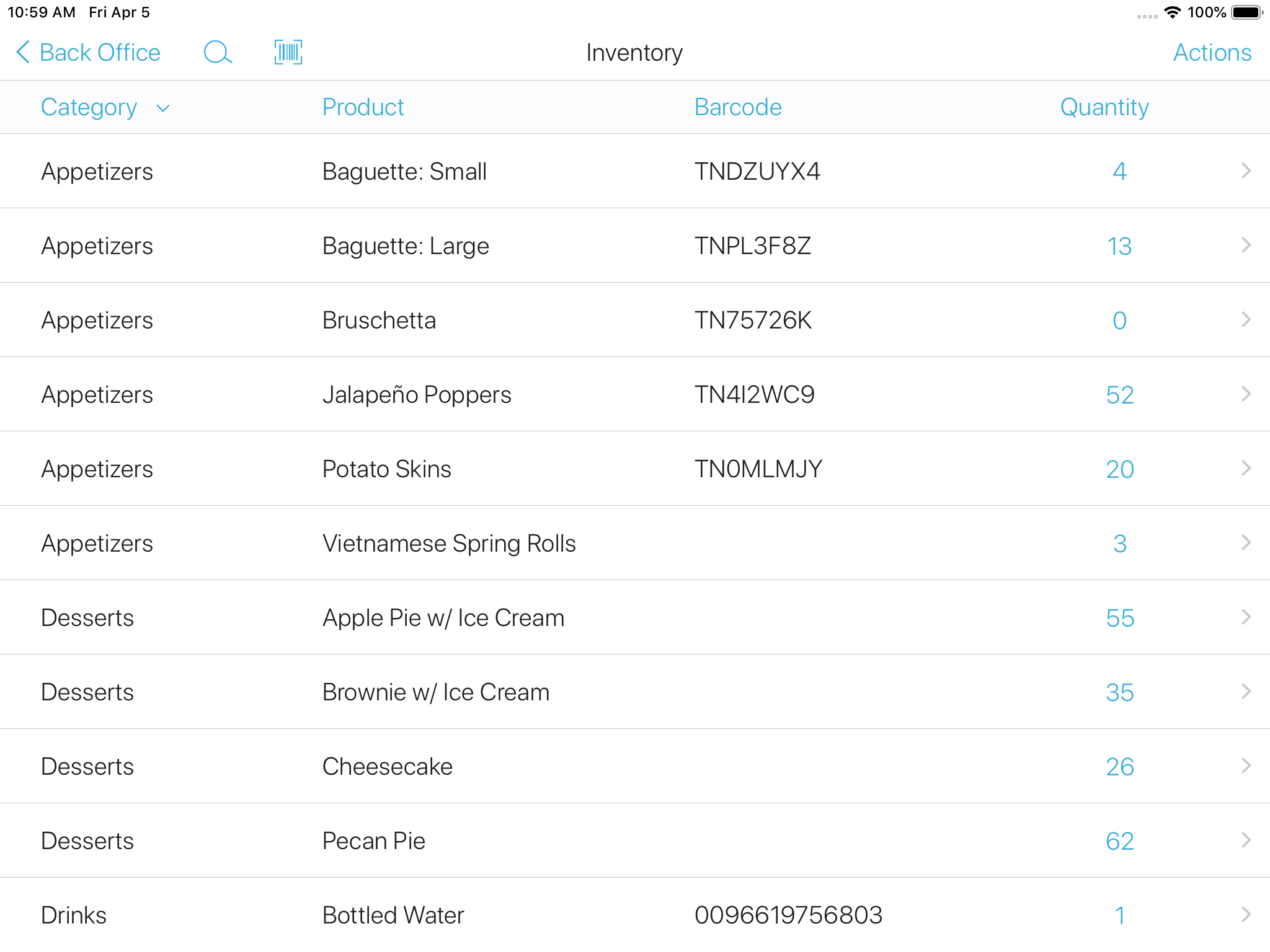 Purchase Orders: Not every system has the ability to generate purchase orders, let alone offer advanced features to make the process simple. After you've created your supplier list and designated which products are from which supplier, it's easy to pull up a list of products from a particular vendor for a comprehensive list of what needs to be added to your PO. You can set a low count alert and even set up purchase orders to be auto-generated when stock quantities hit a certain level.
Employee Management: Aside from the time clock, employee roles, and customizable access controls, you can track employee sales and actions and even transfer orders between employees for accurate sales data. talech recently added unique employee ID numbers so that you can track your employees' actions and sales. Another great feature that was just released is the option to adapt manager swipe cards to your POS system. These cards will allow only card-holding managers the ability to void orders and complete other administrative actions.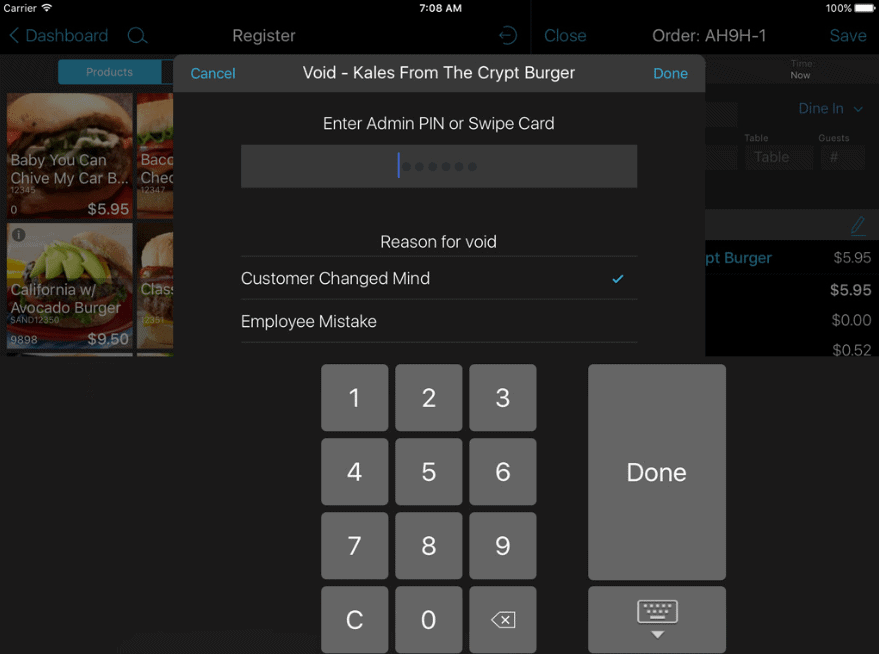 Online Ordering: talech also has a super easy-to-use online ordering module. With just a few clicks, you can create your own mobile-friendly, branded website where customers can place orders for pickup. Customers can choose to pay online or in-store, and orders are sent directly to your POS and automatically synced with your inventory. The system also keeps customers' online ordering data (for reporting purposes). If your business is getting particularly swamped during a big lunch or dinner rush, simply pause online ordering directly from your talech register or schedule a delay. talech recently extended the online ordering module to retailers as well as restaurants. In our current times of social distancing, it's good to have an online ordering and curbside pickup option, so customers don't have to actually come inside your business (provided that they pay online or you meet them at the curb with a mobile POS device).
Gift Cards: talech offers a few different gift card options, depending on which payment processor you use. Fanfare gift cards are available to Elavon customers, while Synergy and talech gift cards are available to non-Elavon customers. If your payment terminal doesn't have a magstripe reader, you may need to get a separate credit card swiper (for example, a Magtek iDynamo reader) just to take gift cards. Your customers can also use gift cards to pay for online orders.
Reports: Though not the most extensive reporting suite I've ever seen, talech offers a decent selection. Among other things, you can track all your top-performing products and employees, view the inventory log that breaks down your product information, and view customer data that displays when someone was last in your store, how often they visit, and how much they tend to spend.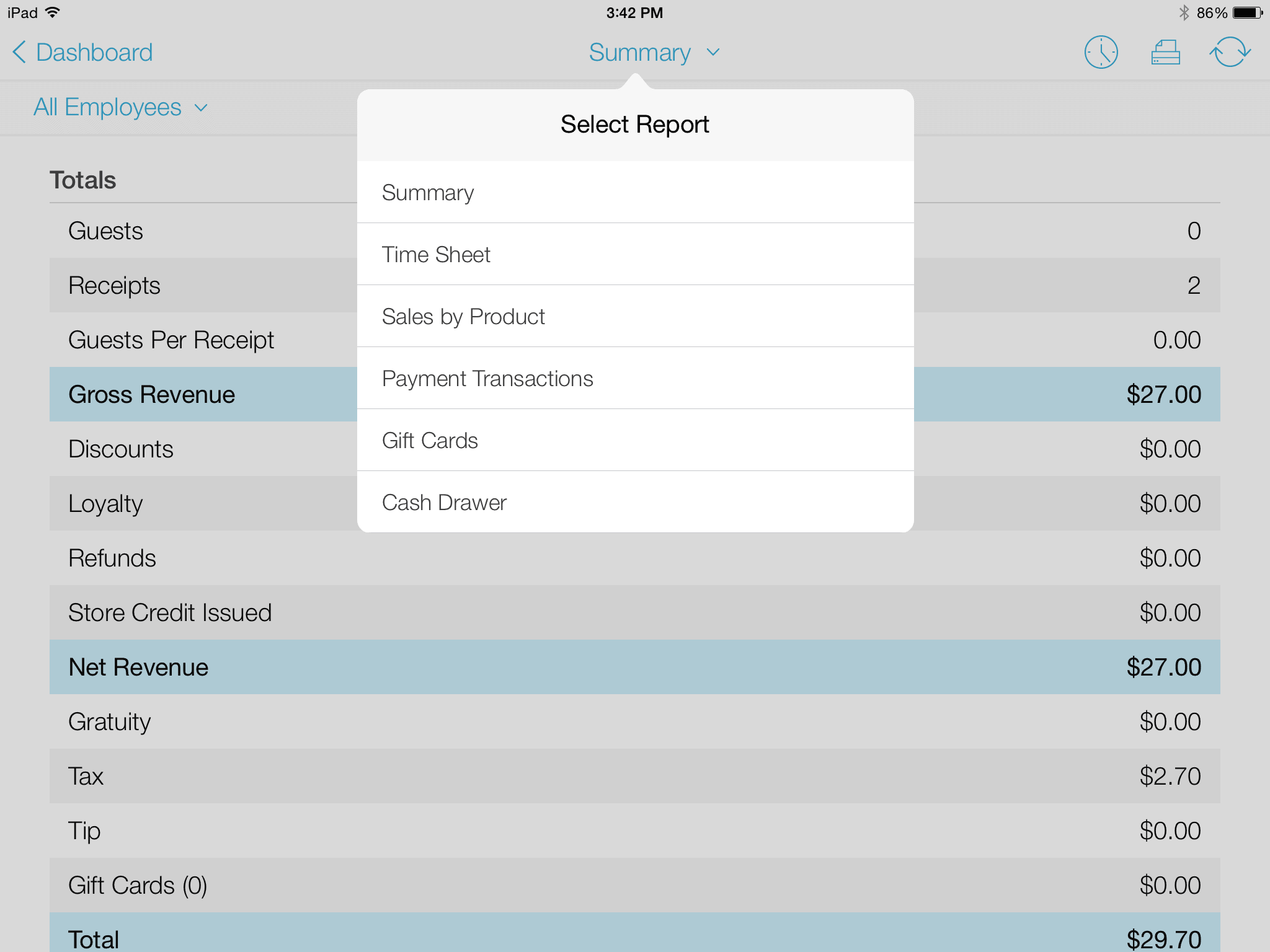 Loyalty: talech features an integrated customer loyalty program, allowing customers to enroll or redeem points directly at the talech register. Look customers up instantly via their phone number, and you or the customer can track their points or earnings. You can also print custom gift cards and change loyalty rewards with the click of a button. With the same program, you can assign employees permissions and perform audits to prevent fraud.
Kiosk Mode: talech has a strong kiosk mode, allowing customers to place their orders themselves to speed up the checkout process and promote social distancing in your quick-serve restaurant. There is also the option for a customer-facing display to help engage customers even more with your business. (These features are not yet available for Android registers.)
Appointment Booking: One of talech's newest offerings is a fully-automated appointment booking solution for service-based businesses, built to rival competitor solutions, such as Square Appointments. talech's appointment booking module includes an integrated Google Calendar, a one-click booking website where customers select a staff member of their choosing (or the system can auto-select one for them), text appointment confirmations, and more. Included at the $99/month plan level, talech's online booking system seems like a pretty good deal as far as POS-integrated appointment-booking solutions go.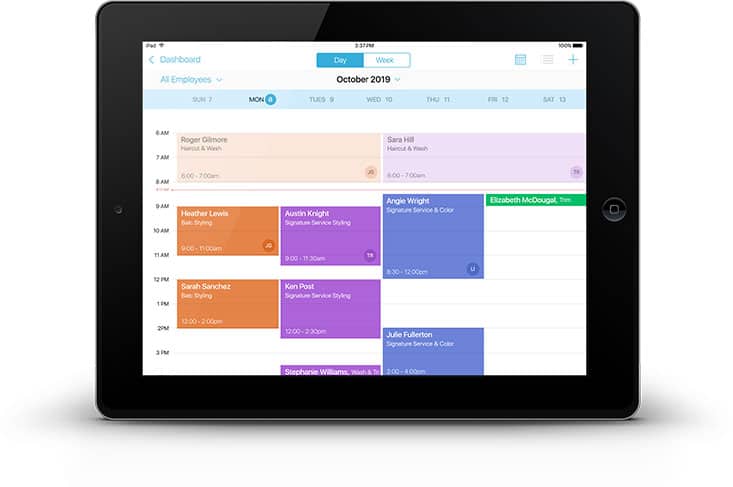 talech Mobile: With talech's new mobile POS app, you can use your mobile device to accept payments in the form of swiped and dipped credit cards, manually entered cards, cash, split tender, e-gift cards, Apple Pay, and Google Pay. The app seems to include all the standard mPOS offerings, including basic product and order management, SMS and email receipts, multi-level tax support, invoicing, discounts, refunds, returns, and a daily sales report. You can also create and apply service charges such as gratuity or delivery fees. Merchants can use talech as a free mobile POS without subscribing to a paid talech plan, and only pay for payment processing. Existing talech POS customers can also use talech Mobile for on-the-go sales; your profile and products will sync to the talech Mobile app. However, you're limited to 100 products on the mobile version.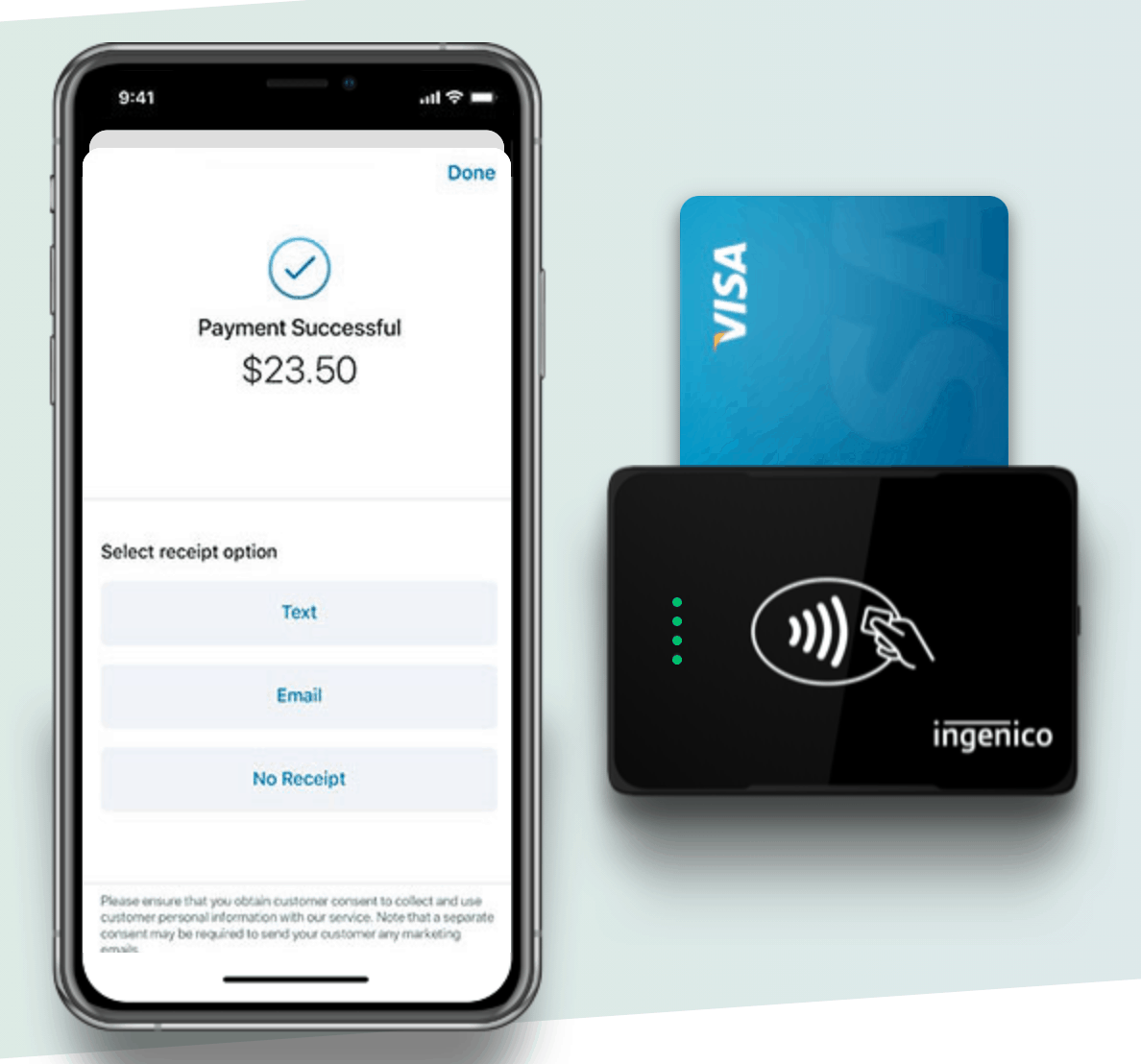 I'd be remiss not to mention the few features talech doesn't have. There is no eCommerce website feature for retail that would allow customers to have orders shipped to them, and no in-house delivery module for restaurants. talech also does not automatically integrate with third-party delivery services, such as Door Dash and Uber Eats. To create those order types, you would need to enter orders from the other platform into talech manually. Alternatively, you can purchase a subscription from ItsaCheckmate to integrate delivery services with your talech POS—but this integration is only available to businesses with 10 or more locations.
Customer Service & Support
talech boasts some pretty impressive numbers when it comes to technical support. The company reports an average customer satisfaction rating of 85% or higher, with over 90% of calls answered within 30 seconds and over 75% of problems resolved with the first call. And all that 24 hours a day, seven days a week.
Phone: Available 24/7 with practically no wait time.
Email: Although this service is also available 24/7, you could be looking at a 12-24 hour response time. I sent an email around 6 PM, and I received an answer within two hours, but if you've got a more pressing issue, I would recommend calling.
Knowledgebase: If you don't feel like contacting support, you can always do some troubleshooting yourself with the searchable database of help articles. There are also some training videos covering basic functions. I found the "help" articles and videos to be very helpful, comprehensive, and easy to understand.
Live Chat: talech has a strong live chat function that promptly connects you with a human. This feature is available Monday through Friday from 8 AM to 5 PM.
talech Register Compatible Credit Card Processors
talech has partnered with several banks and payment processors to make it possible for you to choose virtually any merchant services provider you would like to work with. talech specifically lists Elavon and Global Payments as EMV-compliant processors that integrate well with the system, but the actual list is much longer, including Bank of America Merchant Services, Vantiv, Chase, and others. Additionally, talech's USAePay gateway allows talech customers to connect to all major credit card processors in the US. Check out our top-rated credit card processors if you're looking to switch or in need of a new solution.
Integrations & Add-Ons
At first glance, it might appear from talech's partner page that it doesn't integrate with many third-party business applications. This isn't entirely accurate, though, since the company works with OneSaas, which acts as a go-between for talech and popular eCommerce and accounting programs. This list includes:
However, talech says that it is no longer automatically signing new customers up for OneSaas, so if you want to connect one of these apps, you may have to pursue the OneSaas integration on your own. Pricing starts at $19/month to connect two apps. It would be nice if talech could integrate with other popular business apps directly, or if it at least still onboarded customers to OneSaas. talech also lacks direct integrations with third-party food-delivery services, though you can pay a software company, such as ItsaCheckmate, to provide this integration for you.
talech does open its API to certain developers. To ensure quality integrations and partnerships, the company is not offering API access to just anyone. Still, if you'd like to build an integration, you are invited to contact talech about it.
Additionally, talech integrates with Homebase for labor management and Epson and Fresh KDS for kitchen display systems.
As mentioned, talech also offers a couple of paid add-ons that were developed in-house, including online ordering and gift cards.
talech POS Reviews, Complaints, & Testimonials
Being a smaller player in the iPad POS world, there aren't a ton of talech reviews compared to the number of reviews for major cloud POS players, such as Square or Toast. Nevertheless, most online reviews of talech are positive.
Negative talech Reviews & Complaints
talech is not accredited by the BBB but has only two (unanswered) complaints on the website in the past two years. Still, there are some complaints posted elsewhere online, including the Apple App store, where talech Register has a 2.4/5 star average out of 40 ratings. Here are some common complaints about the POS:
Reporting: This area is not as robust as it could be, even if you subscribe to a plan that includes "advanced" reports. You might even need a third-party reporting program to supplement the system, depending on your business needs.
Limited Offline Functionality: This is to be expected of any cloud-based software, but many of the top-performing POS vendors have found ways to work around internet outages and keep their systems running almost seamlessly in the midst of them. talech isn't quite at that level yet, and I'd like to see the company take the next step into cloud-based technology.
Customer Service: Several customers have complained about long wait times or poor customer service experiences.
Glitches: A few customers complained about the system either lagging at various times or about functions that didn't seem to operate as intuitively as they should. Customer service was not always helpful in addressing these programming bugs.
Positive talech Reviews & Testimonials
Like I stated previously, there are not a ton of comments online about talech, but of the ones I found, many were positive. There are a good number of positive ratings on review compilation sites such as Capterra, where talech has a 4/5 rating out of 315 reviews. talech also features testimonials on its website. Here are some things customers appreciate about talech:
Ease Of Use: Lots of talech customers are impressed with how easy the system is to navigate and use.
Customer Service: Of the comments referring to customer service, there were many more customers with positive reports.
Pricing: For the number of features you have access to, talech's subscription cost is difficult to match; many customers cite this as a major reason behind their decision to go with talech.
Customer Management: A common theme among talech users is how easy it is to track customers, keep tabs on their spending habits, and contact them for marketing campaigns.
Credit Card Processing Options: You aren't locked into a contract with a "preferred" credit card processor with this software. Your options abound.
Food Service & Retail: It's difficult to offer an all-in-one POS that has the built-in functionality to suit both retail and foodservice establishments, but talech somehow manages to pull it off.
You can also find videos from talech users on the company's testimonial page to get an idea of what people tend to like about it. You'll hear a lot about its ease of use, accessibility, reporting, and general wealth of functionality and data.
Final Verdict Of talech Register
What isn't there to like about talech?! This system already offers an impressive array of features at an exceedingly affordable price, yet talech continues to take it to the next level. Bolstered by its intuitive interface, integrated online ordering system, and stellar inventory management, talech seems determined to keep striving for a higher level of functionality and usability. Top that all off with a commitment to customer service and constant innovation, and you get a versatile tablet POS that is also a joy to work with. talech does have a few minor gaps in its system, but I don't think it's possible to find a more functional POS offered at this price. However, if you have complex eCom needs or are looking for a POS with specific software integrations or a strong offline mode, talech may not be the POS for you.
If you're budget conscious, talech is absolutely worth a look. If it has all of the basic functions your business is going to need, I would think it would be difficult to turn down. And, with the option for a free demo, I recommend taking talech out for a spin.
---
We've done in-depth research on each and confidently recommend them.
We've done in-depth research on each and confidently recommend them.
To learn more about how we score our reviews, see our
Point Of Sale (POS) Software Rating Criteria
.
Read Next