Bank Of America Merchant Services Review
BAMS is good for those who want Clover products or predictable flat-rate pricing; just beware leasing equipment and contract clauses for early account closures.
Expert Analyst & Reviewer

UPDATED
Advertiser Disclosure: Our unbiased reviews and content are supported in part by
affiliate partnerships
, and we adhere to strict
guidelines
to preserve editorial integrity.
Bank Of America Merchant Services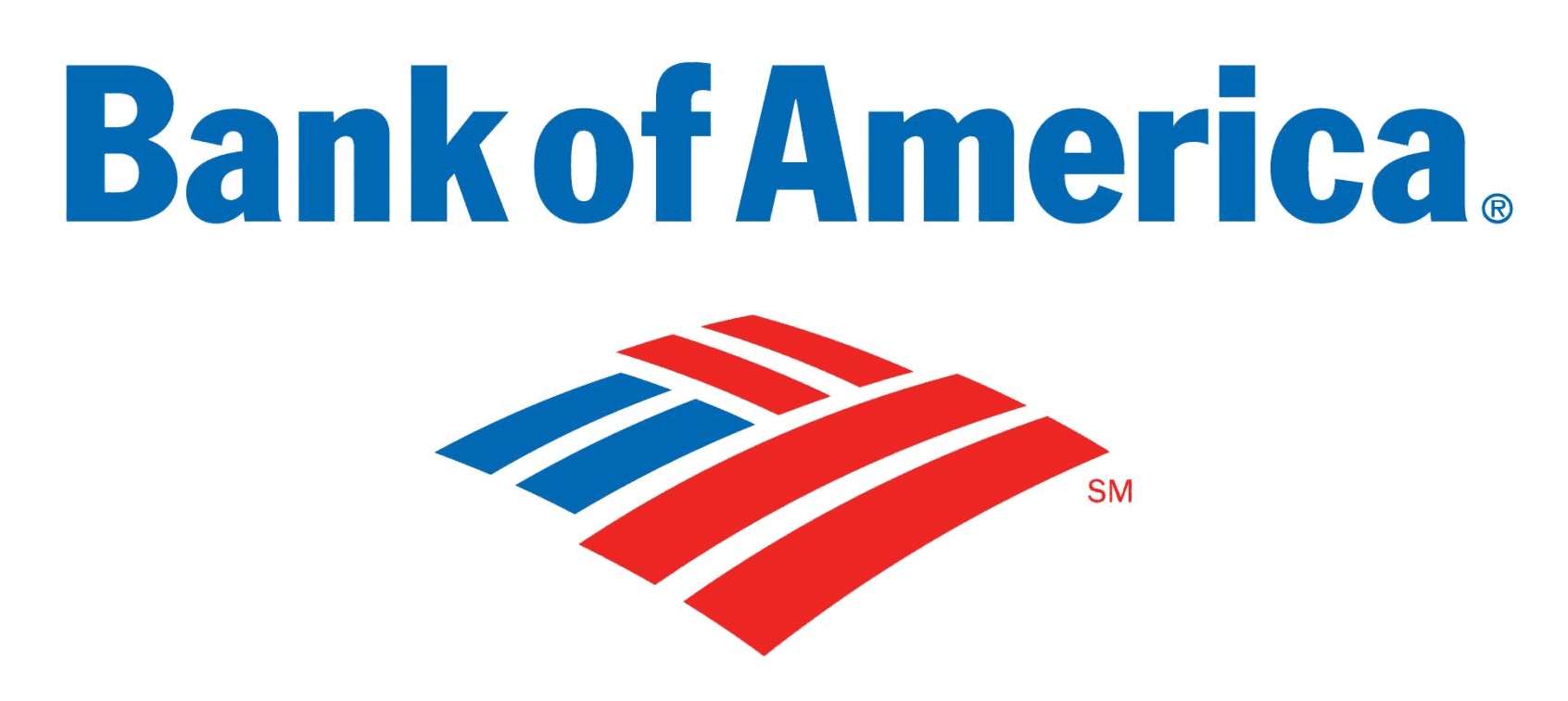 Pros
Full line of Clover products and services available
Predictable flat-rate pricing is available
Transparent interchange-plus pricing is available
No early termination fee if the equipment is purchased
Cons
Customized pricing options not disclosed
Heavy emphasis on expensive equipment leases
Leases include an acceleration clause if an account is closed early
Poor customer support reported
High overall complaint volume
Bank Of America Merchant Services Overview
Bank of America Merchant Services (BAMS) is the merchant services division of Bank of America (BofA). Now, you might expect that a company as large as Bank of America would handle all payment processing in-house. However, that's not the case. For many years, BAMS operated as a joint venture with First Data that was registered under the official DBA of Banc of America Merchant Services, LLC. When Fiserv acquired First Data in 2019, one of the first changes it made was to dissolve the joint venture, allowing both organizations to pursue independent merchant services strategies. Despite that, BofA Merchant Services is still chugging along and offering Clover products and merchant accounts that are underwritten by Fiserv.
Confusing, right? The bottom line is that Fiserv will continue to honor the contracts of existing BAMS customers for as long as they maintain their accounts. New customers can still get a Bank of America merchant account that's underwritten by Fiserv, allowing access to the complete line of Clover products and services. However, the company now works with other processors as well, allowing you more flexibility in choosing your processing hardware and software options.
Merchants usually choose BAMS because they already have a business banking relationship with Bank of America and want to keep all their accounts with the same organization. While this should be a good strategy, it's often a costly mistake if you're a small business owner. Merchant services providers are not all alike, and BAMS suffers from many of the chronic problems that plague the payments industry when it comes to meeting the needs of small business customers. High processing rates, restrictive contracts, expensive equipment leases, shady sales practices, and poor customer service — it's all here.
The only unique feature you'll find with BAMS is that next-day deposits are available at no extra charge, but only if you're depositing your funds into a BofA account. While you might have to pay extra for this service with other providers, you'll probably save money overall on your processing costs.
Ultimately, Bank of America Merchant Services only scores 3 out of 5 stars. While this isn't a terrible score, it's a pretty disappointing performance for a large, well-funded organization that clearly has the resources to do better. Unless you're running a larger, well-established business and have the clout to negotiate a customized interchange-plus pricing quote and purchase your equipment outright, we cannot recommend BAMS.
Read our full Bank of America Merchant Services review for more details, or check out our Merchant Account Comparison Chart for information on providers that are a lot more small business-friendly.
Bank Of America Merchant Account Features & Services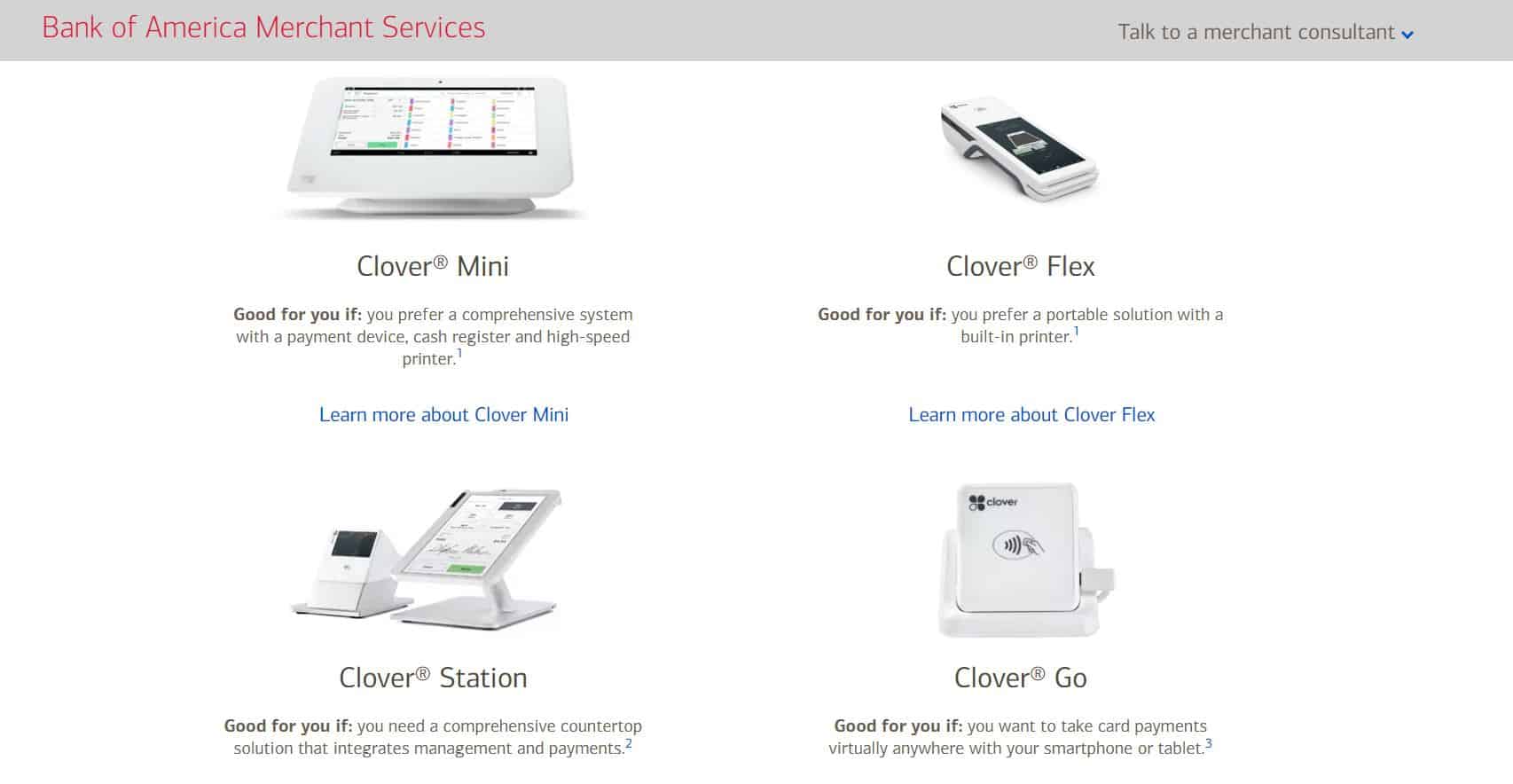 Despite its many shortcomings in other areas, BAMS provides a full line of products and services for retail, eCommerce, and omnichannel businesses. As a Fiserv reseller, there's a very heavy emphasis on Clover products. Be aware that since the company does not disclose pricing information on its website, some of the features listed below may only be available as add-ons that require an additional monthly fee.
Basic Features
Merchant Accounts: Bank of America's credit card processing continues to primarily be handled by Fiserv (formerly First Data) despite the termination of the joint venture between the two companies. Note that you will receive a full-service merchant account (with a unique merchant ID number for your business) whether you opt for customized pricing or the advertised flat-rate pricing plan.
International Commerce Support: For merchants doing business internationally, BAMS offers dynamic currency conversion, which allows customers to pay in their home currency. Global ePricing (the company's term for multicurrency displays) allows you to display prices in location-specific currencies automatically.
Security Features: BAMS uses TransArmor to protect your account from fraud and data breaches. This third-party service uses tokenization and encryption to protect your account, and it's available for free with a Fiserv-backed merchant account.
Next-Day Deposits: If you have a Bank of America business checking account, your funds are released to you the next business day. Having a BAMS account also means the bank will waive your $30 monthly fee for checking. If you don't have a BofA checking account, your deposits will take longer (typically two to three business days).
Processing Hardware & Equipment
Countertop Terminals: While BAMS doesn't advertise any basic terminals, you can select either the Clover Flex or Clover Mini if you want something that's relatively affordable and won't take up much counter space. Both devices support magstripe, EMV, and NFC-based payment methods and can be expanded with apps from the Clover App Marketplace. Prices aren't disclosed, but we highly recommend that you purchase your equipment outright. Unfortunately, we've found a long litany of complaints alleging that the company pressures merchants into leasing their equipment, which will cost you much more in the long run. Also, be aware that Clover devices require a monthly software subscription to use (see our article on Clover pricing for more details), and the Clover Flex will also require a wireless data plan.
Point Of Sale (POS) Systems: If your business needs a fully-featured POS system, BAMS offers the popular Clover Station and Clover Station Pro models. With over 200 apps available through the Clover App Marketplace, you'll find just about any service you need to run your business. Just be aware that many of these apps aren't free, and some will require a monthly subscription fee.
Mobile Payments: If you need to take payments in the field or prefer to use a smartphone or tablet instead of a dedicated credit card terminal, BAMS offers the Clover Go mobile card reader. This battery-powered reader works with the Clover Go mobile app and connects to your mobile device via Bluetooth. It also supports magstripe, EMV, and NFC-based payment methods.
Software & eCommerce Products
Payment Gateway: Although BAMS devotes an entire page of its website to its payment gateway, it doesn't offer very much information about specific features. The gateway supports payments made by credit/debit card, PayPal, or echeck (with the optional TeleCheck service), and integrates with over 70 popular online shopping carts via API integration or hosted payment pages.
Virtual Terminal: Mail order and telephone order businesses need a way to manually key in credit/debit card transactions, and a virtual terminal is the most affordable way to do so. Unfortunately, BAMS doesn't provide very much information about this feature, but it should be available as part of the company's payment gateway. The Clover Go mobile app can also function as a virtual terminal.
Ancillary Services
eCheck & ACH Processing: BAMS can process electronic checks and ACH transfers for you while detecting potential fraud during the time of the sale through its TeleCheck service. However, this service requires a separate contract (with an additional monthly fee), and it isn't available for either the Clover Flex or Clover Go devices.
Real-Time Reporting & Analytics: BAMS promises detailed reporting and analytics, but you'll pay additional monthly fees for this. Considering that many of the best merchant account providers and payment service providers (PSPs) such as Square offer free and detailed analytics for no additional cost, the add-on fee to access your data is disappointing.
Gift Card & Loyalty Programs: Gift cards are available through Clover's Gift Cards App. You can order a batch as small as 100 and choose from a handful of ready-made designs. A free customer loyalty program is available with all plans except the Clover Go mPOS system.
Small Business Loans & Lines Of Credit: These features are available through Bank of America and are more affordable than you might expect. See our full review of BofA's business loans program for more details.
Bank Of America Merchant Services Fees & Rates
| | Clover Go | Clover Flex | Clover Mini | Clover Station/Station Pro |
| --- | --- | --- | --- | --- |
| Hardware cost | Not disclosed | Not disclosed | Not disclosed | Not disclosed |
| Software Plans Supported | N/A | Payments Plus, Register Lite, Register, Counter Service Restaurant, Table Service Restaurant | Payments Plus, Register Lite, Register, Counter Service Restaurant, Table Service Restaurant | Register, Counter Service Restaurant, Table Service Restaurant |
| Transaction Rates (Flat-Rate Option) | 2.7% swiped, dipped, tapped, 3.5% + $0.15 online, keyed-in | 2.7% swiped, dipped, tapped, 3.5% + $0.15 online, keyed-in | 2.7% swiped, dipped, tapped, 3.5% + $0.15 online, keyed-in | 2.7% swiped, dipped, tapped, 3.5% + $0.15 online, keyed-in |
| Other Features | Requires Clover Go app & compatible smartphone/tablet | Requires wireless data plan, includes built-in receipt printer & barcode scanner | Includes power supply & built-in receipt printer | Includes FD40 PIN Pad & receipt printer, cash drawer & customer-facing display available |
BAMS offers the option of flat-rate credit card processing fees for small businesses, with processing rates fully disclosed on its website. Customized, quote-based pricing is also available — if you ask for it. You'll also need to choose a software subscription plan for your chosen Clover device, and these can get very expensive (see below for details).
Flat-Rate Pricing Option
Every traditional merchant services provider in the industry is trying to compete with Square in attracting small business clients, and BAMS is no exception. The company offers the following flat-rate pricing rates on its website:
2.7% per swiped, dipped, or tapped transaction (card-present)
3.5% + $0.15 per online or keyed-in transaction (card-not-present)
These rates are virtually identical to what Square is currently charging, but it's not clear exactly what other merchant fees and charges you'll have to pay. Besides the monthly software subscription fees that you'll have to pay to use your Clover equipment with Bank of America, you can expect a variety of other recurring and incidental fees as well. Once those fees are factored in, you can expect BAMS to be much more expensive than Square overall.
Quote-Based Custom Pricing Option
Like most traditional merchant account providers, BAMS also offers a customized pricing option that will take into account your monthly processing volume, prior processing history, and any other factors that it deems relevant. The company offers both tiered and interchange-plus pricing plans, although you should expect to be initially offered a more expensive tiered plan.
None of these rates are disclosed on the company's website, so you'll have to contact the sales department and submit the relevant information about your business to obtain a quote. Be prepared to negotiate — it's almost never a good idea to blindly accept the first quote a provider offers you.
Clover POS Software Subscription Plans
In addition to the cost of the hardware, you're going to have to pay a monthly software fee to use your Clover device(s). While monthly subscriptions are pretty common in the POS world, they can often put you in the uncomfortable position of having to choose between an affordable plan with limited capabilities and a more expensive plan that actually does everything you need.
Clover subscription plans now include five options that vary widely in both cost and features. Here's an overview of each of them:
Payments Plus Plan
$4.95 per month for each device
Available for Clover Flex and Clover Mini
Offers basic cloud-based reporting features (accessible via app or web browser)
Customer Engagement: Promotions, loyalty, rewards programs, customer feedback
Employee Management: Schedule management, employee permissions, and logs
Register Lite Plan
$9.95 per month for each device
Available for Clover Flex and Clover Mini
Includes all Payments Plus Plan features, plus:

Tax rates and discounts
Line-item sales for quicker checkout
Create and save orders, add notes, and refund items
Detailed product-level reports
Cash drawer integration
Access to the Clover App Marketplace (additional charges may apply)
Register Plan
$39.95 per month for each device
Available for Clover Flex, Clover Mini, and Clover Station/Station Pro
Includes all Register Lite Plan features, plus:

Weight scale integration (Clover Mini and Clover Station)
More detailed reporting (including the ability to see reporting based on variants and modifiers)
Enhanced inventory management (variant and modifier-level line-item descriptions)
Counter Service Restaurant Plan
$39.95 per month, plus $9.95 per month for each additional device
Available for Clover Flex, Clover Mini, and Clover Station/Station Pro
Includes all Register Plan features, plus:

Identify order types (dine-in, to-go, catering, etc.)
Kitchen printers and display integrations
Customer kiosk third-party integrations
Menu management
Preauthorization of bar tabs
Customer engagement through customer-facing screens
Take orders from customers while they stand in line (Clover Flex)
Access to third-party integrations with the Clover App Market
Table Service Restaurant Plan
$69.95 per month, plus $9.95 per month for each additional device
Available for Clover Flex, Clover Mini, and Clover Station/Station Pro
Includes all Counter Service Restaurant Plan features, plus:

Bar tab management
Advanced table order management
Send orders to kitchen printer or kitchen display
Add gratuity to bills
Manage floor plan
Split bills
Enhanced employee logins and access permissions
Table-side ordering, firing, and payments (with Clover Flex)
Scan to pay
Yes, that's right: You'll need to sign up for the most expensive software subscription just so your customers can add a gratuity to their bills. As much as we generally like the features and reliability of Clover's product lineup, that's a bitter pill to swallow for a small business that needs to keep costs under control.
Contract Length & Early Termination Fee
Like most traditional providers, BAMS makes no mention whatsoever about contract provisions on its website. Company representatives insist that there is no early termination fee (ETF), but this appears to be only partially true. We've seen (and continue to see) merchants complaining they were charged between $300 and $500 as a penalty for closing their accounts before their contract term was up.
Because the company does not provide a copy of its standard merchant agreement, we can't be sure what's really going on. However, it's likely that if you just sign up for the flat-rate pricing option and purchase a basic Clover Go card reader, you won't have a long-term commitment or an ETF to worry about if you decide to close your account. Merchants choosing a customized pricing plan and more expensive Clover hardware will, however, most likely be subject to a contract that comes with the usual three-year initial term and an automatic renewal clause that extends it for one-year periods after that. There will also be an ETF unless you can successfully negotiate a waiver. This early termination fee appears to be based on the number of years remaining on your current contract, with new merchants paying the highest amount.
You'll also need to consider your equipment leasing agreement if you decide to lease your processing hardware. These agreements are separate contracts from the one that covers your merchant account, and they're noncancelable under almost all circumstances. Even worse, they contain an acceleration clause, meaning that you'll have to pay the full amount of all remaining monthly lease payments on your contract immediately. This could potentially cost you thousands of dollars when you try to close your account. Not only that, but you'll also have to return the equipment in most cases.
Bank Of America Merchant Services Sales & Advertising Transparency
The Bank of America Merchant Services website is remarkably sparse in providing useful information to prospective clients. Other than revealing the company's flat-rate processing rates, there's no pricing information available at all. Important caveats and limitations on services are often relegated to fine-print footnotes at the bottom of a page, where it's less likely that anyone will read them.
On a positive note, BAMS appears to rely entirely on an in-house sales team to market its accounts, rather than relying on independent agents. Unfortunately, merchants have experienced many of the same problems normally associated with independent sales agents when dealing with the BAMS sales department. Many reviewers complain about non-disclosure of important contract terms, misleading fee/rate explanations, and overall poor sales transparency during consultations. The company's sales team appears to push equipment leases particularly hard, even though they're an absolutely terrible deal for merchants.
We urge you to proceed very cautiously when dealing with BAMS. Don't allow a sales agent to pressure you into signing a contract until you've had an opportunity to read it thoroughly and clear up any questions you might have.
Customer Service & Technical Support
Merchant services provided through Bank of America have the following customer support options:
Telephone Support: BAMS no longer offers 24/7 support, but you can call for help Monday-Friday, 8 AM to 9 PM, or Saturday, 9 AM to 3 PM. Unfortunately, complaints from merchants frequently cite poor customer support as a significant problem when using this option.
Small Online FAQ: The self-help section on the BAMS website is surprisingly bare-bones for such a large organization. However, merchants having technical issues with Clover hardware can refer to the extensive FAQs available on the Clover website.
Clover Device Support: Phone and email support are available directly through Clover if you have technical issues. This is pretty standard practice with any Fiserv reseller — Clover's reps will be the most knowledgeable about the products and how to troubleshoot them. The good news is Clover's support is 24/7.
CyberSource Support For eCommerce: Offered 24/7 through the Cyber Business Center app.
If you have experience using the BAMS customer service options, please leave your thoughts in our comments section below.
Bank Of America Merchant Services Reviews, Complaints, & Testimonials
Negative Bank Of America Merchant Services Reviews & Complaints
Bank of America Merchant Services doesn't have a separate BBB profile, with complaints being lumped in with those filed against Bank of America itself. As you might imagine, BofA has thousands of complaints, most of which are from ordinary customers and have nothing to do with merchant services.
We were, however, able to locate 90 Google Reviews of BAMS, where the company earns a paltry rating of just 1.3 out of 5 stars. Based on two reviews, the company earns an equally disappointing 2 out of 5 stars rating on Yelp. Common issues that came up frequently include the following:
Expensive Terminal Lease Contracts: Some merchants have complained about not being aware that they were signing a non-cancelable terminal lease. The whole "not being aware" part can be chalked up to some merchants not fully understanding how leasing works. However, it's primarily due to sales agents deliberately not disclosing this information to make a sale and possibly earn a higher commission.
Withholding Funds/Termination Of Accounts: This can happen for several reasons. Chargebacks and suspicious charges can easily raise a red flag that will either get you suspended or shut down. You're going to want to learn how to avoid holds and minimize chargebacks if you plan on signing up with BAMS (or any other merchant services provider). Also, be aware that BAMS isn't holding your money — transaction holds are initiated by the processor, which in this case is usually going to be Fiserv.
High Fees & Hidden Charges: BAMS doesn't voluntarily disclose its fees, and that's likely because they are quite high. In addition to setup, monthly, and PCI compliance fees, you'll also be hit with annual fees and an assortment of miscellaneous fees and charges that are only disclosed in the fine print of your contract. Merchant complaints strongly suggest that the company's fees are even higher than the industry average – which is bad enough in itself.
Reputation For Poor Customer Service: While even a big company can give you a nice personal experience via friendly and dedicated account reps, this doesn't seem to be the case with Bank of America. One reviewer pointed out that the company is "hands-on" when working with you to get you to sign a contract but is less helpful when problems arise after the sale. Complaints specifically focus on equipment issues, long hold times, being shuffled around from department to department without a solution, and outright rude and even condescending support representatives.
Positive Bank Of America Merchant Services Reviews & Testimonials
Out of the 90 reviews that we found on Google Reviews, only six reviewers awarded BAMS a 5-star rating. Unfortunately, half of those were clearly fake reviews, with no comments provided. Almost all of the other reviewers awarded it a 1-star rating.
Unlike most of its competitors, BAMS doesn't bother to offer any testimonials on either its website or social media profiles. While these company-controlled testimonials are always going to be one-sided, it's at least encouraging when an actual user volunteers to participate in making one.
As always, we highly encourage readers who've had a positive experience with Bank of America Merchant Services to leave a review in the Comments section at the end of this review. Thanks!
Final Verdict On Merchant Services From Bank Of America
In recent years, Bank of America Merchant Services has introduced a flat-rate pricing model and improved some features, namely offering restaurant-specific options for its Clover POS solution. These are welcome changes, but the company still falls far short of meeting the standards we expect when it comes to providing high-quality merchant services to small businesses.
Credit card processing is never going to be truly cheap, and many of the costs — such as interchange fees and Clover's software subscriptions — are beyond the company's ability to control. Contract terms and equipment leasing practices are, however, things that BAMS has control over. It simply chooses to pursue policies that benefit it financially at the expense of its merchants. Overpriced, restrictive equipment leases are gradually being phased out industry-wide in response to sustained complaints from merchants, so it's surprising to see such a large provider continuing to push them so forcefully.
Sales practices at BAMS also leave a lot to be desired. It's clear from the flood of complaints about this issue that the company's sales agents aren't providing the kind of honest, upfront sales experience that merchants should be afforded when making such a critically important decision for their business.
Overall, Bank of America Merchant Services scores only 3 out of 5 stars. While this might seem overly generous given the numerous problems we've found with the company, remember that these issues plague the majority of providers in the processing industry as well.
Even if you already have a business banking account at BofA and are happy with it, we don't recommend using BAMS as your merchant account provider. While many of the problems cited above can be avoided with careful research and aggressive negotiation, there's simply no reason to select such a subpar provider when there are many better options available.
If you run a very small business and are looking for predictable flat-rate pricing and true pay-as-you-go billing, Square is a much better choice. Merchants who want the capabilities available with Clover's POS lineup should consider either National Processing or Dharma Merchant Services, two other Fiserv resellers that offer much better service and lower prices than BAMS. Finally, we encourage you to check out our roundup of the best credit card processors for small businesses, where you'll find even more excellent choices for your business. Good luck!
---
⭐️ Our Top Pick To Get Your Merchant Account Approved ⭐️
PaymentCloud


---



PaymentCloud has an excellent track record for both service quality and account approvals.
⭐️ Our Top Pick To Get Your Merchant Account Approved ⭐️
PaymentCloud


---



PaymentCloud has an excellent track record for both service quality and account approvals.
To learn more about how we score our reviews, see our
Credit Card Processor Rating Criteria
.