Bank Of America Merchant Services Review
Bank Of America Merchant Services has undergone many welcome changes in the past two years, including no more long-term contracts and predictable flat-rate pricing. Could it be a good fit for your small business?
Expert Analyst & Reviewer

UPDATED
Advertiser Disclosure: Our unbiased reviews and content are supported in part by
affiliate partnerships
, and we adhere to strict
guidelines
to preserve editorial integrity.
Bank Of America Merchant Services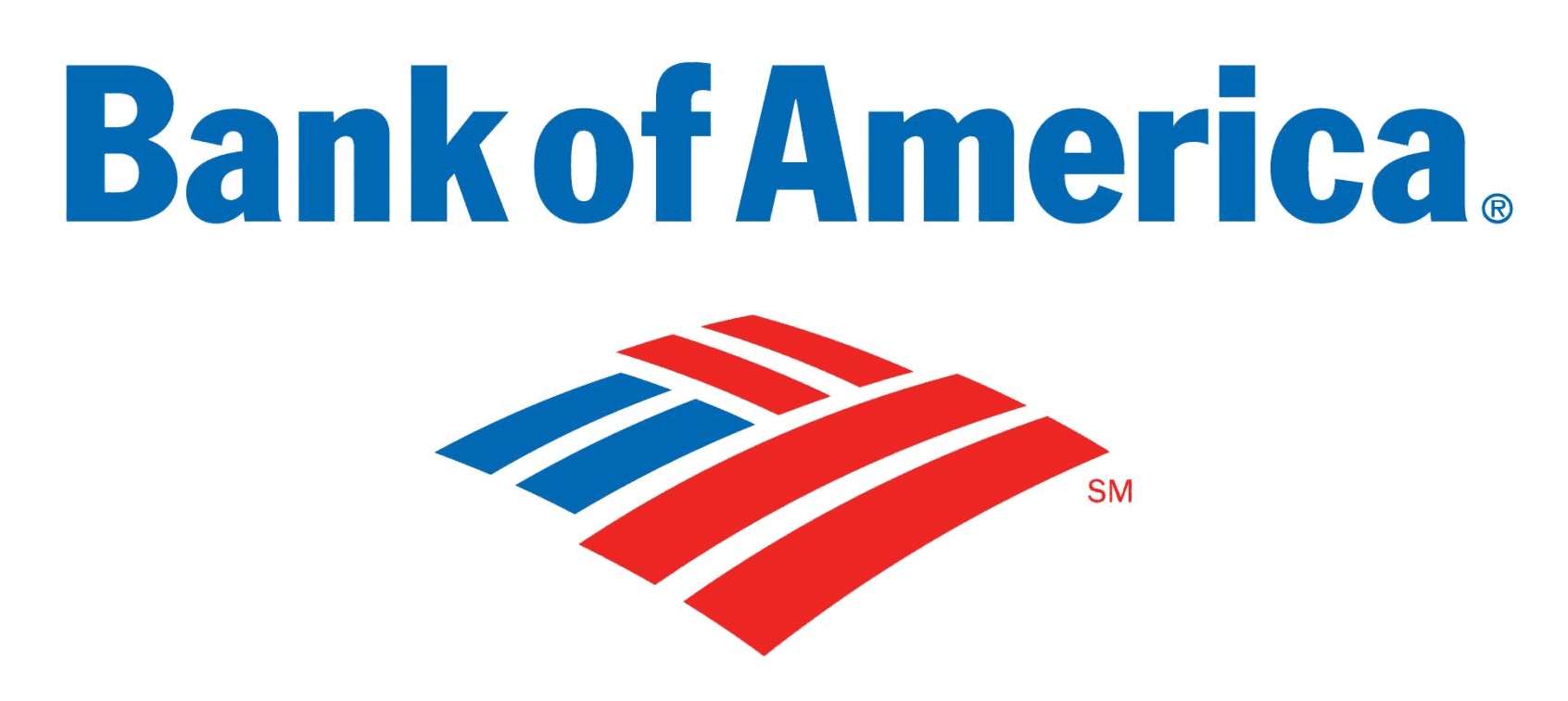 Bank Of America Merchant Services At A Glance
Require Bank of America business checking account
Offers full-service merchant accounts
Flat-rate or customized pricing options available
---
Pros
Predictable flat-rate pricing offered
Custom pricing available
No long-term contracts or early termination fees
Next-day funding available to all users
Cons
Requires Bank of America business checking account
Reports of poor customer support
What Is Bank Of America Merchant Services?
Bank of America Merchant Services (BAMS) is the merchant services division of Bank of America (BofA). BAMS offers an array of merchant services, including credit card processing, processing hardware, and support for eCommerce businesses. The company now advertises merchant accounts that come without long-term contracts and no early termination fees (a vast improvement over its previous contracts through Fiserv/First Data which it recently split from).
With its completely revamped product lineup and more flexible contract terms, Bank of America appears to be moving in a positive direction. The company now scores 4 out of 5 stars overall. At the same time, we'll be looking for fresh feedback from merchants as to how well it honors the promises made on its website.
Bank Of America Merchant Account Features & Services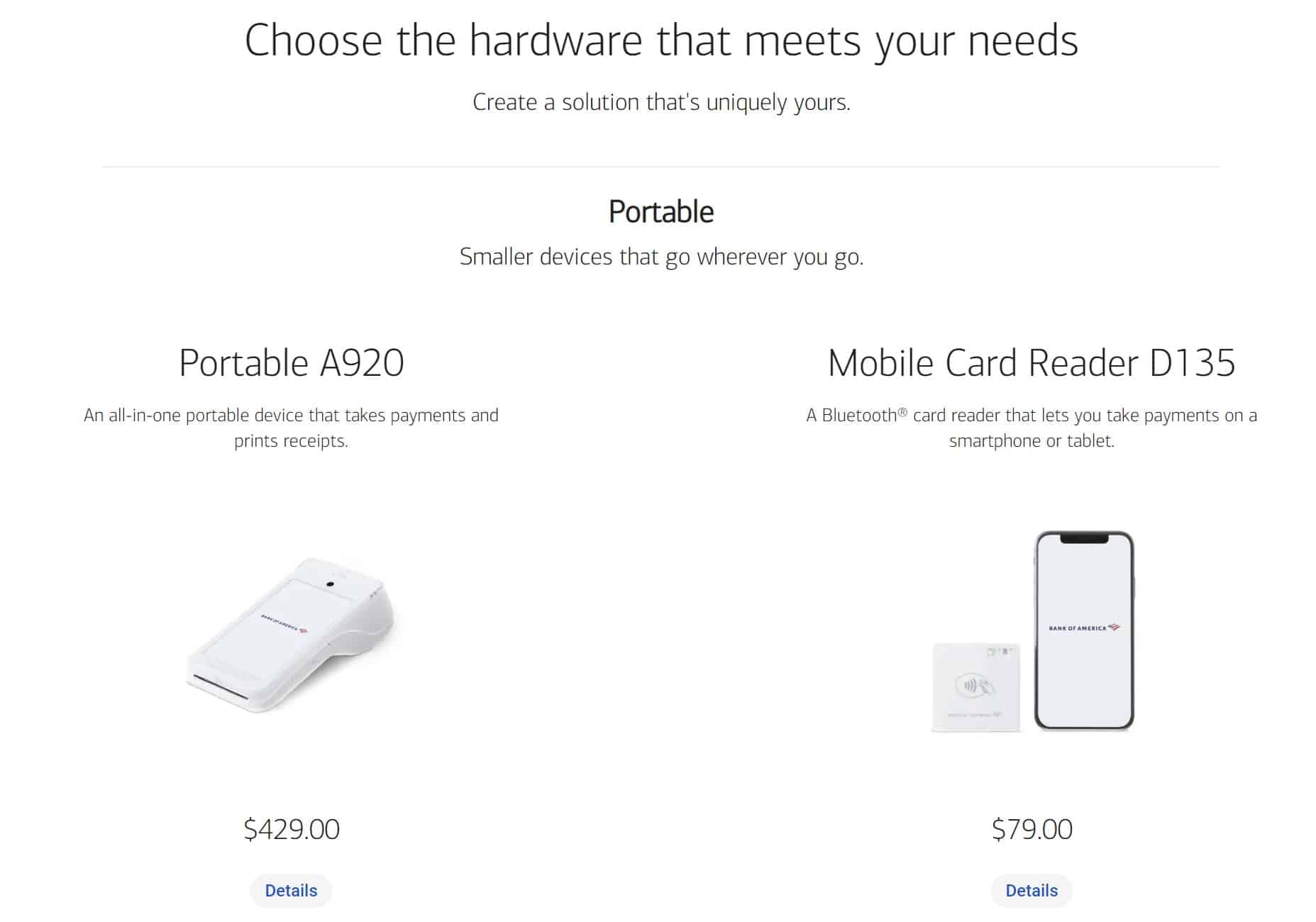 BAMS provides a full line of products and services for retail, eCommerce, and omnichannel businesses, including the following key features:
Credit Card Processing
Merchant Accounts: BAMS merchant accounts are no longer underwritten by Fiserv/First Data. However, it's unclear whether Bank of America is processing transactions directly or through an unidentified backend processor. Note that you will receive a full-service merchant account (with a unique merchant ID number for your business) whether you opt for customized pricing or the advertised flat-rate pricing plan. Also, note that BAMS does not appear to accept high-risk merchants. Most importantly, you must have a Bank of America business checking account to obtain a merchant account through BAMS.
Security Features: BAMS uses tokenization and encryption to protect your account, and it's available for free with all accounts. There's also a Fraud Management tool included with the Bank of America Payment Gateway.
Preferred Rewards Program: A unique feature offered by Bank of America Merchant Services is its Preferred Rewards program, which offers discounts on your credit card processing rates. Three tiers are available: Gold (which offers a 0.05% discount on processing rates), Platinum (which offers a 0.07% discount), and Platinum Honors Gold (which offers a 0.10% discount). Numerous fees and restrictions apply to this program, so we recommend reviewing the Terms and Conditions before signing up.
Same-Day/Next-Day Funding: All BAMS users will have next-day funding as a feature of their accounts at no additional cost. To qualify for same-day funding, you'll have to apply for the program and pass a credit check. Fees for this program are not disclosed, but we highly doubt that it's free. Remember that you'll need a Bank of America business checking account to be approved for a merchant account.
Processing Hardware & Software Subscriptions
Mobile Payments: If you need to take payments in the field or prefer to use a smartphone or tablet instead of a dedicated credit card terminal, BAMS offers the D135 Mobile Card Reader. This BofA-branded reader (manufactured by PAX) supports magstripe, EMV, and NFC-based payment methods (Apple Pay, Google Pay, and Samsung Pay). It connects to your iOS or Android device via Bluetooth.
Countertop Terminals: BAMS no longer offers Clover terminals, although you can still receive technical support for these products through Fiserv. Instead, you'll find BofA-branded countertop and wireless terminals. The A80 Countertop Terminal is sold as a package with the S30 PIN Pad and supports magstripe, EMV, and NFC payment methods. It can operate via an AC adapter or on battery alone. For long-term wireless use, you can also choose the Portable A920 terminal, which features a 5″ color touchscreen and a high-capacity battery. Note that this device does not come with a PIN pad, and requires a monthly cellular data subscription.
Point-Of-Sale (POS) Systems: If your business needs a fully-featured POS system, BAMS offers the Smart Terminal E700 and Smart Register E800 models (both manufactured by PAX). Both models offer large color touchscreens, customer-facing displays, and built-in printers.
Point-Of-Sale Software Subscriptions: Most of these devices require a monthly subscription to what BAMS calls a "software solution." These include the following options:

Basic Payment Solution: Available for the Portable A80 and Countertop A920 terminals, this plan includes support for EBT and PIN debit transactions, a virtual terminal, and basic online reporting functions
Mobile Point-Of-Sale Solution: Available for the Mobile Card Reader D135, this plan includes all features of the Basic Payment Solution (except EBT & PIN debit support), and adds a comprehensive cloud-based reporting function that includes tax data.
Essentials Solution: Available for the Portable A920 terminal and required for the Smart Terminal E700 and Smart Register E800 POS systems, this plan includes all features of the Mobile Point of Sale Solution. It also adds a host of extra features, including support for loyalty programs, a customer profile management feature, integration with an Online Ordering system for restaurants, and much more.
Software & eCommerce Products
Payment Gateway: BAMS now offers the proprietary Bank of America Payment Gateway to all eCommerce users. Other payment gateways may also be supported. Integration options include a hosted payment page, checkout API, microform integration, or BofA's Card Not Present Integration Toolkit. The Bank of America Payment Gateway uses tokenization and encryption to protect your customer's payment data and meets Level IV PCI compliance requirements.
Virtual Terminal: Mail-order and telephone-order businesses need a way to manually key in credit/debit card transactions, and a virtual terminal is the most affordable way to do so. BAMS includes a virtual terminal with its payment gateway, which is available for free to all merchants.
Bank Of America Merchant Services Fees & Rates
BAMS offers the option of flat-rate credit card processing fees for small businesses, with processing rates fully disclosed on its website. Customized, quote-based pricing is also available — if you ask for it.
Flat-Rate Pricing Option
Every traditional merchant services provider in the industry is trying to compete with Square in attracting small business clients, and BAMS is no exception. The company offers the following flat-rate pricing rates on its website:
2.65% + $0.10 per swiped, dipped, or tapped transaction (card-present)
2.99% + $0.30 per eCommerce transaction
3.50% + $0.10 per keyed-in/virtual terminal transaction
These rates are generally a little lower than what BAMS was charging two years ago with Fiserv, and are roughly close to Square's current rates. There don't appear to be any other recurring fees (including a monthly account fee), but we'd still take the company's "no hidden fees" claim with a grain of salt.
Quote-Based Custom Pricing Option
BAMS also offers a customized pricing option that will take into account your monthly processing volume, prior processing history, and any other factors that it deems relevant. The company doesn't disclose any specific rates, but most likely offers either tiered or interchange-plus pricing plans. You'll most likely be initially offered a more expensive tiered plan, which you should reject. Insist on an interchange-plus plan, which will save you a significant amount of money over time.
BAMS states on its website that merchants pursuing a custom pricing option will be offered a written rate quote, complete with a full disclosure of all applicable processing rates and account fees.
We strongly encourage you to review your quote carefully, and negotiate for a better deal rather than blindly accepting the company's initial offer.
Hardware Pricing
BAMS now offers a full line of Bank of America-branded mobile card readers, terminals, POS systems, and accessories. Pricing is as follows:
Mobile Card Reader D135 – $79/unit; app is free
Countertop A80 Terminal + PIN Pad SP30 – $429 each ($289 for A80 terminal only)
Portable A920 Wireless terminal – $429/unit (requires monthly cellular data plan, cost not disclosed)
Smart Terminal E700 POS System – $929/unit
Smart Register E800 POS System – $1,249/unit
Note that pricing for the three point-of-sale software subscriptions is not disclosed, but will be included in your pricing quote.
The following accessories are also available:
Portable A920 Charging Base – $59
Cash Drawer – $149
Handheld Barcode Scanner – $279
Countertop Barcode Scanner – $349
Thermal Printer – $289
Weight Scale – $999
Bank Of America Merchant Services Sales & Advertising Transparency
Bank of America Merchant Services has recently redesigned its website from the ground up, and it's a tremendous improvement over the old one. The new site features extensive pricing disclosures, including processing rates for merchants on a simplified pricing plan and prices for the company's many card readers, terminals, and peripherals. However, there's very little information about recurring or incidental fees, other than a footnote mentioning that POS systems require a monthly subscription fee and a vague claim of "no hidden fees."
BAMS continues to use an in-house sales team to market and set up its accounts, which should lead to a positive sales experience in most cases. The company does state on its website that you will be presented with a complete fee schedule and all relevant contract documents, and that you'll be allowed to review them before signing up for an account. We strongly encourage you to take advantage of this offer by reading all of your contract documents thoroughly and clarifying any lingering questions with your sales agent before you sign up.
While the BAMS website includes links to all of the major social media sites, these accounts are for the main Bank of America organization, and finding information relevant to merchant services on any of them will prove to be quite challenging.
Contract Length & Early Termination Fee
BAMS prominently advertises on its website that its merchant accounts come with no long-term contracts and no early termination fees (ETFs). This is a welcome change from its previous practices when it was primarily a reseller for Fiserv, where three-year contracts and expensive cancellation penalties were the norm. Note that there are still plenty of older online complaints from merchants who had to pay an ETF, but this appears to only apply to merchants whose accounts were underwritten by Fiserv prior to 2020.
We have yet to see any recent complaints from merchants regarding long-term contracts or early termination penalties, so we're inclined to believe that BAMS is being honest about its contracts. Nonetheless, we strongly encourage you to read your contract documents thoroughly before signing up. BAMS doesn't advertise any "free terminal" offers on its site, but it's become common practice in the payments industry in recent years to pressure merchants to accept a free terminal in exchange for signing up for a long-term contract.
Customer Service & Technical Support
| Bank Of America Merchant Services Support | Availability |
| --- | --- |
| Phone Support | |
| Email Support | |
| Support Tickets | |
| Live Chat | |
| Dedicated Support Representative | |
| Knowledge Base or Help Center | |
| Videos & Tutorials | |
| Company Blog | |
| Social Media | |
Like other aspects of BAMS' services, customer support has been extensively revamped in the wake of the company's split from being a Fiserv reseller to running an independent merchant services organization. Overall, these changes appear to be positive. True 24/7 telephone and email support are now available again, and you won't have to contact a third-party partner to get help. At the same time, there's still no live chat option.
Perhaps the biggest improvement is the launch of a new Merchant Help Center, an extensive online knowledgebase full of technical support discussions, product documentation, and other helpful resources. The Help Center includes a search function, which should make it easier to find the specific information you're looking for.
The real question is how good the quality of BAMS' customer service is, and at this point, we don't have adequate feedback from merchants to assess this area. The company previously received many complaints from users alleging poor or ineffective customer support, but now that BAMS is handling this critical function in-house, we're hopeful that it will lead to improvements in this area.
Bank Of America Merchant Services Reviews, Complaints, & Testimonials
Negative Bank Of America Merchant Services Reviews & Complaints
Bank of America has been accredited by the BBB since 1949 and has an A+ rating, despite having received thousands of complaints in just the last year alone. Unfortunately, BAMS itself doesn't have a separate BBB profile, with complaints pertaining to merchant services being lumped in with those filed by individual consumers. With no way to search or filter these complaints to isolate those filed by merchants, we're unable to accurately gauge the overall complaint volume for Bank of America Merchant Services.
Nonetheless, other feedback from merchants is available, both in our Comments section below and on other review sites. While most of these complaints were filed before the company's split with Fiserv, they reveal the following issues:
Expensive Terminal Lease Contracts: Many merchants had complained about not being aware that they were signing a non-cancelable terminal lease. You're unlikely to encounter this issue now that BAMS sells its equipment outright and fully discloses its pricing on its website.
Withholding Funds/Termination Of Accounts: This can happen for several reasons. Excessive chargebacks or suspicious charges can easily raise a red flag that will either get you suspended or shut down. You're going to want to learn how to avoid holds and minimize chargebacks if you want to be able to accept credit and debit cards. Unfortunately, this problem can occur with any merchant services provider, so it's still a concern even though BAMS is no longer using Fiserv as its backend processor.
High Fees & Hidden Charges: These complaints date back to before the 2020 split with Fiserv, and shouldn't be as significant a problem today. BAMS no longer charges monthly or annual fees for its flat-rate pricing option, although you will still have to pay for incidentals, such as chargebacks. Merchants choosing a custom pricing plan will be presented with a quote that discloses all relevant fees that are included with your account, and we strongly encourage you to review it carefully to avoid any unpleasant surprises later.
Reputation For Poor Customer Service: During its partnership with Fiserv, BAMS received a high volume of complaints alleging poor or ineffective customer support. Unfortunately, this is a common problem in the processing industry, with larger institutions usually having the worst reputation in this area. While BAMS now offers 24/7 telephone and email support, as well as a useful Merchant Help Center, be aware that you still might encounter problems with customer support.
Positive Bank Of America Merchant Services Reviews & Testimonials
The revised BAMS website doesn't offer any testimonials from merchants at this time. While these company-controlled testimonials are always going to be one-sided, it's at least encouraging when an actual user volunteers to participate in making one.
We were also unable to locate any positive testimonials for the company on other sites. Unfortunately, there appears to be very little feedback – positive or negative – about BAMS since its 2020 split from Fiserv.
Final Verdict On Bank Of America Merchant Services
Since breaking off its relationship with Fiserv/First Data in 2020, Bank of America Merchant Services has taken several positive steps to improve both the quality of its services and its reputation among merchants. It's done away with long-term contracts, eliminated early termination fees, and introduced a flat-rate pricing plan with no monthly fees that will appeal to small-business users. It's also instituted 24/7 customer support and completely revamped its hardware lineup, eliminating Clover products and replacing them with universal devices that can be reprogrammed, if necessary. While we can't say for certain that BAMS has completely eliminated terminal leases, it's clearly moved away from them by disclosing the prices for buying them outright.
These are all very welcome changes, especially in an industry where the biggest players tend to offer the worst services and pricing to small business owners. While we have lingering concerns about the quality of the company's customer service and are still waiting for more recent feedback from merchants to determine how these changes have actually improved the overall user experience, we're comfortable with stating that BAMS has made some major improvements since our last review update. These improvements have lifted the company's overall score to 4 out of 5 stars. If you're already a Bank of America customer (or are willing to become one), it's definitely worth your time to check out Bank of America Merchant Services and compare what it has to offer against other providers.
---
Our Top Pick To Save On Payment Processing 💰
PaymentCloud


---
PaymentCloud has an excellent track record for service quality, support, and fair pricing. Learn more from PaymentCloud.
Our Top Pick To Save On Payment Processing 💰
PaymentCloud


---
PaymentCloud has an excellent track record for service quality, support, and fair pricing. Learn more from PaymentCloud.
To learn more about how we score our reviews, see our
Credit Card Processor Rating Criteria
.