Vend POS Review
Vend's POS system is well-suited for mid-sized retail businesses that need to take multiple payment types, manage multiple locations, and more.
Expert Analyst & Reviewer

UPDATED
Advertiser Disclosure: Our unbiased reviews and content are supported in part by
affiliate partnerships
, and we adhere to strict
guidelines
to preserve editorial integrity.
Vend by Lightspeed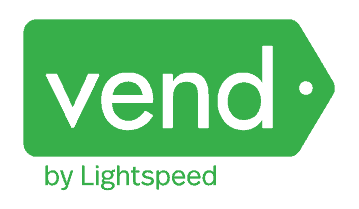 Pros
Extensive inventory management
Multistore capability
Loyalty program
Gift cards
Cons
Expensive monthly cost
No built-in eCommerce capabilities
Basic reporting tools
Vend POS Overview
Vend's point of sale system focuses specifically on in-person operations for mid-sized retail businesses. The system has great inventorying features that manage a lot of stock over one or several locations. Vend offers a built-in loyalty program for retailers to build their customer base and automated promotions to bring first-time and repeat customers back to your store.
Unfortunately, Vend doesn't come with the online transaction capabilities and built-in social media marketing tools that business owners expect in a modern POS. Business owners often find themselves paying for extra monthly subscriptions to give Vend the abilities other POS providers already include in their monthly plans.
Considering that Vend pricing plans are already expensive, business owners who want to operate online and in physical locations may find Vend is not the right POS for them. Vend does not have any built-in restaurant or general service-based features, so businesses in those industries should steer clear of this POS.
Keep reading our Vend review to find out whether Vend is the right POS system for your brick-and-mortar retail business.
What Is Vend?
Lightspeed Retail acquired Vend in 2021, and if you go to Vend's website, you'll notice that it's beginning to refer to its product as Lightspeed Retail POS (X-Series). Vend is an iPad-based point of sale system that allows mid-size retail stores to take multiple payment types, manage inventory over one or multiple locations, build customer loyalty programs, and offer discounts.
Vend POS Pricing
| Vend POS Plan | Price | When To Use |
| --- | --- | --- |
| Vend POS Lean Plan | $89/month | If you only need to take payments and manage inventory |
| Vend POS Standard Plan | $149/month | If you want to integrate an eCommerce website and accounting into your POS |
| Vend POS Advanced Plan | $269/month | If you want advanced reporting features |
Vend has three pricing plans, and the pricing for each varies depending on whether you pay for a monthly or yearly subscription, how many locations you have, the number of registers you need, and whether you use Lightspeed Payments (Vend's built-in payment processor) to process transactions.
You'll pay a monthly premium (starting at $30/month for subscriptions) if you decide against Lightspeed Payments as your payment processor.
All plans come with one register per location. Additional registers cost $59/register/month and additional locations cost $119/location/month.
Vend POS Lean Plan
The Vend POS Lean plan costs $89/month for one register ($69/month with annual billing) and includes the following:
Retail POS
Integrated processing with Lightspeed Payments
24/7 customer support
Open API access
Vend POS Standard Plan
The Vend POS Standard plan costs $149/month for one register ($119/month with annual billing) and includes everything in the Lean plan, plus:
Vend POS Advanced Plan
The Vend POS Advanced plan costs $269/month for one register ($199/month with annual billing) and includes everything in the Standard plan, plus:
Loyalty program setup
Advanced reporting
Serialization (record serial numbers for products and track which unit is sold to which customer for warranty purposes)
Vend has a calculator on its pricing page you can use to determine your total monthly cost based on how many registers and locations you need.
Vend Point Of Sale Features
You can check out a complete list of Vend's features and see a demo video on Vend's website (though you'll need to give your name, phone number, and email address to gain access). Here, I just want to touch on a few of Vend's most notable features.
Vend Retail POS
Returns and store credit
Split payments
Order holds and layaways
Track customer payment history and past purchases
Points-based loyalty program
Branded gift cards (paid add-on; not compatible with eCommerce integrations)
Customer management portal for targeted marketing campaigns
Vend POS Inventory
Barcode importing, creation, and printing
Barcode scanner app
Purchase order creation and progress monitoring
Automated stock reordering based on custom inventory rules
Custom price books based on location, customer type, and/or time-sensitive discount
Product bundling (to sell special bundled products) and breakdowns (to sell bulk inventory as individual items)
Item transfers across locations
Full/partial inventory receiving and returns
Demand forecasting to predict when you'll need more or less inventory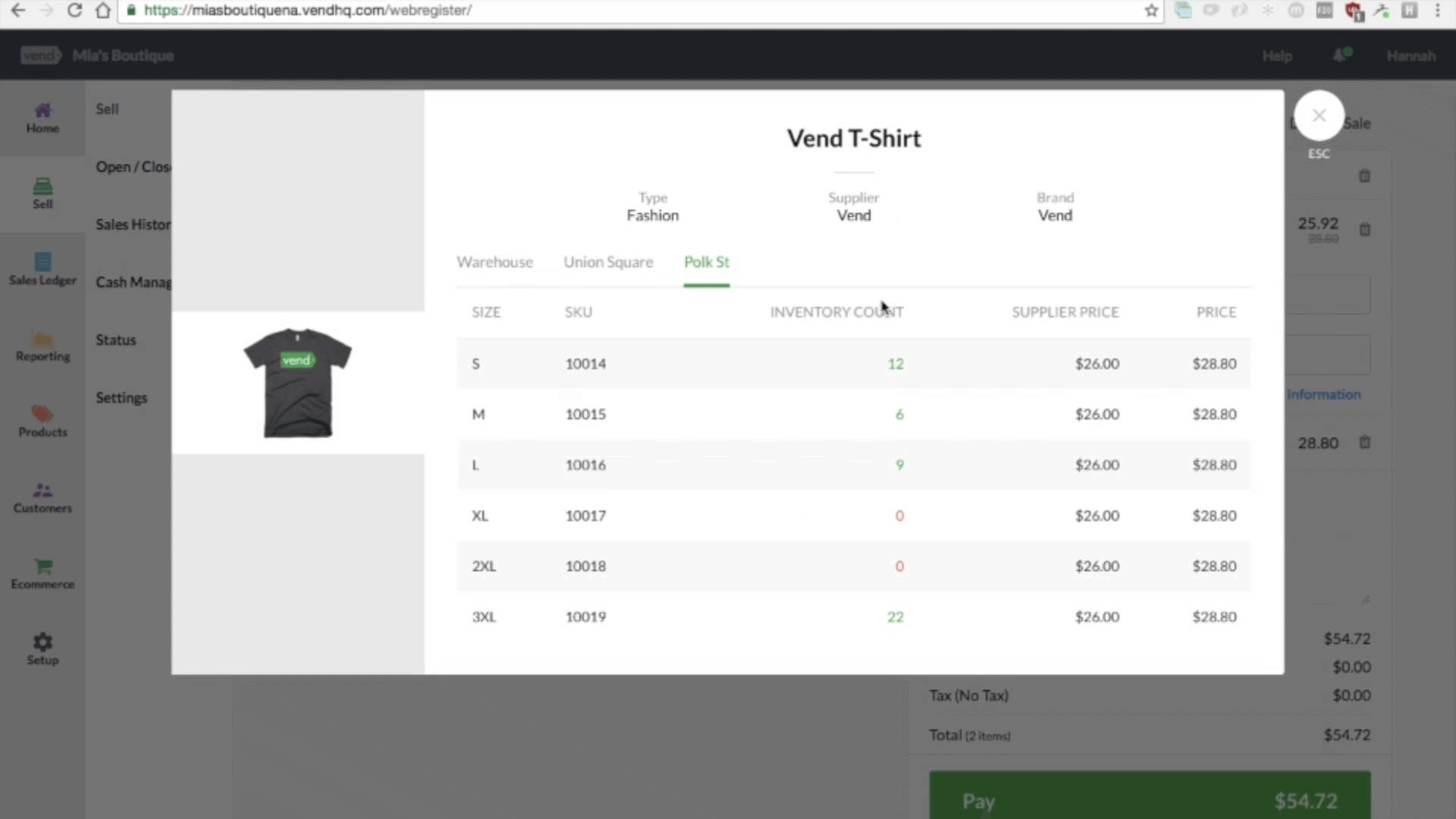 Other Vend POS Features
Open API access (to add third-party software to your POS ecosystem)
Cash management
Employee sales monitoring
Reports by product, brand, supplier, employee, end-of-day, end-of-week, etc.
Mobile Retail Dashboard containing all your data, across multiple locations, from any device
Free Ecwid eCommerce integration
Integrations with accounting software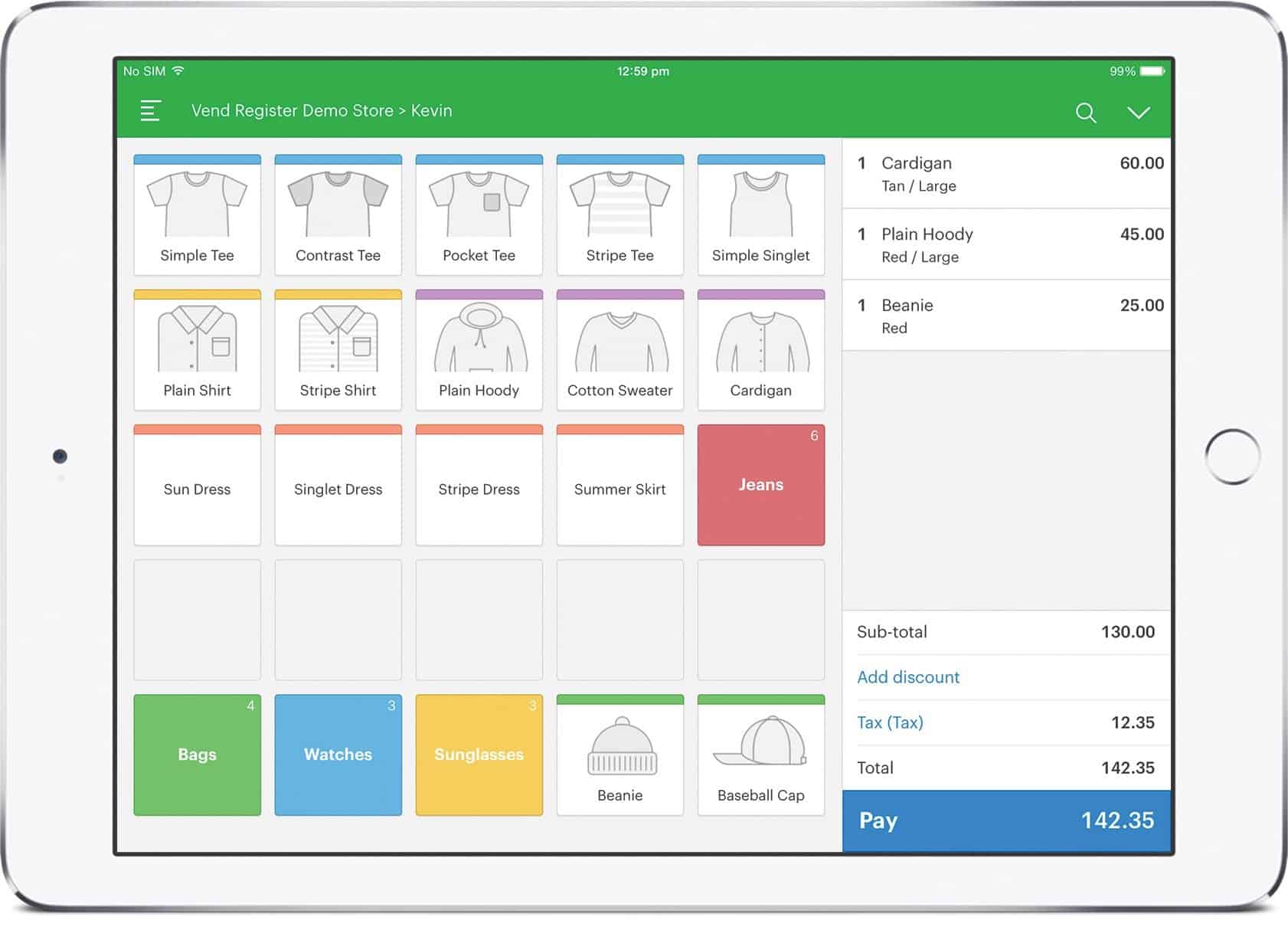 Is Vend POS User-Friendly?
Once signed up for the free trial, you'll have the opportunity to take a self-guided tour. Each category is linked to the appropriate page in the dashboard for configuration. The software walks you through the processes of adding products and customers, setting up taxes, and customizing the register quick keys, among other things. It's a great way to get oriented to the system, though it's all pretty self-explanatory, given how intuitive the software is.
Even as you get into some of the more peripheral functions of the POS, such as the loyalty program and inventory management setup, Vend is ridiculously simple to use. Vend offers a helpful 10-minute demo video that gives a brief overview of its offerings, but if you have any experience with POS systems, it's unlikely you'll need it to figure out basic functions. Adding inventory was simple, and the option to create tags to more efficiently sort products was a snap. If you import your inventory via a CSV file, you can be up and ready to accept payments in a matter of minutes.
Customer Service & Support
Vend offers 24/7 customer support on all plans, which is not very common among POS providers. These are all your support options:
Phone: Technical help is available 24/7.
Live Chat: There is a live chat option in which a live representative replies in under 10 minutes.
Email: Vend usually answers emails within 24 hours.
Knowledge Database: This database is comprised of frequently asked questions, video tutorials, and the option to submit support tickets or suggest new features.
Social Media: The company has several social media channels, including YouTube, Facebook, LinkedIn, and Twitter.
Vend's community forum has received a great deal of spam, so the page is not very active.
Payment Processing With Vend POS
Vend offers its parent company's in-house payment processor, Lightspeed Payments, as a payment processing option for merchants. With Lightspeed Payments, you'll pay a fee of 2.6% plus $0.10 per card-present transaction and 2.6% plus $0.30 per card-not-present transaction.
You can use third-party payment processors, such as Worldpay, PayPal, CardConnect, EVO, North American Bancard, TSYS, and Square, but you will have to pay transaction fees if you decide to use any payment processor other than Lightspeed Payments.
You must purchase hardware that is compatible with Lightspeed Payments if you want to use Lightspeed Payments.
Contract Length & Early Termination Fees
There are no fees and no refunds if you cancel your monthly or yearly subscription early. It's easy to cancel your subscription if you decide Vend is not the right POS for your business.
You must pay attention to how many locations and registers you add to your plan, or your monthly subscription price may skyrocket.
Finally, remember that if you choose a third-party payment processor, you will pay considerable transaction fees. If you want to use a specific payment processor, it may be best to avoid Vend altogether.
Vend Integrations & Add-Ons
Vend offers 50+ integrations with third-party software programs covering various areas, such as accounting, eCommerce, CRM, inventory management, employee management, scheduling, and analytics. These are a few standout integrations:
Accounting: Xero, QuickBooks Online, MYOB
eCommerce: Ecwid, Shopify, WooCommerce, BigCommerce
Employee Management: Deputy, Homebase, Gusto Payroll
Email Marketing: Mailchimp
Online Marketing: Pointy from Google to list items on your Google Business Profile
Plus, with Vend's open API, it's possible to build a custom integration for pretty much any business app you want.
Vend POS Reviews, Complaints & Testimonials
Vend is not BBB accredited but has an A+ BBB rating and zero customer complaints. Overall, Vend POS reviews tend to be positive.
Negative Vend Reviews & Complaints
It's pretty impressive for a system with Vend's reach to have as few blisteringly negative reviews as it does. That said, there are a few common themes that recur in negative Vend reviews:
Price: Vend isn't the cheapest solution on the market, especially with the options it only makes available with its Advanced Plan. And if you have to pay for an additional eCommerce platform, the costs can add up. Customers who don't need all of Vend's functionality often find it less than affordable.
Glitches & Missing Features: After scouring the internet, I found several complaints regarding slow servers and minor glitches in the system. Some customers have also expressed a desire for a more robust feature set. For example, one reviewer wants to see a customer display option that is not limited to the iPad app, and several found the reporting suite lacking.
Lack Of Payment Processing Options: Several reviewers complained that Vend POS was incompatible with their preferred credit card processor or could not find a supported processor that would work in their country. It's worth noting that Vend's list of payment processing partners has grown over time.
Positive Vend Reviews & Testimonials
Several customer testimonials can be found on the Vend site and the Vend blog under the tag "customer experience." But there are satisfied customers all over the web. Here is what most of them are talking about:
Simplicity & Usability: "Simple," "smooth," and "intuitive" are all words you'll repeatedly see people use to describe this system. And I can't argue with them. It's virtually impossible to get lost in this system since every function is self-explanatory. Even start-up hiccups appear to be minimal.
Inventory Management: Many customers praise Vend's inventory management system as helpful and easy to use. Reviewers especially like that you can view images of products in your inventory.
Customer Support: Based on the reviews I've read, while not everyone is thrilled with Vend's customer service, enough people are happy with it to justify putting it in the "pros" category. But suppose you're more inclined to trust real numbers than people's opinions (which may or may not be tainted by the general negativity of the internet). In that case, Vend has a real-time feedback tool that displays the current customer satisfaction rating based on the last 100 ratings. You've got to be pretty confident in your customer service ratings if you've got them out there for the whole world to see.
Final Verdict On Vend POS
Vend is one of the rare POS systems that will allow you to open it up and feel immediately at ease. The company also has a reputation for excellent customer service. For mid-sized businesses focused strictly on in-person sales, which may not necessarily need to utilize extremely in-depth reports and inventory analysis, it would seem to be a perfect solution.
When thinking about Vend, you must also consider the fact that Lightspeed Retail acquired Vend in late 2021. With this acquisition, Lightspeed Retail now has all the features Vend offers and more at the same price point. For many retailers, especially ones that want to create an online sales presence, Lightspeed Retail is the right option for them.
If you're not sure whether to work with Vend or its parent POS provider, Lightspeed Retail, both providers offer a 14-day free trial.
Before making any decisions about which retail POS system to work with, read our post on the best retail POS systems.
Vend POS FAQs
---
The Merchant Maverick Seal of Approval 🏆
Vend by Lightspeed


---
After hours of in-depth research and evaluation, we can confidently recommend this brand to our readers. Get started today and see Vend by Lightspeed for yourself.
The Merchant Maverick Seal of Approval 🏆
Vend by Lightspeed


---
After hours of in-depth research and evaluation, we can confidently recommend this brand to our readers. Get started today and see Vend by Lightspeed for yourself.
To learn more about how we score our reviews, see our
Point Of Sale (POS) Software Rating Criteria
.