5 Best Hospitality POS Systems To Succeed In 2023
These full-featured and reasonably priced POS apps offer must-have features for the hospitality industry, like online booking and staff management.
Expert Analyst & Reviewer

UPDATED
Advertiser Disclosure: Our unbiased reviews and content are supported in part by
affiliate partnerships
, and we adhere to strict
guidelines
to preserve editorial integrity.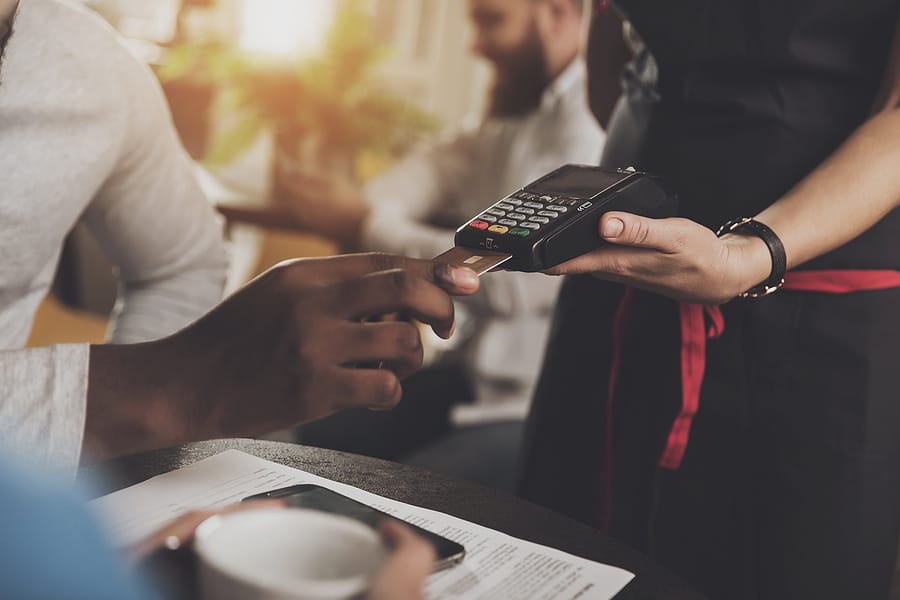 Newly vaccinated folks are beelining to restaurants, hotels, bars, theme parks — you name it. At the same time, a national labor shortage is making it difficult for these hospitality businesses to provide the level of service customers were accustomed to before the pandemic. Fortunately, a good hospitality point of sale system can make it easier for a restaurant, hotel, or any hospitality business to keep things running smoothly.
Hospitality POS features such as self-ordering, staff management, and contactless payments are helping small businesses accommodate higher-than-normal sales volumes, even when short-staffed.
Keep reading to learn about the smartest hospitality POS software systems and how they can help you succeed in 2023.
Learn More About Our Top Picks
Company
Best For
Next StepsBest For
Square POS
Best for affordable, month-to-month pricing.

Best for affordable, month-to-month pricing.

Lightspeed Restaurant POS
Best for hotel restaurant management.

Best for hotel restaurant management.

Revel POS Systems
Best for enterprise-capable functionality.

Best for enterprise-capable functionality.

TouchBistro
Best for reservation management.

Best for reservation management.

Toast POS
Best for restaurant-grade POS hardware.

Best for restaurant-grade POS hardware.

Show Fewer Options
Read more below to learn why we chose these options.
5 Best Hospitality POS Systems
The best hospitality POS software includes smart features, such as restaurant table management, online reservation booking, employee scheduling, and more. Let's take a look at some of our favorite hospitality POS systems for 2021.
1. Square
Square POS


---
Pros
Simple, affordable pricing (including free plan)
Industry-specific features for restaurants and service businesses
Straightforward month-to-month terms
Numerous feature and POS hardware options
Cons
Third-party processor means less account stability
Features may not be as deep as dedicated hospitality POS
Best for affordable, month-to-month pricing.
Square is an all-around favorite at Merchant Maverick, and for good reason.
Square is a maverick in the true sense of the word: they are an unconventional leader when it comes to all things payment processing. Square has not only remade payment processing in its image — a growing number POS systems now offer a month-to-month software plan with in-house flat-rate payment processing — but they also offer a number of business management features to fit several different industries, including hospitality.
Even though Square wasn't built for hospitality per se, there are multiple different ways a hospitality business can use Square. You can use the basic free Square POS app for its straightforward POS and payment processing. Or, you can use the free Square POS with whichever paid or free Square add-ons and integrations your business needs, like team management, marketing, and loyalty.
Yet another option is to use one of Square's industry-specific POS's, such as Square for Restaurants or Square Appointments, both of which have free and paid plans, depending on how deep of a feature set you need. As you can see, Square is all about options!
Some specific hospitality POS features Square offers include: employee scheduling, labor reporting, online appointment booking, kitchen display system, kitchen performance reports, customizable floor plans, online ordering, and QR code payments. But honestly, the easiest way to see all the functionality Square offers is to go to Square's website to see the feature lists the associated costs—all of which are outlined very clearly on the site.
2. Lightspeed
Lightspeed Restaurant POS


---
Pros
Competitive pricing with a one-year term
Integrated flat-rate payment processing
Restaurant-specific features
Hotel management software integrations
Cons
Limited offline mode
Pricey add-ons
Best for hotel restaurant management.
Lightspeed is another powerhouse in the mobile POS and payment processing worlds, combining the two to provide an affordable restaurant point of sale for iPad with integrated flat-rate processing at 2.6% + $0.10 (the same rate Square charges) unless you're on the Pro plan and can get a custom payment processing rate.
The company also offers Lightspeed Retail and Lightspeed Golf, but Lightspeed Restaurant is geared toward hospitality. In particular, Lightspeed advertises that its POS works well for restaurants located in a hotel, though any type of restaurant can use Lightspeed POS.
Lightspeed Restaurant can plug right into your hotel Property Management System software thanks to its numerous PMS integrations, including StayNTouch, Mews, Cloudbeds, Oracle, and ResNexus. The system has tabs that let you track guest charges from your restaurant to your hotel bar and room service.
And with Lightspeed's Self Order Menu, your guests can place orders from their room or table in your restaurant. For a starting price of $90/month ($69/month billed annually), that's not too shabby! However, add-ons such as self-order kiosks can drive up the monthly cost.
Get Started With Lightspeed Restaurant POS
3. Revel Systems
Revel POS Systems


---
Pros
An exhaustive, customizable feature set
Strong offline mode
Capable of handling enterprise-level businesses
Intuitive iPad interface
Cons
Long-term commitment
Pricey for a cloud POS
Best for enterprise-capable functionality.
Revel is an advanced iPad POS system that can be made to fit almost any industry, including hospitality businesses such as restaurants. During setup, Revel will customize the POS for your specific business needs. In addition to Revel's inherent customizability, some other things we like about Revel include its rock-solid offline mode to keep your business going even during an internet outage, and its constant feature additions and improvements.
Some of Revel's numerous hospitality features include online appointment bookings, table reservations, CRM, delivery management, customer display, employee scheduling, restaurant reporting, tableside ordering, and many others.
As for pricing, that's where things get a little hairy. Pricing starts at $99/month/terminal with a three-year processing agreement with Revel Advantage, and a 2-terminal minimum–and that's without add-ons such as a self-order kiosk, KDS, or digital menu board. Still, when compared to legacy POS systems such as Aloha or Micros, Revel is considerably cheaper, and may provide equally strong or even greater functionality, thanks to the power of The Cloud.
Get Started With Revel POS Systems
4. TouchBistro
TouchBistro


---
Pros
Affordable pricing
Multiple payment processing options
Excellent online reservations suite
Hybrid iPad POS uses both cloud and local server
Cons
Not suited for large, multilocation establishments
Somewhat basic POS functions
Best for reservation management.
TouchBistro is one of the most popular iPad POS systems for restaurants on the App Store. At $69/month, the POS is affordable for small food establishments like food trucks and smoothie carts, but can also be used for full-service restaurants and bars, with all of your iPads syncing to a local Mac Mini.
TouchBistro includes in-house payment processing via TouchBistro Payments powered by Chase, which has a transparent cost-plus pricing model, and also integrates with various other payment processors, such as Square, Worldpay, and TSYS.
All plans include menu management, table management, restaurant reporting, app integrations, staff management, and QR code menus. There are also various monthly add-ons you can purchase, including gift cards, online ordering, loyalty, self-service kiosks, digital menu boards, a KDS, and reservations. Though TouchBistro's core POS functionality is somewhat basic, TouchBistro Reservations is a highly useful add-on for sit-down restaurants. With this add-on enabled, TouchBistro lets you accept reservations through your restaurant's website, TouchBistro's mobile app, or Google Reservations. TouchBistro Reservations also includes guest records, which can be useful for small business contact tracing.
5. Toast
Toast POS


---
Pros
Restaurant-grade Android POS hardware
Complete restaurant management system
Free and digital-only plans are available
Tableside ordering devices
Cons
Two-year processing agreement
No built-in reservation system (though it does integrate with OpenTable and Tock)
Best for restaurant-grade POS hardware.
Like Lightspeed Restaurant and TouchBistro, Toast POS is designed specifically for food and drink businesses and can be used by any type of eatery.
Unlike the other choices on our list, Toast uses Android POS devices instead of iPads. Since Toast's POS hardware, is purpose-built for the restaurant industry, it can survive spills and drops. Using Toast Go handheld devices, servers can use to accept orders and payments at the table.
Toast is incredibly feature-rich and in addition to core POS functionality, the system also has numerous high-tech features that businesses can use to create a fully modern restaurant ordering system. These functions include QR code payments that let guests pay from their table, mobile ordering from the Toast Takeout app, eGift cards, and others. Toast can get expensive if you include all the bells and whistles, but it does offer a free plan that includes all the core POS functionality, as well as a $75/month digital-only plan for takeout and delivery-only businesses (aka "ghost kitchens") that don't need a traditional POS.
Toast includes in-house flat-rate payment processing, with a rate of 2.49% + $0.15 for in-person transactions. Similar to Revel, Toast is sold with a multi-year payment processing agreement, so it does require at least a 2-year commitment (even on the free plan).
Looking For One Of These Names?
EPOS Now
EPOS Now is a highly affordable POS system that advertises "hospitality" packages designed for restaurants and hotels. However, its restaurant functionality is too basic for us to recommend this system for any full-service eatery. Also, the company is UK-based and seems to be geared mostly toward UK rather than US businesses—for example, the only hotel PMS that EPOS integrates with is a UK-based system called Caterbook. They also charge extra for customer support, which all of our recommended hospitality POS providers include in their base price.
Agilysis
Agilysis is another UK-based hospitality software company that also offers its services to merchants in the US and other countries. The company has a wide range of PMS, POS, and payment processing solutions for hotels, resorts, spas, casinos, cruises, restaurants, and event venues.
We have not done an in-depth review of this company yet, so we can't fully recommend them. If you've used Agilysis, we'd love to hear your thoughts on their hospitality POS in the comments.
Find The Right Hospitality POS Software For Your Growth
Choosing a POS system can be a time-consuming process since there are many factors to consider. You first need to figure out your POS budget, and then you can compare hospitality POS systems in terms of their features and the value they provide. For example, a moderately-priced restaurant-specific POS system may offer features like raw ingredient management, while a lower-priced general POS may lack this feature, requiring you to buy a separate inventory app.
Besides, features and software costs, payment processing fees and contract length should be major considerations when it comes to choosing your hospitality POS. In terms of processing fee models, flat-rate and cost-plus pricing typically provide the best value for most businesses.
For further reading, check out some of our other articles aimed at helping you navigate the world of POS systems:
POS 101: Choosing A POS System
POS 101: Budgeting For Success
Your Complete Guide To Restaurant Inventory Management
In Summary: 5 Best Hospitality POS Systems