7 Best Salon POS Systems & Spa Employee Software In 2023
The best spa point of sale (POS) features will help businesses take online payments, book appointments, schedule staff, track inventory, and collect client data.
Expert Analyst & Reviewer

UPDATED
Advertiser Disclosure: Our unbiased reviews and content are supported in part by
affiliate partnerships
, and we adhere to strict
guidelines
to preserve editorial integrity.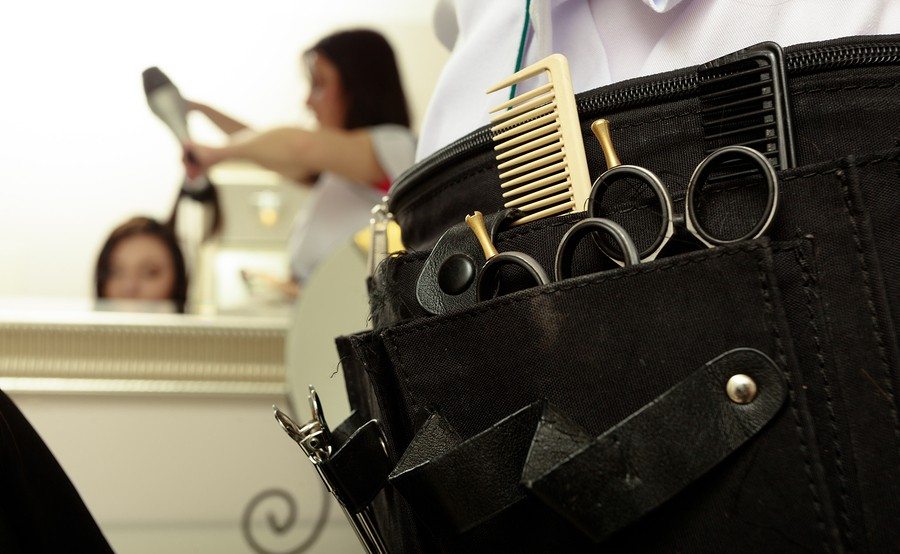 The best salon POS system is highly customizable since each salon business is different. Salon POS software should always have employee management features, online booking, and inventory tracking.
If you're ready to find the best salon POS system for your business size and service offerings, keep on reading!
Learn More About Our Top Picks
Company
Best For
Next StepsBest For
Best for independent business owners looking for an all-in-one solution.

Best for independent business owners looking for an all-in-one solution.

Best cost-effective solution for small salons and spas.

Best cost-effective solution for small salons and spas.

Best for personalized health and wellness businesses and businesses that hire out individual contractors.

Best for personalized health and wellness businesses and businesses that hire out individual contractors.

Best for salons that have a website or eCommerce presence.

Best for salons that have a website or eCommerce presence.

Best for salon, spa, wellness, and fitness franchises.

Best for salon, spa, wellness, and fitness franchises.

Show More Options
Best for large salons with a heavy focus on retail.

Best for large salons with a heavy focus on retail.

Best for customizability and flexibility of function.

Best for customizability and flexibility of function.

Show Fewer Options
Read more below to learn why we chose these options.
What Is A Salon POS System?
A POS for a salon includes almost everything you would need to run your business. Salon pos features include booking, employee management, tipping, customer engagement and marketing tools, and inventory tracking to keep your products stocked on the shelf.
You'll find salon pos equipment that enables payment on your mobile device, a pos handheld, countertop terminals, tablet readers, and several types of highly portable readers, so you can find exactly what works for you and your stylists.
Best Salon & Spa Employee Software Top Picks
We reviewed many types of point of sale software to find which worked best for a salon pos. We included salon pos systems that were created specifically for a salon or spa, and others have robust features that work perfectly with salons.
The best spa software has point of sale (POS) features to take online payments, plus appointment booking, staff scheduling, inventory tracking, and client data collection so that you can keep your clients coming back.
1. Square Appointments: Best For Independent Contractors
Square Appointments


---
Pros
Free plan for individuals
No-show protection and appointment cancellation fee settings
Integrated online booking feature
Offline payment mode
Cons
No video conferencing feature for online appointments
Limited customizability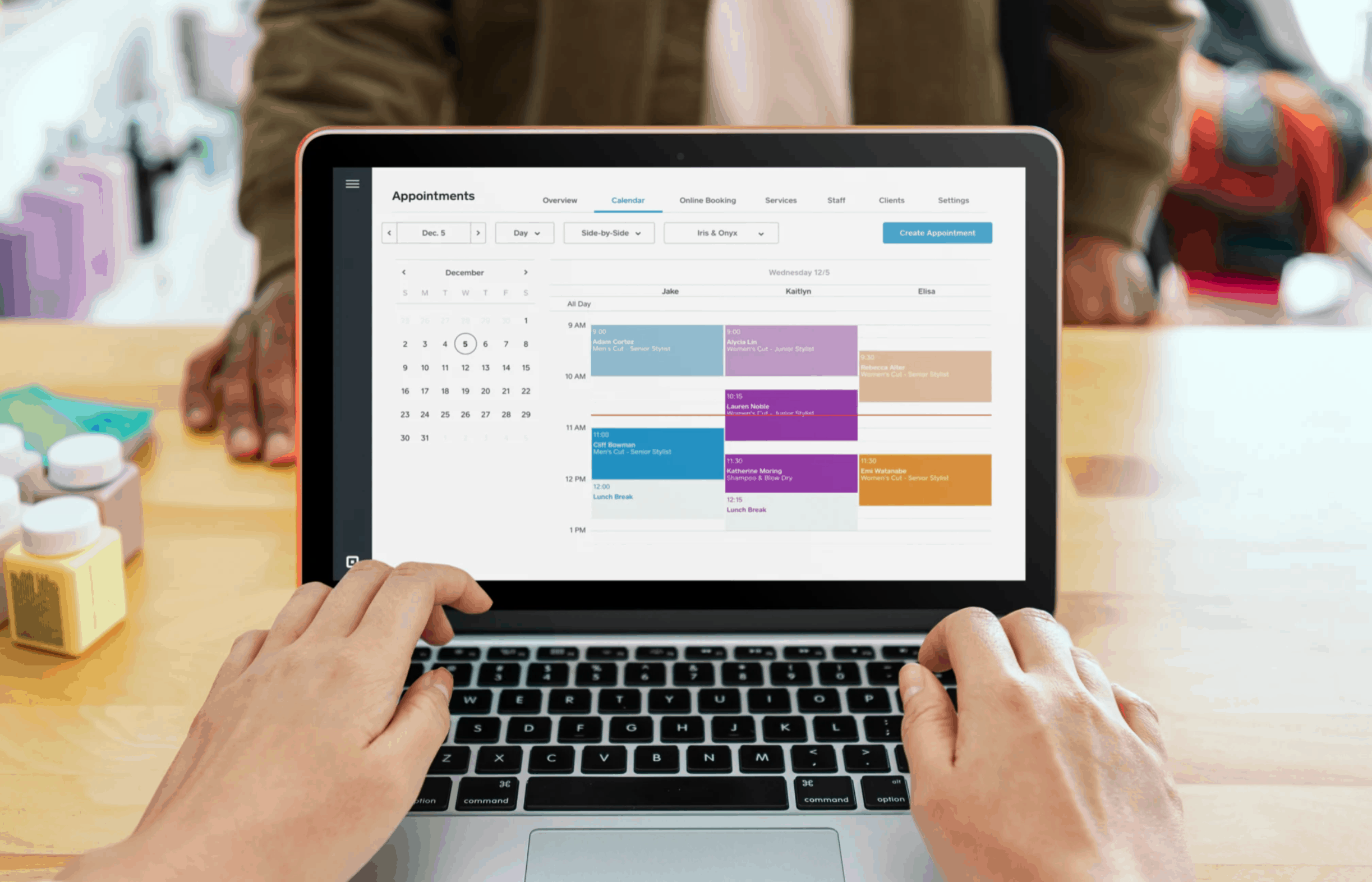 Square Appointments Spa Software Features
Square Appointments has several features, both free and paid, such as:
Free online booking website
Free Square online checkout links for customers to pay online whether you have a website or not
Square Assistant for automated reminders and rescheduling
Google Calendar sync
Google, Facebook, and Instagram in-app appointment scheduling
Social media product sales (Instagram, TikTok, etc.)
Smart Tip tipping suggestions
Commission tracking
Inventory and resource tracking
Custom and templated digital contracts
Recurring appointments
Preauthorization and prepayments
Physical and digital gift cards
No-show protection (starting at Plus plan)
Customizable appointment cancellation fee charges
Multilocation management (starting at Plus plan)
Easy mobile payment options
Offline payment mode, so you can get paid even if the WiFi's out.
Square Appointments Spa Employee Software Features
While Square Appointments is great for the independent service provider, the POS also has the following spa employee software features:
Employee accounts
One (free) and other paid account permission
Time and break tracking
Timecard reporting
Payroll exports
Discount on payment processing fees for multi-employee accounts
With Square Team Plus (available on the Square Premium plan), you have access to the following:
Custom permissions
Sales vs labor reporting
Multiple wage rates
Square Payroll system (monthly paid add-on)
Custom commission tiers
Commission reporting
Square Appointments Pricing
Free: $0/month
Plus: $29/month/location
Premium: $69/month/location
Note that prices are per location, not per register. You can use as many devices as registers and schedulers as you want in a single location.
Hardware Cost
Square Appointments runs on iPads, tablets, and desktop computers. You may pay anywhere from $49 (for a contactless Square card reader) to $1,329 (for an entire retail register kit.)
Read our guide to Square POS hardware and card readers to decide what you need and how to pay for it.
Payment Processing
Square requires you to use its in-house payment processor, and charges the following fees:
In-Person Payments: 2.5-2.6% + $0.10 per transaction (percentage varies based on your plan level)
Online Payments: 2.9% + $0.30 per transaction
Card-Not-Present Payments: 2.5% + $0.15 per transaction
Charges to your customers such as no-show and cancellation fees will be subject to online payment processing fees.
Contract Requirements/Warnings
Square has a transparent month-to-month contract that you may cancel at any time. The company also has a great warranty coverage policy, which includes device replacements on damaged hardware that you didn't purchase directly from Square.
Where Square Appointments Really Shines For Spas & Salons
Square, with its ever-expanding line of software for in-person and online transactions, makes it increasingly easy for even a single person to manage an entire business. The incredible amount of free features, like a free website or QR payment code, allow businesses to perform services at a store, at a customer's home, and anywhere in between, whether there's WiFi around or not.
This fully integrated POS, eCommerce, inventory management, appointment scheduling, and marketing solution is great for the independent contractor navigating an entire business from one device.
Get Started With Square Appointments
2. Fresha: Best For Small Salons On A Budget
Fresha


---
Pros
Unlimited free plan
Exposure via Fresha's online marketplace and app
Lower payment processing fees
Excellent customer service
Cons
Finder's fee if you decide to book new clients through Fresha marketplace
No time clock
No virtual appointments
Fresha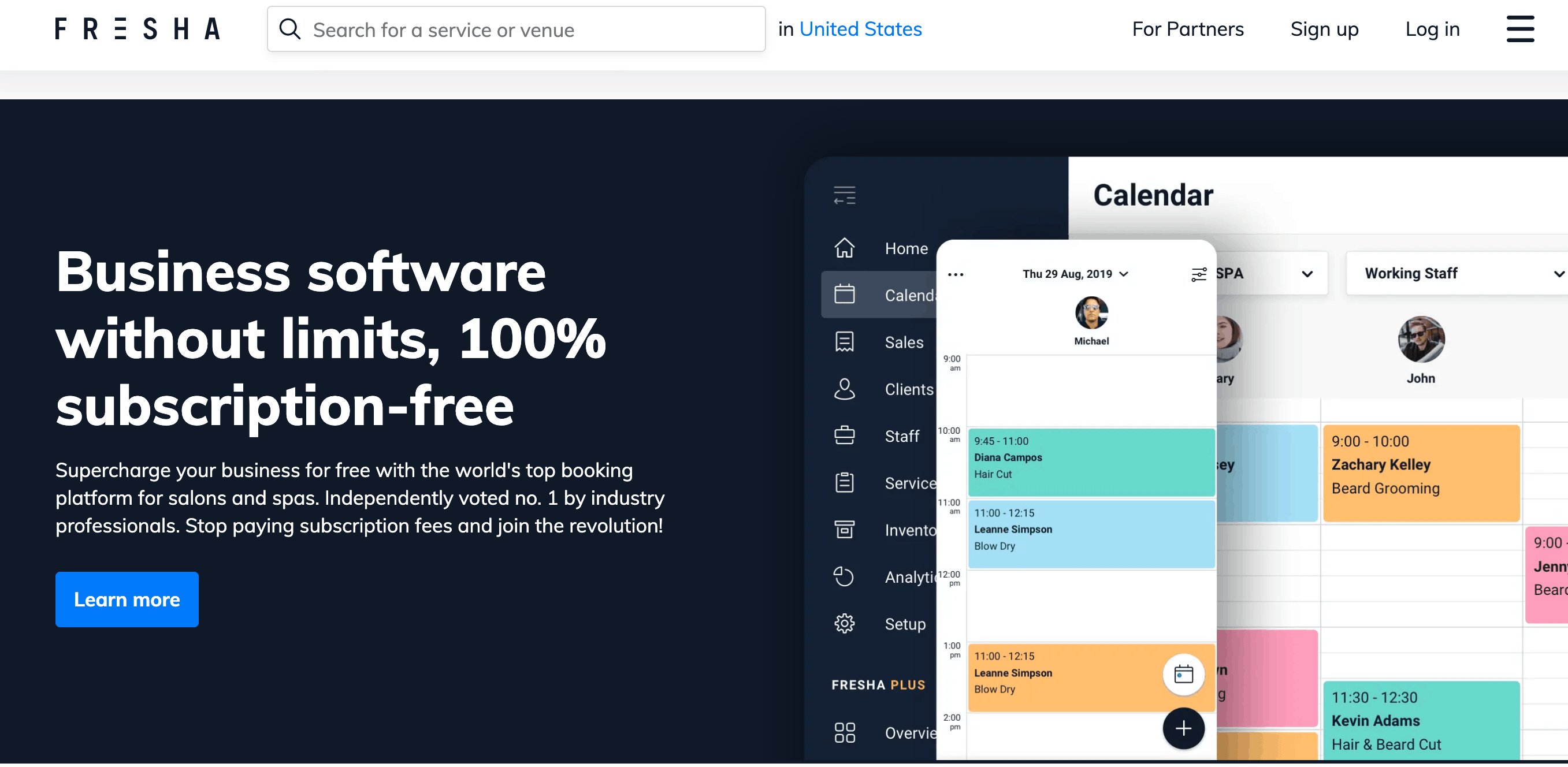 Fresha Salon POS Features
Fresha is a salon and spa-specific POS and booking software, and includes the following feature set:
Reserve appointments through Google
Book through Facebook and Instagram
Add a "Book Now" button to an existing website
Generate links to services, memberships, vouchers, or everything your business has to offer
Standing appointment scheduling
Resource-dependent bookings
Single and bundled product/service offerings
Walk-in appointments
Deposits and cancellation fee setup
Manage tip settings
Internal stock usage tracking
Low stock alerts
Invoicing, purchase orders, and receiving from within the platform
Pre-built and custom consultation forms, with the option to send prior to a client's appointment
Discounts, auto campaigns, and blast campaigns
Optional online profile listing on Fresha marketplace/app
Clients can save appointments to their online calendars
Reports on referral sources and cancellation reasons
Fresha Spa Employee Software Features
Employee availability and scheduling rules
Team member tips and commissions
Team member breaks and blocked times
Permissions for booking appointments, viewing client info, etc.
Specify staff service offerings and commission rates
Personal and professional calendar syncing
Fresha Pricing
Fresha is completely free to use, except for paid marketing blast campaigns and a 20% commission fee on first-time client bookings when they book through the Fresha online marketplace or app.
This fee does not apply to any existing clients or any clients who book anywhere other than these two locations. It only applies to the very first appointment a new client books. You may not profit from these appointments, but you do have the chance to reel in a lifelong customer that, if not for Fresha, might never have found your business.
Hardware Cost
Fresha is cloud-based and works on all operating systems. The company sells Verifone e285 and Verifone 400m card terminals, both fully integrated with Fresha. Most online retailers list both at around $400, give or take.
Payment Processing
You must use Fresha's in-house payment processing, which charges 2.19% plus a $0.20 flat fee per transaction. That is the smallest payment processing fee out of all POS providers on this list.
Contract Requirements/Warnings
Fresha is refreshingly (pun intended) transparent about its service offering. There are no monthly fees, so there's no cancellation policy.
The only requirement is that if you want to accept payments for products and services listed on your Fresha account, you must use Fresha for payment processing.
Where Fresha Really Shines For Spas & Salons
Fresha is one of the most cost-effective salon POS options on the market. This is especially true given that the software itself is free and the payment processing fees are lower than most flat-rate payment processors in the industry.
There are so many salon-specific features, like the ability to monitor shampoo or nail polish used in the salon, that salon and spa owners will have no trouble setting up the booking and retail sales solution they need.
3. Vagaro: Best For Personalized Health & Wellness Businesses
Vagaro


---
Pros
Great for salon/spa owners with independent contractors
SOAP notes to document client progress
Free EMV card reader
Payroll and accounting integrations
Cons
Customizable pricing can get confusing
Each location must have its own Vagaro subscription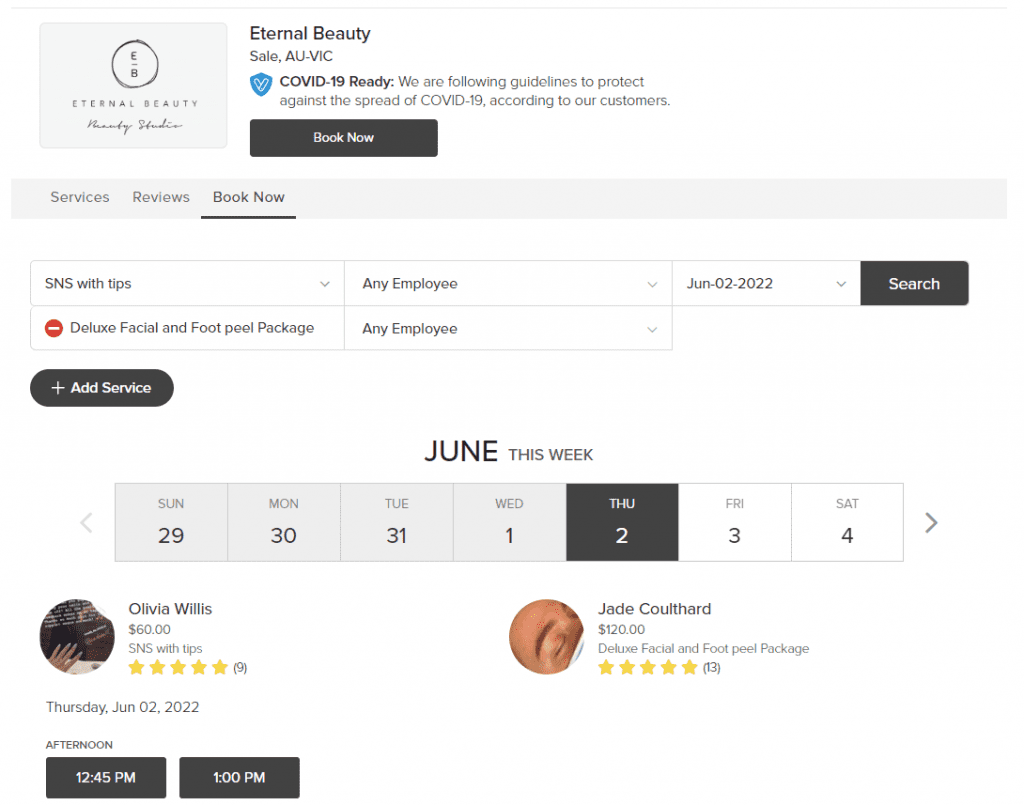 Vagaro Salon POS Features
Vagaro is an excellent choice for several business types, including medical spas, personal trainers and stylists, massage therapists, and more. Vagaro works for so many business types thanks to the following features:
SOAP (Subjective, Objective, Assessment, and Plan) notes for medical spa employees, personal trainers, etc.
Customizable forms, surveys, waivers (paid add-on)
HIPAA compliant software
Booking via Instagram, Facebook, Vagaro marketplace, Yelp
Booking by available resources
Payment links sent to mobile devices
Automated appointment cancellation fees
In the event of a cancellation, a waitlisted person is automatically bumped up
No-show protection via deposit charges/pre-pay options
Invoices and automated purchase ordering
Low-stock alerts
Free email marketing (1,000/month)
Memberships, packages, gift certificates
Loyalty points program
Discounts and coupons
Automated appointment notifications and reminders
Identify appointment status in personal/master calendars
Self-check-in app (paid add-on)
Live stream classes and consultations (paid add-on)
Branded app (paid add-on)
Website builder (paid add-on)
Online store (paid add-on)
Mobile scheduling app
Multilocation management
Google review responses
Vagaro Spa Employee Software Features
Integration with Gusto payroll and HR software
Customizable employee calendar permissions (employees can accept their own appointments, requests, etc.)
Admin level employee scheduling (manual and automated)
Customizable and bulk employee service listing/pricing
Employee clock-in/clock-out
Personal and professional calendar sync
Edit employee availability
Reassign appointments to other team members
Team members may share their calendars with co-workers
Automated rent/fees collection from independent service providers renting your space
Automated 1099 forms
Vagaro Pricing
Vagaro's pricing varies depending on the number of bookable calendars. A bookable calendar is a calendar that an individual performing services can use to schedule their own appointments. Admin and front desk staff do not need their own bookable calendar.
One bookable calendar starts at $25/month and each additional bookable calendar is an extra $10/month. Past seven calendars, you pay $85/month no matter how many calendars you need.
Vagaro add-ons include:
Self-Check-In App: $10/month
Live Stream Classes/Consultations: $10/month
Branded App: $200/month
Website Builder: $10/month
Online Store: $10/month
Text Marketing: $20/month
Hardware Cost
The software itself is cloud-based, so you may use iPads or tablets.
Vagaro gives a free EMV card reader to each new merchant. Additional card readers cost $75 each.
The company has three payment systems (Vagaro lists them as "Pay Desk Systems.) ranging from $749 to $1,256. If you sign up for a yearly contract, you can get a $75 discount on the Pay Desk Plus or Pay Desk Complete system.
Payment Processing
Small Merchants: 2.75% per transaction; 1% ACH bank transfer fee
Large Merchants: 2.2% plus $0.30 per transaction; $10 monthly fee; 1% ACH bank transfer fee
Small merchants make less than $4,000/month.
Contract Requirements/Warnings
There are several potential add-on payment processing fees, such as chargeback and retrieval fees. Read up on what those fees are and be sure to avoid them.
Vagaro hardware is under a one-year warranty.
Where Vagaro Really Shines For Spas & Salons
Vagaro is a highly customizable POS solution that works for a variety of beauty, wellness, and fitness businesses. It's also great for business owners that contract individual stylists, trainers, massage therapists, nutritionists, acupuncturists, etc.
Busy salon and spa owners with multiple employees, service, and product offerings will appreciate Vagaro's all-in-one business management platform. The company's built-in merchant services, inventory management features, payroll integration, accounting integrations (Quickbooks Online and Xero), and eCommerce add-ons allow you to build a tailored all-in-one sales solution.
4. Shopify POS: Best Online Salon Features
Shopify POS


---
Pros
Website builder with salon-specific templates
Automatic inventory syncing across all sales channels
Several salon-friendly appointment & scheduling integrations
Cons
Requires third-party booking integration for appointment features
No simple way to charge cancellation fees
No offline payment processing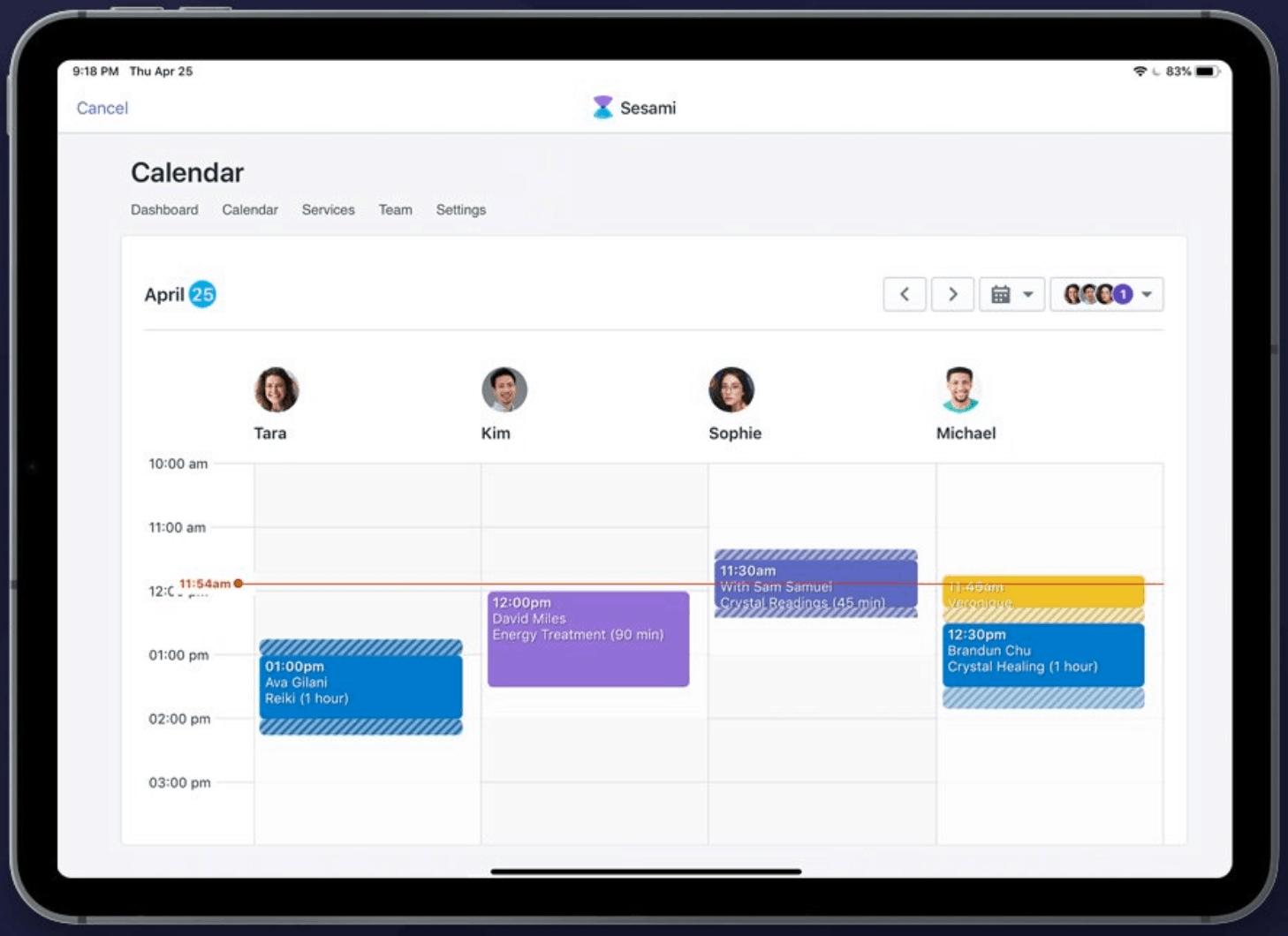 Shopify Salon POS Features
Shopify is an excellent in-person and online sales platform, thanks to Shopify's built-in features and the Sesami appointment booking app.
Some of Shopify's standout built-in POS features include:
Intuitive website builder (starting at Basic plan)
Website templates specifically for salons and spas
Social media selling (including selling on TikTok)
Customizable tipping options
Split payments
Easy exchanges and returns
Gift cards, certificates, and loyalty program
Seasonal item sales
Real-time inventory syncing across salon locations and online sales
Email and text marketing capabilities
Excellent mobile inventorying and sales app
The Sesami add-on app adds these features to your salon POS solution:
Online and in-store appointment booking
Booking for physical and virtual appointments
One-on-one and group appointment scheduling (events, workshops, etc.)
Customers can choose the team member they want to see
Simple appointment cancellation and rescheduling (with customizable cancellation windows)
Appointment deposits
Pre-appointment forms that can be sent as part of appointment details
Same-day appointment booking
Five, 10, 15, 30, and 60-minute booking options
Automated appointment calendar updates on your site and internal calendars
Maximum number of appointments for a given time of day
Shopify Spa Employee Software Features
Shopify's spa employee management features are a part of Shopify POS Pro, a paid add-on:
Staff roles and permissions
Management approvals
Unlimited number of staff and registers
Attribute sales to staff
With Sesami, you can also:
Schedule buffer times for team members to prep for their next appointment
Create automated appointment assignment rules
Reassign team members to different appointments
Send notification emails to team members
Send team member group event notes
Shopify Pricing
There are numerous price points for different Shopify services, starting at $5/month for Shopify Starter mobile sales, but the $29/month plan gives you nearly everything you need to run your spa or salon.
Note: Shopify offers a 10% discount on annual plans and a 20% discount on biannual plans.
The Sesami booking app starts at $0/month, but to add the app to a Shopify website, you need to upgrade to the Small plan, which costs $19/month.
For multilocation and advanced employee management features, you will need to upgrade from the POS Lite plan (included with Shopify Lite) to the POS Pro plan, which costs $89/month on top of your regular monthly subscription.
Read our complete guide to Shopify plans and pricing for more information on which Shopify plan is right for your business.
Hardware Cost
Shopify POS software runs on iOS and Android devices, but iPads are recommended. We recommend purchasing, at the very minimum, the $49 Shopify Tap & Chip card reader to take cards and contactless mobile payments.
The Shopify Retail kit, which costs $229, comes with an iPad register stand, mounting kit, mini dock cable, Tap & Chip card reader, and a card reader stand.
Read our post on Shopify hardware options and pricing for more information on what hardware to purchase and where to find the best deals.
Payment Processing
Shopify has its own in-house payment processing solution, Shopify Payments. Qualifying merchants who use Shopify Payments do not have to pay transaction fees.
You'll pay a processing fee between 2.4% and 2.7%, with the rate decreasing on higher monthly subscription plans. There's also a $0.30 flat fee per transaction. High-volume salons should highly consider upgrading their plans to reduce the amount spent on payment processing fees.
You can use other payment processors, but you will have to pay transaction fees.
Contract Requirements/Warnings
Most Shopify POS requirements concern payment processing.
If you use Shopify Payments, you must use a card reader purchased from Shopify. However, if you use a third-party payment processor, you must use a card reader sourced from that merchant service provider.
Merchants on the Shopify Lite plan may only use Shopify Payments for payment processing.
Where Shopify Really Shines For Spas & Salons
Shopify is one of the leading in-person and online POS systems in the world, mostly due to the company's vast array of selling capabilities and huge app marketplace. The eCommerce builder allows salon and spa owners to quickly get a website up and add an appointment scheduling app.
The Sesami app, available on the Shopify app marketplace, builds on Shopify's native features. Once you add the app to your Shopify dashboard, you have a complete online booking, online and in-person payment, and team management solution.
5. Franpos: Best For Franchising
Franpos


---
Pros
Multistore/franchise-specific features
Self-check-in kiosks
Blended walk-in and scheduled appointments
Cons
eCommerce and unlimited registers cost extra
No easy way to charge a cancellation fee
No offline payment processing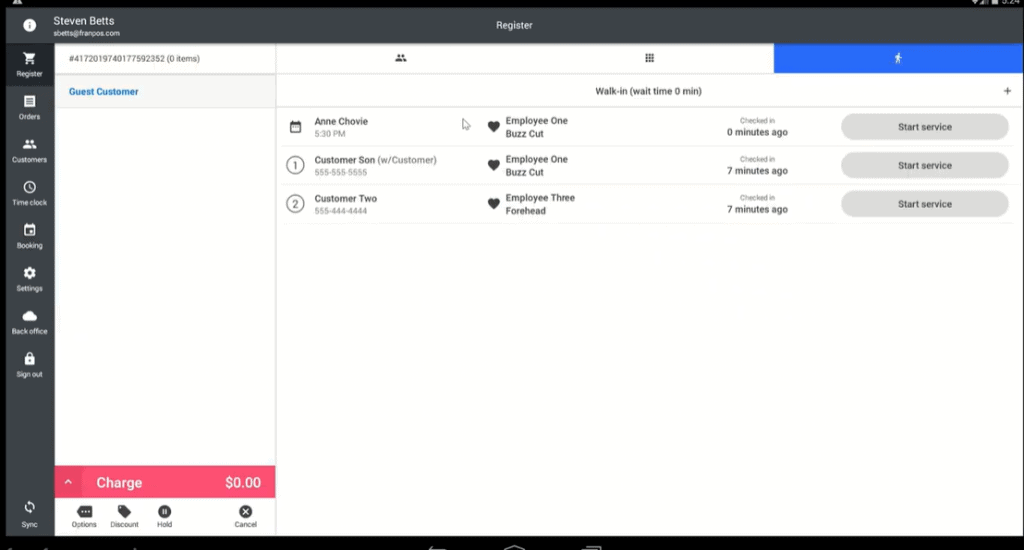 Franpos Salon POS Features
Franpos has a beauty-specific POS solution that contains the following features:
Customers can self-schedule appointments using an online calendar
Walk-in appointment app
Blended scheduled and walk-in appointment queue
Book single, recurring, and linked appointments
Book depending on available resources
Appointment requests and waitlists
Appointment text/email confirmations and reminders
Bundle products and services
Membership/subscription-based sales
Product catalog
Automated and manual discounts
Create and receive purchase orders and stock transfers
Physical and digital gift card creation
Customer, vendor, and gift card sharing across locations
Royalty criteria and setup (for franchises)
Growth marketing program (paid add-on)
Franpos Spa Employee Software Features
Franpos also has a comprehensive spa employee management system which includes the following:
Custom pay rates
Employee scheduling
Employees can be emailed their schedule
Customizable employee service type, price, time, and commission
Customizable time clock (e.g. add vacation time tracking)
Time clock report export for payroll purposes
Transfer employees to different locations
Employee roles and permissions
View employee tickets and appointment calendars
Automated scheduling based on labor forecasting
Franpos Pricing
Single Location: $199/month
Franchise: $249/month
The above plans come with one POS terminal. If you want to add more, you must pay $99/month for unlimited terminals.
To use Franpos for eCommerce, you must pay an additional $99/month.
Hardware Cost
Franpos does not give hardware costs or estimates on its website. You must call to get a quote for the company's proprietary software. Franpos also has a list of compatible hardware, so you may be able to source everything you need on your own.
The POS software itself works on iPads and tablets, and it appears that you can use iPads and tablets to create a self-check-in screen as well.
Payment Processing
Franpos is compatible with Worldpay, Square, TSYS, Heartland, North American Bancard, Vantiv, and Chase.
Contract Requirements/Warnings
Franpos outlines exactly what you'll be paying for in terms of software features right on the company's pricing page. Contracts run month-to-month and you may cancel at any point.
Where Franpos Really Shines For Spas & Salons
Franpos is a solid self-contained spa POS and spa employee software on its own, with built-in appointment booking, employee management, inventory management, and customizable payment options.
The company has gone a step further and created a POS solution specifically for business owners in the beauty and wellness industries. Features such as the walk-in appointment app, self-check-in, and franchise management all from one central cloud-based POS account, and you have an excellent POS to grow a successful franchise with a variety of offerings.
6. Lightspeed Retail: Best For Retail-Focused Salons
Lightspeed Retail POS


---
Pros
Impressive retail inventory management capabilities
Multilocation management for large salon businesses
Excellent customer relationship building tools
24/7 support & personalized onboarding
Cons
Appointment scheduling requires third-party integration
Costs extra to integrate your own payment processor
Pricey for smaller businesses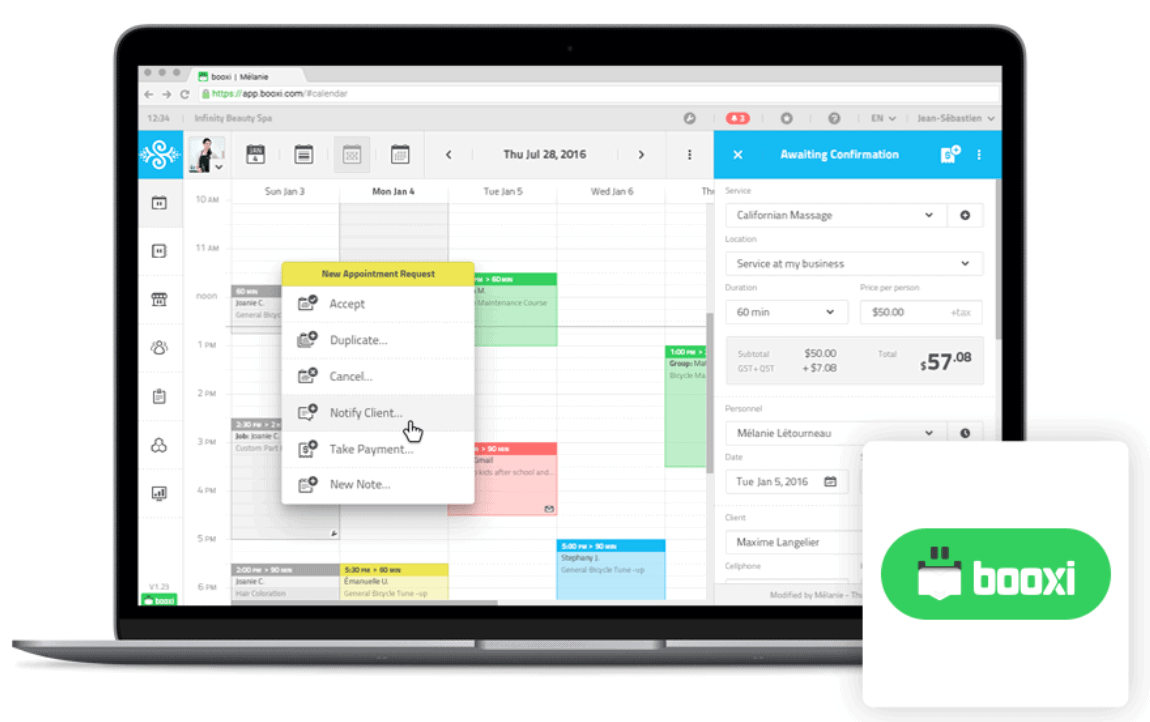 Lightspeed Retail Salon POS Features
While primarily serving retail shops, Lightspeed Retail is an excellent choice for salon/boutique businesses, due to the following standout features:
Reusable gift cards and certificates
Customer profile creation
Loyalty program
Inventory tagging and categorizing
eCommerce inventory sync
Subscription and membership sales (e.g., monthly hair product subscription)
Automated coupons (e.g., birthday coupons)
Several shipping and delivery options
Item kitting (e.g., full facial solution made of individual products)
Targeted promotions
Automated purchase ordering
Multistore management
Self-check-in kiosks
Lightspeed Retail does not have a native appointment scheduling function. However, the POS provider has partnered with Booxi to offer these features (for an additional monthly fee):
Online booking via Booxi widget website add-on
Full or partial payments prior to appointment
Automated email and text appointment reminders
Calendar sync
Video conferencing (a separate paid add-on)
Group events management
Multilocation booking
Lightspeed Retail Spa Employee Software Features
Lightspeed Retail offers a basic level of employee management features:
Employee timeclock
Employee inventorying and sales log
Performance reports
Lightspeed Retail Pricing
Lean Plan: $69/month
Standard Plan: $119/month
Advanced Plan: $199/month
These prices are for accounts that are billed annually and use Lightspeed Payments for payment processing. These plans all include one terminal. Additional terminals cost $29/terminal/month.
The Booxi integration is billed as a separate subscription and costs between $20 and $80 per month.
Hardware Cost
You can use Lightspeed Retail POS on a tablet or desktop. Hardware such as barcode scanners and cash registers can be purchased from Lightspeed (call for a quote) or you can purchase your own from a Lightspeed-supported hardware provider.
Payment Processing
Lightspeed Retail's in-house payment processor, Lightspeed Payments, charges a 2.6% + $0.10 payment processing fee per transaction.
You may use a different payment processor, but you will have to pay more per month to do this. Think carefully about whether the extra fees are worth it.
Contract Requirements/Warnings
If you do not use Lightspeed Payments for your payment processing, you will pay an extra $50/month.
You can cancel your Lightspeed subscription at any time, but you have to contact the company's billing department within 30 days of your next payment cycle to avoid getting billed for more services.
Where Lightspeed Retail Really Shines For Spas & Salons
With its excellent inventory features and omnichannel POS capabilities, Lightspeed might be a good choice if your salon sells retail products in-store or online. This software also acts as a great customer relationship and engagement system, since you can create customer profiles to target in your marketing.
Plus, once you open more locations, Lightspeed's multilocation inventory and sales tools are ready to scale with you.
Get Started With Lightspeed Retail POS
7. Clover Station: Best For Customizability
Clover POS


---
Pros
Large app store and integrations
Simple POS setup
Highly customizable
Cons
Must purchase Clover hardware
Must use with Fiserv merchant account
Add-ons can get pricey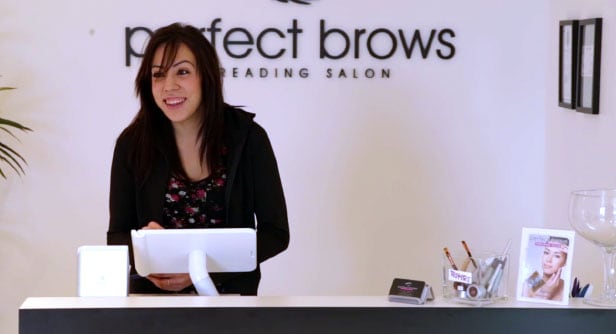 Clover Salon POS Features
With the built-in Clover POS features, plus apps from the Clover app market, salon POS owners can:
Clover does not have a built-in appointment scheduler, but there are many options out there, including the Sky Salon Scheduler, which includes:
Offline mode for bookings
Reminder texts for customers and service providers
Booking with partial and full deposit payments
Credit card saving so customers can check out faster in the future
Calendar management
eSignatures on online waivers
Clover payment from within the Sky Scheduler Salon app
Custom time blocks
Scheduling by employee or department
Products, services, and packages
Google calendar integration
Clover Spa Employee Software Features
Clover does not have a built-in employee management system, but it does integrate with several employee management software such as Homebase and Gusto to provide functions like employee time tracking, payroll, HR, performance tracking, and labor forecasting.
Clover Pricing
Clover monthly pricing varies depending on where you buy it and how many integrations you use. If you buy directly from Clover, your pricing will also vary based on whether you purchase your equipment outright or opt for a lease. If you purchase your hardware upfront, plans range from $14.95 to $94.85 per month plus the one-time cost of your equipment. If you lease your hardware, plans range from $50 to $290/month.
Hardware Cost
Clover's POS hardware is flexible, with options to work in just about any size space. The actual hardware tends to retail for around about $500 to $1,800, depending on whether you opt for the handheld Clover Flex, pint-sized countertop POS Clover Mini, the full-sized solution Clover Station, or some combination thereof.
You can also purchase your hardware from an authorized Clover reseller, and pricing may vary.
Payment Processing
If you purchase your Clover hardware from Clover, you must use Clover's built-in payment processing, powered by Fiserv. In this scenario, you'll pay a processing fee of 2.3% plus a $0.10 flat fee, or a 2.6% plus a $0.10 flat fee.
However, if you have a high volume of sales, consider purchasing your Clover hardware and merchant account from one of these best Clover resellers, as they use a different, more cost-effective fee structure for larger businesses.
Contract Requirements/Warnings
If you do not purchase your Clover hardware and corresponding merchant account from Clover, be sure to read your contract very carefully. There are many Clover card reader scams out there that can devastate a person's business.
Where Clover Really Shines for Spas & Salons
A lot of salon POS systems do not have specific features, such as email marketing integrations or on-site chats, that small to midsize salons could use to upgrade their customer experience.
With Clover, it's easy for you to add all the features to your POS system that you want, and gives you different hardware to work with. This POS walks the line between highly customizable and easy to use.
Why We Don't Recommend These Salon POS Options
Vend
Vend is one of the best retail POS systems, but it's not a good fit for most service-based businesses. While there are integrations that give Vend some of the features a salon or spa owner needs to run their business, there is no holistic solution. Plus, the starting cost of the software subscription plus necessary add-ons is not competitive with the other salon POS options on this list.
Mindbody
Mindbody is specifically geared towards gym and fitness businesses, so business owners in the beauty and wellness sphere will probably find it difficult to tailor Mindbody to their needs. This POS and scheduling software is also not competitively priced and can be overly complex.
Appointy
Appointy is software designed solely for scheduling appointments, so it lacks the features that salon owners, especially ones with physical locations, need to operate their business. For example, there are no product listing or inventory management features. This software does not natively integrate with much other software, which makes it difficult to try and integrate Appointy into your current sales solution.
You must also be on the highest pricing plan to remove Appointy branding.
DaySmart Salon
DaySmart Salon is a salon-specific POS, much like Fresha and Vagaro. However, DaySmart Salon's payment processing is powered by CardConnect, which is not a highly rated merchant service provider.
Harbortouch
Harbortouch also has its own salon-specific POS solution. However, we don't generally recommend Harbortouch because you have to sign a lengthy merchant services contract, which includes untransparent pricing, and you may face hefty fees.
Which Salon POS System Is Right For Your Business?
The best salon POS system won't be the same for everyone, but it should always include customizable booking features, employee management capabilities, and inventory management functions.
If you're looking for an inexpensive salon POS, Square Appointments or Fresha are great options for you.
If you run a large salon or sell a lot of physical products, then Lightspeed Retail has the inventory management functions you need.
Franchises should look into Franpos's beauty industry POS solution, which includes royalty and franchise expansion management tools.
Businesses focused on the health and wellness sphere will really benefit from Vagaro's salon POS, and spa owners who contract out independent service providers will appreciate Vagaro's comprehensive spa employee management features.
If you're simply interested in building your own simple customizable solution, Clover may be the POS for you, while salon owners looking to increase their online activity or build a website should consider Shopify POS.
Whatever salon POS you choose, make sure it fits your budget and can scale as much as you want it to.
FAQs: Salon POS Systems
In Summary: Best Salon & Spa Employee Software Top Picks