When You Can (& Can't) Use A Personal Bank Account For Business
It's normal for new business owners to use personal bank accounts to manage business finances, but there are real advantages to using business checking instead.
Expert Analyst & Reviewer

UPDATED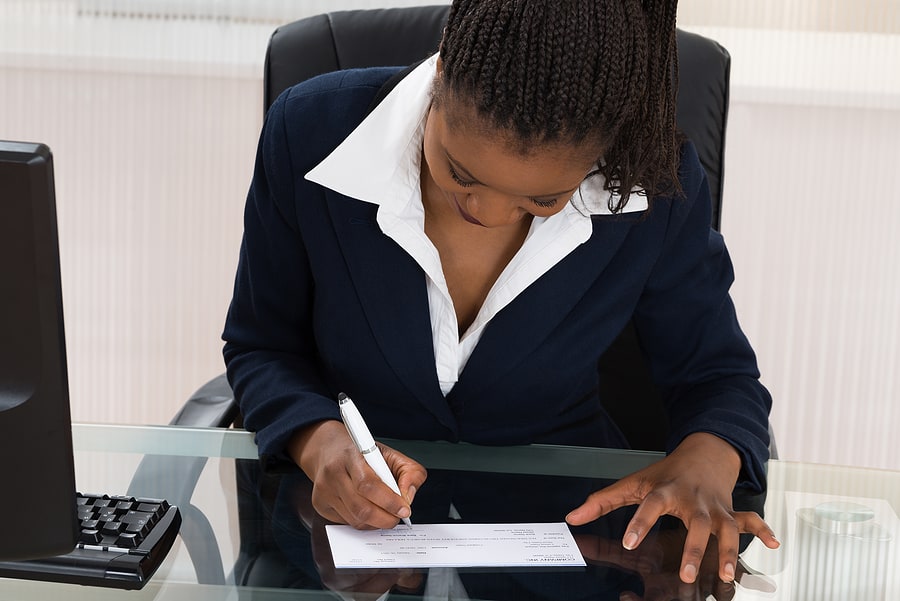 Whether you run a million-dollar business from an office downtown, store materials for your side hustle in your spare room, or coordinate orders for an eCommerce business from a seat at the local coffee shop, you'll need a bank to house and safeguard the money you make. One question you may be asking yourself is, "Can I use a personal checking account for business, or should I open a business bank account?"
It's pretty common for entrepreneurs to use a personal bank account to fund a new business. That's especially true if you've been slowly building a side gig into a profitable business venture. As you grow, is it still a good idea to use that personal account? And how do you know when it's time to open up a business checking account?
Can I Use A Personal Bank Account For Business?
First of all, no rules or regulations prevent you from using a personal bank account to manage your business expenses. And it's very, very common to start a small business using personal checking and savings accounts. Still, some experts caution against it, for reasons we'll explore a bit more below. As your business grows, and especially if it becomes your main source of income, you may rethink your decision and make the move to using business accounts for your banking.
Using A Personal Bank Account For Business: Best Practices
Although experts are in broad agreement that as a small business grows and gains complexity, the owners eventually should make the move from personal to business banking, if you're still just getting started, you don't need to rush it. We asked a number of entrepreneurs and finance experts to share their tips for small business owners who are using their personal bank accounts to run their businesses. Here's what they had to say:
1) Emphasize Business Professionalism
Using business checks to pay your bills and suppliers contributes to the favorable professional impression you want to create. If you're using your personal checking account, you won't have your business name on your checks, so make sure to choose a background for your printed checks that convey a professional tone, instead of something personally meaningful to you or just plain fun.
The bank's default check pattern is probably a good bet. Checks are relatively inexpensive to order, and that can be a good investment. Pay a little extra attention to your business forms, too, if you're using checks printed without a business name on them. You can build a good impression by making sure your invoices, order forms, email templates, and the like burnish your professional credentials as much as possible.
If professionalism is a part of your business plan, you may want to move toward business banking services as soon as possible. Financial advisor Jordan Bishop, founder and CEO of Yore Oyster, says that using a business bank account makes your business appear more official and helps suppliers and employees, if you have them, take you seriously.
"Having one can also open the door to getting better contacts for suppliers or people you buy directly from," Bishop said. "It makes your business professional, it makes it tangible, and it turns it into something others can respect."
2) Separate Business & Personal Expenses
When you're focused on the day-to-day challenges of building a business from the ground up, you may be too busy at the moment to think about the future. And as long as you have a solid business plan, a lot of the time that's okay. When it comes to finances, though, you need to be very careful about how you manage your current situation — and your future, as you grow.
That's not to say you can't do all that when you use a personal bank account for your business. If you do, you'll just need to be extra careful about keeping business and personal expenses separate at all times. For starters, having two checkbooks, one that you use for personal expenses and one for just business, is a smart step toward keeping your finances separated.
It's important to note, too, that if you have a history of mixing business and personal assets, your personal finances could be at risk if you ever decide to seek bankruptcy protection for your business or if your business fails. Isolating business funds in their own account keeps your business and personal interests separated and offers you financial protection.
3) Stay Organized
One big advantage to business banking is that it allows you to keep your personal and business expenses separate. That's something business owners — or their accountants — tend to find very helpful when tax time rolls around. In fact, mixing personal and business funds can be a red flag to the IRS and lead to tax troubles. So if you're using personal accounts to run your business, keep detailed records and save your receipts using an organized system.
Ben Reynolds, a financial advisor and CEO and founder of Sure Dividend, says that's important for two reasons: convenience, and security.
"You can save yourself some time during tax time by having a business bank account that's separate from your personal use. You won't have to dig through and divide business income and expenses," he said. "If you continue keeping your business and personal finances in one account when you have an LLC or corporation, then you could run into legal trouble that could impact your personal finances."
4) Look To The Future
When you're just starting your business, or if you're small and content to stay that way, you may never really feel the need to graduate to business banking services. If you're hoping to grow, however, you might want to start a business checking account sooner rather than later. Even if you don't need complicated financial services at this point, you probably will later, and the sooner you establish a business relationship with a bank the better. Then, when you need a business loan or a line of credit, you will have connections and a track record to draw on.
Yore Oyster's Bishop recommends evaluating your options carefully when choosing a bank to work with. "Entrepreneurs should look for business accounts that don't have any management fees," he said. "Accounts can be affordable while at the same time providing benefits for the business, like having access to a number of unlimited free withdrawals to other accounts, or allowing you to get a credit card. All of these things are the gold standard for business accounts, and it's what any business owner should be looking for."
Sure Dividend's Reynolds says it may be time for business banking services if most of your customers are using a credit or debit card for their transactions with your business. "Switching to a business bank account can enable you to save money on those transactions and boost your sales," he said. "Using business bank accounts can allow you to get a business credit card, saving you more money through discounts and rewards when you travel or buy supplies."
Find The Right Bank Account For Your Business
As you can see, while it's possible to run your business using your personal bank accounts, eventually you're going to want to move to business banking. And that begs the question: how do you know when to make that move?
Robert Farrington, founder of The College Investor, believes it can be tough to know the right answer. "The easiest sign you need to move to a business bank account is incorporating your business as an LLC, S-Corp, or C-Corp," he said. "Having an official business structure means you need an official business bank account. However, you may need one way before that anyway. If you're starting to see upwards of 10 transactions or so per month, it could be time just from an organizational perspective."
Opening a business bank account isn't the only way to manage your business finances, of course. You can also get funding from credit cards or a small business loan. (If you're thinking about applying for a loan, start your search with our list of the best banks for small business loans.)
No matter how you decide to manage your money and your business, if you want to succeed, pay attention to your finances! If you're not already well versed in the basics of business bookkeeping, add that to your to-do list. After all, managing your money can be challenging, but it's worth putting in the time to get it right.