QuickBooks Online VS Desktop Comparison 2023
Both have a lot going for them, but there are some key differences between QuickBooks Desktop and Online. Learn what they are in our comparison.
Expert Analyst & Reviewer

UPDATED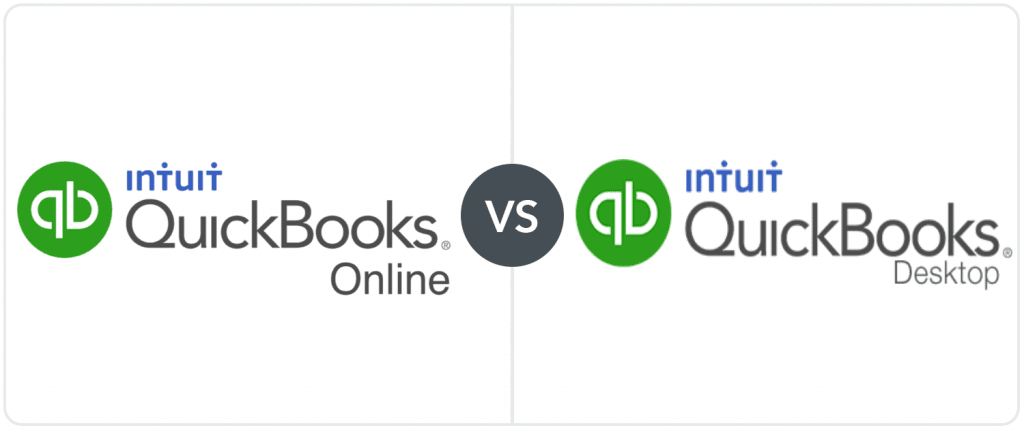 Are you trying to choose between QuickBooks Online vs. Desktop and wondering which is better? What's the difference between these two QuickBooks products anyway?
Our complete QuickBooks Online vs. Desktop comparison covers key differences, pricing, features, and usability, so you can easily decide whether QuickBooks Online or QuickBooks Desktop is right for your business.
QuickBooks Online
QuickBooks Desktop
Pricing
$30-$200/month
$549.99/year+
Installation Method
Cloud-based
Locally-installed
Number Of User Seats
1-25
1-40
Key Features

650+ integrations
Easy to use
Advanced invoicing

Strong accounting features
Advanced reporting
250+ integrations
QuickBooks Online VS Desktop
In the battle between QuickBooks Online versus Desktop, QuickBooks Online is the more flexible solution and can meet the needs of more small businesses. With two software solutions that are very alike, it's best to focus on the differences between QuickBooks Online and QuickBooks Desktop that are most important to potential adopters.
Here's a head-to-head comparison of QuickBooks Online versus Desktop:
Pricing: QuickBooks Online starts at $30/month, while QuickBooks Desktop pricing starts at $549/year.
Integrations: QuickBooks Online supports 650+ integrations, while QuickBooks Desktop is limited to just 250+ integrations.
Hosting: QuickBooks Online is cloud-based and can be accessed anywhere with an internet connection and browser. QuickBooks Desktop is locally-installed but may be self-hosted (added cost) to increase access points.
Industry-Specificity: While QuickBooks Desktop offers seven industry-specific versions, QuickBooks Online's plethora of integrations makes it flexible enough to cover the needs of businesses across multiple industries.
Software Longevity: Intuit sunsets older desktop software versions. Most recently, QuickBooks Desktop 2020 versions are being retired and will no longer support core add-on functions, such as payroll, credit card processing, support, and more. This is not a concern for QuickBooks Online.
QuickBooks Online is a more attractive option for budget-conscious small business owners looking for a flexible software solution.
What's The Difference Between QuickBooks Online VS Desktop?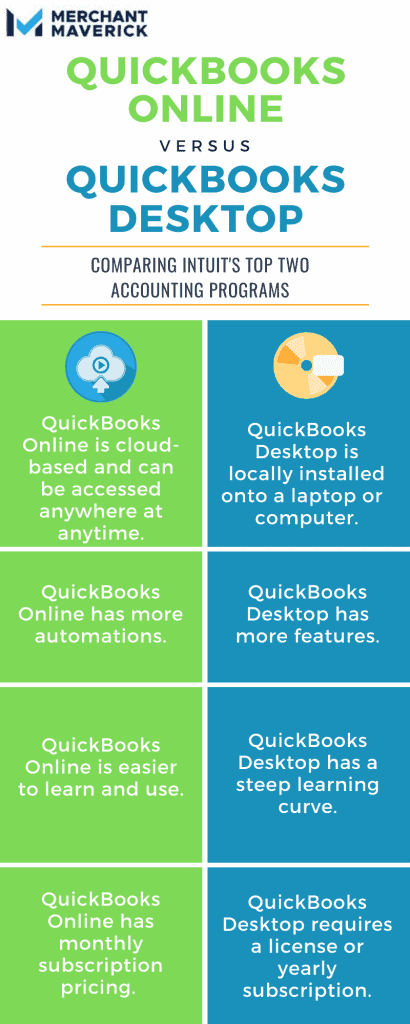 The main difference between QuickBooks Online and QuickBooks Desktop is that QuickBooks Online is cloud-based accounting software, and QuickBooks Desktop is locally installed.
Because of this, QuickBooks Online is much easier to use and has many more integrations and time-saving invoicing automations, while QuickBooks Desktop offers more advanced accounting and reporting features and optional industry-specific QuickBooks versions for certain types of businesses (construction, nonprofits, manufacturing, etc.).
Here is a quick breakdown of QuickBooks Online vs. Desktop's main similarities and differences.
Both QuickBooks Desktop & Online Offer
Strong accounting features
Hundreds of integrations
Invoicing
Expense tracking
Contact management
Inventory
Time tracking
Project management
Budgeting
Reporting
Tax support
Payroll add-ons
Mobile apps
Only QuickBooks Online Offers…
Fully cloud-based format
Mac compatibility
600 additional integrations
High-quality invoice designs
The ability to auto-schedule invoices
Invoicing in multiple languages
Optional live bookkeeping support
Only QuickBooks Desktop Offers…
Locally-installed format
Sales orders
50 additional reports
Optional industry-specific features
Optional industry-specific reporting
QuickBooks Online VS Desktop: Pricing
| | Price | Best For |
| --- | --- | --- |
| QuickBooks Online | $30+/month | Small to medium businesses with up to 25 users |
| QuickBooks Desktop Pro | $549.99+/year | Small to medium businesses with 1 to 3 users |
| QuickBooks Desktop Premier | $799.99+/year | Medium and niche industry businesses with 1 to 5 users |
| QuickBooks Desktop Enterprise | $1,340+/year | Medium to large businesses with up to 40 users |
QuickBooks Online and QuickBooks Pro have two different pricing structures.
QuickBooks Online has a monthly SaaS pricing structure. Four pricing plans for QuickBooks Online are available, ranging from $30 to $200/month (with an additional $45+/month for payroll).
QuickBooks Desktop has a yearly subscription pricing model. The prices for QuickBooks Desktop vary depending on which version of the software you opt for: QuickBooks Pro, QuickBooks Premier, or QuickBooks Enterprise.
QuickBooks Pro is geared toward small to medium businesses and starts at $549.99/year for a single user. QuickBooks Pro 2023 must be purchased through a reseller or a phone call with QuickBooks Sales.
QuickBooks Premier is suited for medium and niche industry businesses and starts at $799.99/year for a single user.
QuickBooks Enterprise is designed for large businesses or small enterprises and starts at $1,340/year. You can add payroll, more users, and cloud hosting for additional fees.
It's hard to say which software is cheaper because there are so many variables. But there are some general guidelines to know which version might be the one for your business (and your budget).
QuickBooks Desktop Pricing: QuickBooks Pro is likely the better option if you have a single user and want locally-installed software with advanced features. However, the extra costs for QuickBooks Desktop add up quickly, particularly if you have more than one user.
QuickBooks Online Pricing: If you have multiple users and use live bank feeds, QuickBooks Online will probably be a better bet. The monthly pricing structure also works better for small businesses that don't have the cash flow for yearly subscriptions.
We recommend crunching the numbers to decide whether the online or desktop versions of QuickBooks are right for your specific business.
QuickBooks Online VS Desktop: Features
| Feature* | QuickBooks Online | QuickBooks Desktop |
| --- | --- | --- |
| Invoicing | | |
| Estimates | | |
| Client Portal | | |
| Contact Management | | |
| Bank Reconciliation | | |
| Expense Tracking | | |
| Chart Of Accounts | | |
| Accounts Payable | | |
| Inventory | | |
| Time Tracking | | |
| Project Management | | |
| Budgeting | | |
| Tax Support | | |
| Built-In Lending | | |
| Reporting | | |
*Some features are only available on select plans.
Both QuickBooks Online and QuickBooks Desktop offer a large number of features. While they share many of the same features, QuickBooks Desktop's features are often more developed, except when it comes to invoicing.
Even though QB Desktop has more comprehensive features in general, there are some key features that only QuickBooks Online has, such as international invoicing. So it really comes down to which features your business values most.
Here's a breakdown of how each program's specific features compare.
QuickBooks Online VS Desktop Reviews: Which Do Users Like Better?
Both programs have their share of positive and negative reviews, although, in comparison, QuickBooks Online has received more complaints. Some of the most common criticisms are:
Limited mobile apps
Slow run time
Bugs
Poor customer support
Many users also complain that QuickBooks Online doesn't compare to QuickBooks Pro in terms of features and quality. However, the majority of reviews are positive, with QuickBooks Online receiving 4.32/5 stars (based on 5,960+ reviews) on Software Advice and 4/5 stars (based on 2,980+ reviews) on G2.
QuickBooks Online is praised for its mobility, ease of use, feature selection, time-saving automations, and integrations.
The most common complaints surrounding QuickBooks Pro include the following:
Steep learning curve
Expensive pricing
Poor customer service
However, most users still view Quickbooks Desktop favorably, and the product receives high marks on most customer review sites. The software receives 4.35/5 (based on 1,620+ reviews) on Software Advice and 8.4/10 (based on 870+ reviews) on TrustRadius. QuickBooks Pro is praised for its strong accounting, ample features, reliability, and reporting.
Overall, QuickBooks Pro reviews are more favorable, but both user bases have good and bad things to say about each product.
Is QuickBooks Online Or QuickBooks Desktop Better For My Business?
Deciding between QuickBooks Desktop vs. Online can be difficult. Here's a quick way to tell which version of QuickBooks is right for your business.
Choose QuickBooks Online If…
You want software that is easy to use and learn
You want to access your accounting remotely with mobile apps
You want time-saving automations and integrations
You want to use payment processing integrations for online invoice payments
You need international invoicing
Choose QuickBooks Desktop If…
You want locally-installed software accounting software
You need the industry-specific features of QuickBooks Premier or QuickBooks Enterprise
You need sales orders
You have very complex accounting
QuickBooks Desktop VS Online Comparison: The Final Verdict
Both QuickBooks Online and QuickBooks Desktop are capable programs with strong accounting features. Each software has its highs and lows.
With QuickBooks Online, users receive many of the same great features while gaining the mobility of cloud-based software. QuickBooks Online is easier to use and has more automations, more integrations, and better invoicing. The downsides are the lack of sales orders, lead management, and other complexities that loyal Desktop users may miss (such as customizable letter templates, a built-in calendar, and even spellcheck).
With QuickBooks Desktop, users receive some of the most developed accounting tools on the market. The software offers comprehensive features, unique touches (such as lead management and sales orders), industry-specific versions of the software, and the potential to be more secure.
The downsides are that QuickBooks Desktop lacks the mobility of QBO, has few automations and limited payment gateways, and has a steep learning curve (although the software is well-organized and gets easier to navigate with time).
Ultimately, your specific business's size, type, and needs are the real deciding factors. Read our full QuickBooks Online and QuickBooks Pro reviews for a more in-depth look at each software's features, pricing, and use cases.
QuickBooks Online VS Desktop FAQs