FreshBooks Review
FreshBooks is ideal for small businesses that want a basic, easy-to-use accounting solution and don't need complex accounting features or multiple users.
Expert Analyst & Reviewer

Updated on:
Advertiser Disclosure: Our unbiased reviews and content are supported in part by
affiliate partnerships
, and we adhere to strict
guidelines
to preserve editorial integrity.
FreshBooks

Pros
Easy to use
Excellent customer service
Good mobile apps
Well-designed UI
Attractive invoice templates
Numerous integrations
Cons
Expensive monthly cost
Limited users
Limited features
FreshBooks Overview
FreshBooks is one of the biggest names in the invoicing and accounting scene and is the software choice for over 10 million customers. FreshBooks has a number of key accounting features, double-entry accounting, and numerous integrations. FreshBooks has finally stepped up to the plate with its feature set and joined the big leagues with other accounting competitors, such as QuickBooks Online and Wave.
While there are numerous positive aspects to this accounting software, there are still several drawbacks to consider. For one, the app is expensive. Each plan only comes with one user, so the cost of additional users adds up fast. There are also some features missing that you'd find with other accounting software, such as built-in payroll.
Despite these drawbacks, FreshBooks is incredibly easy to use and has some of the best customer support on the market. It's also one of the few programs to offer built-in proposals. This software could be a good option for some small businesses.
Read on for our full FreshBooks review and see if this accounting software is right for you.
FreshBooks Pricing
FreshBooks offers three different pricing levels. Only the two largest plans come with double-entry accounting and the subsequent accounting features. You can make monthly payments or purchase a yearly subscription, which will get you a 10% discount. There is a free 30-day trial. No credit card or banking information is required, and you can cancel the service at any time. A custom plan option is also available.
FreshBooks also offers a generous referral program where you can receive $5 for each referral that ends in a free trial and $55 for referrals that end in a paid subscription. There is also a 30-day money-back guarantee if you change your mind about the software.
Here's what you get with each FreshBooks pricing plan:
FreshBooks Lite
FreshBooks Lite costs $15/month and includes:
Unlimited invoices
Unlimited estimates
Expense tracking
Contact management
Project management
Time tracking
Mobile mileage tracking
Reports
Five billable clients
One user
FreshBooks Plus
FreshBooks Plus costs $25/month and includes everything in the Lite plan, plus:
Double-entry accounting
Advanced reports
Proposals
Live bank feeds
50 billable clients
One user
FreshBooks Premium
FreshBooks Premium costs $50/month and includes everything in the Plus plan, plus:
Bill-tracking
500 billable clients
One user
FreshBooks Select
If you have more than 500 clients, FreshBooks offers a fourth service called FreshBooks Select. FreshBooks Select includes all of the features of FreshBooks Premium but adds more users and more features, such as advanced payments, QuickBooks and Xero integrations, and a dedicated account manager.
Contact FreshBooks directly for a quote for FreshBooks Select.
Extra Costs To Consider With FreshBooks Pricing
Before purchasing FreshBooks, there are a few extra costs you may have to factor in, depending on your business's needs:
Additional Users: Each of the plans above only supports one user. Additional users cost $10/month per user. FreshBooks has recently added a new manager role to help you better control user permissions. You can add contractors for no additional cost. (The contractors will have to pay for the software if they invoice more customers than just your business.)
FreshBooks Payments: FreshBooks Payments allows you to accept payments from most major credit cards directly from your invoices. Payment processing costs 2.9% + $0.30 per transaction for most credit cards.
Advanced Payments: Advanced Payments is an add-on that allows you to save and charge credit cards, manage subscription-based billing, and use it as a virtual terminal. This service costs an additional $20/month.
Cloud-Based Or Locally-Installed
FreshBooks is cloud-based, so no downloads or installation are required.
Hardware & Software Requirements
As cloud-based software, FreshBooks is compatible with nearly any device so long as you have an internet connection. FreshBooks also offers a mobile app for iOS (11.4+) called FreshBooks Cloud Accounting and a mobile app for Androids (4.4+) called FreshBooks Invoice+Accounting.
Specific Size Of Business
With the recent addition of double-entry accounting, I finally feel confident recommending FreshBooks as an accounting solution. FreshBooks is ideal for freelancers, micro-businesses, and small businesses needing simple accounting and basic features, such as invoicing, expense tracking, and project management. The software is not ideal for small businesses that require in-depth accounting and more advanced features, such as budgeting or tax support. FreshBooks does not offer native payroll but does integrate with Gusto for businesses in need of payroll services.
The software is also unsuited for small businesses needing many users. Each of FreshBooks' pricing plans only supports one user, and the software does not support multiple businesses. FreshBooks has decent user permissions to help you manage your employees' access to the software.
If you need accounting software with more users or features, we recommend looking at QuickBooks Online or Zoho Books instead.
Accounting Method
FreshBooks uses accrual accounting.
Ease Of Use
FreshBooks has always been simple to use, and the company has been rolling out small navigational updates nearly every month to improve usability. The software is easy to set up and use and requires little previous bookkeeping experience. The company is listening to users and has addressed previous navigational issues.
There is still the occasional navigational difficulty, but if you have any trouble using the software, FreshBooks offers strong customer support and provides plenty of tools to help.
FreshBooks Features
In terms of features, FreshBooks covers all the basics and has a lot of built-in automations to help save time. Here are the most notable features you can find in FreshBooks' accounting software:
Dashboard: After entering your FreshBooks login info, you'll go to your dashboard. FreshBooks has an attractive dashboard where you can quickly view important financial information about your business. The dashboard is organized by graphs for Outstanding Revenue, Total Profit, Revenue Streams, Spending, and Unbilled Time. The side menu offers quick access to key reports. There is also a quick create button in the top right-hand corner of the screen and a help button in the bottom right-hand corner.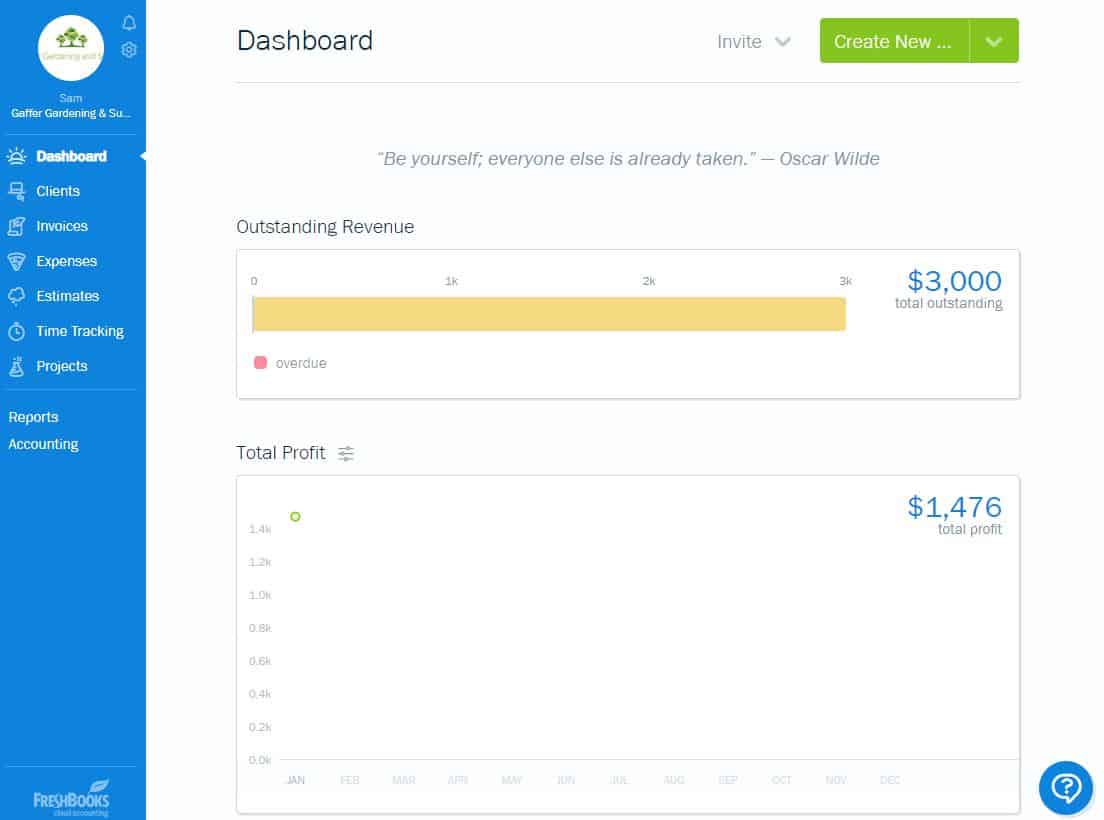 FreshBooks Invoices: FreshBooks offers two basic invoice templates that are customizable. You can change the colors, font, logo, and header. You can also add terms and notes to invoices. There's still no way to create default email messages, but the built-in chat feature is one of the coolest parts of FreshBooks. Plus and Premium users can send reminders, charge late fees, and set recurring invoices. If you click on the small cloud bubble icon, you will be taken to a screen that shows any recent action(s) on that invoice as well as messages from your client.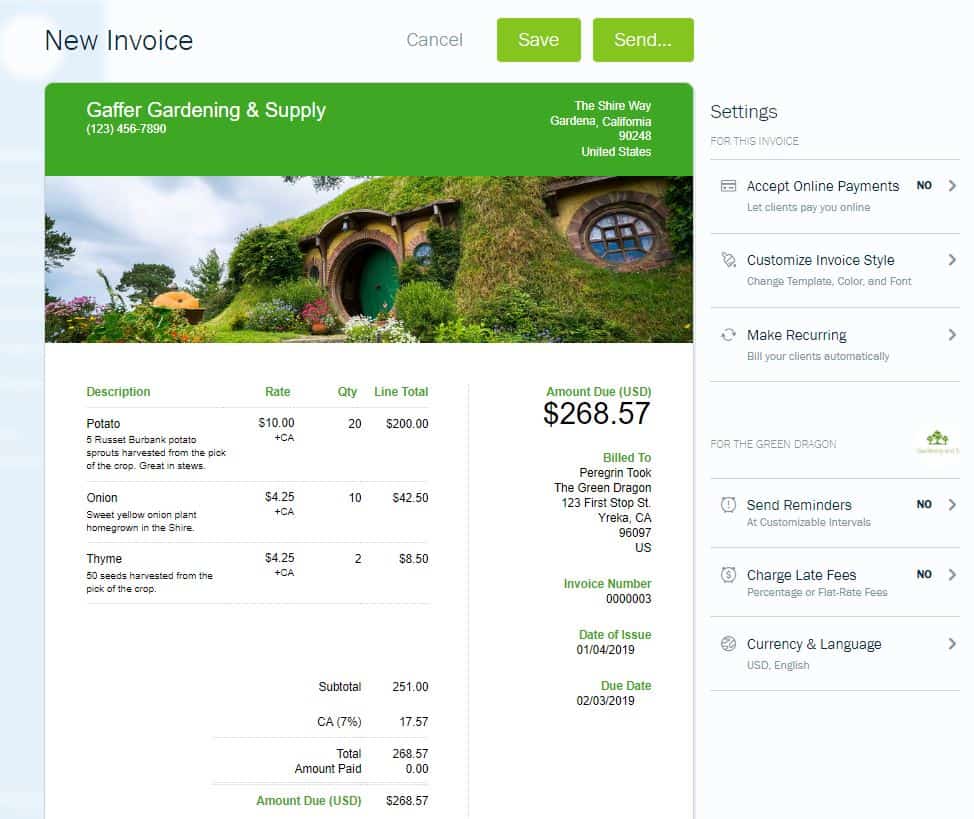 FreshBooks Estimates: FreshBooks makes it easy to send estimates. You can create duplicate estimates, quickly convert them to invoices, and view the status of your estimates (sent, viewed, accepted, etc.).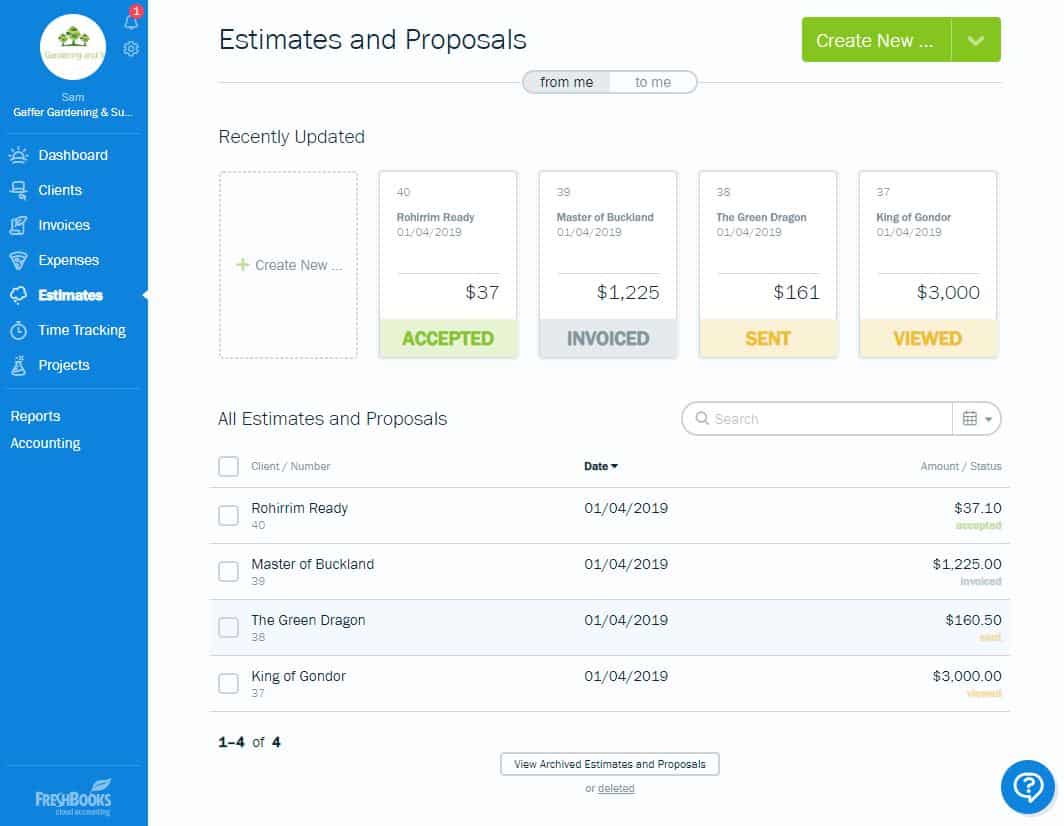 Client Portal: FreshBooks offers a beautiful client portal where your customers can accept, save, print, or comment on estimates; pay, print, save, or write messages on invoices; or view, comment on, or accept proposals. Your clients can also choose to save their bank information in the client portal.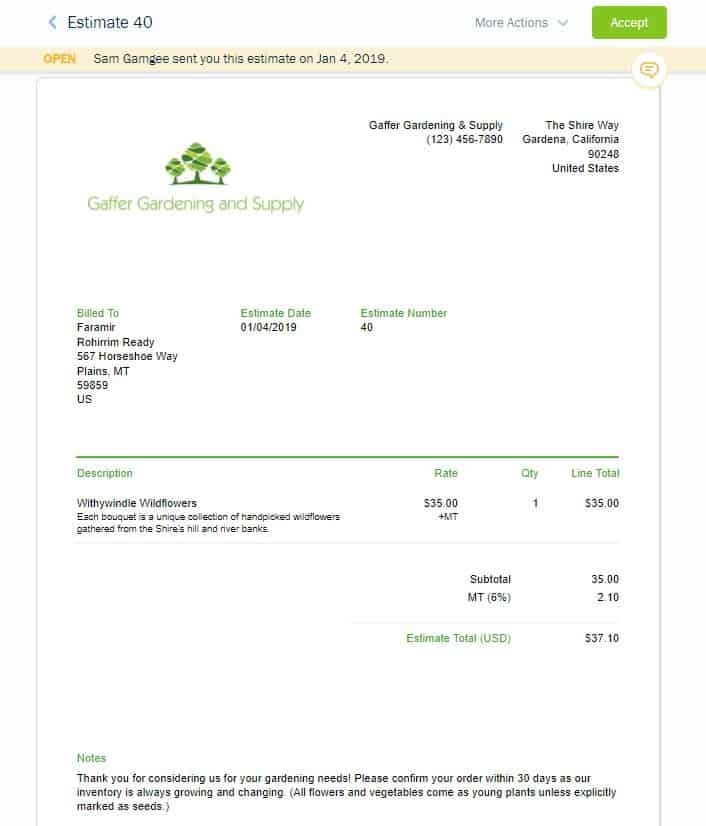 Contact Management: The contact section of this accounting software allows you to add basic client information as well as internal notes. You can also set a default currency and language and create default invoice reminders and late fees for each customer. A nice client page features graphs that show total money overdue, amount outstanding, and the amount in draft. Underneath this chart is a list of recently active clients and a full client directory. You can easily send statements directly to your clients. There is no way to manage vendors.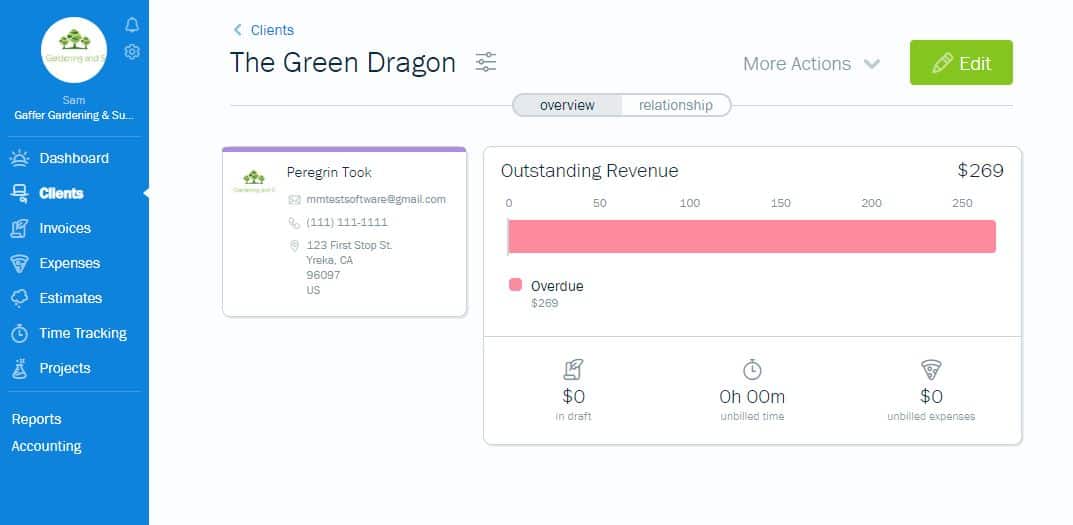 Expense Tracking: Expense tracking is made easy with FreshBooks. You can enter expenses manually, import bank statements, or connect to live bank feeds (FreshBooks' live bank feeds are not automatic like you would expect and are updated once daily). When you enter an expense manually, you can add a receipt image, a vendor, description, total, and a category. Categories are set up to closely resemble IRS tax filing categories, which will come in handy during tax season. There is no way to mark these expenses as deductions, but you can separate business and personal expenses. Note: Like almost all software using live bank feeds, FreshBooks partners with Yodlee, which may violate some banks' Terms and Conditions. Consult with your bank to see whether live bank feeds are the right choice for you.
Bank Reconciliation: With the addition of double-entry accounting, FreshBooks added a much-needed bank reconciliation feature. You can now reconcile your bank accounts in FreshBooks. Double-entry accounting is only available on the Plus and Premium plans.
Accounts Payable: An accounts payable feature is available for Premium plan subscribers. This feature allows you to track bills, bill payments, and vendors.
Chart Of Accounts: FreshBooks offers a basic chart of accounts. There is no way to edit or delete the existing accounts. There is the ability to create custom subaccounts, but only your accountant can do so.
Items: You can add items and services to FreshBooks. While there still isn't an items tab, having a place to view items is a much-needed improvement from our last review in February 2021. You can enter basic information, such as the item name, description, rate, and any default taxes.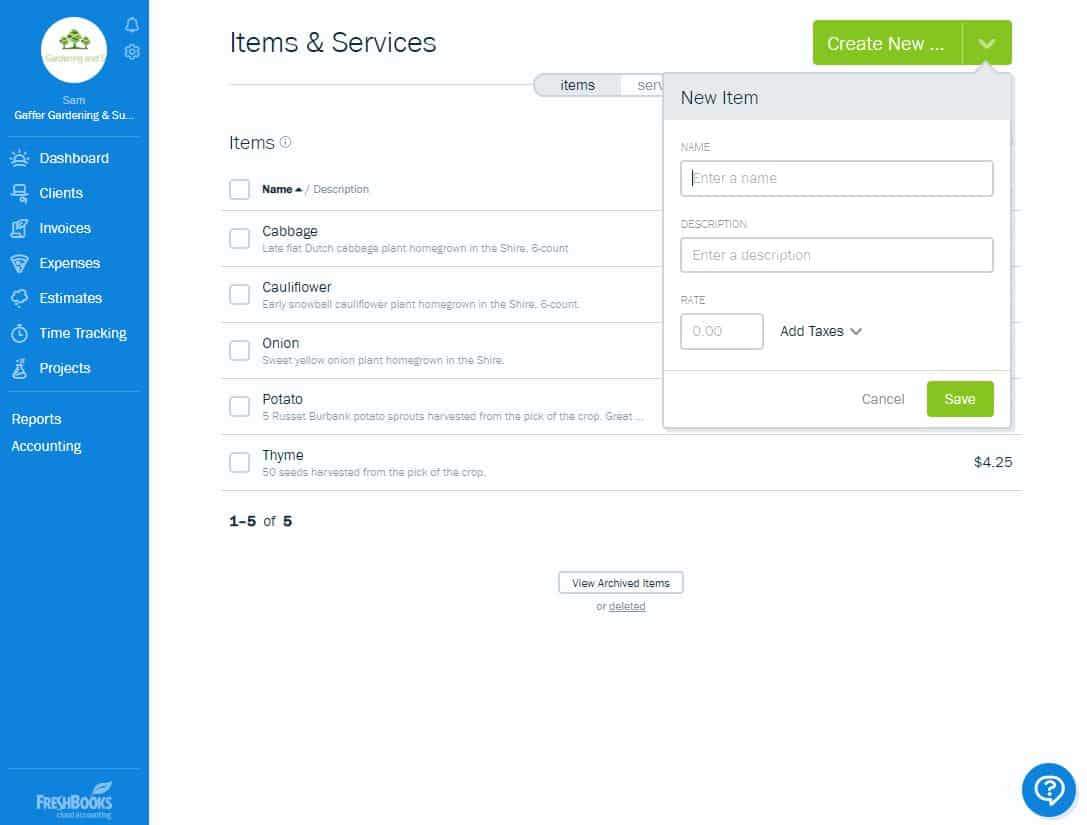 Project Management: With this feature, users can create hourly or flat-rate projects and assign them to employees or clients. You can set a time budget and due date as well. FreshBooks sets itself apart by offering an internal communications tool called "discuss," where you can chat about the project internally with your team. You can send messages, answer employee questions, and even add attachments and images with this tool. When a project is completed, FreshBooks makes it easy to bill projects as an invoice.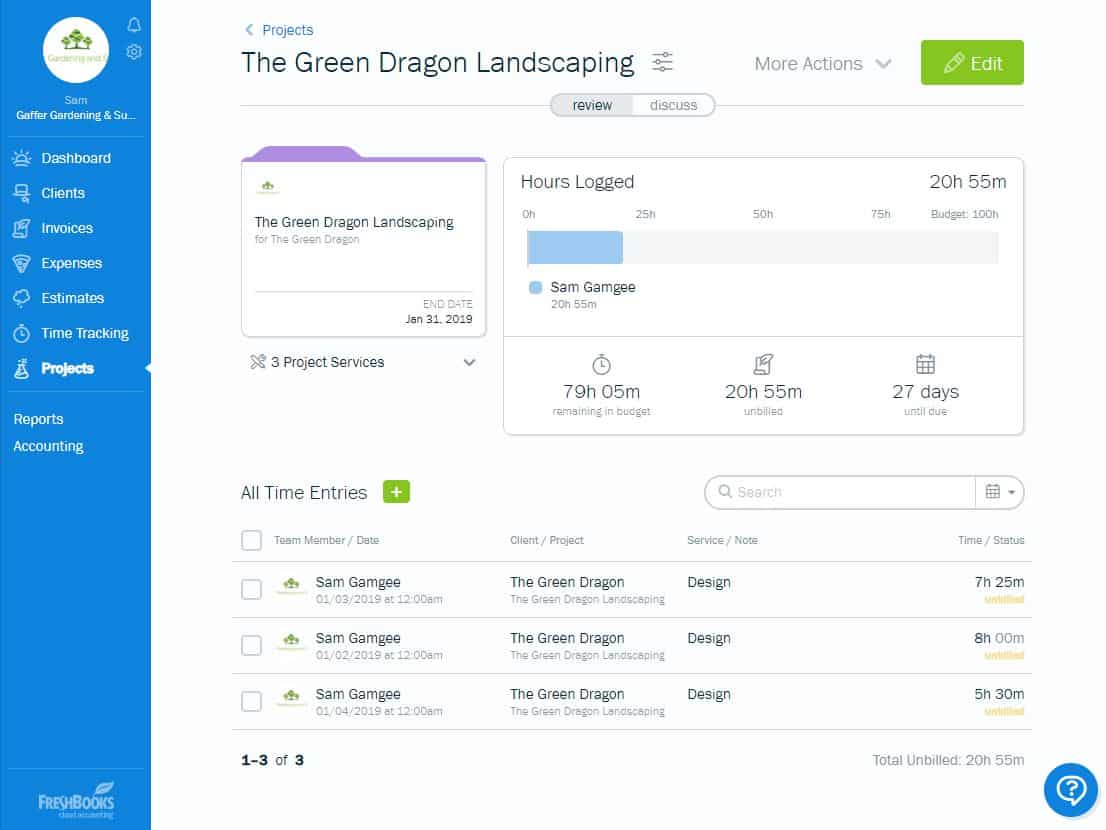 Time Tracking: You manually log time in FreshBooks or use the built-in timer. You can also easily review the logged time of your employees and contractors. Time can be added to projects and billed as an invoice, or you can choose to record unbillable time as well.
FreshBooks Reports: FreshBooks offers eight reports and three extra accounting reports for Plus and Premium users. The company has also added a reports tab for easier access. While the new FreshBooks does have more reports than the last time we reviewed the software, FreshBooks Classic used to offer 22 reports.
Journal Entries: Your accountant can create journal entries. They are available on the Plus and Premium plans only.
FreshBooks Proposals: One of the coolest features of FreshBooks is the proposals feature. It's well-developed and allows you to showcase your work with plenty of space for writing, images, and attachments. The sections include Overview, Scope of Work, Timeline, Pricing, Notes, and Terms. You can also require an e-Signature on approved proposals and easily convert proposals into invoices. Available on the Plus and Premium plans only.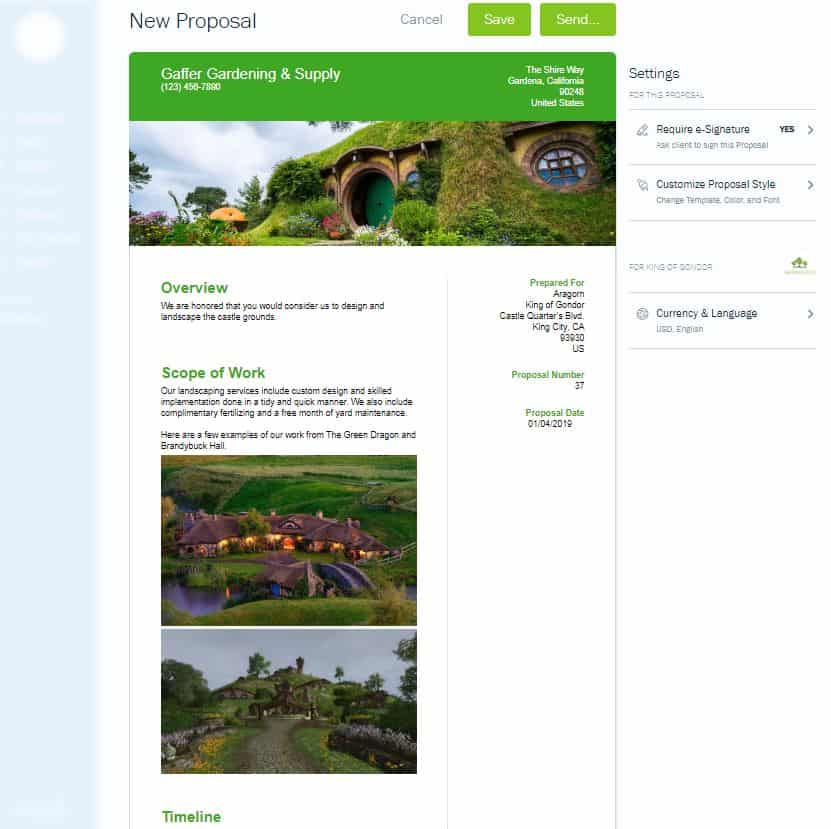 Sales Tax: Since there is no settings section, you have to add sales tax manually on each line item of an invoice. FreshBooks does save the sales tax rates that you add, but you still have to select them manually.
Multiple Currencies: FreshBooks is compatible with nearly 170 currencies and fourteen languages, making the software ideal for international invoicing and business.
FreshBooks Importing & Exporting: You can import clients and expenses via .csv. There's no way to personally import items or services (which is a bit annoying), but if you send a file to FreshBooks' support, the company will import the data for you. You can export reports and download estimates and invoices as .pdfs, but that's about it as far as exporting is concerned.
FreshBooks Customer Service
The one thing that hasn't changed over the years is FreshBooks' great customer support. FreshBooks highly values its customer service, so much so that every FreshBooks employee spends their first month in customer support. The company has also won numerous customer service awards.
Phone calls get answered right away, and in my experience, representatives are friendly, informative, and helpful. Emails are also responded to quickly, and there's a well-developed help center as well as an expansive blog.
Here are all of the support options available to FreshBooks users:
Phone: FreshBooks' phone support operates Monday through Friday from 8 AM-8 PM Eastern. Reps answer calls quickly, making this a great go-to support option.
Email: You can contact the FreshBooks support team via email. Emails are generally responded to within a few hours.
Support Form: FreshBooks also has an online support form.
In-Software Help: FreshBooks offers an in-software help section where you can search the built-in help center or leave a question for the FreshBooks team. You can also access FreshBooks' FAQs, email, and phone number from within the program.
Help Center: The help center features a large number of how-to articles and a list of FAQs. The articles are well-written with step-by-step instructions. There are two separate help centers — one for FreshBooks and one for FreshBooks Classic — so be sure you're using the correct one.
Webinar: FreshBooks offers free introductory webinars to help you become acquainted with the software.
Blog: Much like the help center, FreshBooks' blog provides a ton of articles with helpful business advice and information on product updates.
Press Center: There is also a FreshBooks Press Center if you are curious about the company's business news and coverage.
Social Media: FreshBooks maintains active Facebook, Twitter, LinkedIn, Pinterest, and Instagram accounts. FreshBooks also has a well-developed YouTube channel featuring how-to videos, getting started demonstrations, advice for small businesses, and customer testimonials.
FreshBooks User Reviews
Negative FreshBooks Reviews & Complaints
FreshBooks receives predominantly positive reviews from its customers. When New FreshBooks launched, there was an increase in negative reviews; however, these have decreased as FreshBooks has addressed common issues, such as the lack of double-entry accounting and some navigational difficulties.
Here are some of the most common issues users still have with the software.
Limited Features: Users commonly call out for better reports, a QuickBooks Online integration, more invoice templates, and more supported currencies. These features were not added when the company redesigned FreshBooks, and these requests still seem overlooked.
FreshBooks Classic Was Better: Several users like FreshBooks Classic better than the new version of FreshBooks, especially since the new version offers far fewer features. A few users note that they appreciate how FreshBooks still allows them to revert to the Classic version.
Too Expensive: Many people find FreshBooks to be far too expensive, particularly when considering its free competitors (such as Wave) offer more features for $0/month.
Positive FreshBooks Reviews & Testimonials
Overall, customers seem to like the FreshBooks product. FreshBooks has an A+ rating on BBB and receives 4.5/5 stars on GetApp (based on over 3,500 reviews), 4.5 stars on G2 Crowd (based on over 600 reviews), and 8.2/10 stars on TrustRadius (based on over 170 reviews). FreshBooks also features customer testimonials on its website and YouTube channel.
Some of the aspects that customers say they love the most in their FreshBooks reviews are:
Ease Of Use: This is, by far, the most common point of praise. Users like that FreshBooks is simple to use and saves them time on expense tracking, invoicing, and billing. Users also like that they don't have to be accountants to learn how to use the software successfully.
Amazing Customer Service: FreshBooks' customer service gets high praise. Users particularly appreciate the fast email responses and that they can talk to a representative on the phone right away without waiting.
Strong Mobile Apps: Despite a few reported glitches, most users find FreshBooks' mobile apps convenient and well-designed. The iOS app even receives 4.8/5 stars from users. While not capable of all desktop functions, FreshBooks seems to have some of the most developed mobile apps in the cloud accounting world.
Professional Invoices: Users appreciate that FreshBooks makes their invoices look professional and appealing. Freelancers especially appreciate this aspect of the software.
FreshBooks Integrations & Add-Ons
FreshBooks offers over 100 integrations to cover just about any need businesses might have. While FreshBooks offers many popular integration options, such as Gusto, Asana, and Basecamp, only two payment gateways are available. API is available for developers as well.
Many accounting software programs, such as Wave and QuickBooks Online, now offer bookkeeping services. While FreshBooks doesn't have its own bookkeeping service, it does integrate with Bench Accounting.
FreshBooks Security
FreshBooks is secured by 256-bit SSL encryption as well as Cisco-powered firewalls. Data is backed up on two servers in two separate (undisclosed) locations and is also backed up nightly onto a physical tape. FreshBooks has intrusion detection and vulnerability test programs that run frequently.
FreshBooks' servers are housed in Rackspace's data centers in addition to cloud-based security measures. To learn more about FreshBooks' security and its partnership with Rackspace, contact the FreshBooks team.
Is FreshBooks Worth It? The Final Verdict
FreshBooks is easy accounting software that offers many great features suitable for small businesses. Double-entry accounting, bank reconciliation, and reporting make this accounting software a viable competitor in the small business accounting space.
However, keep in mind that the software is expensive and missing important features, such as built-in payroll. QuickBooks Online and Xero have only slightly more expensive plans than FreshBooks but offer far better accounting, more features, and more users (see our FreshBooks vs. QuickBooks Online and Xero vs. FreshBooks posts for a comparison). Even free companies such as Wave have more to offer for $0/month.
That said, FreshBooks' ease of use and amazing customer service put both Xero and QuickBooks Online to shame, which may make FreshBooks 100% worth it for your business. FreshBooks also has a unique proposal feature. Take the free trial for a spin to see if the pros outweigh the cons for your business, or explore all of your options by taking a look at our top accounting picks.
FreshBooks FAQs
---
The Merchant Maverick Seal of Approval 🏆
FreshBooks


---



After hours of in-depth research and evaluation, we can confidently recommend this brand to our readers. Get started today and see FreshBooks for yourself.
The Merchant Maverick Seal of Approval 🏆
FreshBooks


---



After hours of in-depth research and evaluation, we can confidently recommend this brand to our readers. Get started today and see FreshBooks for yourself.
To learn more about how we score our reviews, see our
Accounting Software Rating Criteria
.
Read Next