Shopify VS Square
Updated on:
Posted by: Melissa Johnson
Advertiser Disclosure: Our unbiased reviews and content are supported in part by
affiliate partnerships
, and we adhere to strict
guidelines
to preserve editorial integrity.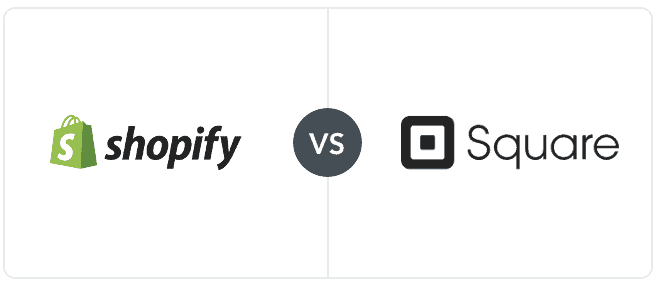 Looking for an easy way to sell your wares, either online or in a brick and mortar environment? There are literally hundreds of shopping carts, POS solutions, and mobile apps available to the potential merchant these days, but perhaps no two stand out more than Square and Shopify.
Square (see our review) is the most comprehensive free mPOS app out there. Founded in 2009, it was the first company to make card processing widely available to everyone using just a free card reader and a smartphone.
Shopify (see our review) launched in 2006 as eCommerce software. Shopify has made selling online much easier for merchants, especially those who are just starting out with their business.
Both companies have grown considerably in recent years. Square now offers a comprehensive suite of business products for merchants who want to sell in store, online, and on-the-go. And Shopify has branched out from eCommerce with a powerful POS system and its own payments service, so merchants don't need to have a merchant account.
The result is that two services that started off catering to very different audiences now have very similar offerings. Square and Shopify each have powerful POS apps targeted for iPads, a mobile solution, and multiple eCommerce options. Both give you the tools you need to run a brick-and-mortar shop or online store.
A quick look at Shopify's services
| Mobile | POS | Online | Social Media |
| --- | --- | --- | --- |
| | | | |
| Mobile App + Free Card Reader | Point of Sale | Online Store | Social Media Selling |
| Get Started | Get Started | Get Started | Get Started |
| Low-cost POS for iOS and Android with free hardware | All-purpose POS integrated with all sales channels | Build a store or integrate with your current website | Sell on Facebook and other platforms |
| Starts at $9/month | Starts at $29/month | Starts at $29/month | Starts at $9/month |
| Free Trial | Free Trial | Free Trial | Free Trial |
Their card processing rates are even similar, with a couple of important caveats. The first of these is that Square and its POS app, Square Point of Sale, are completely free, while Shopify will charge you a baseline monthly fee (plus credit card fees, plus additional fees for add-ons). The second is that if you opt for higher-priced Shopify packages, you can also get lower processing rates.
As a merchant, which one should you choose? Which service provides better value? Which has the best features? That depends largely on your own particular situation.
Square is the better option for merchants who sell in person but only process credit card payments sporadically — such as artists who vend at conventions and art shows — because there's no monthly fee. (If your eCommerce site is infrequently trafficked and your sales are sporadic, you're better off using Square and its free webstore.) Also, Square and its tools are well suited to retail, service, mobile businesses, and foodservice businesses, whereas Shopify is primarily for retailers.
Square at a glance:
| Reader | eCommerce | Retail | Food Service |
| --- | --- | --- | --- |
| | | | |
| Free App & Reader | Square eCommerce | Square for Retail | Square for Restaurants |
| Get Started | Get Started | Get Started | Get Started |
| Free, general-purpose POS software and reader for iOS and Android | Easy integration with popular platforms plus API for customization | Specialized software for more complex retail stores | Specialized software for full-service restaurants |
| $0/month | $0/month | $60/month | $60/month |
| Always Free | Always Free | Free Trial | Free Trial |
If your sales are good enough to justify the monthly subscription and added costs, Shopify has some very nice features and stunning themes for your online store. It's certainly a great option for merchants who want to focus primarily on their web sales.
For retailers that are looking for an all-in-one experience, it's not as easy to give a straight answer. The better solution depends on your budget, your needs, and your priorities. Read on for a detailed comparison and find out which service comes out on top in the Shopify vs. Square debate.
We've done in-depth research on each and confidently recommend them.
Products & Services
Winner: Shopify
Bear with me, but there's a LOT to discuss here. Let's look at each of the core offerings — POS app, payment processing, and eCommerce, and see how they stack up individually.
POS App
Shopify's POS (read our review) used to be strictly for iOS, but as of January 2016, the app is available for Android smartphones and tablets as well. Square also supports your choice of Android and iOS devices with its free Point of Sale app (read our review). Square's premium app for retailers, simply called Square for Retail (read our review), is an iPad-exclusive piece of software with some advanced features.
To make the best use of either Shopify POS or Square Point of Sale, you'll need an iPad, as many of the best features are only available there. You'll also find that you can use the apps on any number of devices without needing to pay for additional license fees (but you won't be able to differentiate among employees without paying for that feature).
Shopify POS Features
Accept All Forms Of Payments: Credit card, debit card, cash, check, and other customized payment methods.
Split Tender: This is useful and you can actually accept more than just 2 payment forms on a transaction.
Discounts: Apply discounts on individual items or on the whole order, by percentage or dollar amount.
Store Credit: The only fault with the store credit option is that there's really no accountability in it. You can simply mark a payment as paid via store credit, with no need for proof of it at all. Still, this is a useful feature.
Reporting: Track sales, compare how products are selling, monitor traffic to your store, customer data, and more. With the higher-tiered plans, you can even build custom reports.
Item Variants: Set different colors, styles, pricing, etc. for your various items.
Syncing: Shopify automatically syncs inventory and product information across all your sales channels.
Email Or Print Receipts: Send digital receipts, or if you have an iPad and Shopify's retail package, print them out.
Connect With External Payment Processors: You can choose to forgo Shopify Payments in favor of a third-party payment processor. Beware that if you choose this route you will have to pay an additional transaction fee to Shopify.
Inventory: Shopify's inventory features are pretty impressive. In addition to tracking your stock levels across every channel where you sell, you can print barcodes, and more.
Employee Accounts: In a retail setup, knowing who is ringing up sales is especially important. With Shopify's retail package, you can assign individual staff PINs, track register shifts and sales, and more.
Full & Partial Refunds: Issue a refund or store credit.
Gift Cards (iPad Only): You can only get gift cards if you opt for the Standard Shopify plan or higher. However, you can sell physical and digital gift cards.
Offline Capabilities: You can't log in during an outage, but if you are already logged in you can still accept payments other than credit cards. This is very limited functionality, but it could get you through an outage mostly fine.
Tax Rate Calculation: Shopify will auto-detect your tax rate based on your store's location (if using the POS), or based on your shipping zones for eCommerce. Shopify doesn't calculate tax for international orders. You can also set up tax overrides for entire collections of products or individual products (or product variants, such as digital books vs print editions).
Square Point Of Sale Features
Accept Credit Card Payments: You can also log cash and check transactions, but this feature isn't nearly as robust as Shopify's.
Split Tender: Accept cash and card, or cash and check, or check and card.
Discounts: Apply discounts on individual items or on the whole order, by percentage or dollar amount.
Reporting: Square's reporting features are pretty solid, but they're not quite on the same level as Shopify's. Still, Square's reporting will cover all the basics and does have some advanced filters so you can customize the data. Square for Retail gives you three more advanced reports, the most significant of which is Cost of Goods Sold reporting.
Item Variants: Set different colors/styles/pricing for your various items. Square prefers to call these "price points" and you can track them in inventory. You can also add item modifiers, which are add-ons that don't affect your inventory counts, though restaurants are far more likely to use this feature than retail shops.
Syncing: Square's inventory feature will automatically sync across your online store and Square Point of Sale, and you can view it in the online dashboard.
Low-Stock Alerts: Square will send you daily email alerts for low- or out-of-stock products. A daily alert is very useful for busy merchants, especially because Square lets you set the threshold for low-stock alerts.
Email/SMS/Print Receipts: Send digital receipts via email or SMS, or print physical copies from any smartphone or tablet connected to a printer.
Inventory: Square has a solid free inventory management system, but you can also upgrade to Square for Retail (see below for more information) for more features, or integrate with other inventory services such as Shopventory (read our review).
Employee Accounts: You can use Square on any number of devices, but if you want employee accounts, multiple permissions, and timekeeping, you'll need to sign up for Square's employee management ($5 per employee per month) or upgrade to Square for Retail.
Invoicing: Send invoices from within Square Point of Sale or online.
Full And Partial Refunds: Pretty self-explanatory. Square will actually refund your processing costs in the event of a refund, too.
Gift Cards: No subscription required, no redemption fees. Just pay the cost of the cards themselves, and load them up on demand. Note these are physical cards only, but you can use them online.
Offline Capabilities: Square's Offline Mode is actually one of the most powerful I've seen. You can still process credit cards during an outage, and they'll go through so long as you connect to the Internet within 72 hours. The caveat, of course, is that you're assuming responsibility for any transactions that don't go through. This feature isn't available with Square for Retail, only Point of Sale.
Tax Features: You can disable or enable tax collection with Square and set price to include tax, or have it added on separately. As with Shopify, you can enable or disable tax on specific items. However, there's no auto-detect feature, so you need to manually look up your applicable tax rates based on location.
Loyalty Programs: Square's loyalty program is priced on a sliding scale that starts at $25/month after you cross the threshold for a free account. All consumers have to do is opt for a digital receipt. You can set the purchase requirements to earn a reward (which could be a free item or a discount). It's not the most advanced system, but it's still pretty flexible.
Square also has a host of features/subscription services targeting restaurants and other service-based companies, none of which you'll find in Shopify. This includes kitchen ticket printing, adding tip (by percentage or dollar amount), appointment booking, delivery services, and much more.
In addition, the company has rolled out a retail-specific app for a monthly subscription fee. Called (rather blandly) Square for Retail (read our review), this iPad-exclusive app offers a totally redesigned, search-and-scan-optimized user interface and advanced inventory reports. Square also throws in free, unlimited employee management. However, it comes with a per-register monthly subscription, which adds to your costs.
Compared to Square Point of Sale, Shopify is more robust in most areas, such as its support for many payment methods and store credit, whereas Square shines with the simple things, like supporting SMS receipts as well as email, low-stock alerts, and its offline mode. Square for Retail comes closer to matching Shopify's POS with free employee management and advanced inventory, but it does so by sacrificing a few of the features that make Square Point of Sale stand out, such as offline mode.
Card Processing
Shopify and Square are both aggregators — that means, when you sign up to process payments through either of them, you don't get your own merchant account; your transactions are simply lumped in with everyone else's. Shopify Payments actually processes through Stripe Payments (read our review).
Aggregating is what has led to the common complaints you get about Square holding funds or terminating accounts at random. Shopify Payments has had its fair share of these complaints as well. It appears Shopify allows all merchants to sign up for Shopify Payments and then terminates accounts later if they don't qualify for the services. The creation of these "provisional" accounts continues to be a sore spot with merchants. One simple way you can reduce your chances of an account termination is to check Square's, Shopify's, and Stripe's lists of prohibited businesses (found in their terms of use).
We'll look at specific processing rates later on, but for now, here's what you need to know:
Shopify will let you use its payments service at no extra charge beyond your transaction fees and monthly subscriptions. If you choose to use a third-party gateway such as PayPal (read our review) or Braintree (read our review), or your own merchant account, you'll be charged an extra 0.5-2% transaction fee, depending on your Shopify subscription. Note that you get a choice of more than 100 gateways, which is quite impressive. There's no charge at all for accepting cash, check, or alternative payment methods using the POS app.
Square, unlike Shopify, will lock you into using its service for payments. You'll pay standard rates for credit card processing for both in-person and online transactions, and nothing for accepting cash and check. However, you can't set up any other alternative payment methods and log them using Square (unless you want to mark them as cash/check). Please note that if you connect shopping cart software instead of using Square's free eCommerce app, you'll be responsible for any monthly charges that incur.
Shopify has the advantage in terms of sheer versatility, and you get predictable processing costs. However, if you don't need all the bells and whistles, Square is a solid option for payments. You're covered for all the basics and you still know exactly what you're going to pay for each transaction, every time.
eCommerce
It's a little hard to make direct, apples-to-apples comparisons of Square and Shopify's eCommerce offerings. One is a payment processor, the other is shopping cart software. The biggest thing to keep in mind is that on its own, Square offers a very limited standalone store, though you can integrate other shopping cart options that support Square Payments. In those cases, you'll still need to evaluate the eCommerce software you select.
Shopify eCommerce Features
Shopify started as an eCommerce product, and it's stayed true to that idea with robust shopping cart software and an easy-to-use design that even newbies to selling online can handle. Features include:
Hosted Site: Shopify provides hosting for your site with unlimited bandwidth and unlimited products.
Domains: Use your Shopify-hosted domain only, purchase a domain through Shopify and set up a redirect, use an existing domain with a redirect, or buy your own domain and set up the redirect. There are a lot of options.
Buy Buttons: Even if you don't have shopping cart software set up on a site, you can use Shopify's buy buttons to enable purchases on the web, in an app, or via email with the Buy Button feature. Square has eliminated its buy button feature.
Sell On Social Media: With Shopify, you can set up a store directly on Facebook.
Abandoned Cart Recovery: Win back abandoned purchases. Only available for Shopify Standard and up.
Import/Export via CSV: Upload and download information with CSV files.
Automatic Data Sync: Inventory is automatically updated and synced across all your sales channels, including your POS and social media.
Reporting: We've mentioned this already, but it bears repeating that you get some solid reporting features and can separate data by sales channel.
Order Management: Shopify has comprehensive order management tools that work in the app as well as through the dashboard. You can also get integrations to help with it.
Third-Party Integrations: There are a lot of integrations out there for Shopify (just check out the app store). Some are free, some will cost you. But in addition to your standard accounting, inventory, and order management integrations, you can opt for a Fulfillment by Amazon integration and recurring billing/layaway services.
Many Themes: Design-wise, Shopify gives you a huge selection of store themes and you can even customize them further if you have programming knowledge.
Square eCommerce Features
Square's eCommerce support initially felt more like an afterthought, but lately, the company has really expanded its offerings, which makes me happy.
Hosted Site: Square will give you a webstore on its own domain (though you can also purchase your own domain if you want to). The website templates are limited in terms of customization, but the amount of effort to setup is minimal. The biggest step will be importing products and adjusting shipping. After that, you just need to fill in your store's information and arrange the products however you like. If you have little to no grasp of website building, this is a good option. Just be aware you have zero control over the aesthetic of your site.
eCommerce Integrations: You can also integrate your store with Weebly, Wix, WooCommerce, Bigcommerce, GoCentral, Magento, 3dCart, Drupal, ZenCart, OpenCart, or Ecwid. With Square's API, you can also create custom integrations. However, you'll need a developer to make one. If you have limited tech knowledge, stick to the ready-to-go integrations.
Third-Party Integrations: Square's list of integrations includes some robust inventory and order management tools to supplement your online store. There's a custom API you can use to create your own.
Import/Export Via CSV: Get your online store loaded up quickly, or update your inventory counts en masse. Also helpful for migrating stores.
Automatic Data Sync: Inventory is automatically updated and synced across your online store and Square POS.
Reporting: All of your data is available and can be downloaded from the Square dashboard.
Order Management: You can manage your orders through Square's online dashboard, but not in the app. Integrations can extend the functionality.
Shopify offers far more eCommerce features here than Square's free store. However, some of Square's supported integrations — BigCommerce (read our review) and 3dcart (read our review) in particular — are on par with Shopify's offerings.
Compatible Hardware
Winner: Tie
Both Square and Shopify offer a range of hardware options, from free credit card readers to full-fledged retail kits with everything you need for a conventional register setup.
At the very least, you're going to need a card reader to use with your smartphone or tablet. You have a couple different options there:
Shopify Card Reader Options
Chip & Swipe reader: $29 (Shopify POS includes one free reader)
Tap, Chip & Swipe Reader: $149
Square Card Reader Options
Magstripe reader: Free
Chip card reader: $29
Contactless and chip card reader: $49 (includes free magstripe reader)
If you're interested in a register-like setup, both provide ready-to-go retail bundles that you can use to set up your system, from receipt printers to cash drawers and more.
Shopify Retail Kit
A bundled, ready-to-go retail kit from (excluding your tablet) costs $749. Or, you can purchase each piece individually. This kit includes:
iPad stand (retail price $129)
Bluetooth receipt printer ($399)
16-inch cash drawer ($139)
EMV/NFC card reader ($89)
There are also lots of other hardware options available, including card readers, shipping label printers, receipt printers, cash drawers, and stands.
Square Bundle
Square offers a few options for retail kits that start at $535, depending on your tablet (it even offers kits for select Android tablets). The Square Stand Kit for Retail, which is $634, includes the following:
Square Stand with Contactless + Chip Card Reader ($169)
USB receipt printer ($299)
Bundle of receipt paper ($49)
16-inch printer-driven cash drawer ($109).
You can choose to buy your iPad directly from Square, or purchase it somewhere else.
Square Register
Square Register is the company's slick, sophisticated point of sale solution. Starting at $999 just for the display setup, it's certainly a hefty price tag for a piece of hardware. But Square Register is essentially a 10-inch Android tablet running Square Point of Sale. At this time, it's not capable of running the iPad-exclusive Square for Retail app, but you can subscribe to Retail and get the back-end features (including reporting and employee management). Square Register has a secondary, consumer facing tablet and built-in card reader. Register accepts magstripe, EMV, and NFC transactions, and actually processes transactions at a different rate than Point of Sale transactions processed on a phone or tablet. Read our full Square Register review for more details.
Your purchase options include:
Buy outright for $999
Finance for $49/month for 24 months
Buy bundled kit for $1499
Additional Thoughts
Something worth noting is that Square does not officially support bar code printers, whereas Shopify does. Some Square users have had luck with a Dymo printer, but there's absolutely no guarantee. Square for Retail subscribers, however, do get access to barcode printing with select printers.
Square actually offers a selection of both wireless and Ethernet-based receipt printers, as well as a kitchen receipt printer, and multiple cash drawers. With Shopify, there's only one receipt printer but you do get to choose from multiple cash drawers.
I'll give Shopify points for offering a free EMV reader for POS users, because in 2018 there is no reason merchants shouldn't be able to accept chip cards. With Square, you'll have to pay for an EMV-capable reader, and they start at $30.
I also want to mention that Square offers financing on hardware purchases greater than $49. That means its Contactless + Chip reader is eligible for financing.
As far as I've seen, Square's financing comes at a markup, but not an unreasonable one. I've seen leasing programs from traditional merchant accounts that offer far worse terms.
Fees & Rates
Winner: Square
At first glance, Shopify and Square appear to have similar transaction fees.
However, that doesn't account for Shopify's monthly fee, the fee for its retail add-on package, or the transaction fees if you choose another processor over Shopify Payments. Depending on which features you need, the cost of Shopify can really start to add up over time, especially with add-ons. That's not necessarily a bad thing, but you should look closely at your budget and projected sales to see whether you can justify the expense. (The same applies to using Square to integrate with another shopping cart)
Square Fees
Square will charge you $0 in monthly fees, PCI compliance, etc. If you are using Square Point of Sale on a smartphone or tablet, you will pay nothing beyond the credit card transaction fees, unless you opt for one of the add-on services (appointment booking, email marketing, employee time management/payroll). There are no tiered plans that give you access to more and more features. Check out Square's Pricing Page for more information.
It really is that simple. You can even store your customers' credit cards in Square's secure vault so they don't need to pull out their card each time they want to make a payment. It'll cost a bit more, but it's a fair price for security and convenience.
Point Of Sale Fees:
2.75% per swiped/dipped/tapped transactions
3.5% + $0.15 for keyed or Card on File transactions
2.9% + $0.30 for eCommerce transactions
However, Square has adapted its offerings with a couple of new lineups that target retailers in particular:
Square For Retail Fees
$60/month for 1 register per location
$20/month for additional registers
2.5% + $0.10 per swiped/dipped/tapped transaction
Square Register
2.5% + $0.10 per swiped/dipped/tapped transaction
It's important to know that transaction pricing for Square Register and Square for Retail isn't going to be favorable to all merchants because of that $0.10 per-transaction fee. If your average ticket size is below $40, you could actually end up paying more than you would for processing at 2.75%. The smaller your average ticket is, the more you could potentially overpay — hundreds to thousands of dollars per year depending on your volume.
Shopify Fees
There are four Shopify plans. As you can expect, with higher-tiered plans, you get a greater number of features. Check out the Shopify pricing page for a full breakdown of features:
Shopify Lite Plan – No Online Store Included ($9/month)
Facebook store
Buy buttons
Chat and email support
Credit card rates with Shopify Payments

2.7% + $0.00 swiped
2.9% + $0.30 eCommerce
Basic Shopify Plan ($29/month)
Unlimited  products, bandwidth, storage
2 staff accounts
24/7 support
Online store + blog
Discount codes
Credit card rates with Shopify Payments

2.7% + $0.00 swiped
2.9% + $0.30 eCommerce
Shopify Plan ($79/month)
Everything in Basic Shopify Plan
5 staff accounts
Professional reports
Gift cards
Abandoned cart recovery
Credit card rates with Shopify Payments

2.5% + $0.00 swiped
2.6% + $0.30 eCommerce
Advanced Shopify Plan ($299/month)
Everything in Shopify Plan
15 staff accounts
Advanced report builder
Real-time carrier shipping
Credit card rates with Shopify Payments

2.4% + $0.00 swiped
2.4% + $0.30 eCommerce
The plan I really want to draw your attention to is Shopify Lite. If you are just starting out, this is the most affordable option, and you can still sell online via Facebook or your own site. However, you won't have access to Shopify's website builder. If you find that Shopify is right for you, you can upgrade to the Basic or Standard plans. If that's still too much of an expense, or you want a hosted eCommerce site without paying for it, you're better off with Square.
For large businesses, there's Shopify Plus (read our review), which is the company's enterprise solution with custom pricing based on your volume and features.
Shopify Retail Package
If you want to track staff shifts and run a proper register setup with receipt printers and other hardware on your Shopify POS, it won't come cheap. You need the Retail Package, which will give you individual PINs for your staffers and allow you to use hardware and integrations for $49/month.
Shopify Transaction Fees
We've already covered what you'll pay if you use Shopify Payments to process credit cards. (Note: there's no fee at all for cash, check, or alternative payment methods). But what if you already have a credit card processor and just need an eCommerce solution and mobile processing? Shopify will let you do that!
But it'll cost you.
Let's say you've got a great interchange-plus plan where you're actually getting the very low debit interchange rates. You've got a PIN pad so your customers can process cards as debit.
First of all, you need to have the Retail package — so that's $49, plus whatever Shopify plan you have. You'll pay your credit card processor whatever they normally charge, and then an additional percentage to Shopify.
Shopify Lite Plan: 2.0%
Basic Shopify Plan: 2.0%
Shopify Plan: 1.0%
Advanced Shopify Plan: 0.5%
There's a lot to consider. I highly encourage you to do the math and figure out where the best deal lies for you!
Contract Length & Early Termination Fee
Winner: Tie
Square has no contracts whatsoever. Everything is pay-as-you-go, with all of its add-ons on a monthly subscription. You can even try each service out for 30 days, no charge.
Shopify is a monthly service. You can pay for an annual package and save some money each month, but otherwise, there are no contracts or obligations. You can get a 14-day trial, no credit card required.
Either way, there's no long-term commitment, which is a serious advantage.
Sales & Advertising Transparency
Winner: Tie
Overall, Square and Shopify are transparent as far as their sales and advertising go. There are no hidden fees, no contracts, no sneaky auto-renewal clauses. I like the resources that both companies put out — blog posts on topics that merchants should be aware of, and tips for helping their businesses thrive. This is important, especially when serving small businesses. We live in the information age, and yes, content is king. You should absolutely expect this out of any service you use — especially in the payments space. Educated merchants make for better customers.
Both are doing very well on the social media front as well, with active Facebook, Twitter, and LinkedIn pages, as well as dedicated Twitter support channels (@SqSupport and @ShopifySupport, respectively).
This is exactly what we like to see. You know exactly what you're paying for, you know all of the terms, and you know what you're getting. Best of all, you can move on whenever you're ready.
Customer Service & Technical Support
Winner: Shopify
Shopify is the clear winner in this category. No matter what Shopify plan you have, you get 24/7 access to the support team, which is astounding. Not only that, but the support team's overall reputation is quite good, with timely responses and helpful answers. I also like that Shopify's knowledge base is incredibly detailed. You should be able to get answers to a lot of the questions you'll have without having to get anyone on the line. You can also get email, live chat, and phone support. There's a community forum where you can get answers from other merchants and the Shopify team. Also, if you need specialized assistance, the company will even pair you with experts who will help you complete your project. This is a convenient way to get up and running if you have more capital but not a lot of time or know-how, though you should expect to pay for these experts' time and insights.
Square has invested a lot in improving its customer service and I am happy to say those investments have paid off. But it's still a flawed system. Square's phone support isn't available 24/7 and before you can even call in you need to go through an online system to get a code. Email support allows you to contact the support team in the off hours, but Square says to expect a 24-hour turnaround for email answers. That said, Square's self-service resources are astounding. Unless you're dealing with a complex, account-specific problem, you'll be able to find an answer without having to contact Square directly. You can start with the self-help knowledge base, which is still the gold standard by which I judge other knowledge bases. You can also reach out via The Seller Community, a forum populated by other Square merchants and customer support reps alike.
Negative Reviews & Complaints
Winner: Tie
Complaints about Square mostly fall into two categories: account holds/terminations and bad customer support. The issues are related, too: Merchants find out their accounts have been shut down or funds are being held until additional verification is required, and run into a brick wall when it comes to trying to reach someone from Square. This is because once Square terminates your account, it locks you out of phone access and representatives will only communicate via email. Even then, they tend not to give very specific answers. We've seen an overall improvement on this front, but these are no minor concerns.
The complaints about Shopify are more varied. One of the biggest complaints is that while Shopify comes with every basic feature you need for online selling, advanced features come at a cost. To have greater functionality, merchants often have to purchase several add-ons, which drives the price up. Another common complaint is the added challenge of learning Shopify's programming language, Liquid. Liquid is not a difficult language, but it is different than people are used to. Merchants also occasionally complain about poor experiences with customer support.
Keep in mind that if you use Shopify Payments, you may experience some of the same frustration (account holds and terminations) that merchants using Square experience.
Positive Reviews & Testimonials
Winner: Shopify
Most of the positive chatter you will find about Square comes from the Reviews page, or big news publications (linked to on said page). From general user chatter, merchants love how easy it is to get started, the fact that all of the core features are free, and the overall ease of use. The ability to finance the company's hardware is also nice. And of course, merchants seem to like Square's ability to manage just about every aspect of your business from a single web dashboard.
With Shopify, you won't see quite the same amount of press coverage, but you will find a lot of testimonials on the home page. I think that might be because for the most part, Shopify isn't disrupting an industry the way Square has. But even if the company isn't a media darling, people rave about Shopify's ease of use. The fact that you have so many gorgeous themes to choose from with your online store is a major advantage. The rates are competitive (especially if you use Shopify Payments), and with the higher-tiered plans, you get some really great features especially. But even the basic plans have everything you need to get started.
Final Verdict
Winner: Shopify
It's difficult to say unequivocally that Shopify or Square is better than the other. We recommend them both to merchants, as they have a lot of great aspects and generally are transparent, fairly priced options. That said, Shopify does have a few more advantages than Square — a more robust POS app for retailers, extensive eCommerce features, and round-the-clock customer service, for starters. But that doesn't mean that Square isn't a good choice for some merchants. Especially for newer or smaller-scale merchants, Square actually makes a lot of sense.
In the end, you need to know what your budget is and what features are most important for you to have. What direction is your business headed in?
Shopify and Square look quite similar at first glance, but when you scratch beneath the surface you'll find they both have so much to offer. You absolutely need to consider costs when making the choice, but keep in mind your long-term goals and the features you are most interested in pursuing.
Have experience with either or both of these services? We'd love to hear from you, too! Leave a comment! And as always, if you have any questions, feel free to contact us!
We've done in-depth research on each and confidently recommend them.