Shopify VS Square: Which Is Best For Your Growing Business In 2023?
Both platforms provide POS systems, but their full range of services encompasses much more. See which pricing and feature sets will fit your business better.
Expert Analyst & Reviewer

UPDATED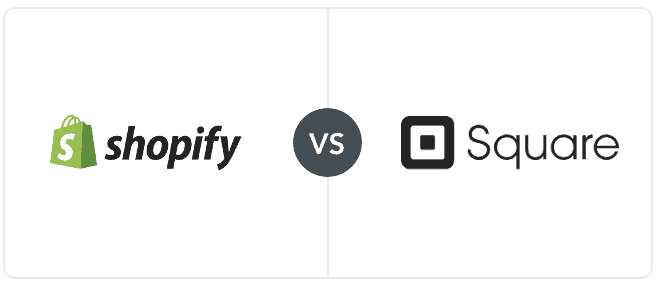 It's Shopify vs. Square, the battle of the merchant services providers. These two providers both support online and in-person sales with payment processing, POS systems, online store builders, and more, so we've pitted them against each other in this detailed comparison.
While Square and Shopify have much in common, they differ in terms of their respective features, pricing, ease of use, customer support, integrations, and more. These differences mean that Square will be a better fit for some merchants, while Shopify will better suit others.
Read on to see which provider better suits your business, then check out our Square review and our Shopify review for even more detailed examinations of these two payment processors.
Shopify VS Square Comparison
Looking at Square vs. Shopify, both offer similar feature sets for online and in-person sales. However, the differences are easy to spot when you consider pricing. Square charges no subscription fees and offers a universal flat rate for all transactions. Shopify charges monthly fees, and its processing fees go down if you get a higher tier subscription.
Shopify
Square
Ideal For

Larger retailers
Online merchants
Social media sales

New sellers
Smaller retailers
Foodservice businesses

Pricing

Starts at $5/month
Starts at 2.9% + $0.30 (online)
Starts at 2.7% (swiped/dipped/tapped)

Starts at $0/month
Starts at 2.9% + $0.30 (online)
2.6% + $0.10 (swiped/dipped/tapped)

Integrations
2,000+
300+
Standout Features

Strong POS system
2,000+ integrations
24/7 customer service
No fixed fee for POS transactions

No monthly fees for standard plans
Great mPOS system
Free online store with a Square domain

What's Missing

No free plan
No specific POS apps for restaurants or appointment scheduling

No 24/7 phone support
Less built-in eCommerce functionality

Next Steps
Start Trial
Read Review
Visit Site
Read Review
Shopify VS Square At A Glance
Shopify and Square both provide easy-to-use tools for merchants looking to sell online, in-person, or both. They offer many features in common, but they are not identical. Shopify is generally better at eCommerce, while Square is stronger for many brick-and-mortar businesses.
Benefits Of Square
Pros
Specialized POS apps for restaurants, retail, and appointment scheduling
Can sell online without paying a monthly fee
Free magstripe card reader
POS systems have great offline capabilities
Cons
Limited international reach
Phone support is not 24/7
Account stability issues
Square is great for new merchants just getting started, and its POS offerings appeal to a wide range of businesses. Larger eCommerce businesses may feel confined by Square, however.
Benefits Of Shopify
Pros
Superb eCommerce features
Great for international sales
No fixed fee for POS transactions (just a percentage fee)
24/7 phone support
2,000+ eCommerce integrations
Cons
All eCommerce plans carry a monthly fee
Platform fee of 0.5%-2% if you use a payment processor other than Shopify Payments
Account stability issues
Shopify offers an ideal platform for global sellers, with loads of international selling features and compatible currencies. It also provides savings over Shopify for brick-and-mortar merchants with average tickets on the smaller side. However, you can't escape those monthly fees.
What's The Difference Between Shopify & Square?
Both providers offer the tools needed for a brick-and-mortar shop and/or online store in this Square vs. Shopify showdown. The difference between the two can be boiled down to this: Shopify is generally stronger in eCommerce, while Square is typically better with in-person selling.
Further differences arise when you consider pricing, international sales, customer service, and industry-specific needs.
Get Started With Square or Get Started With Shopify
Both Square & Shopify Offer…
Secure payment processing with support for numerous payment methods
Prebuilt and customizable checkouts
POS software and hardware
Month-to-month agreements with flat-rate per-transaction pricing
eCommerce integrations
Customer management, inventory management, and marketing
Marketplace selling
Shoppable posts on Facebook, Instagram, and TikTok
PayPal payment button support
Developer tools and APIs
Only Square Offers…
Specialized POS systems for restaurants, retailers, and businesses with appointment-scheduling needs
A free eCommerce site (with a Square domain)
No monthly fee for basic services
Stronger POS software features
Both mobile card readers and full-featured POS hardware (Square Terminal and Square Register)
Only Shopify Offers…
The ability to use either Shopify Payments (we have an article on how to set up Shopify Payments if you want to know more about it) or a different payment processor with your Shopify eCommerce site and/or POS
The largest possible integration selection (over 2,000)
More advanced eCommerce features
Shop Pay checkout buttons/accelerated checkout flow
More advanced shipping tools
Selling in 133 currencies (Square supports eight currencies)
24/7 phone support
Country Availability For Shopify & Square
Shopify touts its ability to serve merchants in 175 countries and its support for accepting payments in 133 currencies. However, Shopify Payments is available for payment processing in only 22 countries. Merchants in many countries will have to use a different processor if they want to use Shopify for eCommerce and/or in-person selling.
By contrast, Square can only be used in eight countries: the US, UK, Ireland, Canada, Australia, France, Spain, and Japan. Shopify has a clear international edge here.
Do Square & Shopify Restrict What You Can Sell?
Both Shopify & Square have policies in place restricting what merchants can sell through their online stores. The important thing to know is that Shopify and Shopify Payments have different restrictions; Shopify as a whole is a bit more lenient than Shopify Payments, and Shopify Payments and Square have the most similar policies. If you want to use Shopify but don't intend to use Shopify Payments, you have a bit more freedom in what you can sell.
Otherwise, both Shopify & Square have restrictions on what are generally considered "high risk products," which is a blanket term that can describe everything from weapons and hateful and obscene products to pornography and even betting advice and other "informational products." The best advice is to read Square and Shopify Payments terms of service, specifically their Prohibited Products listings, and get to know the high-risk payments industry a bit better.
If your business does fall into the high-risk category, check out our list of the best high-risk payment processors as an alternative.
Shopify VS Square: FAQ
Shopify VS Square Pricing
While Shopify and Square have similar transaction fees at the basic subscription level, Shopify doesn't offer a plan without a monthly fee like Square does. Other pricing differences arise when you look at the higher-tier subscriptions and POS equipment these companies provide.
Shopify
Square
Online Store

Shopify Starter: $5/month
Basic Shopify: $29/month
Shopify: $79/month
Advanced Shopify: $299/month

Free: $0/month
Professional: $12/month
Performance: $26/month
Premium: $72/month

Point Of Sale

Free option with paid eCommerce plan
Shopify POS Pro: $89/month

Free plan available
Square For Retail & Square For Restaurants: $0-$60/location/month
Square Appointments: $0-$69/location/month

Mobile POS
Included with the Shopify POS app
$0/month
Credit Card Reader
$49
$0-$49
Online Transactions

2.9% + $0.30 per transaction (with Shopify Payments)
2.6% + $0.30 with the Shopify plan
2.4% + $0.30 with Advanced Shopify

2.9% + $0.30 per transaction
2.6% +$0.30 with the Premium plan

In-Person (Swiped/Dipped/Tapped) Transactions

Basic Shopify: 2.7%
Shopify: 2.5%
Advanced Shopify: 2.4%

2.6% + $0.10 per transaction
2.5% + $0.10 with a Plus subscription to the Retail & Appointments POS packages

Chargeback Fee
$15
No chargeback fee
Refund Fee
Shopify keeps the transaction fee
No refund fee
Try Shopify
Try Square
Shopify Payments VS Square Processing Costs
In comparing pricing, there are three concerns: monthly subscription fees, rates for in-person transactions, and rates for online transactions. Both companies offer discounted processing rates with higher-tier subscriptions (particularly Shopify — high-volume merchants, take note), but the primary difference is in the monthly fees.
Monthly Pricing
With a free Square subscription, you can sell online for $0/month, and you'll get a full (albeit feature-limited and tied to a Square domain) online store. By contrast, the cheapest Shopify plan, Shopify Starter, costs $5/month, and that plan doesn't even include a full online store. Shopify Starter offers embeddable buy buttons and links, but you'll need at least a Basic Shopify subscription to launch your own eCommerce website, which costs $29/month. Cost advantage: Square.
In-Person Payments
However, with in-person transactions, the story is more complex. With Square's free POS and the free, single-location versions of Square's Restaurant, Retail, and Appointments POS packages, there's no monthly fee. However, Shopify's in-person transaction fees (2.4%-2.7%) are purely percentage-based, whereas Square's in-person rates (2.6% + $0.10) include a $0.10 fixed fee. For merchants with lower average tickets, that $0.10 per transaction fee can more than cancel out what a Square merchant might save over a Shopify merchant in monthly fees.
Online Payments
For online rates, Square and Shopify are evenly matched at 2.9% + $0.30 per transaction at the base level. However, Square does not charge a fee for chargebacks, nor will Square keep the transaction fee on a refund. So Square has a slight advantage on pesky incidental fees. No one likes having to issue a refund, but having to eat the processing fees on top of that can be particularly frustrating.
One note regarding Shopify: Unlike Square, Shopify lets you choose between its in-house payment processor (Shopify Payments) and a different processor to power your Shopify sales. In itself, that's a point in Shopify's column, but there's a catch: Shopify will take an extra 0.5% to 2% of each sale you make when you use an outside payment processor.
Which is Cheaper, Square or Shopify?
Strictly looking at pricing, Square has the edge over Shopify under most scenarios. Shopify's monthly fees can add up over time, especially with add-ons. If Shopify's tools help you run/expand your business, it may still be worth it. However, Square packs a lot of value in its free tools, especially for the budget minded.
Finally, large businesses take note: With both Shopify and Square, you may qualify for custom enterprise-level feature packages, pricing for which must be negotiated.
Read our Shopify pricing and Square pricing articles for all the myriad pricing details that wouldn't fit in this article.
Shopify VS Square: Notable Feature Differences Discussed
Square and Shopify have a lot in common, but the differences become apparent upon closer examination. On the whole, Shopify offers the stronger (albeit pricier) all-in-one eCommerce package, while Square has a more versatile POS ecosystem with packages tailored to eateries and retailers.
Shopify VS Square Feature Drill-Down
Shopify
Square
Industry-Specific POS Apps
Receipts (POS)
Print & email
Print, email & text
Offline Capabilities (POS)
Limited
Strong
Accept All Forms Of Payments (POS)
Limited
Reporting (POS)
Excellent
Good
Integrations With Third-Party Payment Gateways (POS)
Credit Card Readers
Retail Kits
All-In-One Credit Card Terminals With Screens
(Shopify POS Go)
(Square Terminal)
Omnichannel Features
Free eCommerce Website
Shipping Features & Discounts
Excellent
Good
International Sales Support
Excellent
Limited
Multichannel Selling
– 15 platforms
– 7 platforms
Integrations
– 2,000+ integrations
– 300+ integrations
24/7 phone support
(weekdays from 6 AM-6 PM PST only)
Start Trial
Read Review
Visit Site
Read Review
Feature-wise, we'll get deeper into the weeds below. However, there are some key takeaways here. Regarding in-person sales, Square excels, especially for restaurants, small- to mid-sized retailers, and businesses with appointment-setting needs. Square also offers a compelling eCommerce package for those who don't want to pay a monthly fee and a decent package for those willing to pay a monthly fee.
On the other hand, Shopify isn't quite as flexible when it comes to in-person sales, but for eCommerce businesses — particularly larger ones — Shopify's features are stronger and more scalable than those of Square. International sellers, in particular, will find eCommerce to be much easier with Shopify than with Square.
User Reviews, Complaints & Criticisms
Both Square and Shopify are very widely-used services, so it's no surprise that both see a high volume of complaints. When you review complaints about these services on sites such as the BBB, one dominant theme emerges: complaints about held funds and account holds/terminations.
Shopify Complaints & Common Problems
Shopify Payments, like Square, is a payment service provider. Unlike traditional merchant account providers, PSPs don't heavily scrutinize you and your business before you sign up. That's one of their central appeals — a quick and easy signup process. However, that means that PSPs heavily scrutinize your transactions after you sign up with automated systems that raise red flags at the slightest hint of illegality or contravention of the terms of service.
Given that easy user access is key to the business model of PSPs, there isn't much they can do about funding holds and account terminations that turn out to be unjust or overkill. That's why Shopify and Square get mountains of nearly identical complaints along these lines. Just know that there are things you can do to minimize your chances of experiencing funding holds and account terminations.
Shopify also gets a fair number of complaints regarding customer service problems and billing issues. To its credit, though, Shopify makes an effort to respond to user complaints posted to popular review sites.
Square Complaints & Common Problems
Square's user complaints tell a virtually identical story to the complaints posted about Shopify. Funding holds and account terminations abound. And as with Shopify, you'll also see plenty of issues with billing and customer service availability and quality. However, like Shopify, Square responds to most of its users who post complaints. Honestly, the complaints (and company responses) read so similarly that it's impossible to declare a winner in this section.
Despite the high complaint volume, Square and Shopify have millions upon millions of users who do not encounter these issues, so don't let these complaints scare you off these services entirely. Of course, you shouldn't discount them entirely, either, which is why you might consider switching from a PSP to a dedicated merchant account provider once your business gets big enough.
Which Is Best For My Business Needs: Square Or Shopify?
Which merchant services giant should you use to take your small business to new heights? It depends on your business and what your priorities are.
Choose Square If You Need…
An online store, and you already use (and like) Square for payment processing. You may find it easier to stay within the Square ecosystem.
An online store (or payment processing for your current store) and don't want to pay a monthly fee. Shopify charges monthly fees on all its plans.
A POS designed specifically to meet your foodservice/retail/appointment scheduling needs. Shopify doesn't offer industry-specific POS systems.
A POS system that has a solid inventory system, team management, and impressive offline capabilities. Shopify's POS system isn't quite as robust for many business types.
Choose Shopify If You Need…
A POS app that runs on multiple devices without having to pay extra. Square will make you pay extra per location.
A large, complex eCommerce site. Square's online store is impressive, but Shopify better fits the needs of higher-volume online sellers. At the same time, with Shopify's new, $5/month Starter plan that lets you sell on social media without a website, small-time sellers should consider Shopify too.
Functionality beyond what you get with the base product. Shopify's 2,000+ eCommerce integration collection dwarfs that of Square.
To connect your existing payment processor to a POS and/or eCommerce website. You can't use a different processor in your Square Online store with Square.
24/7 phone support. Square's phone support is limited to weekdays during business hours.
Square VS Shopify: Next Steps To Create Your Business
Shopify


---
It's hard to declare a definitive winner in the Square vs. Shopify battle. We recommend them both to merchants, as they have a lot of great features with generally fair pricing.
That said, Shopify does have a few more advantages than Square — cheaper POS processing, more extensive eCommerce features, and round-the-clock customer service, for starters. But that doesn't mean Square isn't a good choice for some merchants. Newer, smaller-scale, and cost-conscious merchants will find a lot to like about Square, as will restaurant owners and businesses with intensive appointment-setting needs.
In the end, you need to know what your budget is and what features are most important for you to have. Shopify and Square look pretty similar at first glance, but when you scratch beneath the surface, you'll find they both have so much to offer. You do need to consider costs when making a decision, but keep in mind your long-term goals and the features that will help you reach those goals.
Thankfully, you can try either service on a trial basis to freely test the features. Even if you sign up for a paid plan, you can easily cancel at any time, as their plans are month-to-month with no long-term commitments. (For example, deactivating your Square account is a quick four-step process, though you'll need to do some preparation beforehand!)
Before deciding, you may want to read how Square stacks up with PayPal. Also, those in the foodservice industry should check out our favorite restaurant POS apps.
If you've had experience with either or both of these services, please leave us a comment and tell us about it! And as always, if you have any questions, feel free to contact us!