Updated on:
Advertiser Disclosure: Our unbiased reviews and content are supported in part by
affiliate partnerships
, and we adhere to strict
guidelines
to preserve editorial integrity.
Basecamp

Pros
Intuitive user interface
Reasonable monthly cost
Unlimited users
Cons
Limited features
Limited integrations
Basecamp Overview
I think the best way to introduce Basecamp is with a quote from its About page:
10 years from now people aren't going to say 'I wish Basecamp was harder to use' or 'I wish Basecamp was slower and less reliable' or 'I wish it took longer to get an answer from someone at Basecamp', so we invest heavily in infrastructure, great design, and customer service.
This mantra seems to have served Basecamp well. Originally called 37signals, this company began as a four-person team back in the olden days (read: 1999). Basecamp (rechristened to reflect the company's main product in 2014) now employs 50 people in 32 cities. They claim to have written the book on remote working, and with a 20-year pedigree (and a literal published book on remote working), it is tough to argue.
The folks at Basecamp seem to be on a constant quest to improve their design and provide the best product possible. The first version of this software launched in 2004. After eight years of improving and tweaking, the world was treated to the streamlined interface of Basecamp 2, and in 2015, Basecamp 3 launched, complete with a new logo. According to CEO Jason Fried, Basecamp 3 is "unlike any Basecamp before," with improved communication, an updated interface, and a more user-friendly feel. In an unusual move, all three versions of Basecamp are still available, including support from Basecamp's customer service team.
In this review, we'll primarily be discussing Basecamp 3. However, we will also briefly cover all three versions of the software to help you choose the right version for your business. Scroll to the bottom of this review to see a brief comparison of Basecamp 2 and Basecamp 3 as well as an overview of Basecamp Classic.
Basecamp's most recent version of the software (Basecamp 3) is an excellent, affordable option for small to mid-sized businesses that are looking for a simple project management tool. That said, Basecamp 3 also has its limitations. Because Basecamp's focus is usability, they have excluded many advanced project management features from their software. You won't find any budgeting tools (such as job costing and resource management). You also can't use Basecamp 3 to track time or process payroll.
If those missing features don't concern you, however, Basecamp 3 might be the software you're looking for! Keep reading for a complete, unbiased review of the software and to find out if Basecamp 3 meets your business's needs.
Pricing
Basecamp 3 is celebrated for its no-frills, no-fuss pricing system. There are only two options available: a free plan and a paid plan. While the free plan places limitations on the number of projects and users that you can add to the software, the paid software offers an unlimited number of projects and users.
There are also discounts available for educational institutions and nonprofits; Basecamp 3 is free for teachers and students and 10% off for nonprofits.
Additionally, there is a discount available for users who choose to pay for a full year up front; these users receive two months free. Incredibly, if you cancel your plan before the year is up, Basecamp will refund you for the remaining time you didn't use the software. This is the first time I have ever seen a software offer a prorated refund on its annual plan. I am impressed.
Basecamp provides a free, no-obligation, 30-day trial to potential customers (they will also happily extend this trial if you need it). The trial does not require you to submit unnecessary personal information or a credit card number, and it gives you access to every tool and feature the software has to offer.
Here's what each pricing plan offers:
Basecamp Personal
$0/month
Three projects
20 users
1GB storage
Customer support
Basecamp Business
$99/month
Unlimited projects
Unlimited users, clients, and contractors
500GB storage space
Company intranet
Team collaboration
Project templates
Advanced client access (with permissions)
Priority support
Cloud-Based Or Locally-Installed
Basecamp 3 exists and functions entirely in the cloud. It does not require installation and updates automatically.
Hardware & Software Requirements
All you need to access the desktop browser version of the software is an up-to-date web browser and an internet connection. Basecamp 3 is compatible with Internet Explorer 11+, Apple Safari 7+, and the latest versions of Google Chrome and Mozilla Firefox.
To use the desktop app version, you need to be using one of the following operating systems: macOS 10.9+ (10.9 Mavericks, 10.1o Yosemite, 10.11 El Capitan) or Microsoft Windows 7+ (64-bit Windows 7, 8, 8.1, 10 — 32-bit not supported).
Basecamp 3 has dedicated apps for iPhone, iPad, the iPod Touch (running iOS 11.0 and later), and Android devices (with Android 6.0 and up). Mobile apps are a great way to work out of the office or keep tabs on a team while off-site. That said, some users have reported that the app has some limitations in terms of features.
Specific Size Of Business
Basecamp says that they are equally popular with small and large businesses. In my opinion, Basecamp 3 is best for small to mid-size businesses because of the software's limited resource management and reporting features. If you need to set a budget for a project or track time within the software, you should look elsewhere (we particularly like LiquidPlanner).
LiquidPlanner


---



Because Basecamp 3's pricing model is a flat rate, I think Basecamp 3 works best for businesses with more than ten employees. Businesses with fewer than ten employees can find more robust software (such as Wrike) at a lower price point.
Basecamp 3 also works well for individuals when they sign up for the free plan.
Ease Of Use
Basecamp 3 is project management software at its most basic level. Basecamp 3 makes it easy to access teams, projects, and company-wide news on your home page. Moreover, Basecamp 3's core features, such as to-do lists and message boards, are intuitive to use. When you first sign up for the software, you get access to a guided tour of the program, although the interface is so simple that I doubt it is really necessary.
I will say, however, that Basecamp 3's simple design might not appeal to everyone. In my software testing, I am accustomed to using toolbars with categories and sub-categories to navigate. Although Basecamp 3 does have a toolbar at the top of the dashboard, much of Basecamp 3 is organized in post-it style boards. This style of organization throws me off a bit, and honestly, I think it underutilizes valuable screen space. Most customer reviews that I've read, however, love Basecamp 3's way of setting things up, so I might be in the minority here.
Features
Basecamp 3 is essentially a task management software. With Basecamp 3, you can create projects and teams, assign tasks, and track progress. For task management software, Basecamp 3 does its job well. However, if you are looking for project management software with more complex job costing, budgeting, accounting, and payroll features, you should look elsewhere. Here are the built-in features that Basecamp 3 offers:
Dashboard: Many other software companies call this centralized home page a "dashboard," but in Basecamp 3, it is just called "Home." It's where you go to see all of your projects in one place. You can also see the teams you are currently on and get access to your business's "HQ" center, which stores important company-wide announcements and documents. The Home page gives you an at-a-glance view of everything happening across the whole business.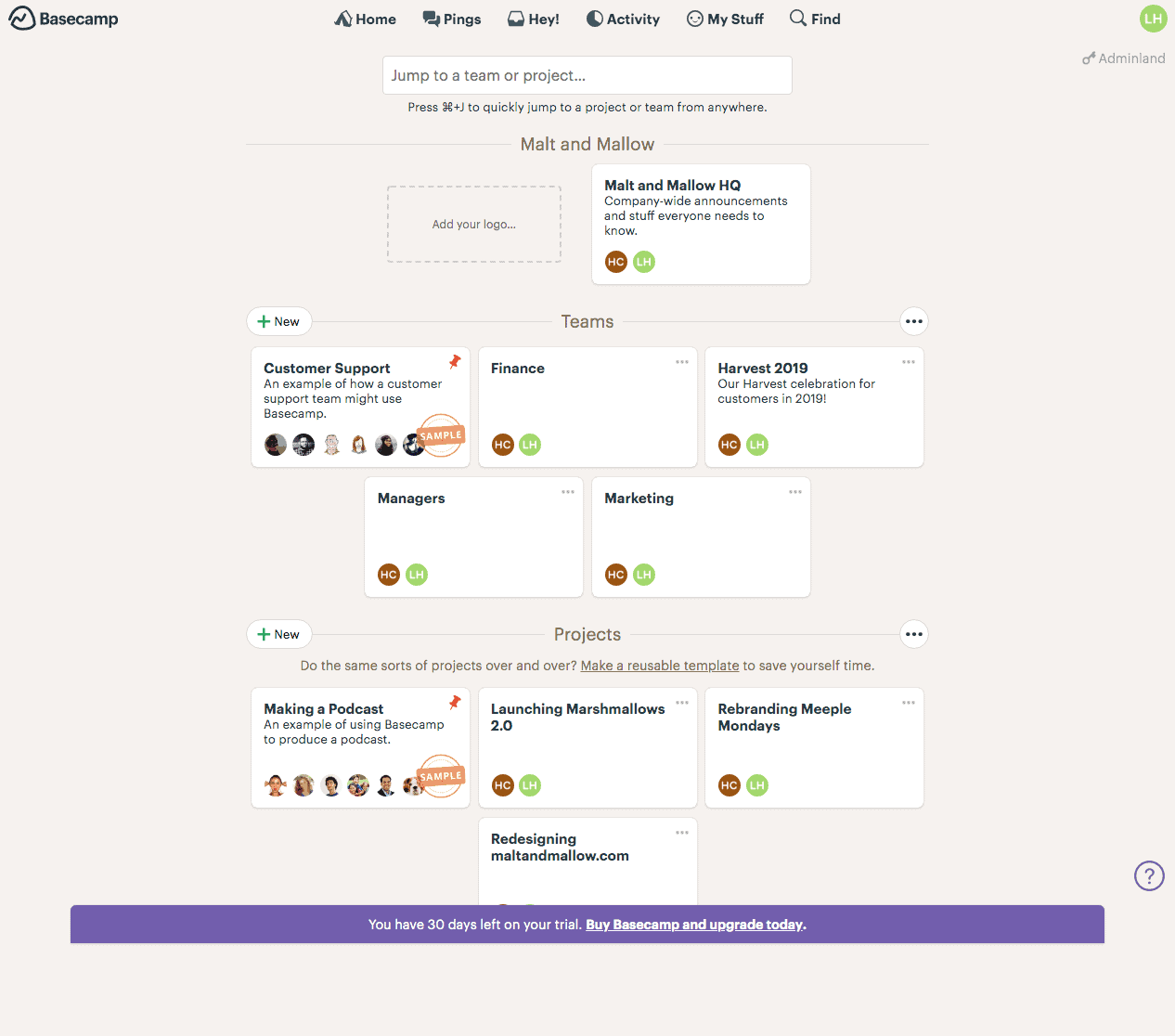 Project Management: Keep all of your projects organized on project cards. These cards give you access to the message board specific to the project, the "campfire," the to-dos, the schedule, relevant docs and files, and Basecamp 3's automatic check-ins. Administrators can add and remove users from a project and create and assign new to-dos.
Tasks: In Basecamp 3, tasks are called "to-dos." To create a to-do item, Basecamp 3 asks you to name your list and then add different items to it. The process is exactly as simple as it should be. And, if you want to reference something from the past, to-do lists are archived once they have been checked off. Basecamp 3 does not allow you to create task dependencies, which is a feature I typically look for in project management software. I hope Basecamp adds this in soon.
Employee Management: Basecamp 3 allows account administrators to change which projects or teams users can see. Administrators can also remove users from an account or move a user between organizations.
Messaging: Basecamp 3 has a couple of tricks up its sleeve when it comes to team communication. First, a previously separate program known as Campfire has been folded into Basecamp 3 and now operates as one of the software's main functions. Campfire is essentially a group chat board that keeps things very conversational but does not separate topics into different groups. If you need to have more focused discussions, Basecamp 3 also offers Message Boards, where every topic has a separate page. This organization keeps conversations more direct and specific. Having these options available front and center (they are both main features of Basecamp 3) gives you a good idea of what is important to Basecamp: group communication. Additionally, every part of Basecamp 3 has a comment option. Finally, Basecamp 3 has an IM system called "pings." Pings allow for direct, one-on-one communication between you and other members of your project. You can access your pings from the toolbar at the top of the page.
Scheduling: Basecamp 3 allows you to see your tasks represented on a calendar. You can sync this calendar with your Google Calendar, Outlook, or iCalendar so that your meetings and events transfer over into Basecamp 3. Below the calendar, you can also view your to-dos in chronological list form. I like that Basecamp 3 lets users view their tasks in these two different forms.
Email Settings: You can forward emails to Basecamp 3 to track them within the software. Future responses on that email chain will land in Basecamp 3 automatically.
Reports & Analytics: Basecamp 3 offers a few basic reports. You can see what's overdue or due soon, what's been completed today, and what's coming up. You can also view all the tasks assigned to someone.
Automatic Check-Ins: This is one of Basecamp 3's widely enjoyed features. When you first open your new project, Basecamp 3 provides four automatic check-ins. These are: What did you work on today? What will you be working on today? Read any good books lately? And, Been inspired by anything lately? If you choose to turn these on, they will automatically go out to all members of the project each day, week, or month. If these questions aren't specific enough for you, Basecamp 3 also lets you create automatic check-ins.
Docs & File Storage: Basecamp 3's file storage is pretty versatile. You can upload files from your computer, link files from Google Docs, Dropbox, Box, or OneDrive. You can even create new documents in Basecamp 3 itself. As you would expect, you can organize these files in folders to better navigate complex projects. And, as I mentioned earlier, Basecamp 3 allows for comments on all of these options for optimized communication.
Focus Mode: Basecamp encourages interconnectedness between users, but sometimes the constant notifications from chats and campfires can hinder productivity rather than help it. If you need space to get work done, turn on Focus Mode to temporarily suspend the noise.
Notifications Settings: Basecamp knows that people do not stay at the office 24/7. For this reason, you can set Basecamp 3 to "save up" your notifications for when you are actually at work. You can also set Basecamp 3 to notify you only when someone sends a Ping to you or @mentions you.
Hill Charts: Like most things in Basecamp 3, Hill Charts fit neatly into the outdoorsy schtick the company is clearly going for. In their view, work is like climbing a hill; you push an idea up and up until you reach the summit, and the other side is all downhill. With that in mind, Basecamp 3 has introduced Hill Charts. Designed to measure confidence and uncertainty, the Hill Chart functions as a communication tool where team members represent their level of progress by setting a location on an illustrated hill:
Customer Service & Support
Basecamp is known for fast, reliable service. While they don't provide the level of immediate personal support as other software companies (read: no phone support), the folks at Basecamp do respond quickly to email requests. The company also offer a large variety of ready-made aids and live training tools. According to its website, Basecamp service reps are not shooting for mere customer satisfaction because "satisfaction is not a measure of success — it's just enough to get by. We want our customers to be happy. Happiness is success. Happiness is our goal." I'm not sure how much I accept that statement — surely live customer support is more helpful than email interaction in nearly every conceivable situation. I do believe, though, that Basecamp reps do their best with the tools they have. When I wrote in with a support question, I received a response in under 15 minutes.
Basecamp's biggest support problem, other than the lack of phone/live chat services, is its website. While attractive in a cutesy kind of way, the information here is a little frustrating to access. The site is very sparse in terms of features, without even a search bar to help navigate. To be honest, it looks a little like a spam site for buying extra cruise tickets. Part of the problem is that there are now three whole versions of Basecamp, so it can feel a little unclear what version is being referred to. Users of Basecamp Classic and Basecamp 2 are the most affected by this, as the only information I could find on either of these programs was on the support pages, which I discovered by accident. It would be nice if the website had more information on the prior versions of Basecamp since the company has promised to support these iterations "until the end of the internet."
Basecamp 3's support features include:
Email: While you cannot contact service representatives by phone, you can email support or fill out support requests online. The average wait time for a response (within business hours) is less than 30 minutes. Customers are asked to rate any service they receive immediately afterward, and from what I've seen, the feedback is mostly positive.
Live Chat: Live chat is occasionally available in the user's dashboard. You'll find it listed under "Ask," along with email support. In my testing, I never saw live chat available, and there are no set hours for live chat. I would not count on this being available most of the time.
In-Software Help: Click the "?" in the bottom right-hand corner of the dashboard to search for support articles. You can also use this button to ask a question via email or live chat.
Knowledgebase: Basecamp includes three knowledgebases in its support offers, one for each of the three versions of Basecamp. The Basecamp 3 knowledgebase includes how-to guides, FAQs, and support articles.
Guides: Access guides online for step-by-step written instructions on both elementary and complex Basecamp functions. I found them all easy to follow, and they are available for all three versions of Basecamp!
Videos: The Basecamp website features a library of seven two-minute-long videos that cover a few of the basic features. I found these videos helpful as I set up my dashboard; however, they are far from comprehensive.
Sample Project: New accounts come equipped with a sample project. The project, of course, contains lots of sneaky information about how great Basecamp 3 is, but underneath the promotional material, there are lots of handy, step-by-step instructions. If you learn by example, this is a great way to figure out how to create projects, add users, and manipulate your calendar. I found it extremely useful, especially since it can't be easily referenced later straight from your account.
Training: Every Monday and Wednesday, the Basecamp team hosts live classes for Basecamp 3. During these classes, you can ask your specific questions about the software.
Blog: Basecamp has a blog that it uses to inform users of updates. At the date of this review update, it's been ten months since Basecamp last posted on its blog.
Social Media: All you obsessive tweeters out there should know that Basecamp is extremely invested in its Twitter account. Basecamp monitors its Twitter feed for customer questions, concerns, and feedback, so you can always send a tweet if you need a quick response. Basecamp also has a LinkedIn account. Basecamp notably does not have a Facebook page or an Instagram account. Basecamp disagrees with many of Facebook's business practices and does not feel that they can market their services on Facebook-owned sites.
User Reviews
Negative Reviews & Complaints
While Basecamp 3 is an excellent solution for many, it is not the right fit for everyone. And current users see areas in which Basecamp 3 could improve. Here are a few of the users' least favorite aspects of Basecamp 3:
Limited Feature Set: Basecamp 3 has been distilled into a high-functioning task management tool, but it doesn't do a whole lot beyond that. Many customers wish there were more reporting, time tracking, and resource management features. As I tested it, I noticed there were several features common to other programs that simply do not exist in Basecamp 3. These include Gantt charts, in-depth scheduling tools, and job costing and budgeting tools. Users are also frustrated that it is impossible to add more than one person to the same task. Furthermore, users would like to see improvements made to the client-side features.
Learning Curve: Although Basecamp 3's interface is easy to navigate, it can take users a while to discover the best ways to use the platform. Additionally, training new users can be a challenge. You have to teach users how your specific business chooses to use the software.
Expensive: Basecamp 3's flat-rate cost is not for everyone. Some users wish there was a plan between the free plan and the $99/month plan.
Not Enough Integrations: Users want more third-party integrations, and they want existing integrations to be stronger.
Too Many Communication Options: With so many different ways to communicate with your team (campfires, message boards, pings, and comments), it can be challenging to track communication. It's easy for important information to get lost in the chatter.
Positive Reviews & Testimonials
Basecamp is well-loved, there's no doubt about it. Basecamp scores a solid 4.1/5 on G2Crowd and 8.1/10 on TrustRadius. Most people who have used it for any length of time develop a strong, life-long affinity for Basecamp in all its iterations. Beloved features include:
Low Price: Basecamp 3 is one of the most affordable project management solutions available since it allows you to include unlimited users.
Intuitive Design: Basecamp 3 is very user-friendly. The functions are simple and no time gets wasted on irrelevant material or overly complicated features. Basecamp 3 is a useful piece of technology that is also accessible to the layperson, and it's relatively quick to set things up.
Everything In One Place: Users like that Basecamp 3 helps keep information together. You can communicate via messaging within different projects, and you can import relevant files and docs to a project.
Client Access: Users love that clients can log in to check on a project's progress. You can also manage what clients see so that you aren't revealing too much information.
The following are excerpts from favorable customer reviews:
The simplicity of Basecamp is what I think is the best thing about it. My team is not large enough to use many of the project management tools out there, and many of the tools are complicated to the point of needing one person to manage them, but not Basecamp. It has an easy to use interface, it's very easy to pick up and learn, and I love how it has apps available for every platform and syncs between devices.

I like how when there are staff members who work remotely, there is still a platform that is easy and like a to-do list to help organize projects. It is easy to communicate and comment on specific tasks and assign roles to each person as necessary. I like how the owner of the project and the due date are prominent.
For more feedback from satisfied users, visit the Basecamp website.
Integrations & Add-Ons
Basecamp 3 offers a total of 64 integrations. These include apps for time tracking, invoicing, and accounting, reporting software, software development apps, customer service platforms, support platforms, and more. Two available integrations are Zapier and Automate.io, which offer connections to hundreds of additional integrations.
Basecamp 3 also offers an open API on GitHub, which developers can use to build connections to additional software.
Security
Basecamp, like most cloud-based programs, takes numerous security precautions to protect user privacy and information. Basecamp uses HTTPS encryption, and all of its billing is PCI compliant. Basecamp also ensures data security through multiple server redundancies and data backups. Furthermore, Basecamp maintains advanced physical security at data centers, and infrastructure is updated frequently. Finally, Basecamp is constantly testing its security measures for vulnerability. It uses bounty programs to incentivize third parties to test for software vulnerabilities, and it has a security response system in place for when users of the program identify vulnerabilities.
Basecamp 2 VS Basecamp 3
Now that we've covered Basecamp 3 in detail, you might be wondering about the earlier versions of the software. Maybe you think an older version of the software would be cheaper or perhaps better fit your workflow. In Basecamp's case, I feel comfortable recommending Basecamp 3 over Basecamp 2 in most cases. However, I also recognize that Basecamp still has many users on its Basecamp 2 software. Some of these users have been using Basecamp 2 for years, while others chose to sign up for Basecamp 2 even after Basecamp 3's release. And, for some businesses, Basecamp 2 might be the best option. So let's break it down. How does Basecamp 2 differ from Basecamp 3, and what are the benefits of the older version?
I see Basecamp 2 as a stepping stone on the road to the most recent version. In many ways, Basecamp 2 echoes the features you see more fully developed in Basecamp 3. Basecamp 2 operates similarly to Basecamp 3 in how it manages projects and to-dos. Projects are featured as cards on a board, and clicking on these cards gives you access to more in-depth information about each project. Besides "Projects," your other primary tools are "Calendar" and "Me." In Calendar, you can view all your to-dos laid out on a monthly calendar, and you can add events with set times and attendees. On the Me page, you can see your activity on Basecamp as well as the events and to-dos assigned to you.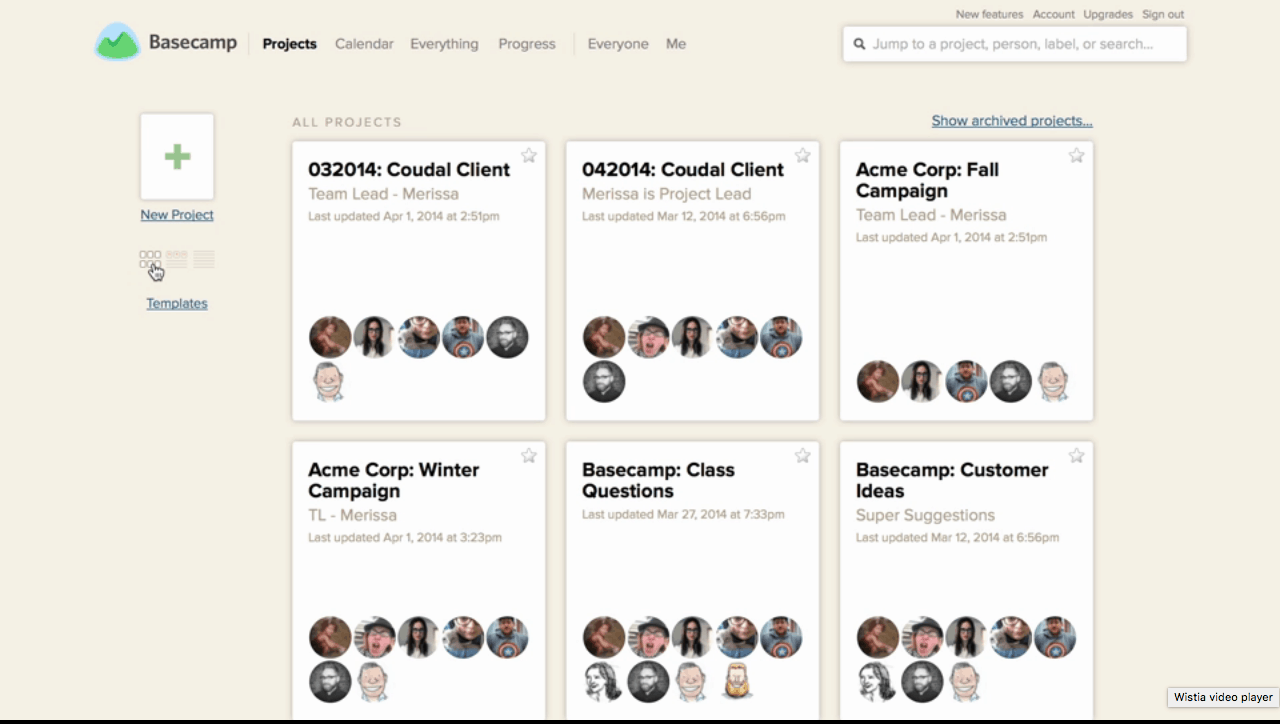 In an unusual move, Basecamp promises to support Basecamp 2 until the end of the internet (or until its last user closes their account). That doesn't mean, however, that Basecamp 2 will get much attention from the Basecamp team. While Basecamp will maintain Basecamp 2's security through patches and necessary security updates, it will not add any new functionality to the software. What you see now is what you get! Fortunately for Basecamp 2 users, Basecamp will still offer its lightning-quick support through email and help guides.
Pricing
Pricing for Basecamp 2 is structured very differently than pricing for the newer version. Basecamp 2 pricing is based on the number of active projects you need on your account. I'm happy to see that Basecamp 2 includes unlimited users in every plan. While there is no free version (except for teachers!), Basecamp 2 does offer a free 60-day trial of the software, so you can test it out for yourself. Here's a breakdown of Basecamp 2's pricing plans:
10 Projects
40 Projects
100 Projects
Unlimited Projects
Annual Plan — Unlimited Projects
$3,000/year
500GB storage
Compared to Basecamp 3's simple $99/month flat-rate, Basecamp 2 is quite expensive. There is no free plan available, and to access unlimited projects (included as part of Basecamp 3's flat-rate), you have to pay at least $150/month. What's more, if you want the same amount of storage that Basecamp 3 offers, you have to spring for the Annual Plan at $3,000/year, which breaks down to a monthly cost of $250. In terms of pricing, Basecamp 3 is a much better deal than Basecamp 2.
Features
As I mentioned before, Basecamp 2 is an echo of Basecamp 3 in many ways. You can find almost every feature from Basecamp 2 included in Basecamp 3, with one notable exception: Calendars.
In Basecamp 2, the Calendar feature is highly versatile. You can create events from the Calendar view and set a time for those events. You can even add participants to events and set up reminders for those participants. If you have a weekly meeting, you can add it as a recurring event, and you can create multiple calendars to share with different people. Once you've added everything, you'll have a comprehensive calendar, including all your to-dos, events, and reminders. Here's Basecamp 2's calendar:
On the other hand, Basecamp 3 offers a feature called Schedule that looks similar to Basecamp 2's calendar but operates completely differently. Schedule only displays your to-dos on a monthly calendar view. You cannot add events from Basecamp 3, and you have to click on each day's box to view the tasks for that day. Basecamp 3 assumes that most users are already using a calendar service such as Google Calendar, Outlook, or iCal, and it offers integrations with those calendars. Integrating with one of those calendars imports your events over into your schedule in Basecamp 3. Take a look at the Schedule feature in Basecamp 3: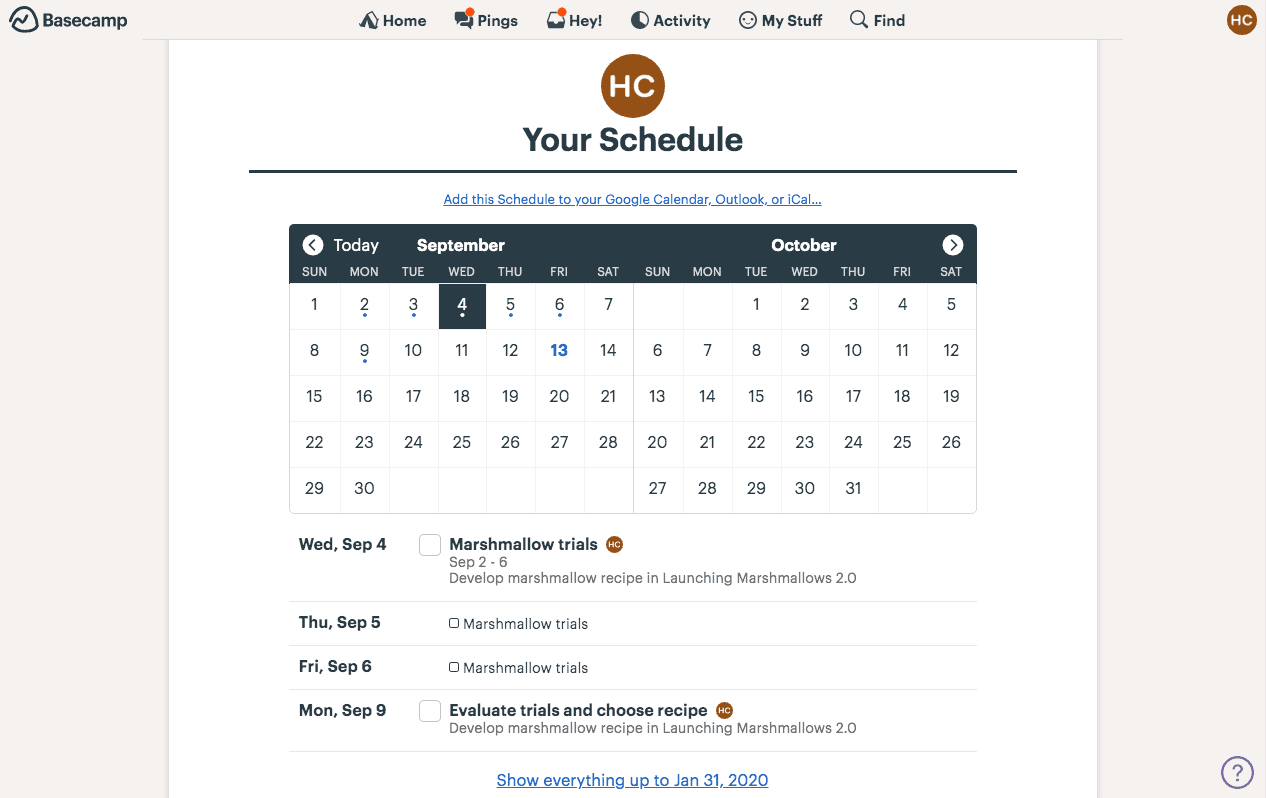 Calendars are the only significant feature that Basecamp 2 has and Basecamp 3 does not. In every other case, Basecamp 3 offers more robust and developed features. Here's a brief list of the newer features that you'll only find in Basecamp 3:
"Hey!" inbox for notifications
"Campfire" group chat
Direct message "Pings"
Assign to-dos to multiple people
Set ranges for due dates
Automatic check-ins
Better control over client access
Forward emails to Basecamp
Advanced search options
Set work hours
Basic reports
@mentions
Bookmarks
Activity timelines
Folders for storing files
Color coding for projects
Drafts
Integrations
In addition to the Calendar feature, Basecamp 2 has one area in which it bests Basecamp 3, and that is integrations. Because Basecamp 2 has been around longer, developers have had more time to build out integrations using the API. Basecamp 2 currently offers 88 integrations, including one with Zapier (a connector service that gives you access to hundreds of additional integrations).
By contrast, Basecamp 3 offers 64 integrations and also integrates with Zapier.
Although Basecamp 2 currently beats Basecamp 3 in this area, I wouldn't be surprised to see Basecamp 3's integration pool growing in the future. Current versions of software tend to get the most love from developers, and I expect to see more integrations added to this list over the next couple of years.
Should You Choose Basecamp 2?
As I've said before, I would recommend Basecamp 3 over Basecamp 2 in nearly every circumstance. Basecamp 3 has much more to offer in terms of storage, pricing, features, and future development. However, there are a few cases in which Basecamp 2 might be the wiser choice. You should consider using Basecamp 2 if any of the following situations apply to you:
Basecamp 3's Flat Rate Is Too Expensive: Teams of ten or fewer may find Basecamp 3 offers more storage and projects than they need at a price they can't afford. Basecamp 2 offers more affordable paid plans, starting at $20/month for ten active projects.
You Are Already Familiar With Basecamp 2: If you are a current Basecamp 2 user, you might prefer to stay with the software you already use and understand. In this case, there may not be any reason for you to switch!
You Prioritize Calendar Features: If you want task management software with robust calendar features, Basecamp 2 is more likely to fit your needs than Basecamp 3. Although, you should keep in mind that in most other features, Basecamp 3 has much stronger capabilities.
If any of the above scenarios apply to you, I recommend signing up for the 60-day free trial of Basecamp 2. Test it out, and see what you think!
Basecamp Classic
Basecamp Classic is the first rendition of Basecamp, and it is the inspiration for future versions of the software. You can still find elements of Basecamp Classic in Basecamp 2 and 3. Like Basecamp 3, Classic organizes tasks into projects and to-dos. You can assign to-dos to team members, make comments on individual to-dos, and add files to projects. There's also a Calendar feature where you can visualize projects and add upcoming events and milestones.
Although Basecamp Classic is similar to Basecamp 3 in many ways, it isn't quite as developed. The features I mentioned above all feel a bit basic, and there aren't nearly as many communication tools as there are in Basecamp 3. Also, pricing for Basecamp Classic isn't as generous as pricing for Basecamp 3.
Pricing for Basecamp Classic is based on a user's number of active projects and needed storage capacities. Fortunately, there is a free plan available, and all plans include unlimited users and SSL security. There's also support for all users through the designated help center and Basecamp's legendary support team (via email).
Here's what Basecamp Classic offers with each plan:
Free
$0/month
One project
10MB storage
Basic
$24/month
15 active projects
5GB storage
Plus
$49/month
35 active projects
15GB storage
Time tracking
Premium
$99/month
100 active projects
30GB storage
Time tracking
Max
$149/month
Unlimited active projects
75GB storage
Time tracking
Free Campfire Premium account
Overall, I still think Basecamp 3 offers more for its price. To access unlimited projects with Basecamp Classic, you have to pay $149/month, and even then you only get 75GB storage. By comparison, Basecamp 3 is much more generous with unlimited projects and 500GB storage at $99/month.
To test out the software and get a better feel of the available features, I signed up for a free account. Logging into Basecamp Classic feels a lot like finding your friends' photos from middle school. Your friends look a little awkward, but you can also recognize them beneath the braces. Here is my Basecamp Classic dashboard.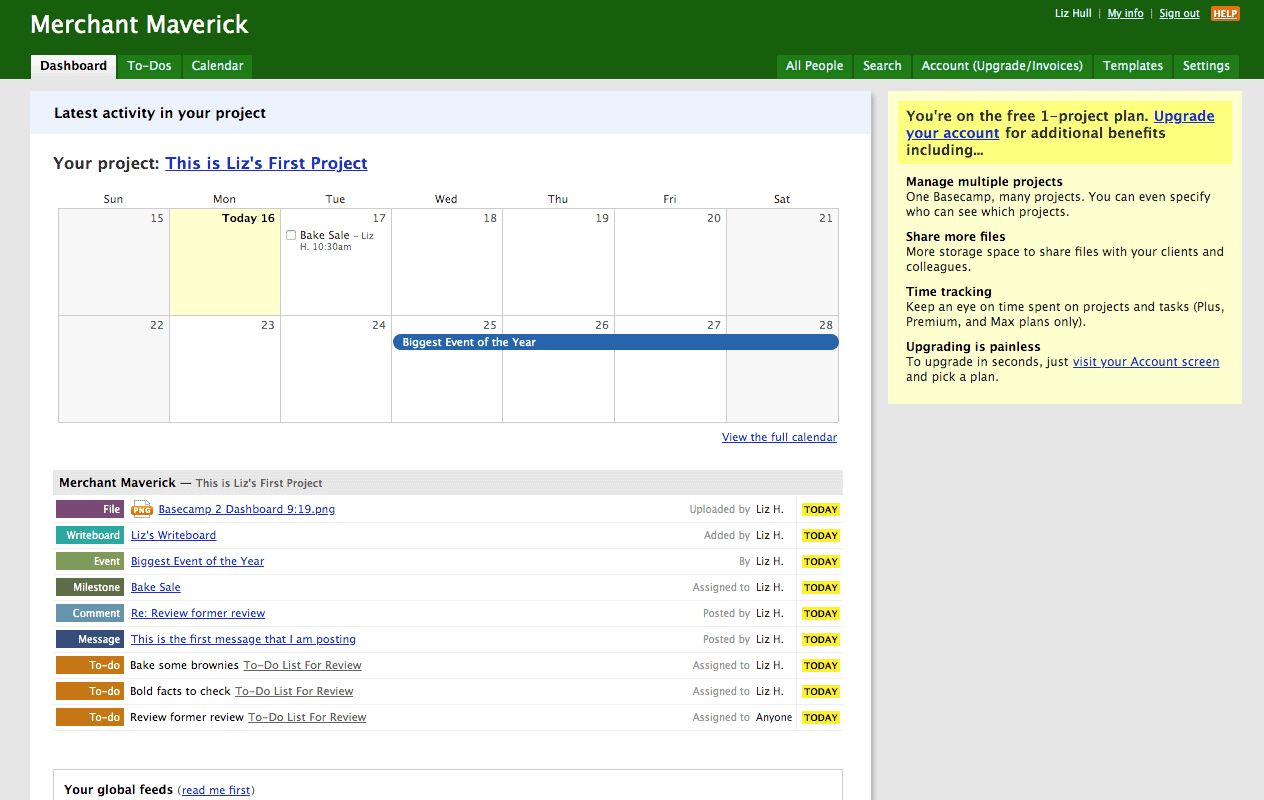 As I mentioned before, Basecamp Classic's features tend to be more basic than you find in later versions. There are fewer ways to communicate with your team, and things aren't quite as customizable. There are, however, two features that Basecamp Classic has that Basecamp 2 does not, and they are time tracking and an "everyone" calendar view.
Time tracking tools are only available on the Plus, Premium, and Max plans in Basecamp Classic. Basecamp 2 and 3 don't offer these features at all! Of course, you can always add-on time tracking via an integration, but it is cool to see it built into the Classic software.
Basecamp Classic also offers one calendar feature that users miss on the newer software, and that is the ability to view everyone's assignments on one monthly calendar. In the two more recent versions, you can only view to-dos and events assigned to you. Basecamp Classic allows you to see everything happening in the whole company. Also, with Basecamp Classic's calendar, you can toggle between views to see everything assigned to individual users. It makes assigning new tasks easier for project managers, as they can get a better idea of everyone's workload.
Basecamp Classic also provides ways to extend its functionality through add-ons and integrations. There are 93 add-ons and integrations available, including tools for reporting, invoicing, billing, accounting, time tracking, and software development. Basecamp Classic also has an integration with Zapier, which opens up hundreds of additional options.
So, at the end of the day, who would benefit from using Basecamp Classic? In my opinion, the only people who should consider Basecamp Classic are those users who have already been using the software for years. For these people, it might be easier to stay with familiar software than to switch to a new platform. I cannot recommend, however, that newcomers sign up for Basecamp Classic. Basecamp 2 and 3 have so much more to offer and often at a more affordable rate.
I think it's awesome that Basecamp maintains its Classic software and doesn't force long-time users to switch to the newest versions. However, I don't believe Basecamp would recommend that you sign up for Classic, and I can't either! In this case, it's cool to see Basecamp's past, but it's better to live in the present!
Final Verdict
I have to be honest; there's a lot to like about Basecamp 3. I love the simplicity and the way they call each project a "basecamp" as if it is the start of a daring ascent to the top of whatever your project might be. I love that you can turn notifications off for the weekend or evenings or even for a three-hour heads-down work session. These are features that tell me Basecamp wants to make the most user-centric product possible.
However, Basecamp 3 is not exactly perfect — at least not yet. Basecamp 3 is still missing many of the advanced features that make project management software good investments. These features are primarily financial tools that help you measure the cost of the labor that goes into a project. Basecamp 3 does not come equipped with any time tracking or payroll tools, which many other leading solutions include.
When it comes down to it, you have to decide if the significant pros of Basecamp 3 (simplicity, flat-rate pricing, and rapid support) outweigh the cons (lack of budgeting tools, limited calendar, etc.). In my opinion, for many merchants, there are better options out there. However, for some, Basecamp 3 may be the perfect solution! I recommend giving Basecamp 3's free trial a go; you can make your decision from there.
---
We've done in-depth testing of each and confidently recommend them.
We've done in-depth testing of each and confidently recommend them.
To learn more about how we score our reviews, see our
Project Management Software Rating Criteria
.
Read Next