Expert Analyst & Reviewer

UPDATED
Advertiser Disclosure: Our unbiased reviews and content are supported in part by
affiliate partnerships
, and we adhere to strict
guidelines
to preserve editorial integrity.
Harvest

Pros
Good customer support
Well-designed UI
Easy to use
Numerous integrations
Cons
Unsuited for product-based businesses
Limited reports
Unscalable
Harvest Overview
Though it started with a simple focus on time tracking in 2006, Harvest has grown considerably over the last decade and now encompasses invoicing and project management. Even after expanding into the invoicing world, the software is still focused on time and team management and has over 50,000 users. For service-based companies, these features are a welcome change, seeing as there are hardly any invoicing products designed specifically for product-based businesses on the market.
In addition to strong time tracking, Harvest boasts a beautiful, easy-to-use interface and good customer service. However, the software has limited invoicing features and is unsuited for product-based businesses. Additionally, Harvest's pricing plan can get expensive if you have multiple users, and the software's expense tracking is far behind what other invoicing programs offer.
If you are a service-based business looking for strong time tracking and project management, Harvest could be a great choice for your business. However, if you're a product-based business, there are other more suitable options, such as Zoho Invoice or FreshBooks.
Continue reading this review to learn more about Harvest. If you want to explore all of your options, be sure to do your research. Start off by comparing invoicing software solutions.
Harvest Pricing
Harvest offers a free plan and a paid Pro plan. Payments are made monthly and can be canceled at any time; although, there is a 10% discount for annual payments. Harvest offers a free 30-day trial of the paid software. No credit card information is required.
There are a number of discounts available for Harvest's Pro plan. A 15% to 25% discount is available for nonprofits and educational institutions. If Harvest is being used in a classroom setting, the software is free. Teams of 50+ also qualify for a 15% discount. There is also a referral program where you can earn rewards for introducing new users to Harvest.
Free
Harvest's Free plan costs $0/month and includes:
Two projects
Unlimited invoices
Unlimited estimates
Unlimited clients
Basic expense tracking
Time tracking
Reports
60+ integrations
One user
Pro
Harvest's Pro plans costs $12/month/person and includes everything from the Free plan, plus:
Unlimited projects
Unlimited users
Additional Services
Harvest offers more than just time tracking. Here is an additional service for small businesses:
Harvest Forecast: Harvest Forecast is a team scheduling and management solution that allows small businesses to manage teams and projects. This service also includes job costing and project analytics. Harvest Forecast is priced at $5/month per person. A 30-day free trial is available to test out the service.
Cloud-Based Or Locally-Installed
Harvest is cloud-based, so no downloads or installation is required.
Hardware & Software Requirements
As cloud-based software, Harvest works with any computer so long as you have an internet connection. The most recent browser versions are recommended. All browsers must have Javascript enabled to run properly.
There are desktop applications available for your browser. Harvest also has mobile apps for Apple products (iOS 13.0+) and Android products (6.0+). Mobile apps can be used offline.
Specific Size Of Business
Harvest is ideal for small businesses in need of powerful time tracking, project management, and basic invoicing. The software is ideal for service- or project-based businesses and businesses needing a simple time tracking solution. Product-based businesses can still use the software but will have to employ more roundabout methods, as there is no way to record items or inventory in Harvest.
Since our last review in June of 2019, Harvest has expanded the free plan's feature-set, making the price and capabilities a good fit for freelancers. Many freelancers, in fact, say Harvest is great for helping them manage their time and clients.
The software is not ideal for businesses looking for expense tracking, strong invoicing features, or full accounting. Further, the price for extra users can add up quickly. Harvest does allow you to set user roles and permissions for your team, including three different user roles and basic control of key features.
Ease Of Use
Harvest is an easy-to-use, beautifully designed software program. Although there is no main dashboard, most features have their own dashboard with graphs and charts to display important information. The UI is well-organized, and with good customer support resources, anyone can learn and use Harvest in very little time.
Harvest Features
Unlike most invoicing programs, Harvest excels at advanced features, such as project management and time tracking, and drops the ball on the basics, such as invoicing and contact management (usually it's the other way around). Here are the main features Harvest offers:
Invoicing: Harvest supports one invoice template with very basic customizations. You can add a company logo, enable snail mail, and create invoice reminders. There's a nice invoice dashboard that shows your open and paid invoices. Recurring invoices and retainer invoices are also supported. There is no sales tax support, so you'll have to manually calculate sales tax and add it as a line item. Additionally, there is no way to save items, so you have to reenter a project or item every time you create an invoice. However, Harvest does make it really easy to invoice projects.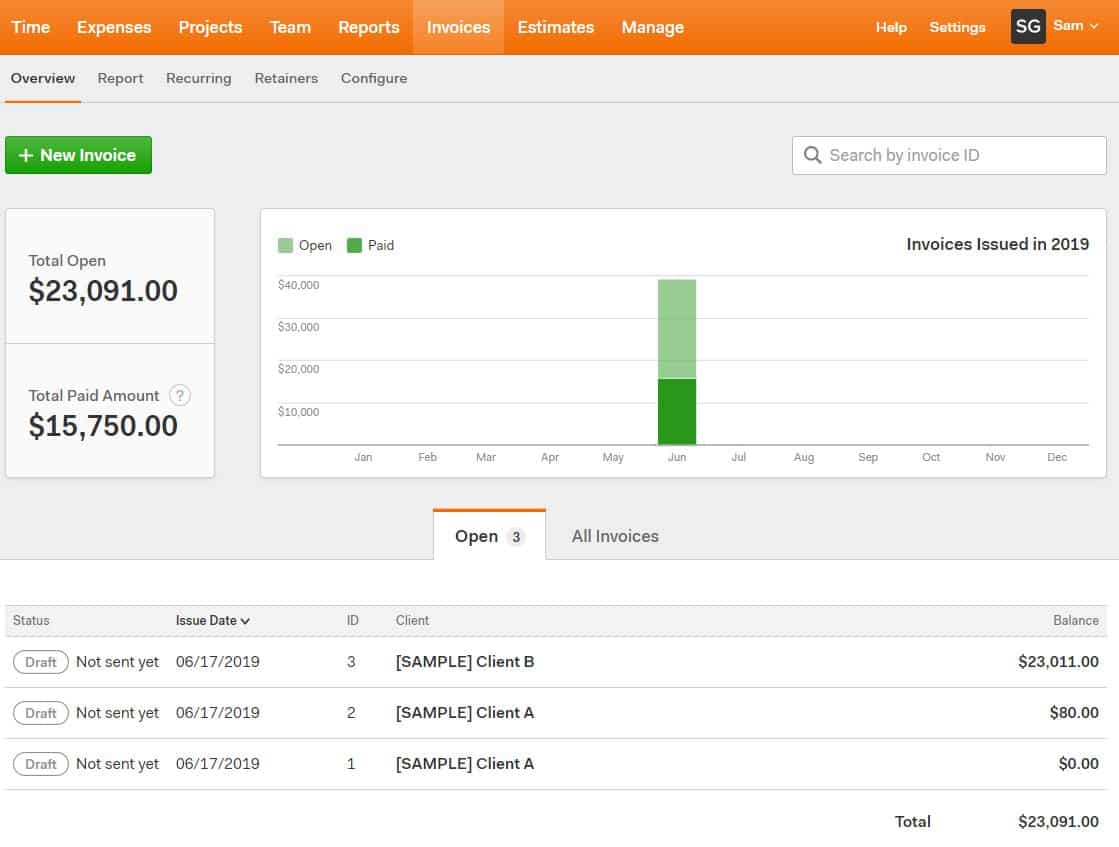 Estimates: In the paid plan, you can create estimates using a single template and easily convert estimates into invoices.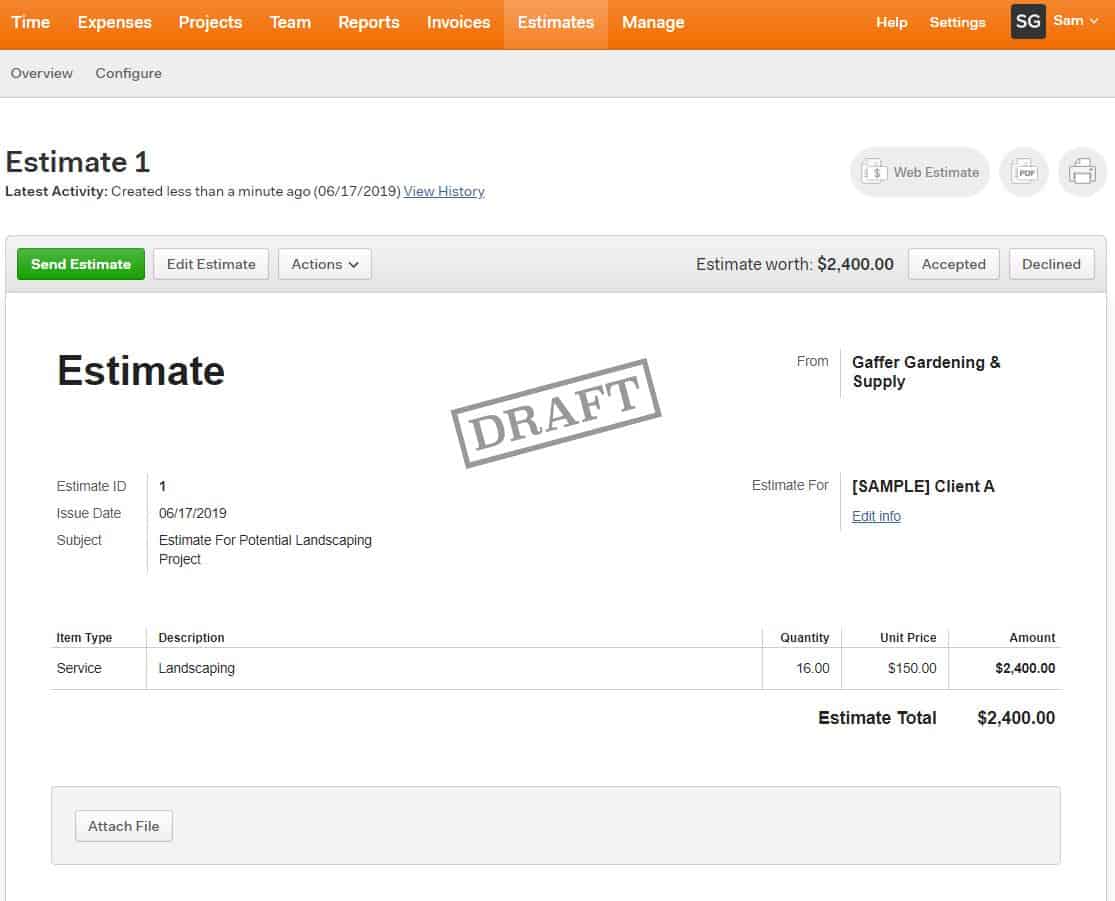 Client Portal: When you send an estimate, customers receive a link to their own client portal where they can view, decline, or accept estimates. When you send an invoice, clients can similarly view and pay their invoices directly online.
Contact Management: Harvest offers very basic contact management. You can create clients, but you can only add their name, address, and preferred currency, which is incredibly limited compared to other invoicing software options.
Team Management: You can add employees and contractors to Harvest. You can add basic contact information and work parameters, such as how many hours each team member is allowed to work. The software offers a nice team dashboard where you can view your team and their total hours, capacity, billable hours, and non-billable hours. You can also drill down for more information on each team member.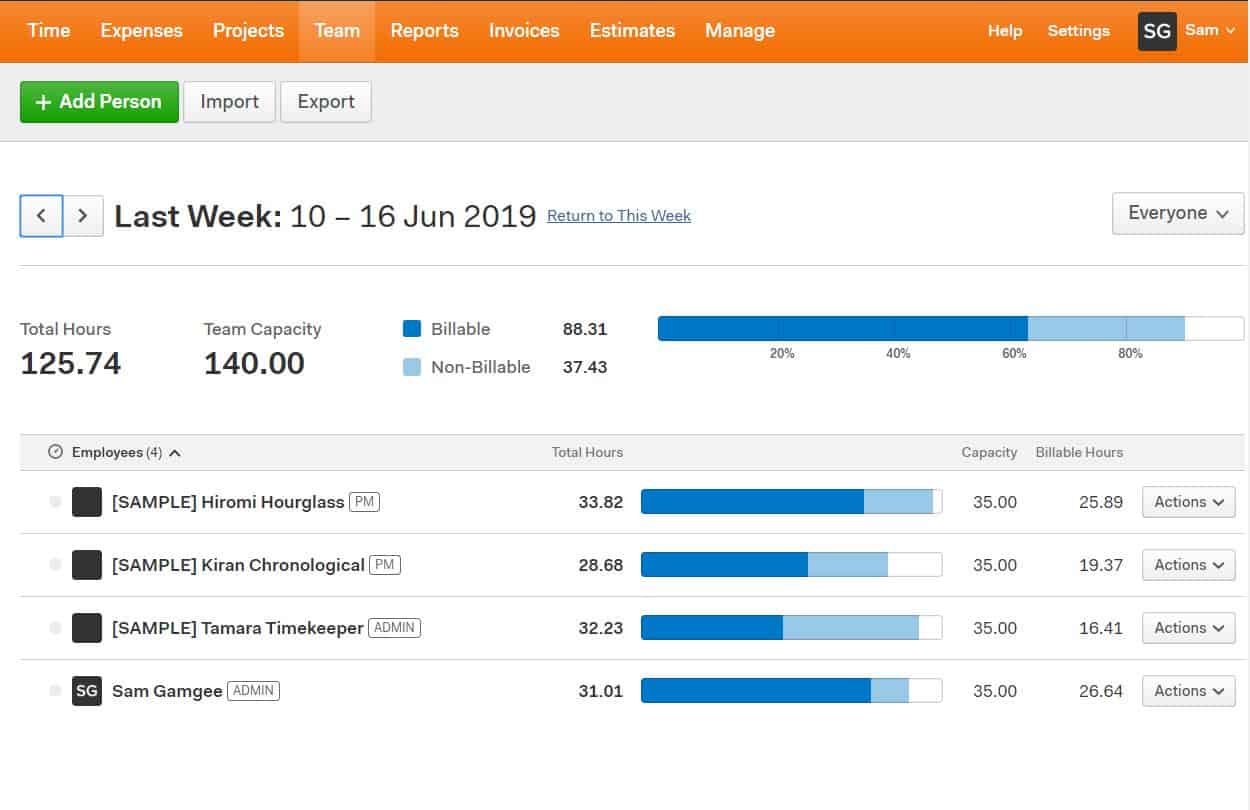 Expense Tracking: There is a basic expense feature where employees can add expenses pertaining to their projects. You can add expense categories and attach receipts to your expenses. You can easily bill clients for expenses; however, there is no traditional expense tracking. There are no live bank feeds and no way to record business expenses that aren't directly related to a project. You can now take photos of expenses in the mobile app for quicker expense inputting.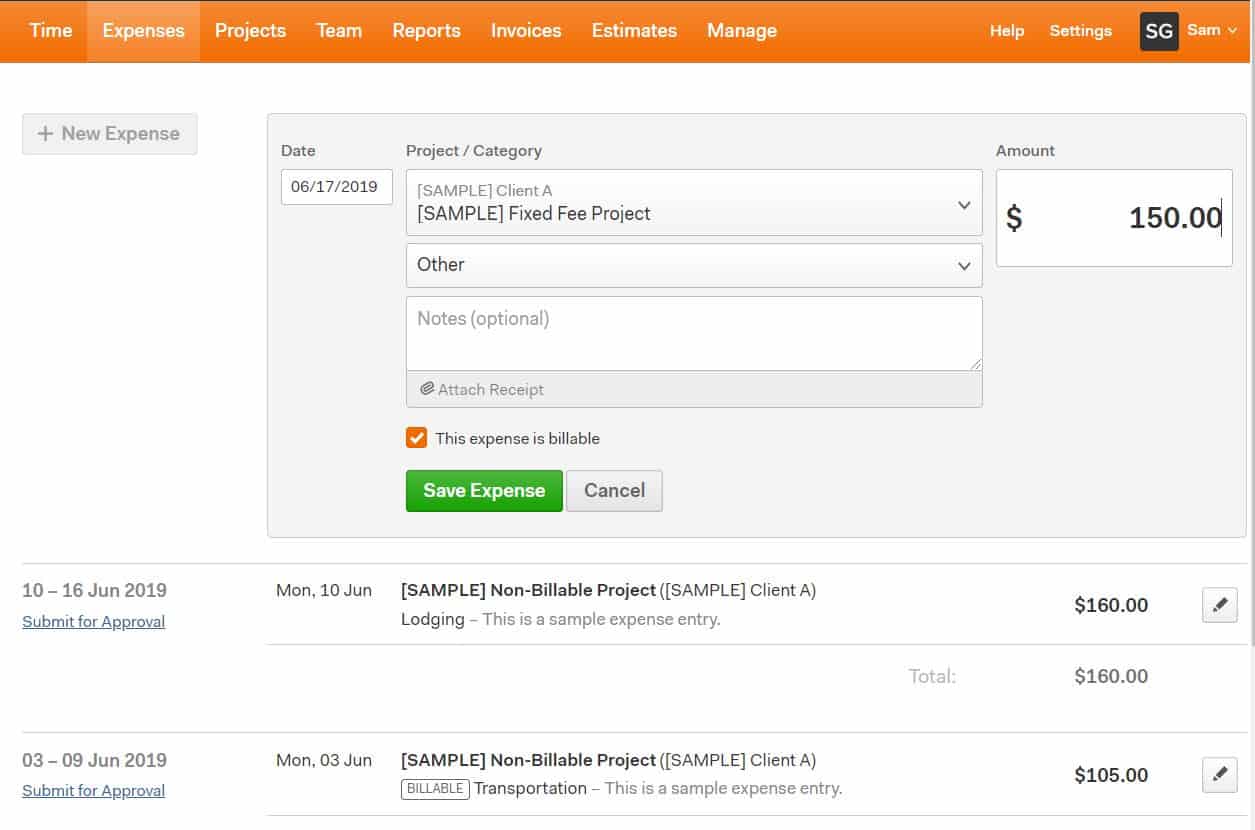 Time Tracking: Harvest makes it easy for employees to clock time for the week. Hours can be entered manually, or you can utilize Harvest's built-in timer. Employees and contractors can submit their time for approval, and you can view time by timesheet, pending approval, unsubmitted, or archived.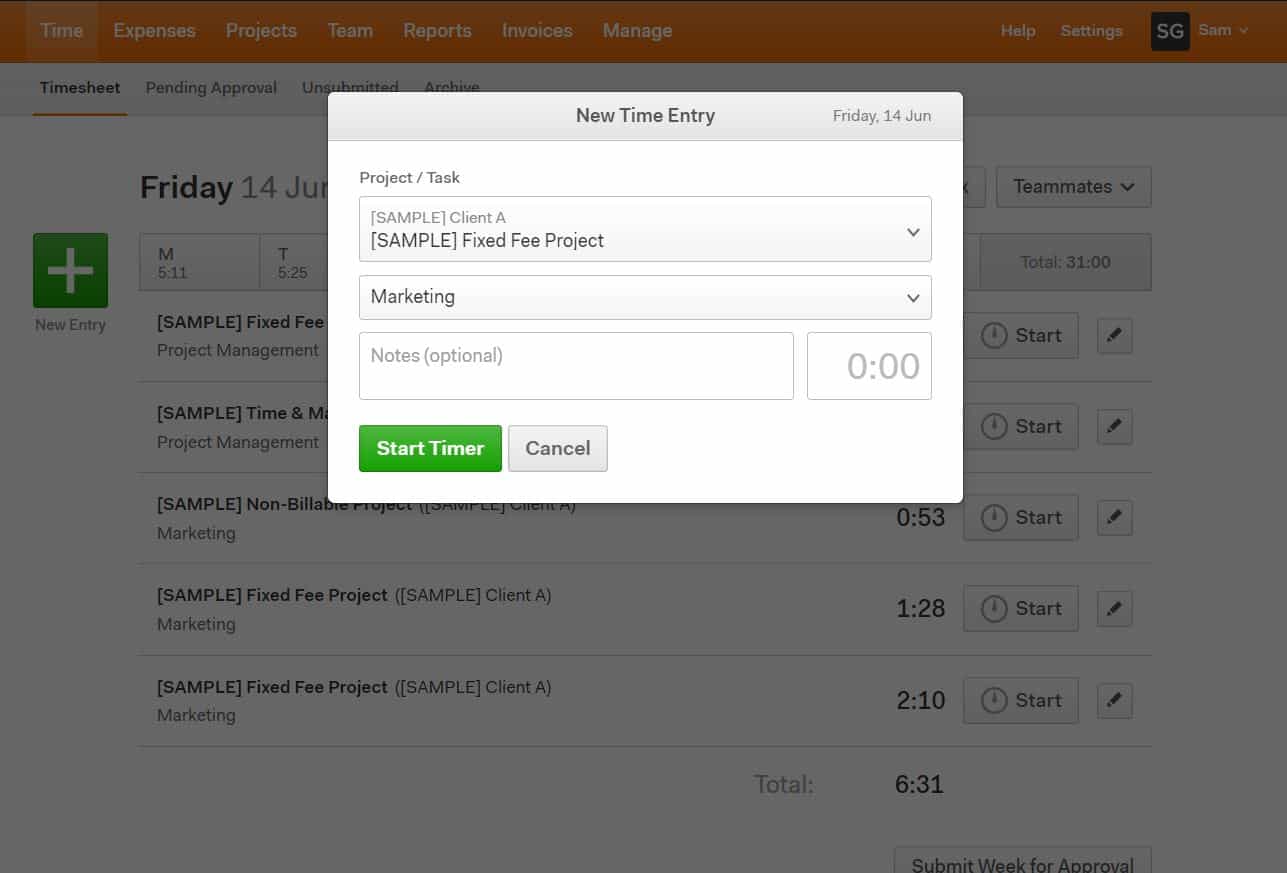 Project Management: Harvest has good project management offerings for service-based businesses. You can create project budgets and easily attach time and expenses to projects. You can assign projects to team members and control who can view each project. There's also a handy project dashboard with graphs that break down each project's profitability.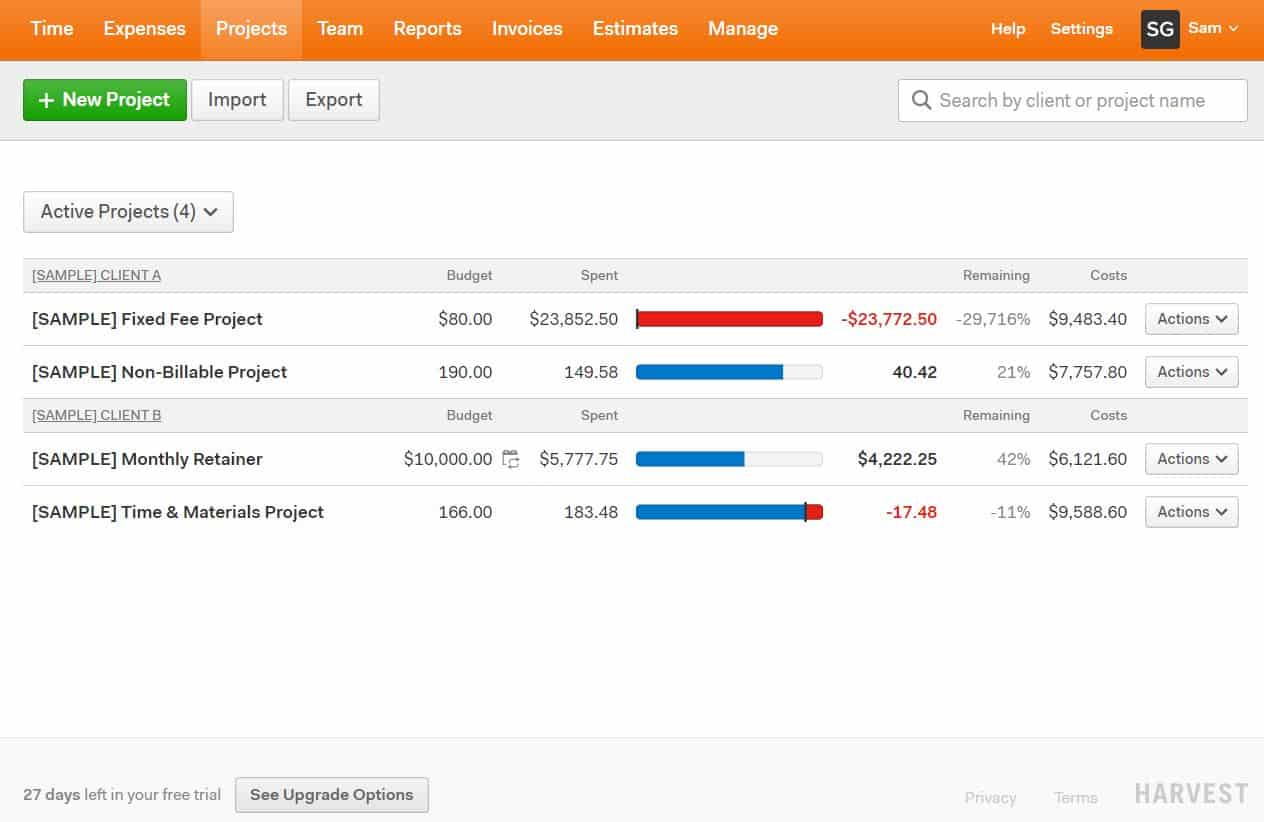 Reports: Harvest doesn't offer traditional reporting, so you won't find familiar report names, such as Accounts Receivable Aging or Profit and Loss. Instead, you'll find reports called Time, Detailed Time, Uninvoiced, Expense, and Contractor.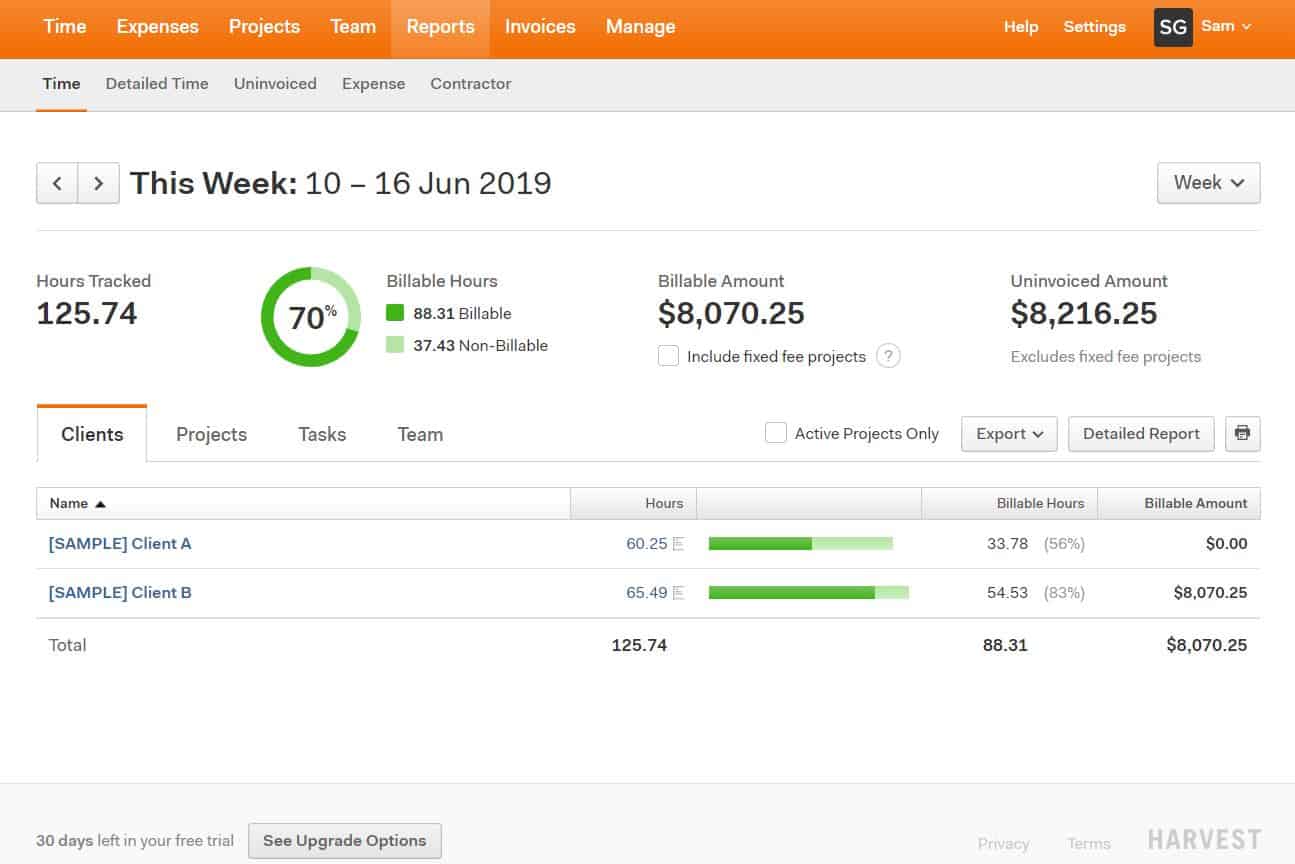 Default Email Messages: You can create default email messages for invoices and estimates.
Multiple Currencies: Harvest supports 180+ different currencies. You can select a currency while invoicing, or assign a default currency preference to each client.
Importing & Exporting: You can import time, expenses, projects, clients, and employees via .csv. You can also import data from FreshBooks. You can export time data via .csv; employee data via .csv and .xsl; and reports via .csv, .xsl, and Google Drive.
Harvest Customer Service & Support
Harvest used to have some of the best customer support around. While it still has great customer support by industry standards, the response times have become slightly longer since our last review in June 2019, and there is no longer phone support (but the phone support wasn't great anyway, so this isn't a huge loss). That said, Harvest still provides good support options, including the following:
Email: Contact support via email.
Support Form: You can also fill out a support form on the company's website or directly from the help center.
Help Center: Harvest has a nice help center with a good number of articles and some training videos. There is also an FAQ section.
In-Software Help: You can access the help center from directly within the software.
Webinars: You can register for regular Harvest webinars, or you can watch a shortened, prerecorded Getting Started webinar at any time.
Extra Resources: Harvest provides a few additional resources, including a free invoice template, free timesheet template, and several helpful business guides.
Blog: Harvest also has a company blog. Most posts regard company updates and a few customer stories.
YouTube: The company has a YouTube channel, but it is not very developed.
Social Media: Harvest is on Twitter, Facebook, LinkedIn, and Google+.
Harvest Reviews
Negative Reviews & Complaints
Harvest receives predominantly positive reviews, and the few complaints users do have are far and in between. While most users seem satisfied with the software, there are a few recurring issues:
Too Expensive: Many users complain that the software is too expensive.
Not Enough Reports: Several users wish Harvest offered more reports.
Glitches: Several customers reported glitches with the software's timer and a few mobile app crashes (particularly with the iPhone app).
Positive Reviews & Testimonials
Harvest is generally well-liked by users and receives many positive customer reviews. The software has 4.5/5 stars on Capterra (based on 400+ ratings) and 4.3/5 stars on G2Crowd (based on 690+ ratings). Despite the few complaints above, the mobile apps are well-received with 4.1/5 stars on Google Play Store and 4.3/5 stars on the App Store. Here are a few of the positives people note about Harvest:
Easy To Use: The most common praise is how easy Harvest is to use.
Time Tracking: Users love the time tracking solution. One customer said it well when he wrote, "The truth is, while everyone wants to track time, nobody wants to spend time tracking," and Harvest makes the process simple.
Project Management: Customers needing project management features find Harvest easy to use and incredibly helpful in managing various jobs.
Good For Freelancers: Several freelancers say that Harvest is great for their business and lets them track their time and invoice clients easily.
Great Mobile App: Across the board, Harvest's mobile apps receive high praise. Users like that they are easy to use and are constantly being improved. Several users also praise the software's desktop apps.
Here is what a few users are saying:
This software is user-friendly and keeps everything in order for our company. We put our hours, expenses, and projects all in one convenient place. It is a must-have for businesses.

It made visualizing our project budgets and margins dramatically easier, so we know where our time and money are going. I've used Harvest for years and I can't imagine switching to another tool. It's by far the easiest, best tool for agencies who work on multiple projects with multiple budgets.

I can easily clock my hours and expenses for each task I'm working on. This allows me to also better manage my time and keep track of how many hours I'm spending on each client/project.

I've been using Harvest since the day I made the leap to full-time self-employment, and I don't think I would have been able to continue working as I do without it. It's a great resource for time-keeping, invoicing, and monitoring overall project timeline. Its integrations make client billing and tax time a breeze.
Harvest Integrations & Add-Ons
Harvest used to offer nearly 100 integrations, but since our last review, Harvest now offers around 65 integrations as well as mobile and desktop apps. Out of these integrations, only two are payment processors, which is a bit disappointing. However, you can integrate directly with accounting programs such as Xero and QuickBooks Online, which is a nice touch. API is available for developers.
Security
Harvest uses SSL encryption, firewalls, and redundancy to protect customer data. Data is stored in multiple facilities and gets backed up several times a day. The data center security is tested biweekly, and backups are stored for 180 days (so be sure to create your own, personal backups before that time is up). Harvest also boasts an impressive 99.9% uptime on average. Any outages or software issues are posted and updated in real-time. Check out Harvest's privacy policy and security page for more details.
Final Verdict
As a time tracking solution, Harvest is great. As a project management software, brilliant. As an invoicing solution, it needs some work. Harvest's features are a bit limited compared to those of other invoicing platforms.
For example, there are very limited invoice customizations and only a single invoice template. The contact management and expense-tracking features are also very basic, and there are no live bank feeds (which nearly all invoicing software programs offer). If you're a product-based business, there's no way to save invoices or charge sales tax.
However, it's worth noting that despite these drawbacks, every time we review Harvest, the company has made updates to improve its product to address these issues. This time around, the company has added a client portal for invoices and has made invoice creation much simpler. Last time, it added an Expense tab for better navigation and added fixed fees to projects, which was much needed.
In addition to constantly improving, the software offers an incredible number of integrations, good customer support, and great mobile apps. While the cost of additional users can add up quickly, Harvest is still a great time tracking and basic project management solution, especially for product-based businesses or freelancers. If you're interested, give Harvest's free 30-day free trial a go. To explore all of your options or find a better product-based invoicing solution, check out a few of our other top-rated invoicing solutions.
---
Try A Top Pick For Payroll
ADP Payroll


---
We like ADP Payroll for its advanced employee management, strong payroll features, and great customer support. Get three months free when you sign up through our links! Get Started.
Try A Top Pick For Payroll
ADP Payroll


---
We like ADP Payroll for its advanced employee management, strong payroll features, and great customer support. Get three months free when you sign up through our links! Get Started.
To learn more about how we score our reviews, see our
Invoicing Software Rating Criteria
.