Expert Analyst & Reviewer

UPDATED
Advertiser Disclosure: Our unbiased reviews and content are supported in part by
affiliate partnerships
, and we adhere to strict
guidelines
to preserve editorial integrity.
Wrike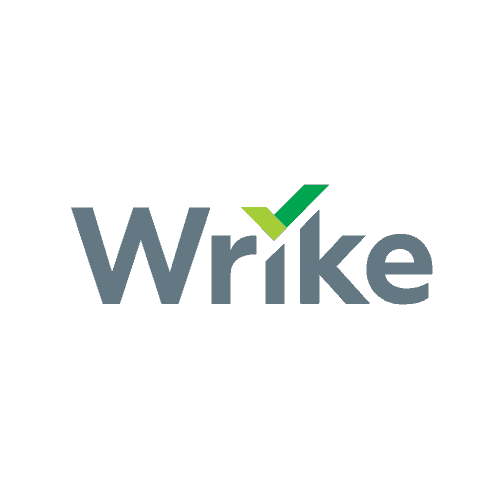 Pros
Free plan available
Numerous features
Good mobile apps
Cons
Steep learning curve
Limited integrations
Wrike Overview
Wrike is a fully-featured project management solution. It's been around since 2007, and time has been kind to the company. Wrike has consistently received industry accolades, from being on Gartner's "Cool Vendor" list in 2014 to being named one of 2015's "Best Places to Work" by the San Francisco Business Times/Silicon Valley Business Journal. Wrike claims its success comes from a focus on easy collaboration and efficient project management. By creating a digital space for status updates on projects, resource allocation, and group communication, Wrike is forging ahead on a mission to rethink productivity.
We are particularly impressed by Wrike's strong feature set, such as the organizational features as well as time tracking tools for specific tasks and subtasks. Wrike also provides adaptable Gantt charts, customizable reports, and flexible resource management tools.
However, to access those features, you also have to overcome Wrike's steep learning curve. Wrike is a complicated solution that requires time and patience to learn. This learning curve might make Wrike less of a desirable option for some users, especially those who are concerned about getting their employees on board with new software.
Keep reading for our complete review of Wrike. We'll discuss pricing, available features, customer support options, and potential drawbacks.
Read on to learn more.
Wrike Pricing
Wrike is available in multiple pricing plans. Pricing for these plans increases with the available features and the number of users, and they are priced per user per month. While Wrike's pricing is listed at a monthly rate, the software is actually billed annually. Be prepared to pay for a full year in advance when you sign up for a paid plan. Of course, before you sign up for any of the paid plans, there is a 14-day trial that will help you decide what subscription is right for you. Here is a breakdown of Wrike's available pricing plans:
Free
Wrike's Free plan costs $0/month and includes:
Up to five users
Task management
File sharing
Board view
Real-time activity stream
Spreadsheet view
Basic integrations (Google Drive, Dropbox, Box, MSFT Office 365, OneDrive)
Cloud storage integrations (Google Drive, Dropbox, Box, OneDrive)
2GB of storage space
Professional
Wrike's Professional plan costs $9.80/user/month and includes everything in the Free plan, plus:
Five, 10, or 15 users
Task and subtask management
Gantt charts
Advanced integrations (MS Project, Excel, RSS)
Shareable dashboards
Unlimited collaborators
5GB of storage space
15GB of video uploads per month
Business
Wrike's Business plan costs $24.80/user/month and includes everything in the Professional plan, plus:
Five to 200 users
Custom fields and workflows
Shared real-time reports with scheduled notifications
Report templates
Graphical analytics
Calendars
Request forms
Project and task approvals
Time tracking
User groups and permissions
Salesforce integration
Branded workspace
50GB of storage
Enterprise
Wrike's Enterprise plan is available at custom pricing and includes everything in the Business plan, plus:
Unlimited users
Azure Active Directory integration
SAML 2.0 single sign-on
Two-factor authentication
Password policies
IT controlled admin permissions
User audit reports
Network access and compliance policies
Business intelligence integration
Advanced user access controls
100GB of storage space
Wrike For Marketers
Wrike For Marketers is available at custom pricing and can be added to the Business and Enterprise plans. Wrike For Marketers includes:
Wrike Proof
Wrike Publish
A Wrike extension for Adobe Creative Cloud
Tailored templates and workspaces
Wrike For Professional Services
Wrike For Professional Services is available at custom pricing and can be added to the Business and Enterprise plans. Wrike For Professional Services includes:
Wrike Resource
A Wrike extension for Adobe Creative Cloud
Tailored templates and workspaces
50GB of storage space
Extra Costs
Wrike offers a few additional services outside of its regular pricing plans. These services include:
Wrike Resource: Wrike Resource is a resource management tool that helps optimize scheduling and increase productivity. Contact Wrike to learn more about this service.
Wrike Review: This add-on gives users a way to centralize and streamline the digital asset review and approval process. Contact Wrike for more information.
Wrike Publish: Wrike Publish is a digital asset management solution. Contact Wrike for pricing and additional information.
Wrike Integrate: This service allows you to create custom integrations and automations. Contact Wrike for pricing details.
Wrike Analyze: This add-on provides you with advanced reporting and analytics. Contact Wrike for more information.
Wrike Lock: This add-on gives you data access control and audit capabilities. Contact Wrike to learn more.
Two-Way Sync: The two-way sync with GitHub and Jira lets you sync your software and collaborate with other teams. Contact Wrike to learn more about this add-on.
Cloud-Based Or Locally-Installed
Wrike is cloud-based and does not require any downloading or maintenance.
Hardware & Software Requirements
Since Wrike is cloud-based software, you only need an up-to-date web browser and a strong internet connection to run the software. Wrike supports the latest two versions of the following browsers: Chrome, Edge, Firefox, and Safari.
To use Wrike on a mobile device, you'll need to download one of its apps (mobile browsers are not supported). Wrike's mobile apps are compatible with iOS 12.0+ and Android 5.0+.
Specific Size Of Business
Wrike fits businesses of many sizes. Since the company offers flexible pricing plans, and it charges per user/month, Wrike's software is affordable for many businesses. Wrike is especially suitable for businesses that need a full project management solution and that don't mind overcoming a learning curve. Because Wrike does not offer any shift scheduling or geofencing features, it's best suited to companies that are office-based with regular shifts.
Ease Of Use
Most criticisms of Wrike have to do with what several users call a "steep learning curve." For me, this is a significant problem. In my opinion, if your intention is that users spend the majority of their time in your software, you owe it to them to make it visually appealing and functionally efficient — a nice place to be, in other words. Wrike does manage to meet some of my expectations, but not all.
What I do like is Wrike's common-sense organization. The way Wrike organizes workspaces — with nesting folders, projects, tasks, and subtasks — makes good sense to me. This organizational system allows you to easily create new projects, file them into a logical place, and relocate them further down the road.
That said, I sometimes found my user experience frustrating. It was difficult, at first, to locate many of the features. And when I did find what I was looking for, I had to research how to use it. It's clear to me that anyone new to this software will have to dedicate some time and energy to learning the program.
Wrike Features
Wrike is a feature-rich software, which contributes to its steep learning curve. Fortunately, once I figured things out, Wrike worked well for me; I feel that everything Wrike has to offer is worth the effort of learning the software. Here are some of Wrike's key features:
Dashboard: Like many of its competitors, Wrike provides a dashboard for users that is filled with useful information, such as upcoming tasks, analytics of your recent efficiency, and others. You can rearrange your projects in the sidebar and use the filtering tool to find things faster.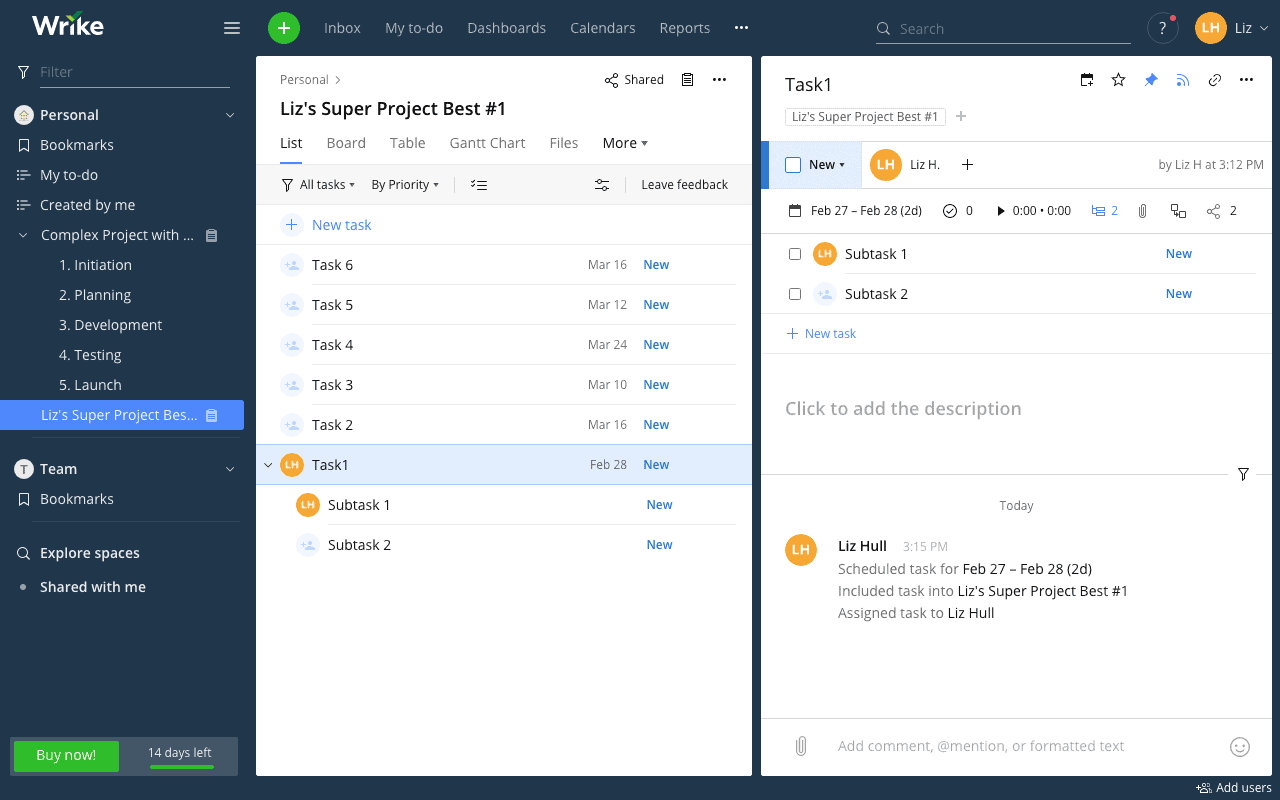 Project Management: As you might imagine, this is the real star of the show. Wrike's method for managing your projects is similar to other programs I have seen, with projects containing tasks and subtasks. Each task and subtask has assignable due dates and can be set up with dependencies. But what Wrike really does to make the program stand out to me is its folder system. To further organize your projects (and organization is the key, right?), you can create folders for your projects. If you have recurring clients, you can use folders to group all these projects together. It is a nice touch, I think, and further aids you in setting up a well-oiled machine for project completion.
Tasks: Wrike lets you easily create tasks and subtasks and view those tasks in both list and timeline views. Wrike also allows you to add custom categories to your tasks, an ability that can be found in the Table view of the project page. Use this to add specificity to your projects: the more customized, the better.
Resource Management: Wrike lets you monitor your employees' workloads with resource management features. Use the drag-and-drop interface to view which tasks employees already have assigned to them and to assign tasks to employees who have space in their schedules.
Gantt Charts: Wrike's Gantt charts are very well implemented, with simple dependency functions, due date manipulation, and statuses for your tasks.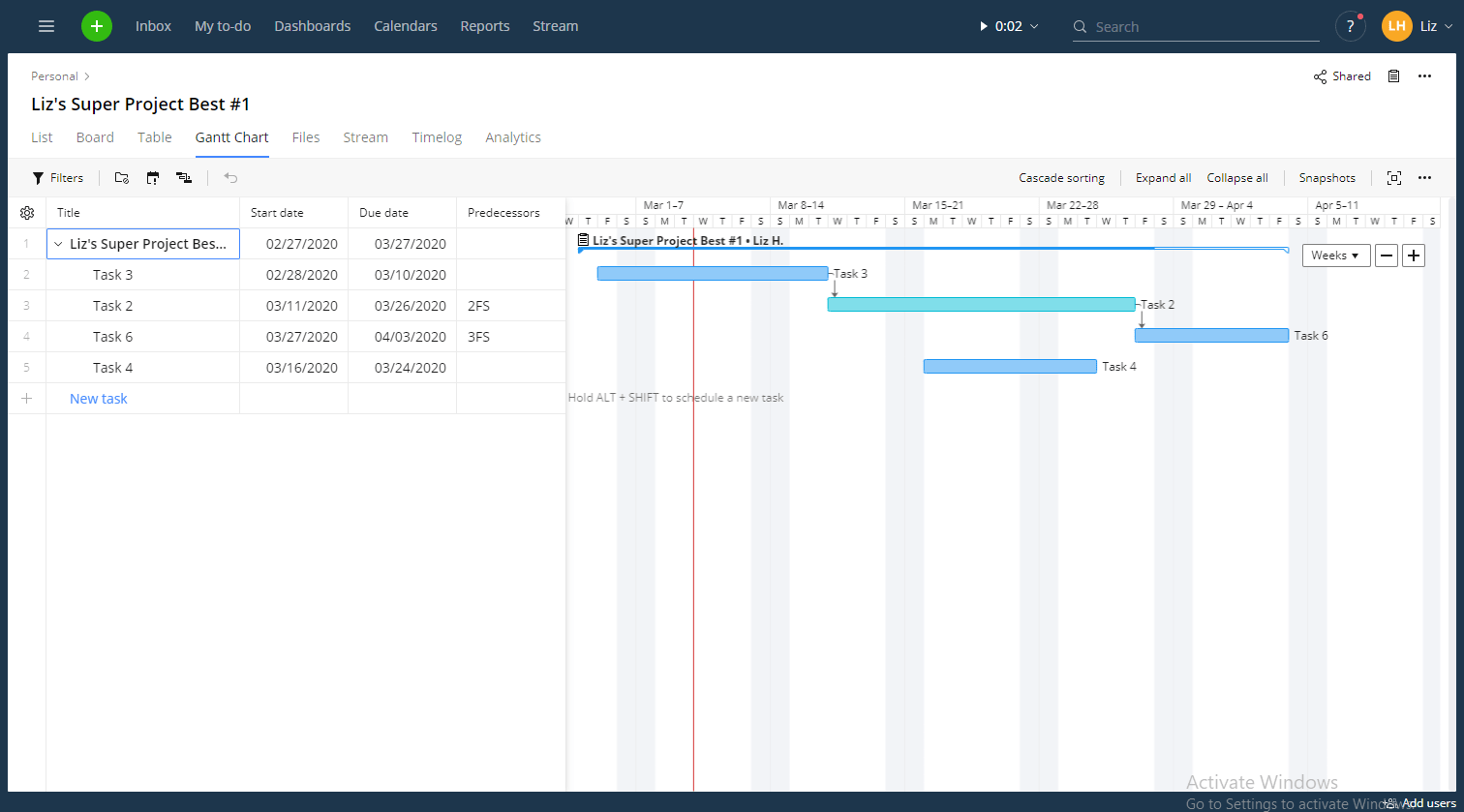 Time Tracking: Wrike includes a timer function on each task and subtask. Click the start button to track time. You can also add entries later if you forget to start the timer. Wrike includes a time log view, where you can see how much of your time you spend on various tasks.
Calendar: See tasks for specific projects in a calendar view. Wrike gives you many options for viewing your calendar. You can add additional projects onto your calendar as "layers" and adjust view settings by status, task types, and more.
Messaging: Wrike wants team members to be able to communicate quickly and easily: One way you can take advantage of this is through the inbox. Here, you can find all notifications and comments in which you are mentioned. To respond, you can add comments to projects, tasks, and subtasks. You cannot send messages directly from the inbox.
Reports & Analytics: Where other companies make you choose from a few premade reporting options, Wrike allows you to generate reports on any aspect of your projects and tasks. From one perspective, these reports are quite complicated and require a lot of knowledge to use most effectively. On the other hand, there is a lot of functionality packed into one place. Once you learn how to use it, the reporting feature could become a useful tool, especially since it is available on mobile as well as desktop. Wrike has also made its reports interactive and shareable, adding another level of useful functionality to this feature.
Workflow Automation: In the last year, Wrike has added workflow automation to the already sizable pile of features boasted by this program. It allows you to predetermine several "stages" of your project and fill them with the appropriate tasks. Once each stage is completed, Wrike will automatically assign tasks from the next stage to members of your team. Plan it carefully enough, and you will be able to set-and-forget your projects from the very beginning.
Wrike Customer Service & Support
One of the most informative tests of any company is how it interacts with its customers. Wrike provides multiple forms of support for its users. Take a look at the list below:
Phone: If you are on any paid plan, you can contact Wrike directly by phone. Phone support is available 24/5 for paying Wrike users and 24/7 for users who purchase the premium support plan (contact Wrike for pricing).
Email: Email support is available for all users, even those on the free plan.
Live Chat: Contact a support representative in seconds via Wrike's live chat. Find live chat within your dashboard and on Wrike's website.
In-Software Help: You can access the live chat from your Wrike dashboard. You can also access the help center by clicking "Help" in your drop-down account menu.
Help Center: Wrike's help center is pretty thorough, with information on workspaces, integrations, and all other aspects of the program.
Community Forum: Wrike has an active community forum, which is searchable within the help center.
White Papers: Look on Wrike's "Featured Resources" page to find eBooks, infographics, case studies, and more. These resources provide information and training on project management in general.
Videos: Like most web-based software companies, Wrike provides several tutorial videos. Most videos are between three and five minutes. In addition to the shorter help videos, Wrike also provides past editions of its live webinars, which are worth a watch for an in-depth view of how Wrike works.
Training: If you would rather participate in the webinar in person, you can sign up with your name and email. Webinars are available a couple of times a month. Wrike also provides its training program, Wrike Discover, which you can use to learn a bit more about using the software.
Blog: Wrike's blog contains both project management tips and product news.
Social Media: Wrike has active accounts on Twitter, Facebook, LinkedIn, Pinterest, and YouTube.
Wrike Reviews
Negative Reviews & Complaints
In general, users like Wrike. That said, there are a few complaints that we see users frequently voicing about Wrike. Here are some of the complaints we've found:
Steep Learning Curve: This is the most common complaint about Wrike by far. Users say Wrike takes a very long time to learn and become accustomed to it. This can be a major obstacle for businesses that have trouble getting employees to implement new software.
Expensive: I've seen a couple of reports that say Wrike is too costly. A few more comments lament Wrike's method of billing its software annually. In a few cases, users forgot to cancel their subscription and were automatically billed for the following year.
Bad Interface: Some people find the interface to be, well, uninspired. When compared with the UIs of competitors such as Redbooth and Trello, they might have a point. Wrike's interface is not going to win beauty contests anytime soon.
Positive Reviews & Testimonials
Like I said, most users love Wrike. Wrike earns a solid 4.2/5 stars on G2 Crowd and 8.6/10 stars on TrustRadius. Here are some of the reasons:
Organization: This is the feature that I see praised most often. Wrike offers numerous ways to organize your work. Most project management software allows you to separate work into projects, tasks, and subtasks. Wrike takes it one step further with the introduction of team spaces and folders. You can use folders to group projects within a team space.
Ease Of Use: While Wrike is difficult software to learn, users say that it becomes significantly easier to use with time. Day-to-day operations take very few clicks to implement, and you can set up workflow automation to handle common steps.
Collaboration: Wrike makes collaboration easier by defining who gets assigned to each task. It also gives teams the ability to communicate within the software with commenting features, @mentions, and inbox space.
Here are some excerpts from positive customer reviews:
It's a great product for managing complex tasks. The automatically generated gantt charts were really helpful for my team and helped us organize tasks with a lot of levels and dependencies. My team and I enjoyed using it.

Without Wrike, it becomes threads and threads of emails… sometimes you might have 5 or 6 threads of emails about the same project. With Wrike, we have a central location for the stakeholders and all the content creators to communicate; work out the timeline, content, design, or copy issues together.

Wrike's Activity Stream became a quick, online way for everyone to observe what's going on without sitting through briefings 5 times per week. Updating colleagues happens instantly without waiting for the next face-to-face, which makes collaboration between scheduled meetings much easier.
Wrike Integrations & Add-Ons
There are a few avenues you can take if you'd like to integrate an external software with your Wrike account. You can first look into Wrike's selection of 30+ integrations to see if your software is already connected. These prebuilt integrations include connections with file storage software (Google Drive and Microsoft OneDrive), communication software (such as Slack), and email platforms (Gmail and Outlook). Wrike's selection of prebuilt integrations is admittedly a bit limited.
However, if the software you'd like to use is not on this list, you have a couple more options. Wrike offers its connection software called Wrike Integrate (available for purchase), which opens up the possibility of connecting to 400+ additional software. Although, I have to admit that it seems strange to me that Wrike doesn't just offer those apps to its users as regular integrations.
Finally, Wrike offers an API, so developers can build their own apps and integrations if they'd prefer.
Which Wrike integrations should be on your "must-have" list? Check out our picks for the top five Wrike integrations!
Security
Wrike supports its users' security in many ways. The company ensures the security of its physical data centers with 24/7 security personnel, power backup systems, and digital surveillance. It also has an uptime record of over 99.9%. Wrike performs full daily backups and keeps redundant data located in multiple data centers. Wrike also allows you to set up 2-factor authentication to make sure that only the right people access your account. Check out Wrike's full webpage on security for even more information.
Final Verdict
Okay, so what have we got here? This hugely popular project management program checks all (or at least most) of the boxes, it focuses on communication, and it offers lots of ways to analyze your progress. It is competitively priced and, in general, seems an excellent choice for your project management needs.
That said, Wrike is rather complicated when compared to rivals such as Asana and Trello. (See just how Wrike stacks up to Asana when put head-to-head in our Wrike VS. Asana post!) When you first get started, it can be pretty tricky to locate simple features. But I don't want to criticize too much because Wrike works very well at what it does, especially when you have learned how to get the most out of it. The features available do just what you need them to, even if they aren't quite where you would expect them to be.
All in all, Wrike is a satisfactory product and well worth trying out (via either the free version or the free trial). If you want access to excellent reporting features, communication tools, and project organization, Wrike is the tool for you. Most likely, you will be one of the thousands of pleased customers: not a bad place to be at all.
If Wrike doesn't have what you're looking for, don't worry — there are tons of options out there that may be a better fit for your business. Start your search by checking out our project management software reviews or the best free project management software options for your business.
---
The Merchant Maverick Seal of Approval 🏆
Wrike


---
After hours of in-depth research and evaluation, we can confidently recommend this brand to our readers. Get started today and see Wrike for yourself.
The Merchant Maverick Seal of Approval 🏆
Wrike


---
After hours of in-depth research and evaluation, we can confidently recommend this brand to our readers. Get started today and see Wrike for yourself.
To learn more about how we score our reviews, see our
Project Management Software Rating Criteria
.