Updated on:
Review by: Wesley Kriz
Advertiser Disclosure: Our unbiased reviews and content are supported in part by
affiliate partnerships
, and we adhere to strict
guidelines
to preserve editorial integrity.
Pros
Reasonable monthly cost
Varied integrations
Cons
Poorly-designed user interface
Inconsistent customer support
Difficult to use
Overview
When 8000 corporations use your product, it is safe to say you have met with unmodified success. When those companies include tech giants like PayPal and HTC, that success is even less in doubt. But for me, what makes Wrike's success certain are the number of people who recommend it. It is easy for a company to find someone saying something nice about them, but it is much more difficult to inspire a loyal group of users willing to recommend your product to anyone.
Wrike has been around since 2007, and time has been good to the company. If the huge user base were not proof enough, Wrike has consistently received industry accolades (from getting on Gartner's "Cool Vendor" list in 2014 to being named one of 2015's "Best Places to Work" by the San Francisco Business Times/Silicon Valley Business Journal).
Wrike claims their success comes from a focus on easy collaboration and efficient project management. By creating a digital space for status updates on projects, resource allocation, and group communication, Wrike is forging ahead on a mission to re-think productivity. So what is it all about? Let's take a closer look.

Web-Based (SaaS) Or On-Premise
Wrike is web-based and does not require any downloading or maintenance.
Pricing
Free
For up to 5 users
Task Management
File Sharing
Real-Time Activity Stream
Spreadsheet View
A useful view for those who are most comfortable working in spreadsheets
Basic Integrations (Google Drive, Dropbox, Box, MSFT Office 365, OneDrive and iCal)
iPhone & Android apps
Cloud Storage Integrations (Google Drive, Dropbox, Box, OneDrive
2Gb storage space
Professional
$9.80/user/month (billed annually)
for 5, 10, or 15 users
Task & Subtask Management
Dynamic Timeline (Gantt Charts)
Advanced Integrations (MS Project, Excel, RSS)
Shareable Dashboards
Unlimited Collaborators
5 GB storage
Business
$24.80/user/month (billed annually)
5-200 users
Resource Management
Real Time Reports
Request Forms
Time Tracking
Custom Fields & Workflows
User Groups & Permissions
Salesforce Integration
Branded Workspace
50 GB Storage
Marketers
$34.60/user/month (billed annually)
5-unlimited users
Proofing
Adobe Creative Cloud integration
Tailored Workspace
Enterprise
Contact Wrike for pricing
5 to unlimited users
Active Directory Integration
SAML 2. Single Sign On
Two Factor Authentication
Password Policies
IT Controlled Admin Permissions
User Audit Reports
Network Access & Compliance Policies
100 GB Storage
Of course, before you sign up for any of the paid plans, there is a 14-day trial that will help you decide what subscription is right for you.
Ease Of Use
Most criticisms of Wrike have to do with what several users call a "steep learning curve." For me, since so many other project management companies excel in the area of user-friendliness, this is a serious problem. As far as I am concerned, if your intention is that users spend a majority of their time in your program, you owe it to them to make it visually appealing and functionally efficient — a nice place to be, in other words. Wrike does manage to meet some of my expectations, but not all. Here are a few things Wrike does to ease the user experience of their program.
Commonsense Organization: I am always pleased when something works exactly as I think it should, and fortunately, that has been my experience with Wrike. I will explain more about this later, but the way Wrike organizes workspaces — with folders, projects, tasks within each project, and multiple sub-tasks per task — just makes good sense to me.
Keyboard Shortcuts: If you are one of those "never touch the mouse" type of people, Wrike is there for you. There is a whole laundry list of keyboard shortcuts you can use to speed up your interactions with the program, improving your efficiency: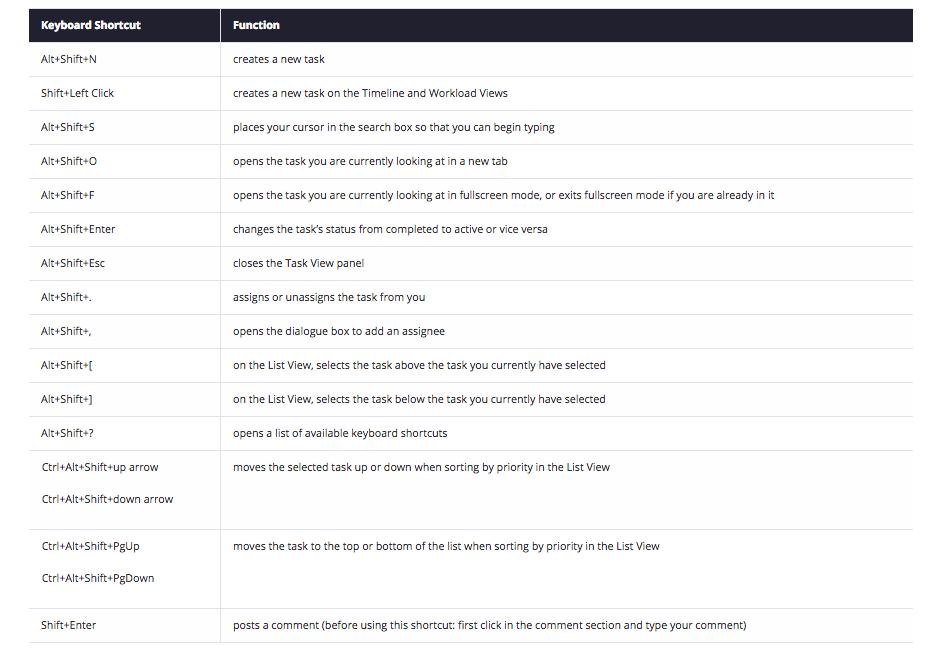 Task Creation: This may seem a bit basic to be praising, but it really is nice to be able to quickly create tasks by simply typing into the "create task" box and hitting enter. Several companies are employing this tactic (I am thinking specifically of Trello, though there are others), and I like it a lot.
Timer: Wrike includes a timer function on each task and subtask. Click the start button and the timer starts. You can also add entries later if you forget to start the timer. Wrike includes a time log view, where you can see how much of your time you spend on various tasks.
I am not sure these pros really balance out Wrike's cons in terms of ease of use, however. I found my user experience…frustrating. Here is one example: In Wrike, when you open a project, it defaults to "list view" for all of your tasks. All well and good, but once you click on a task, whether to view details, add time, or send messages, it opens in a new pane on the right-hand side of the screen. This compresses the list view, hiding several options. If you want to close the task to move on to a different one, rather than easily closing the pane, you have to navigate through a partially hidden menu. For a company that consistently brands itself as a friend to efficiency, that just doesn't make sense. Note here that none of Wrike's actual features are malfunctioning in this scenario: they are just a little clunky to use. That clumsiness is aggravating in an otherwise thoroughly built project management program.
Customer Service & Support
One of the most informative tests of any company is how they interact with their customers. Marketing your product is one thing, but once your customers are already in the fold, how do you treat them? Wrike answers that question in this way:
Knowledge Base: This is a place to find all kinds of articles and how-to's that help users come to terms with new software. Wrike's knowledge base is pretty thorough, with information on workspaces, integrations, and all other aspects of the program. There is even a section on how to get the most out of Wrike's mobile apps, something I haven't seen in other knowledge bases.
Getting Started Guide: Similar to the knowledge base, but distinct enough to deserve its own space here, the getting started guide is one long explanation of Wrike's basic features. I would recommend first-time users giving this a read-through because it breaks down the basics in an easy-to-digest manner.
Video Tutorials: Like most web-based software companies, Wrike provides a number of tutorial videos which help demonstrate features. I found Wrike's video selection pretty good when compared to other help sites I have looked at in the past. The videos are just the right length (between three and five minutes), and though the background music was the same for all the clips I watched, the narrators were different: a nice touch to break up the potentially monotonous task of watching several help videos in a row. In addition to the shorter help videos, Wrike also provides past editions of their live webinars: these are worth a watch for a pretty in-depth view of how Wrike works.
Live Webinar: If you would rather participate in the webinar in person, you can sign up with your name and email. Webinars are run every Monday and Friday, and once on Wednesday.
Email Ticket: Annoyingly, there is no link I can post on this one. If you want to send in an email for help, the place to go is the left-hand menu of the Help page, near the bottom.
Phone Call: If talking to a person is more your speed, you can contact Wrike directly.
Social Media: Wrike's Twitter feed is very active with many tweets every day, and not just re-posts of the company blog. Many tweets are directly aimed at real people, answering questions and addressing concerns. Wrike's Facebook page is a little less busy, but still seems a decent place to find information about the company.
Negative Reviews & Complaints
Let's get this straight right now: most people love Wrike. Like I said earlier, I was impressed at the level of support Wrike has engendered in their user base. Having said that, there are always a few complaints about a product, no matter how positively most people experience it. Here are some of  the complaints I found about Wrike:
Bad Interface: Some people find the interface to be, well, uninspired. When compared with the UIs of rivals like Redbooth and Trello, they might have a point. Wrike's interface is not going to win beauty contests anytime soon. Worse, some users find the interface cluttered because Wrike advertises their "rewards program" with what is, in essence, a pop-up ad. One reviewer wrote, "When I am paying for software I don't want your clutter."
Tasks & Subtasks Are Difficult To Find: Users admit that it is hard to access their task and sub-task lists outside of the main activity feed. For a project management platform, this does seem to be a pretty important concern.
Mobile Issues: I found several users complaining that Wrike's mobile app has some reliability concerns. Some claim it integrates poorly with the web app, while others report that it often loses sync. If mobility is not one of your concerns, this may not be much of a problem for you. On the other hand, those of you who do require the ability to work on the go should be aware of these issues.
Customer Service Concerns: A few users expressed dissatisfaction with the customer service they received. One claimed the attitude of the representative at Wrike was "what you see is what you get." Obviously, it would be nice to feel that representatives are at least on your side and sympathetic to your plight, even if there is little they can do to help.
Positive Reviews & Testimonials
Like I said, most users love Wrike. Here are some of the reasons:
Unlimited Projects: What's not to like about this? In a world where several leading names in project management heavily limit the number of projects you can create (I'm lookin' at you Basecamp), it is refreshing to see a program with what feels like infinite possibilities.
Communication: Users love the communication tools available in Wrike. These can greatly improve efficiency since status updates no longer require time-costly meetings.
Time Tracking: Users love being able to keep track of how long their projects take, down to the number of minutes per task and sub-task.
Here are some excerpts from positive customer reviews:
It's a great product for managing complex tasks. The automatically generated gantt charts were really helpful for my team and helped us organize tasks with a lot of levels and dependencies. My team and I enjoyed using it.

Without Wrike, it becomes threads and threads of emails… sometimes you might have 5 or 6 threads of emails about the same project. With Wrike, we have a central location for the stakeholders and all the content creators to communicate; work out the timeline, content, design, or copy issues together.

Wrike's Activity Stream became a quick, online way for everyone to observe what's going on without sitting through briefings 5 times per week. Updating colleagues happens instantly without waiting for the next face-to-face, which makes collaboration between scheduled meetings much easier.
Features
Wrike creates a feature-rich environment which contributes to the steep learning curve. Fortunately, once I figured things out, Wrike worked well for me; I definitely feel that everything Wrike has to offer is extremely useful. Here are some of Wrike's key features:
Inbox: Wrike wants team members to be able to communicate quickly and easily: one way you can take advantage of this is through the inbox. Here, you can find all messages your team sends you and send ones of your own.
Stream: As you might expect, the stream is the place to find modifications made to any projects, folders, and tasks you are part of. Some users found this to be the most useful part of Wrike and an easy way to chart the progress of your tasks.
Dashboard: Like many of their competitors, Wrike provides a dashboard for users, filled with useful information such as upcoming tasks, analytics of your recent efficiency, and others. The great thing about these dashboards is that they are fully customizable, so you can choose what information will be most useful to you. Wrike has also recently added a filtering capability to these dashboards, making them even more personalized to your needs.
Projects: As with all project management applications, this is the real star of the show. Wrike's method for managing your projects is similar to other programs I have seen, with projects containing tasks and subtasks. Each task and subtask has assignable due-dates and can be set up with dependencies. But what Wrike really does to make the program stand out to me is their folder system. To further organize your projects (and organization is the key, right?), you can create folders for your projects. If you have recurring clients, you can use folders to group all these projects together. It is a nice touch, I think, and further aids you in setting up a well-oiled machine of project completion.
Project Views: Once you have created your project and added all manner of tasks and sub-tasks, Wrike will let you view them in a number of different ways. Here are a few of my favorites:

List View: This is the default view, and simply allows you to see your tasks and subtasks in the order they were created. If you want them organized another way, you can drag-and-drop the tasks into whatever order you choose.
Timeline View: I am personally not the biggest fan of Gantt charts, but am happy to report that Wrike's are very well implemented, with simple dependency functions, due date manipulation, and "importance" levels for your tasks. 
Analytics View: A handy view for understanding your team's progress and efficiency, the analytics view allows you to see the number of current tasks, new tasks, tasks due today, etc, all superimposed on top of each other. I like being able to see all that information in one place: well done Wrike, for that.

Workflow Automation: In the last year, Wrike has added workflow automation to the already sizable pile of features boasted by this program. It is not the most advanced automated process I have seen, but it is certainly a timesaver. Basically, it allows you to pre-determine several "stages" of your project, fill them with the appropriate tasks, and when each stage is completed, Wrike will automatically assign tasks from the next stage to members of your team. Plan it carefully enough and you will be able to set-and-forget your projects from the very beginning.
Reports: Where other companies make you choose from a few pre-made reporting options, Wrike allows you to generate your own reports on any aspect of your projects and tasks. From one perspective, these reports are quite complicated and require a lot of knowledge to use most effectively. On the other hand, there is a lot of functionality packed into one place. Once you learn how to use it, the reporting feature could become a useful tool, especially since it is available on mobile as well as desktop. Wrike has also made their reports interactive and shareable, adding another level of useful functionality to this feature. More importantly, though, you can now schedule your reports and set them to be recurring.
Custom Fields: Wrike allows you to add custom categories to your tasks, an ability that can be found in the Table view of the project page. Use this to add specificity to your projects: the more customized, the better.
Proofing: Wrike's proofing feature allows customers and editors to comment and suggest additions or subtractions to the work you do, allowing you to flexibly move forward based on their needs. In a nice twist, Wrike's version of this feature also allows for video proofing, which is an addition I haven't seen very often.
Integrations & Add-Ons
As anyone would expect, users of Wrike can customize their experience with a bevy of add-ons and integrations. To see all 35 of them, visit the Wrike website. For the sake of brevity, here are some of the highlights of Wrike's integrations:
Mobile Apps
Email Integration
Google Drive
Dropbox
Box
MS Project and Excel
Salesforce
Evernote
iCal
GitHub
Microsoft Teams
Slack
Gmail
Google Hangouts
Microsoft Teams
Final Verdict
Okay, so what have we got here? A hugely popular project management program that checks all (or at least most) of the boxes, focuses on communication, and offers lots of ways to analyze your progress. It is competitively priced, and in general seems a decent choice for your project management needs.
There are, however, a few problems. Wrike is sometimes needlessly complicated when compared to rivals like Basecamp and Redbooth, and from what I can see, doesn't offer much more in terms of features. Moreover, when you compare it visually to competing programs, Wrike looks downright ugly, unless you go for the optional workspace themes, which do brush things up a little. Maybe visual appearance doesn't matter to you, but as I have said before, if I am going to spend hours looking at a screen, I would like to see a well-designed, appealing interface.
I don't want to criticize too much, because Wrike works very well at what it does, especially when you have learned how to get the most of it. The features available do just what you need them to, even if they aren't quite where you would expect them to be. All in all, it is a good product, and well worth trying out (via either the free version or the free trial). If you want access to excellent reporting features, communication tools, and project organization, and can overlook a few downsides, Wrike is the tool for you. Most likely, you will be one of the thousands of pleased customers: not a bad place to be at all.
---
Read Next
To learn more about how we score our reviews, see our
Project Management Software Rating Criteria
.