Shift4Shop (formerly 3dCart) Review
Expert Analyst & Reviewer

Updated on:
Advertiser Disclosure: Our unbiased reviews and content are supported in part by
affiliate partnerships
, and we adhere to strict
guidelines
to preserve editorial integrity.
Shift4Shop

Pros
Generous free plan
Numerous features on all plans
Flexible and robust features
No transaction fees
Highly scalable
Cons
Reputation concerns with payment gateway
Revenue limits on paid plans
Inconsistent customer support
Shift4Shop Overview
3dcart — now Shift4Shop — has long been a respected player in the eCommerce game, with a history of serving online merchants large and small since 1997. Over the years, reviews of the original 3dcart highlighted some areas of weakness but generally concluded that it was a solid shopping cart platform, well-worth working with to build your online store.
Will that record stand now that 3dcart has been acquired by Shift4 Payments, a payment processing and technology company? Fans can expect some differences in the eCommerce platform, now known as Shift4Shop. The most important alteration is a change in the pricing structure. The cost of creating and managing a feature-rich Shift4Shop online store is now $0 for users who agree to use Shift4Shop's in-house payment processing option (available only to US customers). Those who choose to use other payment options will still be able to access competitively priced subscription plans. You'll find all the details for both types of plan below.
Online sellers who have experience with free shopping carts know they're a mixed bag. Most often, a shopping cart's free subscription plan allows you to access the basics and nothing more. That's fine — there's nothing wrong with getting what you pay for — and many platforms with free plans usually offer gradual step-ups that allow you to access more advanced features as your online business grows.
Shift4Shop is taking the opposite approach. Online sellers who sign up for the platform via the free End-to-End plan will have access to all the features the original 3dcart was known for, and then some. And they won't have to pay anything in monthly fees for the privilege of using the platform to build and manage their stores. That means they'll be able to add unlimited products and unlimited staff accounts, with no limits on bandwidth and no revenue caps. More than 100 free themes are available, built on a framework that delivers responsive design, optimized code, and speedy page loading.
Shift4Shop will even help you migrate an existing eCommerce website to the platform — at no charge. With additional incentives, like a built-in fundraiser for St. Jude's Children's Research Hospital and a competition to send an entrepreneur into space, is Shift4Shop going to build on 3dcart's solid reputation, or is it all flash? This unbiased review will help you decide.
Shift4Shop Pricing
Shift4Shop's free End-to-End eCommerce plan costs $0/month, at least for customers who use the in-house payment processor. We'll circle back to that in a minute.
First, let's look at an important question: Can you expect Ship4Shop's forever free plan End-to-End eCommerce plan to deliver a stripped-down version of 3dcart's features and functionality? The answer is a resounding no. Those who use the free plan gain access to an impressive feature set and enterprise-level functions. The free plan's features include these:
Domain Registration & Hosting
Unlimited Orders
Facebook Store
Real-Time Shipping
Unlimited Categories & Smart Categories
Single-Page Checkout
Advanced Reporting
Product Reviews
Purchase Orders
Shipping Labels
Unlimited Product Images & Zoom
Unlimited Product Variants
Inventory Control
Digital Downloads
Gift-Wrapping & Registry
Wish Lists
Gift Certificates
Email Marketing
Store Credits
Daily Deals
Promotions Scheduler
Saved Carts
CRM Tools
Tax Rate Calculator
Upsell & Cross-Sell Features
Built-In Blog
API Access
Google Pay & Apple Pay
PayPal integration
Visa Checkout & Masterpass
Financing solutions from Affirm, FuturePay, & PayPal Credit
All that can be yours, at a monthly cost of $0, as long as you're willing to use the in-house payment processor, provided by Shift4Shop's parent company, Shift4 Payments. Published rates for Shift4 Payments on Shift4Shop stores are the industry-standard 2.9% plus $0.30 per transaction. No additional transaction fees will be charged.
It's important to note here that third-party reviewers have raised significant red flags about some Shift4 Payment companies, including those covered in our own Merchant Maverick review of Harbortouch POS. It's unclear whether Shift4Shop online stores will encounter similar problems, but it's certainly an area for concern, and one that deserves scrutiny as Shift4Shop continues its rollout.
If you're nervous about the in-house payment option, you can choose a different gateway and still use Shift4Shop for your eCommerce needs. Shift4Shop offers paid plans that mirror the old 3dcart pricing structure. So, if you'd rather use a different payment gateway, you have the option of doing so while still setting up an attractive and highly functional online store on the Shift4Shop platform. Paid plans include the first month for free, allowing you to test the platform, although you will need to enter credit card information to start the trial. Plans are billed month-to-month.
Here's a quick rundown of the paid plans and a sampling of their features and limitations. All paid plans allow access to 100+ payment gateways, unlimited bandwidth, products, and variants as well as a full complement of features in all the necessary categories, like shipping, marketing, sales channels, and so on.
Basic Store Plan
The Basic Shift4Shop plan costs $29/month, includes two staff accounts, and allows up to $100,000 in online sales annually. A feature-rich plan, here's a sampling of what you'll get with the Basic plan:
SEO tools
Built-in blog
Real-time shipping & labels
Categories
Product images & zoom
Inventory control
Bulk discounts
Single-page checkout
Digital downloads
60 real-time reports & dashboards
Automatic tax calculation
Product reviews
Gift wrapping
Saved carts
CRM tools
Social wish list
Gift certificates, coupons, & discounts
Affiliate program
Mobile store
Facebook shop
Dropshipping
Integrations with Google Shopping, eBay, & Amazon
24/7 phone support
100+ payment gateways
Apple Pay & Google Pay
Plus Store Plan
The Plus Store plan costs $79/month, includes five staff accounts, and allows up to $250,000 in online sales annually. It includes all the features available in the Basic plan, plus:
Customer groups
Purchase orders
Product comparisons
Product QA
FedEx integrations
Blog subscriptions
Promotions scheduler
Make-an-offer capability
Store credits
Abandoned cart saver
Email marketing newsletters
Gift registry
Reward/loyalty program
Google Search Console SEO statistics
Facebook Dynamic Ads & Pixel
Pro Store Plan
The Pro plan costs $229/month, includes 15 staff accounts, and allows online sales of up to $1 million annually. It includes all the features of the Plus plan, and these extras:
In-store pickup
Automation rules
Advanced search
Pre-orders
Shipment delivery notification
Autoresponder email campaigns
Houzz integration
Sales team management tools
Shift4Shop offers a 10% discount on prepaid annual plans as well as additional discounts for resellers, students, schools and PTAs, and nonprofits.
Cloud-Based Or Locally-Installed
Shift4Shop is a SaaS solution based in the cloud, so you don't have to worry about managing your servers or updating your software.
Hardware & Software Requirements
Shift4Shop is a fully hosted, cloud-based eCommerce software solution. You need only a computer, a strong internet connection, and a reliable web browser to run the software, with nothing to download.
Specific Size Of Business
Because Shift4Shop includes a generous free plan and because its paid plans include varying price points, this is an eCommerce solution that fits many businesses of all types and sizes. No matter what plan you choose, from the free End-to-End to the entry-level Startup plan or the top-tier Pro plan, each comes with an impressive number of advanced features right out of the box.
The no-cost End-to-End plan should be an appealing option for every business from startups to enterprise-level operations — if they're willing to give the in-house Shift4 Payments option a try. Those who prefer to stick to tried-and-true third-party payment processors will still find a lot to like in the $29/month Basic plan. No matter which plan you choose, you'll find plenty of room to grow with Shift4Shop.
Ease Of Use
Shift4Shop paid plans offer users a chance to test the platform, with the first month free. When you sign up, you'll provide basic information that includes your business name, address, phone, and email. Once you establish your account, you can go your own way or use the setup wizard to get the ball rolling if you prefer. The wizard will guide you through setting up product categories, adding products, and setting up shipping. If you have used or looked into 3dcart in the past, you'll notice right away that Shift4Shop hasn't made many changes in this area. Starting with the clean and orderly dashboard, it was easy to find my way around the basic steps involved in setting up a store, including customizing my storefront and adding products and images.
Adding a product is easy. You fill in boxes for product title and description, then drag and drop multiple images. You can add multiple options, such as color or size, from the same page in your admin. I found it similarly easy to create and post a blog post, create a promotional discount campaign, and view reports on my customers, sales, and marketing campaigns. Shift4shop's dashboard includes one basic element that earns my stamp of approval: a "View Store" button that lets you easily open a new window and see what your changes look like. It's an intuitive and useful feature that a surprising number of shopping cart platforms leave off.
Overall, my test of Shift4Shop leads me to the conclusion that it's mostly a user-friendly piece of software. Because so many advanced features are included, the system is best suited to moderately adventurous users who are not easily intimidated by a slight learning curve and a bit of trial and error. In the end, such users will appreciate the flexibility and quality of the tools available.
Shift4Shop Features
As we've already pointed out, Shift4Shop comes with loads of powerful out-of-the-box features. Users on the free End-to-End plan will have access to all of these. If you're interested in avoiding Shift4 Payments and choose a paid Shift4Shop subscription plan, you'll still have access to a generous allotment of advanced features. However, paid plans may not include every feature listed below, so be sure to check the level you're considering signing up for.
Here are just some of the features Shift4Shop provides:
Dashboard: The Shift4Shop dashboard is well organized. The toolbar on the left gives users easy access to the main features of the platform, and the dashboard page gives you a quick overview of your site's performance.
Products: Shift4Shop includes many features for listing your products. Sell downloadable products along with physical products and gift certificates. Bring your products to life by including multiple product images and even embedding videos. Product photos have built-in zoom capability so customers can get up close as they make their buying decisions. Create and customize option sets for products with unlimited product variants, and take advantage of bulk importing and exporting to migrate platforms and make bulk edits.
Multi-Channel Selling: You can use a Shift4Shop online store to meet your customers wherever they shop. Whether that means using the Shift4Shop mobile checkout POS options, selling on Facebook, using a shopping feed like Shopzilla, dropshipping with AliExpress or Doba, or integrating with Amazon or eBay.
Sell Internationally: Shift4Shop supports international selling, with around three dozen international credit card providers and digital wallets as well as international shipping options.
Checkout: Single-page checkout containing shipping, billing, and payment information is standard on Shift4Shop plans. Or you can choose to use Shift4Shop's three-page checkout. You can add custom questions to your checkout page, and customers can log in to an account or shop as guests. There's a built-in module that allows for shipment to different addresses within one order. Tax rates are calculated automatically, and you can include or exclude shipping and discounts in tax calculations. You can set up shipping calculators to provide real-time quotes from USPS, UPS, FedEx, DHL, Canada post, Royal Mail, and AU Post.
Inventory Management: Robust inventory management tools that are turned on by default will track your stock automatically with every order. You can set up alert emails to remind you to resupply when inventory hits a threshold, and you can set rules to determine what happens if stock does run out, including hiding the item, allowing backorders, or adding interested customers to a waitlist. You can configure settings store-wide or on a per-item basis.
Marketing: Shift4Shop includes many features you can implement in your marketing strategies. Offer coupons and discounts, including group deals and daily deals with countdown timers. List gift options, and allow customers to create wish lists and gift registries or purchase gift certificates to your store. Encourage customer engagement by enabling customers to submit questions and reviews on product pages. Use abandoned cart notifications to remind your customers to complete their orders, and use email templates to make your email marketing campaign a little easier.
Dropshipping Features: While Shift4Shop is not built exclusively for dropshipping, it does offer some features you can use to make dropshipping easier. That includes the option of setting up automatic emails that send to your supplier when customers place a new order. You can also list your distributor's address as your "origin" address to make shipping calculations more accurate. Finally, Shift4Shop offers integrations with popular dropshipping tools Doba and AliExpress.
Blog: Inform and entertain your customer base, boost your SEO, and draw traffic to your website by using the built-in blog option.
SEO Tools: Take advantage of the built-in SEO tools to optimize your products and website. That includes SEO-friendly URLs that include long-tail keywords, customizable meta descriptions, search-friendly navigation structure, social share buttons, customizable headings, image alt tags, and a Google Analytics integration.
Reports & Analytics: Shift4Shop lets you generate reports for a number of categories, including reports inventory, marketing, payments and shipping, products, sales, and statistics. You can view reports of sales by day, profit by order, sales per product, and more.
Advanced Features: Shift4Shop offers an impressive level of advanced features, like the ability to print labels and split shipments for multiple locations. Typically, these types of features are only available through an integration with shipping software. We are impressed to see them built into Shift4Shop software and available on the majority of plans, including the free End-to-End plan.
Web Design
Shift4Shop offers a selection of both free and premium templates for your store. There are currently 108 completely free, mobile-responsive themes available in the theme store. As a whole, the templates provided by 3dcart are usable but they seem to lack the visual "wow factor" some other eCommerce site builders offer. However, the price tag of $0 packs quite a punch on its own, making the themes look more appealing to me, anyway. You can search themes by category, although you're not limited in your choice by what you're selling.
The front pages of each template (shown above) have the most variation, while the internal category pages often look very similar from one template to another. What about customizing your design once you've chosen a template? If you have HTML and CSS knowledge, you can easily make changes to layout, fonts, and styles. If you're a little less tech-savvy, use the Core Theme Editor to edit your Shift4Shop store, including adjusting categories and product details, changing the colors of text and headers, or adjusting the size of your site's text and headings. There's also a drag-and-drop HTML Builder that allows you to easily add content such as images, video, and text pages to your site. This editor works for the home page, blog, and content pages of your Shift4Shop website.
Shift4Shop also has a team of designers ready and waiting to work with you on customizing your store.
Shift4Shop Integrations & Add-Ons
With hundreds of apps to choose from, the Shift4Shop app store includes just about anything store owners could need to customize their online store. You'll find a variety of options, arranged in 24 categories within a dropdown bar for easy browsing, including accounting, order management, shipping, security, social media, dropshipping, channel management, inventory management, and more.
Shift4Shop also provides a RESTful API, so your developers can build custom connections if the apps you need aren't already available. Many apps have user reviews and ratings, so you can see how actual users feel about the app. Be warned, though. Many of the apps have only a handful of user reviews, and some have none at all. Note the date of reviews submitted and take that into account. You may end up taking your chances on some apps since the feedback pool is so small.
Payment Processing
Every Shift4Shop store is set up to accept payments through Shift4 Payments. If you intend to use the free End-to-End plan, you'll need to leave Shift4 Payments as your store's default payment provider. If you're on a paid subscription plan, you can choose among more than 100 payment providers, including international options in 19 nations other than the US. You'll find numerous familiar names on the list, including Accepta, Authorize.net, PayPal, Sage Payment, Skrill, Stripe, and Square.
Although Shift4Shop itself does not charge any transaction fees, you can expect to pay processing fees to your processor of choice, including the in-house payment provider, Shift4 Payments. Flat-rate providers, such as Stripe, Square, and PayPal, typically charge around 2.9% + $0.30 per eCommerce transaction. If you sell in-person as well, you'll have a separate, usually lower processing rate for those transactions. Manually keyed-in transactions may carry a different rate as well.
Flat-rate is not the only type of pricing available, however. At Merchant Maverick, we're big proponents of interchange-plus pricing, especially for merchants processing over $10,000 per month. Having reviewed many payment processors in my day, we appreciate that Shift4Shop takes the time to explain this transparent pricing model that keeps your wholesale costs separate. The explanation also includes a few recommendations for merchant account providers that can give you this model.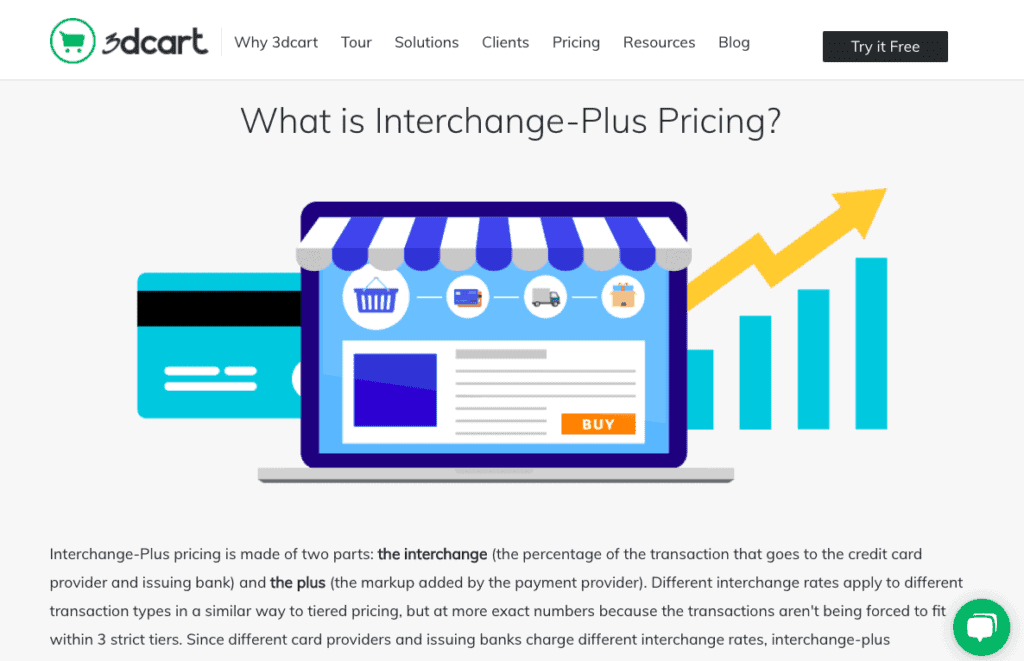 For more information on payment processing, read more about the best online credit card processing companies. If you're interested, look into interchange-plus processors for your Shift4Shop store, including Fattmerchant, PayJunction, and Heartland.
Beyond straight credit cards and debit cards, you can also make other payment methods available to shoppers, including ACH and eCheck payments, mobile wallets such as Apple Pay, Amazon Pay, and Google Pay, and buy-now-pay-later options like Affirm, Klarna, Square Installments, and Sezzle. All plans allow you to accept Bitcoin cryptocurrency, too.
Remember that if you choose the free End-to-End subscription, you will be required to use the default Shift4 Payment provider. Some Shift4 Payments subsidiaries have received troubling reviews from users, including complaints about poor customer service, hidden fees, penalties for breaking contracts, and repeated software bugs and freezes. Although in our Merchant Maverick reviewer's experience, the software was satisfactory, your experience may be different. If you choose Shift4 Payments as your processor, be aware of potential problems so you can act on them quickly — and be sure to share your experience in the comments section below, so we can update our reviews and make other users aware of information that could affect their choices.
Customer Service & Technical Support
Because Shift4Shop purchased an existing eCommerce platform, 3dcart, it's not entirely fair to focus on past performance — yet that's almost the only thing we have to go on until Shift4Shop creates its own record of excellence or otherwise. The available options cover all the bases:
Phone: Available to all users except those on the Startup plan.
Live Chat: Chat buttons are displayed prominently on Shift4Shop pages.
Email: Issues that require sharing a large amount of information, like screenshots, links, or lengthy descriptions are best suited for email.
Support Form: Submit a ticket for support.
Knowledgebase: Shift4Shop maintains a searchable directory of technical information, including how-to guides, tutorials, and FAQs on technical topics
Community Forum: Community support forums offer help and support to users, as well as a chance to share your own experiences and knowledge. Staff regularly offers help and responses.
Help Manual: A complete Shift4Shop instruction manual is available online. It's searchable, so you can access specific information quickly.
Videos: Check out the Online eCommerce University for a wealth of resources to help you increase traffic, boost your search ratings, get a handle on social media marketing, develop your income streams, take better product photos, and much more.
Template Guide: Access Shift4Shop design documentation to learn how to create a custom store using code blocks, variables, and templates.
Find An Advisor: Shift4Shop is happy to steer you toward experts willing to partner with you on your design, marketing, and development needs.
Developer Portal: If you want to use your developer skills to create a custom app or theme, you can access the software's full REST API documentation, developer forums, and more.
That looks like an impressive list of options for gaining any support you might need as you set up and operate a Shift4Shop store. However, my personal experience wasn't that impressive. I sent an email with a basic question and never received any response. When I tried using the chat option, a rep "joined the chat" almost immediately, but I didn't receive any response. After about four minutes, the rep was disconnected and the chat ended. I had the best luck with the phone support option. After being warned that Shift4Shop was experiencing high call volume, and being encouraged to use chat and email options, I reached a live rep within a couple of minutes. He was able to answer my questions to my satisfaction.
With the array of self-help options available, the typical user may not be completely reliant on phone, chat, and email support. Still, if you want or need a lot of support, be aware that it could be a mixed bag.
Shift4Shop Reviews
In the past, many 3dcart reviews highlighted dissatisfaction with the platform. While a few negative reviews are to be expected (and plenty of other users express satisfaction, to be fair) when online comments tilt heavily in one direction and outline clear trends, it does raise caution signals. While most online reviews refer to 3dcart, and not Shift4Shop, there haven't been major changes to the platform. It remains to be seen what new ownership's approach to customer service will do to customer reviews.
Negative Reviews & Complaints
Here's what complaints about 3dcart have tended to focus on, with notes about the outlook after the Shift4Shop rebranding:
Poor Customer Service: 3dcart was often blamed for being slow to respond to customer concerns and for providing uninformed responses. This is one area where Shift4Shop would be wise to work on improvements.
Bland Templates: While the free themes provided by 3dcart and now by Shift4Shop aren't bad, they aren't particularly stunning either. To make a truly memorable storefront, you're going to have to invest in some customization. One positive change around templates following the acquisition by Shift4Shop: more of the templates are free to use.
Expensive Add-Ons: The cost of multiple add-ons to 3dcart's native features could quickly add up for many users. Shift4Shop broadened the feature list for all plans, especially on the free End-to-End plan, which allows access to all available features.
Since Shift4Shop's parent company, Shift4 Payments, acquired 3dcart at the end of 2020, it's just too early to find many reviews. However, it seems fair to peek at the online reputation of that parent company. Shift4 Payments has a four-star rating on G2.com, including a total of 12 four-and five-star reviews. Reviewers mentioned that pricing can be unclear, and service is not always helpful. Reviewers also cite some recurring technical issues. The company has a 1 out of 5 rating on the Better Business Bureau website, with 34 customer reviews logged.
Positive Reviews & Testimonials
Overall, 3dcart landed somewhere in the middle of the eCommerce software pack when it comes to reported user satisfaction: not the best but also not the worst. Many customers have said they were pleased with the software. Here are some common accolades:
Low Price: Shift4Shop is priced competitively with Shopify and BigCommerce. If you decide to take advantage of the free End-to-End plan, you'll find an impressive array of features for the price.
Easy To Use: Even if they express some frustration with the software, many customers have said the admin is relatively intuitive overall. And, if you don't get it right away, there are lots of resources available to give you a hand.
Out-Of-The-Box Features: Shift4Shop comes with an uncommon number of features at every price point. I rarely see this many features available at the lowest plan of a SaaS platform.
You can also read several pages of testimonials on the company website. With real small business owner names and website addresses included, you could always reach out to these companies to find out if they're still happy with the platform now that it's become known as Shift4Shop!
Security
Shift4Shop offers all the security features you'd expect for an online store. It's is a fully hosted VISA PCI certified eCommerce solution with a 99.99% uptime guarantee. Shift4Shop performs daily backups of users' data, and its data centers are monitored 247. The software is updated monthly. 256Bit SSL certificate is included with all Shift4Shop plans, so your customer data will stay secure.
Shift4Shop continues 3dcart's relationship with Cloudflare's Content Delivery Network (CDN) to bring your site information to your customers. Using a CDN helps deliver your site to customer computers faster by caching and delivering content and load balancing traffic to decrease load time and increase service reliability, with average request speeds of 9 milliseconds. Cloudflare's CDN also includes DDoS attack protection and mitigation to secure your site further.
Shift4Shop FAQ
Final Verdict Of Shift4Shop
As we've complied 3dcart reviews over the years, we have long maintained that it is a very solid option for a lot of online sellers. We hope that will continue to be true, following the acquisition by Shift4 Payments and the platform's rebranding as Shift4shop. The plans are reasonably priced, and there are tons of important features already built-in, especially for users who sign up for the free but top-tier End-to-End plan. Meanwhile, the vast array of payment processing options is also impressive for users who want to avoid Shift4 Payments while still using Shift4Shop as their eCommerce platform. And we appreciate that no additional transaction fees are charged by Shift4Shop itself, regardless of which processor you choose. We are a bit leery of Shift4 Payments, given the company's established track record, but extremely cost-conscious merchants might be willing to take the risk in exchange for access to advanced features at no cost. We will continue to track the trends and will update this review as more customers report on their experience using the platform.
We continue to think Shift4Shop is best suited to merchants who'd like to take advantage of a set of robust and flexible eCommerce features but who also have the necessary patience to learn to use those powerful tools properly. The moderate learning curve seems to be worth the investment for the degree of power and control you have in managing your store, and once you get the hang of it, your day-to-day operations should be quite simple. Regarding storefront design, our opinion remains that 3dcart is geared toward moderately tech-savvy folks who are comfortable with HTML and CSS, or those who'd like to hire someone to create a custom design.
Customer service reports continue to be mixed, and the same goes for our own experience with tech support. We'll be watching to see which direction the service trends take Shift4Shop in.
Whichever eCommerce platform you ultimately end up with, we always recommend that you try out the software yourself before you make any decisions. It takes only a few seconds to sign up, and there are no commitments required. If a picture is worth a thousand words, a demo is worth a million.
---
The Merchant Maverick Seal of Approval 🏆
Shift4Shop


---



After hours of in-depth research and evaluation, we can confidently recommend this brand to our readers. Get started today and see Shift4Shop for yourself.
The Merchant Maverick Seal of Approval 🏆
Shift4Shop


---



After hours of in-depth research and evaluation, we can confidently recommend this brand to our readers. Get started today and see Shift4Shop for yourself.
To learn more about how we score our reviews, see our
eCommerce Software Rating Criteria
.
Read Next