3dcart Review
Updated on:
Review by: Liz Hull
Need Help Choosing?
Date Established

2001

Location

Tamarac, FL
Overview:
3dcart is a fully hosted eCommerce shopping cart, which provides all the features you'll need to build and run an online store. I'm not sure where the company derives its name (its core values are not alliterative, as I initially feared). Perhaps it's merely the fact that "Bells and Whistles Cart" was just too much of a mouthful. But whether you sell 1) hard goods or digital products, 2) from one vendor or several, and 3) weekender or high-volume sales, 3dcart is likely to do what you need it to do. They have several competitive pricing tiers that will cover most needs, and like most other carts, you can try it out for free (for 15 days) without entering your credit card.
This company was developed in 2001 by Gonzalo Gil and is based out of Tamarac, Florida. They currently have over 17,000 customers who are using their platform, and it looks like they're growing every day. To see if this is the right solution for your growing business, read our full review.
Pricing:
3dcart offers a free 15-day trial, and they won't ask you for your credit card until you're ready to sign. If you prepay for one year you will receive a 15% discount, which is a common perk among Shopping Cart providers.
Here are their pricing tiers:
Nano –  $9.99/month, 25 products,  2,000 visits per month, 5 email accounts, 1GB bandwidth
Mini – $19.99/month, 200 products, 4,000 visits per month, 5 email accounts, 2GB bandwidth
Starter – $35.99/month, 1,000 products, 8,000 visits per month, 10 email accounts, 4GB bandwidth
Professional – $65.99/month, 10,000 products, 20,000 visits per month, unlimited email accounts, 10GB bandwidth
Professional Plus – $99.99/month, unlimited products, 50,000 visits per month, unlimited email accounts, 25GB bandwidth
High Traffic / Premium – $199.99/month, unlimited products, unlimited email accounts, 60GB bandwidth
High Traffic Plus – $499.99/month, 250GB bandwidth
All plans generously offer unlimited online storage, domain registration, 24/7 phone support, Facebook and mobile stores, and API connectivity. Bandwidth overages are priced at $5/GB.
For the full side-by-side comparison of each price point, see the Feature Matrix on 3dcart's website.
There is also a separate plan for Enterprise-sized companies. The Enterprise plan includes unlimited bandwidth, a dedicated support team, enhanced scalability, and aggressive security features (like DDoS attack protection from CloudFlare). Enterprise is priced at $999.99/month with a $299 set up fee.
There are other Enterprise-level services available at additional cost as well: SEO Enterprise, Social Media Ultimate, and myWebmaster. Find out more about 3dcart Enterprise here.
Web-Hosted or Licensed:
Web-Hosted. 3dcart outsources its web hosting to either RackSpace, Softlayer, ThePlanet, Peer1, or LiquidWeb.
Hardware and Software Requirements:
3dcart is a hosted shopping cart so all you need is a reliable internet connection and an updated web browser (like Chrome, Firefox or Safari.)
Features:
This cart has seen some major enhancements since we first reviewed them. Lately, we've found a ton of features which are either new, or overhauled enough to be called new. There are also quite a few features that we don't often see in other shopping carts, such as options at checkout for gift wrapping, and multiple ship-to addresses.
You can find a comprehensive feature list on the 3dcart website, but I've listed the highlights here.
Support for back orders and wait lists
Inventory control, including batch editing and low stock alerts
Support for digital products
Product options, including bundles
CRM features like Mailing List Manager
User-generated content, allowing customers to submit questions and reviews
Waiting lists for popular products
An affiliate program and a rewards program
SmartCategories
Lots of SEO tools
Support for gift certificates, coupons, discounts, gift registries, and wish lists.
Bulk Importing/Exporting
Customizable invoices and packing slips
Shipment tracking
Robust Tax and Shipping calculators
PCI Certified
Again, these are just the highlights. The list of features above represents those offered in the highest subscription level, but it groups the features into a few categories so you can more easily find out if they provide the particular bells and whistles you're looking for. Chances are very good that you'll find what you need.
Ease of Use:
After signing up for a free trial, I was immediately presented with a Welcome Email. This intro email had all the information I might hope for when just starting out as an uninitiated user- login URLs, admin name and password, and links to video tutorials and articles to allay all my beginner worries.
After logging in through the link provided in this email, I was happy to see a setup wizard pop up, ready to input the basics of my business entity. It's annoying to have to hunt for all the right settings when you're new to the software layout. This guide, while a welcome onboarding feature, was not exactly mobile friendly. Still, I was able to power through it with only a few grumbles. I can easily see how it would work quite well from a desktop computer, so this is not a critical failure.
Once the initial setup was complete, I was presented with the dashboard.
I would not say that the layout is best-in-class, yet I was satisfied. There were large, central buttons for quick access to further setup and fine-tuning, and there were readily available links to some video tutorials and Knowledge Base articles in case I had specific questions.
Viewing the dashboard from a 'daily use' perspective, it is mostly satisfactory. The previous hiccups with the interface's automatic display detection seem to have been improved, although not fully resolved. It's still not especially mobile-friendly, though, and sometimes it took me a couple of page refreshes to get my computer browser to recalibrate the page.
Web Design:
Free Themes – 3dcart offers more than 60 free templates to get you started, and there is support for HTML and CSS for fine-tuning. The free templates are… fine. They are a good place to get started, but it probably won't be long until you outgrow them. And there is some good news: since our most recent update, 3dcart has made all of these templates responsive.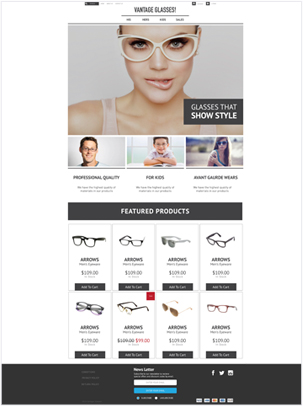 Premium Themes: The premium templates all seemed to be priced at $199 or less. The one exception is the unlimited themes package, which gives vendors access to the entire bank of premium themes for $249/year. From a design standpoint, the premium templates are not worth the extra money. Now that customers can find responsive themes for free at 3dcart, the paid ones are less enticing.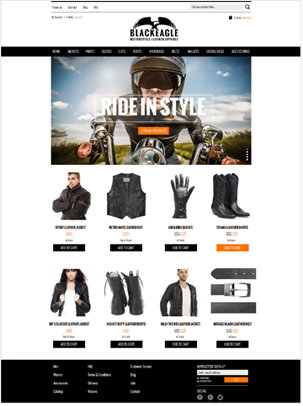 Customization: The design editing sections are actually be pretty easy to use. You can edit CSS without editing the code, you can edit HTML via WYSIWYG editors, and there's a drag-and-drop feature which simplifies some other design elements. The drag-and-drop editor should probably be called the "visual editor" or something like that because it handles more than just drag-and-drop. It also gives you the ability to add products, pages, categories, and blog posts directly in store view. Here's what that editor looks like.
Design Services: 3dcart has in-house design services. In my opinion, this should not be an afterthought. Showing a top notch professional appearance should not be something that you "get around to sometime." Just don't blame me when you see the prices, faint, and fall out of your chair.
Integrations and Add-Ons:
3dcart has a respectable amount of add-ons in their app store. Searching by category yields numerous options for every need (Fulfillment, Tax calculators, Marketing, and even enhanced interface controls). You'll also see familiar essentials such as Quickbooks (Accounting), Shipwire (Fullfillment), Constant Contact (Email Marketing), Olark Live Chat (eCommerce Tools), and ShareASale (Marketing).
Prices for these extras range from free to one-time purchases to recurring service subscriptions.
Payment Processing:
3dcart is partnered with more than 100 payment gateways, including trusted service providers like PayPal, Stripe, Authorize.net, BitPay, and Dwolla. You shouldn't have any trouble finding a payment processor that fits with your particular business needs. 3dcart does not charge any transaction fees, but your chosen payment gateway will have various fees associated with their service. See our Merchant Account Reviews for more information.
Customer Service and Technical Support:
3dcart offers 24/7/365 email, live chat, and phone support to all merchants, at all subscription levels.
3dcart also offers the following resources:
There are also options for Webinars and an E-University for additional training.
The company advertises 5-minute hold times by phone, and 30-minute or less response times online. Apparently I served to average out their super-speedy tickets, because my response was … somewhat longer anticipated than advertised. In fact, I have yet to receive anything more than an automated "we received your inquiry" message.
Negative Reviews and Complaints:
There is plenty of "constructive criticism" to be found out there. Some of the issues were addressed in recent software updates, but these are the most common complaints across the version history of 3dcart:
Poor Customer Service – By far the most complaints about 3dcart are in regards to poor customer service, especially slow response time to product issues or false charges. 3dcart reports that they have recently restructured customer support: they have rearranged their physical offices so that sales representatives are closer to technical support representatives, and they have changed the way calls are routed. Recently had an experience with 3dcart's customer service? Let us know in the comments section below.
Clunky Admin – There are quite a few people complaining about 3dcart's clunky admin. I agree with this one; I think that the admin section is too cluttered, and poorly sized.
Bland Templates – Another common complaint is in regards to the 3dcart templates. Even the premium templates are bland and dated.
Positive Reviews and Testimonials:
You can find a bunch of testimonials on the 3dcart website. I did some more research throughout the web to find some other positive reviews as well. After reading through as many reviews as I could, I've compiled a list of the most common positive comments about 3dcart:
Lower Price – A lot of people are happy about 3dcart's lower price points. They have an entry level pricing tier that starts at $19.99/month. There are cheaper intro plans among its competitors, but few that come with as many features as 3dcart offers.
Great Live Chat Support – For all the negative reviews about 3dcart's customer service overall, there were a few people praising 3dcart's live chat support.
Easy to Use – A few people praised 3dcart's ease of use, which surprised the heck out of me. I personally don't agree. I think that 3dcart is much more cluttered and less intuitive than other carts, but I guess that's just me.
Final Verdict:
Between the plethora of built-in features and agreeable price point, 3dcart scores very highly with Merchant Maverick. They lost a little credibility with me for the many reports of poor customer service, and for generally lackluster templates. Both of these detract from the time you would spend on actually running your business. The quicker and easier the design process and services are, the better; there's a direct correlation between these factors and your profitability.
The vast majority of users will be well-served by the Mini plan. Very few features are excluded even at this starter level, making the scaling subscription levels nearly a non-issue. This is great news for people wanting to try them out, but perhaps not the best structure for 3dcart's profitability. Still, this is no reason to detract any points in our rating system.
The "visitor quota" mentioned in the Pricing section is something I haven't seen before. At first impression, it seems a bit arbitrary. After all, the monthly number of visitors to your store doesn't always translate to conversions. However, after closer inspection, this visitor quota has more to do with average data bandwidth used per visitor. E-tailers with higher traffic use more bandwidth, and are therefore more costly for 3dcart's servers. Yet, considering that data overages cost only a pittance at $5 per GB, there's not a lot of incentive for companies to spend a hundred dollars more per month for copious bandwidth.
In short (too late), 3dcart gets high marks for functionality and affordability. If you're relatively tech-savvy (expecting to seldom need their tech support) or web design savvy (able to make the most out of generic templates) then 3dcart is a solid option. I can confidently recommend them, with a 4 out of 5 star rating. You can begin your own free trial here.