Big Cartel Review
This easy to use eCommerce shopping cart is designed for artist and makers who sell their products at a low volume.
Expert Analyst & Reviewer

UPDATED
Advertiser Disclosure: Our unbiased reviews and content are supported in part by
affiliate partnerships
, and we adhere to strict
guidelines
to preserve editorial integrity.
Big Cartel

Big Cartel At A Glance
Web-based eCommerce software
Fully hosted sites
Designed for makers and creative types
---
Pros
Suitable for startups
Low monthly cost
Easy to use
Free plan available
Cons
Low product limits
Basic features
Few integrations
What Is Big Cartel?
Big Cartel is web-based, fully-hosted eCommerce software designed for all kinds of creative types, including musicians, painters, photographers, crafters, bakers, and authors. Known for simplicity of design and ease of use, Big Cartel charges $0 transaction fees and $0 listing fees, and no other charges. That makes Big Cartel an attractive eCommerce option for independent makers, even those whose margins are low.
No particular technical expertise is needed to use BigCartel software. Functions are simple, and the process of adding products, creating discounts, and managing orders and inventory is about as smooth as it gets. However, that ease of use comes with a limited feature set. So if you want a sophisticated online store with advanced features, or if you're selling in high quantities, Big Cartel likely won't be able to meet your needs. In that case, you'd do well to check out some other top-rated eCommerce software options to find one that will suit you better.
However, if you're just getting started, or if you don't need a whole lot of advanced features, Big Cartel might be just the ticket. Keep reading to learn more about Big Cartel pricing, features, and reviews, so you can decide if this is the eCommerce solution you need.
Big Cartel Pricing
| Big Cartel Plans | Price | When To Use |
| --- | --- | --- |
| Gold Plan | $0 | If you need to list 5 or fewer products |
| Platinum Plan | $9.99/month | If you want to list up to 50 products |
| Diamond Plan | $19.99/month | If you have up to 500 products to list |
Big Cartel offers three tiers of pricing to meet most budgets, with plans offering different catalog sizes for users. If you have five or fewer products, you can use the free plan, with no credit card required. If you have a bigger catalog, you'll want to choose one of two paid plans.
Fortunately, no matter what plan you choose, you won't have to worry about Big Cartel fees, because you won't pay anything additional, outside your payment processor's transaction fees. Here's a breakdown of all of Big Cartel's pricing plans.
Gold Plan
Big Cartel's Gold plan costs $0/month and includes:
5 products with

1 image per product

Use a custom domain

Free customizable themes
Sell online and in-person
Real-time stats

Discount and promo codes

Shipment tracking

Sales tax autopilot

Product option groups
Platinum Plan
Big Cartel's Platinum plan costs $9.99/month and includes everything in the Gold plan, plus:
50 products with up to 5

images per product

Theme code editing

Google Analytics

Inventory tracking

Shipment tracking

Bulk editing

Product option groups
Diamond Plan
Big Cartel's Diamond plan costs $19.99/month and includes everything in the Platinum plan, plus:
Big Cartel Features
| Big Cartel Features | Availability |
| --- | --- |
| Retail Equipment Available | In-person sales via Stripe |
| International Sales | |
| Currency Conversion | |
| Shoppable Social Posts | |
| Gift Cards | |
| Customer Loyalty | |
| Marketing Tools | |
| Hosted Platform | |
| Reports | |
| Staff Accounts | |
| Buy Buttons | |
| Multi-Platform Integrations | |
| Shipping Tools | |
| Shipping Discounts | |
| Free Themes | |
| Unlimited Products | |
Big Cartel is designed for makers and artists who sell handmade and creative products. The software is not robust enough to handle a high volume of transactions, and each plan includes limits on product listings. For these reasons, Big Cartel will work best for smaller sellers.
Here's a look at what Big Cartel delivers:
Big Cartel Themes
Big Cartel has 18 free, mobile responsive store themes available. This is definitely a small selection of themes compared to other shopping carts, and while the themes are not particularly spectacular, they are free. And they should look just fine if you fill them with beautiful, high-resolution photography. You can find a few third-party themes out there, or you can choose to work with a web developer to customize your site at the source code level if you're on a paid plan.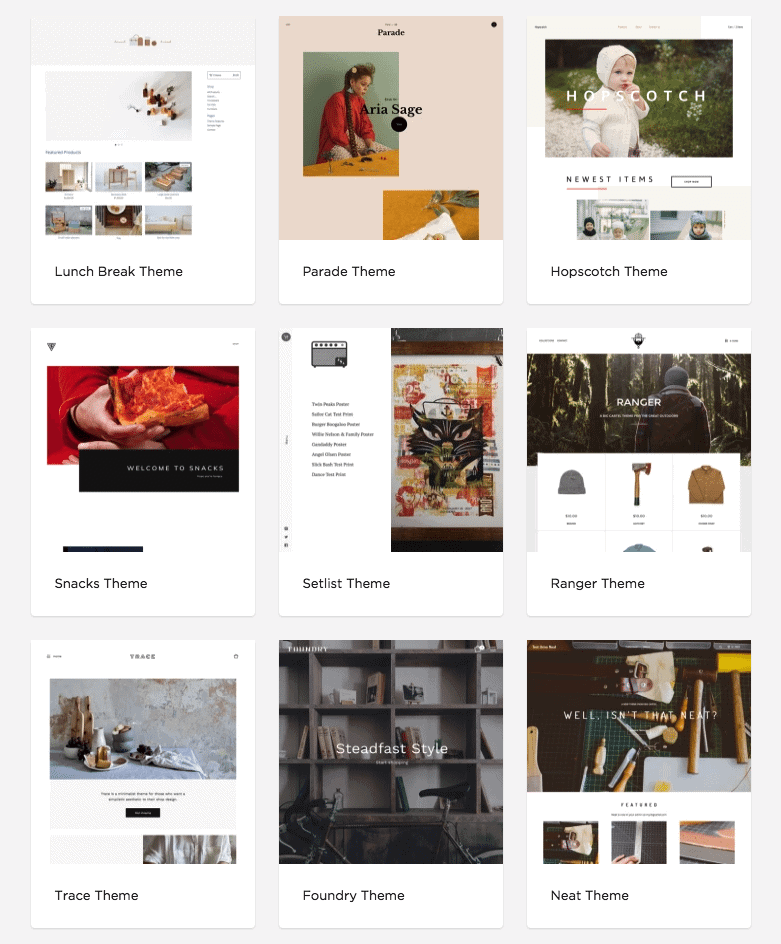 Types Of Payments Accepted With BigCartel
Big Cartel accepts payment via PayPal and Stripe on all plans, allowing you to process debit and credit card transactions through your Big Cartel store. You can add ePay for instant checkout and Venmo if you have enabled Stripe payments. Once you do that, you'll also be able to accept payment via PayPal Credit. That means you can offer customers a buy now, pay later option (BNPL) that meets their needs and can improve your own bottom line.
It's important to note that although Big Cartel itself does not charge any transaction fees, payment processors do. To learn more about payment processing, download our free eBook, The Beginner's Guide To Credit Card Processing.
Selling On Multiple Sales Channels With Big Cartel
All of Big Cartel's built-in themes allow you to link your social media profiles to your store. You can link to Twitter, Facebook, Tumblr, Instagram, and Pinterest, with no coding required. You also can use a Facebook integration to set up shop on this social media platform.
Selling Internationally
Your Big Cartel shop can display prices in one of about two dozen currencies. Conversion from other currencies will be handled automatically at checkout.
Big Cartel Marketing Features
True to its bare-bones approach, Big Cartel does not offer a lot of marketing tools. You'll have access to basic SEO features for starters, such as plain-text URLs and automatic sitemap generation. And Google Analytics is built into the platform and accessible to users on paid plans.
Big Cartel Product Limits
Each Big Cartel subscription level includes product limits. The free Gold plan allows up to five products, with one image per product. The mid-tier Platinum plan allows up to 50 products, while the Diamond plan allows up to 500 products. Both paid plans allow up to five images per product. You can also list multiple product options at multiple price points.
Inventory Management With Big Cartel
Paid plans include the ability to track your inventory, so you never sell any stock you don't have on hand. You can also list items as "coming soon" or "sold out."
Big Cartel Shipping Tools
Big Cartel does not offer a built-in shipping rate calculator. You can create only flat rates for shipping unless you integrate your choice of shipping software add-on. However, support for international shipping is built in. And you'll find integrations for popular shipping software like ShipStation and ShipRush.
If you're interested in dropshipping, you'll have to add an app, with limited options. Big Cartel integrates with both Printful and The Art of Where for print-on-demand services. And although it's somewhat complicated, it's possible to add Aliexpress as a product source in BigCartel.
Big Cartel Discounts & Coupons
You can create and manage discounts through your Big Cartel admin panel. Options include percentage-off offers, fixed amounts, discounts on specific items, and free shipping. Customers enter the discount code at checkout to activate the deal.
Developer Tools
Big Cartel allows API access, so you can integrate Big Cartel into an existing application, create an add-on for your store, or code anything you think would make your Big Cartel experience better. There's also a Developer Newsletter and an API Changelog to help you stay current on new features, improvements, and fixes.
In-Person Selling Tools
Use Stripe's card reader on iOS or Android devices to take payment at shows, festivals, and other events where your customers gather. You'll need to download an app before you can start taking in-person payments.
Mobile App
Big Cartel comes with a free mobile app you can use to manage your store from anywhere. These apps are available for Android and iOS.
Is Big Cartel Easy To Use?
It's incredibly simple to set up a store with Big Cartel and, in fact, I don't think I've found any that's easier to use. A setup wizard guides you through all the steps of setting up your site, and you can find additional setup information in the Help Center. Adding products is straightforward, as is customizing your site's design. Of course, much of this simplicity is due to the limited number of features in the dashboard and the design editor.
This limited functionality may frustrate more advanced users or merchants dealing with a large volume of products and orders. At the same time, though, I think Big Cartel will be just right for a lot of artists. If you'd prefer to focus your energy on making products instead of tweaking your site's code, Big Cartel may be the right approach for you.
In five minutes, I had an online store sketched out (see below). It's clearly not ready to publish, but it looks pretty good for five minutes of work. There's also an HTML/CSS editor available for paying clients. Just click the <> tab at the top of the page.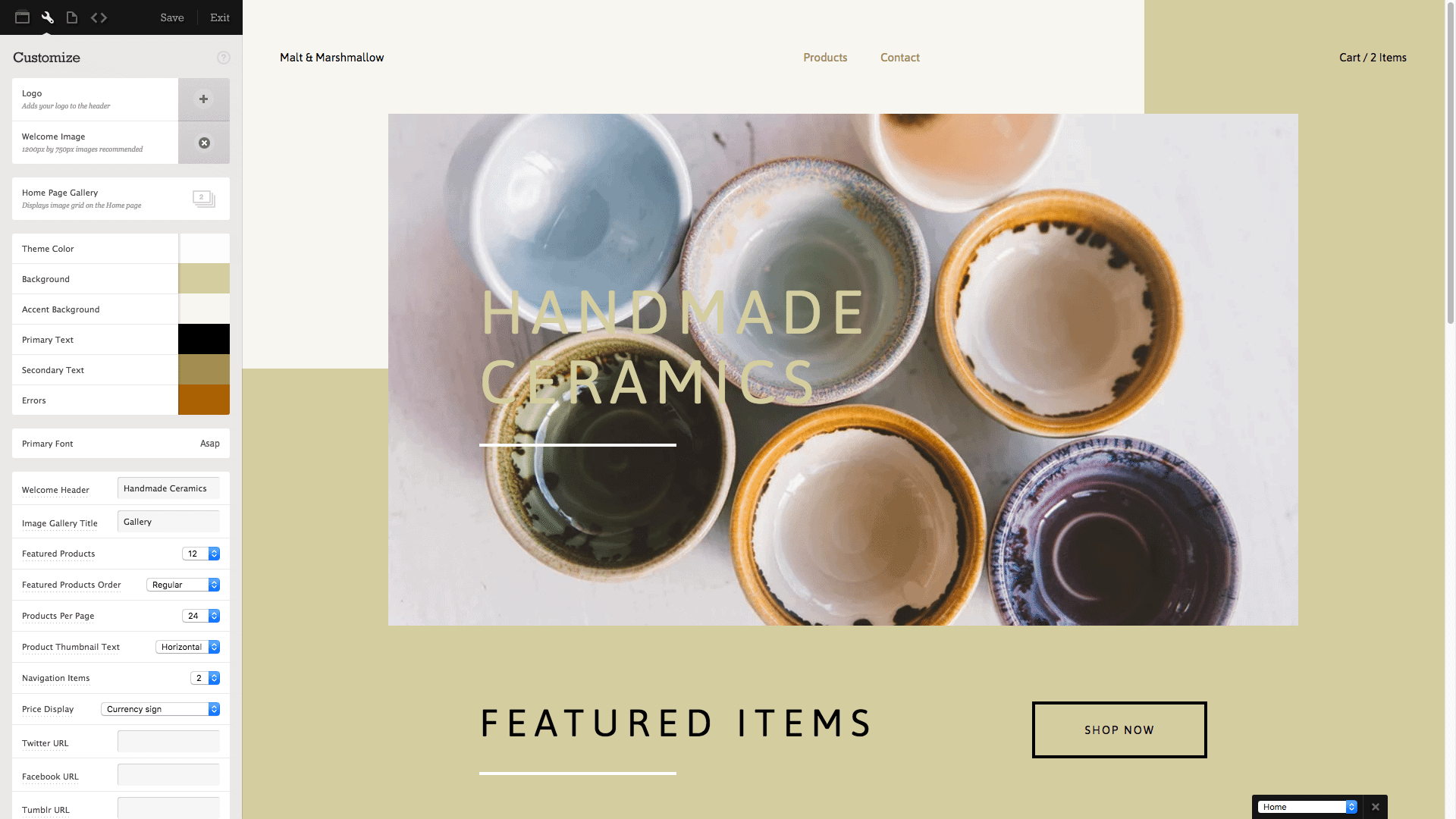 Customer Service & Support
| Big Cartel Support | Availability |
| --- | --- |
| Phone Support | |
| Email Support | |
| Support Tickets | |
| Live Chat | |
| Dedicated Support Representative | |
| Knowledge Base or Help Center | |
| Videos & Tutorials | |
| Company Blog | |
| Social Media | |
Big Cartel offers a variety of support options, with one conspicuous omission: You won't find any telephone options here. Users access Big Cartel support primarily through email and a robust Help Center. Both times we emailed a question, we received a full response within two hours. We also have not seen any negative Big Cartel reviews related to customer support, aside from a few comments that express a desire for phone support.
Here's a quick breakdown of all of Big Cartel's support offerings.
Email: Although Big Cartel does not offer phone or chat support, you can reach customer service via email Monday-Friday from 8 AM to 6 PM EST.
Help Center: Big Cartel's Help Center includes information on the following topics: Basics, Customization, Products, Orders, Dashboard, Discounts, Settings, Billing, Security, and Apps & Integrations.
Videos: Big Cartel provides a few recorded "live classes" that you can access through the Help Center. Topics include adding a product, creating a discount, packaging products, adjusting your account settings, and more.
Blog: Big Cartel maintains a blog, called Workshop, which features various artists who use the platform and provide helpful tips for running a business. The updates of the blog present new features and integrations.
Social Media: Big Cartel has active accounts on Facebook, Twitter, Instagram, YouTube, and Pinterest, which customers can use to contact the company with general questions. However, you should note that most of Big Cartel's replies on social media advise customers to send an email detailing their problems.
Big Cartel Integrations & Add-Ons
Big Cartel integrates directly with only about two dozen add-ons, including options in these categories:
Marketing & promotions
Manufacturing, shipping & fulfillment
Store Management
Payment processors
Domain providers
While these categories cover the basics for running an online store, there's a good chance you might not find your top choice among the options. For example, while it's great to find ShipStation, ShipRush, Pirate Ship, and ShipRobot add-ons, there are many highly rated, very popular shipping apps that you won't be able to integrate with.
On the other hand, for a shopping cart focused on makers, Big Cartel offers some well-chosen integrations. In particular, artists will appreciate being able to link their stores to Art of Where and Printful, which are both print-on-demand services that enable dropshipping through a Big Cartel store. The Pulley app is another good choice, enabling sales of digital products including music, ebooks, videos, craft patterns, software, fonts, graphics, and more. So while the number of integrations is not overwhelming, it may suit Big Cartel's target audience just fine.
And of course, the available integration with Zapier significantly expands the options. With Zapier, users have access to more than 1,000 different applications. You will have to pay for both the Zapier service and your third-party applications, but Zapier eliminates the need to hire a web developer to build those connections for you.
Additionally, there's an API available to help users create integration with other software.
Big Cartel Reviews
While there's a lot to like about Big Cartel, the software does have a few shortcomings that are often cited in Big Cartel reviews. Overall, the company has an A+ rating from the Better Business Bureau and good composite ratings but few reviews on G2 Crowd and Capterra. An outlier with 55 ratings and a poor review of 2.6/5 stars, Trustpilot shows that 25% of reviewers rate Big Cartel "excellent" while 66% say it's "bad." However, a deeper dive into those reviews reveals that most of the poor reviews are from people upset about a purchase they made on a Big Cartel website, and not from people who actually use the site for their own online stores. On Trustpilot, at least, actual users skew toward satisfaction with the platform.
With that in mind, let's take a look at both the good and the bad comments that pop up more than once from actual Big Cartel users.
Negative Big Cartel Reviews & Complaints
After some time spent haunting forums, customer review sites, and comment threads, I've come up with the most commonly mentioned complaints about Big Cartel. Here are the top complaints:
Product Limit: Big Cartel's plans allow an absolute maximum of 500 products, which can certainly be limiting for some sellers.
Restrictions On Free Plan: The free plan does not allow users with free Big Cartel shops to edit HTML or create discount codes.
Limited Customization: As previously mentioned, Big Cartel's ease of use can be seen as a positive or as a negative, depending on your point of view. The templates, in particular, seem limited and, in the words of one user, "clunky."
Other complaints include limited integrations and features as well as the lack of image hosting, a search function, or an automatic shipping calculator. Another few complaints are from users who clearly confuse Big Cartel's clearly stated policies and terms of use.
Positive Big Cartel Reviews & Testimonials
It's easy to find good things to talk about with Big Cartel. Here's what the people of the internet mention most often:
Ease Of Use: Customers rave about the simple dashboard and no-hassle theme editor. It's pretty great to go from a blank canvas to a full site in just a day, with no HTML headaches. While you won't find a huge number of Big Cartel templates to work with, it's relatively easy for even non-technical types to create a stylish and visually appealing website fast.
Great Alternative To Etsy: Most Big Cartel users are the type who would otherwise belong to the Etsy community. Big Cartel allows them to sell the same products independently, without direct competition from other artists and without Etsy's transaction fees, which recently took another big jump. Big Cartel also gives artists more power to build their brands, apart from the Etsy marketplace.
Price: Many sellers use Big Cartel entirely free of charge, paying only the inescapable fees for credit card processing when they make a sale. At the same time, most sellers who wanted one found that Big Cartel offers affordable paid plans as well.
Other positive reviews discussed the company's reliable uptime, elegant web design, and the fact that Big Cartel does not charge additional transaction fees.
Final Verdict Of Big Cartel
Big Cartel Review Summary
Pricing
$0-$19.99/month
Choose If You Need

Low-cost platform for selling a few products
Fully hosted online store with no added fees
Limited features but extremely easy to use
This Big Cartel review shows the platform could be a solid choice for creators of all sorts who want to add an eCommerce element to their art. Big Cartel is best for those who plan to remain relatively small. If dramatic growth is in your future — e.g., if you're hoping to offer more than 500 products — you'll likely want to invest in another eCommerce option, like Shopify, to find a truly scalable platform so that you won't quickly outgrow your Big Cartel store and have to switch platforms down the road.
However, if you want a platform that allows you the time you need to create your art, free from the noise and the expense of Etsy, then Big Cartel may be the way to go. Its ease of use lets you design beautiful themes to match your beautiful products, without ever touching that ugly code. Of course, Big Cartel is not your only choice. Before you commit, check out a couple of other easy eCommerce options for beginners or our suggestions for the best free online store.
If you're ready to join the community of artists who are using Big Cartel for their online stores, you can sign up for the free plan (there's no credit card required) and play with the platform for a bit. Add a couple of products, test out the theme editor, and you'll soon see if Big Cartel is right for you.
Big Cartel FAQs
---
Featured Free eCommerce Plan 🔥
Square Online


---
Get a free website builder, online ordering, gift cards, in-store pick-up options, and dozens of other features for eCommerce and hybrid businesses. Free options available. Learn more from Square.
Featured Free eCommerce Plan 🔥
Square Online


---
Get a free website builder, online ordering, gift cards, in-store pick-up options, and dozens of other features for eCommerce and hybrid businesses. Free options available. Learn more from Square.
To learn more about how we score our reviews, see our
eCommerce Software Rating Criteria
.