BigCommerce Review
Cloud-based and user-friendly, BigCommerce software helps merchants from all levels of experience sell their products online.
Expert Analyst & Reviewer

Updated on:
Advertiser Disclosure: Our unbiased reviews and content are supported in part by
affiliate partnerships
, and we adhere to strict
guidelines
to preserve editorial integrity.
BigCommerce

Pros
No added transaction fees

Numerous features

Excellent integrations

Free trial, no credit card

Scalable
Cons
Moderate learning curve
Limited customization
Revenue caps on subscription levels
BigCommerce Overview
BigCommerce is generally recognized for its ease of use, solid functionality, and quality customer support. And most independent BigCommerce reviews back that conclusion. Cloud-based and user-friendly, this shopping cart software helps eCommerce merchants at all levels of experience and revenue sell their products online.
While it's true that BigCommerce's basic software may not have enough advanced features or customizability for the largest of companies, there's an enterprise level plan that's always an option for growing into. For that reason and many others, we believe BigCommerce is an excellent platform for most merchants, and it belongs on your short list as you look for your store's new online home.
Keep reading for our full, independent review of BigCommerce.
BigCommerce Pricing
| | Standard | Plus | Pro | Enterprise |
| --- | --- | --- | --- | --- |
| Pricing | $29.95/mo. | $79.95/mo | $299.95/mo. | By personal quote only |
| Sales Limits | $50k/year | $180k/year | $400k/year | no limits |
| PayPal rates | 2.59% = $0.49 | 2.35% = $0.49 | 2.05% = $0.49 | 2.05% = $0.49 |
| Single-Page Checkout | ✔︎ | ✔︎ | ✔︎ | ✔︎ |
| Customer Groups & Segmentation | | ✔︎ | ✔︎ | ✔︎ |
| Abandoned Cart | | ✔︎ | ✔︎ | ✔︎ |
| Persistent Carts | | ✔︎ | ✔︎ | ✔︎ |
| Stored Credit Cards | | ✔︎ | ✔︎ | ✔︎ |
| Product Filtering | | | ✔︎ | ✔︎ |
| Multi-Currency | ✔︎ | ✔︎ | ✔︎ | ✔︎ |
| Support | 24/7 | 24/7 | 24/7 | Priority |
BigCommerce offers a free 15-day trial, with no credit card required, so you can test out the platform without making a commitment. Payments are collected monthly, with no contract, setup, or cancellation fees. You can save up to 10% if you choose a one-year subscription rather than paying monthly. (This discount is no longer available on the Standard plan.) Unlike some of its top eCommerce competitors, BigCommerce bases its pricing levels on your store's annual online sales.
If your company's revenue is greater than the set amount for a specific plan, you automatically will be bumped up to the next pricing tier. Meanwhile, also note that as you increase in sales volume on the Pro plan, the cost of your platform will also increase, with an additional $150/month due for each additional $200K in sales. I've been told that at a certain point, a BigCommerce representative will reach out to ask you if you'd like to switch over to BigCommerce Enterprise, which may be a better choice for your business.
It's worth noting that all BigCommerce pricing plans include some sought-after features, including unlimited products, storage, and bandwidth; unlimited staff accounts; sitewide HTTPS and dedicated SSL; mobile-responsive websites; single-page checkout; built-in blog, professional reporting tools; and a mobile app. All users have access to 24/7 support service via phone, chat, and ticket. And no matter what BigCommerce plan you choose, you won't pay any added transaction fees, though you will pay payment processing fees to your payment provider.
It's also noteworthy that since our last update of this BigCommerce review, the special negotiated fees for credit card processing on sales made via PayPal have undergone some changes. While the percentage has dropped about three-tenths of a point on all plan levels, from a top rate of 2.9% to a top rate now of 2.59%, the set fee per transaction has risen from $0.30 on all plan levels to $0.49. How that change will affect your profits will depend on what you sell and your average transaction size.
Here's the complete rundown of BigCommerce's pricing:
Standard
BigCommerce's Standard plan costs $29.95/month and includes:
Sales up to $50K/year
Unlimited storage, products, staff accounts, and bandwidth
Online store
POS
Multi-channel selling (Amazon, eBay, Walmart, Facebook, Instagram, Google Shopping)
Coupons, discount rules, and gift cards
Multiple currencies
Real-time shipping quotes
Product ratings and reviews
Free security tools, including SSL
Payment processing option via PayPal at 2.59% + $0.49 per transaction
Plus
BigCommerce's Plus plan costs $79.95/month (or $71.95 if paid annually) and includes everything in the Standard plan, plus:
Sales up to $180K/year
Abandoned cart saver
Payment processing option via PayPal at 2.35% + $0.49 per transaction
Customer groups and segmentation
Stored credit cards
Abandoned cart saver
Persistent cart
Pro
BigCommerce's Pro plan starts at $299.95/month and includes everything in the Plus plan, plus:
Sales up to $400K/year
Price increases $150/month for every additional $200K in annual sales
Google customer reviews
Product filtering
Custom product filtering
Payment processing option via PayPal at 2.05% + $0.49 per transaction
High-volume vendors with sales figures to match might want to check out the BigCommerce Enterprise plan. Contact the BigCommerce sales team for a personalized price quote and details. The company says that if you have a high order value or if you do a lot of B2B transactions, Enterprise is the way to go.
You can also view a comparison of BigCommerce pricing options side-by-side on the company's site. Just don't neglect to read the footnotes at the bottom of the page!
Ease Of Use
BigCommerce is one of the top eCommerce solutions in terms of usability. Customers often praise the user interface on comment boards, and when I tested out the platform for myself, I found that I agree.
When you create your account, you'll receive an email that directs you to your store's admin. Upon logging in, you won't find any tutorials or guided tours around the software. You will, however, find a to-do list on your main dashboard page. Clicking on each task takes you to the appropriate section of the dashboard. Fortunately, the admin is fairly intuitive, so it isn't hard to figure out the functions on your own.
Adding products is pretty straightforward: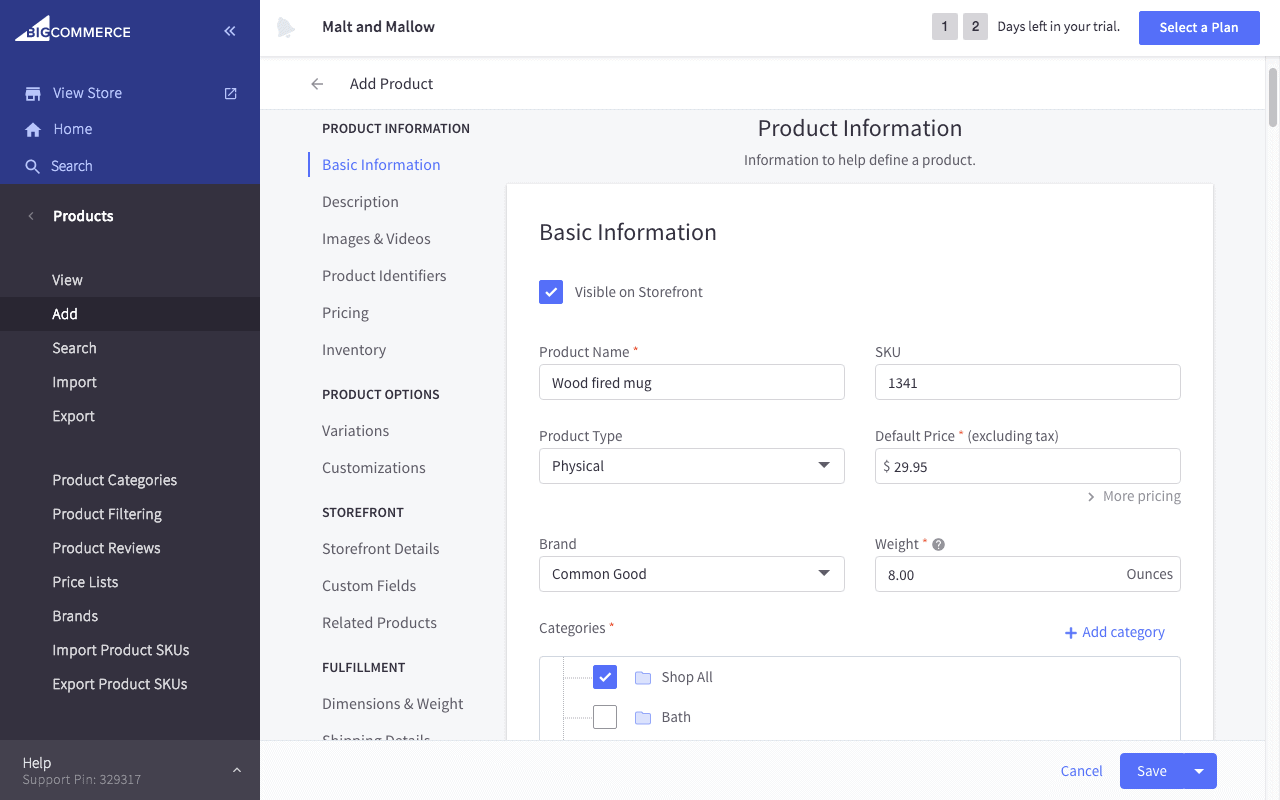 Toggle between the tabs on the left-hand sidebar to add more product information, like descriptions, shipping information, images, inventory stats, and SEO information. If you have your product information in a spreadsheet, you can use BigCommerce's bulk import options to easily upload your product list. You can also create and edit orders from your admin, and creating cart-level discounts and coupon codes is also easy. You can set coupons to apply to an entire order or to specific categories. Cart-level discounts let you create even more specific and complex deals.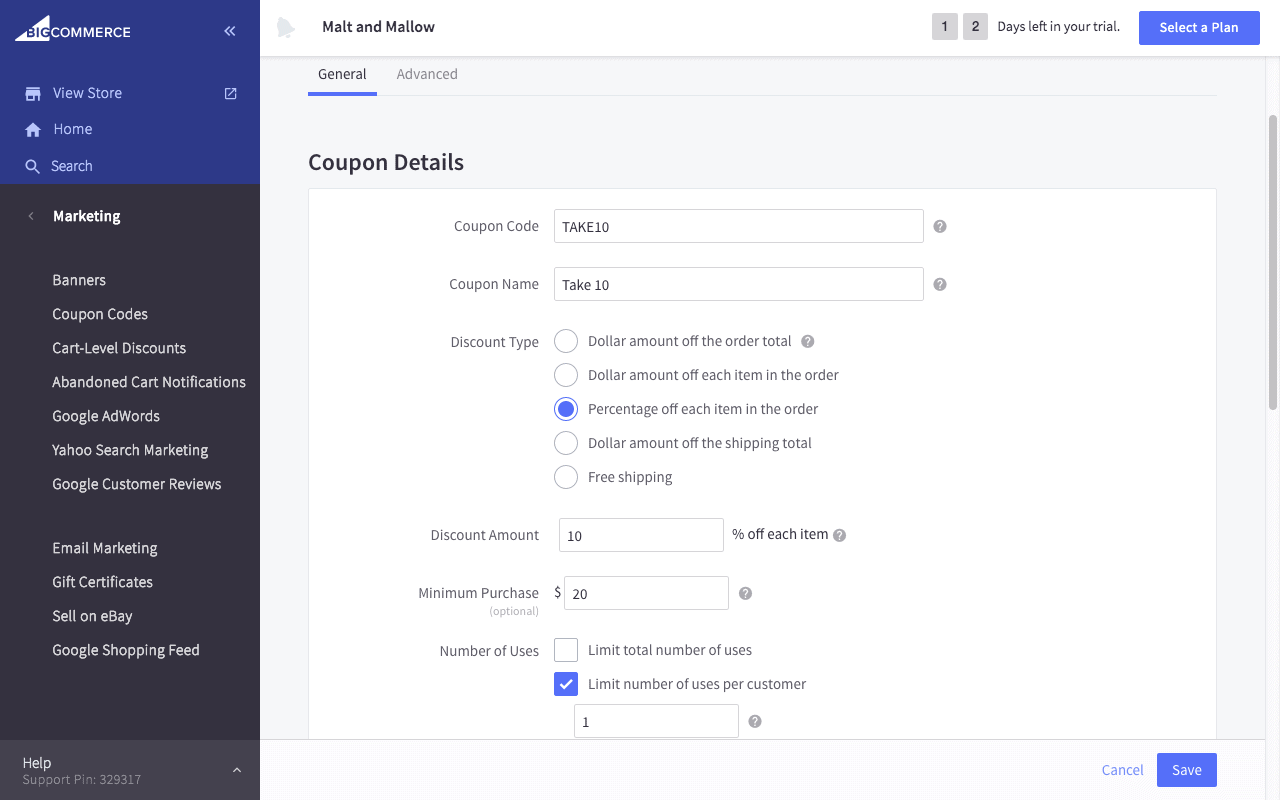 It's clear why ease of use is one of BigCommerce's biggest pulls. The admin is easy to navigate, and advanced features are only a few clicks away.
BigCommerce Features
BigCommerce has lots of features out of the box, compared to similarly priced eCommerce competitors, and the company is constantly adding more. Here's a rundown of what you can expect to find as you get started setting up and running a BigCommerce store:
Dashboard: BigCommerce's dashboard gives you a quick overview of your website's current stats. You can customize your dashboard to show you the stats that you most want to keep an eye on. Here's a view of my dashboard, after I set up my "store:"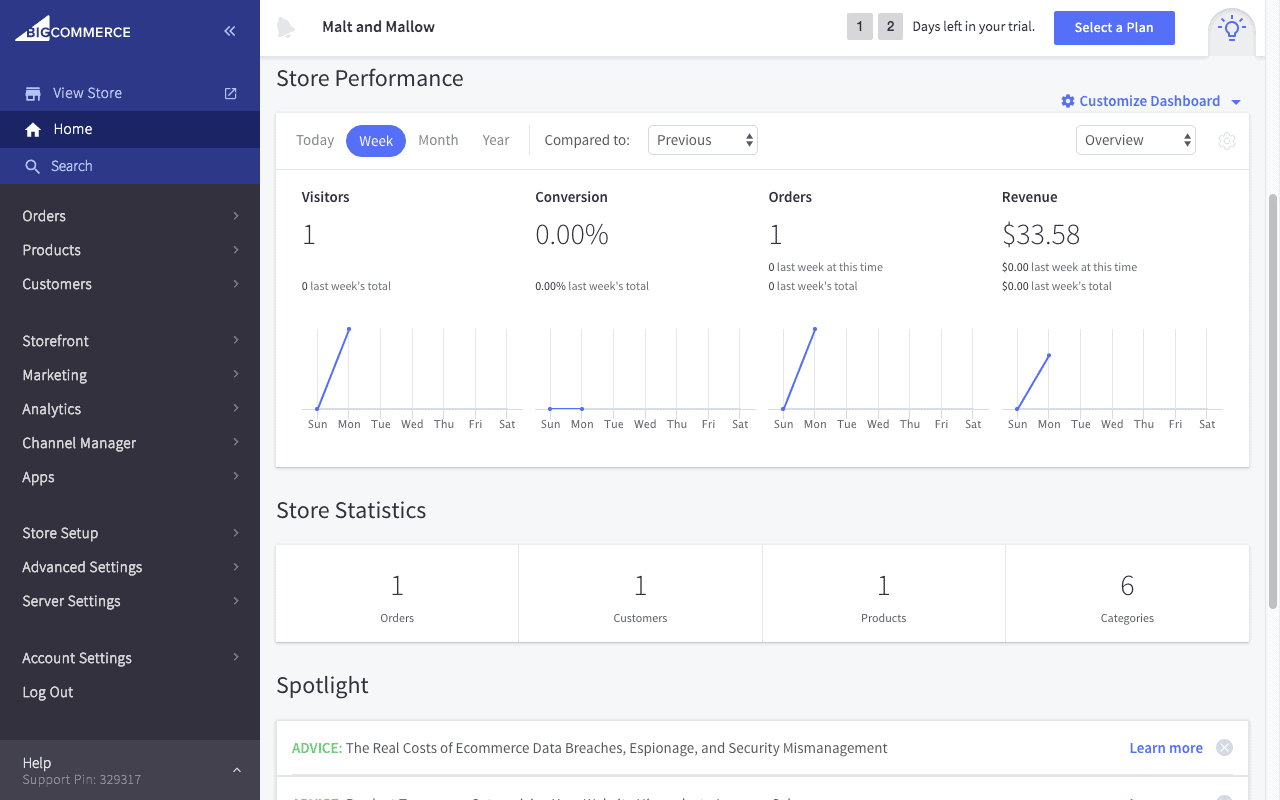 Products: BigCommerce allows users to list unlimited physical and digital products. You can also create and assign virtually unlimited variants (color, size, style, and so on) to your products. That compares quite favorably to the competition. In addition, you can use bulk import/export tools to transfer your product information from a CSV file into your online store.
Multi-Channel Selling: BigCommerce includes pre-built integrations with Amazon, eBay, Facebook, Instagram, Pinterest, and Google Shopping. And you can manage sales on all those sites from a single dashboard.
Sell Internationally: Add integrations that allow you to accept 100+ currencies and calculate international shipping and tax rates in more than 150 countries. You can set your storefront and your products in multiple complex languages, and set your control panel to Mandarin, French, Ukrainian, Spanish, and other languages.
Checkout: One-page checkout is the default checkout setup for BigCommerce stores, which is good since that's an option that encourages quick transactions. Use the Shipping Manager to display shipping rates at checkout. You can choose specific shipping methods for different shipping zones. For example, you could offer real-time carrier quotes, free shipping, flat-rate shipping, weight-based rates, or value-based rates.
Inventory Management: Enter and track stock levels from within your control panel and configure stock level notifications for both you and your site visitors. You can track inventory by product or product variations. You will receive notices when a product sells out or reaches a predetermined level, so you have time to resupply.
Marketing: BigCommerce offers multiple features for marketing and for converting customers. You can use the customer segmentation lists to group your customers by purchasing trends, location, and demographics and then market to each group differently. BigCommerce has a highly customizable coupon and discount creator, so you can make discounts apply to a specific category, brand, product, or cart total. You can also use social sharing features, recently viewed products, and product reviews to build more buyer confidence.
Dropshipping Features: You'll need to add an app if you want your BigCommerce store to support dropshipping. Choose from multiple partners on the app store, including Sprocket, Doba, and AliExpress plus some print-on-demand services like Printful and Art of Where.
Blog: This is a particularly nice feature to have already built-in and fully supported. Use your on-site blog to improve your site's SEO rankings and deliver valuable content to your customers.
SEO Tools: Built-in features align with SEO best practices, including automatic sitemaps, sitewide HTTPS, and search-friendly themes. Take advantage of optimized URLs and automatic sitemaps and customize your URLs, title tags, header tags, and metadata to maximize your reach.
Reports & Analytics: eCommerce Analytics is a set of tools that provides 11 reports, including a store overview, visitor metrics, order trends, and the success of marketing campaigns. It's available on all plans, provided you enable analytics cookies.
Web Design
BigCommerce offers beautiful premade templates called Stencil themes. Stencil includes simple functions you can use to edit your storefront without needing a lot of technical expertise. Changing colors, for example, requires zero coding. If you'd still like to mess with the raw code, however, you have the option to download a copy of your Stencil theme and dig in from there. Currently, there are 12 free themes, most with three or four different variations each. You can also purchase a theme, with prices ranging from $150 to about $300.
Compared to the themes offered by other top shopping carts, BigCommerce themes rate favorably. Here's a sample of BigCommerce's free themes: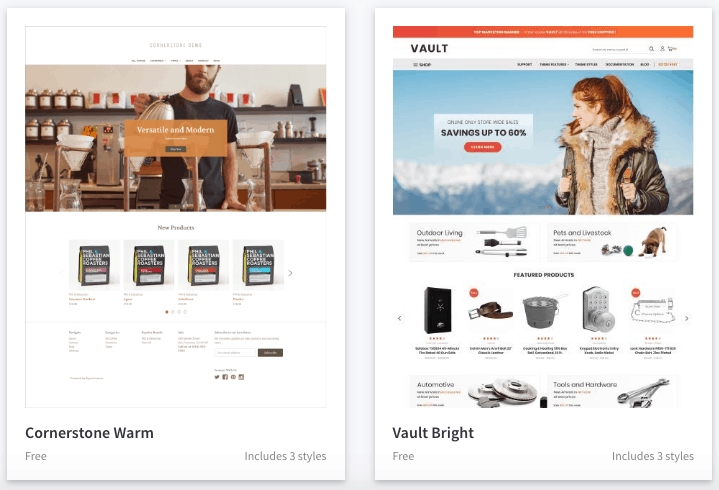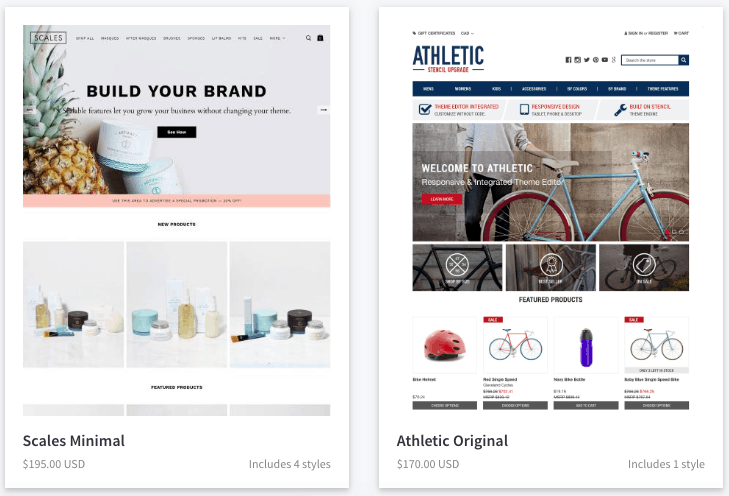 Below is the Stencil theme editor in action as I attempted to change a popular free theme (Fortune) into a home goods shop: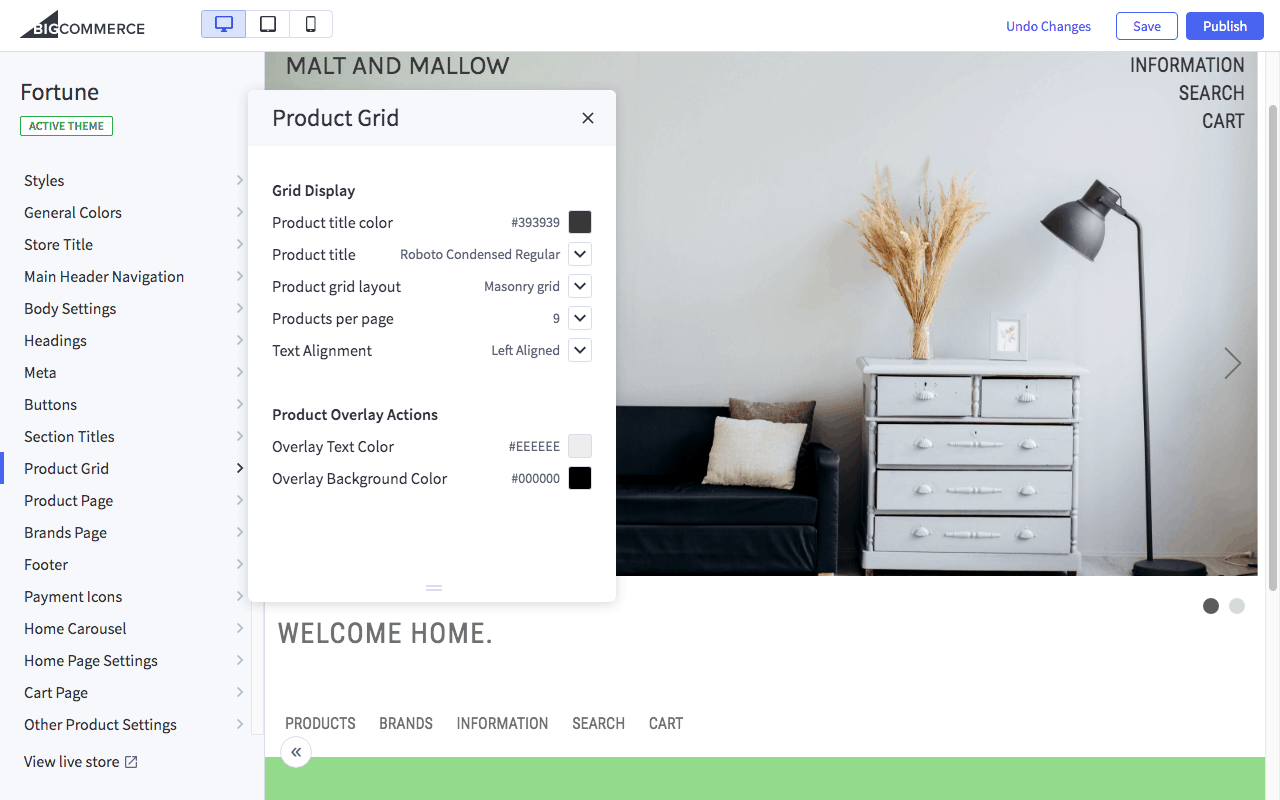 There's no drag-and-drop feature within the theme editor, but there are integrations available that can help you move page elements. Also, the theme editor manages only the overall layout and style; you'll have to go back to the main dashboard admin to change the images and text in your front page carousel, for example. It's mildly clunky but ultimately works fine. A preview of your existing store in a different style — mobile, tablet, and standard form — is also at your fingertips.
Integrations & Add-Ons
If the BigCommerce platform doesn't have everything you need already built-in, you should take a look at the apps marketplace. Integrations are well-organized into categories and subcategories for easy browsing. Most apps show user reviews. Additionally, the Preferred and Elite tiers for integrations indicate how firmly BigCommerce stands behind each partner.
Over 880 add-ons are available, and while some come with an extra expense, a good number of them are free to download and/or to use. You always should be aware that apps that are free "upfront" may come with an ongoing monthly cost. Before adding any integration, be sure you understand the current pricing structure. Fortunately, BigCommerce makes that a little easier: If you hover over an app without clicking on it, you should see a summary of two important pieces of information, the upfront fee and the recurring fees associated with using that app.
In addition to pre-built integrations, you'll also have access to BigCommerce's open, flexible API for developers.
Payment Processing
BigCommerce integrates with more than 65 payment gateways, including international options. That's in addition to integrations to popular digital wallets like Apple Pay, Amazon Pay, Venmo (via PayPal), Visa Checkout, and Masterpass. BigCommerce also supports alternative payment methods (APMs) that don't require shoppers to use a credit card. This includes online banking, direct debit/ACH, mobile payments and more. You'll also find several options for buy now, pay later (BNPL) payments, like Affirm, Afterpay, Sezzle, and Klarna.
Importantly, BigCommerce doesn't limit how many payment options you can add to your store.
Don't forget that BigCommerce charges no transaction fees above and beyond your card processing fees. BigCommerce also has an arrangement with PayPal (powered by Braintree) that may cut down your payment processing fees. For every step up in BigCommerce's plans, you pay a slightly lower credit and debit transaction fee with Braintree, starting at 2.59% + $0.49 at the basic plan and dropping to 2.05% + $0.49 at the highest level.
Customer Service & Technical Support
BigCommerce offers 24/7 personal tech support via email, live chat, and phone. Fortunately, this support is available at all levels. If you'd prefer to take matters into your own hands, BigCommerce has lots of online self-help resources as well. Merchants on the BigCommerce Enterprise-level plan have access to Premium Services.
Here's what's available to all users:
Phone: Phone support is available for all BigCommerce merchants.
Email: You can also contact support via email.
Contact Form: Open a web ticket and have BigCommerce support reach out to you via email. You must have your support PIN available to submit a contact form.
Live Chat: Live chat is available for everyone. You must have your support pin handy to access support.
Help Center: The BigCommerce help center is your main point of access to the knowledgebase as well as product news and updates, developer docs, user docs, guides, and tutorial videos.
Community Forum: BigCommerce's community forum features various sections, such as community groups, town halls, an ideas forum, and a Q&A forum.
Guides: Read BigCommerce's extensive guides on specific aspects of running an online store.
Videos: A series of video tutorials guide you through the basics of using BigCommerce. For longer videos, check out the archive of topical webinars.
Dev Center: BigCommerce has a dev center to help developers find resources.
Training: On the BigCommerce Services page, you can purchase a plan that connects you with a BigCommerce coach who will help you launch or grow your store. Resources are available around the globe.
Find An Adviser: Look on the Partner Marketplace to find developers to assist in customizing your store.
Blog: Find information on the eCommerce industry, product news, and announcements.
Social Media: BigCommerce has active accounts on Twitter, Facebook, LinkedIn, YouTube, Pinterest, and Instagram. While you can reach out to BigCommerce on social media, I recommend first trying to contact someone via phone, email, or live chat.
Customer feedback on the support team continues to be quite mixed, although it's currently trending negative. My own experiences with BigCommerce's support teams were positive. I reached a real person over the phone and live chat within minutes. The reps I spoke with did an all-right job, although when I asked more specific questions, they were able to give me only vague answers.
BigCommerce Reviews
Users are not shy about sharing their personal BigCommerce reviews. Though many are generally positive in nature, not every user is satisfied with the experience. In fact, on one review site, the same percentage of customers rate BigCommerce 5/5 stars as rate it 1/5 stars, with 37% of customers completely satisfied and 37% completely dissatisfied. With just 26% saying the software is great, average, or poor, it's clear this is one platform that delivers a varied experience. And it's worth noting that a much higher percentage of the recent reviews are negative rather than positive. The company is not accredited with the Better Business Bureau, though it has earned an A+ rating there.
Negative BigCommerce Reviews & Complaints
Lacking Advanced Features: Some customers complain that BigCommerce doesn't have the robust features that larger businesses need. Although customers can access BigCommerce's API to make a range of changes on their own, that is not an option everyone can take advantage of.
High Cost: Most pricing complaints these days center around the added cost of integrations or being bumped by rising sales into a higher-priced tier.
Theme Limitations: Echoing an old complaint, these comments generally refer to a relative lack of quality or selection for free templates, the price of paid themes, or the inability to make significant design changes without altering the raw code. While the theme selection has improved in recent years, this gripe has not yet disappeared.
Positive BigCommerce Reviews & Testimonials
BigCommerce ranks pretty highly on most customer review boards. Here are a few reasons why:
Ease Of Use: BigCommerce is right up there with Shopify in the ease-of-use category, with a rating of 4/5 stars on G2 CrowdSource that compares favorably to the top eCommerce platforms reviewed there.
No Transaction Fees: Shopify, which is perhaps BigCommerce's closest competitor, still charges transaction fees unless you use its in-house payment processor. Check out BigCommerce VS Shopify for more information on how they stack up against each other.
Good Customer Support: Although reviews continue to be mixed on BigCommerce's customer support, many commenters say that BigCommerce representatives are helpful and friendly.
Good Out-Of-The-Box Feature Set: I've seen merchants point out that fewer third-party apps are available for BigCommerce than some competitors. They aren't necessary, because comparatively more features are natively built into the platform.
Security
BigCommerce is PCI DSS (Payment Card Industry Data Security Standard) 3.1 certified at Level 1. BigCommerce also gives all users access to sitewide https in their URL fields.
Furthermore, all BigCommerce plan levels include a dedicated SSL (Secure Socket Layer) certificate. This looks more professional in the URL field when customers visit your site than if you're using a shared SSL certificate. At the Pro level and above, you can also transfer a custom SSL certificate purchased from another provider.
BigCommerce hosts its platform on the Google Cloud Platform infrastructure. This means that BigCommerce users will benefit from Google's perimeter and server-specific firewalls, file integrity scanners, and intrusion detection software. Google's servers also offer protection against DDoS attacks. BigCommerce advertises an uptime of 99.99%.
FAQs
Final Verdict Of BigCommerce
Despite some negative reviews, we feel BigCommerce is one of the best shopping cart platforms out there, with enough features to meet the needs of most online sellers. It compares favorably to another popular choice: Shopify. If you're trying to decide between two of the best eCommerce platforms available, BigCommerce definitely deserves a close look.
Most users find the admin easy to use, and the available store themes are professional in appearance. BigCommerce tends to favor built-in features over third-party apps, which could potentially save you money in the long run, depending on the precise features you need. The hundreds of available apps are nothing to sneeze at, but some competitors do offer more. So if you need a significantly higher degree of customization, you might do best to look elsewhere, perhaps at an open-source solution.
Keep in mind that BigCommerce uses your sales volume to place you in the appropriate pricing tier. A relatively small increase in your sales could bump you into a higher-priced tier and cost you thousands extra in subscription fees each year. Of course, higher-level plans bring with them greater customization and better eCommerce features that you may be glad to have access to.
I know you'll carefully weigh these factors when you make your shopping cart decision. Either way, I recommend taking the platform out for a spin with a free trial. It doesn't take much time to get a feel for the software, and you're given a full 15 days to explore and test to your heart's content. You've got nothing to lose, so get going!
---
The Merchant Maverick Seal of Approval 🏆
BigCommerce


---



After hours of in-depth research and evaluation, we can confidently recommend this brand to our readers. Get started today and see BigCommerce for yourself.
The Merchant Maverick Seal of Approval 🏆
BigCommerce


---



After hours of in-depth research and evaluation, we can confidently recommend this brand to our readers. Get started today and see BigCommerce for yourself.
To learn more about how we score our reviews, see our
eCommerce Software Rating Criteria
.
Read Next