Expert Analyst & Reviewer

UPDATED
Advertiser Disclosure: Our unbiased reviews and content are supported in part by
affiliate partnerships
, and we adhere to strict
guidelines
to preserve editorial integrity.
Carrd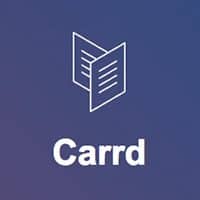 Pros
Easy to use
Competitive pricing
Well-designed editor
Cons
Sites limited to one page
Limited eCommerce
Advanced contact forms require a Pro Plus plan
Carrd Overview
Carrd is a unique, streamlined website builder — one that isn't trying to be a Wix clone. Carrd's focus is on helping you create a landing page for yourself or your business while requiring as little of your time and energy as possible.
Carrd was launched in 2016 by a web designer and developer from Nashville known only as AJ. Normally, I'm a bit leery of website builders put out by nameless creators. However, AJ, who has a sizable Twitter following, posted a lengthy and thorough account of Carrd's creation on his website, so don't worry — he's legit.
Carrd is a website builder for small businesses and individuals who want a clean, single-page website to promote their business and/or themselves without spending an arm and a leg. If the focus of your online presence is your social media accounts or your email list, a Carrd landing page can be the springboard that sends visitors to the places toward which you direct most of your online energy.
Is Carrd the one page website builder for you? Read on to see if this unique platform makes sense for you.
Business Types Supported
When you sign up to use Carrd and start the process of creating a site, you're directed to choose a "starting point" — Carrd's way of referring to templates. The 80 available templates aren't sorted by business type. Instead, they are sorted as follows:
Profile
Landing
Form
Portfolio
Sectioned (pages that simulate multiple pages using section breaks)
Carrd's pages are ideal for any business looking to establish a clean, simple web presence with social links and a contact form. The templates provided are particularly well-suited to the following:
Freelancers
Photographers
Designers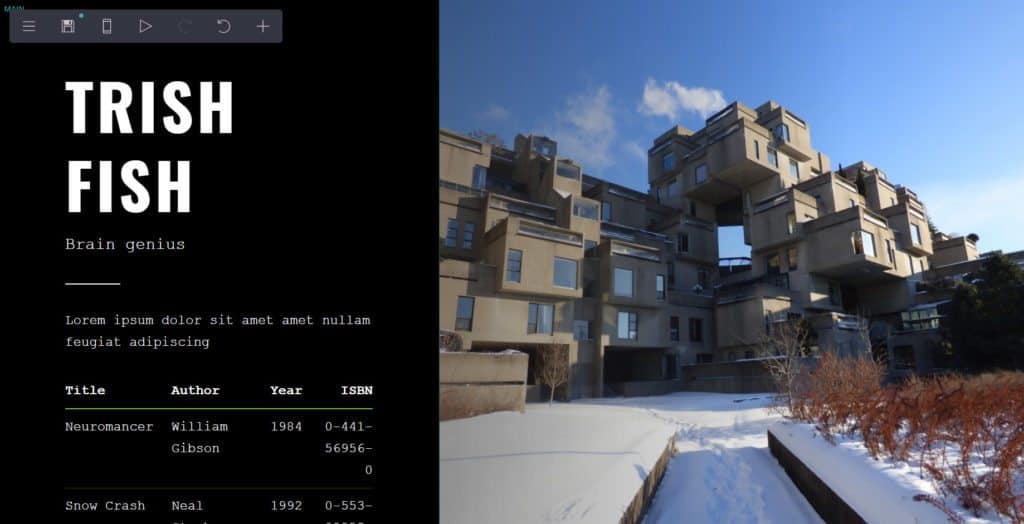 Carrd's one-page templates are great for certain purposes, but online stores, restaurants, hotels, and other businesses requiring a multi-page site (and advanced features such as eCommerce) would be better served by a website builder like Wix or Squarespace.
Carrd Pricing
Carrd's Pro Standard plan is a remarkable value. For just $19 a year ($1.58 a month!), you get a very formidable website builder package. You could easily pay over five times as much to a competitor for what you get with a Pro Standard subscription.
You can freely sample the features of the Pro Plus plan for seven days without entering any payment information. Beyond that, you'll need to spring for one of Carrd's paid plans. Payments are made yearly, and you can cancel your account at any time. Payment is accepted via credit card (Visa, Mastercard, Amex, Discover, JCB, Diner's Club) or PayPal.
Pro Lite
Carrd's Pro Lite plan costs $9/year and includes:
Three sites
.carrd.co URLs or Punycode URLs only
No branding
High-quality images
Large images and videos
No element limit
Pro templates
Video uploads
Slideshows
Site icons
Share images
Pro Standard
Carrd's Pro Standard plan costs $19/year and includes everything in the Pro Lite plan, plus:
Ten sites
Custom domain URLs
Simple forms
Widgets
Embeds
Google Analytics
Meta tags
Pro Plus
Carrd's Pro Plus plan costs $49/year and includes everything in the Pro Standard plan, plus:
25 sites
Advanced forms
Custom templates
Redirects
Password protection
Update frequency
Advanced settings
Download your sites
Extra Costs
Now, for each of these plans, you can get more sites if you pay more for the plan.
Pro Lite costs the following amount when you get:
10 sites: $14/year
25 sites: $29/year
Pro Standard costs the following amount when you get:
25 sites: $39/year
50 sites: $69/year
100 sites: $119/year
250 sites: $219/year
500 sites: $339/year
Pro Plus costs the following amount when you get:
50 sites: $89/year
100 sites: $159/year
250 sites: $299/year
500 sites: $469/year
Ease Of Use
Carrd's website editor is probably the most intuitive and user-friendly of any single-page website builder I've used. The editing model just makes sense — I never got the feeling that I was being forced by the editor to do anything unnaturally.
Once you've chosen your template, you'll notice that simply clicking on the text, images, background, etc., will make all the relevant customization options slide into view from the side of the screen. Rearranging your existing elements is as simple as it can be. Just drag them where you want, and they will neatly slide into place. Additionally, there are undo and redo buttons, which are always helpful, both practically and psychologically. It's easier to make edits when you know your choices are reversible and not set in stone. There's also an Embed option that lets you insert custom code into your site.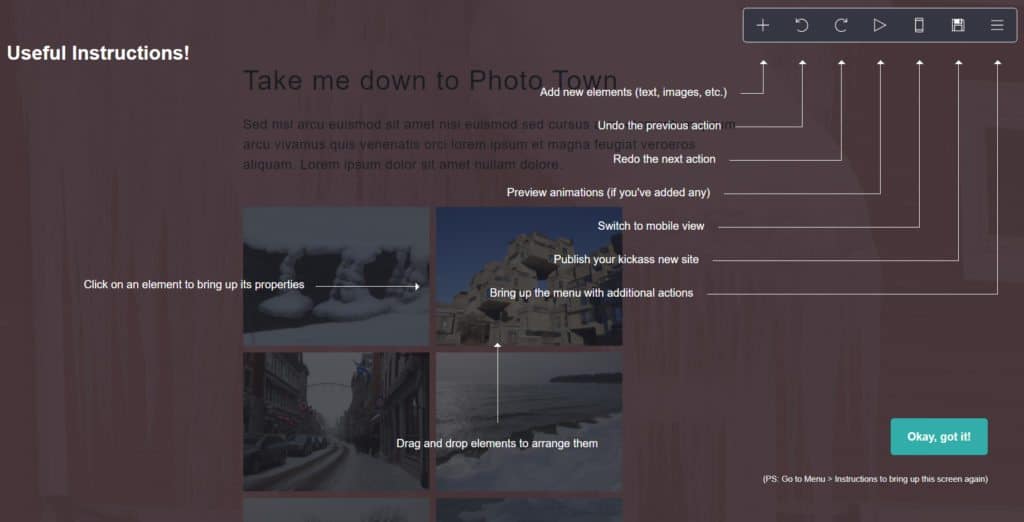 Hardware & Software Requirements
Carrd works with all major web browsers. Just make sure your browser is updated.
Carrd Features
Carrd is light on features. This shouldn't come as a big surprise, given Carrd's focus on landing pages and signup forms. There's no blogging tool, nor is there a real eCommerce system. Let's take a look at the features Carrd does provide:
Dashboard: Carrd's dashboard shows you a preview of each of your websites along with links to your account information, help documentation, support, and a button that starts the process of creating a new site.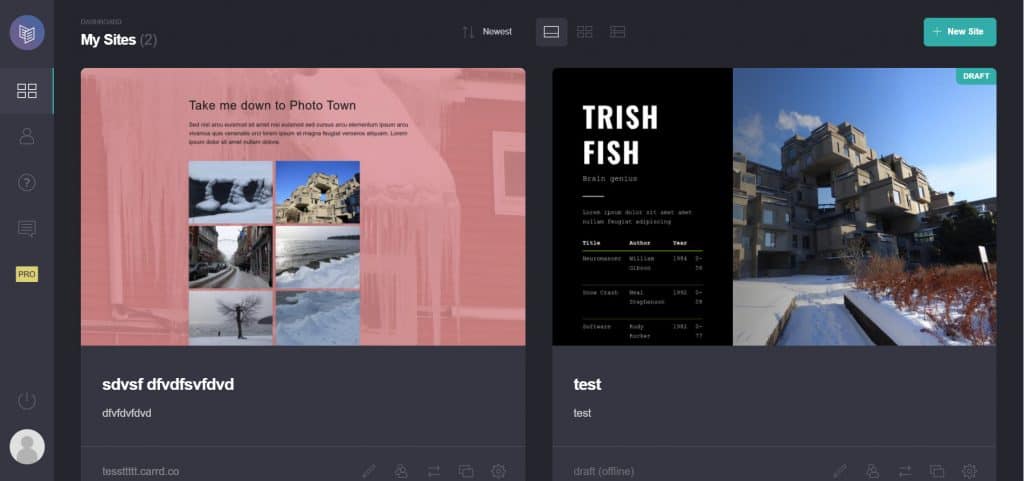 Form Builder: Carrd's form builder is one of Carrd's best features. The standard forms are completely customizable — ideal for a business that wants to stay connected to its clientele. Everything from the fields to the layout to the location where submitted forms will be sent (you can even have them sent to your Zapier account) is within your power to customize. Beyond the standard contact form, you can also connect your site to your Typeform forms. Subscribers can also connect with their Mailchimp accounts to set up their email lists from their Carrd pages. Have a look at our Mailchimp review if you're unfamiliar with the company.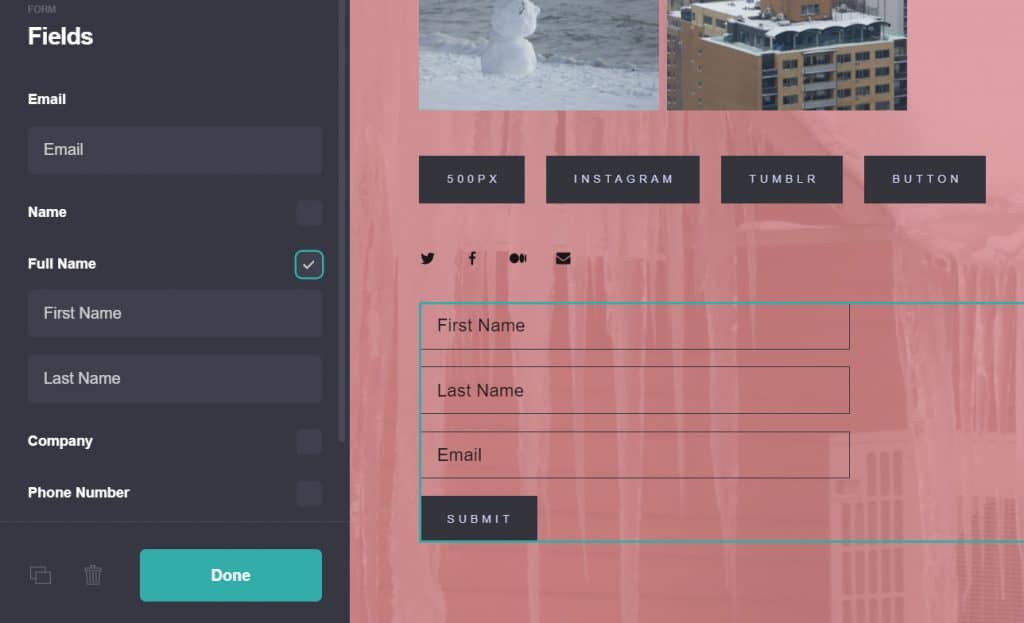 Online Store: Carrd doesn't provide a full-fledged online store, but if you're a paying subscriber, you can add eCommerce buttons that link visitors to your online stores hosted elsewhere. Click the "widget" option under the Add Content button, and you'll be able to add buy buttons that connect to Stripe, PayPal, or Gumroad.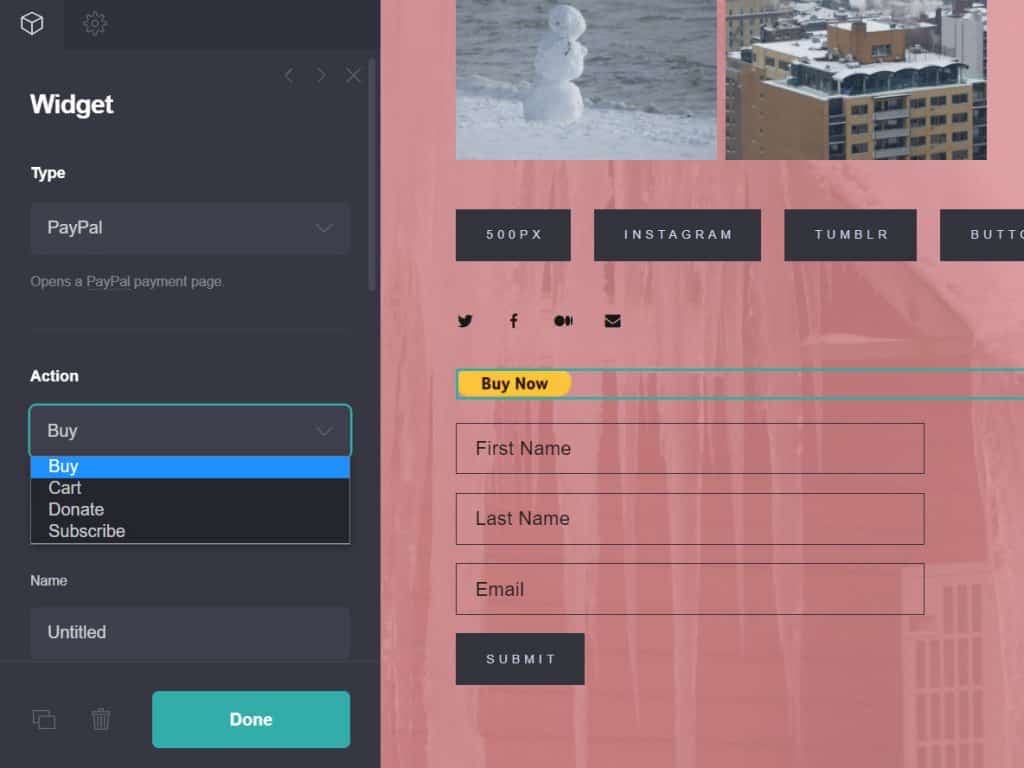 Blog: Carrd doesn't offer any blogging features. If you wanted to build a rudimentary blog-like page with Carrd, you could do so by creating a sectioned site and putting links at the top of your page that link to different sections of text. However, this lack of actual blogging support means you won't get support for multiple authors, tags, comments, scheduled posts, or anything like that.
SEO: As for SEO features, Carrd gives you alt text for your images and support for meta tags.
Reports & Analytics: Carrd integrates with Google Analytics to provide advanced reporting and analytics.
PCI Compliance: SSL security is included with all Carrd sites.
Photo Gallery: Carrd provides a nice customizable photo gallery. It's the kind of feature you're likely to get with any website builder.
Password-Protected Sites: With at least a Pro Plus subscription, you can create password-protected sites.
Carrd Web Design
Carrd themes are all quite simple and stark. This is not surprising, given the kinds of one-page sites Carrd is designed to produce. However, nearly every template is striking and stylish — there are website builders that charge far more than Carrd that will produce far uglier websites.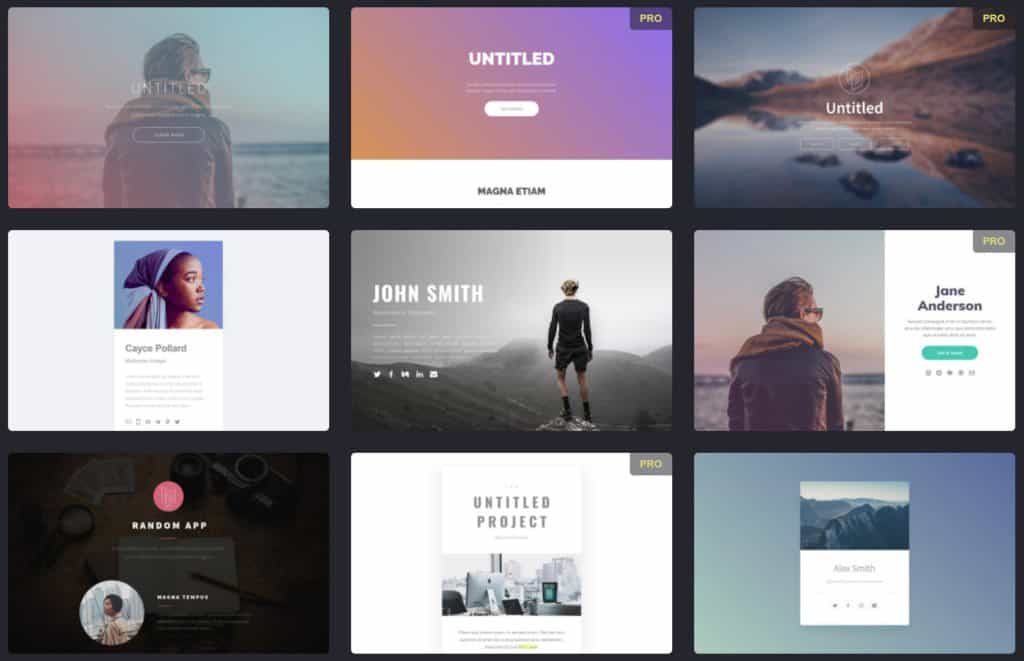 Carrd Customer Service & Support
Email: Direct support is available via email only.
Guides: The online documentation isn't terribly detailed, though considering how well Carrd condenses the website-building experience into the bare essentials, I didn't feel as though it was inadequate.
There's no live chat or phone support, though this is to be expected with an operation this small.
Carrd Reviews
Negative Reviews & Complaints
Carrd is not a high-profile website builder, and, as such, reviews and feedback are hard to come by. The reviews I have found, however, contain very little criticism of Carrd. Considering Carrd's limited ambitions, it's difficult to find any aspect of Carrd that falls short of what it intends to do. These are the complaints I was able to find:
Lack of custom font support
Few customer support options
General lack of features
Positive Reviews & Testimonials
Those who have reviewed Carrd have positively gushed over the platform.
Very inexpensive paid plans
Simple and intuitive editor
Each element has a host of customization options
Carrd Integrations & Add-Ons
Carrd isn't an integration-heavy website builder. You can connect with Google Analytics, add buy buttons from Stripe, PayPal, and Gumroad, and connect with Mailchimp, Zapier, and Typeform. That's about it.
Security
SSL is automatically enabled for all sites published to .carrd.co URLs. For custom domains and subdomains, an SSL certificate is automatically issued once the host records for the site's domain or subdomain are in place and have fully propagated.
Final Verdict
Having reviewed one-page website builders before — Strikingly and SITE123 come to mind — I can say that Carrd is probably my favorite of the bunch. Each aspect of Carrd feels as though it were designed with the end-user in mind. The editor manages to be welcoming and intuitive while also being flexible enough to do just about whatever you want it to do within the limits of the platform.
Obviously, without features such as eCommerce and blogging — and without the ability to create multi-page sites — Carrd isn't the product to use if you need an elaborate, advanced website. However, Carrd is great if you want to take the suggestion implied in the name and create a classy online business card. Just know that you can do a good deal more with the tools given here. For a website builder run, apparently, by just one person, Carrd certainly punches above its weight. I hereby tip my cap to the enigmatic AJ!
---
We've done in-depth research on each and confidently recommend them.
We've done in-depth research on each and confidently recommend them.
To learn more about how we score our reviews, see our
Website Builders Rating Criteria
.