Contributor

UPDATED
Advertiser Disclosure: Our unbiased reviews and content are supported in part by
affiliate partnerships
, and we adhere to strict
guidelines
to preserve editorial integrity.
Selz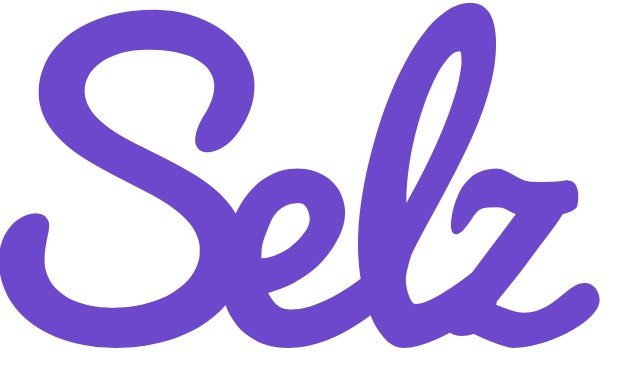 Pros
Suitable for startups

Easy to use

Attractive templates

Low monthly cost
Cons
Limited features

Not scalable
Overview
Selz is the magic wand of online sales platforms. With a flick of the wrist (and a click of the mouse) you can set up a store anywhere you want using a variety of options, all of them relatively quick and easy. The first option is to incorporate a store on your previously established website or WordPress blog; you can embed buy buttons on your existing site as well, or simply sell directly on your social media pages. If you just need a place to begin, you can set up an entire store on Selz's web server.
Selz is designed to fit the needs of most small businesses and works well for artists, writers, musicians, and startups. You can start selling without ever learning the difference between HTML and CSS — ease of use is really Selz's strongest feature.
In fact, at times Selz is simple to a fault. Growing merchants may find the available features somewhat limiting, so if you're planning on expanding your business significantly in the future, you should look elsewhere. However, if you're just looking for a way to finally sell the work or products you're so proud of without fiddling around with source code, Selz is a good place to start.
Keep reading to find out more about Selz's features, pricing, and design.
Compare Our Top-Rated eCommerce Software
Pricing
Selz bills their plans on a monthly basis, no contracts required. However, you can get a discount on your plan if you pay for a whole year at a time. There are four plans to choose from and all offer a different set of features. Here's a brief summary of Selz's pricing:
Free: $0/Month
Selz offers but doesn't advertise a free plan that allows basic functions with limited support. You can list a maximum of five products, and you'll pay a 2% transaction fee on every sale. Support options are limited to FounderU, email, and the online support center.
Basic: $29/Month ($26/Month On Annual Plan)
The Basic plan offers unlimited products, storage, bandwidth, and customers, with two staff accounts. You'll have access to 24/7 support, including live chat and an account manager, and you can set up multichannel selling, view customer analytics, remove Selz branding from your site, and receive a free SSL certificate. PayPal payments is the default gateway, and you'll pay a 2% transaction fee unless you sign up for and use Selz Pay.
Standard: $59/Month ($53/Month On Annual Plan)
In addition to the benefits of the Basic plan, you'll gain more when you upgrade to the Standard plan. That includes access to five staff accounts, Stripe payments, tax invoices, custom receipts and fields, and license keys. Transaction fees drop to 1%, unless you use Selz Pay to avoid paying transaction fees to Selz entirely. Support options upgrade to priority level.
Advanced: $199/Month ($179/Month On Annual Plan)
At the Advanced plan level, you can add up to 15 staff accounts. In addition to all the features of the Standard plan, you can access real-time shipping rates and connect with third-party shipping label providers. Selz transaction fees drop to 0.5%.
Selz offers an enterprise level plan, called Do It For Me, that delivers your very own team of marketing, design, and eCommerce experts to create your store, set up your sales channels, and integrate your systems. Prices start at $599 per month.
While still in line with industry standards, these prices have increased significantly over the past two years. A low price was previously one of Selz's biggest selling points. However, since that's no longer the case, Selz's transaction fees become more problematic. You'll pay transaction fees every plan you choose unless you use Selz Pay for all your payment processing. Transaction fees have been largely eliminated from most eCommerce platforms, and it's frustrating to see it still in play here. I'll be keeping my eye on Selz to see if they eliminate those fees in the future.
Compare Our Top-Rated eCommerce Software
Web-Hosted Or Licensed
Selz is web-hosted. Add Selz to any website as a buy button, widget, or WordPress plugin. Additionally, you can create a Selz store on Selz.com's web servers.
Specific Size Of Business
Selz is best for start-ups and small businesses. The platform's simplicity makes it easy to manage, but it also limits substantial growth.
Hardware & Software Requirements
You'll just need a computer, a strong internet connection, and an up-to-date web browser.
Ease Of Use
Selz offers a free 14-day trial, so you can test out the platform before buying (no commitment or credit card number required). If you're seriously considering Selz for your online store, I strongly recommend you take advantage of that trial before paying for a plan. Keep in mind that your free trial includes a few advanced features (like PayPal payment options and real-time shipping) that are only available on higher level plans.
When you go to create an account, Selz will present you with multiple selling options. I chose to build a new site on Selz's servers, but you can also embed their code into your own pre-established site or simply add buy buttons to your social media sites.
From there, you just let Selz know the types of items you typically sell, and wham-bam! You have a store.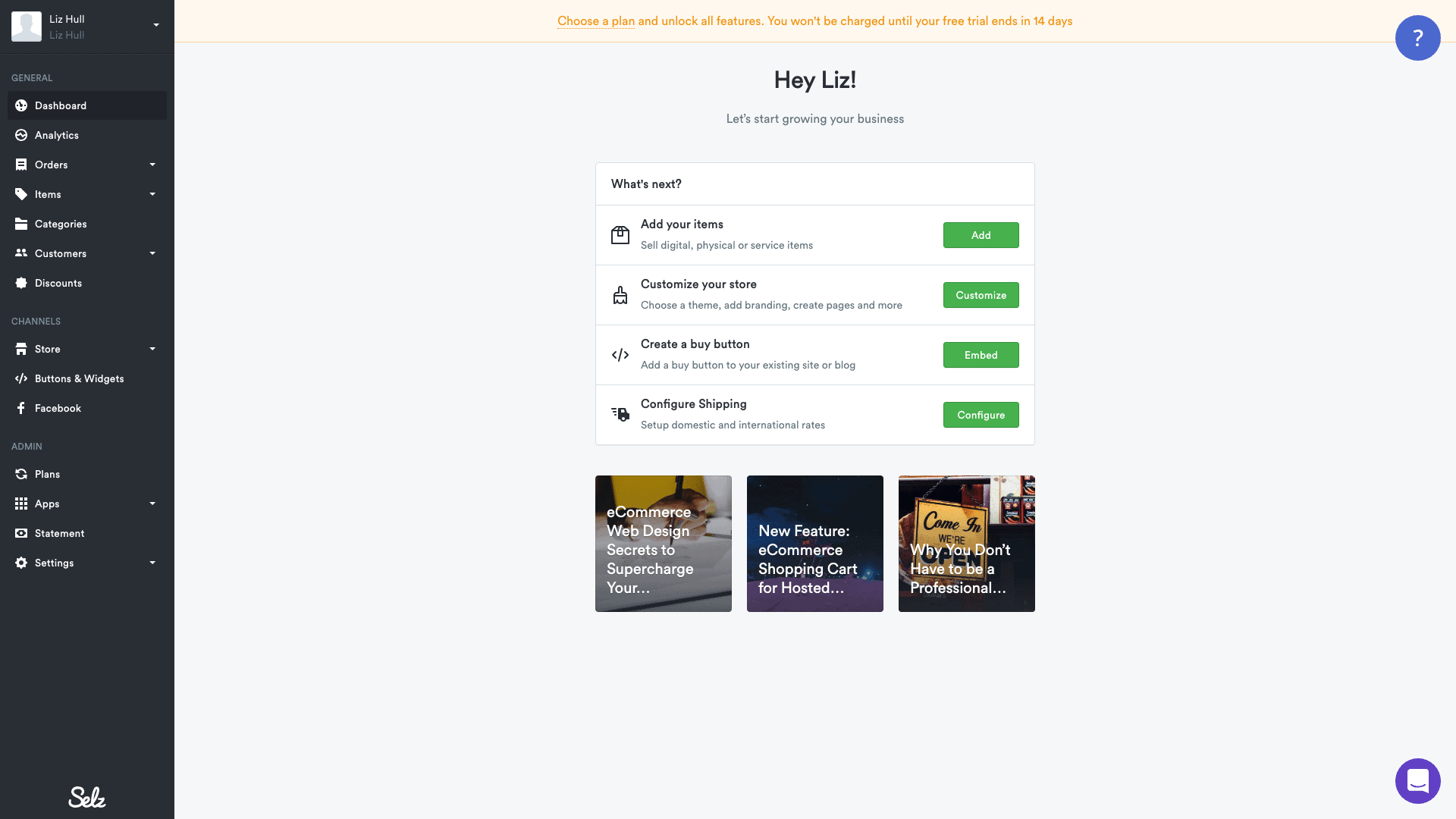 Selz immediately presented me with the option of signing up for a free 15-minute setup session. I could also book a free online training session, which seems to be a guided demo. Fortunately, it was easy to figure out the basics of setting up a store, even without extra help.
I created my first product in a few seconds flat. From there, I had the option to add categories and variants and set up a search engine-friendly meta description, page title, and URL.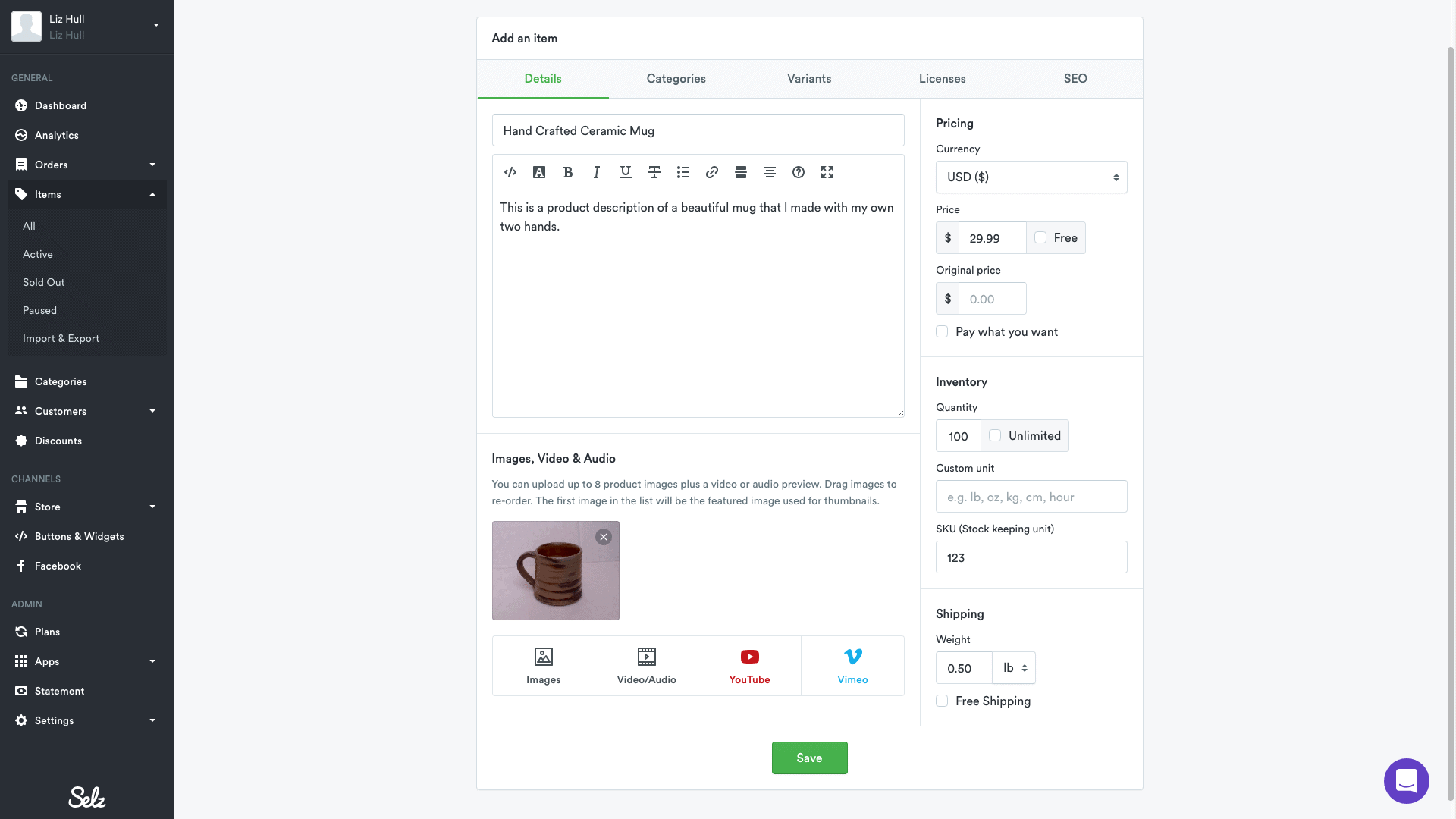 It was similarly easy to create a new discount code, although I was a little disappointed with the limited discount options. I always appreciate when store builders let you set up hyper-specific discounts (X%-off Y item if you spend over Z dollars). Selz only allows you to apply a discount to one of the following: all orders, all orders over X amount, a specific category, or a specific item. It isn't a bad set of options; I just like to have a bit more freedom.
A quick look into your Settings page reveals that Selz now has real-time shipping options available on the Advanced plan. Selz also offers more basic shipping features for Standard and Basic Plans.
Customizing your storefront is also dummy-proof (though a little simplistic). More on this in the Web Design section below.
On the whole, Selz does a great job making eCommerce accessible to the technologically disinclined. If the only reason you haven't begun selling online is that you don't think you can handle the web design end of things, give Selz a trial run. You'll be pleasantly surprised by what you can do.
Features
Each Selz pricing plan comes with a progressively larger feature set. Some features are available only at higher plans. Here are a few of the features you'll find with Selz:
Multi-Channel Selling:

Set up shop wherever you have an online presence, whether that's a website, a blog, or on social media.

Products: Customers like to know what they're buying. Selz allows up to 25 product images plus a video or audio preview, so you can give them a good idea before they purchase.
Sell Internationally: Don't let international boundaries limit your selling. Selz allows you to set prices and take payment in more than 100 different currencies, and you can be paid in U.S. dollars, euros and 18 other currencies.
Sell Physical & Digital Products: Selz has lots of features available to make selling digital products easier and more secure. You can sell your digital products as downloads or for limited-time streaming. Use license keys to protect your intellectual property.
Checkout: Set your account to calculate US sales tax and EU VAT tax automatically. And you can c

onnect with a variety of carriers to let customers automatically calculate shipping rates for their locations.

Pay What You Want: A PWYW feature lets musicians and artists sell their original work in exchange for patron donations. You can set a minimum price for your work.
Discounts & Coupons: Create unique coupon codes that apply to specific categories, products, and price ranges. Free shipping, clearance items, and bulk purchases are all available.
Abandoned Cart Recovery: Set up your platform to automatically email customers when they leave your site without purchasing the items in their carts.
SEO Tools : Write product and category meta tags, titles and URLs. Selz is integrated with Google Smart Shopping.
View Reports: Track your sales and traffic, including geolocation, from your admin. Selz integrates with Google Analytics and Bing Analytics.
Web Design
All of the paid Selz accounts come with 26 different themes to choose from. Each theme is elegant and image focused. I am pleased that every option available is fully mobile responsive and free!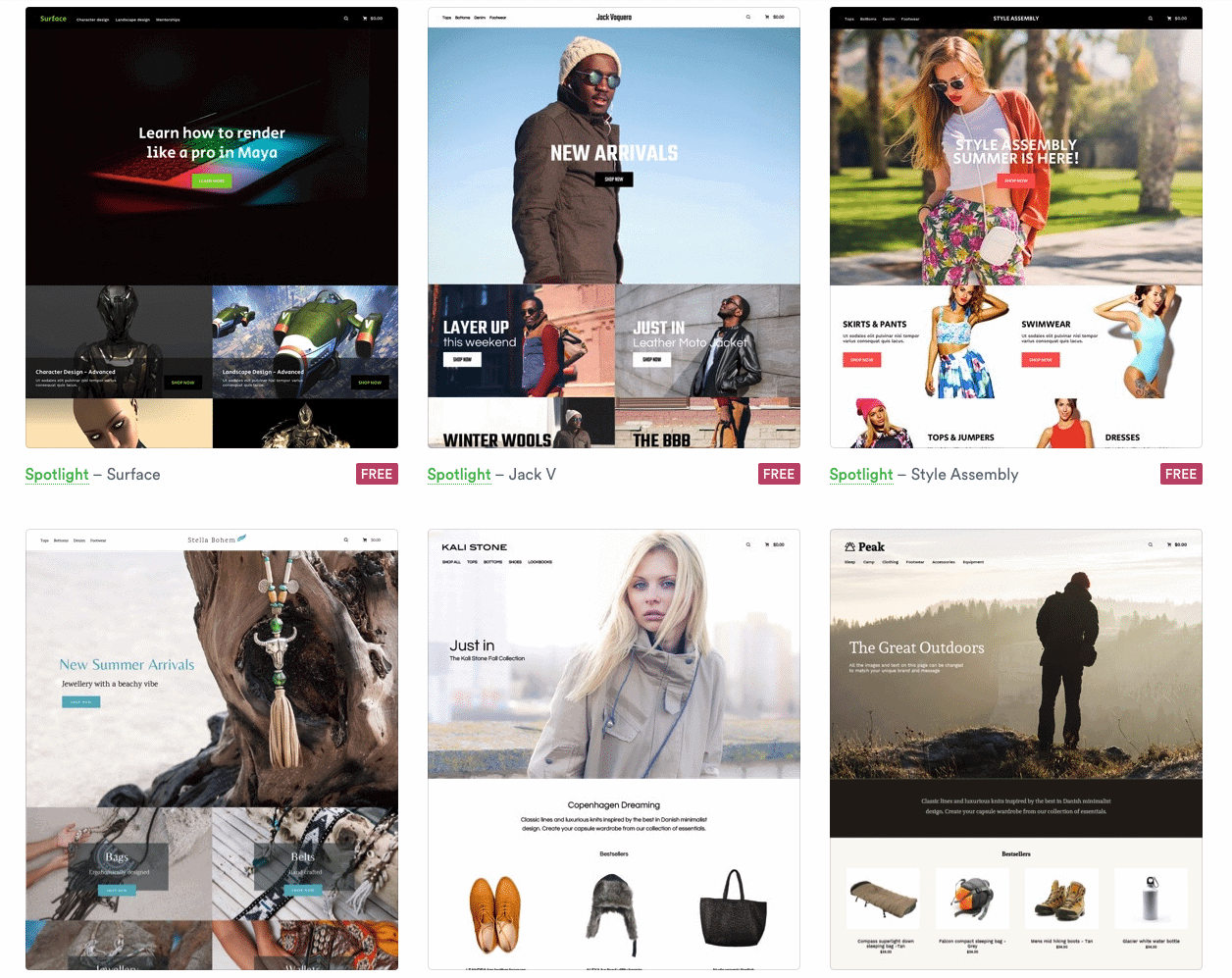 You can go about customizing your template a couple of ways. If you know your way around web design, you can try making changes in the source code via Selz's HTML and CSS editors. Or, if your online abilities are limited to more basic operations (like logging into email and navigating Facebook), you can take advantage of Selz's drag-and-drop style editor.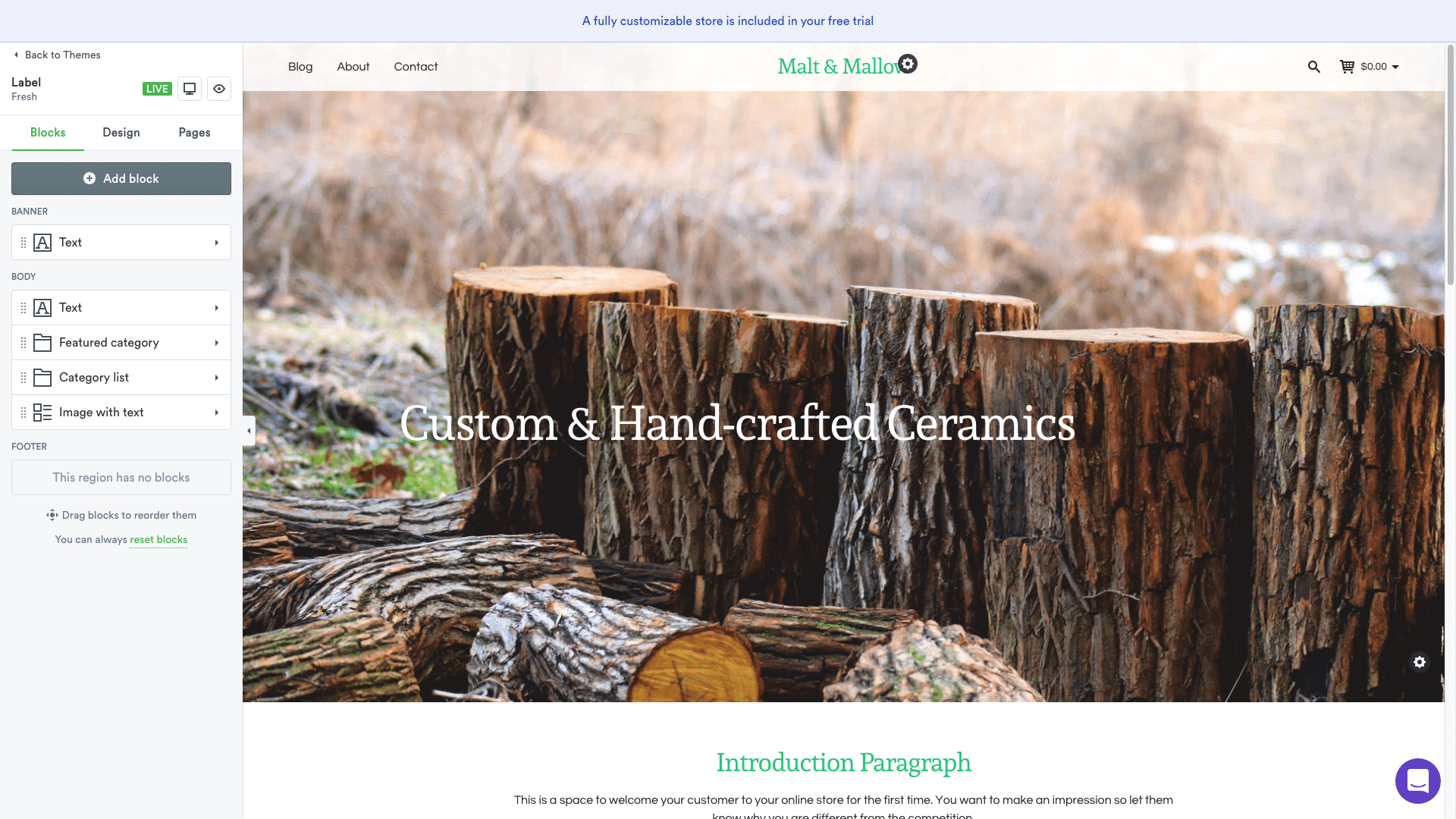 Using the drag-and-drop editor, you can change colors and fonts and alter aspects of your header and footer. You can also add new elements to your page and update content from your storefront view.
While Selz's drag-and-drop tools are great for beginning merchants, they do not allow you to make major changes to your website. If you want to make any large-scale changes, you're going to have to figure out the code or hire someone to do that for you.
Integrations & Add-Ons
As a WordPress plug-in, Selz can serve as an add-on itself. In addition, there are a few services that integrate well with Selz, including Zapier, which allows access to more than 2,000 apps to automate functions and boost productivity. If you prefer adding apps the apps you need one by one, the Selz App Store includes popular options in useful categories. The following is just a sampling of what's available; check in the Selz App Store for a full listing.
For marketing functions, you can add ConvertKit, Campaign Monitor, Drip, Active Campaign, Pushover, GetResponse, Google, Mad Mimi, and MailChimp. Increase your site's accounting functionality by adding Xero, Quickbooks, Google Sheets, or Freshbooks.
Other familiar names you'll encounter in the App Store include Salesforce, Insightly, ShipStation, Disqus, Yotpo, and Fomo. Find them all in the app store. Some come with a free trial, while you'll need to pay up front for others.
Payment Processing
As far as payment processors go, Selz gives you three options. (Remember, we're going for simplicity here.)
You can choose to use Selz Pay if you don't want to worry about connecting a payment gateway to your account. Selz Pay charges a sliding scale of 2.9% + $0.30 per transaction to 2.7% + $0.30 per transaction, which is on the upper end of normal for a payment processor. Selz Pay is available to merchants in certain countries.
Alternatively, you can integrate PayPal (available on the Standard or Pro plan), which is a good idea in general. Customers often feel more comfortable checking out with a well-recognized and trusted payment gateway. PayPal comes with its own transaction fees which vary depending on your plan. And if you use a gateway other than Selz Pay, you'll pay additional fees ranging from 2% to 0.5%, depending on your Selz plan.
2Checkout is also available to Selz merchants in select countries, and it has its own comparable transaction fees.
Want a better payment processing alternative for eCommerce? Check out Square.
Webstore
Integrations
Developers

Build Your Webstore Quickly & Easily

Integrate With Popular eCommerce Software

Developer-Friendly Tools For Customization

Highlights:

No coding required
Free personalized URL
Premade customizable themes
No hosting fees
Manage from your Dashboard
Mobile-ready storefront
Integrate with your in-person store

Integrate with:

WooCommerce
BigCommerce
Ecwid
3dcart
OpenCart
Zen Cart
Weebly
WordPress.com
Wix
+More

Highlights:

API for custom solutions
In-person solutions
Online solutions
Card reader SDK
Customer management solutions
PCI and EMV compliance
End-to-end encryption
Dispute management
Fraud detection


Instant Account Setup

Fast Funding

2.90% + $0.30 for online sales

Instant Account Setup

Fast Funding

2.90% + $0.30 for online sales

Instant Account Setup

Fast Funding

2.90% + $0.30 for online sales
Customer Service & Technical Support
Customer support is available via email, and all merchants on paid plans have access to 24/7 live chat support. The Standard and Advanced plans come with "priority support," which means faster response times.
There isn't any phone service available; however, if you need further assistance, you can spring for Selz's Expert Services. Those services can include anything from a guided training session or help setting up a feature all the way up to custom development of your website.
There are also tutorial videos and a knowledge base to help you out while you're waiting for a response to your inquiry. Here are a few of Selz's customer support avenues:
Email Support
Help Center
Video Tutorials
Selz Blog "FounderU"
When I probed Selz's live chat, I received a response to my questions in a couple of minutes. My web ticket received a response in under an hour!
Overall, I was satisfied with the support I received. I wish phone support were available, but the other support avenues I tested were strong.
User Reviews
I've spent hours researching Selz and reading user reviews. While there are lots of positive reviews online, I didn't find many negative reviews. Actually, people went out of their way to mention that they didn't want to mention anything negative.
Negative Reviews & Complaints
While I saw isolated complaints about various parts of the Selz experience, no clear patterns emerged. Here are the primary negatives that I, as a reviewer, see with Selz:
Transaction Fees: It's a pain that Selz takes a cut of your sales, beyond just payment processing fees.
Not Good For Expanding: Selz is wonderful for merchants who sell a few products to a few customers. Once you get into more complicated selling features (complex discount features, multiple location shipping, multiple payment gateway options), you're going to experience some serious limitations. If you think you're going to be expanding anytime soon, you might look into a different platform that will do a better job of growing with you. I recommend Shopify to most merchants, but Ecwid would also serve you well if you're looking for a WordPress plug-in.
Compare Our Top-Rated eCommerce Software
Positive Reviews & Testimonials
Over the past year, I've seen a flood of positive user comments across software review sites (including this very page!). Here's what Selz customers like best about the software:
Easy To Use: Selz set out to make online selling easy, and they have accomplished just that. This software is really one of the simplest ways to get selling on any website.
Reasonably Priced: When you're just starting out, you don't want to spring for expensive licensed software. Even considering the recent price hikes on Selz plans, with web hosting included Selz's prices are reasonable.
Plugs Into Other Sites: If you already have a successful blog or website up and running, you don't have to worry about redirecting your traffic to make sales. Just plug Selz into your current site.
Friendly & Responsive Customer Service: Selz representatives get back to you quickly, and they seem to genuinely want to help.
Great For Selling Digitally: You have lots of options for selling digitally, including secure downloading features and PWYW (Pay What You Want) options.
Security
According to Selz's website, Selz uses Stripe, 2Checkout, and PayPal to process payments. Selz Pay's in-house gateway, Selz Pay, is powered by Stripe. Selz uses payment gateways so that credit card information is never stored on your site, which keeps your customers' information safe.
Furthermore, Selz stores are all SSL secure and PCI compliant.
Final Verdict
In summary, Selz is a great option for a specific group of merchants. It's ideal for sellers who want to monetize an already established site or for those who are starting from scratch. It's even better for merchants who deal primarily with digital products (like music and eBooks).
That said, Selz is not the right platform for merchants who plan to grow. Its limited features set may be excellent in terms of ease of use, but it does not allow enough customization for substantial expansion.
If you think your business could benefit from a Selz store, go ahead and sign up for that Free 14-Day Trial and 15-minute setup session. You'll soon find out just how easy it is to sell with Selz.
Compare Our Top-Rated eCommerce Software
---
Featured Free eCommerce Plan 🔥
Square Online


---
Get a free website builder, online ordering, gift cards, in-store pick-up options, and dozens of other features for eCommerce and hybrid businesses. Free options available. Learn more from Square.
Featured Free eCommerce Plan 🔥
Square Online


---
Get a free website builder, online ordering, gift cards, in-store pick-up options, and dozens of other features for eCommerce and hybrid businesses. Free options available. Learn more from Square.
To learn more about how we score our reviews, see our
eCommerce Software Rating Criteria
.