Expert Analyst & Reviewer

UPDATED
Advertiser Disclosure: Our unbiased reviews and content are supported in part by
affiliate partnerships
, and we adhere to strict
guidelines
to preserve editorial integrity.
Pros
Mobile responsive
Includes iOS/Android apps
Cons
Non-intuitive, poorly-designed editor
Buggy
Limited customer support
No free trial
No integrations
The Grid Overview
"Wouldn't it be better if websites just made themselves?" — The Grid's promo video
Ever since they announced their lofty ambitions in 2014, the team behind The Grid has been causing a stir in the website builder industry. Founded by Dan Tocchini and based in San Francisco, The Grid has, from its inception, staked its existence on forsaking the drag-and-drop DIY website builder model, instead using artificial intelligence to create websites for you.
Jerry Yang, one of The Grid's top early investors, described the service like so:
"The Grid's cloud-based artificial intelligence will reinvent web design by eliminating the mundane, time-consuming parts of web development and creating elegant websites in a fraction of the time for a fraction of the cost."
Initially slated for release in early 2015, The Grid didn't officially see the light of day until mid-2016. This caused a fair amount of consternation among the company's "founding members," who paid $96 in 2014 with the expectation that they would have access to the product within the year (the word "vaporware" was tossed around). Amidst criticism from the web design community that The Grid fell short of what its marketing blitz promised, The Grid is now available to the public, though it's still officially in beta.
Let's see how close The Grid comes to fulfilling its utopian vision of a world where benevolent robots create our websites for us, leaving us with more free time to pursue other interests, such as working until we die.
Pricing
The Grid offers three subscription levels: Starter, Pro, and Biz. The only differences between the plans are the prices and the number of sites you can commission the AI to create.
Starter
Pro
Biz
All plans feature 2 calls-to-action per site and custom domain support. Hosting, storage, and bandwidth are included.
Payments must be made via credit card.
Web-hosted or Licensed
The Grid is web-hosted.
Hardware/Software Requirements
The desktop version of The Grid is compatible with Chrome, Firefox, and Safari, with Microsoft Edge support promised in the near future. The Grid is also available in app form for Apple and Android devices.
Business Types Supported
Most website builders let you choose from an assortment of different templates, categorized by business type. However, as we've established, The Grid isn't a website builder in the traditional sense and thus does not make use of templates. Ultimately, The Grid's creations are best-suited as photography portfolios and visual blogs.
Ease of Use
The Grid has made a lot of waves and generated a lot of hype (and skepticism) with its long-touted AI-based automatic website creation. In particular, The Gird has touted its advanced algorithm for choosing just the right color palette for you, based on the image you send it (you can also choose a color palette for yourself). The Grid describes this aspect of its creator as such:
Color is the most mystical & relative of the creative mediums. A "simple" 5 color palette can be applied to your site in more than 200,000 unique ways. In less time than it takes you to read this sentence, our algorithms analyzes your media, sifting through millions of unique color combinations searching for the perfect application of your palette.
The Grid's team of automats will sort through millions of shades of fuchsia to select the one that, according to science, best represents your brand. With my red-green colorblindness, I can't say I'm the best judge of color fidelity, but the process seemed to work as intended.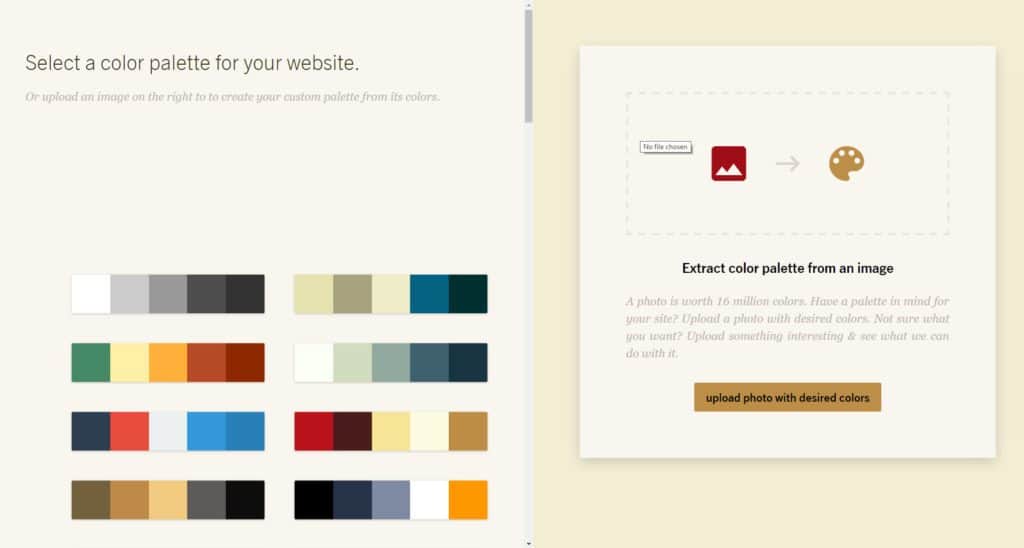 It's only when you're past the initial palette selection stage that things get confusing. Once you're through to the heart of the creator, you'll land at what appears to be a preview of your site. It's not – it's just the dashboard. A dashboard that appears to have been designed to be as counterintuitive and glitchy as possible.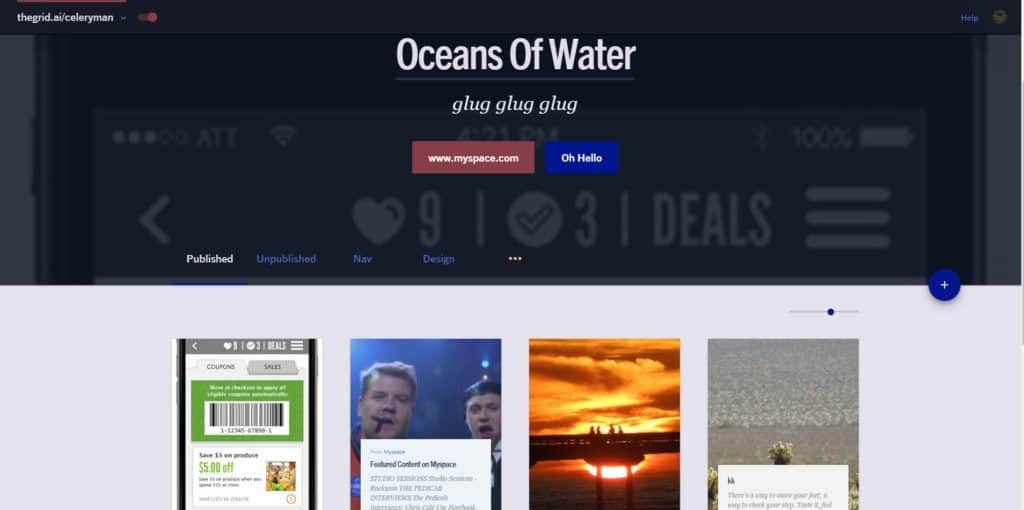 For example, I assumed the plus button on the right of the editor would be an easy way to deposit content onto my site. However, when I used the options lurking under the button to upload an image, most of the time, the image seemed to disappear into the ether. Sometimes it would eventually appear under "Unpublished" as an unpublished post. Often, though, nothing would happen.
No matter what I wanted to do, I needed to consult the Help section in order to figure out how to do it. Here we come to the contradiction inherent in the currently existing version of The Grid. Its entire reason for existing is to automatically create websites for its users (and thereby be the easiest possible way to build an online presence). Unfortunately, the non-tech-savvy user (the kind The Grid is trying to attract, presumably) is going to have a hell of a time just trying to populate their site with content. Something intended to be seamless and intuitive shouldn't send its users scrambling for the FAQ whenever they want to do something!
On their home page, The Grid admits their platform is glitchy, and that "Couple years from now, and our buggy little baby will… You'll just have to find out." Even if we take them at their word, it's hard to ask people to plop down $100 or more for a product that promises, in hazy, imprecise language, to be better in a few years.

But, I digress. Once you figure how just how to feed content to the AI that creates your website, you'll find that content can only be added in blocks, or "posts" as The Grid refers to them. These posts are spaces where you can insert text, images, and links. The Grid's AI then decides how to display your posts for maximum effect. While (as I'll explain) it's hard to do much more with your posts than display images and text, the websites created with what you input do tend to be fairly attractive. You could put together a decent photography blog with what The Grid gives you.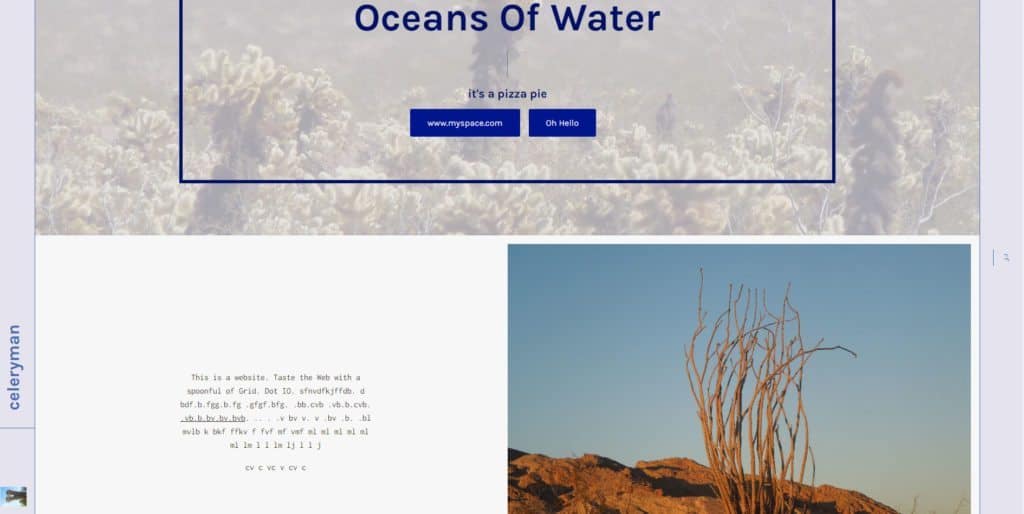 Another thing: Remember how The Grid promises two "calls-to-action" per site? Turns out, a "call-to-action" is just a big link button. Promoting link buttons as if they are some sort of next-generation design wizardry, and not something that has been a part of website building for decades, is in keeping with The Grid's predilection for hype. To think that we are allowed not one, but TWO of them!
Features
As I said, when adding content to your website, you'll need to do it in the context of constructing a post. Text and images are added easily enough, though if you're hoping to be able to easily add features along the lines of what those old stodgy website builders give you, prepare yourself for disappointment. The only native features you can add to your posts are maps, code blocks, HTML blocks, and those magical "call-to-action" buttons.
If you want to actually add anything more advanced to your site, like eCommerce, you'll have to do it by using your existing PayPal (or Etsy, or Shopify, etc) account and using embed codes to display products from your store. If you want to add a contact form, you'll have to go through a similar process to add a contact form via your Wufoo account.
This brings us again to the central contradiction of The Grid. I shouldn't have to mess with third-party accounts and embed codes to put a contact form up on my website. The vast majority of website builders — those lumbering dinosaurs just waiting to be disrupted by automated web design — allow you to set up such things in-house with a minimum of fuss. It's hard to fathom the fact that The Grid ostensibly exists to make website creation quicker, easier, and more painless, but in reality directs you to set up a bunch of accounts with third-party sites just to add basic features. We can chalk it up to The Grid's youth and immaturity, but as it stands, you'll have to put in a lot of extra work to create anything beyond a simple portfolio site or photo blog. And "extra work" was exactly what The Grid was supposed to make unnecessary.
Web Design and Editing
Templates: If you've been paying attention, you'll know there are no templates involved in The Grid's automated website creation. What The Grid ultimately ends up producing ranges from mediocre to decent. Thankfully, you can make the system produce new designs for you until it gives you one you like.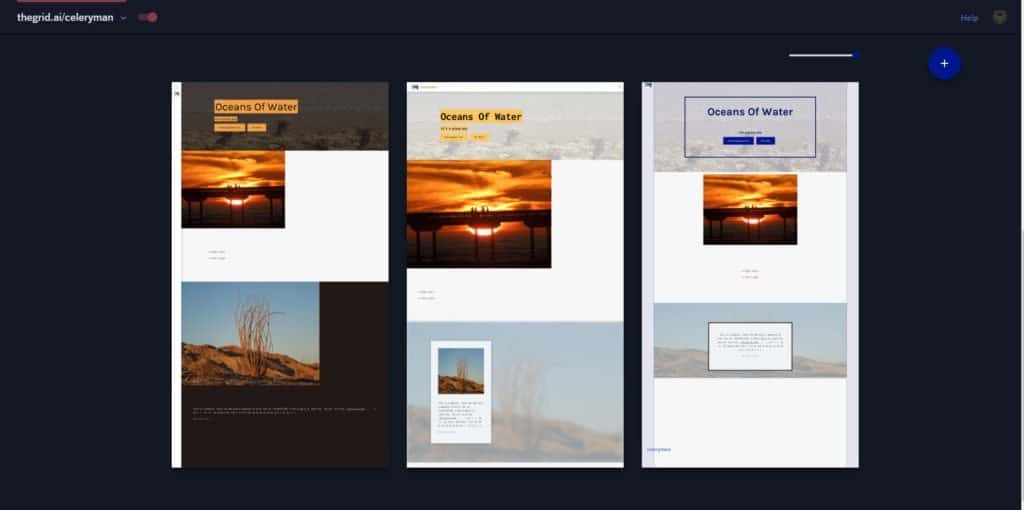 Mobile Editor: One advantage The Grid has over many website builders is the fact that there's a Grid app available for both iPhone and Android devices. It's a nice little tool, and if it were working properly, would be a quick and simple way to add posts to your website. Unfortunately, it seems to be just as glitchy as its desktop counterpart. Still, it must be said: The Grid's websites are ideal for mobile consumption. I liked the look of my website better on my iPhone than on my computer.
Integrations and AddOns
Though The Grid lets you connect with outside services like PayPal and Wufoo via embed codes and the like, native integrations are scant. You can add a map from Mapbox, and through the dashboard, you can connect to your Google Analytics account.
Customer Support
At this stage in its development, The Grid's customer service is rather bare-bones. There's a knowledge base and an email contact form. No live chat, no phone support, and no user forums. However, a Grid representative did answer my email query within half a day, and was helpful.
Negative Reviews and Complaints
The major website builder review sites haven't had much to say yet about The Grid, but of those who have been following The Grid's development, many have been less than kind. Web designers roundly mocked some of the first sites published by The Grid. One designer's reaction was "Well. We're keeping our jobs" while another opined "From these samples i can see grid.io carving out a niche for online ransom notes." Zing!
One "founding member" devoted a 68 minute video to explaining why The Grid sucks (his words), describing the interface as "one of the most primitive, rustic, crappy interfaces I've ever seen for any type of online software since GeoCities."
Positive Reviews and Testimonials
Some of the more recent impressions of The Grid's websites have been more positive. One user on Quora who had been critical of The Grid's development revised his appraisal after The Grid's official release:
"I have yet to develop my own website on this platform, but I have to say that I have been pleasently [sic] surprised by the quality of some of the websites I have seen. They're not exactly cutting edge but they are aesthetically quite pleasant. I hope they continue to develop the platform because it's looking pretty good."
Final Verdict
As the developers readily admit, The Grid is a work in progress. You can attribute many of its issues to this simple fact. Nonetheless, The Grid is asking for your money in exchange for its services, and at the moment, those services don't live up to the lofty vision set forth by the company. The Grid promised a whole new paradigm of AI-fueled website creation, but what it delivers now is essentially a less user-friendly, more flimsily-featured version of Impress.ly – an automatic website creator with a less braggadocious marketing department.
I've kept my eye on The Grid, and I'm sad to say that no progress has been made towards getting the service to work properly. It remains a buggy, laggy, glitchy mess that provides a poor user experience even on the odd occasion when it does work. The Grid's unique approach to website creation is one that still holds a good deal of potential, but, alas, it's just not there yet. A product that purports to make website building easy, creative, and fun instead delivers a product that fails on all three counts. You'll have a far better experience building a website with a traditional website builder than you will with The Grid.
Two stars.
---
We've done in-depth research on each and confidently recommend them.
We've done in-depth research on each and confidently recommend them.
To learn more about how we score our reviews, see our
Website Builders Rating Criteria
.