Expert Analyst & Reviewer

Updated on:
Advertiser Disclosure: Our unbiased reviews and content are supported in part by
affiliate partnerships
, and we adhere to strict
guidelines
to preserve editorial integrity.
WooCommerce

Pros
Free
Customizable
Numerous integrations
Scalable
Cons
Limited customer support
Add-ons are often necessary
Steep learning curve
WooCommerce Overview
WooCommerce is a free, open-source shopping cart plugin that works expressly with WordPress sites. Since its founding in September of 2001, the WooCommerce plugin has been downloaded over 123 million times.
So you could say people like it. But is it the eCommerce solution you've been looking for? This in-depth WooCommerce review can help you find out.
First, a few basics. Although WooCommerce is free to download, it is not free to operate a WooCommerce store. You can expect to spend a nice sum on web hosting and the extensions you'll need to run advanced features. Regardless, it's clear why so many merchants trust WooCommerce with their online store; WooCommerce offers the features you need at a low price, and it integrates into a platform you're probably already using.
Whether this is your first look at WooCommerce reviews or another step in your decision-making process, you're in the right place. Read on to see if WooCommerce is the shopping cart for your online store.
WooCommerce Pricing
WooCommerce pricing could not be more simple. As an open-source WordPress plugin, it's completely free to download. WooCommerce does not charge transaction fees, and it doesn't regulate bandwidth or storage. Your site's hosting will do that.
When discussing WooCommerce pricing, however, it's important to make clear that using WooCommerce isn't free of all expenses. First, to maintain a WooCommerce site, you must purchase hosting for your WordPress site.
And to get the best use out of the platform, you'll have to spring for various add-ons and extensions, which may range in price from free to hundreds of dollars. However, because many of these extensions are one-time purchases, you'll probably come out paying slightly less than you would with some other popular options, such as Shopify.
Cloud-Based Or Locally-Installed
WooCommerce is a free WordPress plugin that can be used with any WordPress account. You are responsible for finding hosting for your WordPress site.
Hardware & Software Requirements
WooCommerce integrates into any WordPress site, although it works best when it's paired with a WooTheme (more on this in the Web Design section of this review). You should maintain a strong internet connection and an updated browser.
Server recommendations are as follows:
PHP 7.0 or greater recommended
MySQL 5.6 or greater
WordPress version 4.4 or greater
WP Memory limit of 128MB or greater
HTTPS support
You'll also need to meet WordPress's minimum requirements, which are nearly the same:
Apache or Nginx web server
PHP version 7.3 or greater
MySQL version 5.6 or greater OR MariaDB version 10.1 or greater
HTTPS support
WooCommerce also offers mobile apps for Android (5.0 and up) and iOS (13.0 and up). You can use these mobile apps to manage orders, get sales notifications, and view your site's stats from anywhere.
Specific Size Of Business
WooCommerce is great for any size company, from small to large. You should note, however, that if you're expecting lots of traffic or plan to add thousands of products, you'll need to secure hosting that can keep up with your bandwidth usage.
Ease Of Use
WooCommerce works seamlessly with WordPress, which is great for merchants already familiar with the über-popular blogging platform. In fact, all WooCommerce users must have a WordPress account to log in to the platform.
WooCommerce connects to your WordPress platform like any other WordPress plugin. Just click "Add New" on the plugins page and search for WooCommerce. Then, click "Install" and "Activate."
Sounds simple, right? It is.
From there, a setup wizard will take you through the steps of getting started with WooCommerce.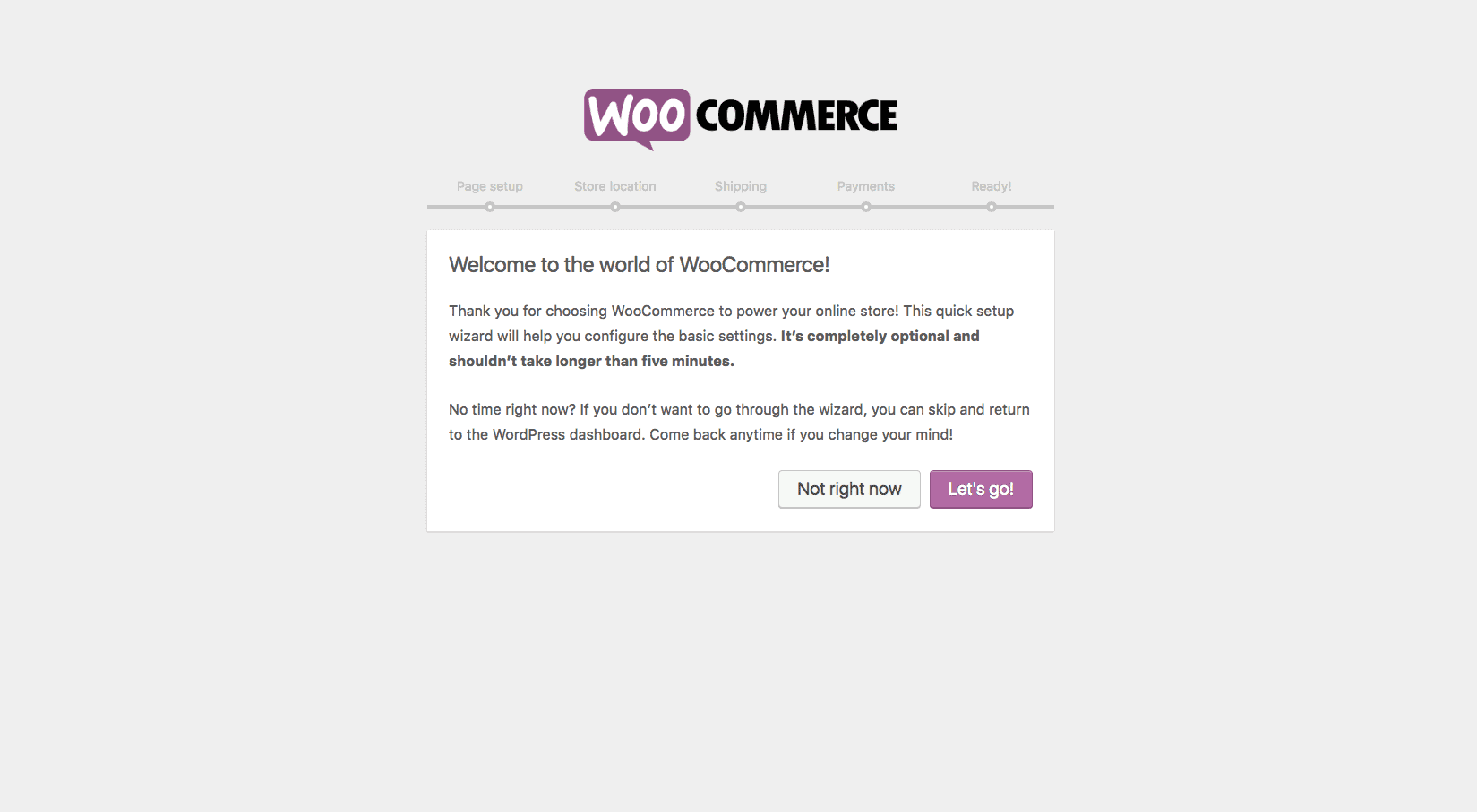 You can then either purchase a premium WooTheme or download the free Storefront theme, which WooCommerce highly recommends.
Then you can begin adding products. Honestly, I find the product editor a little strange (adding products looks just like writing a blog post), but it works just fine. You can also categorize products and add attributes on this page.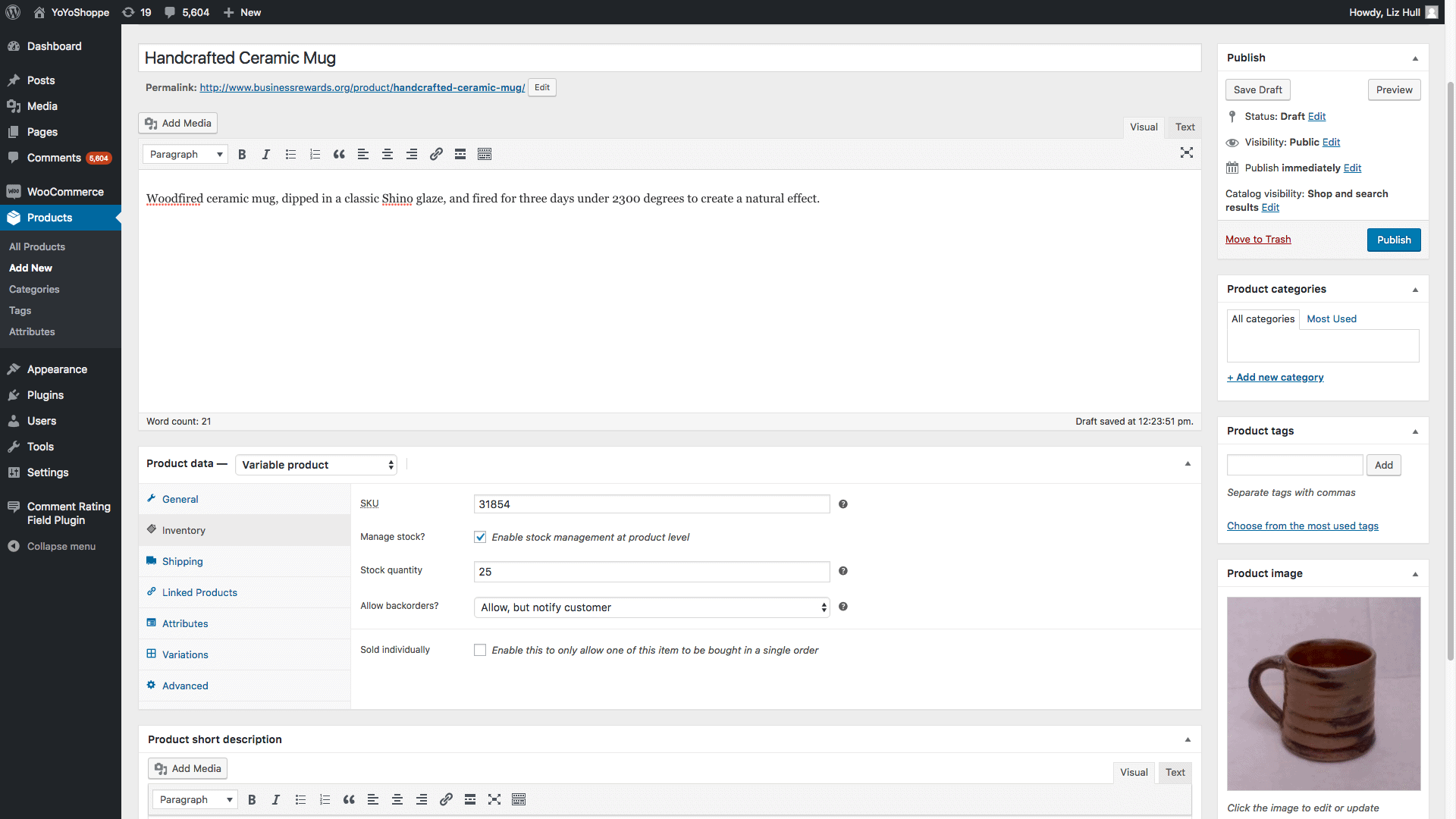 Click "Publish" and view your changes immediately.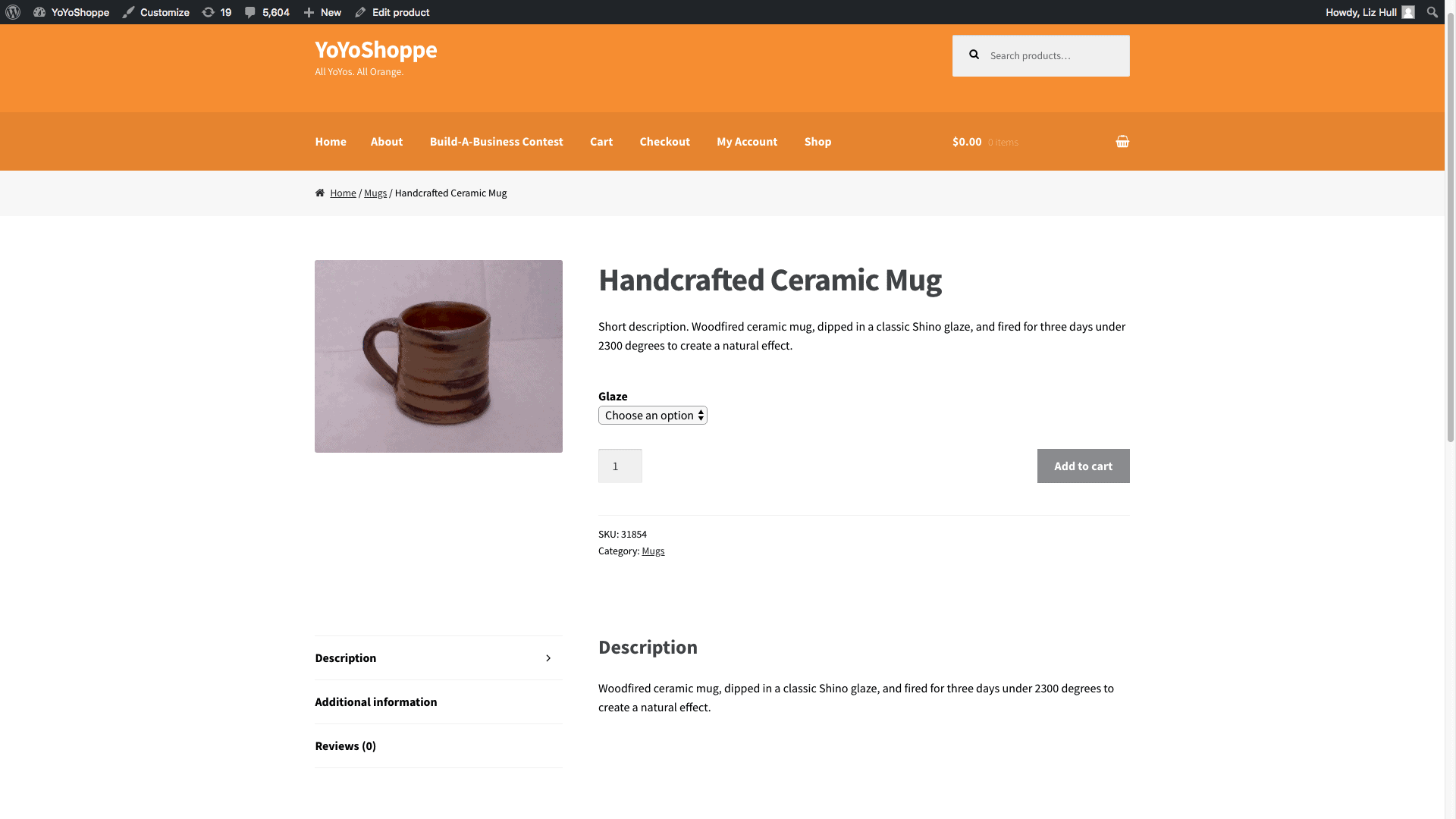 Additionally, you can access pending orders, shipping settings, product information, and inventory tracking from your WordPress dashboard.
Though it's hard to say precisely why, I found that getting started with WooCommerce was not as easy as I had expected or hoped. I think part of the difficulty had to do with the integration of WordPress and WooCommerce. I'm used to working in WordPress, and I'm used to managing eCommerce admins, but I was thrown off by an eCommerce admin that looks like WordPress.
I highly recommend using WooCommerce's tutorial videos (available in the "Help" drop-down) to guide you through the beginning stages of setting up your WooCommerce store. I wish I had found them earlier.
WooCommerce Features
WooCommerce offers features in a Core+Extensions model. The platform comes with all the basic features you need, and it's possible to start selling immediately with the basic WooCommerce package. However, if your business requires more advanced shipping or checkout features, for example, you are going to have to drop some money on add-ons.
Here are some of the features you get for free with every WooCommerce download:
Dashboard: All the tools you'll need to manage your online store can be found in your WooCommerce dashboard.
Products: Group your products by category, add variations to each product, and sell affiliate products. Sell digital and physical products; just check a box to show that your digital products don't require shipping.
Checkout: Allow your customers to create an account on your site or check out as guests. Offer a shipping calculator on the shopping cart page, so there are no surprises at checkout. Let customers choose between pickup, local delivery, and shipping. An automatic shipping calculator is built-in, and you can set different rates based on shipping zones.
Inventory Management: Use WooCommerce's built-in inventory management to track your stock level, hold the stock if an order gets canceled, and hide out-of-stock items from your storefront.
Marketing: You can create coupons and discounts, and you can make your discounts apply to only one item or all of them. Enable product reviews to let customers post reviews. You can even ensure those comments come only from verified customers.
Blog: Since WooCommerce is built to work with WordPress, most users already have a blog and, if not, it's easy to start one.
SEO Tools: Benefit from built-in SEO best practices.
Reports & Analytics: Integrate Google Analytics for in-depth analysis.
Mobile-Friendly Design: Both your storefront and your admin work great on mobile devices. Your customers can shop on the go, and you can manage their orders from anywhere.
Geo-Location Support: Geo-location detects your customers' addresses to streamline shipping and tax calculations.
This is not an exhaustive list of all WooCommerce features. You can view the full list on the WooCommerce website, if you're interested in more information.
Web Design
Although WooCommerce can technically integrate into any WordPress theme, I recommend using a WooTheme for a couple of reasons. First, using a WooTheme reduces the headaches involved with applying WooCommerce updates to your store. Second, WooCommerce's web ticket support only applies to Woo products. Read WooCommerce's Support Policy to learn more.
WooCommerce provides its free and flexible Storefront theme to all users. You can also choose a Storefront child themes, with two available for free, and 12 priced at $39. While Storefront is not the most exciting template I've ever seen, it's not bad for a free option that works smoothly with all WooCommerce updates. To make sure you choose the best WooCommerce theme, spend some time exploring all the options.
WooCommerce also offers a Storefront Powerpack extension ($69 for a single site). Storefront Powerpack gives you the ability to make changes to the look and feel of your Storefront site without touching any code. You can also look into purchasing a more complete package, the Storefront Extensions bundle, at $69.
If you'd prefer even more control over the look of your store, you can always add plugins or child themes or edit the HTML and CSS stylesheets. Because WooCommerce is open-source, there are no limits to the customizations you can make to your platform. However, you should be aware that you're less likely to benefit from WooCommerce's web ticket support if you customize your store's code.
Integrations & Add-Ons
As I've said before, WooCommerce takes a Core+Extensions approach to its platform. Any advanced features you may need come via extensions, typically at a price. WooCommerce's app store features hundreds of extensions, including ones developed by WooCommerce itself as well developers' contributions.
I recommend researching extensions in the same way you're currently researching eCommerce shopping carts. Take your time and find out what you need. Then, read lots of product reviews and comparisons to find out what will serve your company best.
(Note: We've compiled our own list of the Top 10 Add-Ons For WooCommerce.)
Take a look at the full list of WooCommerce's extensions on its website. This list includes tools for store management, marketing, payments, shipping, subscriptions, and more. Keep in mind that WooCommerce also comes with a REST API and lots of documentation. If you can't find what you need, you can always pay someone to build a connection for you.
Payment Processing
WooCommerce comes with eight core payment options built-in. These include WooCommerce Payments, Stripe, PayPal Standard, Braintree for WooCommerce, and Klarna Payments in addition to check payment, direct bank transfer (BACS), and cash on delivery. If that isn't enough for you, additional payment gateways are available as extensions.
You can also find 66 additional payment processors extensions, including Square, Affirm, Authorize.net, Opayo, Monaris, and Sage, among others. Check out the full list of payment processors on the WooCommerce website to see if your favorite is available.
WooCommerce Customer Service & Technical Support
As in the case with most free, open-source options, WooCommerce comes with limited personal support. Don't expect to get help through email, live chat, or phone, although you can submit a web ticket. WooCommerce will occasionally respond to these web tickets through a live chat. WooCommerce's support hours are Monday-Friday, 8:30-17:00 (South African Standard Time or GMT+2). Reps claim to respond to queries within 24 hours.
Although personal support is limited, WooCommerce makes self-help options available. These tools include documentation, FAQs, and more. You'll also be able to access support through the following channels:
Support Form: Customers who have a specific question can submit a contact form with their membership information and their query.
Community Forum: An active forum should be able to provide the answers you need, no matter what they are. Search previous posts or log in to create a topic of your own.
Videos: Access tutorial videos through the "Help" drop-down as you set up your store.
Find An Advisor: WooCommerce recommends verified partners, called WooExperts, who can provide specialized or general support.
Blog: The WooCommerce Blog promises tips, tricks, and inspiration from WooCommerce experts on a wide range of topics.
Social Media: Look for WooCommerce on Twitter, Facebook, and Instagram, but don't expect a lot of help solving your problems there.
Support options will be further limited if you choose to customize your site with lots of non-Woo products. WooCommerce support reps will ask you to disable those third-party products before they can provide any aid.
Remember that while WooCommerce integrates with WordPress, the two are not the same. If you have any questions regarding WordPress, be sure to contact WordPress Help instead of WooCommerce.
WooCommerce Reviews
You'll find no shortage of WooCommerce reviews online. As you'd expect to find with a widely used product, there's a mix of positives and negatives, although as a whole the reviews tend to be positive. Let's take a look at what WooCommerce users have to say.
Negative Reviews & Complaints
Even the most enthusiastic WooCommerce user would like to see a few things improved. The following are a few of the most common complaints:
Extension Costs Can Add Up: WooCommerce comes free, but its extensions do not. Some extensions are priced as one-time purchases, and others are monthly subscriptions. Do your research.
Limited Support: Most of WooCommerce's support is available in the form of self-help resources. Response to web tickets is reportedly quite slow.
Less Theme Flexibility: While in theory you can use any WordPress theme, you probably shouldn't. WooThemes work best with WooCommerce.
Steep Learning Curve: Some disagree with this one, but I found it to be true. I had a hard time figuring out how to begin.
Positive Reviews & Testimonials
There are lots of customers singing WooCommerce's praises, earning WooCommerce a solid 4.5/5 stars on the G2 Crowd, with almost 800 reviews. Here's what customers discuss most often:
Attractive Themes: WooThemes offers 17 mobile-responsive options, and they're all clean and image-focused.
Scalable: WooCommerce can grow with you.
Excellent Selection Of Extensions: With so many available, you're bound to find the add-ons you need to run your store the way you planned.
WordPress Community: When you download WooCommerce, you're joining a large community of shop owners who help each other find solutions to technical issues. Furthermore, because WooCommerce is such a popular open-source option, you can expect developers to be continually adding to the pool of features and extensions.
Free: Free is a very good price.
Security
Because WooCommerce is self-hosted, your site's security rests largely upon your shoulders. Sure, WordPress comes with some built-in security features, and third-party payment gateways reduce some of your personal risks, but you're still in charge of guarding your site against security breaches. Choose a secure web host, purchase a good SSL certificate, and make sure you stay on top of all security patches.
WooCommerce FAQs
WooCommerce Shopping Cart For eCommerce: Final Verdict
Are DIY projects right up your alley? If so, WooCommerce might be your kind of platform.
WooCommerce is a low-cost solution, assuming you keep your extensions reasonably priced, and it does an excellent job of harnessing WordPress's SEO and functionality for your benefit. And if you're willing to work through technical issues with mostly just guides and forums to lean on, WooCommerce could be the right option for you.
What if you've decided WooCommerce isn't cut out for your project? You've got plenty of other choices. Check out our review of seven top eCommerce platforms for small businesses to see how they stack up to WooCommerce.
And, of course, if you're looking for the right eCommerce solution but finding yourself intimidated by all the high-tech options available, don't worry. We've got you covered, too, with a selection of the best choices for eCommerce beginners.
If you like what you've learned from this WooCommerce review and you're ready to join the WooCommerce community — click the link below to get started now!
---
The Merchant Maverick Seal of Approval 🏆
WooCommerce


---



After hours of in-depth research and evaluation, we can confidently recommend this brand to our readers. Get started today and see WooCommerce for yourself.
The Merchant Maverick Seal of Approval 🏆
WooCommerce


---



After hours of in-depth research and evaluation, we can confidently recommend this brand to our readers. Get started today and see WooCommerce for yourself.
To learn more about how we score our reviews, see our
eCommerce Software Rating Criteria
.
Read Next