WooCommerce Review
This free eCommerce tool can make an excellent and valuable addition to a WordPress blog, though it does come with a bit of a learning curve.
Expert Analyst & Reviewer

UPDATED
Advertiser Disclosure: Our unbiased reviews and content are supported in part by
affiliate partnerships
, and we adhere to strict
guidelines
to preserve editorial integrity.
WooCommerce

WooCommerce At A Glance
Free, open-source shopping cart plugin
Developer knowledge required
Written in PHP
---
Pros
Free
Customizable
Numerous integrations
Scalable
Cons
Limited customer support
Add-ons are often necessary
Steep learning curve
What Is WooCommerce?
WooCommerce is an open-source eCommerce plugin designed to work with WordPress websites. It's simple to install and free to use, and it allows you to add products, a shopping cart, and checkout options to your WordPress website. If you're already comfortable using WordPress, you'll probably find lots to like in WooCommerce.
First, though, you need to know that, although WooCommerce is free to download, it is not free to operate a WooCommerce store. You can expect to pay for web hosting, security, and a few extensions you'll likely need to run advanced features.
Regardless, it's clear why so many merchants trust WooCommerce with their online store. It offers the features you need at a low price. And if you're already using WordPress to power your website or planning to, WooCommerce deserves a look.
WooCommerce Pricing
WooCommerce pricing could not be more simple. As an open-source WordPress.org plugin, it's completely free to download and use. WooCommerce does not charge transaction fees, and it doesn't regulate bandwidth or storage. Your site's hosting will do that.
When discussing WooCommerce pricing, however, it's important to make clear that using WooCommerce isn't free of all expenses. First, to maintain a WooCommerce site, you must purchase WordPress.org hosting for your WordPress site.
And to get the most out of the platform, you'll need various add-ons and extensions. Some of those may be free, and some may cost you hundreds of dollars. However, because many of these extensions are one-time purchases, you'll probably come out paying slightly less than you would with other popular hosted options, such as Shopify.
WooCommerce Features
| WooCommerce Features | Availability |
| --- | --- |
| Retail Equipment Available | |
| International Sales | |
| Currency Conversion | |
| Shoppable Social Posts | |
| Gift Cards | |
| Customer Loyalty | |
| Marketing Tools | |
| Hosted Platform | |
| Reports | |
| Staff Accounts | |
| Buy Buttons | Integration needed |
| Multi-Platform Integrations | Integration needed |
| Shipping Tools | |
| Shipping Discounts | |
| Free Themes | |
| Unlimited Products | |
WooCommerce offers features in a Core+Extensions model. It includes the basic features you need, and it's possible to start selling immediately with the basic WooCommerce package. However, if your business requires more advanced features for shipping or reports, for example, you will want some add-ons.
Here's an overview of WooCommerce features:
WooCommerce Themes
To make sure you choose the best WooCommerce theme, spend some time exploring all the options.
WooCommerce provides its free and flexible Storefront theme to all users. You can also choose a Storefront child theme, with two available for free and 12 priced at $39/year. While Storefront is not the most exciting template I've ever seen, it's not bad for a free option that works smoothly with all WooCommerce updates.
WooCommerce also offers a Storefront Powerpack extension ($69 for a single site). Storefront Powerpack lets you make changes to the look and feel of your Storefront site without touching any code. You can also purchase a complete package, the Storefront Extensions bundle, at $69.
If you'd prefer even more control over the look of your store, you can always add plugins or child themes or edit the HTML and CSS stylesheets. Because WooCommerce is open-source, there are no limits to the customizations you can make. However, you should be aware that you're less likely to benefit from WooCommerce's web ticket support if you customize your store's code.
Of course, you can always purchase a WooCommerce theme from a third party, such as ThemeForest.
Types Of Payments Accepted With WooCommerce
WooCommerce accepts WooCommerce Payments, a fully integrated gateway that lets you accept credit/debit cards as well as local payment options. You can add 80+ payment options, including top names in these categories:
Online Payments: Add integrations that allow you to accept online payment via Stripe, Square, PayPal, Braintree, Authorize.net, Opayo, and many more, including international options.
Buy Now Pay Later: Choose from Klarna, Afterpay, Clearpay, Affirm, and WooCommerce Deposits.
Digital Wallets: You can set up your store to accept payment via the Viva Wallet payment gateway, Wallet for WooCommerce, or another system.
Selling On Multiple Sales Channels With WooCommerce
Multichannel for WooCommerce lets you create and manage listings on Google, Amazon, Walmart, and eBay directly from your WooCommerce dashboard. Inventory will sync live to your WooCommerce inventory list. You can add multiple default shipping services for domestic and international and set ship-to locations as well. You can also add integrations to start selling on additional channels, such as Etsy, TikTok, Instagram, Facebook, and Pinterest.
Does WooCommerce Offer Buy Buttons?
Adding a buy button to your website gives interested shoppers a quick way to say yes to your products. But you'll need to buy an extension if you want to add a quick Buy Now button for WooCommerce because you won't find one already built-in. The buy button is currently listed in the WooCommerce store for $39/year.
Selling Internationally
WooCommerce supports international sales, but you will need to do a little extra work to prepare your store. For example, while WooCommerce is available in English by default, you must download a translated version of the plugin for free. Additional plugins are available for specific languages and regions.
You can display only one base currency to be accepted as payment, but you can choose among several available currencies. If you sell in multiple countries, add a currency converter widget to display prices in shoppers' native currencies.
International payment gateways and shipping carriers are available, and WooCommerce supports taxes and VAT. But you'll need to research the tax rules and regulations where you sell and set up taxes appropriately.
WooCommerce Marketing Features
You can enable product reviews to let customers post reviews. You can even ensure those comments come only from verified customers. You can group your products by category, add variations to each, and sell affiliate products. You can even sell digital and physical products; just check a box to show that your digital products don't require shipping.
A large number of available extensions in the Extensions Store will help you optimize your marketing efforts.
WooCommerce Product Limits
You won't find any limit on the number of products you can add to your catalog when you use WooCommerce to power your online store. However, if you list a million products, you may not see the same site performance, with slower speed and loading time.
Inventory Management With WooCommerce
WooCommerce has some built-in inventory management features that allow you to track your stock level, hold the stock if an order gets canceled, and hide out-of-stock items from your storefront. If you want advanced inventory management capabilities, you'll probably want to add an integration.
WooCommerce Shipping Tools
You can allow your customers to create an account on your site or check out as guests.
It's possible to offer a shipping calculator on the shopping cart page so that there are no surprises at checkout and to let customers choose between pickup, local delivery, and shipping. An automatic shipping calculator is built-in, and you can set different rates based on shipping zones. Geolocation detects your customers' addresses to streamline shipping and tax calculations.
If you're interested in dropshipping, you can add an extension that allows you to sell that way.
WooCommerce SEO Tools
WooCommerce code is SEO-friendly. However, you won't find a lot of built-in SEO tools, so you'll need to familiarize yourself with SEO best practices and use them to optimize your site and page content to help search engines direct shoppers there.
Blogging
Since WooCommerce is built to work with WordPress, most users already have a blog. If you're new to WordPress, you'll find it's easy to start one.
WooCommerce Discounts & Coupons
You can create coupons and discounts and make your discounts apply to only one item or all of them.
Developer Tools
WooCommerce is open-source software written in PHP, and there's no limit to the number of customizations you can add.
In-Person Selling Tools
You won't find a built-in POS system in WooCommerce. If you want to add in-person selling, you'll need to download an extension with several options available. That includes point of sale for WooCommerce, at $199/year, as well as integrations with Square and PayPal POS options.
Is WooCommerce Easy To Use?
WooCommerce works seamlessly and exclusively with WordPress, which is great for merchants already familiar with the blogging platform. All WooCommerce users must have a WordPress account. WooCommerce connects to your WordPress platform like any other WordPress plugin. Just click Add New on the plugins page and search for WooCommerce. Then, click Install and Activate.
A setup wizard will take you through the steps of getting started with WooCommerce. You can either purchase a premium WooTheme or download the free Storefront theme. Then you can begin adding products. Adding products looks just like writing a blog post, which was hard to get used to, but it works just fine. You can also categorize products and add attributes on this page.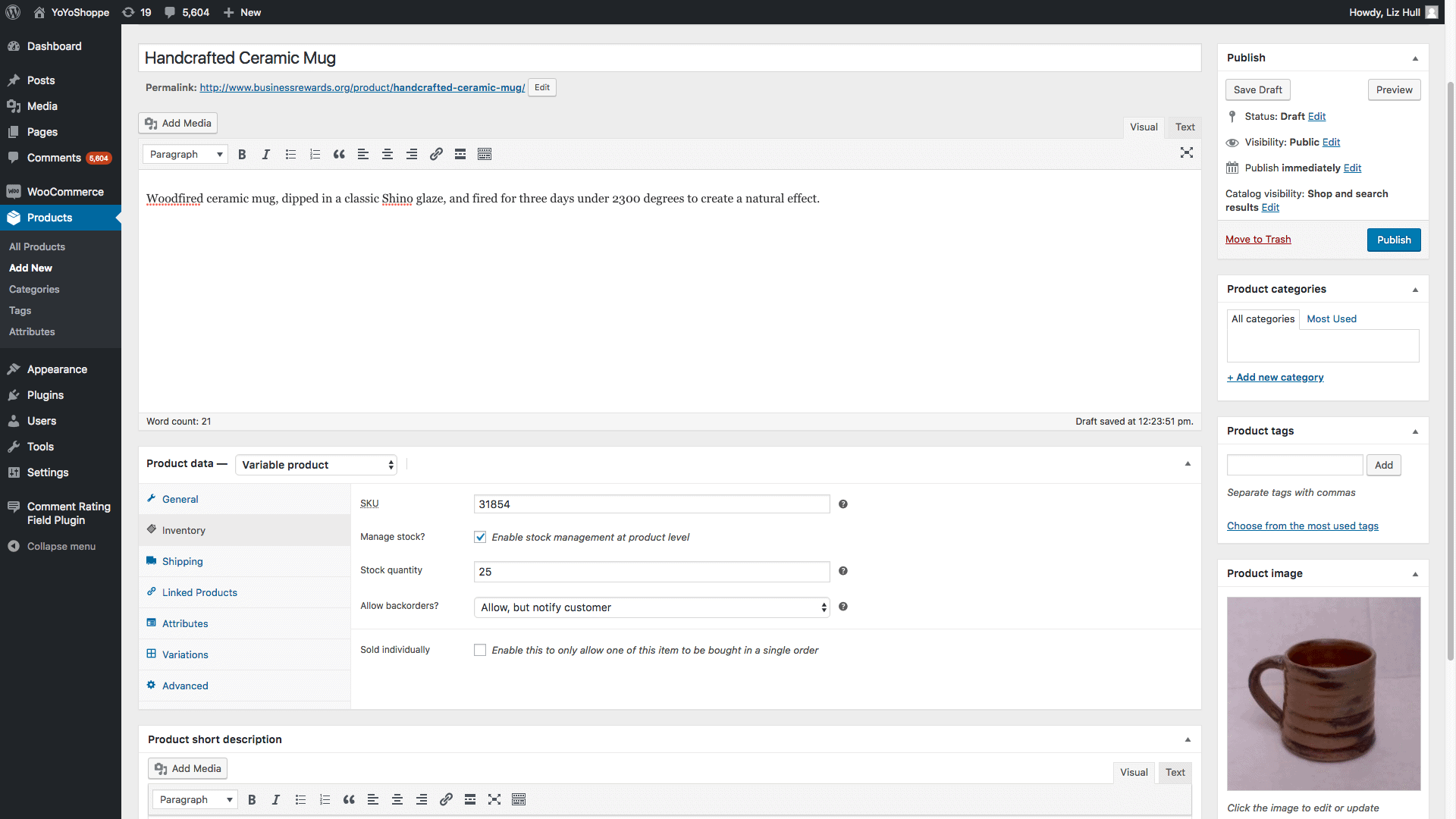 Additionally, you can access pending orders, shipping settings, product information, and inventory tracking from your WordPress dashboard. I highly recommend using WooCommerce's tutorial videos (available in the Help drop-down) to guide you through setting up your WooCommerce store.
Customer Service & Support
| WooCommerce Support | Availability |
| --- | --- |
| Phone Support | |
| Email Support | |
| Support Tickets | |
| Live Chat | Visit the Help Desk first |
| Dedicated Support Representative | |
| Knowledge Base or Help Center | |
| Videos & Tutorials | |
| Company Blog | |
| Social Media | |
As in the case with most free, open-source options, WooCommerce comes with limited personal support and multiple self-help options, including these:
Documentation: Access the WooCommerce library of documentation and tutorials for tips on setting up, customizing, and expanding the functionality of your store. Developers can access code references and comprehensive API docs to build and extend. WooCommerce has a REST API. Documentation for the WooCommerce iOS and Android apps is also available.
Help Desk: Customers who have a specific question can visit the help desk to start a live chat or submit a ticket. Be prepared with your membership information.
Community Forum: Search previous posts or log in to create a topic of your own.
Videos: Access tutorial videos through the "Help" drop-down as you set up your store.
Find An Advisor: WooCommerce recommends verified partners, called WooExperts, who can provide specialized or general support.
Blog: The WooCommerce Blog promises tips, tricks, and inspiration from WooCommerce experts on a wide range of topics.
Email Newsletter: Sign up to get regular updates on WooCommerce, tips for store management, and general information.
Meetups: Live WooCommerce Meetups take place around the world, and you can join a WooCommerce group for updates on events near you.
Social Media: Look for WooCommerce on Twitter, Facebook, and Instagram, but don't expect a lot of help solving your problems there.
Note that your support options will be limited if you choose to customize your site with lots of non-Woo products. WooCommerce support reps will ask you to disable those third-party products before they can provide any aid.
Remember that while WooCommerce works with and is built on WordPress, the two are not the same. If you have questions regarding WordPress, contact WordPress Help.
WooCommerce Integrations & Add-Ons
WooCommerce takes a Core+Extensions approach. Any advanced features you may need come via extensions, typically at a price. WooCommerce's Extensions Store features hundreds of possibilities, including those developed by WooCommerce itself and contributions from developers.
I recommend researching extensions in the same way you're currently researching eCommerce shopping carts. Take your time and find out what you need. Then, read lots of product reviews and comparisons to find out what will serve your company best.
(Note: We've compiled our own list of the top add-ons for WooCommerce.)
Look at the full list of WooCommerce extensions on its website. This list includes tools for store management, marketing, payments, shipping, subscriptions, and more. Keep in mind that WooCommerce also comes with a REST API and lots of documentation. If you can't find what you need, you can always pay someone to build a connection for you.
WooCommerce Reviews
You'll find no shortage of WooCommerce reviews online. As you'd expect to find with a widely used product, there's a mix of positives and negatives, although, as a whole, the reviews tend to skew positive. For example, WooCommerce is rated at 4.5/5 stars on G2, with almost 1,000 reviews. On Trustradius, WooCommerce has a composite rating of 8.4/10, with 229 reviews.
However, on Trustpilot, 43 reviews give the company just 2.7/5 stars. Some of the negative reviews on Trustpilot concern legitimate problems with payment processing, but a fair number of them rate WooCommerce poorly because it's too hard to use, with developer experience necessary. We hope this review has made it very clear that WooCommerce is not an easy-to-use eCommerce solution that anyone can quickly and easily master right out of the box.
Negative Reviews & Complaints
Even the most enthusiastic WooCommerce user would like to see a few things improved. The following are a few of the most common complaints:
Extension Costs Can Add Up: WooCommerce comes free, but its extensions do not. Some are one-time purchases, and others are monthly or annual subscriptions. Do your research, so you're not surprised when the subscriptions renew.
Limited Support: Most of WooCommerce's support is available through self-help resources. Response to web tickets is reportedly quite slow.
Less Theme Flexibility: While, in theory, you can use any WordPress theme, you probably shouldn't. WooThemes work best with WooCommerce.
Steep Learning Curve: As mentioned multiple times in this WooCommerce review, this is open-source software that requires developer knowledge to use effectively. Because I lack the necessary expertise, I had a hard time figuring out how to begin. Many users agree that if you don't have a tech background, you're likely to struggle, especially when it comes time for troubleshooting.
Positive Reviews & Testimonials
There are lots of customers singing WooCommerce's praises. Here's what customers discuss most often:
Works Great With WordPress: If you're already using WordPress and looking for a way to add online sales, WooCommerce should be where you start your search.
Scalable: WooCommerce can grow with you, allowing you to manage multiple stores with full control over each.
Excellent Selection Of Extensions: With so many available, you're bound to find the add-ons you need to run your store the way you planned.
WordPress Community: When you download WooCommerce, you're joining a large community of shop owners who help each other find solutions to technical issues. Furthermore, because WooCommerce is such a popular open-source option, you can expect developers to be continuously adding to the pool of features and extensions.
Free: Free is a very good price.
WooCommerce Shopping Cart For eCommerce: Final Verdict
WooCommerce Review Summary
Pricing
$0/month
Choose If You Need

Endless customization and control
Full scalability
Self-hosted web store
WooCommerce is a low-cost solution, assuming you keep your extensions reasonably priced, and it does an excellent job of harnessing WordPress functionality for your benefit. If you're willing to dive into PHP programming and work through technical issues with mostly just guides and forums to lean on, WooCommerce could be a great option for you.
What if you've decided WooCommerce isn't right for you? You've got plenty of other choices. Check out our review of the top eCommerce platforms for small businesses to see how they stack up to WooCommerce. And, of course, if "free" is your favorite feature in an eCommerce solution, you're really going to love our list of the best free eCommerce options!
On the other hand, if you're looking for the right eCommerce solution but feel intimidated by all the high-tech options available, don't worry. We've got you covered, too, with a selection of the best shopping carts for eCommerce beginners.
If you like what you've learned from this WooCommerce review and are ready to join the WooCommerce community, click the link below to get started!
WooCommerce FAQs
---
The Merchant Maverick Seal of Approval 🏆
WooCommerce


---
After hours of in-depth research and evaluation, we can confidently recommend this brand to our readers. Get started today and see WooCommerce for yourself.
The Merchant Maverick Seal of Approval 🏆
WooCommerce


---
After hours of in-depth research and evaluation, we can confidently recommend this brand to our readers. Get started today and see WooCommerce for yourself.
To learn more about how we score our reviews, see our
eCommerce Software Rating Criteria
.