CoverWallet Review
Looking to get a quote on business insurance for your small business? Are you purchasing several different types of policies? CoverWallet might be a good fit.
Expert Analyst & Reviewer

UPDATED
Advertiser Disclosure: Our unbiased reviews and content are supported in part by
affiliate partnerships
, and we adhere to strict
guidelines
to preserve editorial integrity.
CoverWallet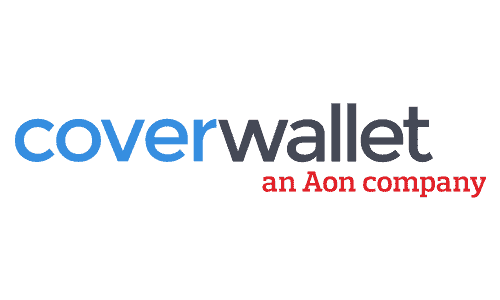 Pricing
Varied but general liability starts at $39/month
Types of insurance offered
30+
Time to receive quote
1-2 days
CoverWallet At A Glance
Convenient, aggregated business insurance quotes
Partnered with top insurance companies
Free quotes available
---
Pros
Easy to use
Free quotes available
Comparison shops across a wide field of insurers
Keeps all policies organized in one location
Cons
Slow customer support
Quotes don't always generate instantly
Insurance only available from partners
What Is CoverWallet?
CoverWallet is an online platform that sells business insurance through its agency partners and helps keep policy information in one cloud-based location. A self-described "concierge" service, CoverWallet helps business owners understand what insurance they need, offers quotes, and provides a platform for businesses to manage their policies, claims, and payments all in one place.
CoverWallet's online platform is easy to use and intuitive for all users. It's designed for business owners and is great for comparison shopping. The service is ideal for busy business owners, or new business owners, who need a quick way to compare the best business insurance options for their company and manage the policies in a single location.
Note: CoverWallet itself is not an insurance company. Rather, it is a tech company with resources to help match small businesses with the insurance industry — it is a business insurance aggregator if you will. Its carrier companies are Liberty Mutual, CNA, AMTrust, Berkshire Hathaway, Progressive, Hiscox, Chubb, and others.
CoverWallet Pricing
The cost of business insurance varies widely depending on all your business specifics.
CoverWallet makes comparison shopping and shopping for industry-specific insurance very easy and user-friendly. General liability coverage starts at $39/month for most businesses.
How To Get A CoverWallet Quote
To receive a free quote from CoverWallet, business owners can select which type of business insurance policy they are looking for and will be asked to provide some basic business information, such as:
History of business earnings and losses
How long you've been in business
The type of employees you have
Your business assets
Details about your specific business industry
Tax filing information
CoverWallet may ask for your social security number and federal tax ID numbers. Once you've provided this information, CoverWallet will send you a quote from compatible carriers, and an agent will reach out to you to go over the quotes. If CoverWallet did not receive enough business information to generate a quote, an agent will call you and ask for the necessary information. This process can take 1-2 business days.
If you'd like to skip the online portion entirely, you can call CoverWallet directly and speak to an agent on the phone to receive a quote as well.
CoverWallet Features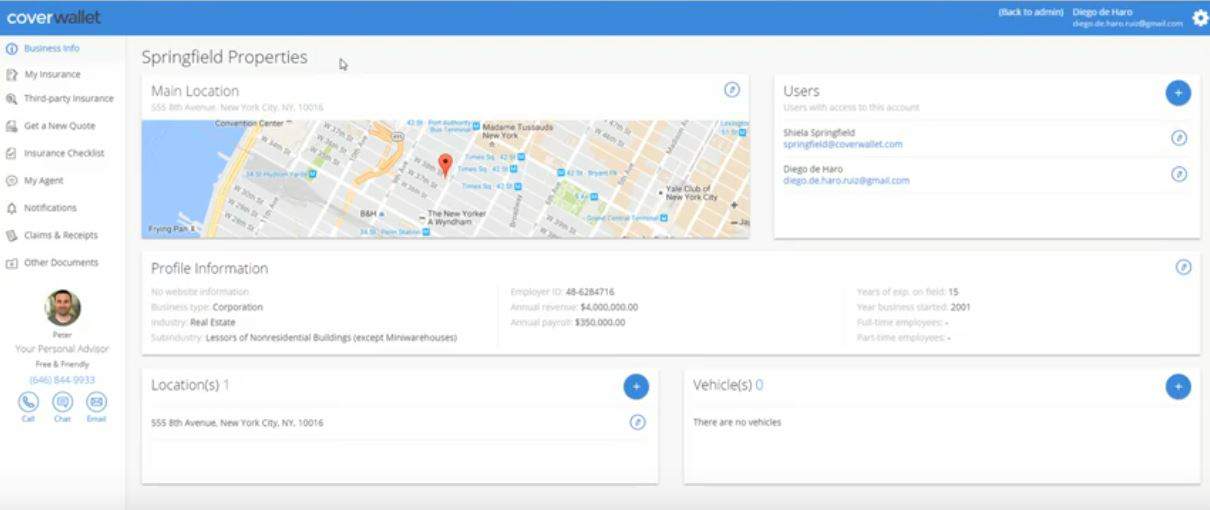 CoverWallet helps small business owners control their insurance needs in one central location and matches businesses with insurance providers offering more than 30 different types of insurance. Here are some of the main types of business insurance offered by CoverWallet's carriers:
General Liability
Workers compensation
Business owner policy
Commercial property
Professional liability
Commercial automobile
Umbrella insurance
Product liability
Directors & officers
Business interruption insurance
Liquor liability
Medical malpractice
Cyber liability insurance
Inland marine insurance
Visit CoverWallet's website for a comprehensive list of insurance types.
Here are some of the features the company offers:
My CoverWallet Dashboard: When you become a client of CoverWallet, you receive a My CoverWallet account that keeps all of your policies in one place. You can access information, view policies, file claims, and make payments all from the My CoverWallet interface.
Certificates & Third-Party Compliance: Are you a small business and you need to prove you are insured by submitting certificates, or you are working with other vendors and requesting for them to submit proof of compliance? CoverWallet will store all of that information in one spot on your account.
Claim Filing Support: CoverWallet was designed to be a one-stop shop for business owners. So, customers can file claims directly from their My CoverWallet dashboard. CoverWallet says that they can walk customers through filing a claim step by step if needed.
Specific Size Of Business
Companies of all shapes and sizes with varying insurance needs could all use an interface like CoverWallet to assist with their insurance and compliance needs. CoverWallet is ideal for small business owners who want to save money by comparing insurance policies from multiple carriers. Larger businesses, or small businesses with multiple policies, can also benefit from having all of their insurance information centrally located on the CoverWallet platform. You can add multiple users to your online CoverWallet account if needed.
Customer Service & Support
There are many opportunities to connect with CoverWallet employees. At various sections of the website, you are directed to speak to real representatives either through email, phone, or chat. The chat feature enables users to talk to people during the company's hours (chats sent after 6 PM EST will be answered the next business day). One of the helpful features is the ability to schedule a time for a CoverWallet representative to call you back if you are not able to talk to someone on the phone at that moment. Users appreciate the support resources available, but there are some complaints about slow response times and poor support communication.
CoverWallet Insurance Reviews
As with all businesses, reviews run the gamut. It also may be hard to differentiate between negative experiences with CoverWallet versus negative experiences with their insurance partners. Sometimes refunds are slow.
Negative CoverWallet Reviews & Complaints
Many CoverWallet reviews end up being about individual insurance carriers rather than about CoverWallet as a company. For CoverWallet specifically, according to the consumer website eKomi, out of 77 total reviews, the company receives 4.7 out of 5 stars. The biggest complaints were the following:
Poor Customer Support: Some of the insurance companies and agents brokering deals with CoverWallet are not as knowledgeable as others. Some customers experience slow response times from agents after the initial purchase.
Difficulties Adding Coverage: Users say adding additional coverage is cumbersome.
Poor Communication: The communication between the various moving parts (the CoverWallet representative and the agents from individual agencies) is not seamless and can be frustrating for busy business owners to navigate.
Positive CoverWallet Reviews & Testimonials
The Better Business Bureau gives CoverWallet an A- rating on its website. The positive reviews for CoverWallet are in the majority, with most people experiencing a seamless insurance experience. The biggest customer praise says:
Quick & Easy To Use: The platform is easy to use and easy to understand. Businesses in a time crunch to show compliance can be up and running with coverage in less than a day.
Easy To Compare The Best Deals: Users enjoy how easy it is to compare insurance policies across multiple providers.
Good Support Materials: Despite the issues some users had with slow customer response time, users appreciate that access to CoverWallet agents and employees is easy with chat, calling, and email options. Many agents go above and beyond to secure the best insurance rates for your company and your industry. They are not happy unless you are happy.
Competitive Pricing: No broker fees! This is a big plus for users as well as free quotes.
Final Verdict Of CoverWallet Insurance
If you are a small business owner who needs to insure yourself and your employees quickly — and you have no idea where to start — CoverWallet is a great fit.
The company is ideal for business owners who want to compare various insurance policies to get the best deal and want a single location to manage all of their policies and insurance information. Because of the company's many support resources, using CoverWallet is easy no matter what level of knowledge you have regarding business insurance.
There are some complaints from users about slow response times as well as complaints about specific insurance providers. Additionally, the free "instant" quote isn't always instant and can take up to 1-2 days to be completed. Despite these drawbacks, overall customer reviews rank CoverWallet favorably and highlight the easy interface as a major bonus.
Research what types of insurance you might need and then add CoverWallet to your list of places to check for comparison costs and quotes when you are ready to start the insurance buying process.
CoverWallet FAQs
---
The Merchant Maverick Seal of Approval 🏆
CoverWallet


---
After hours of in-depth research and evaluation, we can confidently recommend this brand to our readers. Get started today and see CoverWallet for yourself.
The Merchant Maverick Seal of Approval 🏆
CoverWallet


---
After hours of in-depth research and evaluation, we can confidently recommend this brand to our readers. Get started today and see CoverWallet for yourself.