Expert Analyst & Reviewer

UPDATED
Advertiser Disclosure: Our unbiased reviews and content are supported in part by
affiliate partnerships
, and we adhere to strict
guidelines
to preserve editorial integrity.
Zoho Projects

Pros
Reasonable monthly cost
Advanced communication features
Varied integrations
Cons
Inconsistent customer support
Poor support materials
Zoho Projects Overview
Zoho Projects is used in a wide range of businesses and is especially suited for small to medium-level companies. This web-based software's bug tracking features make it especially relevant to the software development industry. Because of its parent company's large and diverse customer base, Zoho Projects itself is supported in 19 different languages (English, Spanish, German, French, Chinese, Czech, Danish, Dutch, Italian, Japanese, Polish, Portuguese, Brazilian Portuguese, Russian, Swedish, Korean, Arabic, Hungarian, and Turkish).
The Zoho Corporation has now launched over 25 separate online applications, including Zoho CRM, Zoho Invoice, Zoho Reports, and — of course — Zoho Projects. This company currently provides services to nearly 20 million customers throughout the world. Zoho Corporation has received numerous awards, including PC World's 25 Most Innovative Products Award (2008) and TechCrunch's Best Enterprise Start-up award.
Zoho Projects has numerous integrations and a robust system of features that make it a competitive option. The price point is great and they offer a free plan. Keep on reading to see if the program is a good fit for your small business.
Zoho Projects Pricing
Zoho Projects offers three pricing plans. You can opt to pay monthly, or you can save up to 20% by paying for an annual subscription.
Free Plan
The Free Plan is priced at $0/month and includes the following features:
Up to 3 users
2 projects
10 MB storage
Simple task tracking
Gantt chart viewer
Mobile apps
Premium Plan
The Premium Plan is priced at $5/month per user. Client users can be added for $3/month. This plan includes everything from the Free Plan, plus:
Supports up to 50 users
Unlimited projects
20 project templates
100 GB storage
Subtasks & reminders
Time tracking
Task automation
Project budget & EVM
Project resource utilization
Project Gantt
Project planned vs. actual
Business rules for issues
Customizable business hours
Enterprise Plan
The Enterprise Plan is priced at $10/month per user. Client users can be added for $3/month. This plan includes everything from the Premium Plan, plus:
Unlimited users (for an additional fee)
30 project templates
120GB storage
Custom fields
Custom roles & profiles
Custom domain
Global Gantt chart
Global resource utilization
Inter-project dependencies
SLAs for issues
Custom user groups
Workflow rules
Portfolio dashboard
Critical path
Baseline
Zoho Projects offers a free, 10-day trial of its paid plans. No credit card is required, either to access the free plan or to sign up for a trial of the paid plans. The sign-up process is remarkably quick and painless and does not require you to submit overly personal details like your phone number. Since Zoho Projects is a pay-as-you-go service, users are able to upgrade, downgrade, or cancel services at any point in time.
Cloud-Based Or Locally Installed
Zoho Projects is cloud-based software; no locally installed version is available.
Hardware & Software Requirements
Since Zoho Projects is cloud-based, it can be used on any system provided you have an internet connection. You can also access your accounts on Apple devices (iOS 9.0+) or Androids (4.1+).
Specific Size Of Business
Zoho Projects offers pricing and features for businesses of all sizes. Freelancers or microbusinesses can take advantage of the company's free plan. Larger businesses can take advantage of the Enterprise plan, which is affordably priced, comes loaded with advanced project management features, and supports unlimited users (at a cost, of course).
Users of other Zoho software, like Zoho Books, may feel more comfortable sticking with Zoho Projects, although it's certainly suitable for businesses that are new to Zoho. Zoho Projects is more complex than some of its competition, so businesses that need very basic and simple project management software might want to look elsewhere for their solution. Unsure of where to start?
Ease Of Use
Zoho Projects is by no means the most difficult project management program on the market, but it does lack somewhat in simplicity and ease. The software can be a bit confusing at first, but it's fairly easy to learn once you take the time to explore.
New users should be aware that it is more complex than competitors like Basecamp, Redbooth, or Trello — maybe needlessly so.
Zoho Projects Features
Zoho Projects offers quite a few practical project management tools, far more than the usual online task management solution. It's worth noting, however, that many of the following features are only available in the more expensive plans or are available as add-ons.
Home Page: As the name implies, the home page is the easy place to find a chronological list of changes made to your tasks, projects, calendars, and all other aspects of Zoho Projects. Here you can post "status updates," which other members of your group can see. You can also create new tasks, milestones, documents, forum posts, and events, right from the home page.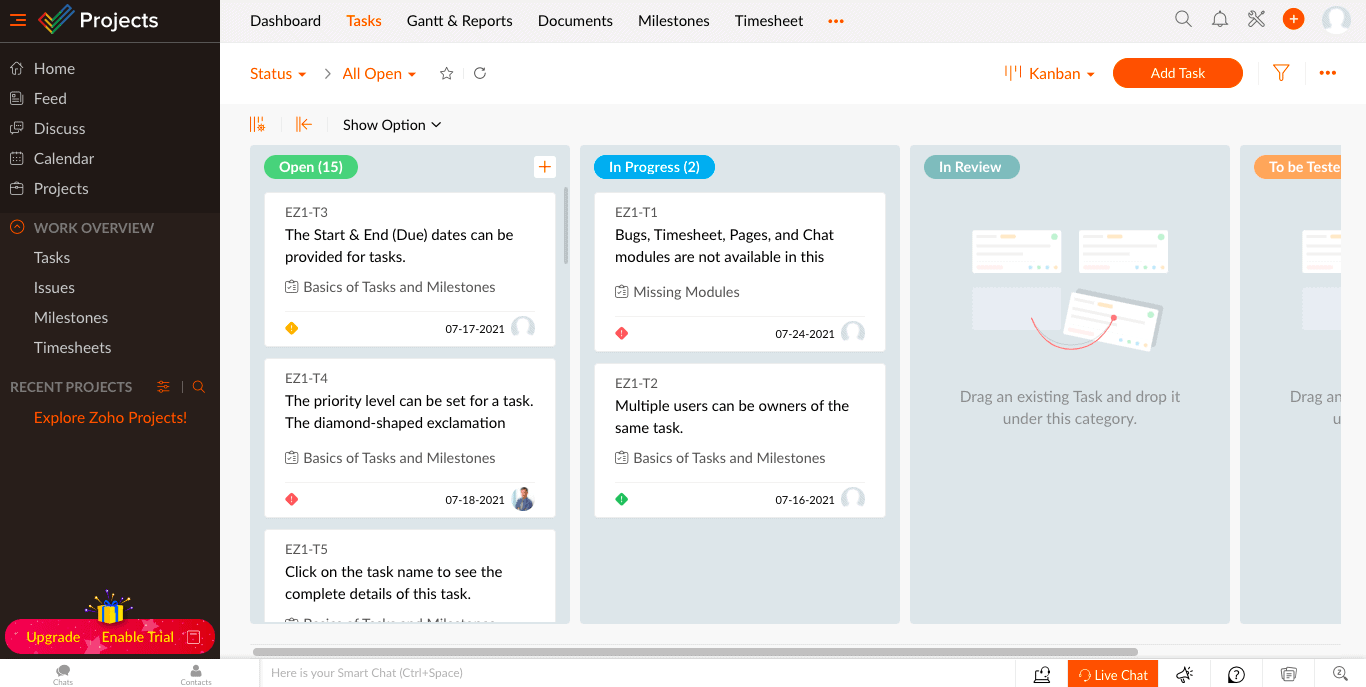 Time Tracking: In Zoho Projects, you can use timesheets to capture hourly data, record the start and end date of tasks, and log important details (like billing status). Conveniently, Zoho Projects allows admins and managers to enter a week's worth of data for an entire team, rather than having to log time each day for each user. Once completed, timesheets are all accessible from a single place, and admins can use the information to create custom reports based on individual users or user groups, billing status, or time period. Invoices containing timesheet data may also be exported to xls or csv format and sent to clients and other stakeholders, either for reasons of accountability and transparency or for billing/payroll purposes.
Project Baselines: With Zoho Projects, you can create baselines to compare your progress with your current goals, ensuring your project stays on track.
Automations: Zoho Projects has a number of automations including task reminders and recurring tasks.
Custom Fields: For greater organization, Zoho Projects offers custom fields, which can be used to sort tasks in any way you need. Similarly, you can set custom statuses on tasks, just in case a task is something more than "open" or "closed."
Issue Tracking: This feature makes it possible to submit, track, and address bugs and issues. Bugs can be named, classified in many different ways, assigned to specific users, and labeled according to severity and status. Bug tracking software is typically most useful to software developers, but the Zoho Projects Bug Tracker can also be adapted for customer service applications and used to track complaints or support tickets.
Task Views: Tasks are at the heart of every project management program. To that end, Zoho Projects has provided users with three different ways to manage individual tasks and view task lists. Classic view is pretty standard, allowing you to arrange tasks by owner, priority, start/due date, and percentage of completion. The "plain view" is extremely simple, and shows all tasks in order of due date. Finally, there's "Kanban view" in which tasks are ordered based on their status and displayed as cards to create a higher visual appeal.
File Management: Zoho Projects supports file uploads from Zoho Docs and other cloud-based document management programs like Google Drive, Box, OneDrive, Dropbox, and Evernote, as well as from computer hard drives; there is a maximum of 10 files per desktop upload. Users can actually upload almost any type of file as well (including .jpg, .png, .doc, .docx, .ppt, .xls, .csv, .mpeg, .zip, and .wmv).
Interactive Forums: One of the best social features of Zoho Projects, these interactive, online message boards provide an ideal location for coworkers to communicate and collaborate outside the context of individual projects.
Chat Feature: To eliminate the need for slow email communication, Zoho Projects offers a built-in text messaging system where users can instantly pose questions, post files or images, and discuss problems. All chat transcripts are saved for future reference and can be archived or downloaded at any time. Each project is given a default chat room, but based on the nature of each new discussion, users can also create private or public chat rooms and invite anyone on the account to participate.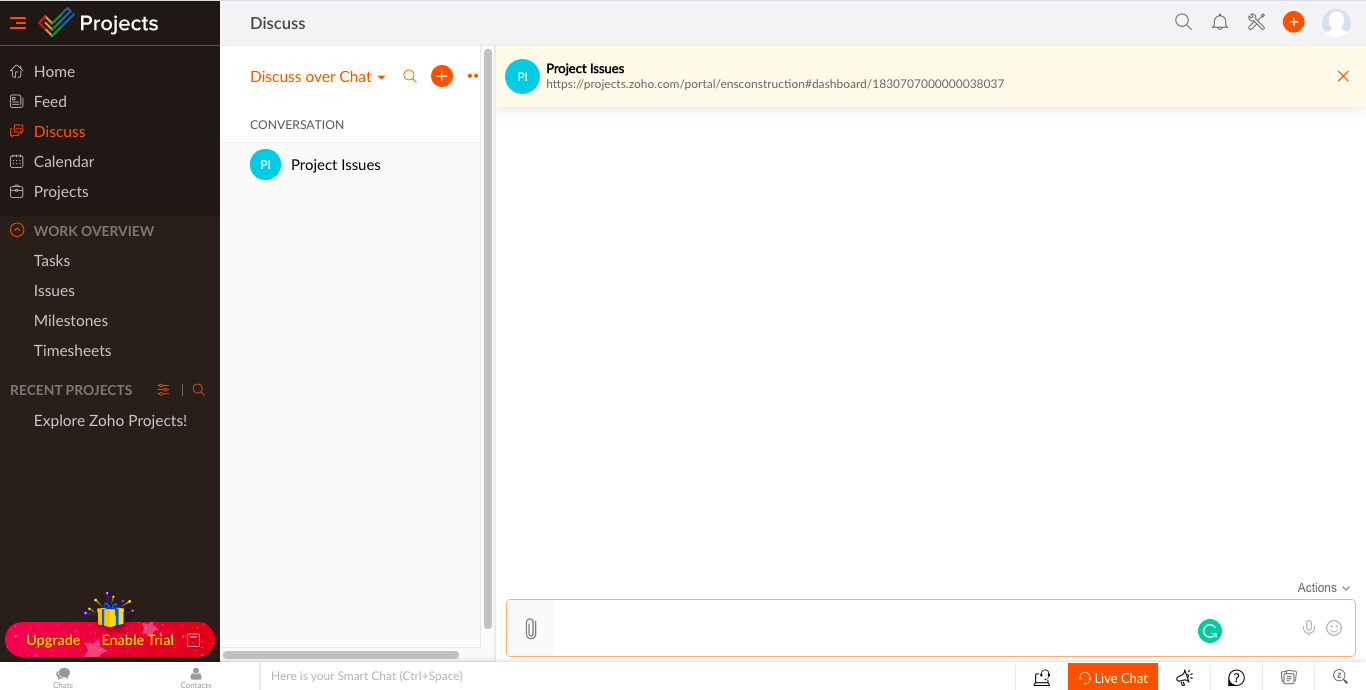 Mobile Apps: Zoho Projects has wisely provided their customers (even those on the Free Plan!) with access to native mobile applications. The iOS app allows users to create new tasks, view existent tasks, change task status, check updates, log time, and record voice notes. The Android mobile app also enables you to create, view, and alter tasks, view your activity feed, and log hours. Both apps have received passable ratings — nothing spectacular, mind you — but the majority of users find that these apps are at least somewhat helpful and have been able to get support assistance when necessary.
Project Organization: Projects can be organized according to specific criteria and requirements or grouped by clients and individual users.
Calendar: This shared, online project calendar makes it possible for entire teams to communicate about upcoming events, keep one another accountable, and stay firmly on schedule. Administrator and manager-level users are able to see and edit the calendars of all other workers, making it simple to keep people in the loop. The calendar can also be synced with MS Outlook and iCalendar.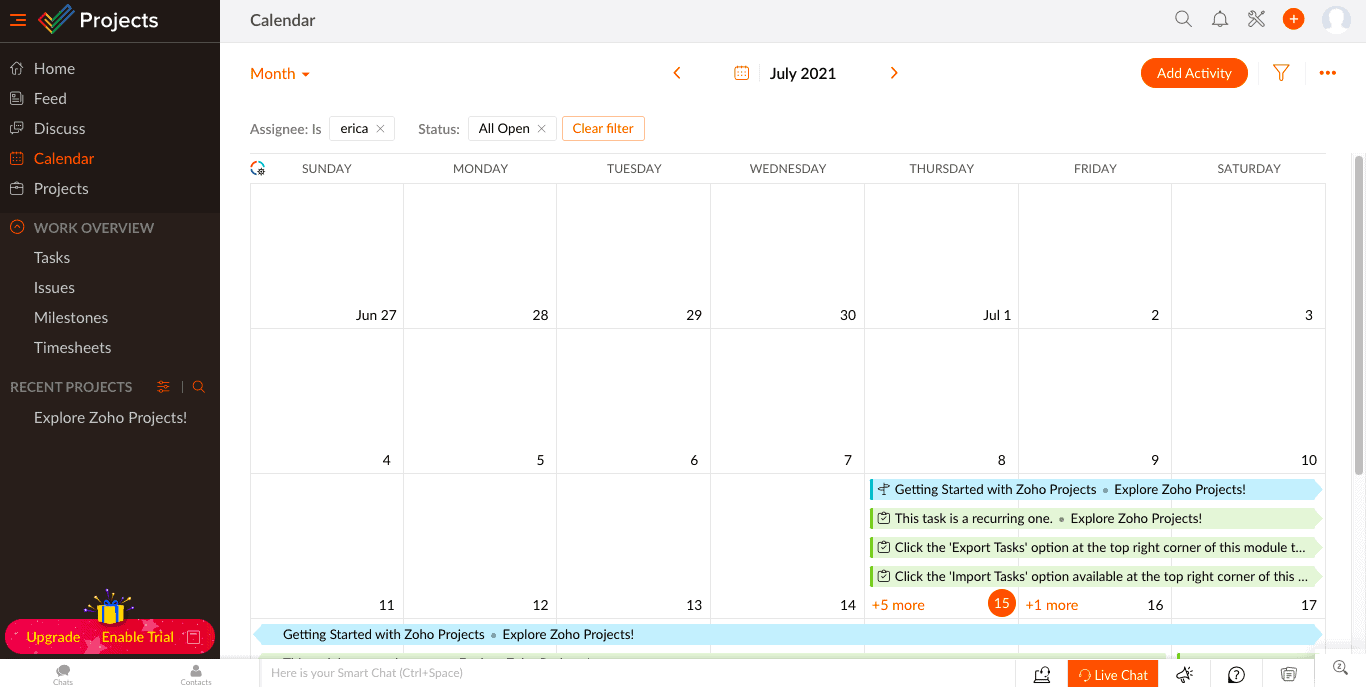 Scheduling Meetings: All that is needed to schedule a meeting in Zoho Projects is to enter the name, location, and time onto the shared calendar. If you like, you can also set a specific duration, choose participants, and customize reminders, or add useful notes about the meeting agenda. Best of all, should you or a coworker happen to miss an important meeting, Zoho Projects allows users to check out logged details, notes, blog references, and more.
Importing Users: Admins have the option to import users and/or accounts from Zoho CRM, Mail Suite, and Google Apps. This saves time and effort and eliminates the need to manually enter multiple new users.
Email Integration: Zoho Projects provides full email integration. This means that via regular email channels — and without having to log in to their Zoho account — users can add task notes, file bugs, post comments, and attach documents to tasks, forums, and bugs.
Zoho Projects Customer Service
Some users have voiced complaints that Zoho Projects' customer service is slow. In my experience, dealing directly with service reps was a mostly positive undertaking, but the written, educational materials certainly left a lot to be desired. For better or worse, Zoho Projects offers its users the following support tools:
Email: You can email the support team or request a call back to discuss issues and concerns with your Zoho Projects account.
Support Form: If you'd rather not send a direct email, you are also given the option to fill out a support request form. This form asks for a few simple details about your problem, allows you to attach screenshots or error messages, and also requires you to identify your business' specific Zoho Projects URL.
Live Chat: An in-software live chat option allows you to connect easily with a customer service rep.
Projects Tutorials This guide provides written tutorials and screenshots to help new users navigate through Zoho Projects' many features.
Knowledge Base: Zoho has a Knowledge Base broken up into categories to make it easy to find what you're looking for. A category is dedicated to Zoho Projects and includes helpful info to get started and use various features in the software.
Help Videos: Zoho Projects offers a number of "tips and tricks" for using the software through its help videos.
Blog: Zoho Projects provides a variety of blog articles to address a wide range of topics. There's some good information there, but like all of the Zoho support material, the blogs suffer from awkward grammar mistakes and can be difficult to read.
User Forums: You can search through these forums to find answers to common complaints and interact with other Zoho Projects users. I read through several of the posts, however, and while the majority of questions are answered directly, users are frequently shuttled over to the support desk for answers to their questions.
Webinars: Zoho Projects offers live and recorded webinars.
Social Media: The Zoho Facebook page is updated on a regular basis with press releases, articles, updates, and the like. Customers occasionally use this platform to lodge complaints, and Zoho seems to respond quickly. The Twitter feed, also updated with admirable frequency, is characterized by an impressive amount of customer involvement; Zoho often retweets users and responds to questions/complaints. However, not all of the tweets on these accounts are related to Zoho Projects; this account is for all Zoho products. As such, it can be a little hard to find the information you are looking for.
Zoho Projects Customer Reviews
Negative Reviews & Complaints
Zoho Projects receives generally positive reviews across the board. However, there are a few common complaints found across the web, including:
Cheaper Plans Lack Key Features: Many of the most useful project management features, like bug tracking, time tracking, and Dropbox integration, are available only in the more expensive plans or by paying an additional monthly fee.
Slow Support: Some users have complained about the length of time they have to wait to get support, as all support requests must be first routed to the India branch of Zoho. The common consensus in online reviews and forums seems to be that service is frequently slow.
Positive Reviews & Testimonials
Zoho Projects is popular among users, as evidenced by its ratings. Zoho Projects receives a rating of 4.3/5 (based on 224 reviews) on G2 and a 4.2/5 (based on 233 reviews) on Capterra. Some of the most cited perks of using Zoho Projects include:
Competitive Pricing: Users like that this software offers a good range of pricing options for any budget.
Long-Distance Collaboration: Smart, social-oriented features like forums and built-in instant messaging help to nurture open lines of communication — even across large distances — and allow teams to "discuss tasks and solve problems together with ease."
Bug Tracking: Several of the customer reviews I encountered mentioned Zoho Projects' bug tracking feature in a favorable manner. Many similar project management programs do not offer this feature, but it's nice to have the option to track bugs, even if you're not in the software development business.
Great Integrations: Thoughtful integrations have become more and more important to project managers, and people love the fact that Zoho Projects is fully integrated with Google Apps, Dropbox, and other file-sharing programs.
Responsive to Customer Feedback: More than one customer has raved about the fact that Zoho Projects both listens and responds to complaints and feature requests. It's refreshing when a company actually pays attention to its client base and adjusts its product accordingly.
Here's what some users have to say about Zoho Projects:
The UI is simple and at the same feature-rich. Integration of Zoho Project with Zoho Books/Expenses/Invoices is top of the class. You track your budget and invoices and sync them with your books. It gives terrific reporting features and at very cost-effective pricing.

Zoho Projects is a complete and easy to work with project management solution.

We're very happy with the power of the solution and feel that it will support our growth.
Integrations & Add-Ons
Zoho Projects offers over 40 integrations. While many of the integrations are with other Zoho products, such as Zoho Books and Zoho Invoice, there are also third-party integrations including:
Google Apps
Dropbox
Box
Evernote
Jira
Basecamp
Github
Bitbucket
iCal
Crashlytics
Slack
Zapier
Zoho also offers an open API.
Security
Zoho Projects protects users in the following ways:
Secure Facilities: Zoho Projects facilities are guarded 24/7, every day of the year, with security procedures such as video monitoring, fire/flood/theft monitoring systems, and biometric access. Additionally, the company's network security system employs "the latest encryption and intrusion detection/prevention technologies."
EU Safe Harbor Compliance: Zoho complies fully with the EU Safe Harbor framework (as set forth by the US Department of Commerce).
Two Factor Authentication (TFA): To obtain an extra measure of security, you can opt to enable TFA on your Zoho Projects account. When TFA is activated, any person who tries to log in from an unrecognized computer is required to provide additional authorization.
Final Verdict
Zoho Projects has a lot going for it. There are numerous features that you won't find with other project management software, there are ample integrations, and the communication tools make it easy to make sure your team stays on track. Pricing is also competitive, which is another big selling point.
Unfortunately, one of the biggest downsides of Zoho Project is its customer support network. If you're not naturally technically oriented (or come from a small company with no tech support of its own), learning how to use this product may be a challenge. The educational material provided is confusing and hard to decipher, and many users agree that support requests can take too long to resolve. My other major problem with the software is that the best features are only available with the most expensive plans.
Overall, though, Zoho Projects is certainly worth a shot. Sign up today for the free plan, or give the more advanced features a try with a free trial. Good luck!
Zoho Projects FAQs
---
The Merchant Maverick Seal of Approval 🏆
Zoho Projects


---
After hours of in-depth research and evaluation, we can confidently recommend this brand to our readers. Get started today and see Zoho Projects for yourself.
The Merchant Maverick Seal of Approval 🏆
Zoho Projects


---
After hours of in-depth research and evaluation, we can confidently recommend this brand to our readers. Get started today and see Zoho Projects for yourself.
To learn more about how we score our reviews, see our
Project Management Software Rating Criteria
.