A Beginner's Guide To APR
Expert Analyst & Reviewer

UPDATED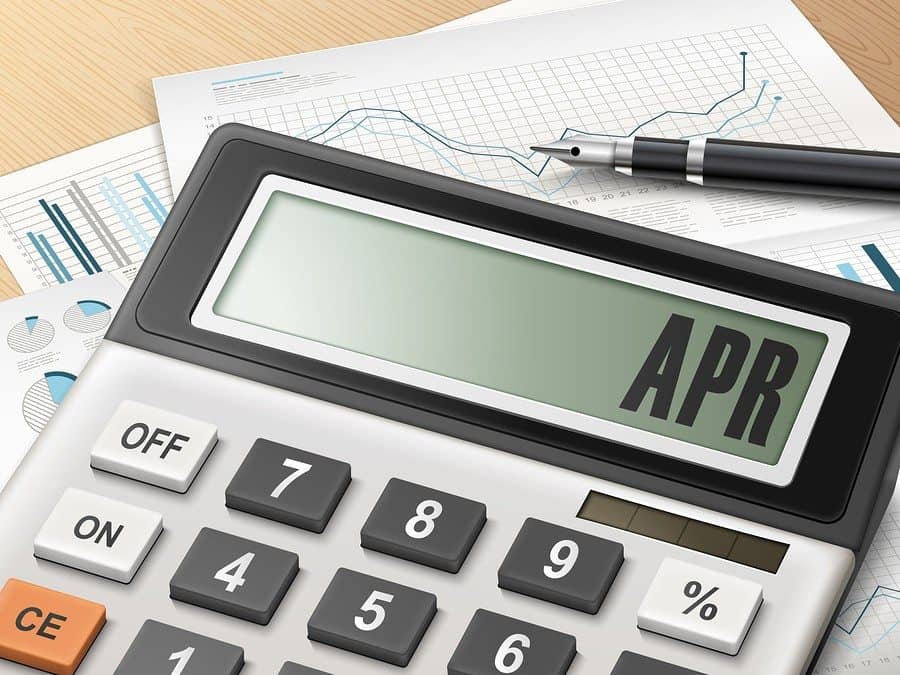 Anybody who gives you advice on getting a business loan is going to tell you to make some comparisons. Don't go with the first lender that gives you an offer; first take the time to look around, get quotes from different lenders, and make a decision based on what fits your needs and who offers you the best deal.
But with so many different lenders out there offering so many different products, how are you supposed to compare them?
Fortunately, people much smarter than I came up with an answer to that question a long time ago. You've probably heard of an annual percentage rate, or APR for short. This number is a reflection of the true cost of a loan and is therefore an easy way to compare loans to one another.
Here's everything you need to know to effectively use APR.
APR Basics
The APR is a number that communicates the total cost of a loan over the course of one year. In other words, it's the interest rate plus any fees associated with the loan (origination fees, closing costs, maintenance fees, and/or any other fees lenders can think to throw at you).
For example, you might be comparing a few loans. All are for $10K and have a term length of 3 years (36 months). One has an interest rate of 10% with no extra fees, the other two have an interest rate of 9%, but they have added fees. Which one is actually the cheapest? That question is easily answered by calculating the APRs:
| | | | |
| --- | --- | --- | --- |
| | Loan 1 | Loan 2 | Loan 3 |
| Principal: | $10K | $10K | $10K |
| Interest: | 10% | 9% | 9% |
| Fees: | None | $400 | $107 |
| Term Length: | 3 years | 3 years | 3 years |
| APR: | 10% | 11.7% | 9.73% |
The first loan is easy: since there are no extra fees, the APR is the same as the interest rate. The other two loans, however, are a bit more complicated. In Loan 2, because there's a $400 fee along with the monthly accruing interest, you're paying more for the loan, and therefore have a higher annual cost of borrowing. Even though the interest rate is lower than in the first loan, the APR on the second actually ends up coming out to 11.7%. For Loan 3, on the other hand, there is also a fee, but it is fairly negligible ($107). This loan also has a lower interest rate than the first, so even with the additional fee the APR comes out to 9.73%. Obviously, if you were in this situation, you'd want to go with the third loan.
Pretty simple concept, right? That is, if you don't have to calculate the APR yourself.
Fortunately, you won't have to do that because any decent lender will calculate it for you. In the event that the APR isn't provided, we have created calculators for many types of financial products, including traditional term loans, short-term loans, and merchant cash advances.
But what if you're in a situation where it's not that simple? Here are some things you'll want to keep in mind regarding APRs when you're looking for a loan:
When APRs Fall Short
Variable Interest Rates: Some lenders use variable interest rates. Most commonly, they'll offer prime rate plus a fee. When the prime rate increases, so does the amount you have to pay per year. Make sure you know if your interest rate is fixed or variable before making a decision on a loan.
Term Lengths Matter: If you're concerned about the total cost of a loan, APR isn't going to help you. It calculates the total cost of a loan over a single year (hence the A in APR). If you have two loans of differing term lengths, APR won't help you. The longer the term length, the more the loan is going to cost.
Doesn't Include All Fees: This is a more common problem with credit cards, but some lenders don't include all pertinent fees in their APR calculations. If this is a concern to you, just ask what fees are included in the APR.
Doesn't Work If You Refinance Or Prepay: Fees are almost always paid up-front, but in an APR, fees are calculated as if they're paid over the life of the loan. So if you refinance or prepay your loan part way through the process, you're paying more than the APR reflected.
Not The Same As MCA Factor Rates: Merchant cash advances and short term loans calculate the total cost of a loan differently than term lenders. Their term lengths also tend to be shorter than a year, which can screw up the APR. This different structure leads to confusion about the true cost of a loan. For more information, check out our article Merchant Cash Advances & APRs.
Last Words
Because APR includes all fees, even hidden fees, it's just about the most transparent way to communicate the cost of a loan. Don't neglect this number when you're making comparisons.
However, don't rely completely on APR to make your decision. Making higher payments, or paying a higher fee, is not the end of the world. Make sure to choose the loan that works for your situation, even if it's not the one with the best APR.
Looking for a business loan? Check out a comparison of our favorite business lenders, or our full list of small business loan reviews.