How To Sell Your Business: The Complete Guide To Selling A Company In 7 Simple Steps
Expert Analyst & Reviewer

UPDATED
Depending on the circumstance, selling a business can be a devastating, rewarding, or lucrative experience — and sometimes a surprisingly emotional one. In this post, we'll dig into the hows and what-ifs you'll want to explore before, during, and through the transitional phases. Understanding the basics and planning can help you avoid falling into some of the common pitfalls that may spring up during the process of a business sale, so let's get started!
Questions To Ask Yourself Before Selling Your Business
Selling a business can be a lot more complicated than it might seem at first glance. While this post focuses on the practical to-dos of selling your business, let's start with some open-ended questions that may help you clarify your goals.
Why do you feel it is a good time to sell your business?
What is your time frame?
Do you have flexibility with your time frame (if it meant maximizing profits)?
What do you want for the future of your business? Is retaining certain elements of your business important for you?
Will you use a broker to do the legwork in finding a buyer or do you have the time to invest yourself?
Now that we've got you thinking, let's explore the work you'll need to do before you sell and how you can sell it wisely.
How To Sell A Business Successfully In 7 Steps
If you've made a definitive decision to sell, or you are still in the discovery phase, here are the steps you'll need to understand if you are to move ahead successfully and get the highest sales point as possible.
1. Preparing An Exit Strategy
If you currently do most things yourself in daily operations, start delegating as many responsibilities as you can so that the buyer sees your business can run smoothly without you. Make no mistake: buyers will look at this aspect closely, and it can make a huge difference in selling your business. A well-oiled machine that doesn't need too many adjustments will go for a higher price.
Another important component for your exit strategy is a packet of general information about your company, including your origins, media mentions or publicity, company growth, marketing strategies, and general employee information. This information gives your buyer a more complete picture of your business and its trajectory over time.
Of course, if your company operates mostly online, you'll also want to share statistics, including search engine ranking, keyword ranking, visitor statistics, and demographics, as well as any competitor analysis. Remember, your buyer needs all of this information to make a calculated risk and feel confident in doing so.
2. Getting Financials In Order
Organizing your finances is extremely important. It is probably one of the most important things you can do. After all, your business is just one of the options available to a buyer. If your contracts and documents aren't in order, if things are unclear, messy, or you're just not ready, the buyer will move on quickly.
Your buyer will likely present you with a checklist of requested information after they've given you a letter of intent (more on that later), so being prepared as early as possible for this will help everything go a lot smoother.
Here are some of the documents you'll want to start rounding up:
Contracts
Intellectual property (ensure loose ends with any contractors)
Expense reports
Profit reports
Revenue documentation
Cashflow analysis
Customer base analysis
ROI analysis
Appraisals
Real estate documents
Undocumented agreements (e.g, promised equity sharing)
These are all things you can start gathering right now to organize your financial documents and contracts. Not only will you be more confident with prospective buyers, but they'll also be more confident in the health of your business! In addition, you'll want to plan for the following:
Most states require a documented shareholder meeting if applicable.
Get any undocumented agreements (e.g., equity sharing) settled.
Go through your financials and tax statements with a CPA or accountant so that things are categorized properly and compliant.
Going through your financial and tax statements with a CPA or accountant may help you spot areas in your business that you want to adjust the next year or two to maximize profits. When you are looking at what sorts of expenses you list on your business taxes, for instance, you may decide that an ancillary expense is hurting rather than helping your profit margins, and opt to adjust one or more items in the next fiscal year. If your business is large enough, these changes might make a significant impact on your business valuation. That's why if you can, pushing your target sale date down the line a year or two may end up paying off for you when it comes time to sell.
3. Obtaining A Business Valuation
Much like when buying a home, the appraisal process is an important aspect of selling a business. An accurate business valuation is critical because it brings credibility to your asking price. When it comes to your business valuation, not all types of businesses are the same; the selling price of your business may vary widely depending on the industry and current trends during any given year, as well as projected growth.
And of course, the higher your profits, the more valuable you'll likely be to a buyer. This is another reason why you may want to go back and consider what expenses you deduct on your taxes, as those expenses count against your profits in that regard. If you are planning to sell in the next year or more, be aware of the long game and choose carefully what expenses you take on — and how you categorize them.
4. Finding Buyers
If you haven't already been approached to sell, now it's time for what may be a challenging phase: Finding a buyer!
You'll want to spread the word to your colleagues and acquaintances, as well as advertise to target a broader audience of small business owners or interested parties. Or you may want to keep everything confidential. In that case, a broker is a vital player in moving ahead.
If your efforts to sell your business yourself don't become fruitful for you, it may be time to think about finding a broker. Sure, they will take a cut of the final purchase price, but they may be able to vet out better buyers for you. Not to mention, they will be focused on getting the highest asking price possible because it means a better commission for them! Because a qualified and experienced broker could help you save a lot of time and maximize profits, it may be wise to start looking for one even if you're not quite ready yet.
Making Your Business More Desirable To Buyers
Having all of your ducks in a row — via impeccable document organization and accurate valuation — will make your business more attractive as people start gaining interest and checking you out as a prospect. Remember, your potential buyers are looking for the lowest risk and highest reward, of course, but the information you bring to the table can be a huge deciding factor in closing the deal.
Once you've hooked an interested party, we recommend you pre-qualify your potential buyer. In doing this, your company enjoys a bit more protection because then you'll only discuss the particulars of your business with serious buyers who have provided some background financial information about themselves. From a buyer's perspective, a pre-qualification can also encourage them to become more invested in moving through to the next phase.
5. Conducting Due Diligence
If you have found a potential buyer, fantastic! Now it's their responsibility to really take a look under the hood and find out more about your business. After they give you a letter of intent, they'll also probably hand you a laundry list of items for you to retrieve. Again, we go back to our own due diligence from the beginning when it comes to keeping clean books and an organized back office.
For larger deals, this process can take months, and that's why it is so important for you to have a unified front so that it goes smoothly as possible.
Before the deal is finalized, you'll likely have some very probing questions to answer about your business. Depending on how familiar your buyer is with your industry, you may field high-level questions focused on your company and employee culture, all the way down to the nitty-gritty analysis of the financial and tax documents you've prepared for them.
6. Finalizing The Deal
As the deal becomes finalized, now is the time to prepare and communicate with employees about the leadership change.
Many business owners find that the whole process is quite a bit more work than they anticipated, and have already brought a broker on board. If that's the case, the pressure is mostly off of you to tie up all the loose ends. If not, having an attorney handle finalizing the contracts is probably the wisest decision, as they may be able to catch blind spots you missed and provide greater protection to your business.
7. Preparing To Hand Off Your Business
While all of your energy was probably focused on getting the deal finalized, don't forget to keep the post-sale transition period in mind. Some buyers want the seller to stick around for an adjustment period (sometimes a few months). Whatever the expectations are, make sure you have those settled and clarified.
A Word About Your Merchant Account
To hand off your business, you'll have to work out all of those minor (and major) details regarding transferring ownership, too. You'll need to contact your merchant services provider, for instance, to learn what the protocol is when it comes time to transfer leases, contracts, and any equipment related to your payment processing services.
If you're stuck in a long-term contract with your payment processor, you'll have to fill out a change in ownership request form to change the legal entity on the contract with your merchant account. How smooth and flexible this process goes for you largely depends on the flexibility of your contract (if you're bound by one) and the company with which you work.
Wondering if your merchant account has an early termination fee or a binding agreement? Check out Does Your Merchant Account Have An Early Termination Fee? as well as Does Your Merchant Have An Auto-Renewal Clause? We show you how to avoid some of the major pitfalls when it comes to contracts, but there are plenty of other options we discuss in both posts to help you avoid this frustrating issue to begin with!
Selling A Business: A Step-By-Step Checklist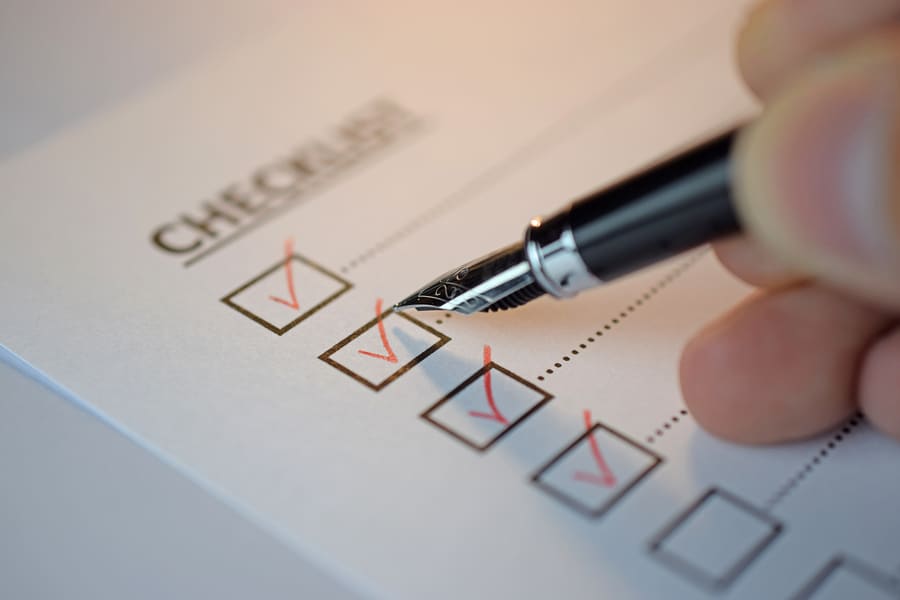 Here is another quick recap of the main points we dug into above. You'll want to keep these in mind as you plan your exit strategy and move towards a successful closing:
Establish a desired time-frame for the sale.
Define your personal goals in selling your business.
Delegate responsibilities and tasks to employees and managers.
Organize contracts and financial documents, and ensure everything is in writing (no verbal agreements).
Get a business valuation.
Spread the word about your sale or find a broker to do the legwork and networking for you.
Pre-qualify your interested buyer.
Allow for due diligence with your buyer and provide documentation as requested.
Have a lawyer or attorney assist in finalizing the sale.
Tie up loose ends with contracts (e.g., your merchant account and/or equipment leases).
The Bottom Line? Selling A Business Requires Organization & Motivation
Starting your exit strategy with these general tasks may seem tedious at the time, yet they represent some of the higher priorities for buyers. Remember, a buyer is a human and as such, they'll likely apply gut instinct and emotion as well as careful scrutiny when it comes time to make a decision. The truth is that buyers are looking for what feels right and represents the least amount of risk, and yours isn't the only business they have to choose from. That means that getting your papers organized and in shipshape, having confidence in your "why," and understanding the process are absolutely critical to successfully selling your business.
For more resources that may help you get things in order before you sell your business, check out Best Accounting Software For Accountants and CPA VS Accountant: Which Do You Need For Your Business?